10 + Data Science Resume Examples for 2023: Guide, Template and Trending Skills
A clear and systematic data-science resume should be at the top of your priority list. By effectively describing your professional expertise, academic background and skills, you can convince the recruiter why you are the ideal fit for the position.
Data Science is a massively booming industry in India. A report by AIM Research suggests that India alone has contributed to about 10% of the total job openings in the global analytics market in 2023. The country is not only brimming with endless opportunities but also with thousands of talented data professionals. A top-notch data science resume is a prerequisite if you want to stand out from the competition.
A clear and systematic data-science resume should be at the top of your priority list. By effectively describing your professional expertise, academic background and skills, you can convince the recruiter why you are the ideal fit for the position. This simple document can help you bag some of the most lucrative job offers, given that it's drafted the proper way.
If you are keen to make your career in data science but don't know how to build an attention-drawing data-science resume, you have come to the right place. In this article, we will cover:
How to Format Your Data Science Resume
The chances of landing your dream job without a well-structured data-science resume are very bleak. These are some points you need to consider while formatting your data science resume to get the best results:
A minimalist template: Though you may be tempted to put all your creative energies into making the ideal resume, it won't help you much when applying for data science positions. The reason is simple. You will be doing a technical job. If there's anywhere you need to be creative, it's with numbers. Soothing pastel colours on a white base will give your data science resume a very chic look.
Struggling to find "the resume" for you, check out Resumod's collection of 16 attractive templates.
Readability: Let's consider you have jotted down all the pointers in a brief and compelling way. But the font and colours used are too peppy. The scope of getting selected in this case? Quite low. When it comes to resume fonts, Times New Roman, Arial and Calibri are the most preferred styles, especially for specialized areas like data science. Also, keep the font size 13-14 for headings and 11-12 for content for a better, more presentable appearance.
Reverse chronological order: While creating your data science resume, write your latest professional and academic experiences first, followed by the older ones. It tells the recruiters which of your skill sets are fresh, and if they are of any value to the job position. If you find it hard to maintain the correct chronological order in your resume, Resumod can do all the formatting for you.
Resume length: As a data scientist, you will be expected to convert huge chunks of data into precise and useful insights. If that doesn't show in your resume as well, you may be headed for failure. Only add information that is relevant to the job profile. The ideal resume length is 1 page. Two pages only if you have substantial experience in data science, but not more than that.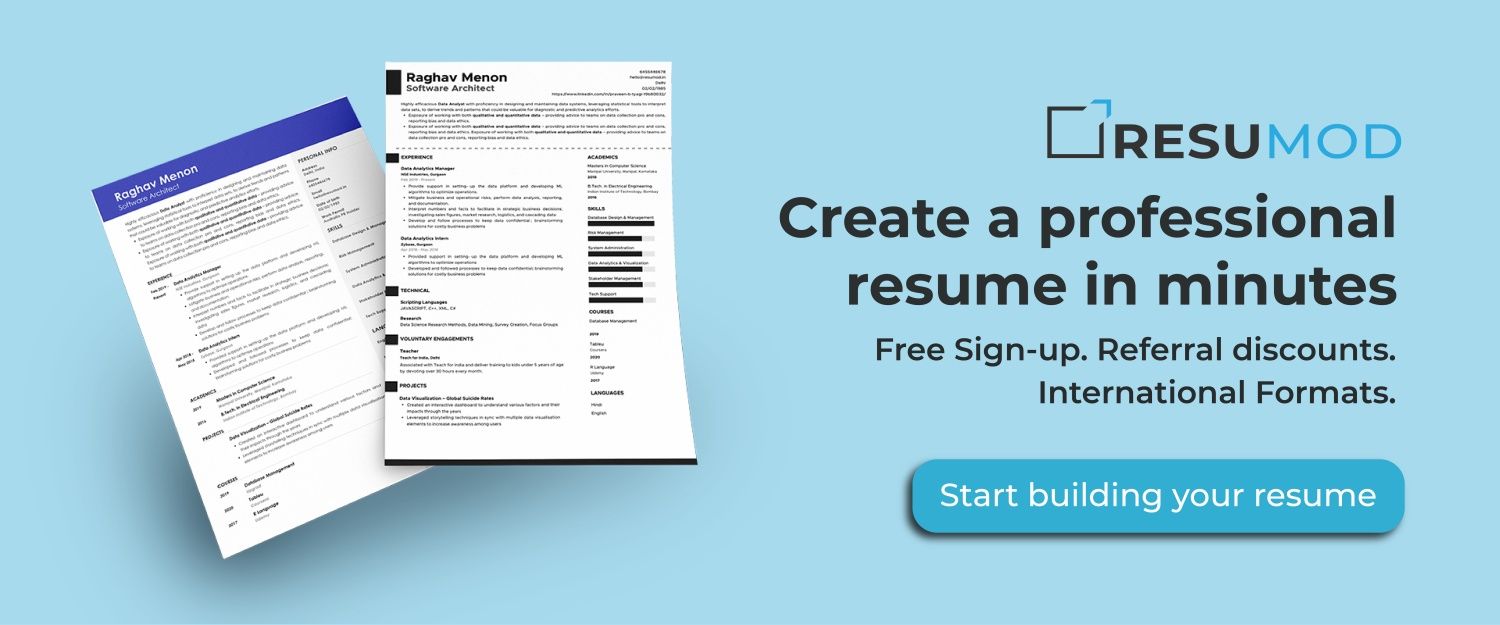 Must Include Components of a Data Science Resume
Now that you know how to format your resume, you should also learn what it must contain. Here is a list of the different sections and components that should never be missed in your data science resume :
A compelling professional summary: A summary statement is the first thing a recruiter looks at in your resume. Make sure that it gives an overview of your professional background and skill sets in a short and appealing way. The length of the summary statement can vary based on experience and achievements. Individuals with more than five years of experience may write a longer summary.
Relevant experience: In your data science resume, emphasize those experiences that highlight your analytical and data assimilation proficiency when writing about professional experiences. Do not shy away from bragging about any particular achievement that was a game-changer for your previous companies. 4 to 6 points for describing your work in each organization are enough.
Academic background: Write about your most recent degree first. If you have completed a graduate degree in statistics, mathematics, actuarial sciences, computational mathematics, or luckily data science itself, you can also list the core modules you learnt. It shows that you understand the field of analytics better than other candidates.
Research experience: This is an aspect that you should consider adding to your resume, especially when you are a fresher or beginner in the data science industry. It doesn't matter if your research is closely related to data assimilation or not. The fact that you did a research project conveys that you are analytically strong and would have analyzed data one way or the other.
Role-specific keywords: Several companies, big and small, use applicant tracking systems (ATS) for screening resumes. Only the resumes containing keywords related to the data science job opening proceed forward. Customizing your resume for every company can help you in getting past ATS. Resumod can help you build ATS-optimized resumes in just a few minutes.
Quantification of achievements: Data science is a numbers-oriented field. You need to show the recruiter your expertise in statistical analysis. Quantify your accomplishments and show the power of numbers in your resume as well. For instance, instead of writing 'performed data analysis for different teams', use statements like 'worked with X team to boost performance by Y%'.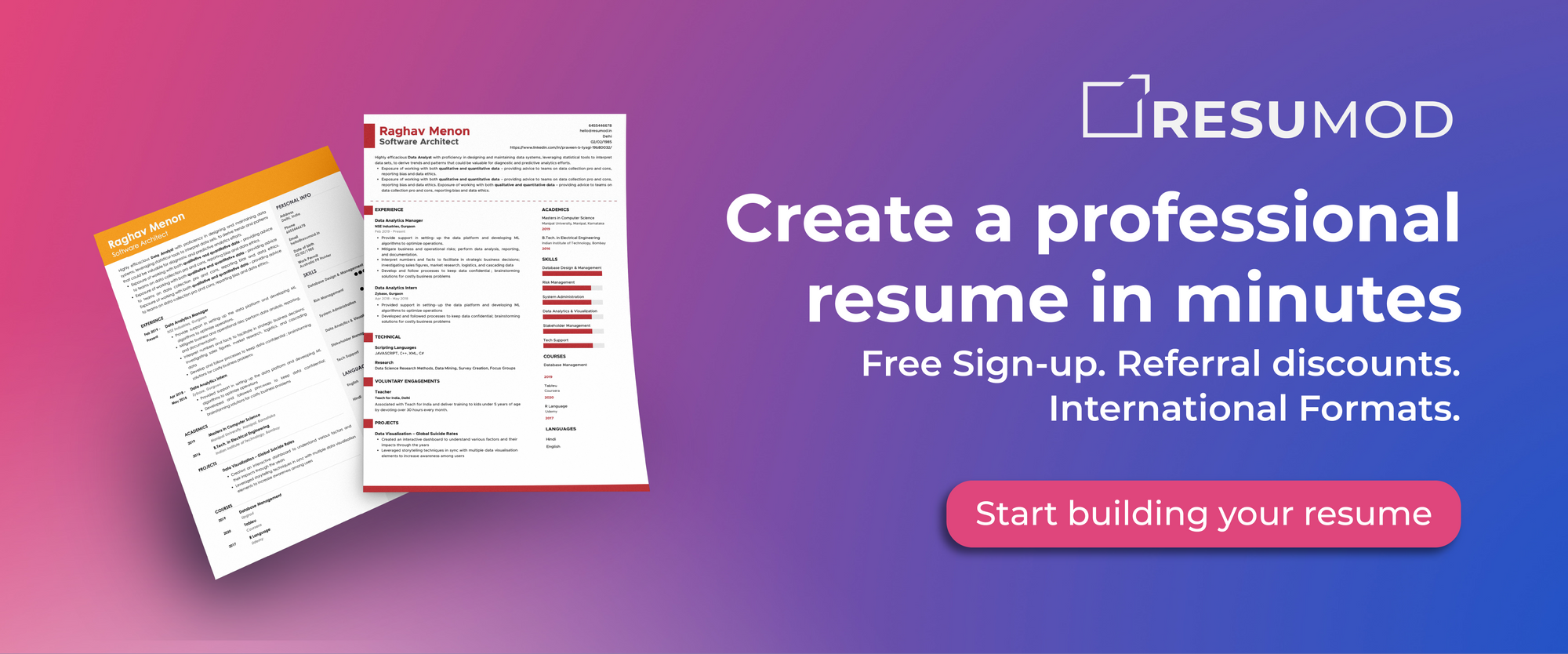 Other Important Sections of a Data Science Resume
It's not what you know, but what you have done differently that gives your data science resume the extra edge. Show the recruiter what makes you unique from the rest of the candidates by adding these additional resume sections:
Certifications courses: Data Science is a field that is relatively new to the Indian economy. It is likely that you may have not completed your studies in similar concentrations. In this case, you can mention any license or certification course you completed in data science or areas. A good practice is to list out your key learning during the course, but do it in a few words only. You can easily complete a certification course online.
Side gigs: If you write a blog on data science in your free time, or do independent work on Stack Overflow or GitHub that are somehow related to the field, write about those in your data science resume. It shows that you are not only good in data science, but have a versatile skill set as well.
Workshops and conferences: Attending workshops every now and then in your field of interest can broaden your horizons to a great extent. It also makes a good addition to your resume. However, if by any chance, you were a speaker at a data science conference, that can take your profile to another level.
Volunteering work: You may not realize but volunteering can actually add an extra feather to your resume, even if you are a data scientist. It shows the employer that apart from being an employee, you are also a human. Also, many non-profits make use of analytics for social work. So why not make the most out of the opportunity?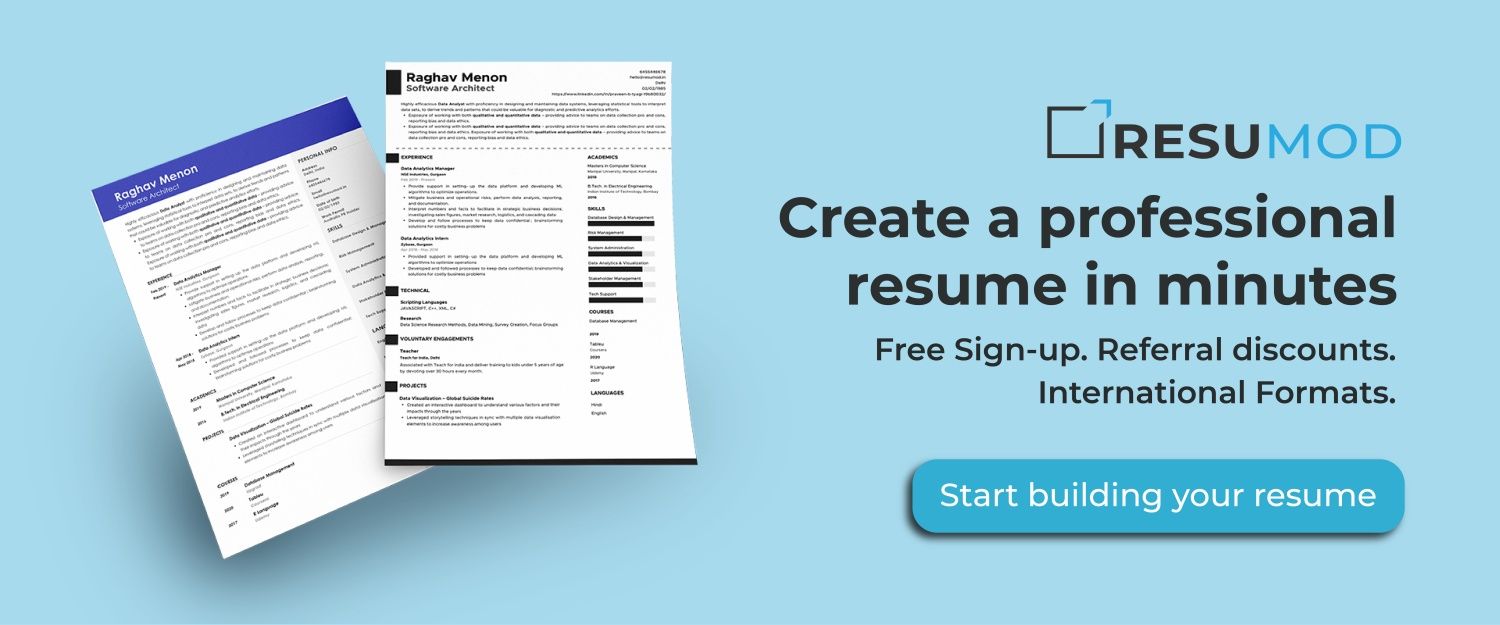 Top Skills to Add to Your Data Science Resume
Doing something out of the box is one thing, but first, you need to prove to the recruiter that you have acquired the fundamental knowledge needed to be a professional in data science. These are some of the skills you should add to your resume right now:
Data Mining: It includes sorting out raw data, and extracting usable information. This is a top skill for every data science professional. If it's not already there, you should include it in your data science resume now.
Data Visualization: You cannot be a good data scientist without knowing how to represent your insights efficiently. Data visualization is a key expertise to include in your resume as it is the process of showcasing data with the help of infographics, charts, and animations.
Big Data Analytics: This also involves analyzing huge data sets and libraries, but big data is more about maintaining and processing insights. Data mining is a part of big data. Knowing about big data analytics shows that you have an understanding of the bigger picture of analysis.
Database Management: It is associated with the actions an organization takes in defining and creating the database, along with manipulating and controlling data. Proficiency in database management and its related tools and software is a must to include in your resume.
Mathematical Analysis: An expert data science professional knows how to use different mathematical formulas and computational methods for gathering information. To get selected for the best jobs, you must show the employer that you have a keen eye for math.
Machine Learning: It involves the use of data analysis algorithms to understand the way humans process information. Machine learning is a vital aspect of predicting optimum business results, and thus one of the hottest skills to add to your resume.
Programming: Now this is an obvious one, but also the most underrated. Being adept in statistical coding and object-oriented programming depicts that you know all the basics. It also tells the recruiter that you can learn new languages and tools quite easily.
Apart from the essentials, these are some other crucial skills that beautify your data science resume even further:
Predictive analysis
Python
MySQL
Statistical Analysis System (SAS) programming
JavaScript
R Language
Data architecture
Tableau
Data Wrangling
GIT
Recommendation engines
Customer segmentation & retention models
Hadoop
MongoDB
NumPy
Data warehousing
Strategic planning
Structured query language
Business intelligence
Market & competitor research
SWOT analysis
Data intuition
Deep learning
Regression analysis
Probability & statistics
Data structures
Design & analysis of algorithms
Discrete structures
Data extraction
Agile analytics
Advanced analytics
Microsoft Azure
Amazon Web Services (AWS)
Cloud computing
Data Engineering
Natural language processing (NLP)
Collaboration
Critical thinking
Problem resolution
Management
Attention-to-detail
Teamwork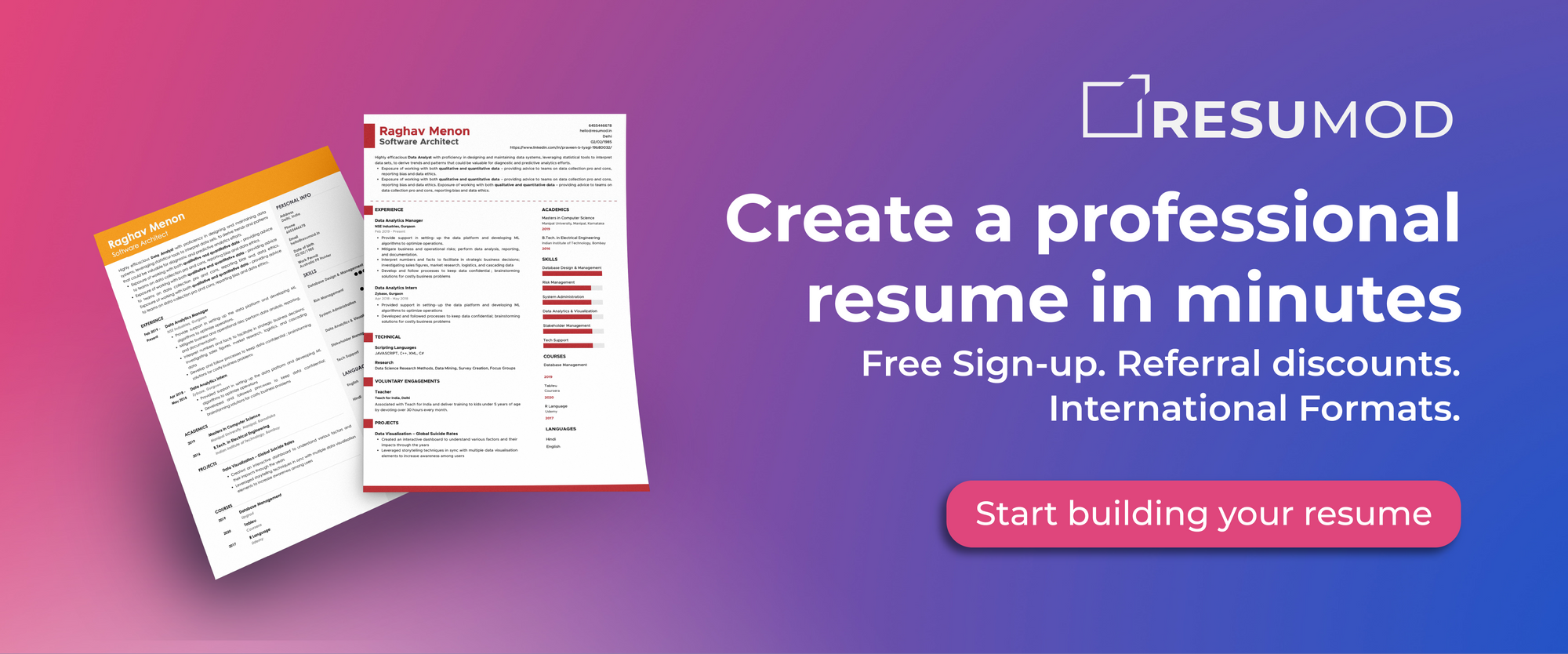 Data Science Resumes on Resumod
Resume of Data Warehousing Specialist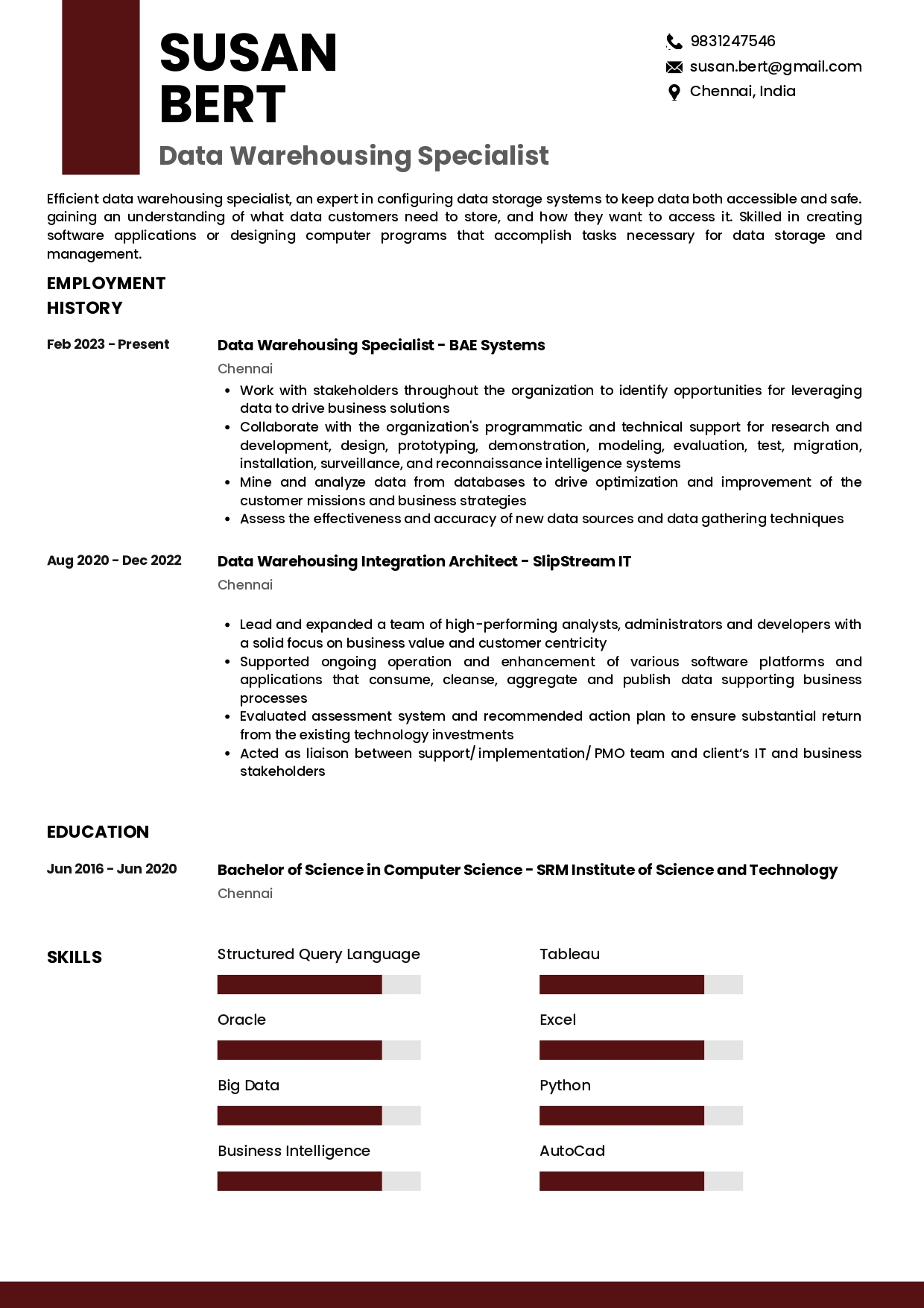 Check out the full resume of a Data Warehousing Specialist in text format here.
Resume of Business Intelligence Analyst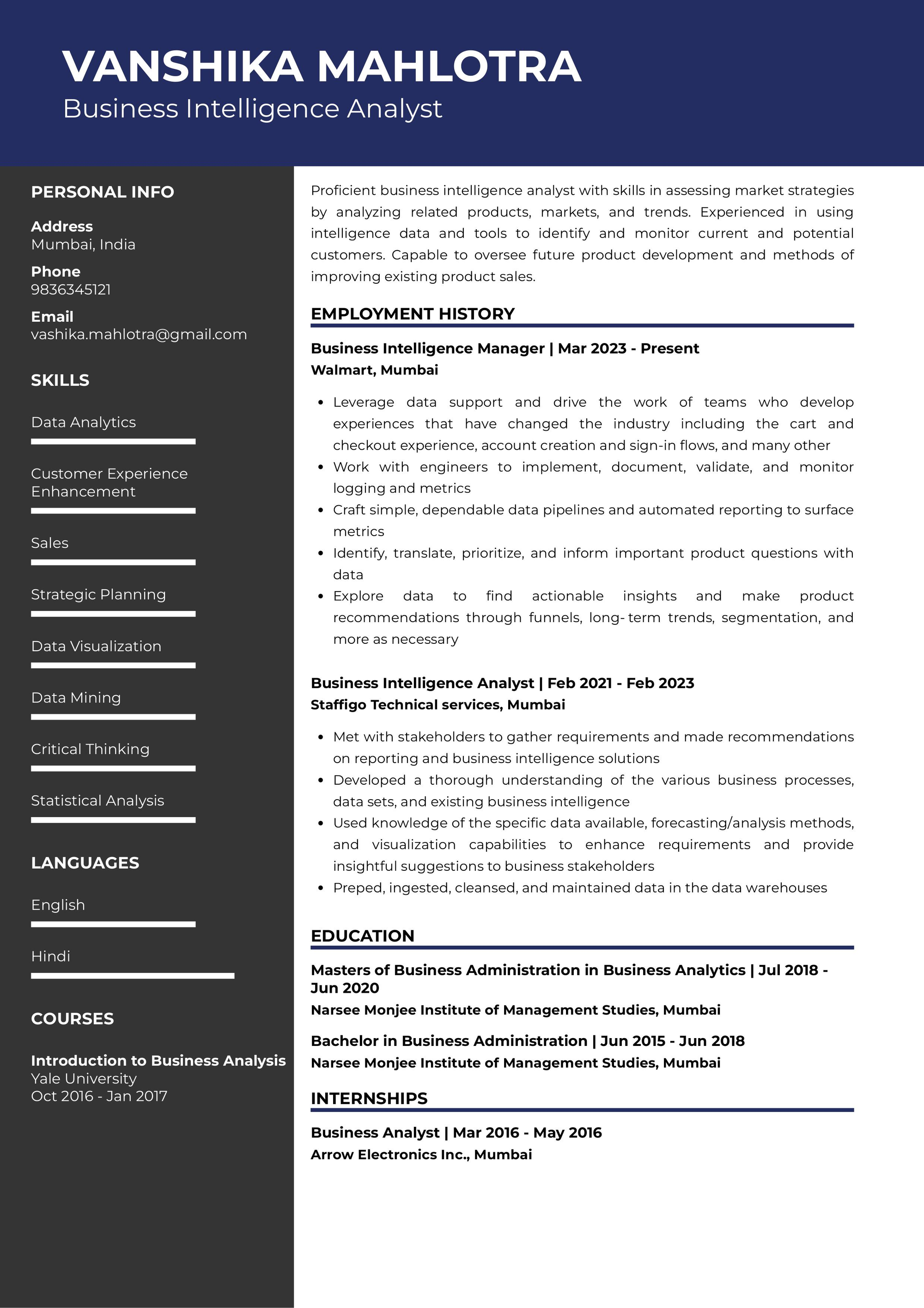 Check out the full resume of a Business Intelligence Analyst in text format here.
Resume of Machine Learning (ML) Engineer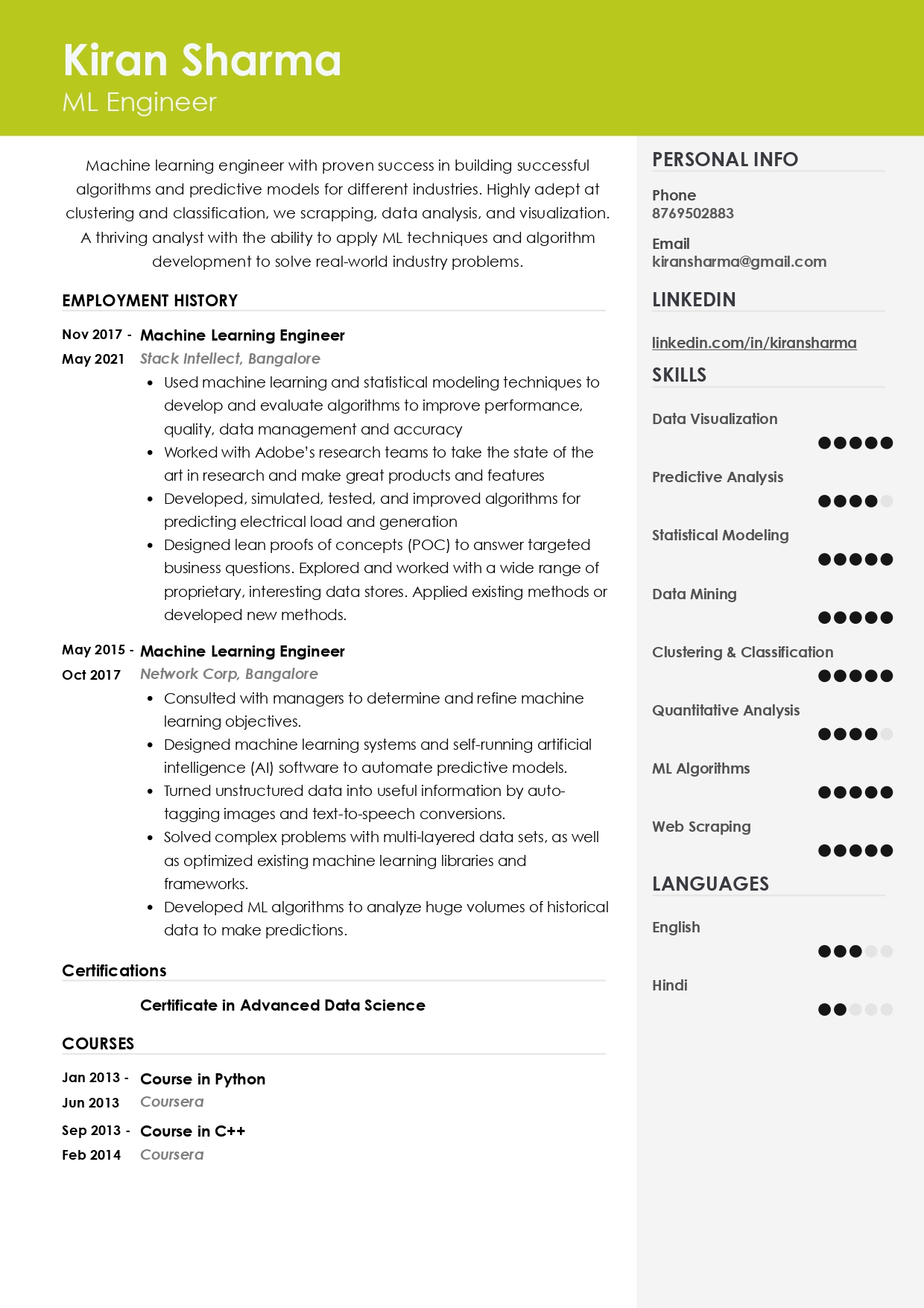 Check out the full resume of a Machine Learning (ML) Engineer in text format here.
Resume of Data Product Manager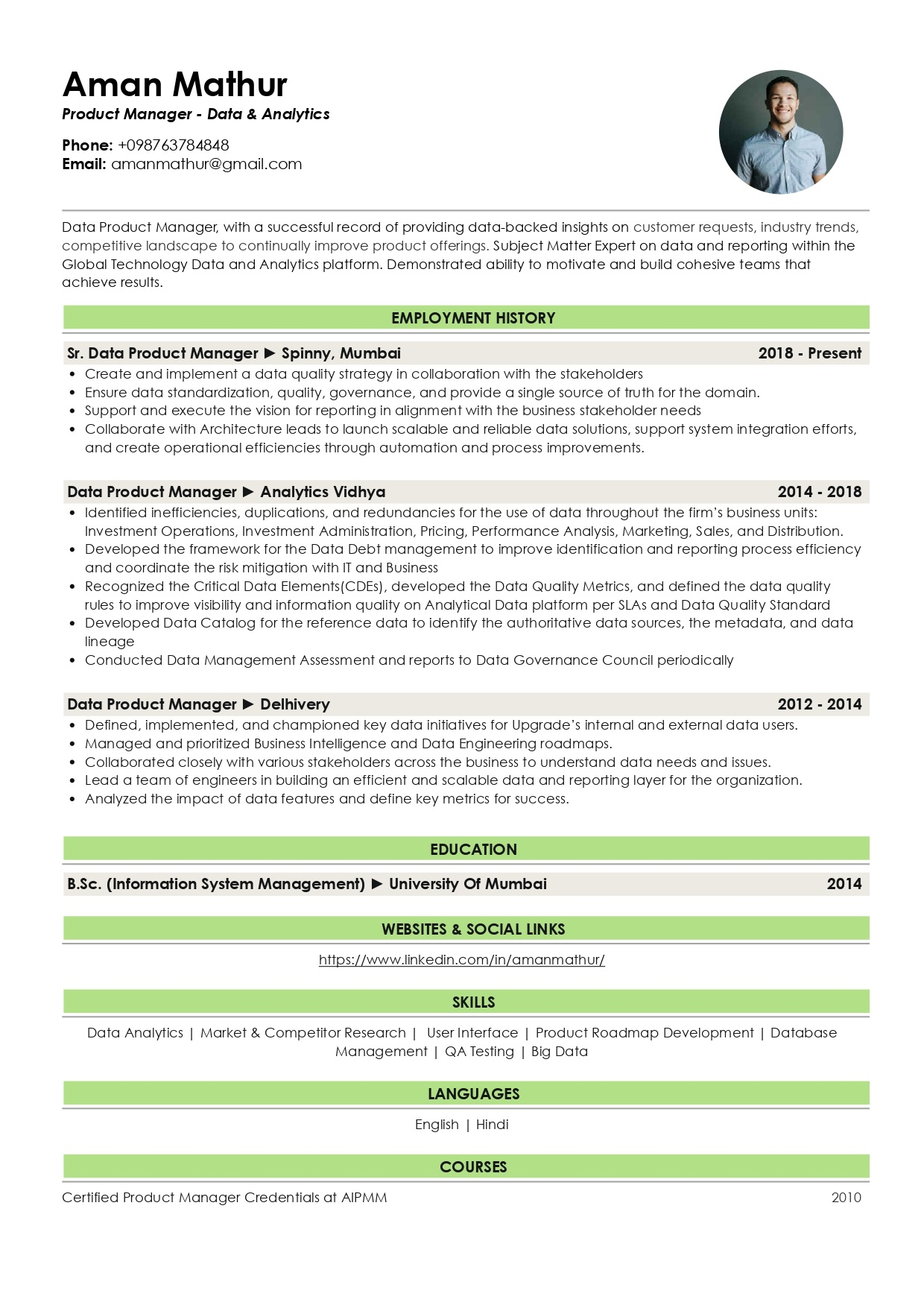 Check out the full resume of a Data Product Manager in text format here.
Resume of Data Protection Officer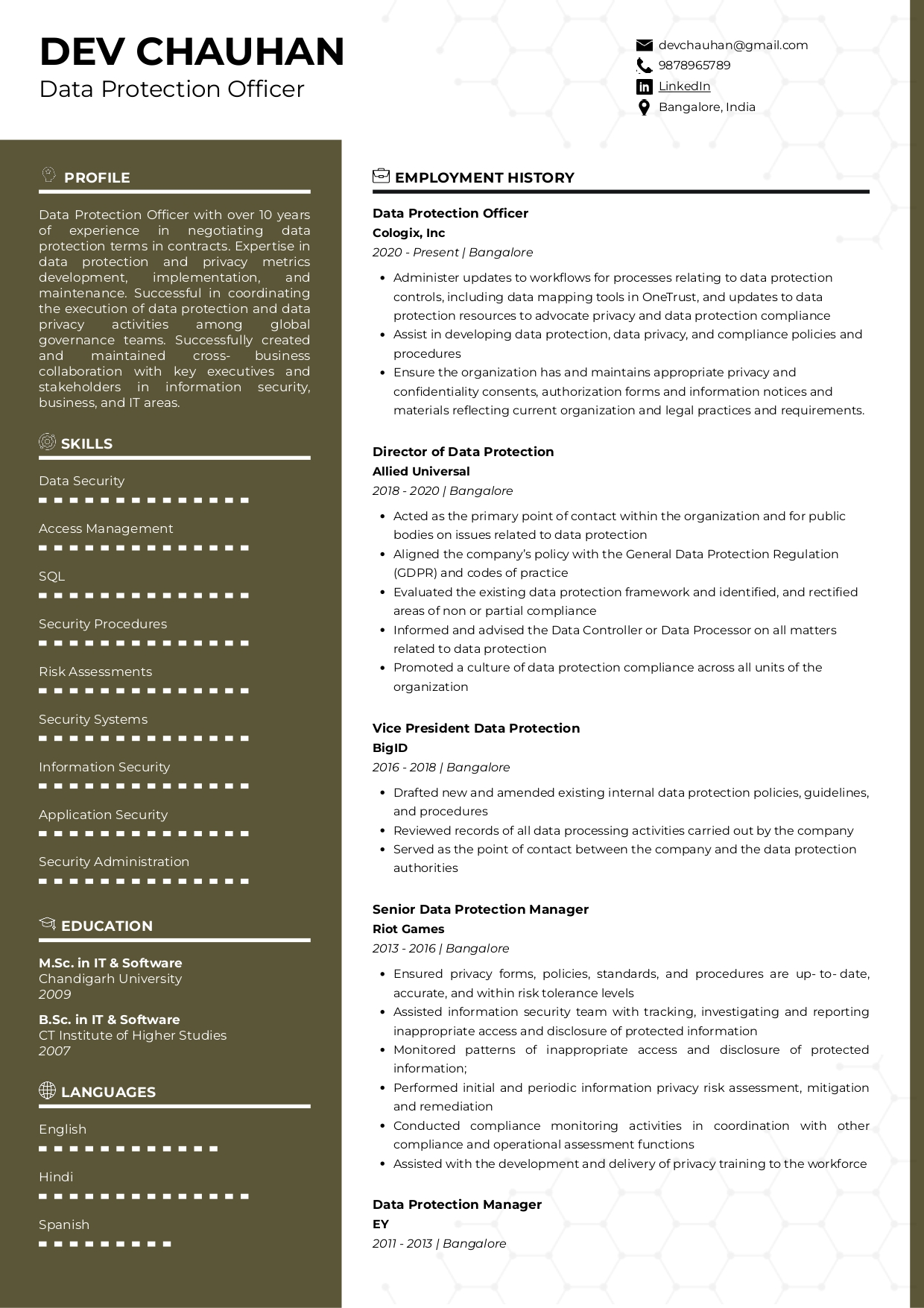 Check out the full resume of a Data Protection Officer in text format here.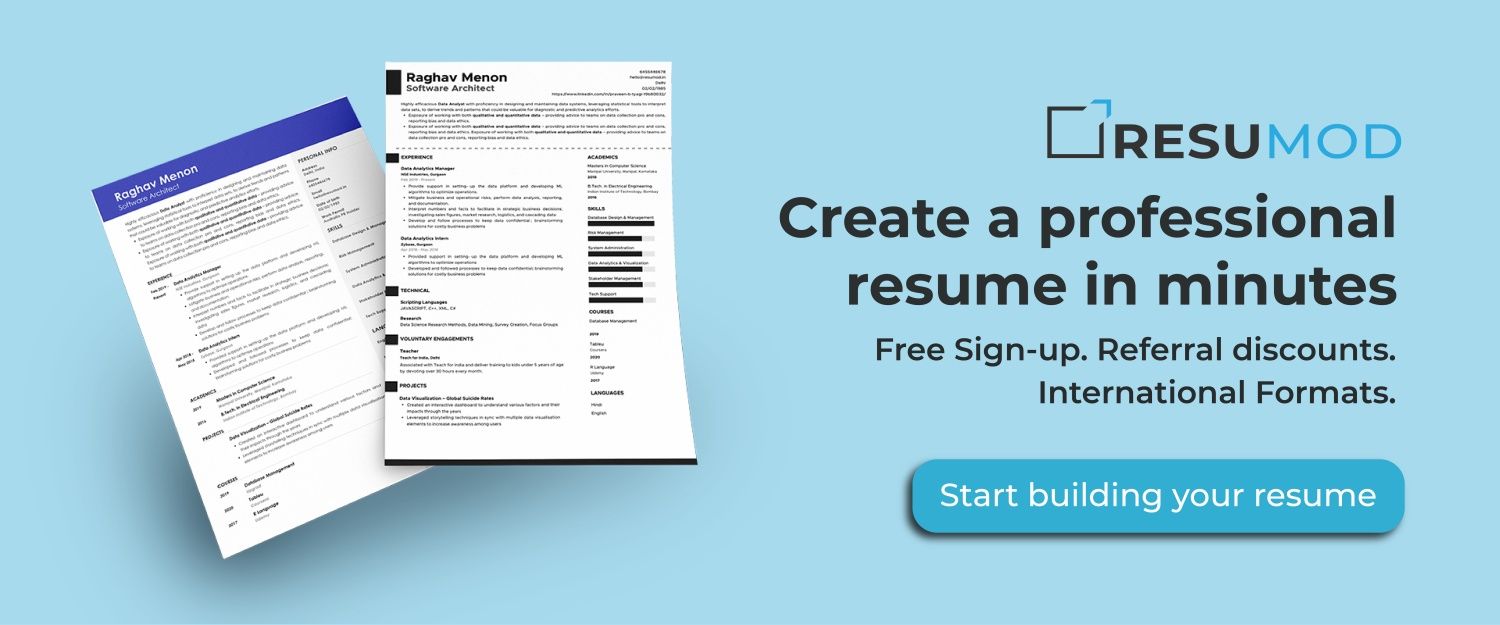 Resume of Bioinformatics Data Scientist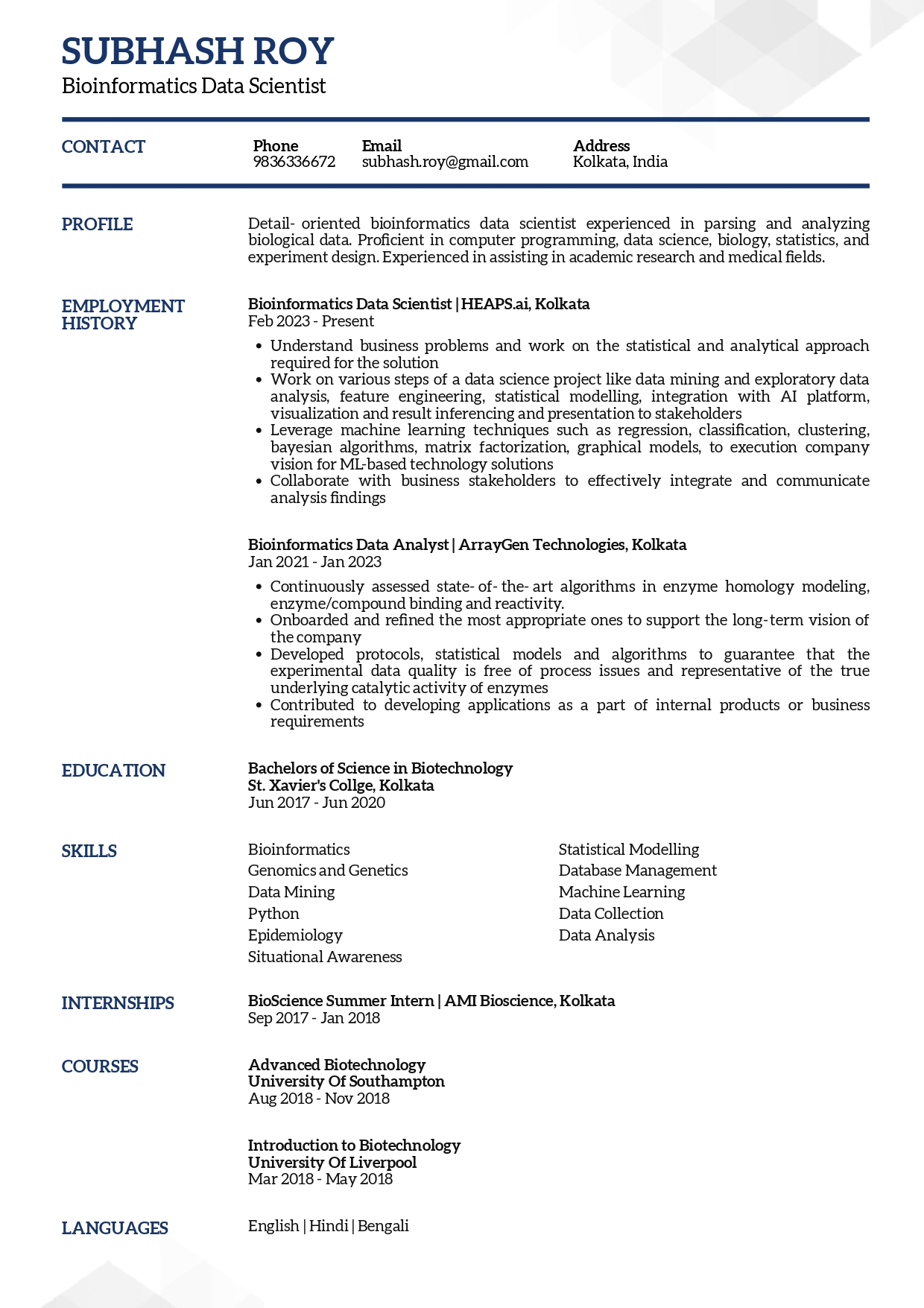 Check out the full resume of a Bioinformatics Data Scientist in text format here.
Resume of NLP Data Scientist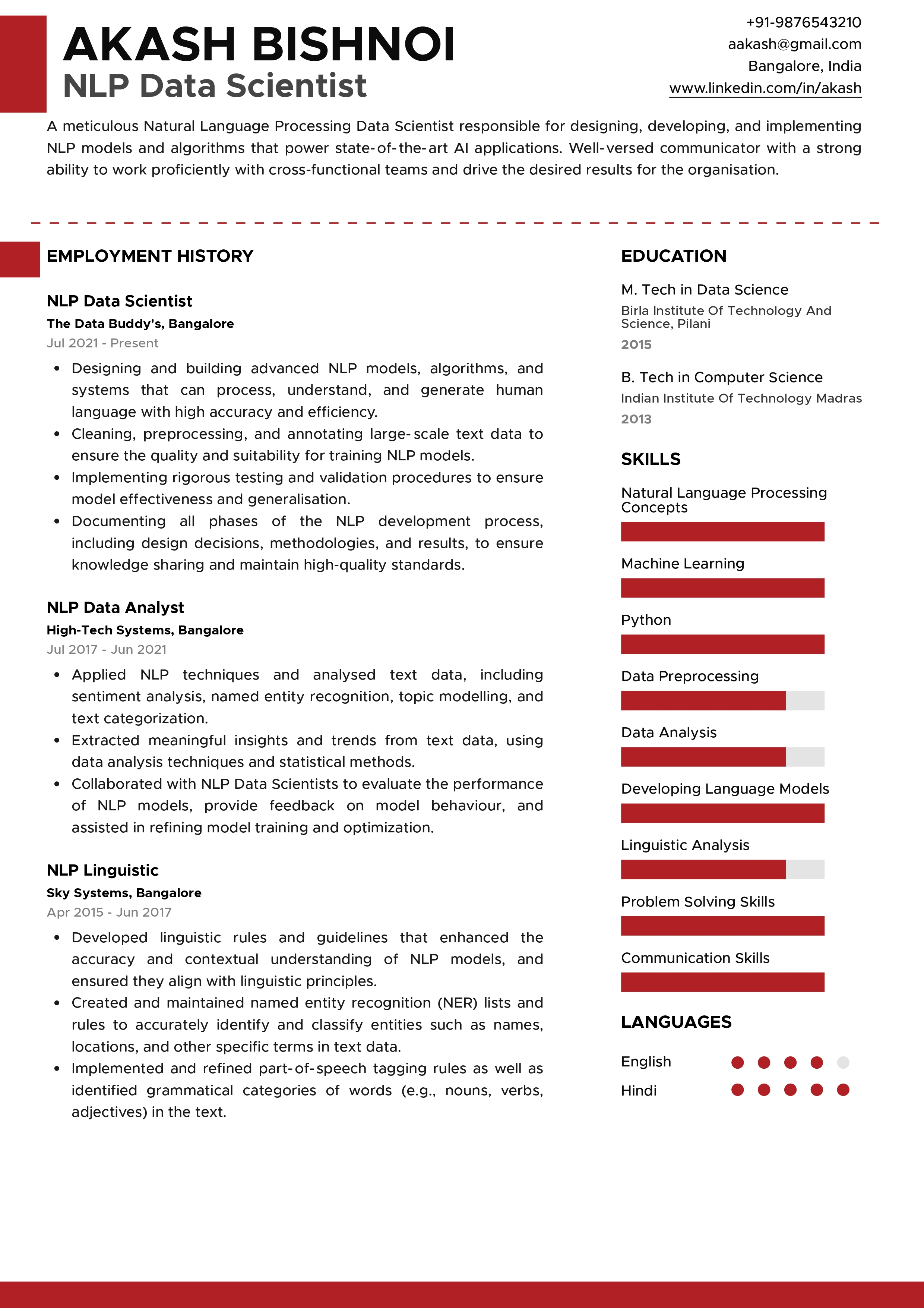 Check the full resume of NLP Data Scientist in text format here
Resume of Data Journalist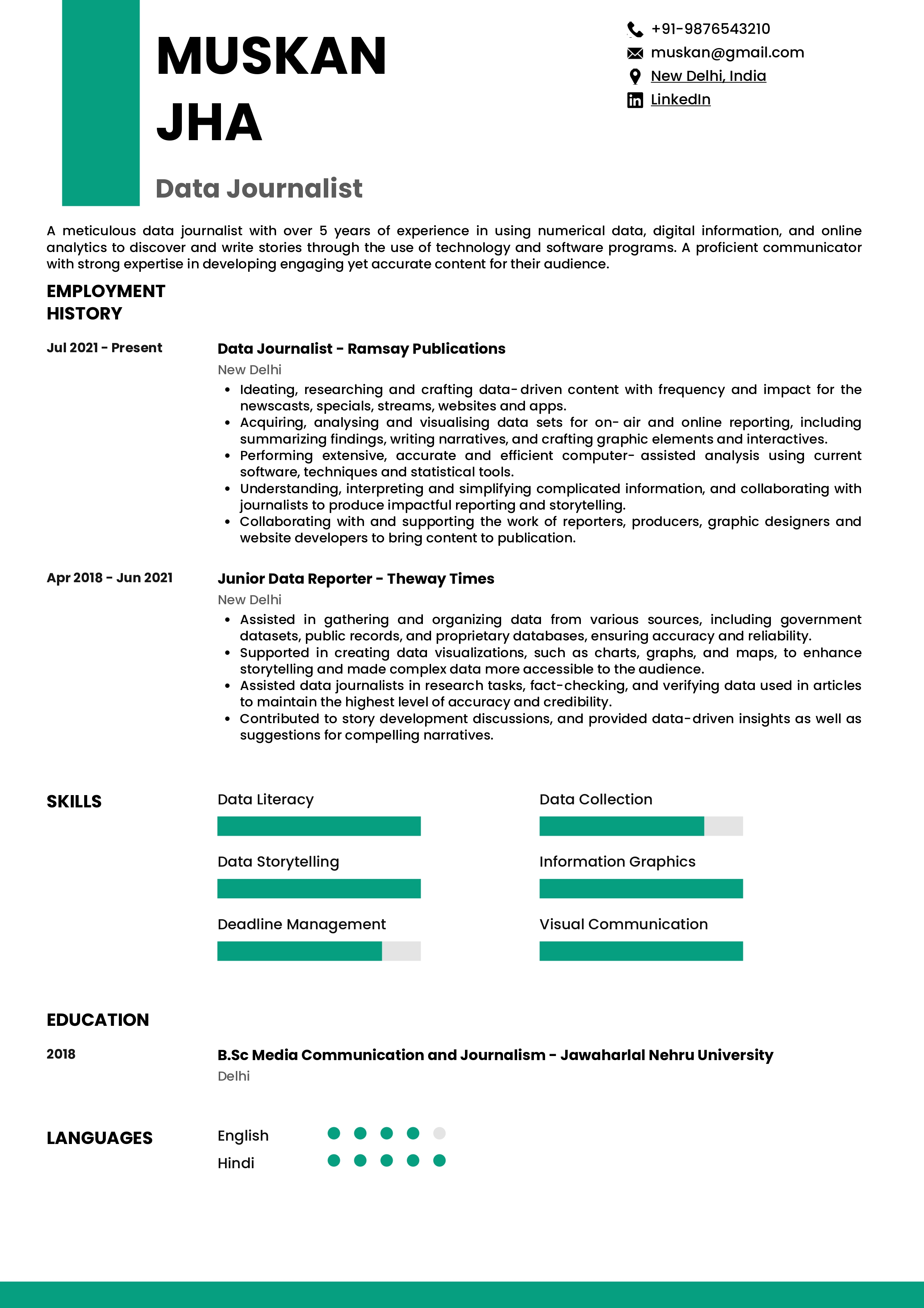 Check the full resume of data journalist in text format here
Resume of Data Analyst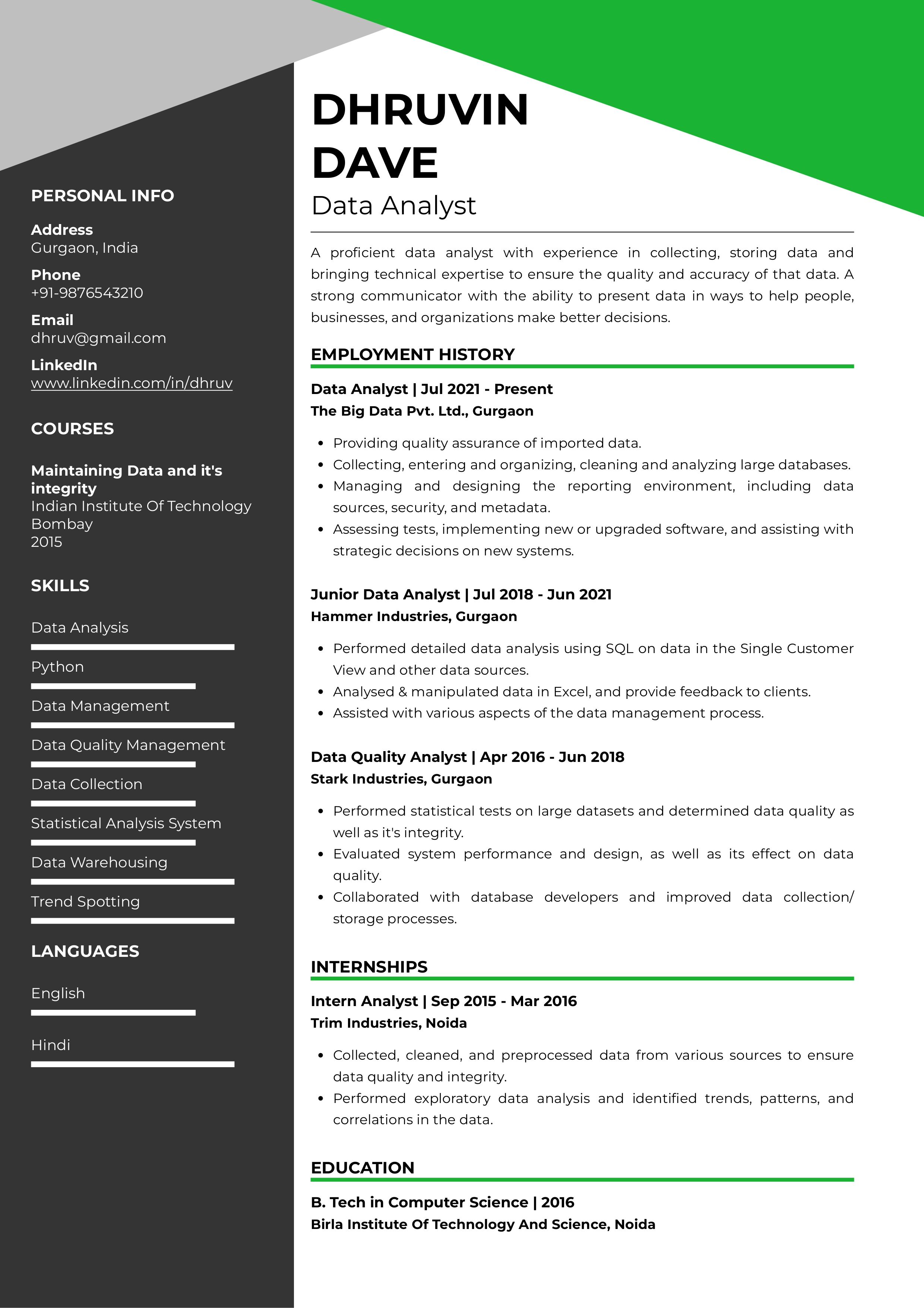 Check the full resume of data analyst in text format here
Summing Up
At this point, we all can agree that a resume may look like a simple document, but is so much more than that. It needs to be drafted delicately and meticulously. Landing your much-awaited job or another rejection depends highly on how well you make your resume. By following these tips, you can build a great data science resume that minimizes hurdles and gets you hired.
Still, facing difficulties in building the perfect data science resume?
Try Resumod's professional resume builder now.