Updated: 9 June, 2019
A Resume is a very critical professional document that takes you to the interview table. Realising a resume's role in a job search process, people – even beginner workforce - often prefer getting their resumes professionally done. There are multiple resume building options available in the market including customised services, resume development tools, paid apps and more. Resumod is a recently launched automated web application  that can be used to build resumes that are not only appealing, but are also structured.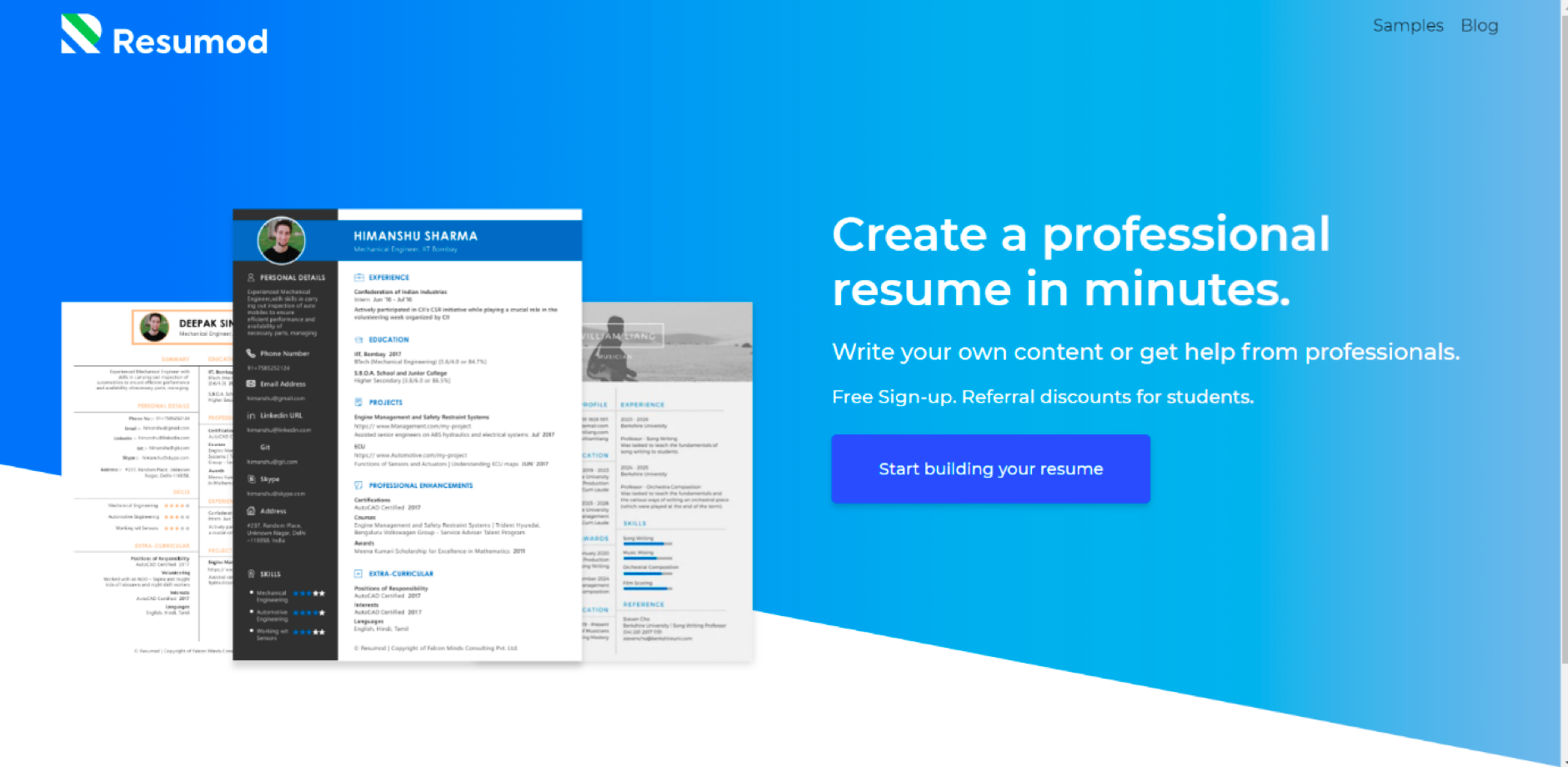 Its numerous features distinguishes it from the others:
1. Multiple format variations
Resumod provides multiple professionally designed formats to meet the diverse requirements of multiple professions. It has five interactive resume layouts and five colour vriations so that you can create 25 unique resumes at just the click of a button.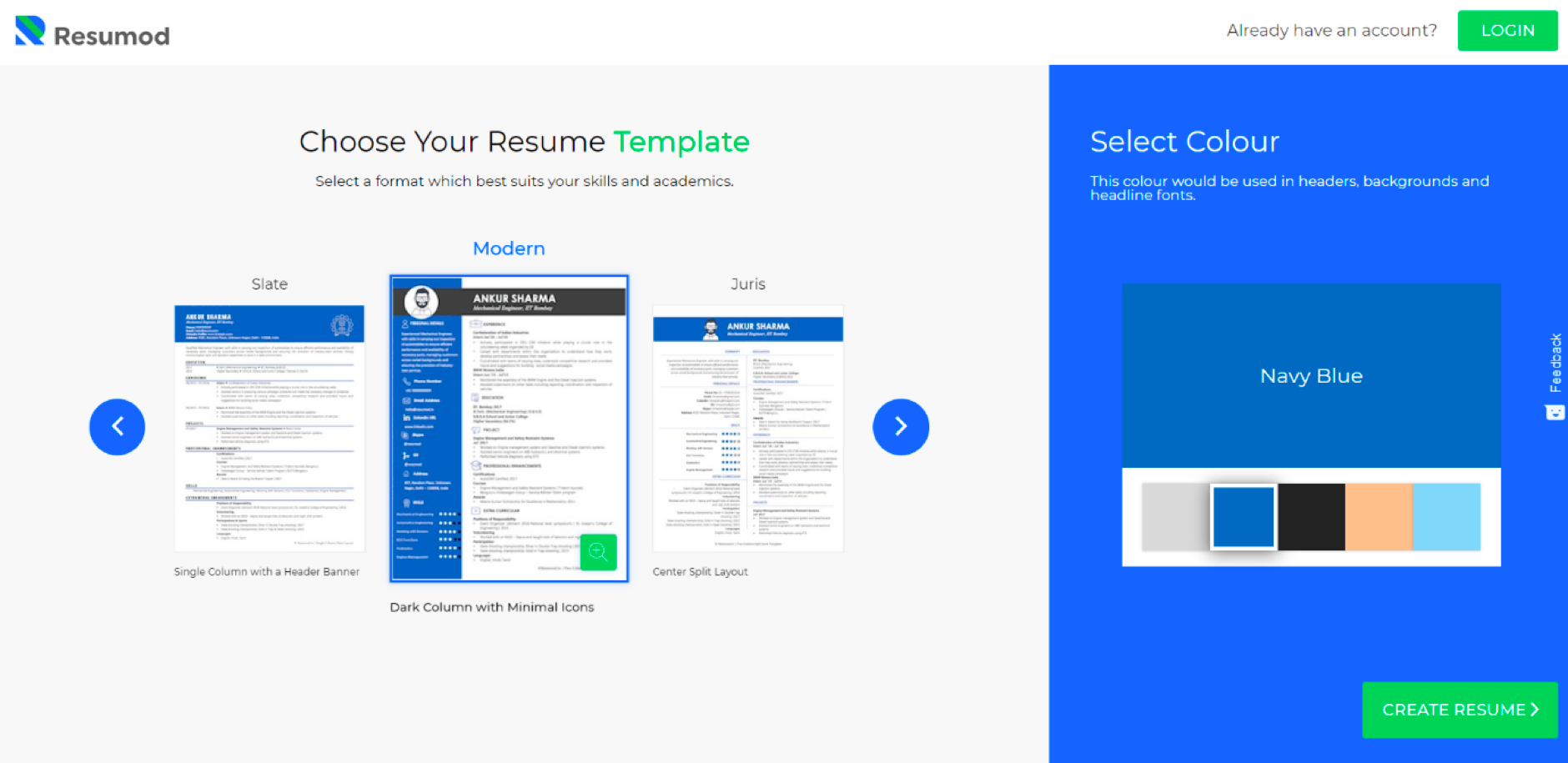 We are planning to introduce more than 50 templates and over 10 colour variations in the future.
2. Sample Resumes
Resumod understands that the young workforce needs assistance with making their very first resumes and has come up with a wide range of professionally designed sample resumes that can help you get the job of your dreams. It has over 50 comprehensive job categories including engineering, auditing, hospitality, marketing, data analysis, research and more. You can check them out here.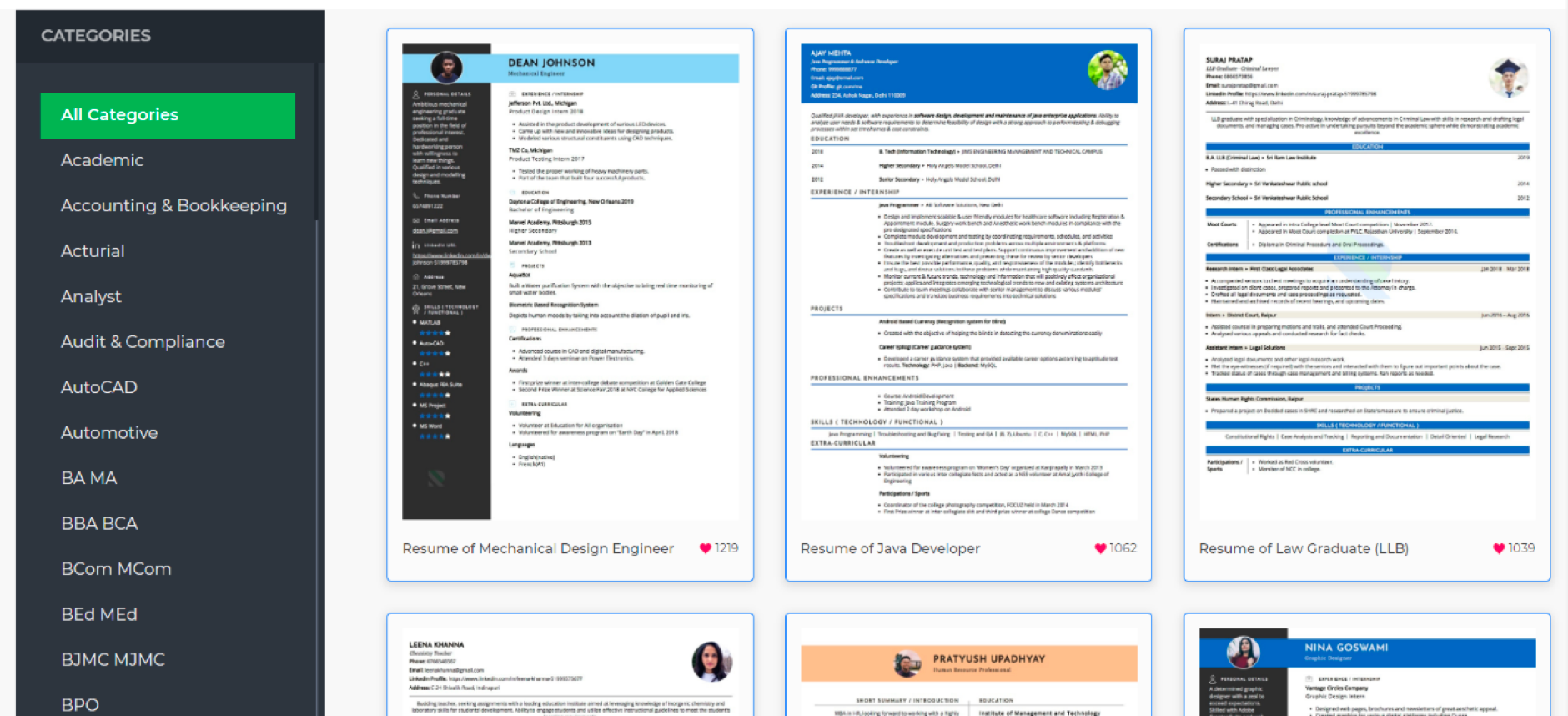 3. Easy to Customise Sections
Resumod not only provides you with multiple sections to clearly portray your skills and academic/professional background but also has the provision to change the headings as per your specific requirements. Another noteworthy aspect of the tool is that fields that are not required when left blank will not show up in the final resume.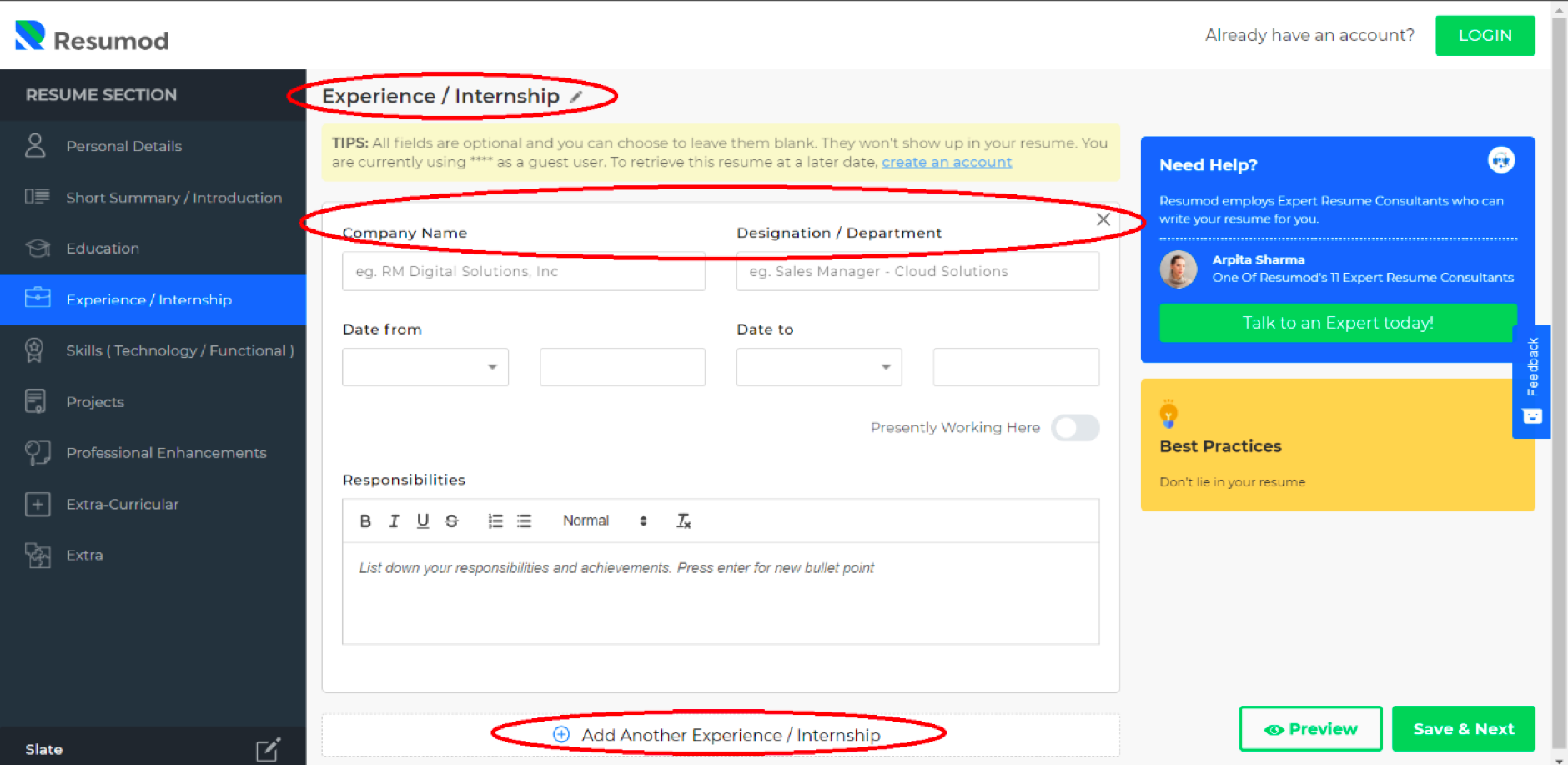 4. Expert Help
Confused on what to write and how to frame crisp sentences? Well, Resumod has got you covered by providing you with a team of expert resume consultants who can write your resume for just for Rs. 200. Once you opt for Expert Help, Resumod helps you with editing your resume multiple times over a period of 2 months.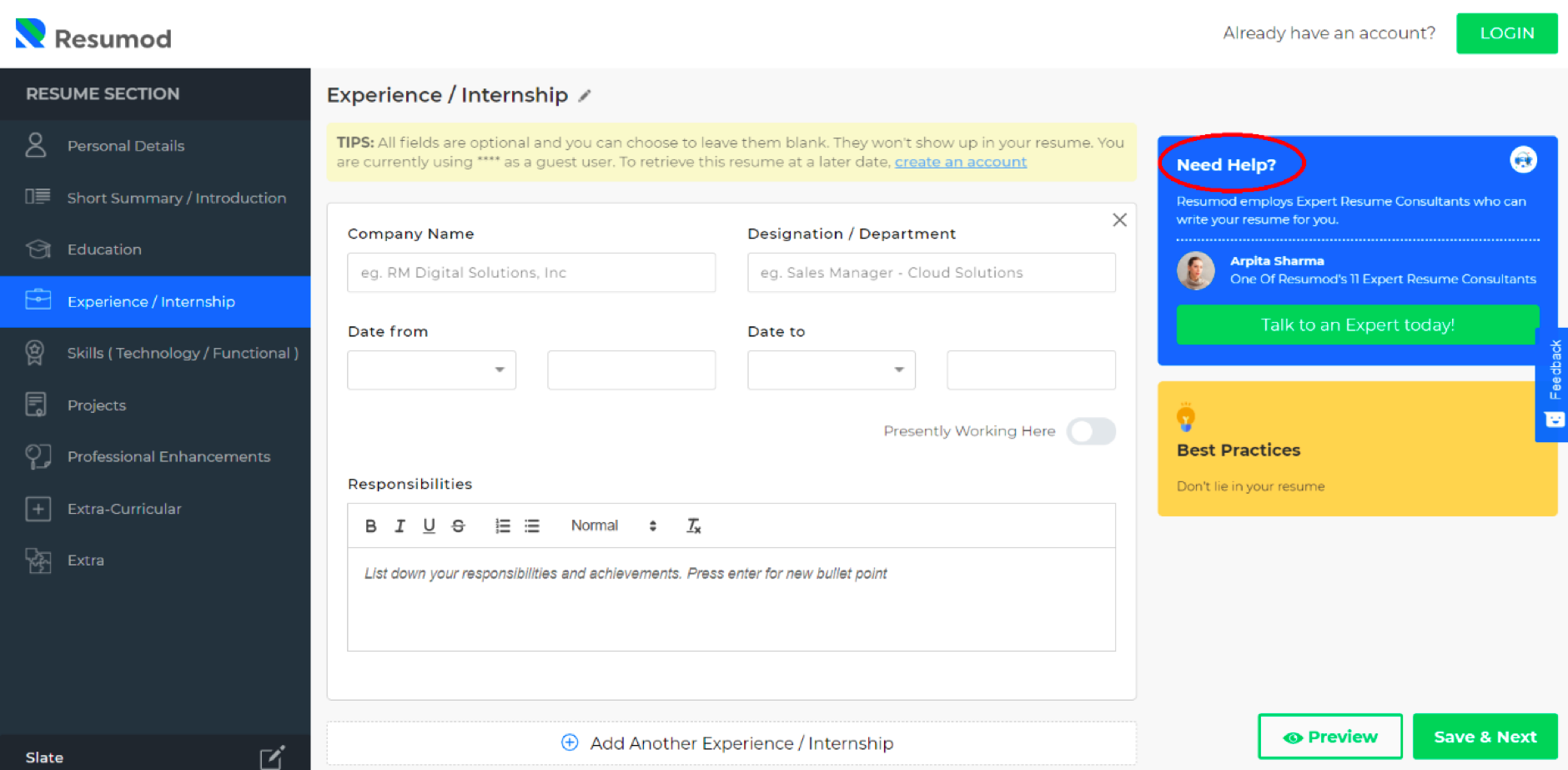 5. Preview and Free Downloads
You can preview your content at each section to see whether the format you chose fits in with your description. You can also change the format and colours infinite times during the resume building process. The resumes can be downloaded in PDF format at absolutely no extra cost. A PDF means your information is secure, cannot be edited, and can be accessed on any device.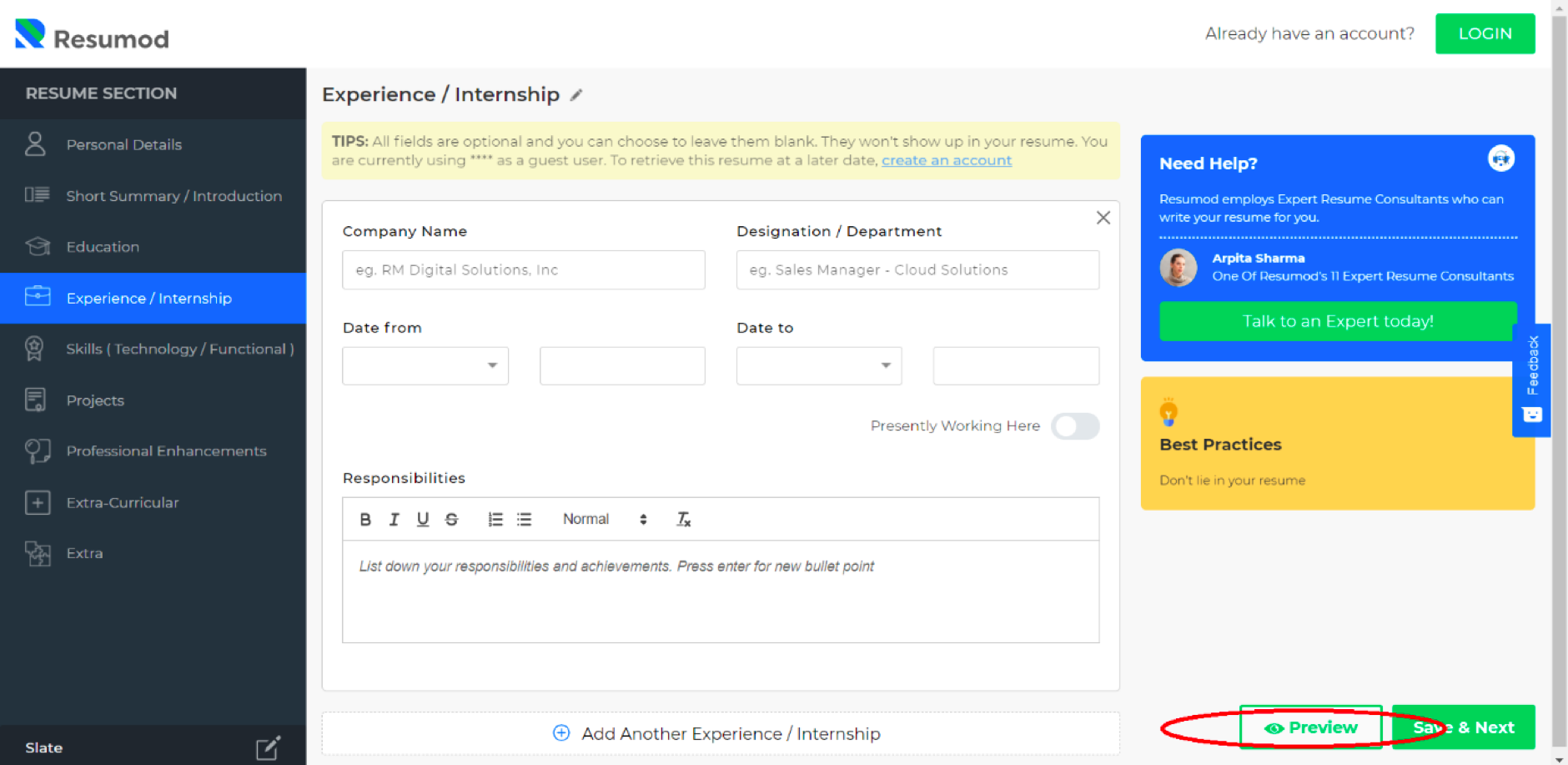 6. Best Practices
Resumod informs its users of the resume building best practices alongside each section to make the processes much easier. The "Best Practices" dialog box appears on the right side of the page and provides you with useful suggestions to fill the details in each section.
7. Referral Discounts and Nominal Subscription Fee
Resumod offers first month free subscription and perineal referral discounts to all its users. Each time someone subscribes to Resumod using your referral code you get an added free month of the service. Further, the subscription costs a minimal Rs 50 for a month and gives you the benefit of unlimited monthly downloads. There is also an option in which you can choose a more economical plan that will cost you Rs 200 for 6 months.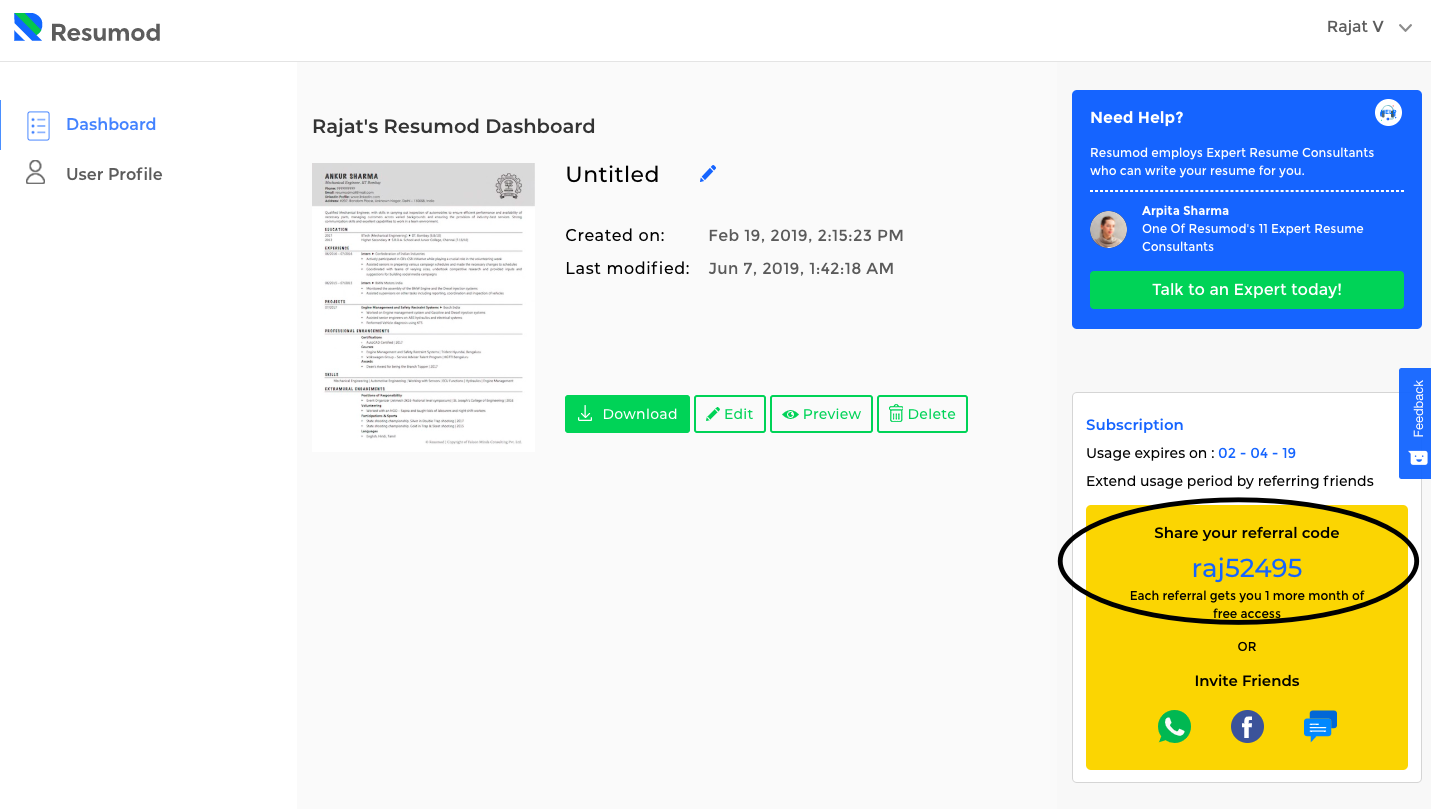 8. Informative Blogs
Resumod has recently come up with its very own blog which has informative pieces on all things related to career and professional documentation. A quick skim through the blogs might help you tremendously in creating a highly impactful and praiseworthy resume. You can check the blog here.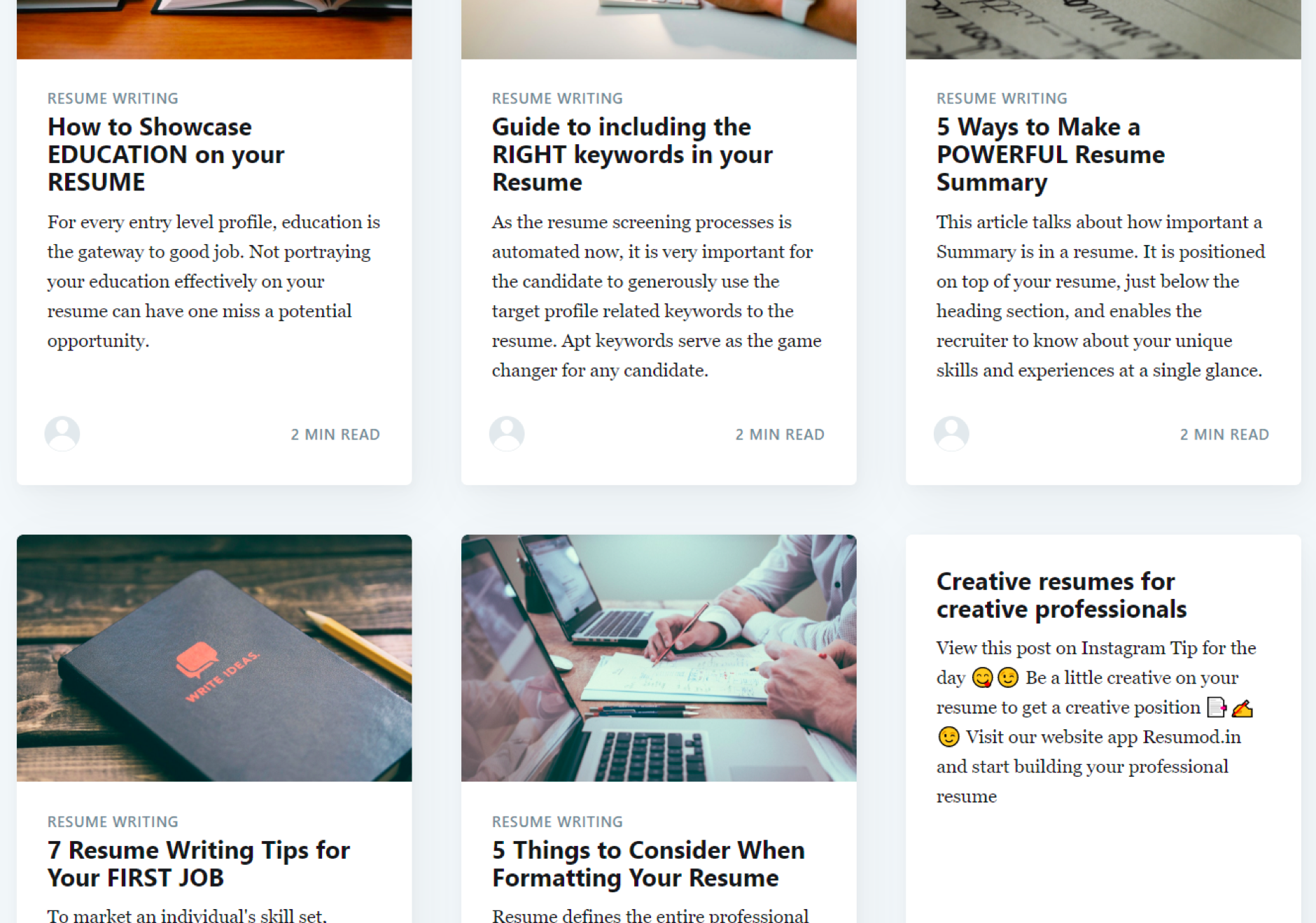 9. Forever Cloud storage
You require multiple resume modifications through your professional journey and typing the same information every once in a while might be a bit tedious. However, Resumod with its forever cloud storage feature has sorted this for you. The data you save once is never lost, even if you access the website after a considerable amount of time. So do not worry, just log in for quickly updating your resume.
With many exciting features, you can choose Resumod to be your go to resume making app without a second thought. If you struck somewhere, don't forget to reach out to the experts.
This post will be updated upon addition of new features to the app.