How to Use ChatGPT to Write a Resume
We wanted to combine ChatGPT's speed with our awesome formats, so we integrated Resumod into ChatGPT, now you have awesome formats + great content all in one place.
Job search is a daunting task. However, writing a resume highlighting your skills and experiences in a way that captivates potential employers makes it worthwhile. Thanks to technological advancements, you don't have to brainstorm the art of resume-making all by yourself. ChatGPT, which has gained immense popularity in recent times can help you draft resumes with the click of a button. We wanted to combine ChatGPT's speed with our awesome formats, so we integrated Resumod into ChatGPT, now you have awesome formats + great content all in one place.  
But do you really need to use ChatGPT for your resume? Is it worth the hype?
In this blog post, we will explore:
Ways ChatGPT X Resumod Help With Resume Writing
Before learning the benefits of ChatGPT for writing resumes, you should understand what it actually is. ChatGPT is an advanced deep-learning assistant developed by a company called OpenAI. In layman's terms, it is a chatbot that renders detailed, human-like responses to questions by using artificial intelligence. Though Siri, Google Assistant and Alexa are all AI chatbots, ChatGPT's wide range of applications and accessibility makes it different from the rest.
This is how ChatGPT helps with resumes:
Saves time: ChatGPT can produce your resume's text in less than a minute. All you need to do is type your message and Voila! Your content is ready to be used.
Identify your strong and weak areas: Being the intelligent AI language model that it is, ChatGPT can do much more than just output content. It identifies the areas that you should depict better in you resumes, and at the same time tells you the weaker parts.
Customize your resume: You can customize the resume's content as per the job listing. Just feed in the exact job title or the major keywords, and ChatGPT will match the details as per your needs. This way you can also cross ATS's strict resume checks.
Helps edit your content multiple times: If you are unhappy with the resume content, you can regenerate it till the time you are satisfied. You can also mix and match the content from different responses and create the document that you want.
Develop a well-structured resume: ChatGPT's resume is structured as per the industry conventions. Even if you want to change the numbering of the sections, you have the opportunity to do so.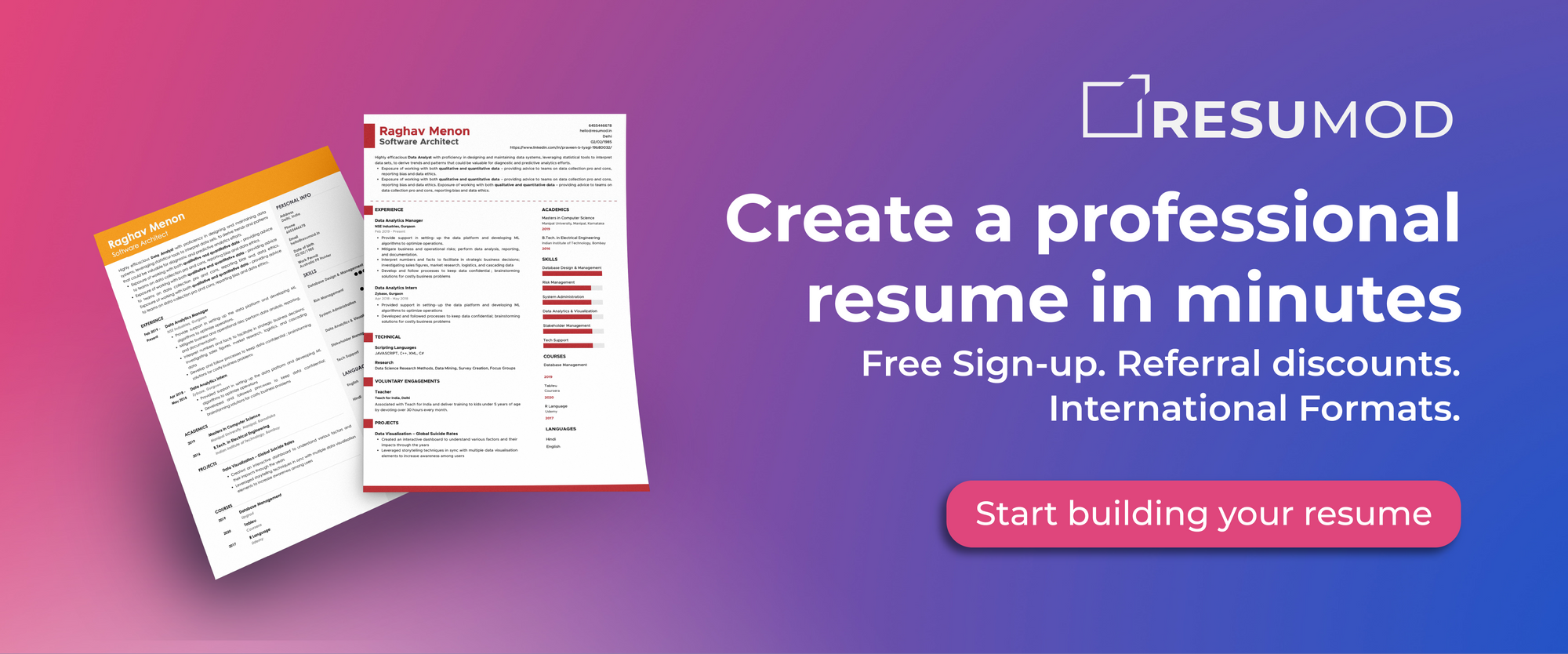 Steps to Make Your Resume with ChatGPT X Resumod
Resumod's integration with ChatGPT can not only help you produce creative ideas and resume bullet points for your desired role, but it can also help you modify and optimize your current resume pointers that aren't hitting the mark. This AI model can assist you in answering questions regarding creating your resume. Here's how you can get started.
1. Collect all the Information
The first step in resume-making is knowing what you need to add to your resume. You can have a plethora of achievements but not everything needs to be added to your resume. Firstly, you need to list down all your prominent academic and professional experience, including information about any special certifications or training. You can also gather the top skills you acquired from your projects. The more data you have in your hands, the better and more personalized the result will be.
2. Log in to Resumod and select a Resume Template
Our integration with ChatGPT will help you with the best-in-class content, but you need a resume template to get started. A well-drafted resume is a crucial document as it gives potential employers a clear picture of what you can bring to the table. It's your chance to impress them and show why you're the perfect fit for the job. So make sure that you use a classy and professional format. Resumod can help you choose from a range of 16 attractive templates.
3. Log in to ChatGPT
Once you find the ideal resume template, go to ChatGPT's homepage and sign in or build an account. ChatGPT offers both free and paid services. If you need basic assistance, you can use the GPT-3.5 version. The signup process is quite simple, so there won't be any hassle there.
4. Add Text
You have two options here. Either you can ask ChatGPT to build your resume from scratch or feed an input that contains your accomplishments and skill sets. In both cases, full-fledged resume content will be created. However, when you run a generic query like "Can you write a one-page resume for a tech reporter?", you will only get a common and overly-used output.
5.  Use ChatGPT To Enhance Your Content
Apart from text generation, ChatGPT is a great way to clean up and revamp your content as well. You just need to copy and paste your own text and ask ChatGPT to improve it. For example, you can type "Can you make this resume bullet: "I write about technology" sound better?" ChatGPT can create a highly formal and compelling bullet point out of that simple line in a few seconds. Once you have your result, you can always tell ChatGPT to change it further by saying things like "Make it shorter" or "Can you include [additional details]?"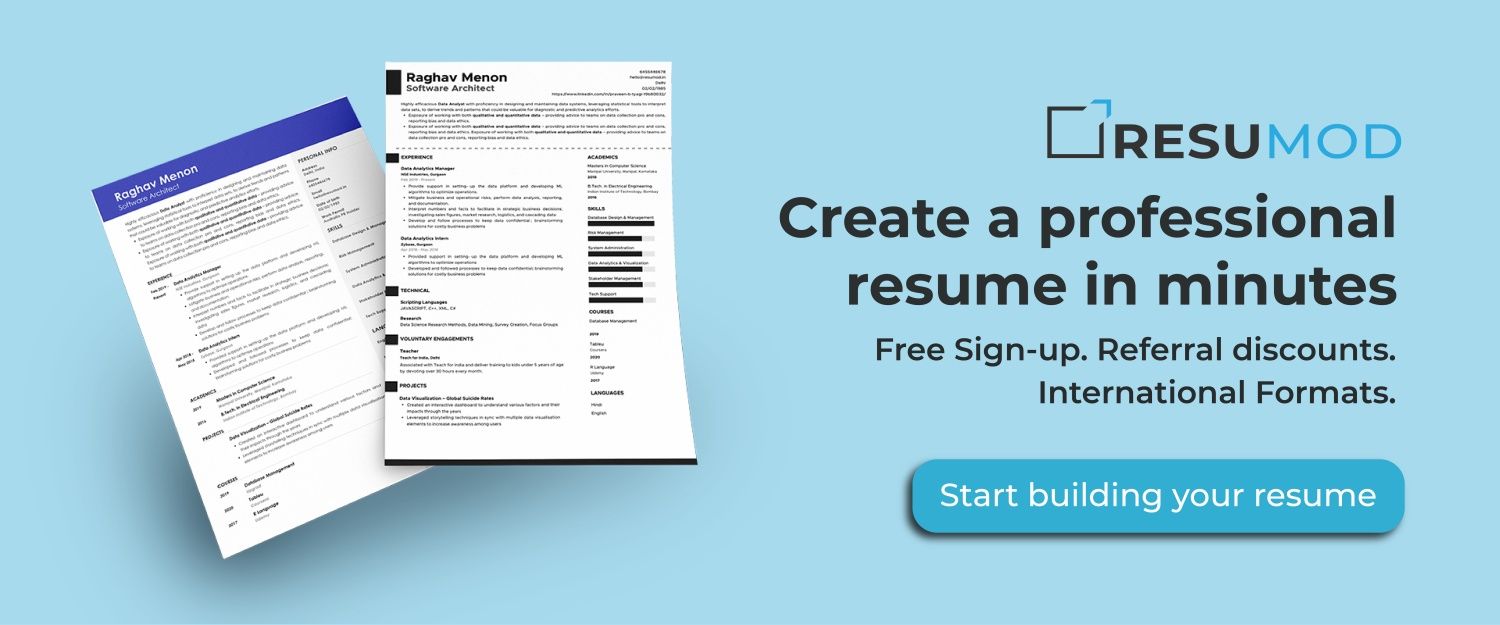 ChatGPT Prompt Ideas for Resume Writing
Bland resumes easily and gets pushed down the shuffle. A distinctive and role-specific resume is the one that draws attention. No doubt ChatGPT can make the process of resume-making way easier. But if not used the right way, it will only prepare a common and redundant document. To generate more engaging and effective content, you would need to amplify the prompt you give to AI language models.
Prompts describe the way you interact with ChatGPT. It can be a question, any suggestion or a statement directed to get a particular result. Your inputs play a big role when it comes to making customized resumes. Whether you are a fresher or experienced professional, our list of tried and tested prompt ideas will help you get better results.
Prompt for a Fresher Level Candidate
Example: I am XYZ. I graduated with a [degree name] from [institute name]. I completed 3 internships at A, B and C companies respectively. At A, I wrote search engine-optimized blogs for [write genre name]. Some of my works include [write articles name]. At B, I did [write responsibilities in 1-2+ lines]. I helped boost the traffic by y%. At C, I was responsible for managing a team of interns and [write other responsibilities and achievements]. My core skills include [skills name]. Help me create a 1 page content writer resume that highlights my skills, experience, and grades. Let me know for further assistance.
Prompt for Updating Your Existing Resume
Example: Hey ChatGPT! Draft a 1-2 page resume for me. I am XYZ, a DevOps Engineer at ABC company. I have 4.5 years of experience in the software development field and 3 years of experience in DevOps. I am attaching my resume for reference. Please highlight my knowledge in [write name of skills you want to focus on]. Also add some sample metrics for measuring the success of the p, q, and r projects I worked on.
PFB my current resume.
Prompt for Enhancing Particular Sections of Your Resume
Example 1: Can you improve the work experience section of my resume? Write only 4 to 6 points for each job and quantify my work.
Example 2: Help me add some trending industry specific skills in my resume.
These are just a few ways you can make the best out of ChatGPT. You can expand and customize the prompt as much as you want. However, keep the instructions job specific only.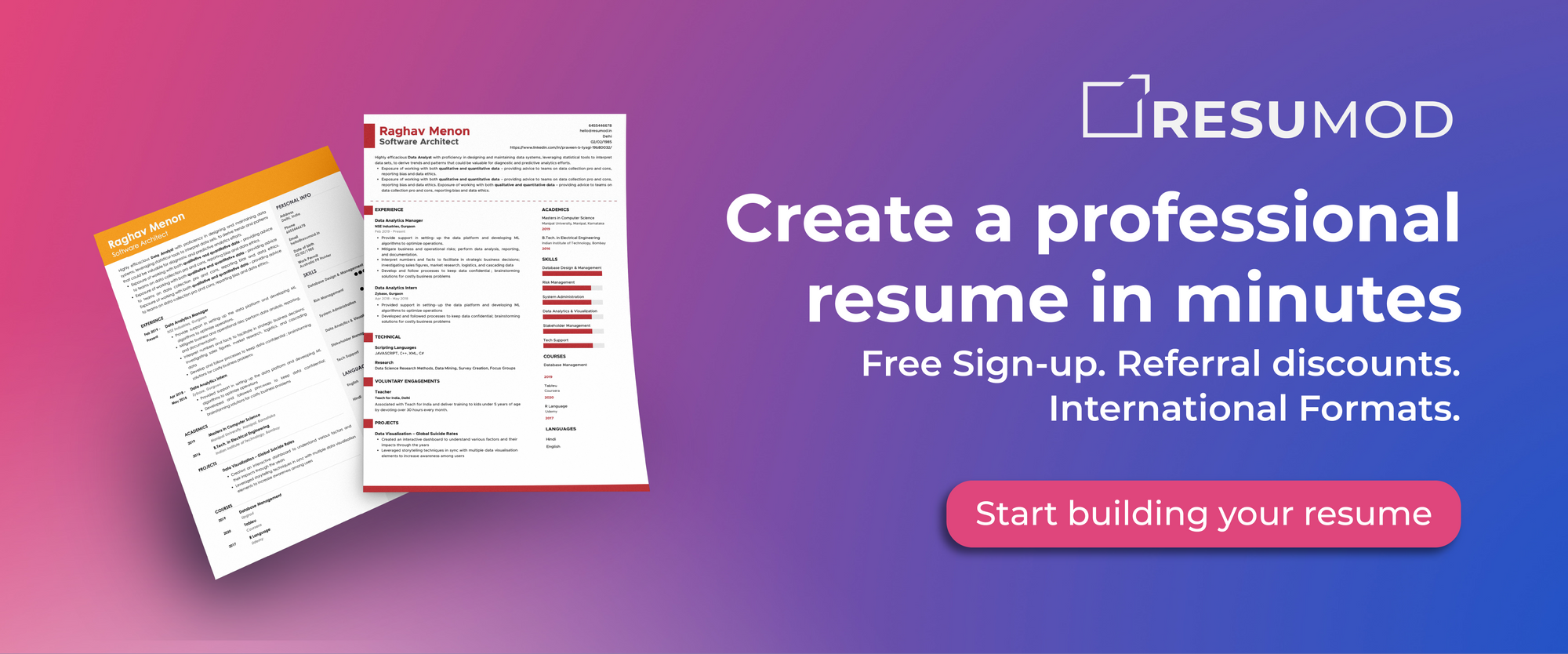 Things to Consider When Using ChatGPT for Resumes
While ChatGPT can provide valuable guidance and suggestions for resume writing, it's important to approach the process mindfully and consider a few key factors. Here are some things to keep in mind when using ChatGPT as an aid:
Use ChatGPT as a Tool, Not the Sole Decision-Maker: Treat ChatGPT as a helpful tool that complements your own expertise and creativity, rather than relying on it entirely to craft your resume. Even though ChatGPT can easily generate content that can be copied and pasted into a resume, you should change the text so that it doesn't showcase a robotic tone.
Verify and Cross-Check Information: While ChatGPT can generate content, always double-check dates, job titles, educational qualifications, and other details to ensure accuracy. Take responsibility for the final accuracy and integrity of the information presented in your resume. In addition, take the time to proofread and edit your resume carefully, checking for grammar, spelling, and formatting mistakes.
Maintain the Personal Touch: Ensure that the content generated by ChatGPT aligns with your overall tone and style you wish to convey in your resume. Remember that the language should reflect your professional identity and career goals, whilst being professional.
Seek Human Feedback and Input: Though ChatGPT can offer all the content you need, consider seeking feedback from career advisors or trusted colleagues. After all, your resumes are going to be screened by real people. Getting feedback can broaden your horizons.
Keep Your Original Resume Handy: ChatGPT doesn't know you better than you do yourself. It can miss out on vital information. Keeping your original resume by your side makes sure you don't include all the relevant details.
Find the Best Resume Examples: To stay at the top of the competition, you would need to know what other professionals in the field are doing better. Resumod offers a wide collection of resume samples that will help you know what is trending in the resume-writing game.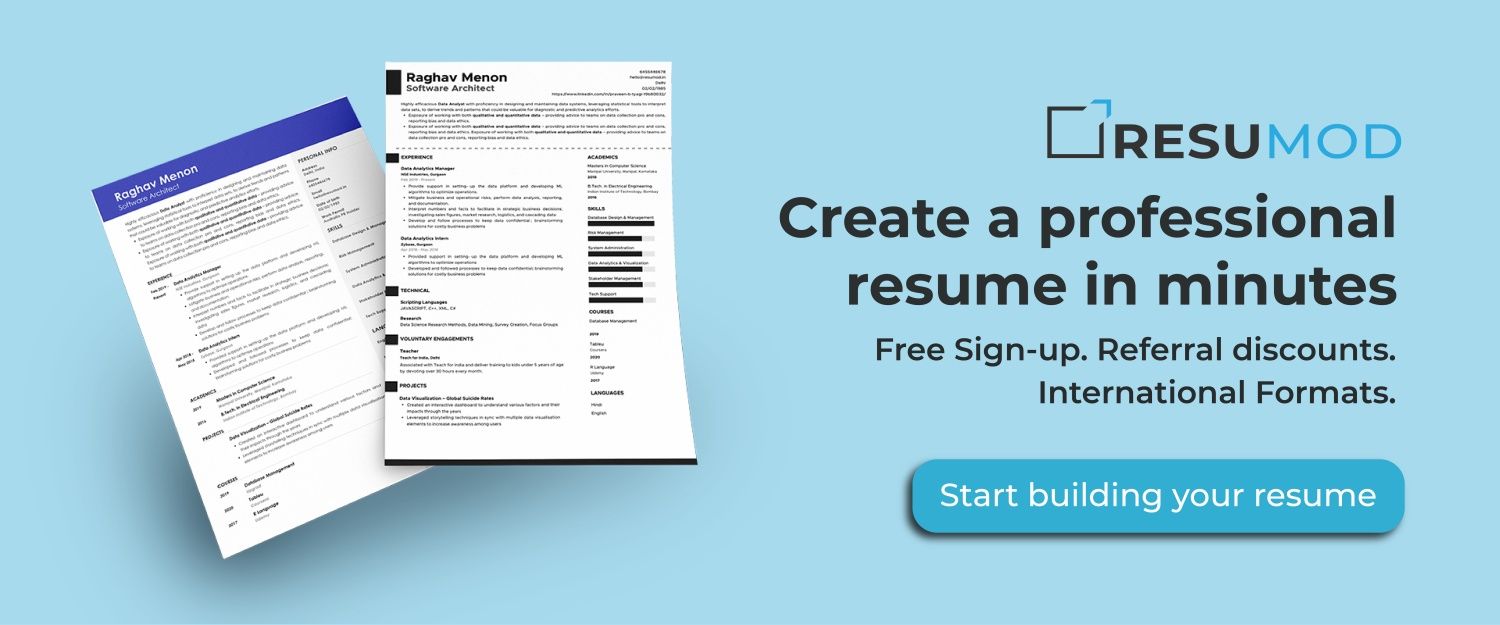 20 Best Resume Examples on Resumod
Resume of an Application Architect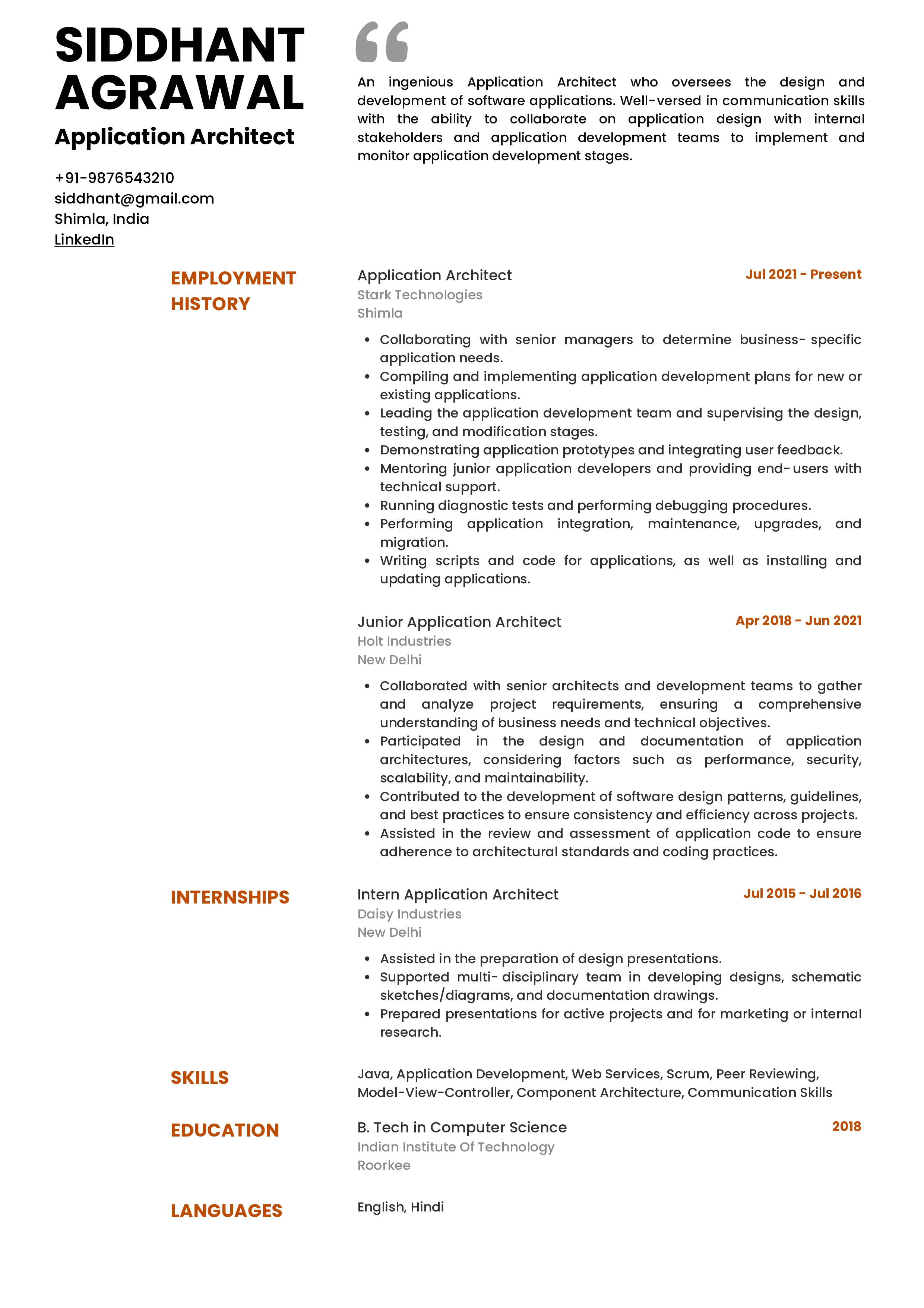 Check the full resume of application architect in text format here.
Resume of Fashion Design Graduate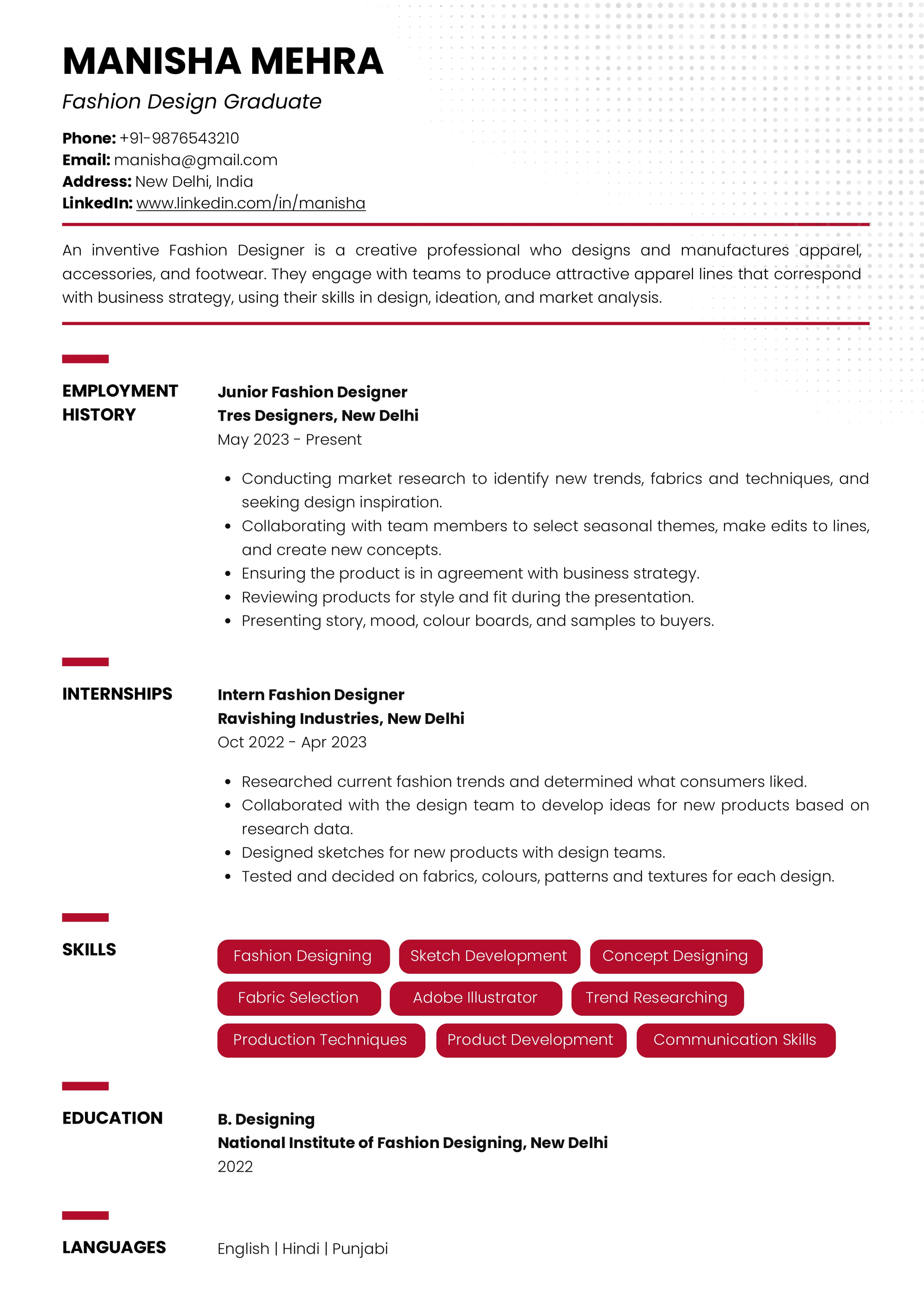 Check the full resume of fashion design graduate in text format here.
Resume of an IT Program Manager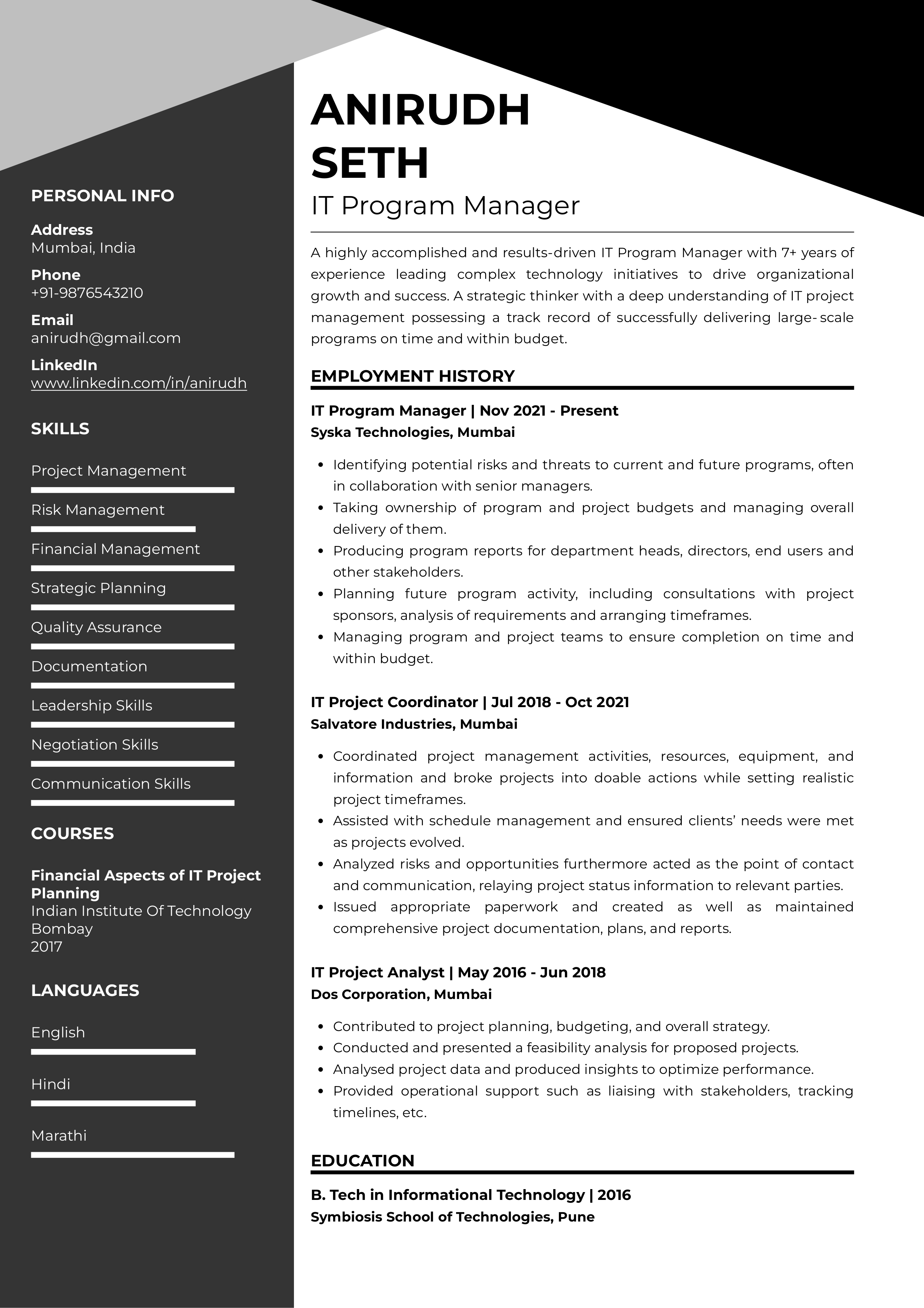 Check the full resume of IT Program Manager in text format here.
Resume of a Data Analyst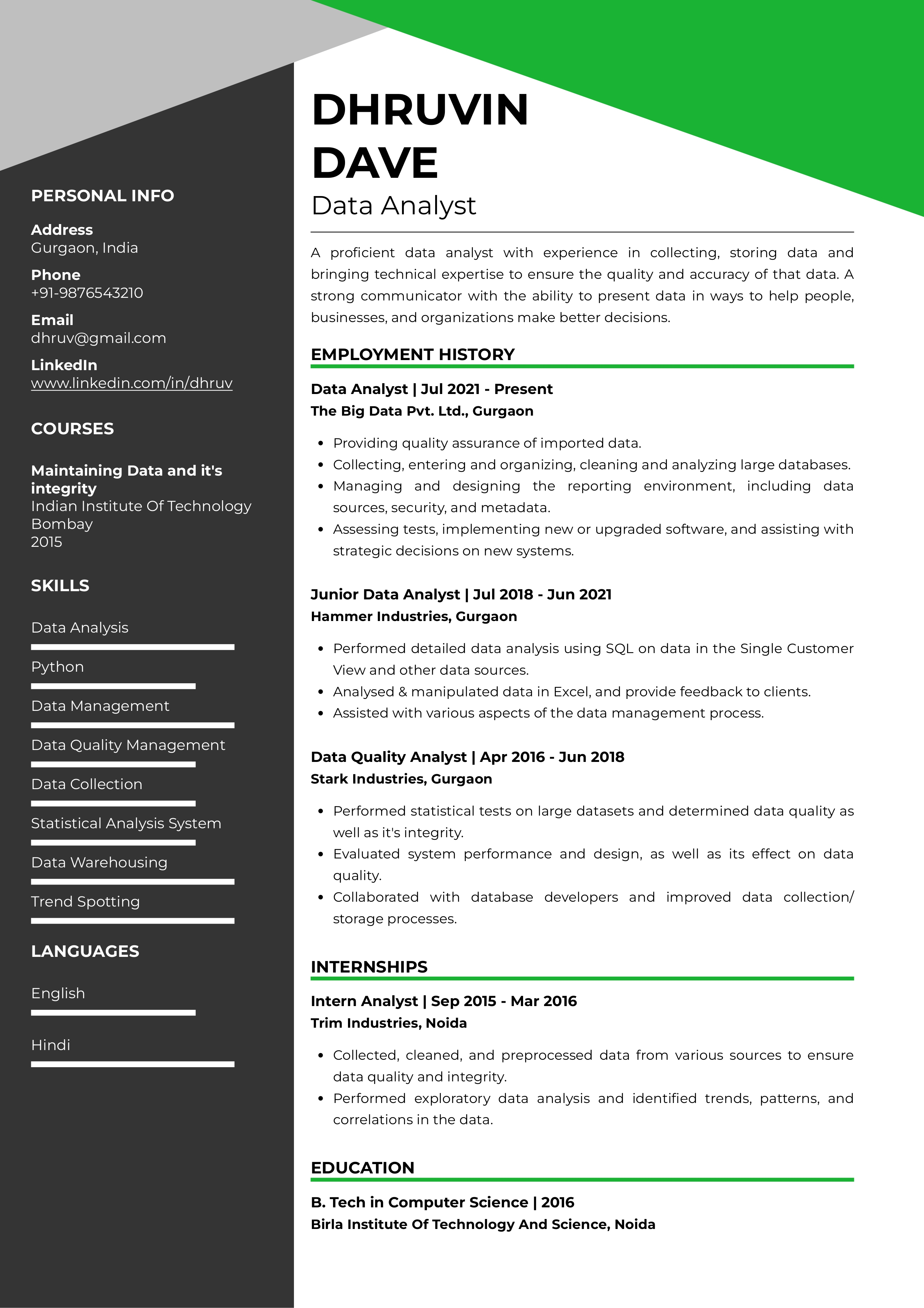 Check the full resume of Data Analyst in text format here.  
Resume of NLP Data Scientist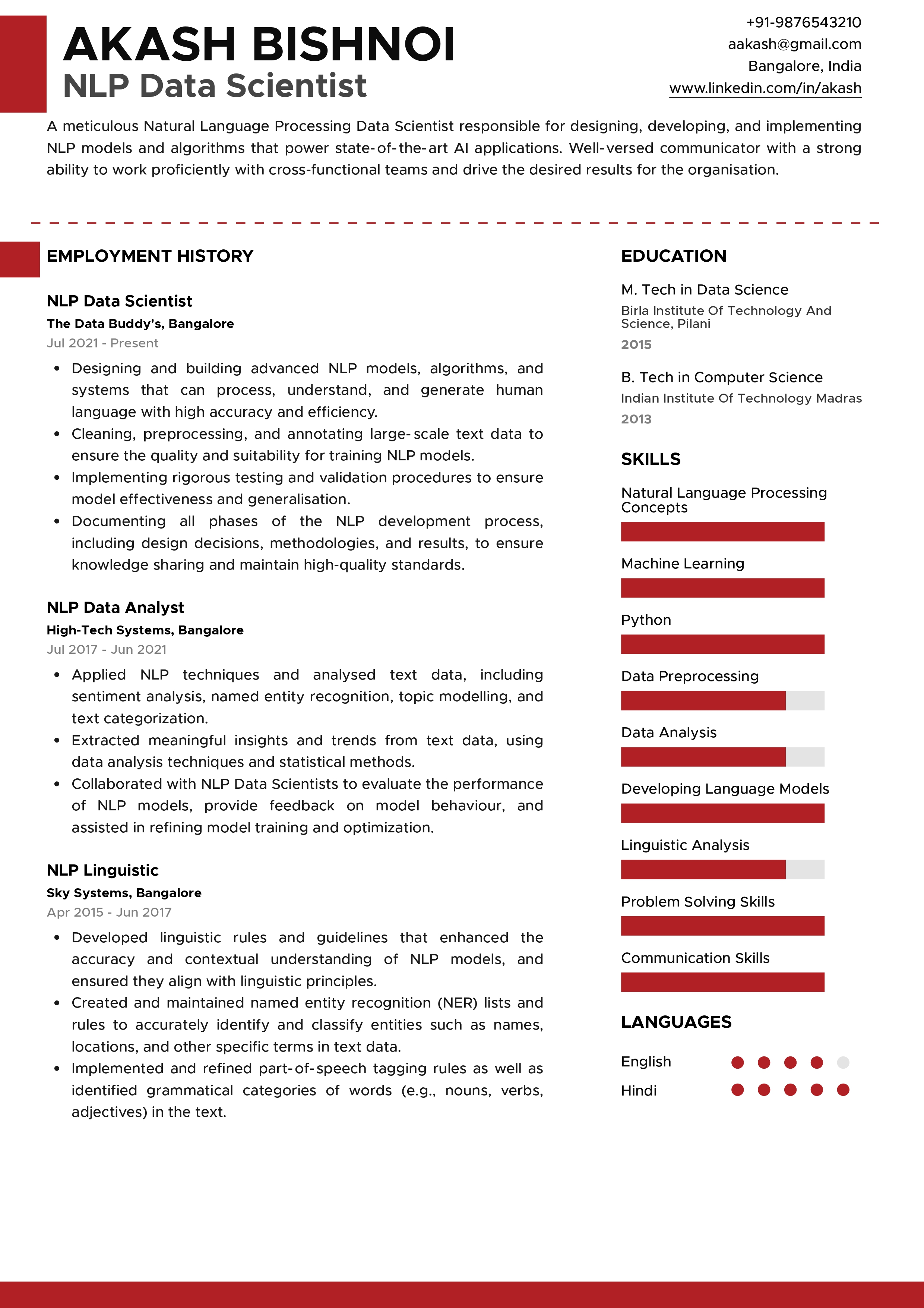 Resume of NLP Data Scientist in text format here.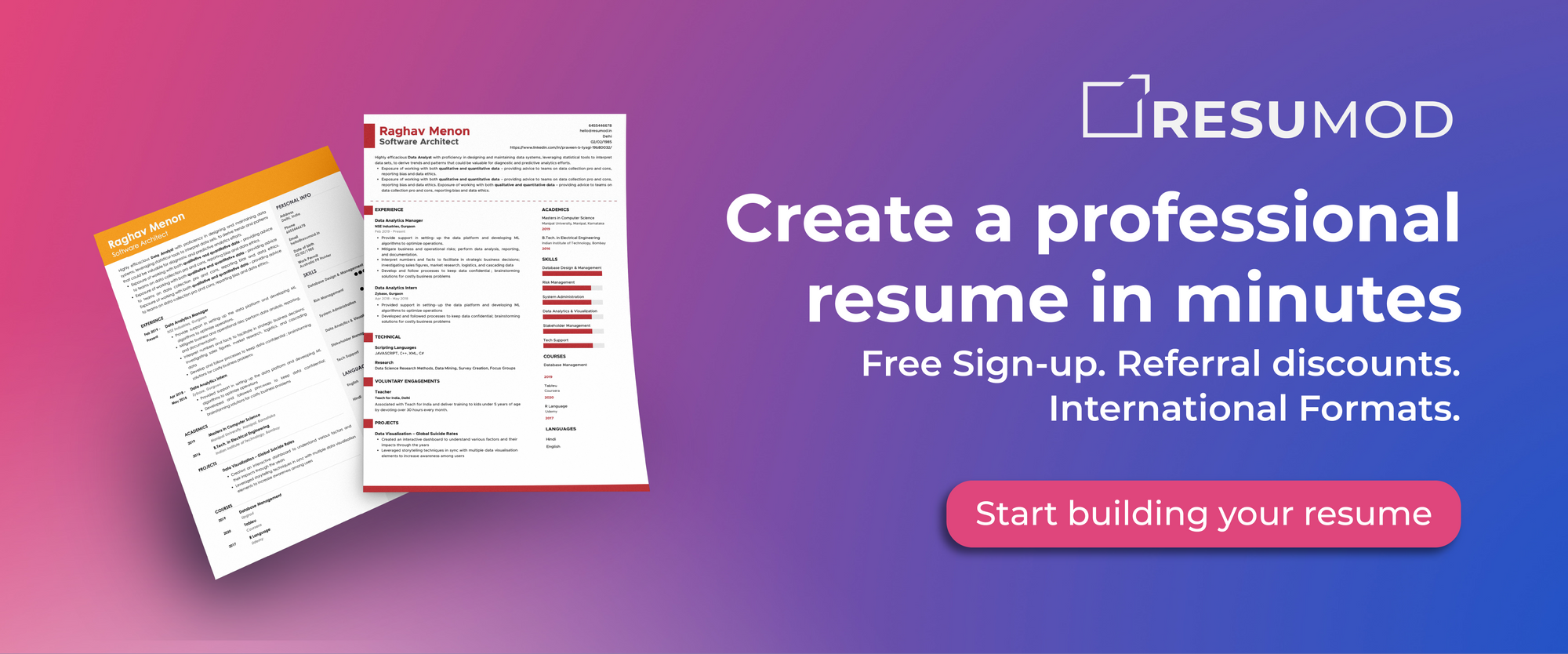 Resume of Business Intelligence Analyst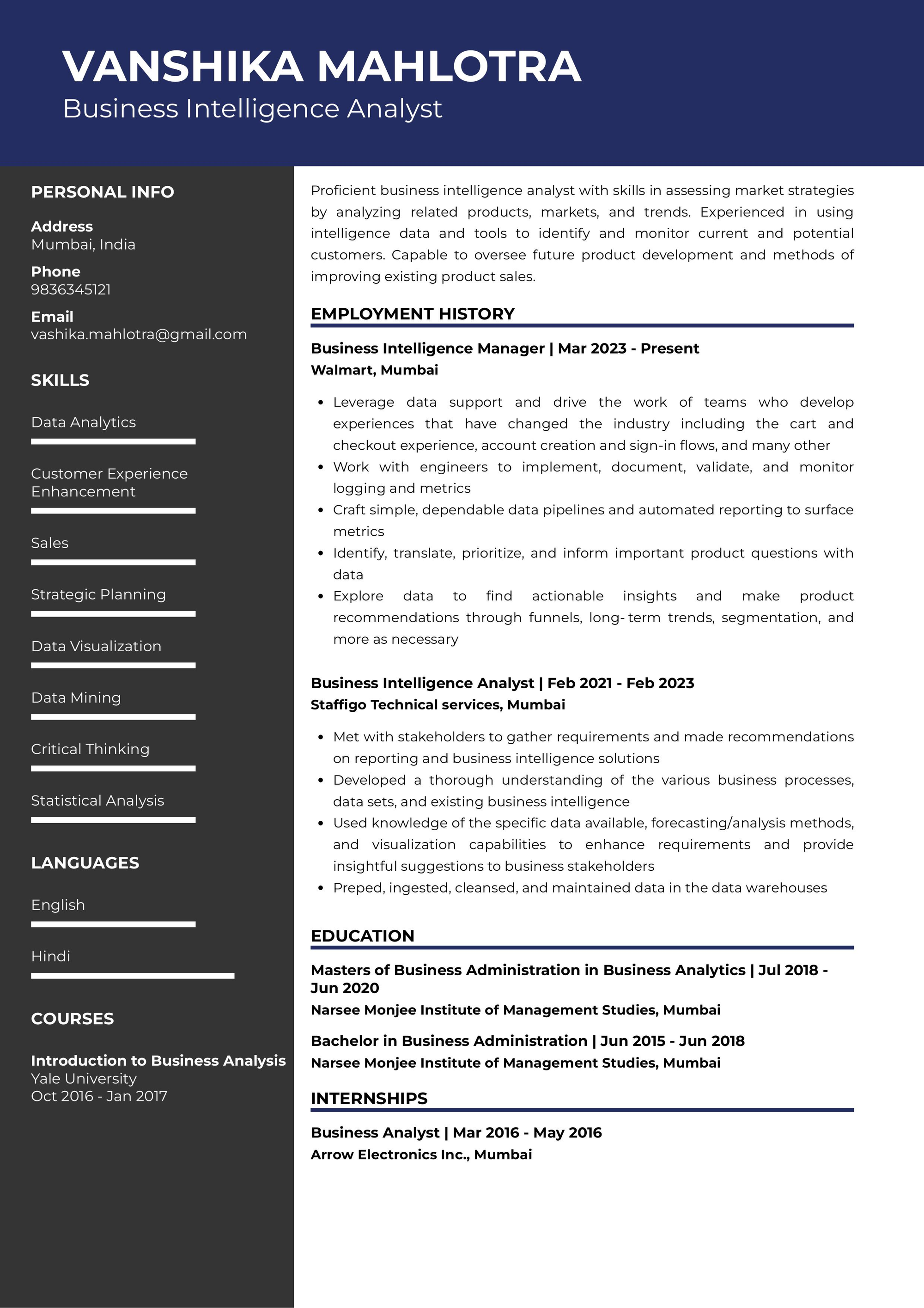 Check the full resume of business intelligence analyst in text format here

Resume of Solutions Architect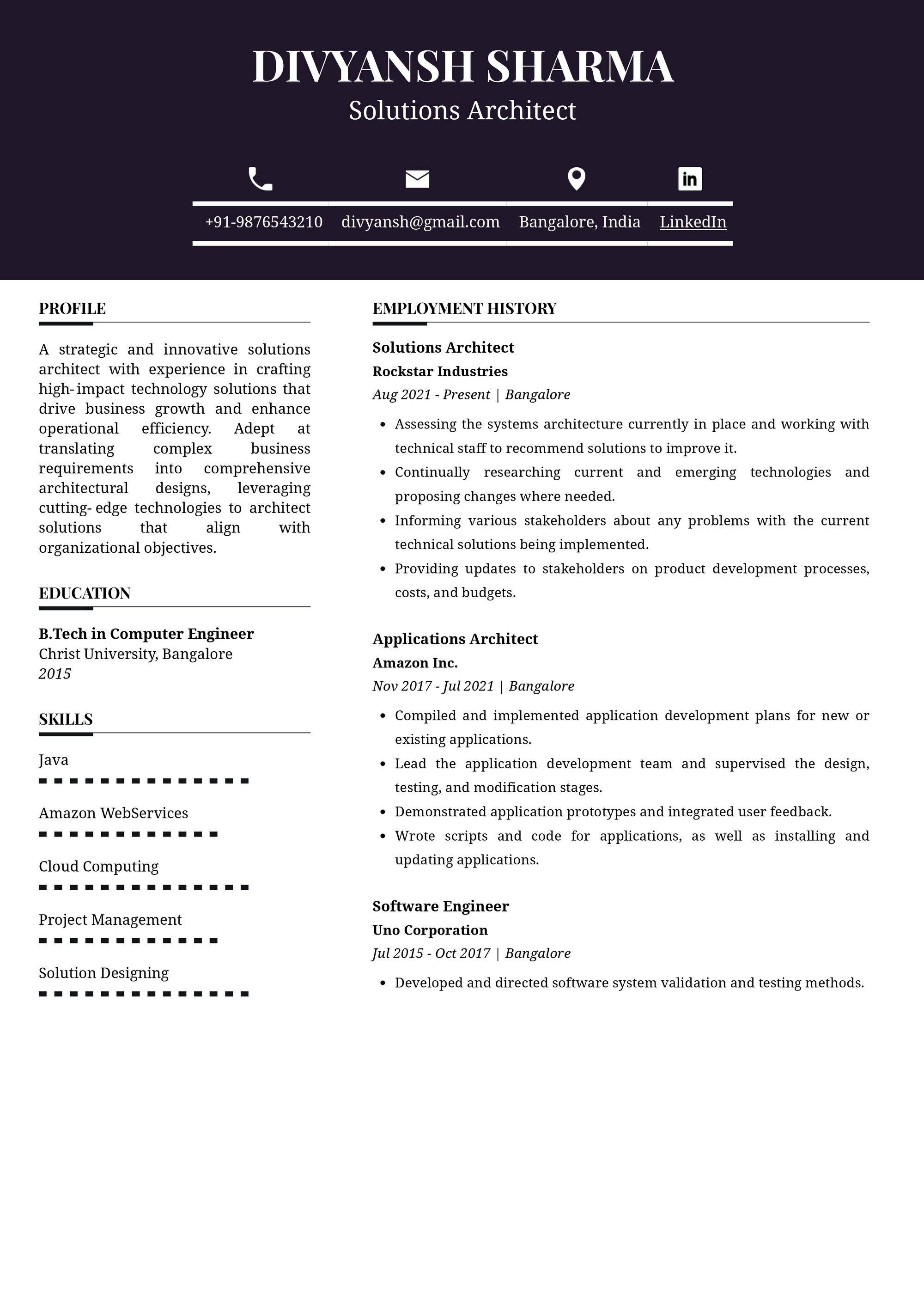 Check the full resume of solutions architect in text format here
Resume of BA Psychology Graduate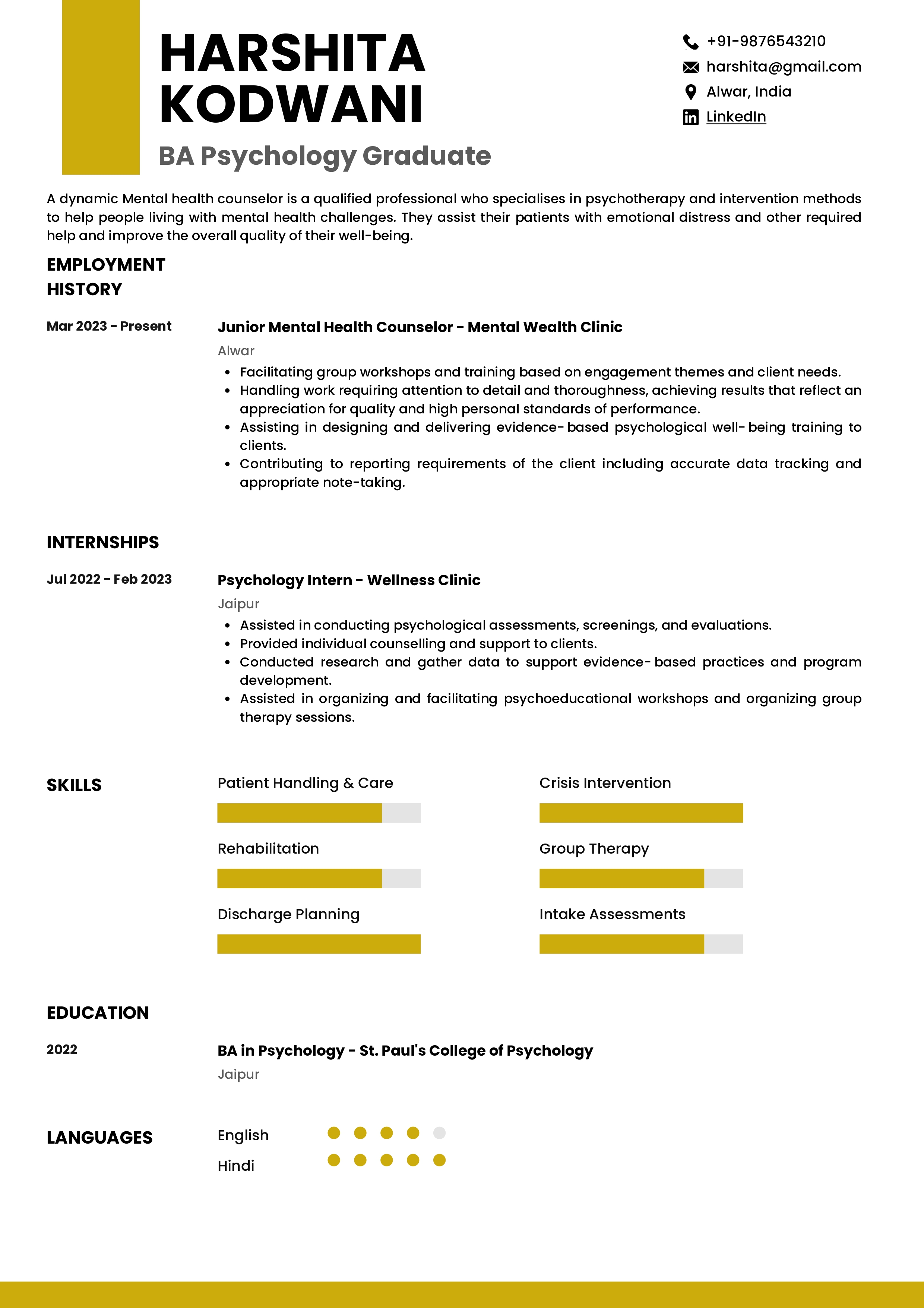 Check the full resume of BA psychology graduate in text format here

Resume of Legal Writer
Check the full resume of Legal Writer in text format here
Resume of Outside Sales Executive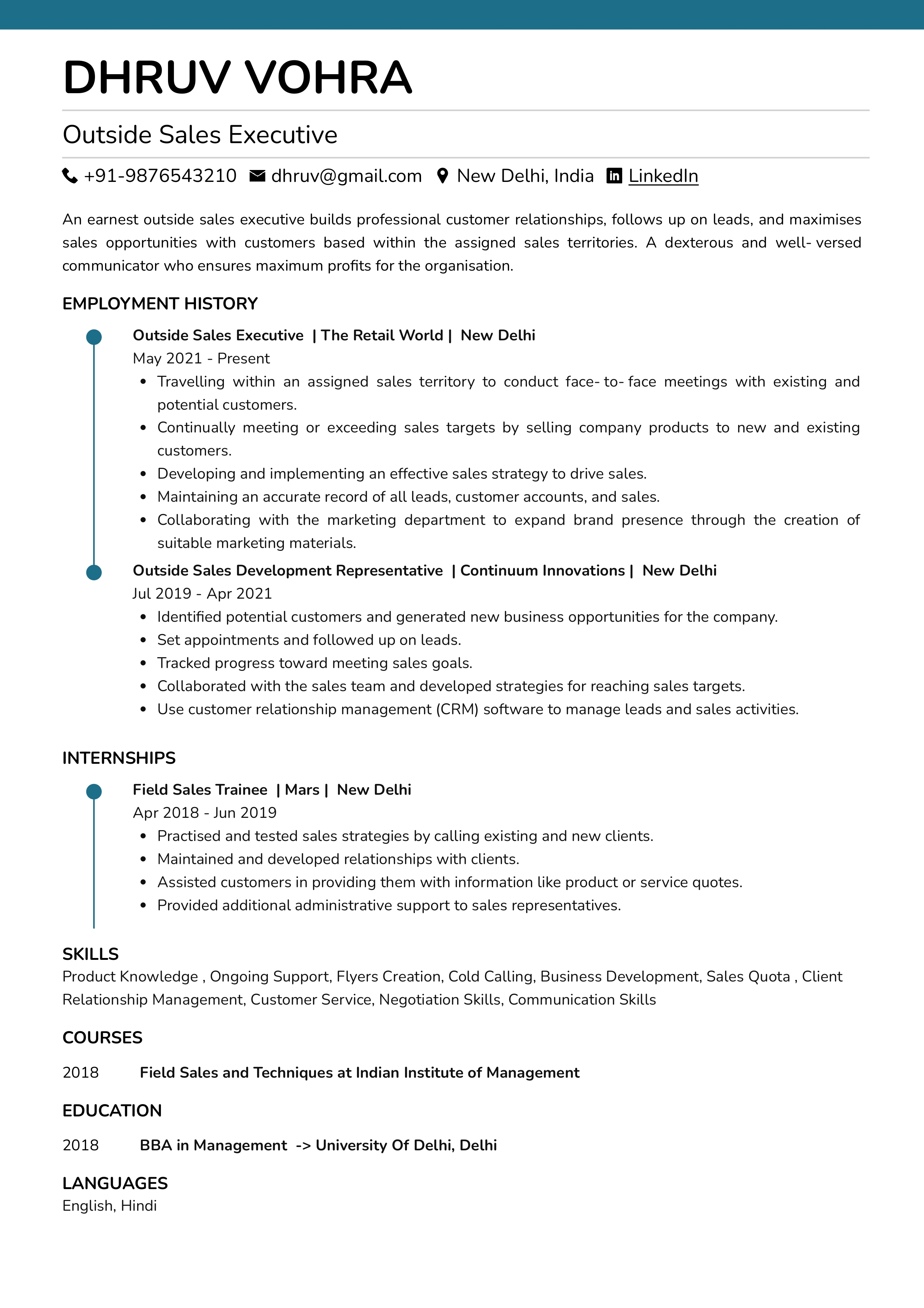 Check the full resume of outside sales executive in text format here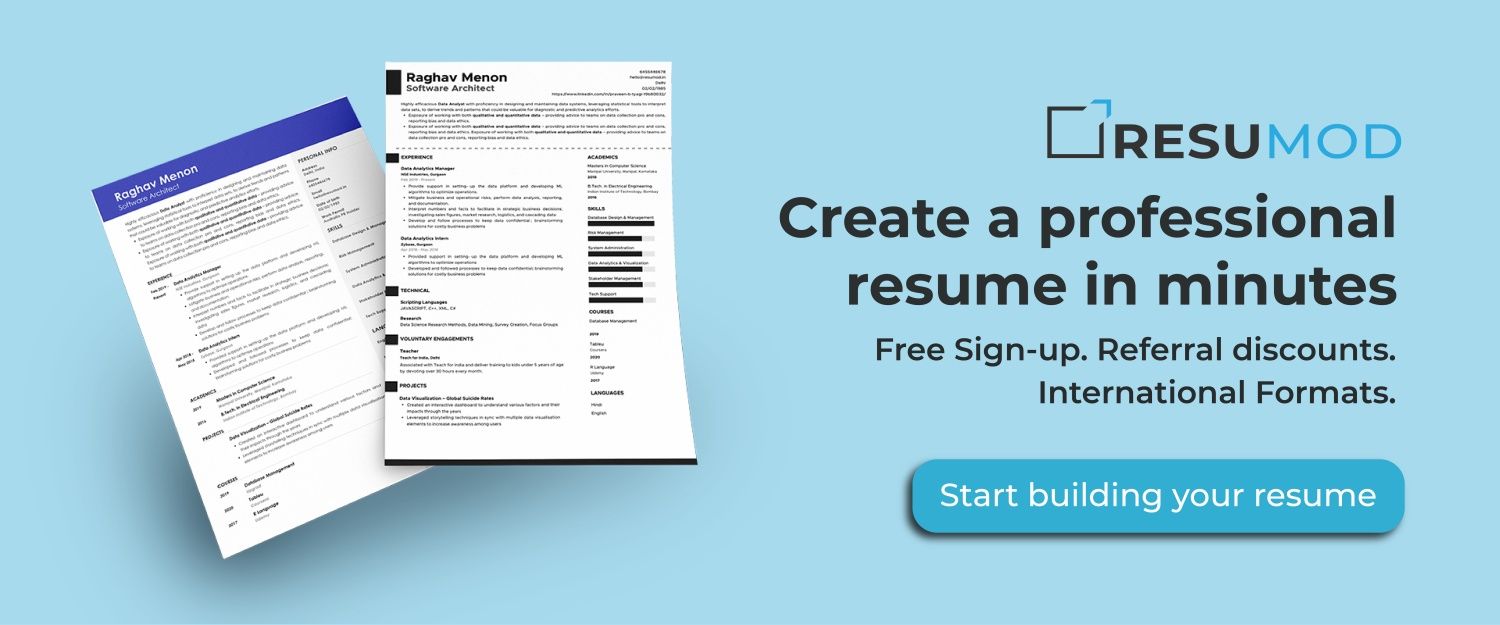 Resume of Trademark Agent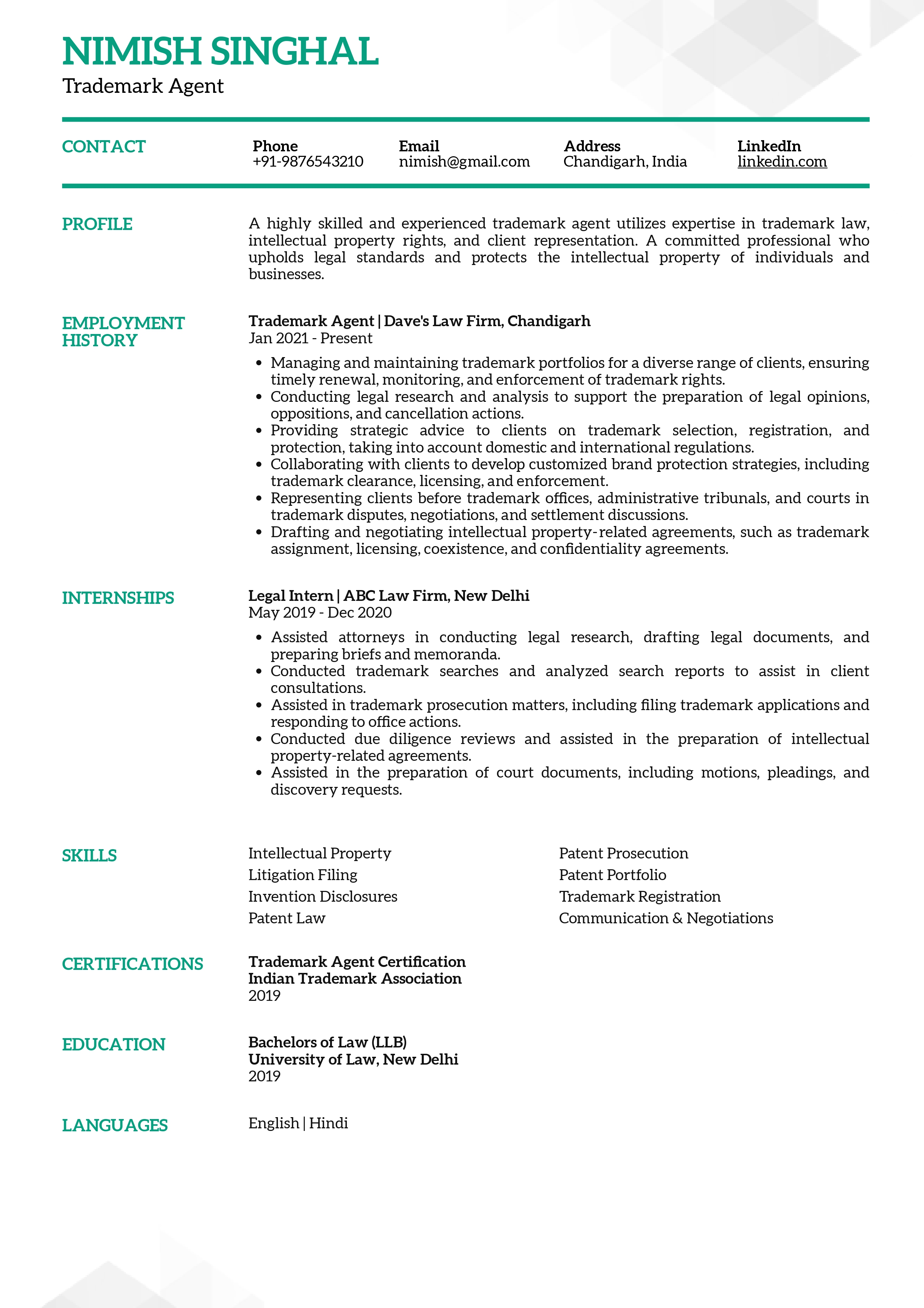 Check the full resume of trademark agent in text format here

Resume of HR Assistant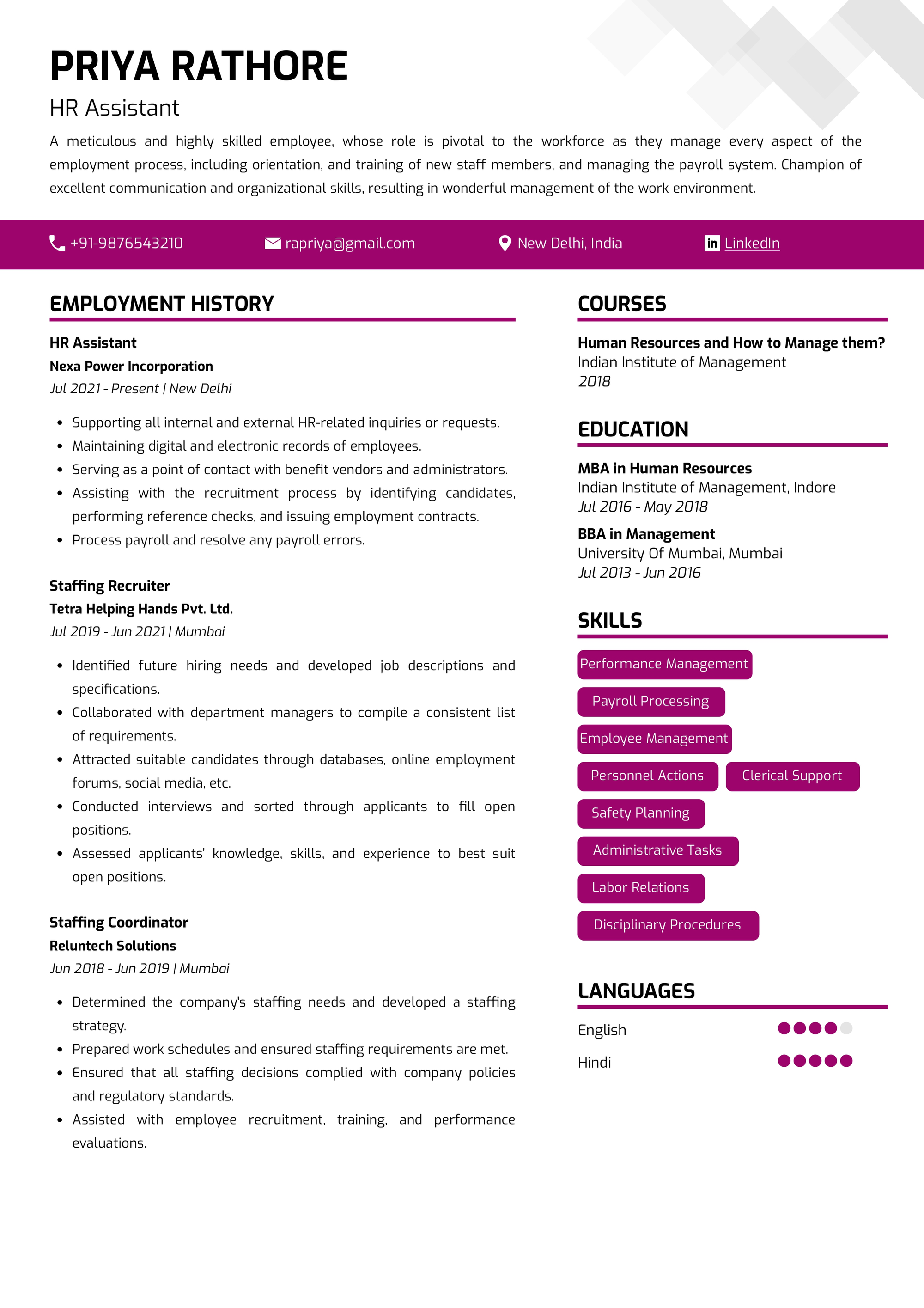 Check the full resume of HR assistant in text format here
Resume of Employment Lawyer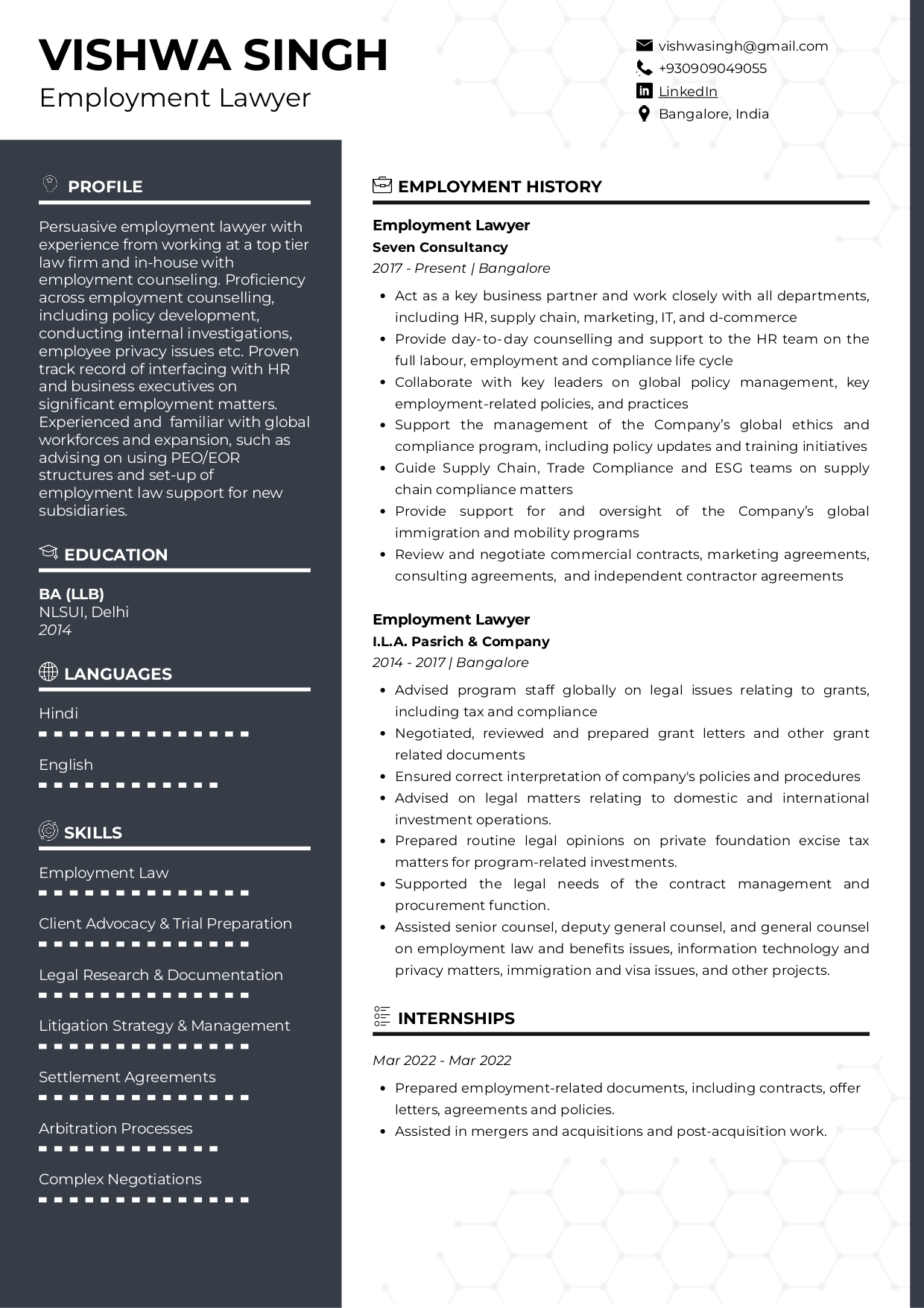 Check the full resume of employment lawyer in text format here.
Resume of IT Engineering Graduate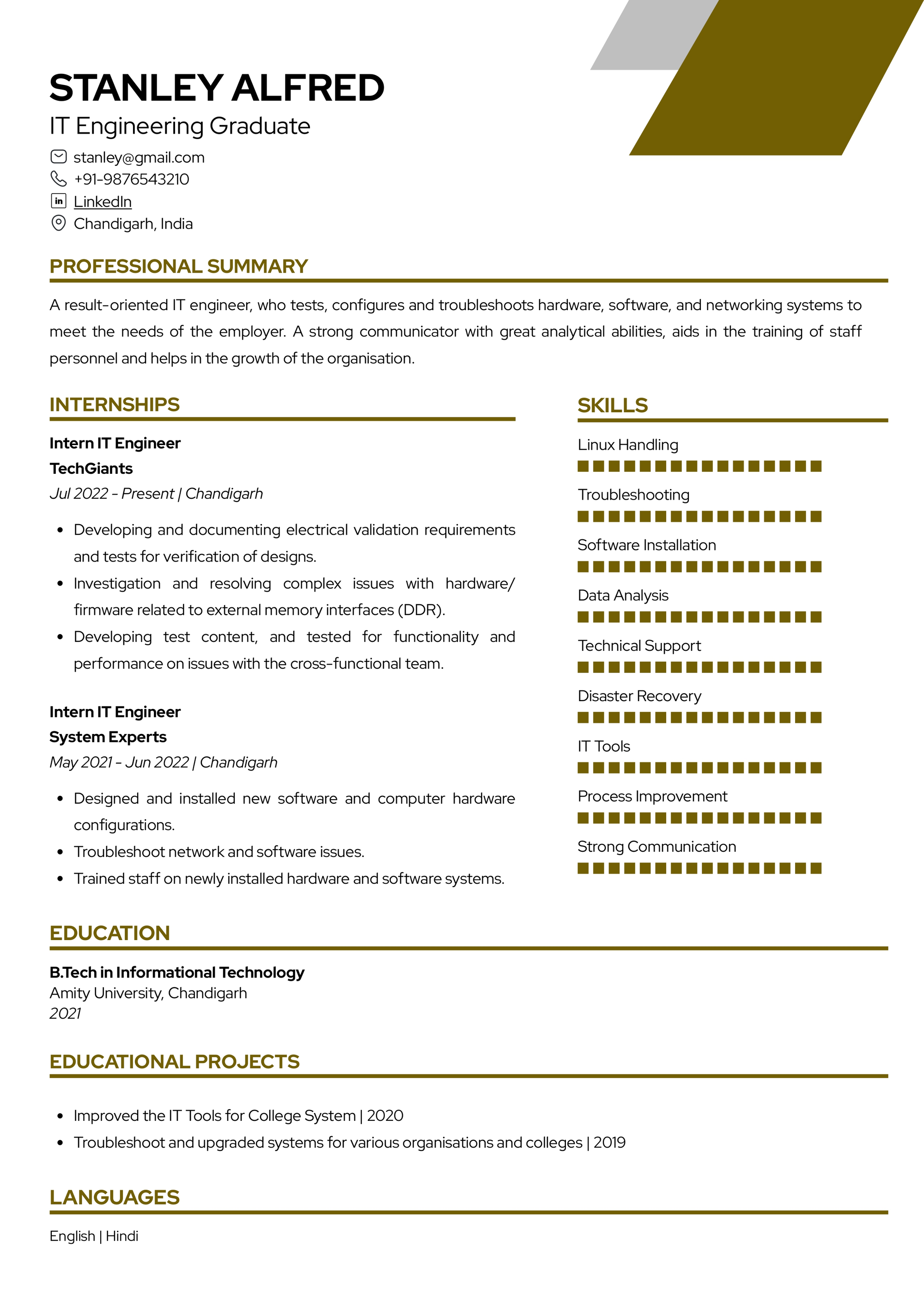 Check the full resume of IT engineering graduate in text format here
Resume of Salesforce Developer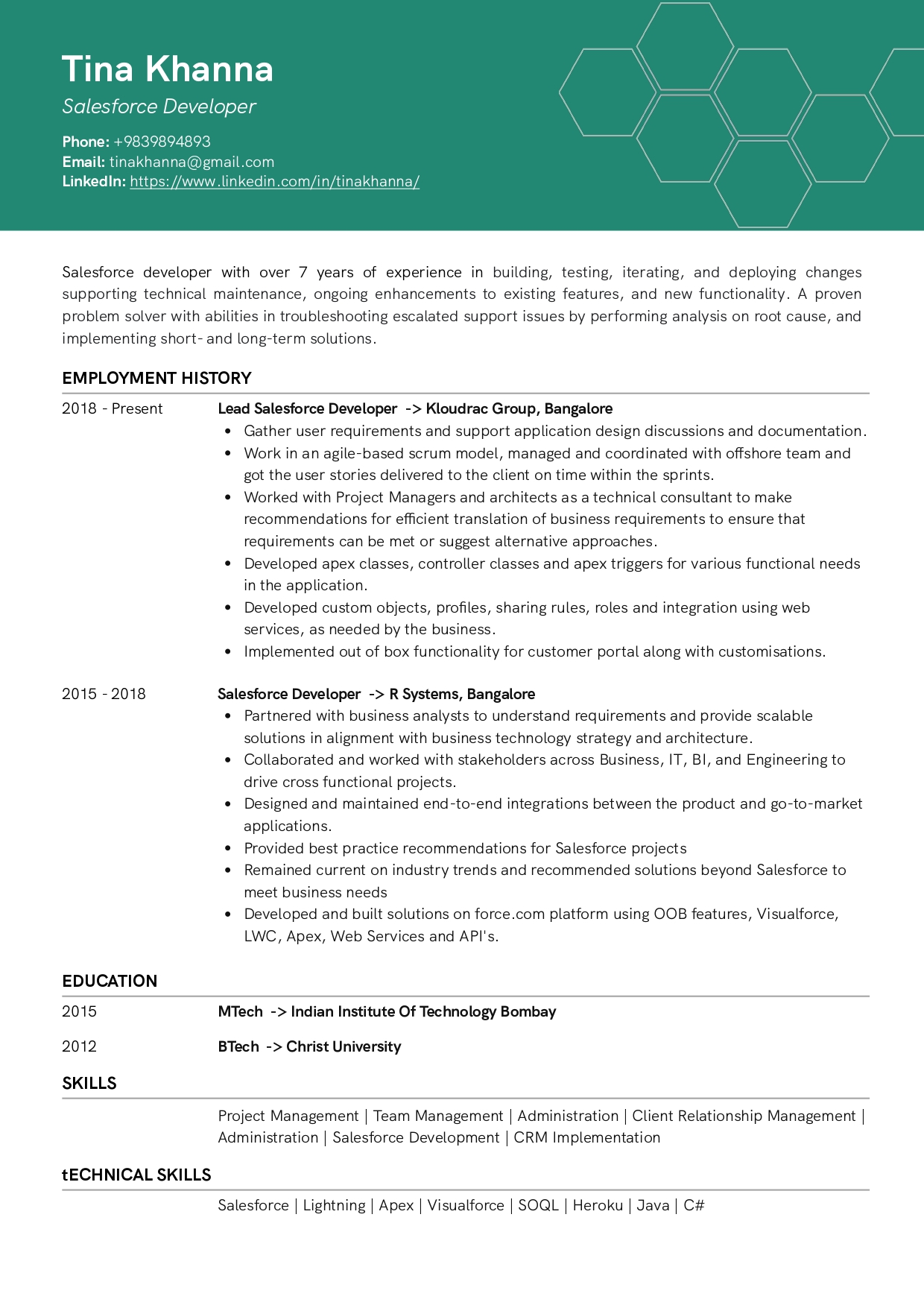 Check the full resume of salesforce developer in text format here.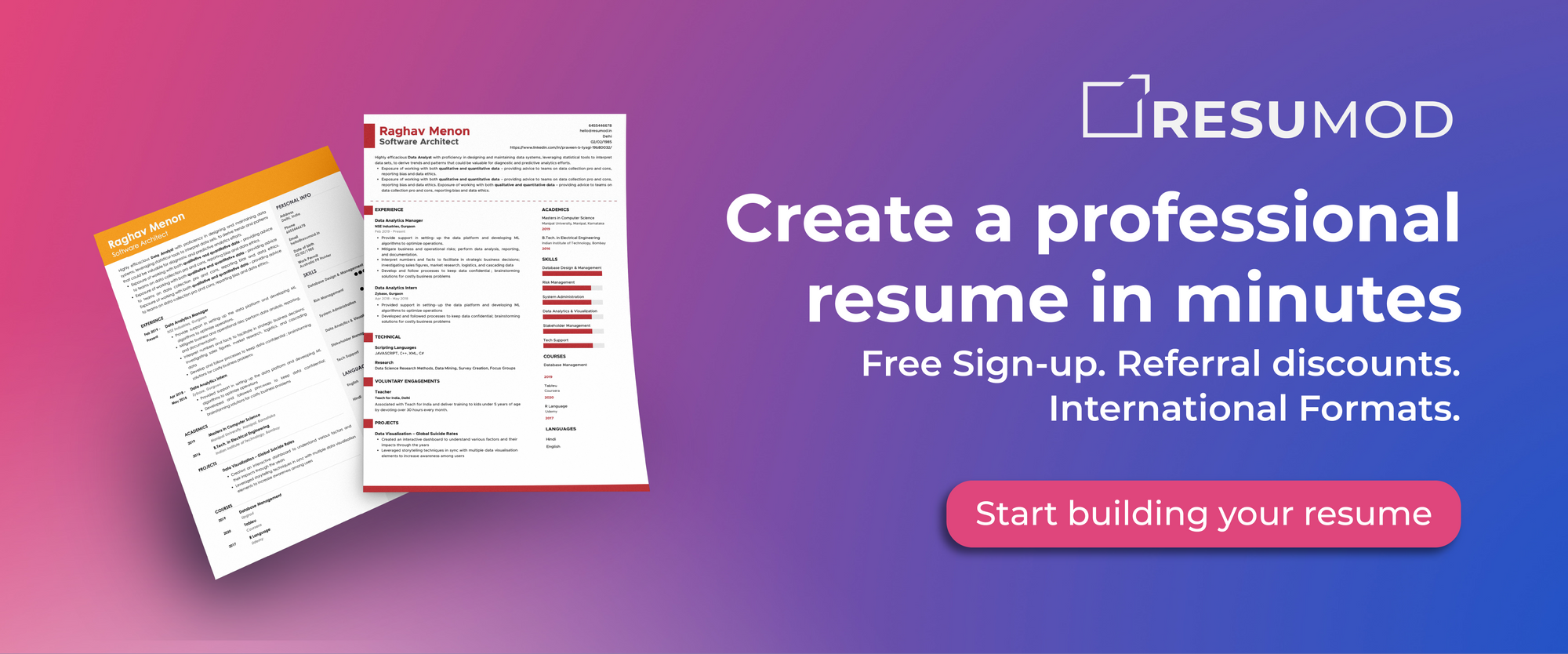 Resume of CFO (Chief Financial Officer)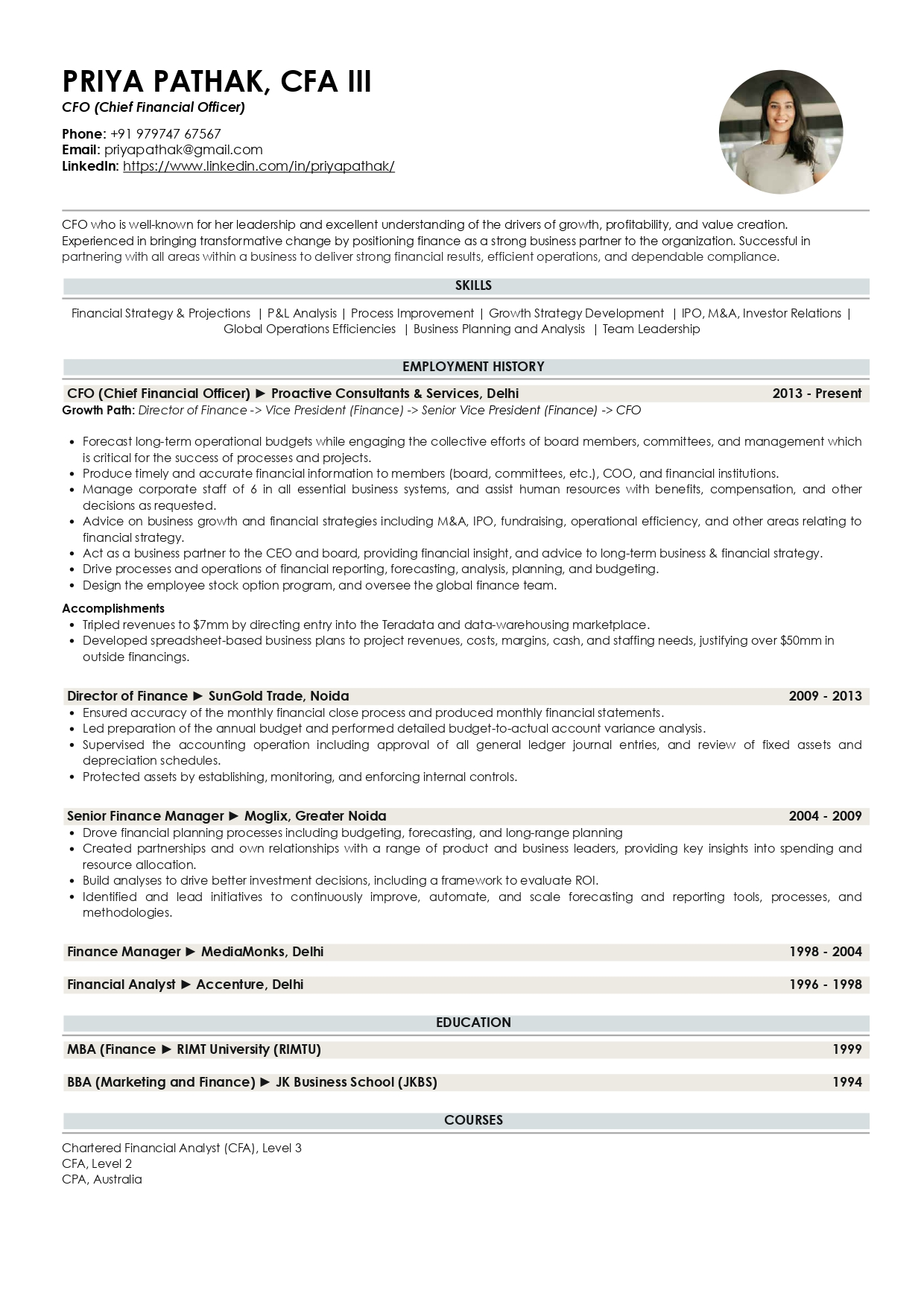 Check the full resume of CFO (Chief Financial Officer) in text format here
Resume of Company Secretary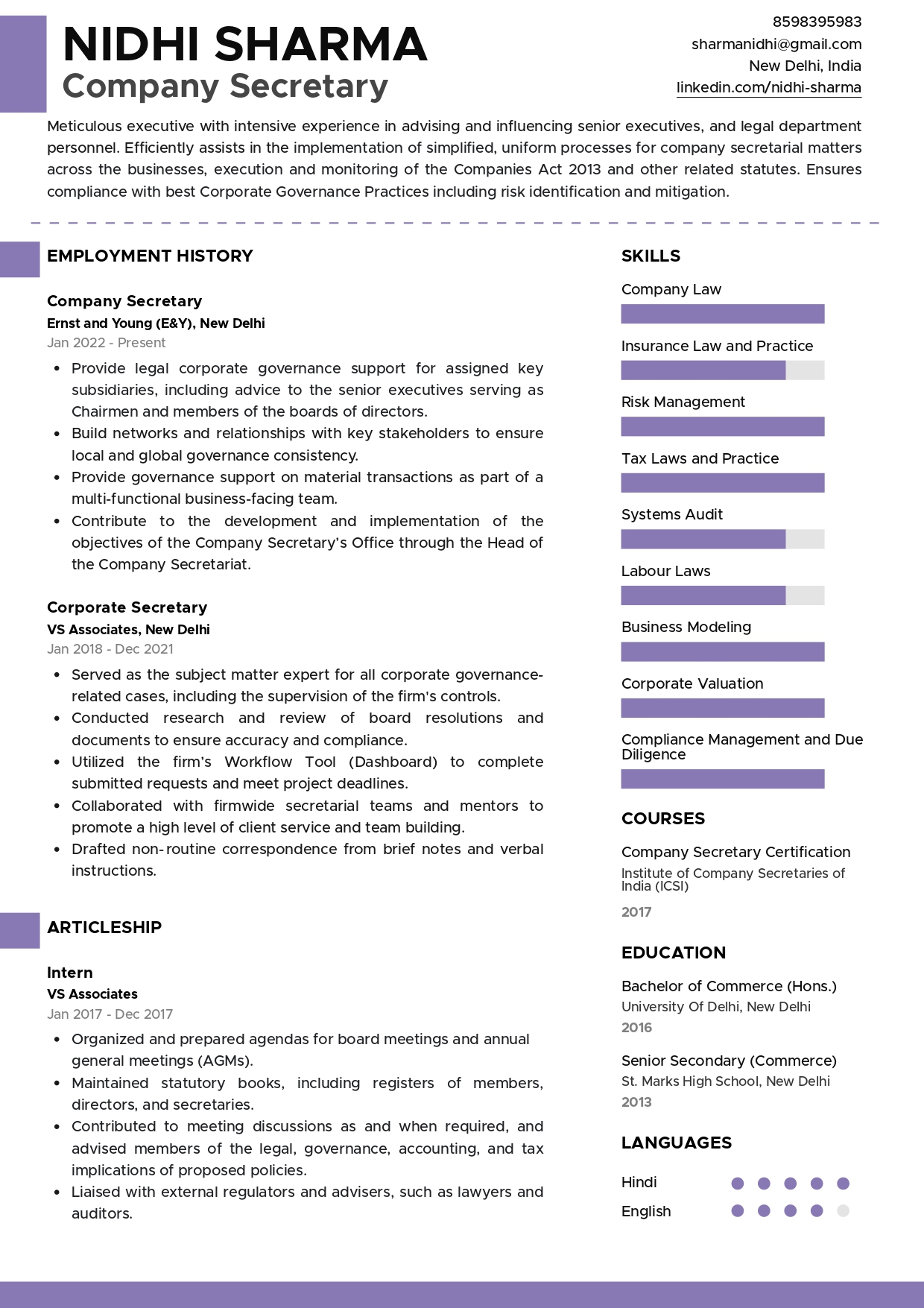 Check the full resume of company secretary in text format here
Resume of Marketing & Communications Manager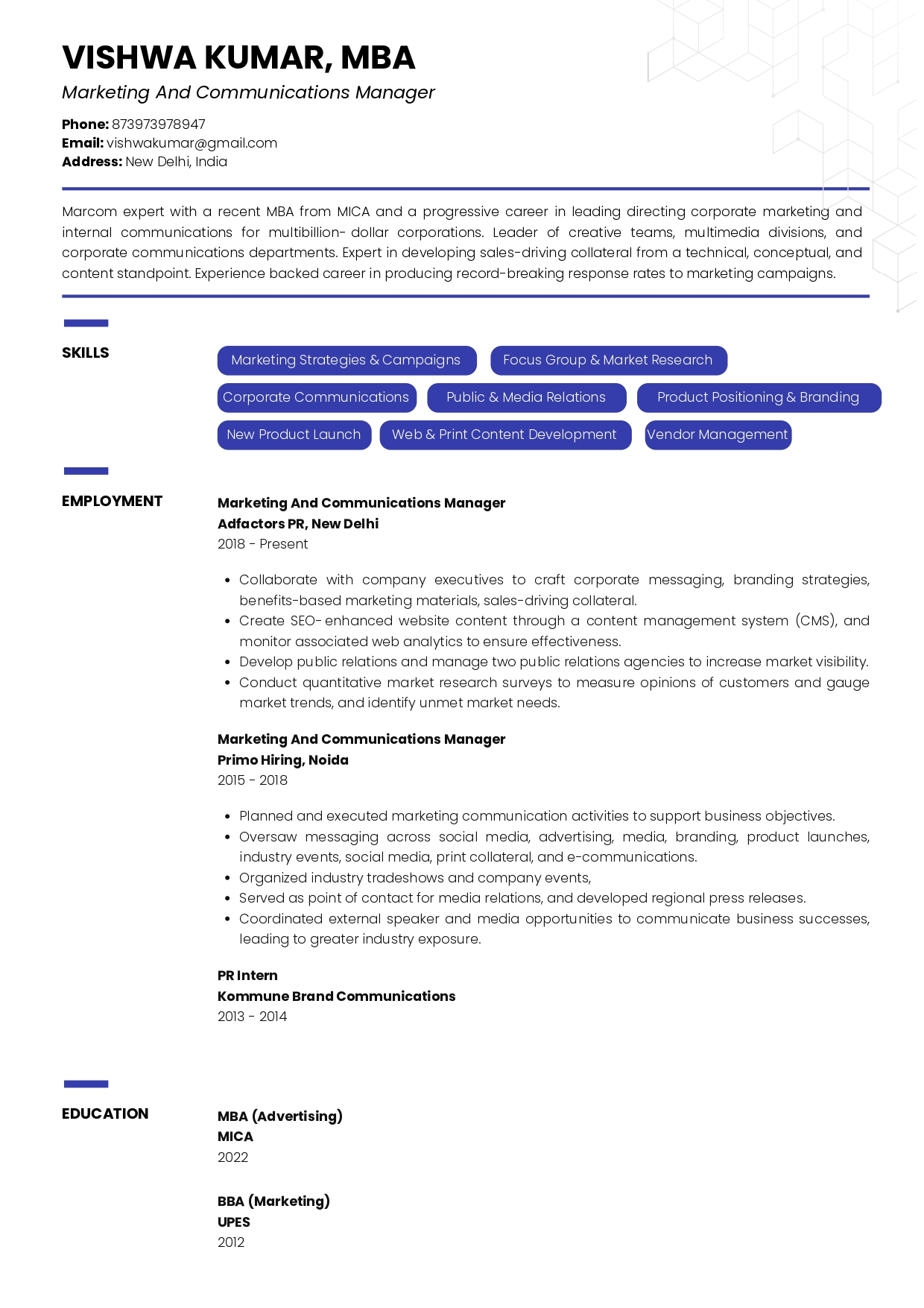 Check the full resume of marketing and communications manager in text format here

Resume of National Director of Sales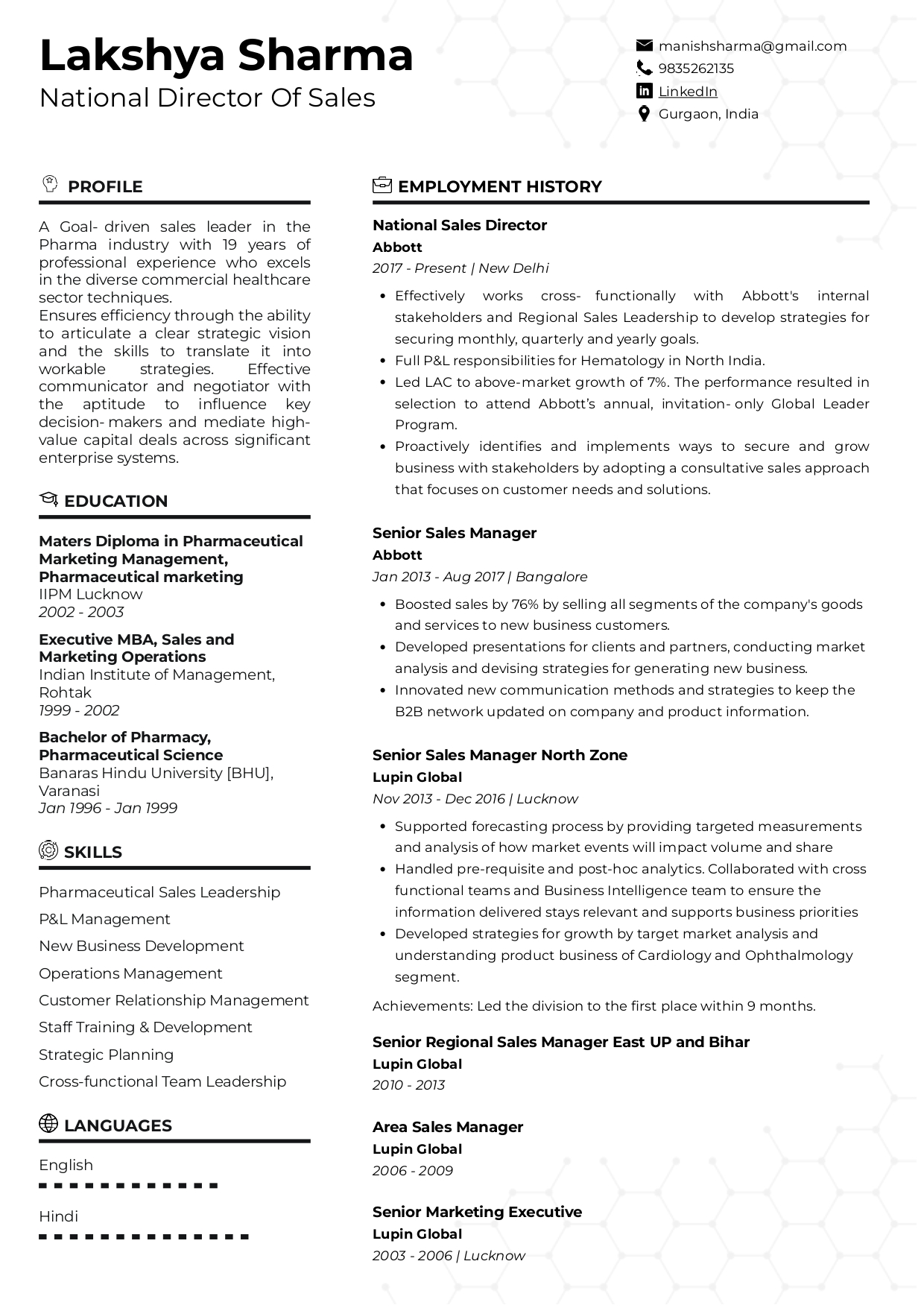 Check the full resume of national director of sales in text format here
Resume of MBA HR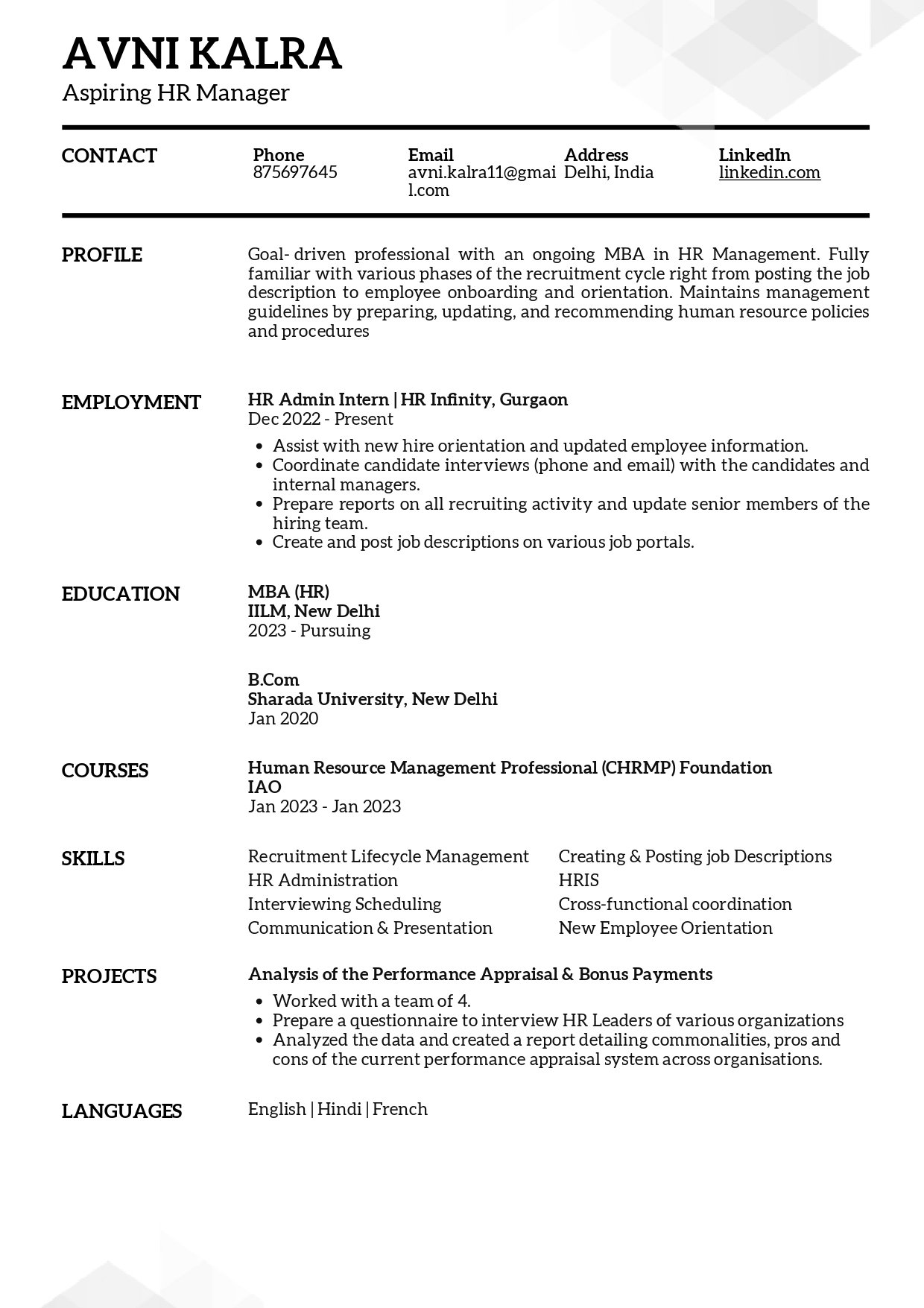 Check the full resume of MBA HR in text format here.
The point is that you shouldn't let AI write the final version of your new resume. Use it as a tool to make a good first draft of your ideas and strengths.
Should You Write Your Resume with ChatGPT?
The answer is yes and no. Leveraging the power of AI in the resume writing process, especially with an AI-trained tool like ChatGPT, can be a game-changer. ChatGPT can serve as a valuable tool for generating ideas, and enhancing the overall quality of your resume. However, it's crucial to approach its use with mindfulness and consideration.