Resume Cheat Sheet for Graduates & Freshers
Tips on how to write the perfect Graduate Resume when you are entering the job market. How to write the summary, title, experience and the education in the resume.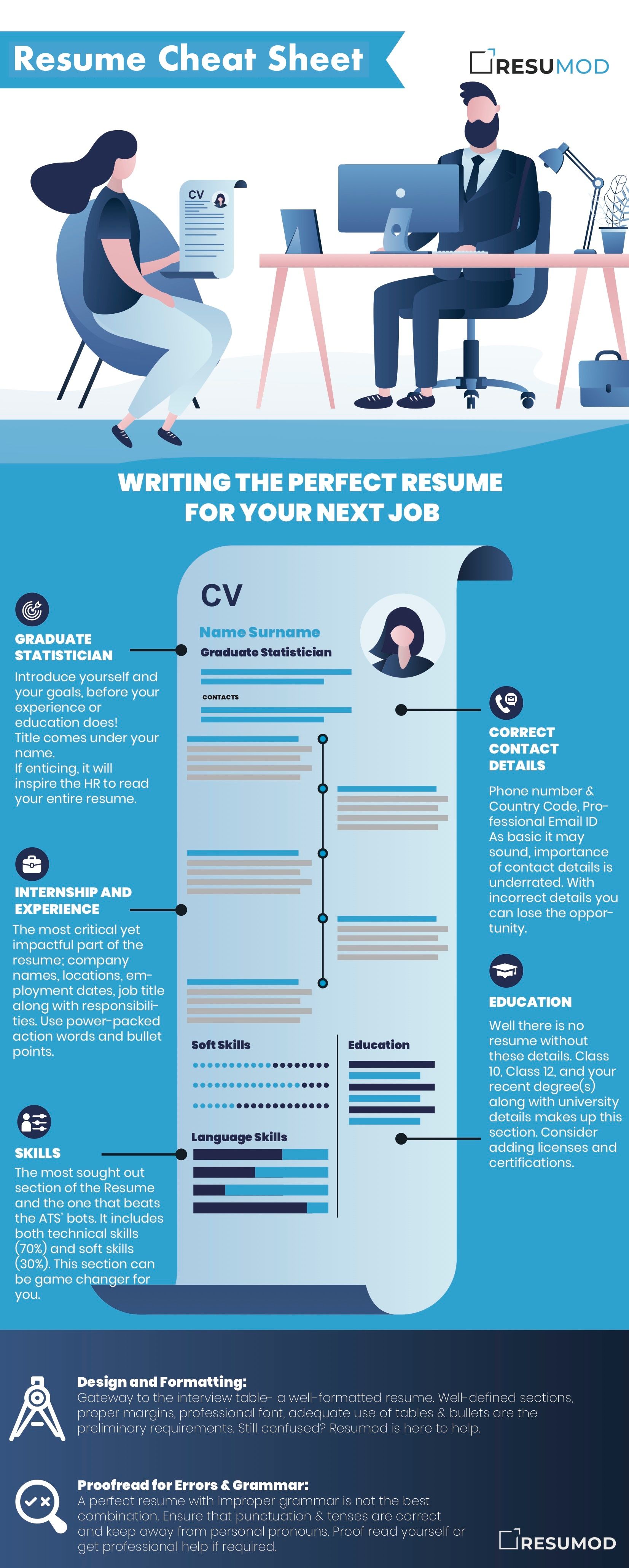 Title
Introduce yourself before your experience or education does! Title comes just below your name and tell the recruiter about your vocation. If engaging it will inspire the HR to read your entire resume.
Correct contact details
As basic it may sound, importance of correct and complete contact details (phone number, email-id, and links to personal websites or profiles like LinkedIn) is underrated. You may be the HR's first preference for the role, but with incorrect details, you can lose your dream Job.
Internship and Experience
Here comes the most critical yet impactful part of the resume. Company names, locations, employment dates, job title along with responsibilities. To make your resume stand out, use power-packed action words and data points. Avoid long paragraphs.
Education
Well there is no resume without proper education details. Details of high school can be opted out, recent degree along with university details makes up this section. Consider adding licenses and certifications.
Skills
The most sought out section of the Resume and the one that beats the ATS' bots. It includes both technical skills (70%) and soft skills (30%). Presenting your skills neatly and precisely, can be game changer for you.
Design and Formatting
Gateway to the interview table- a well-formatted resume. Well-defined sections, proper margins, a professional font, adequate use of tables and bullets are the preliminary requirements. Still confused? Resumod is here to help.
Correct Grammar
A perfect resume with imperfect grammar is not the best combination. Ensure that punctuation and tenses are correct, personal pronouns are not your best friends. Proof read yourself or get professional help if required.