How to Write a Resume for Legal Jobs [10 Examples]
If you have skills and are better than your peers, half the battle is won. To show this to the recruiter you need a professional legal resume. A professional legal resume will show your unique abilities and also bring your specialisation to the forefront.
There are more than 1.5 million lawyers in India, and the number is increasing as fields like employment law, environmental law, and cybercrime are emerging. However, only a small percentage of registered lawyers continue the profession. the number of lawyers who turn law into a successful and financially rewarding career is even less.
The reason?
More lawyers than the demand. Some demand has increased post the pandemic but the number of scarcely paid or unemployed lawyers is still very high.
If you have skills and are better than your peers, half the battle is won. To show this to the recruiter you need a professional legal resume. A professional legal resume will show your unique abilities and also bring your specialisation to the forefront.    

In this blog:
---
How to Resume Summary for a Legal Resume
Let's start with an example:
Result-oriented Intellectual Property (IP) lawyer with extensive experience in trademark law and the management of a large trademark portfolio. Represents client interests, working carefully to examine case merits, limit risk, and promote good outcomes in difficult legal situations. Proven track record of obtaining lawsuit dismissals, no-fault judgments, favourable settlements, and favourable verdicts.

This resume summary is for an IP Lawyer and is pretty much the perfect one for a legal professional.

How?
Starts with the lawyer's specialisation i.e. Intellectual property
The first line then explains the main areas of work -  management of the trademark portfolio
The next two lines show what the lawyer is good at
This sums up what the lawyer has learnt from various professional experiences.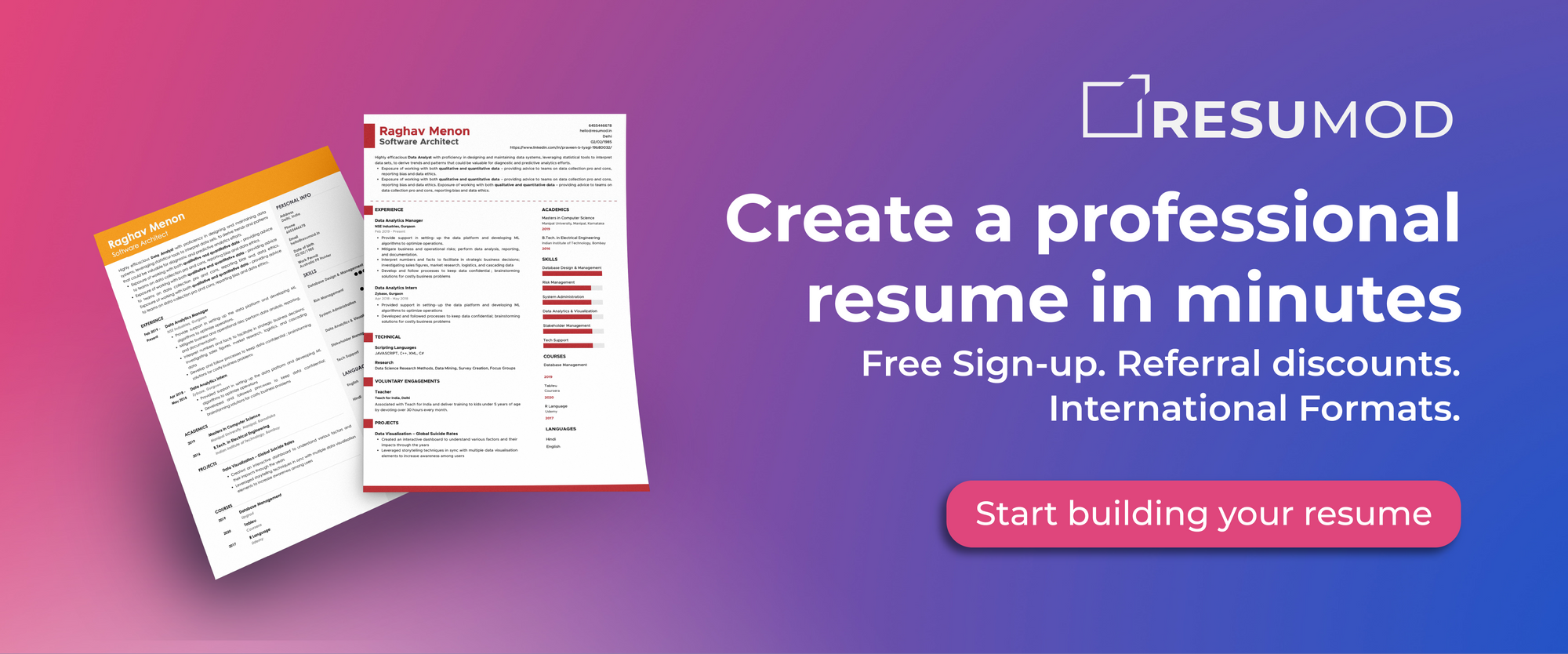 How to Write Work Experience Section of a Legal Resume
Law resumes are as niched down as the profession itself. Recruiters for legal departments are often specialised ones and understand legal terminology. Thus the resume needs to be very specific and to the point.
Here's how you can create a work experience section of a legal resume
Use reverse chronological order
Include your designation, dates of employment, and employer name
Use bullet points and short sentences
Start each bullet point with an action verb
Optimise the experience section for keywords by taking cues from the job listing
Example:
Corporate Lawyer
Personnel Junction, Chandigarh | 2019 - Present
Analyze, draft, negotiate, finalize, and oversee the approval process for all commercial agreements.
Mitigate contractual risk in brokerage agreements, consulting contracts, and other legal instruments, while increasing efficiency and consistency in contracting.
Advice and counsel on legal implications of proposed transactions.
Oversee commercial litigation matters or tax filings, in coordination with outside counsel.
Research, analyze, and keep current on legal issues and laws, legislation, regulations, and court decisions affecting the industry.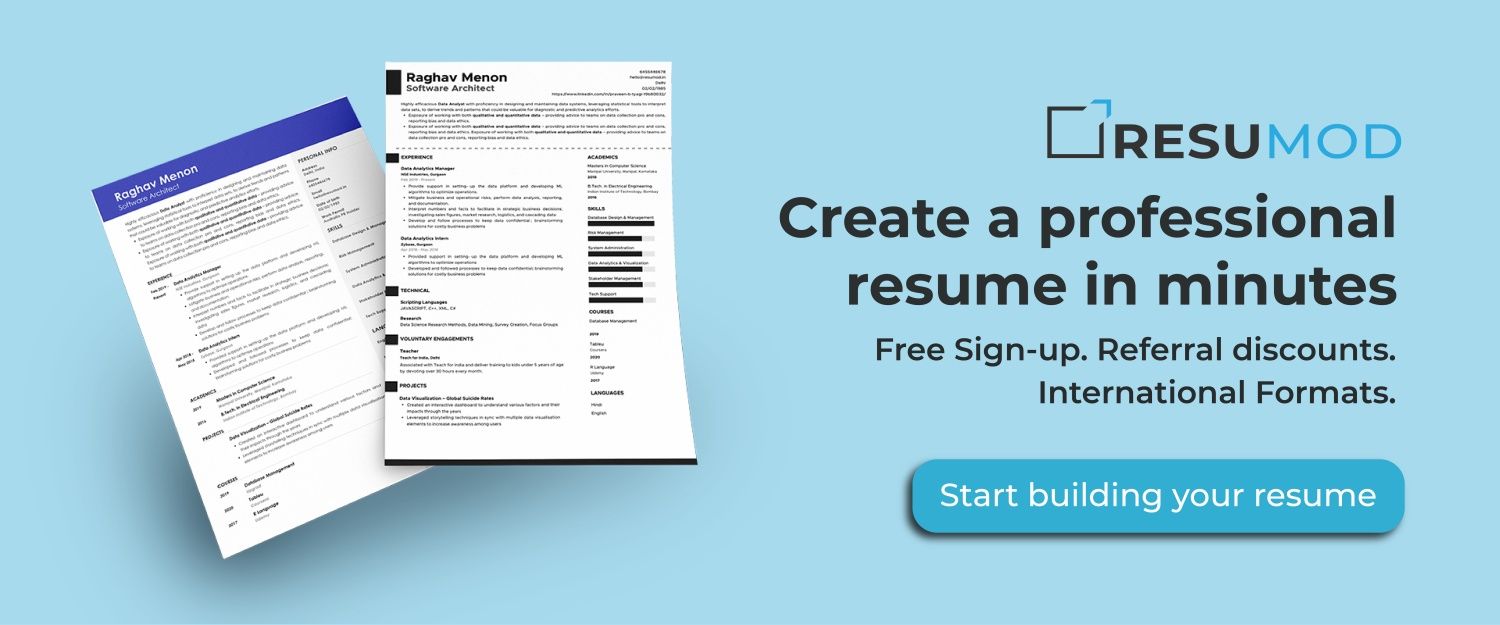 Writing the Skills Section for a Legal Resume

Law requires specialised training and knowledge. However, some skills are common among disciplines within law. These include:
Research
Documents Preparation
Case Management
Client Advisory
Negotiations
Any legal professional can use these skills along with their specialised skill set.

Tips to create a skills section
Use up to 12 skills in your resume. This includes specific skills, generic skills, and soft skills
Prioritise skills that are specific to your profession
Use keywords from the job listing as skills in your resume
Skills Required for Legal/Law jobs
Employment Law
Client Advocacy & Trial Preparation
Legal Research & Documentation
Litigation Strategy & Management
Settlement Agreements
Arbitration Processes
Complex Negotiations
Legal Advisory
Criminal Law
Personal Injury & Mass Tort Litigation
Mediation / Arbitration Processes
Client Advocacy & Trial  Preparation
Complex Negotiations
Litigation Strategy & Management
Settlement Agreements
Legal Research &  Documentation
Client Management
Criminal Case Mangement
Writing Discovery Responses
Legal Documents Mangement
Species ACT
Environmental Matters
Administrative Law
Enforcement Actions
Environmental Litigation
Project Management
Research and Data Analysis
Environmental Stewardship
Public Speaking and Presentations
Organizations and Coordination
Environmental Policy Analysis
Analytical and Research Skills
Organizational Skills
Persuasive Communication
Coherent Client Service
Extensive Legal Research
Corporate Law
Complex Negotiations
Policies/ Procedures
Settlement Agreements
Client Advocacy
Trial Preparation
Child Law
E-filing / Records Management
Motions, Contracts &  Agreements
Case Management
Child Support Cases
Child Support Orders
State Agencies
Child Support Enforcement
Cyber Law
Litigation Strategy & Management
Mediation / Arbitration Processes
Client Advocacy & Trial  Preparation
Drafting and  Summarizing
Research and Analysis
Data Protection
Privacy Protection & Encryption
Trademark and Patent Law
Copyright Law
Intellectual Property Law
Trademark and Prosecution
Client Advocacy  & Trial Preparation
Patent Application Auditing
Due Diligence
Civil Litigation
Intellectual Property Protection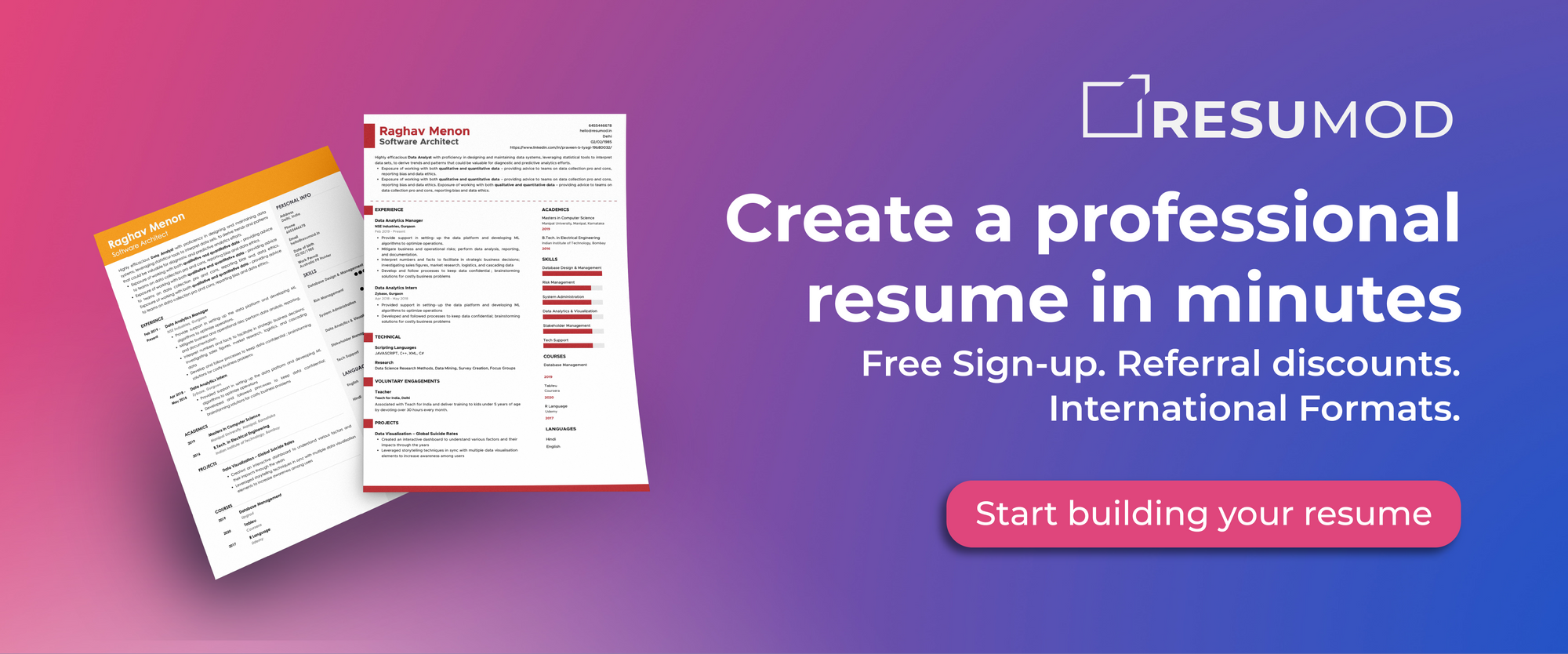 How to List Education in a Legal Resume
Every recruiter knows that you have specialised education in law. What makes the difference here is your alma mater. Here's what to include:
Name of the institution
Name of the course
Year of completion
This basic data forms your education. You can set yourself apart by having some additional sections.
Additional Sections for a Legal Resume:
Apart from the basic sections, you can add more data to your resume.
This helps in two cases:
When you have a resume with no experience
When your credentials are not strong but you were active within the filed
Below is the list of sections you can include:
Awards and Achievements: Awards you've received for your academic performance or otherwise
Research & Publishings: Most legal professionals study to dive deep into their specialised field. If you are one of them and have any research contributions, do include them
Conferences and Workshops: These include any conferences and workshops to stay updated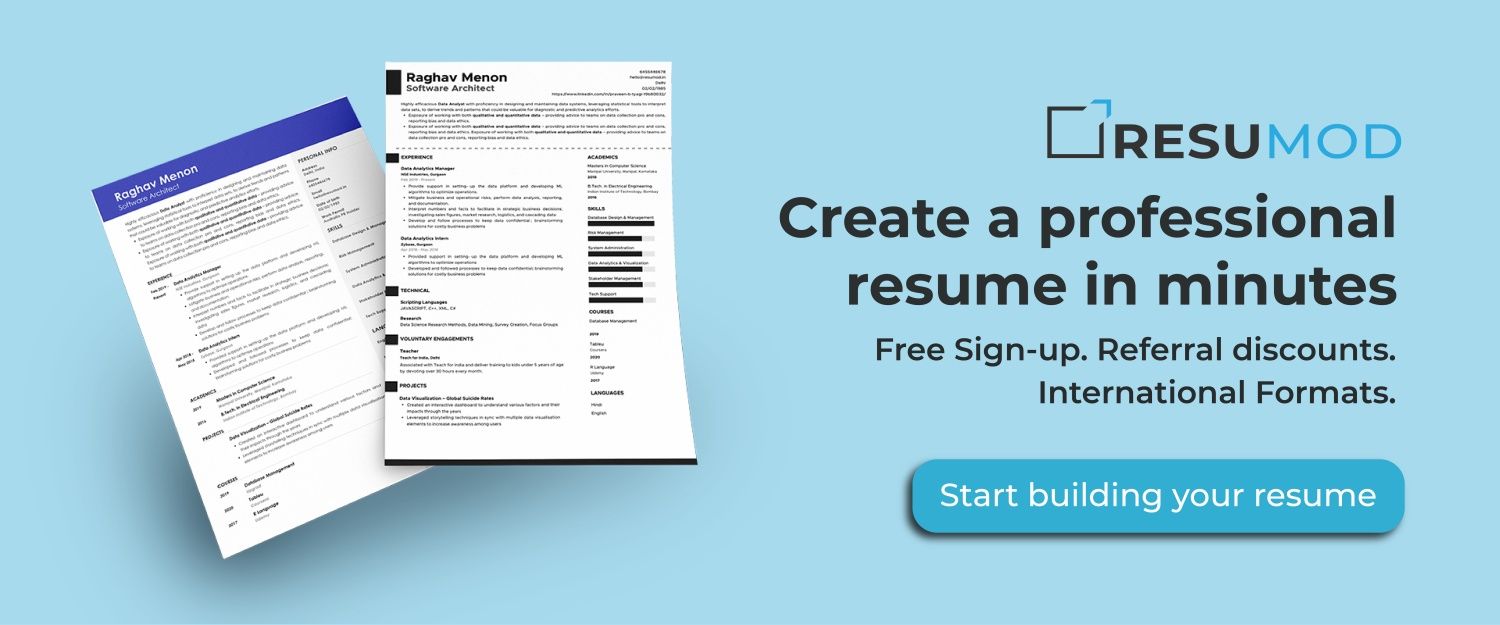 Top-rated Legal Resumes on Resumod
Resume of Employment Lawyer
An employment lawyer specializes in all legal and contractual issues of the workplace. Employment lawyers counsel and represent employers in case of workplace issues like compensation, abuse, and exploitation. Employers seek the assistance of an Employment Lawyer to ensure compliance with the establishment and termination of employment relationships. Employment lawyers work at law firms, government agencies, in-house legal departments, and employment agencies.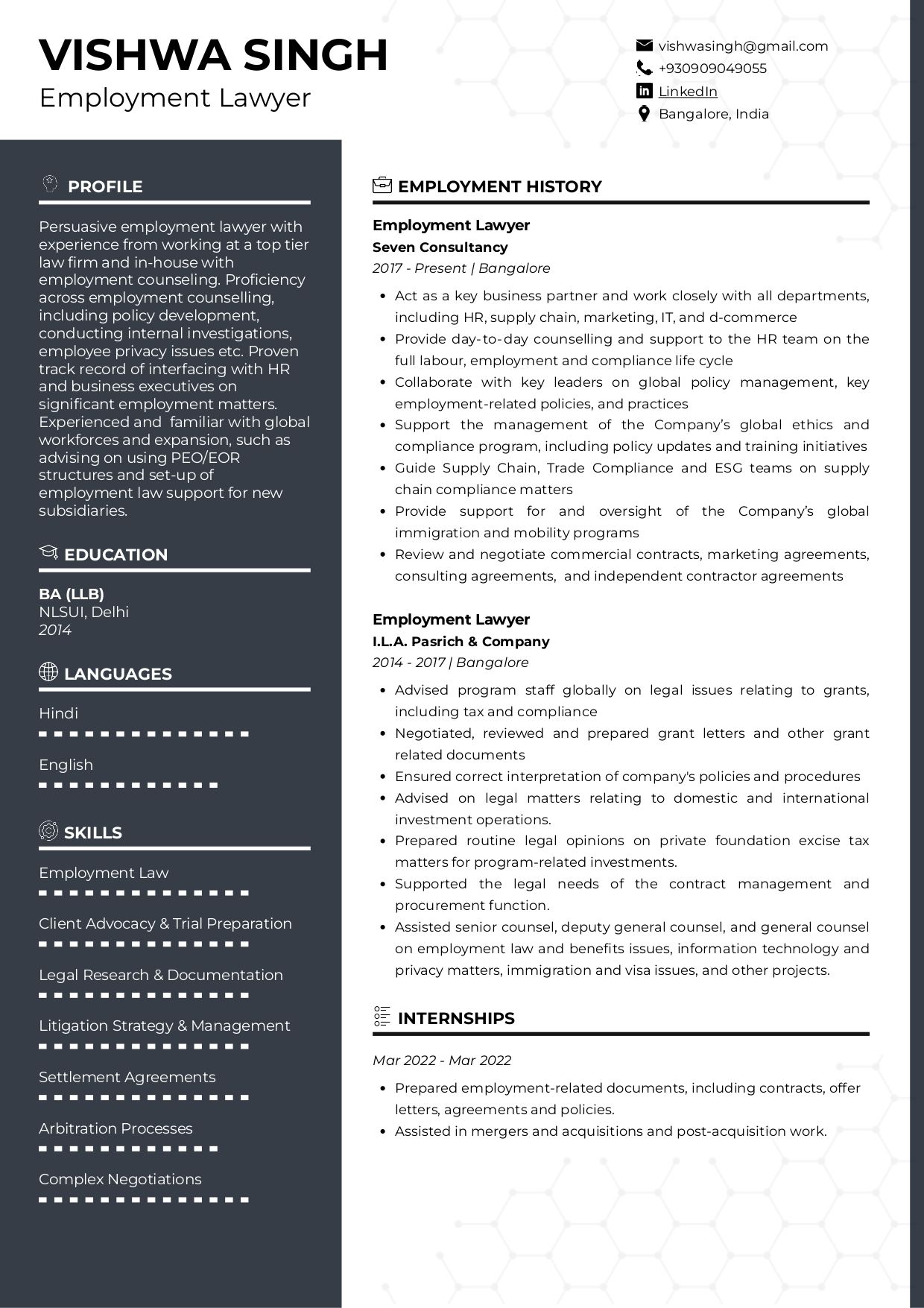 Check full resume of employment Lawyer here

Resume of Criminal Lawyer
Criminal lawyers represent clients facing criminal charges in court and defend them. They perform extensive research and investigation and consult legislation and state rules to determine the clients' case resolution choices.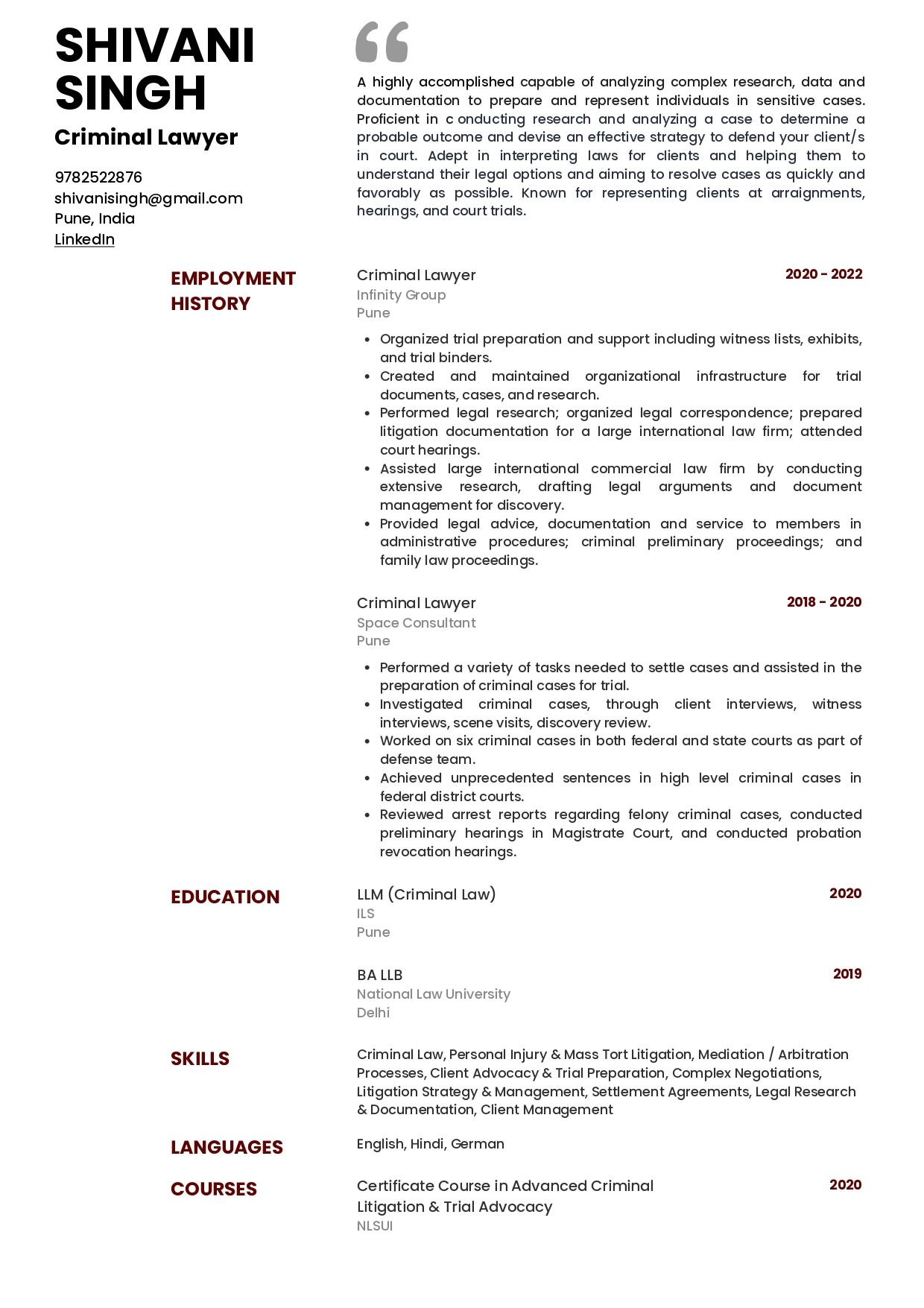 Check full resume of Criminal Lawyer here

Resume of Environmental Lawyer
Environmental lawyers assist clients with legal matters such as clean technology, water, climate change,  sustainability, renewable energy etc. Environmental lawyers can advise clients on environmental issues, campaign for changes in environmental policy and law, and write research papers on the subject.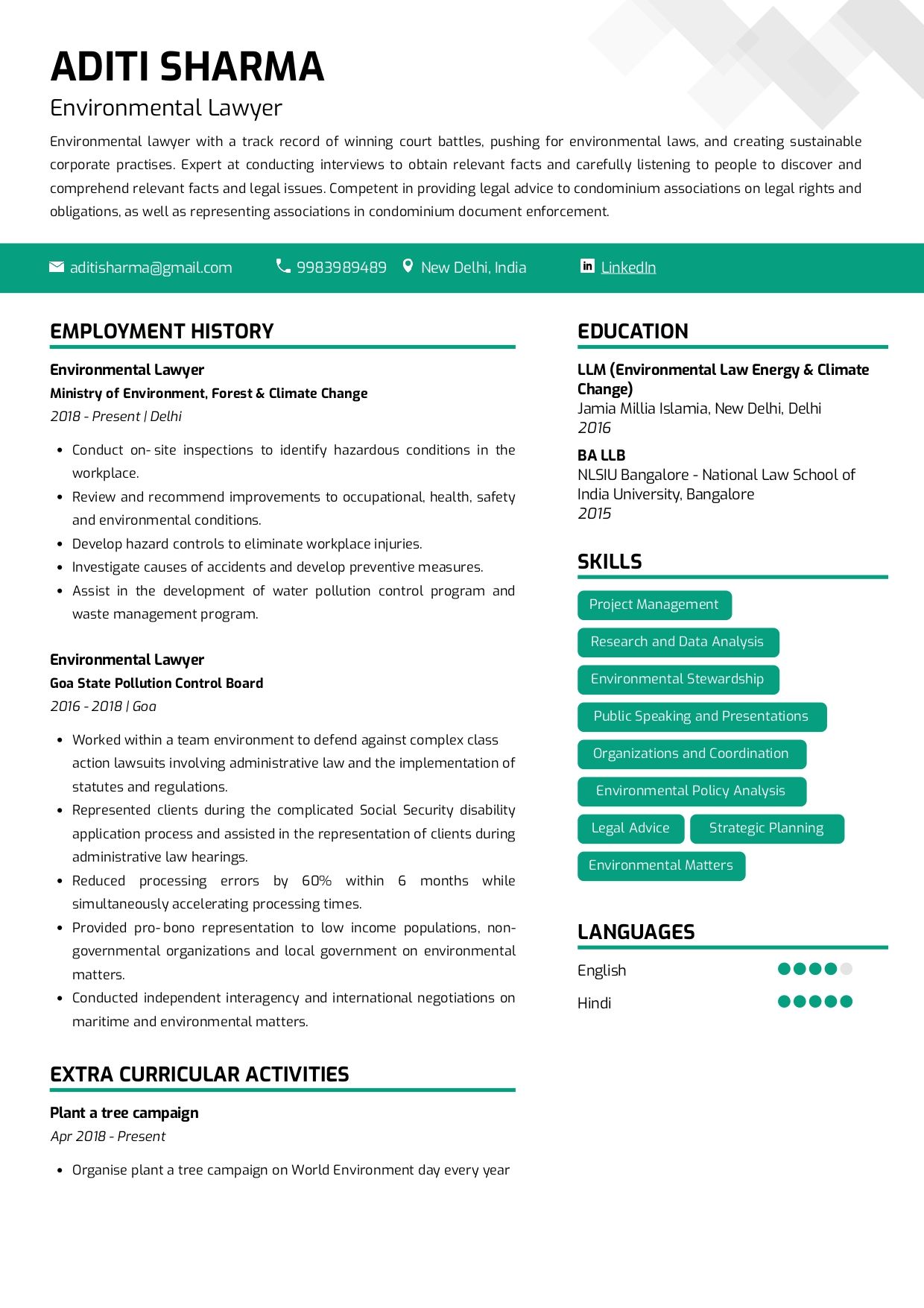 Check full resume of Environmental Lawyer here

Resume of Corporate Lawyer
Corporate lawyers verify that a company's transactions adhere to all applicable rules and regulations. They might work for a law firm or for a company's legal department. Preparing documentation, evaluating relationships, and negotiating deals are all part of their role.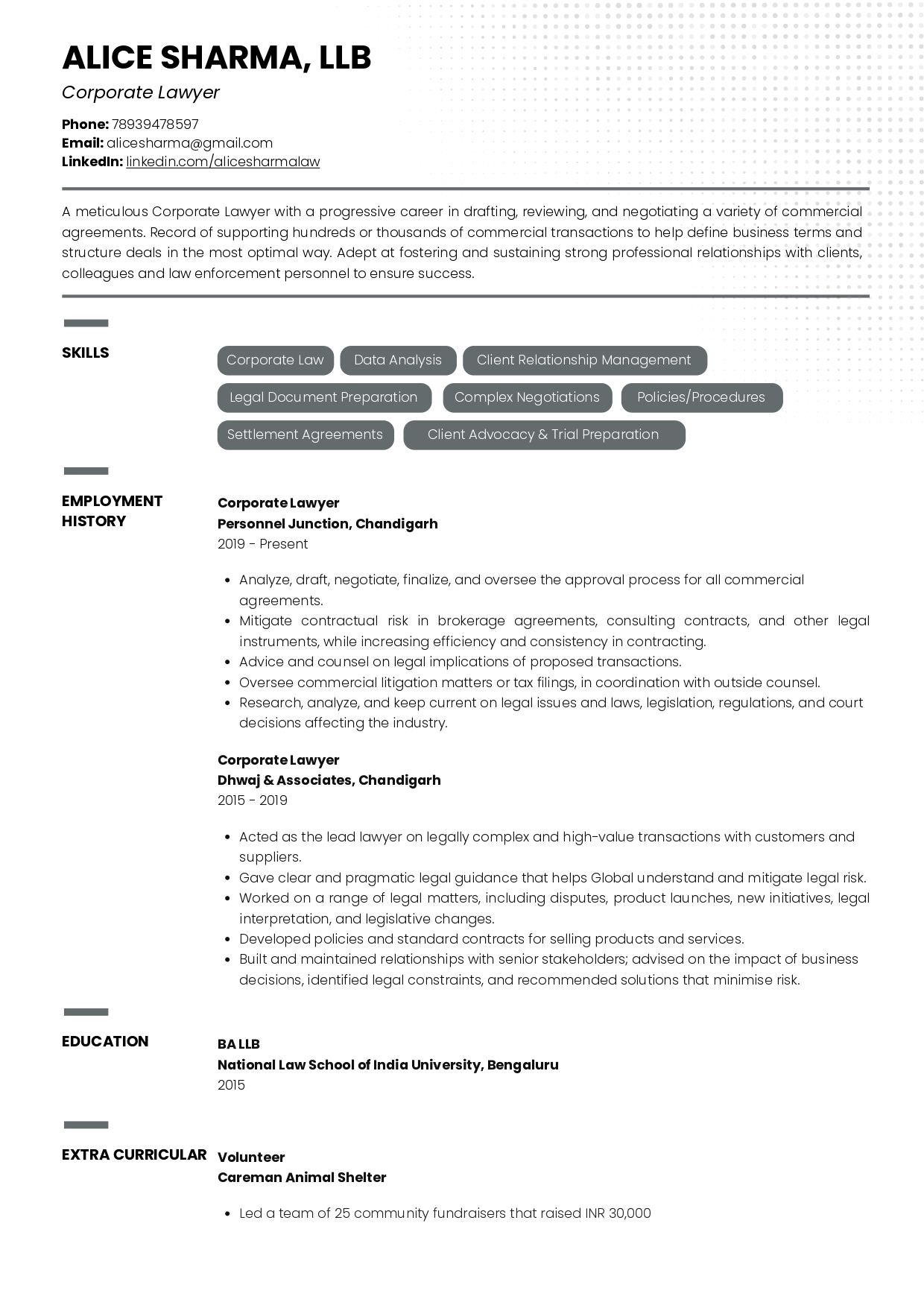 Check full resume of Corporate Lawyer here

Resume of Child Law Specialist
Child lawyers safeguard a minor's rights by ensuring that a parent is not denied custody or visitation privileges. They handle cases involving divorce, suits affecting the parent-child relationship, and other family law-related matters.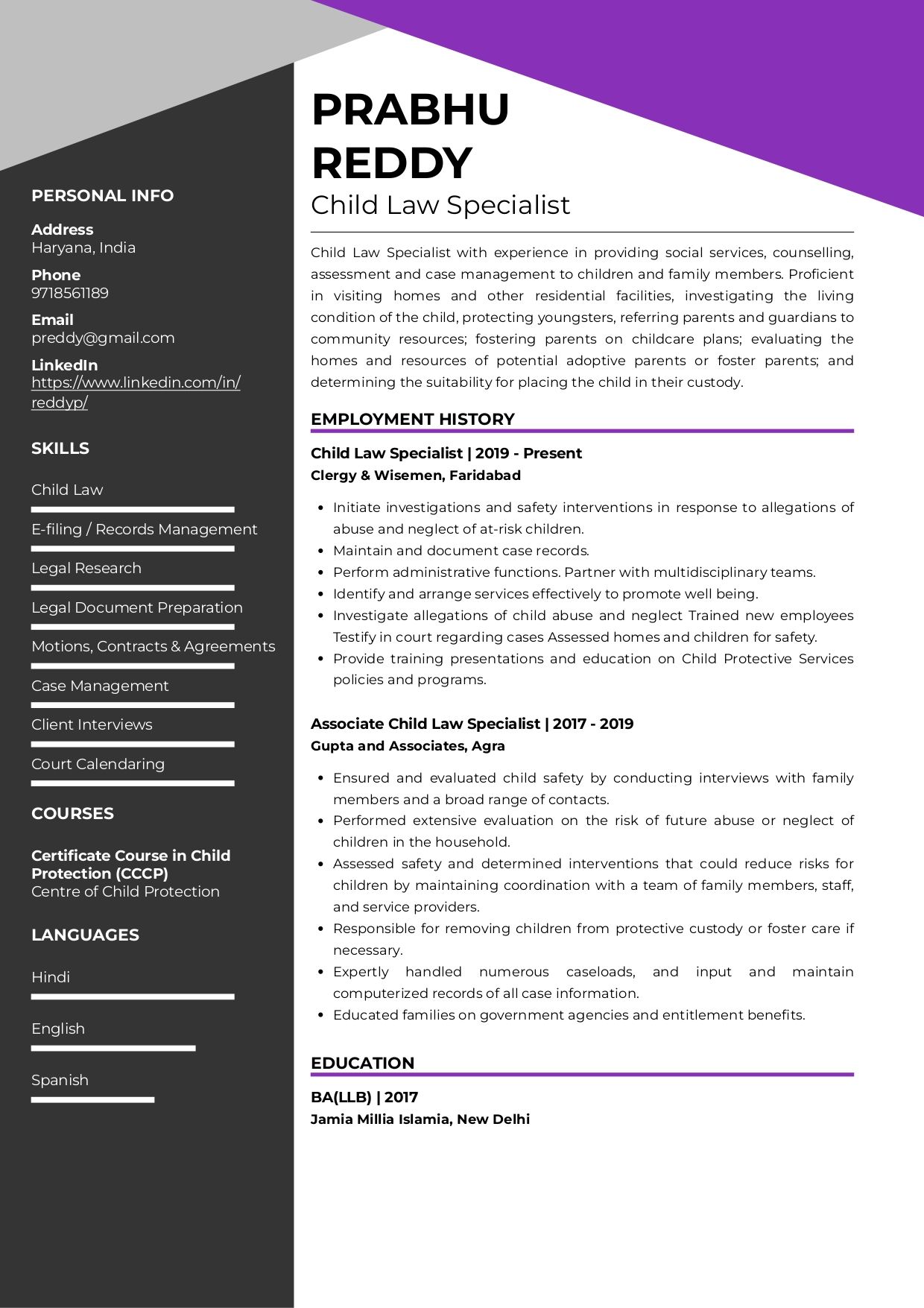 Check the full resume of a Child Law Specialist here

Resume of Cyber Crime Lawyer
Cyber Crime lawyers represent people, property, and the government in instances involving cybercrime. They prepare, investigate, and advocate for a client implicated in a cybercrime case.  Individuals and large organizations hire them to create and manage digital assets and related policies.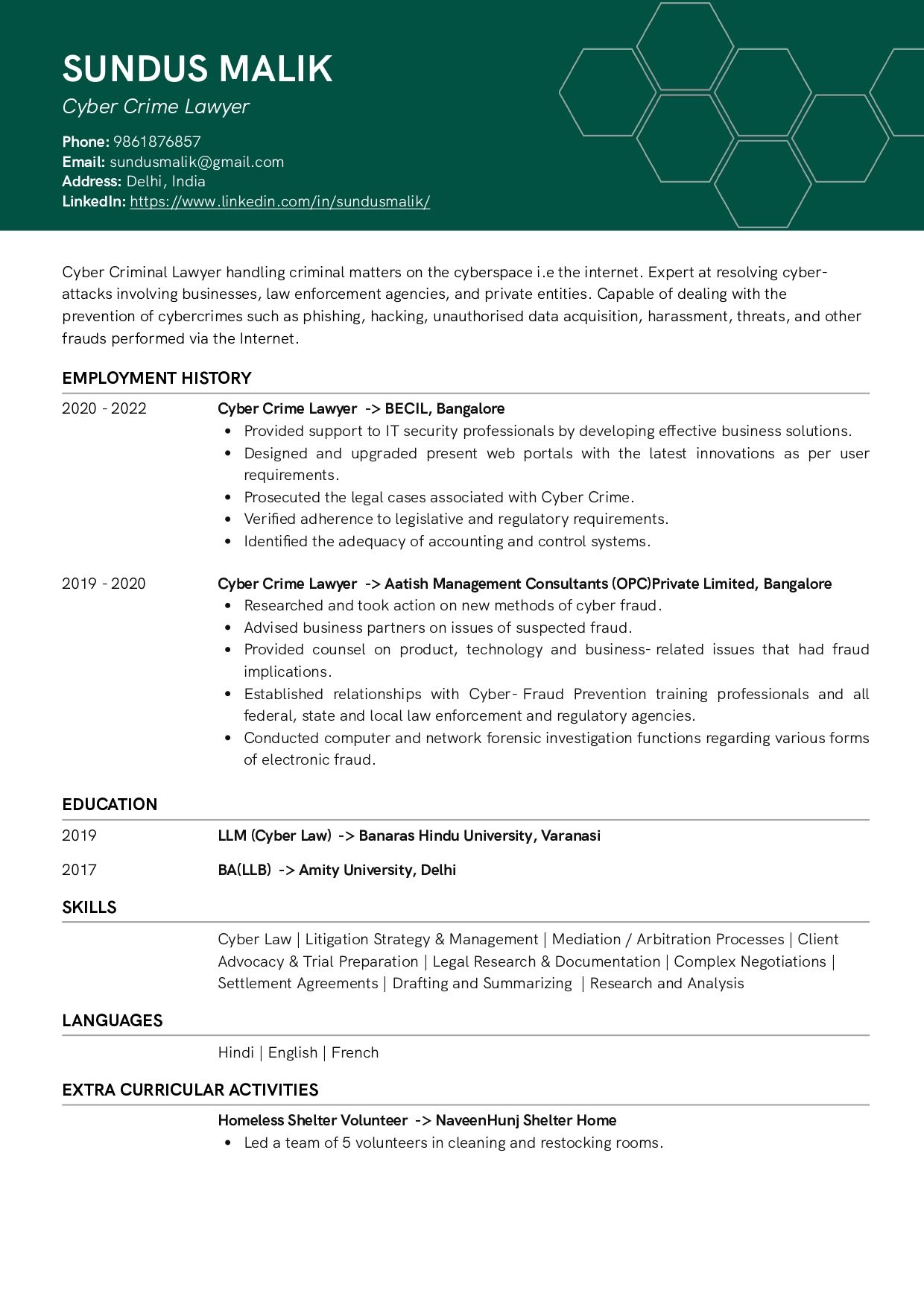 Check full resume of  Cyber Crime Lawyer here

Resume of Litigation Lawyer
Litigators specialise in the resolution of disputes between individuals and corporations. They draft various civil law motions and appellate briefs among other documents.  They represent claimants and defendants before, during, and after court sessions.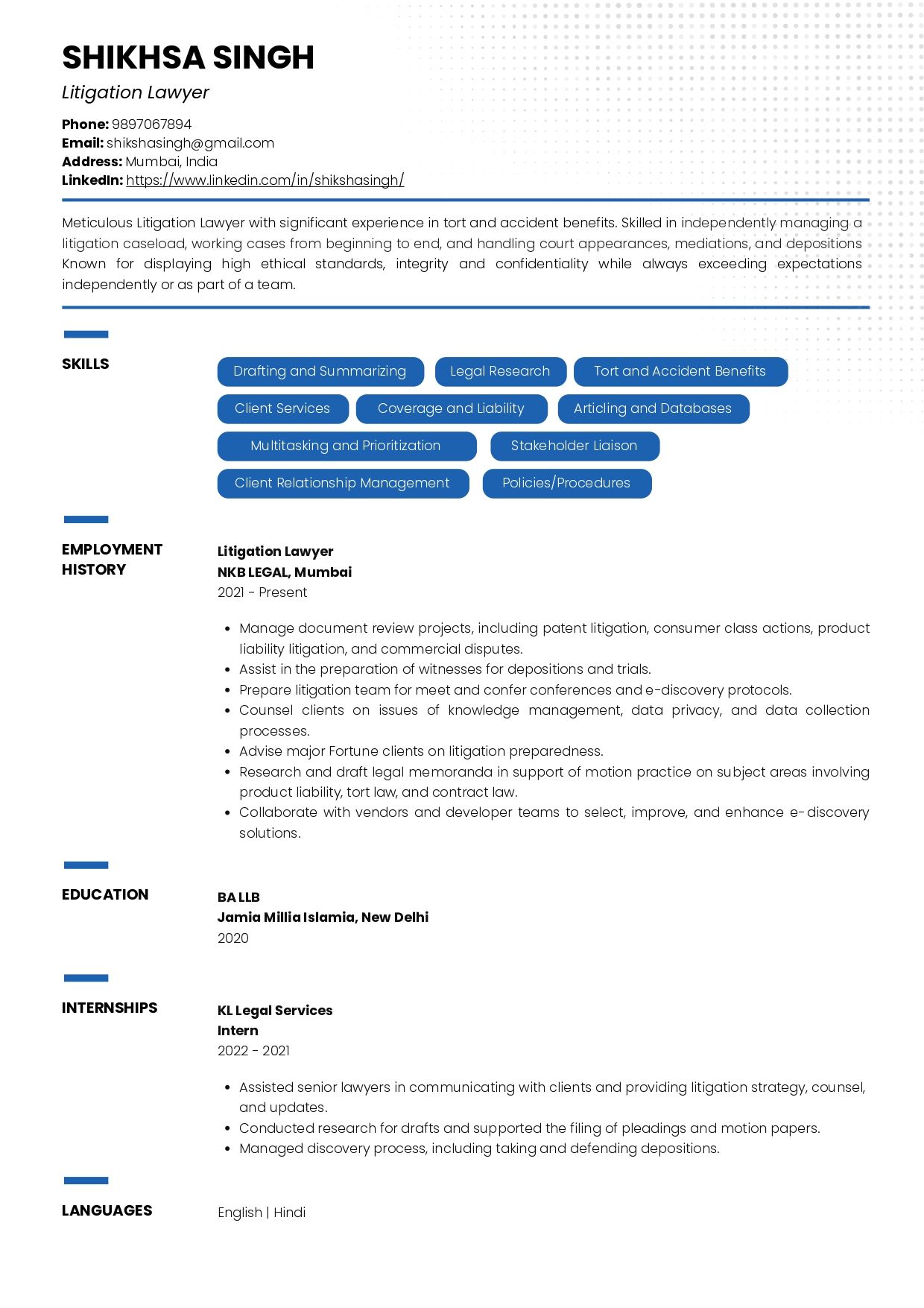 Check full resume of  Litigation Lawyer here

Resume of Human Rights Lawyer
Human Rights Lawyers advocate on behalf of victims of abuse, persecution, and human rights violations. They create legal documents, conduct research, negotiate settlements, and litigate human rights issues in court. They work for NGOs, legal firms, and intergovernmental organizations as well as governments at the local, state, national, and international levels.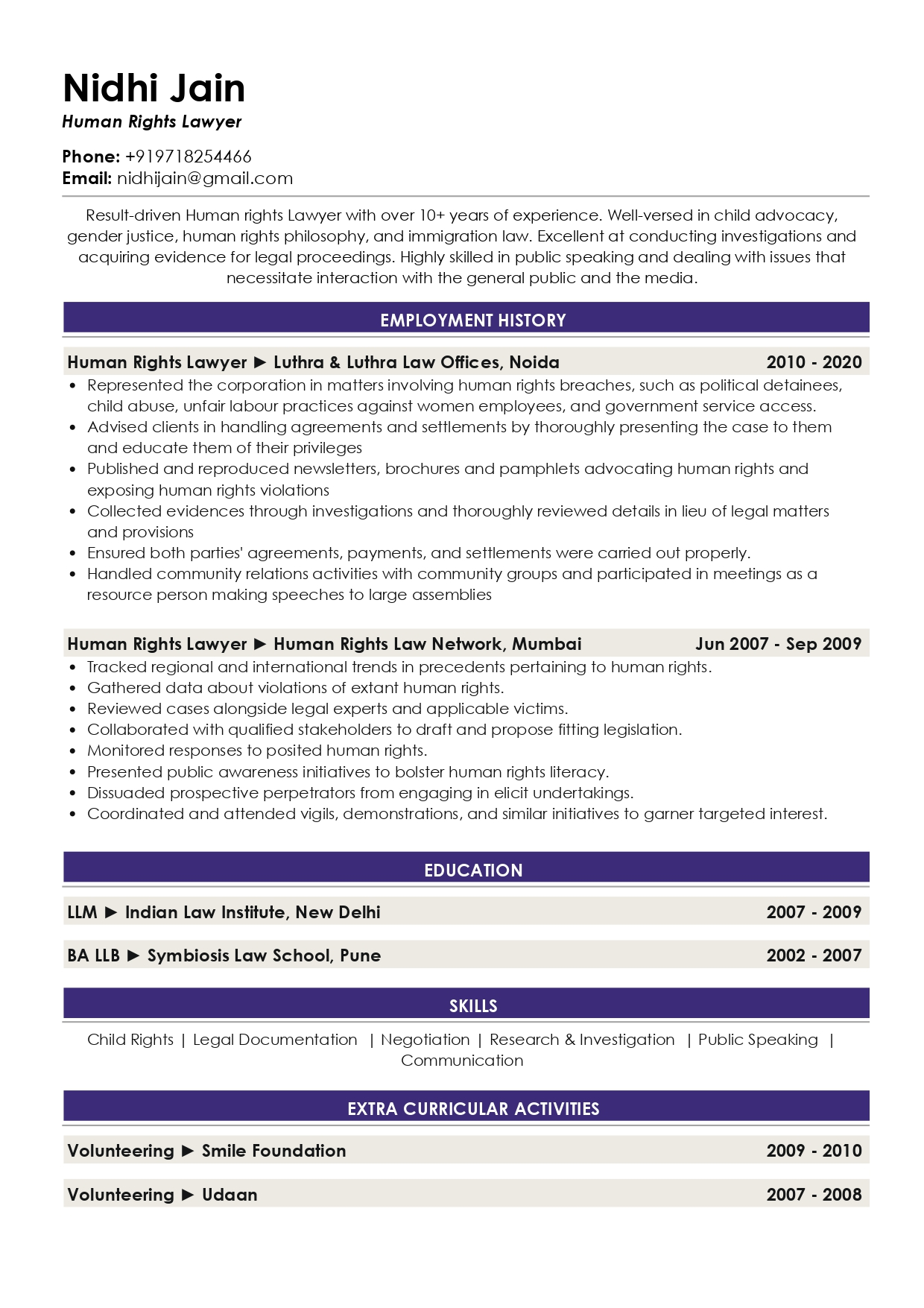 Check full resume of Human Rights Lawyer here

Resume of IP Lawyer
Intellectual Property (IP) lawyers preserve clients' intellectual property and provide related advisory. They analyse technical materials, and draft documentation to help clients obtain patents and trademarks. Further, they protect corporations and individuals against over-assertion of intellectual property rights.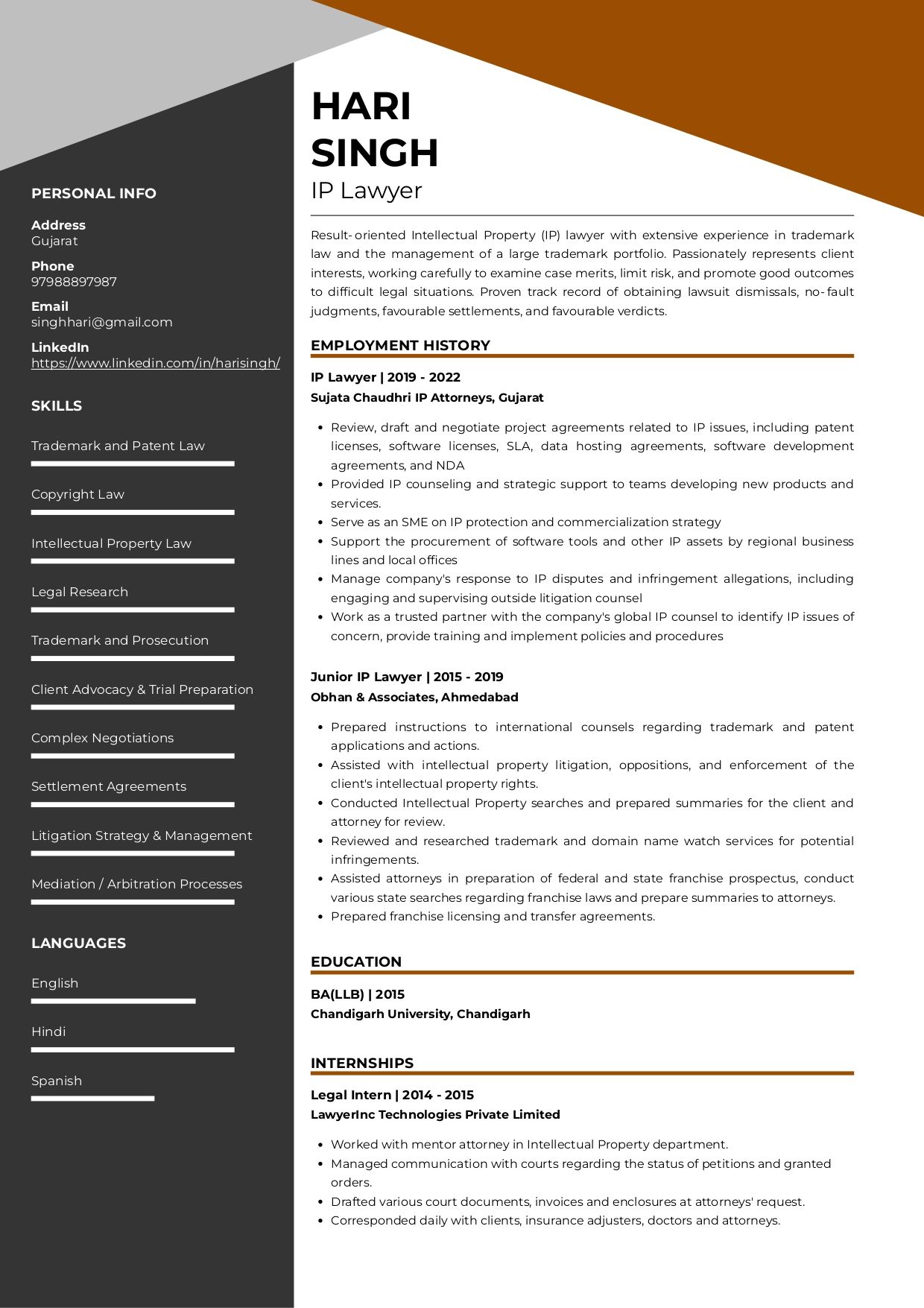 Check the full resume of IP Lawyer here

Resume of Legal Writer
A legal writer is responsible for the department's copywriting, content editing, and proofreading. They are in charge of ensuring that written papers adhere to the company's standards. Legal writers draft contracts, agreements, memoranda, and other legal documents. To gain experience in the legal field, they may write for law firms, law firm websites, or as a freelancer.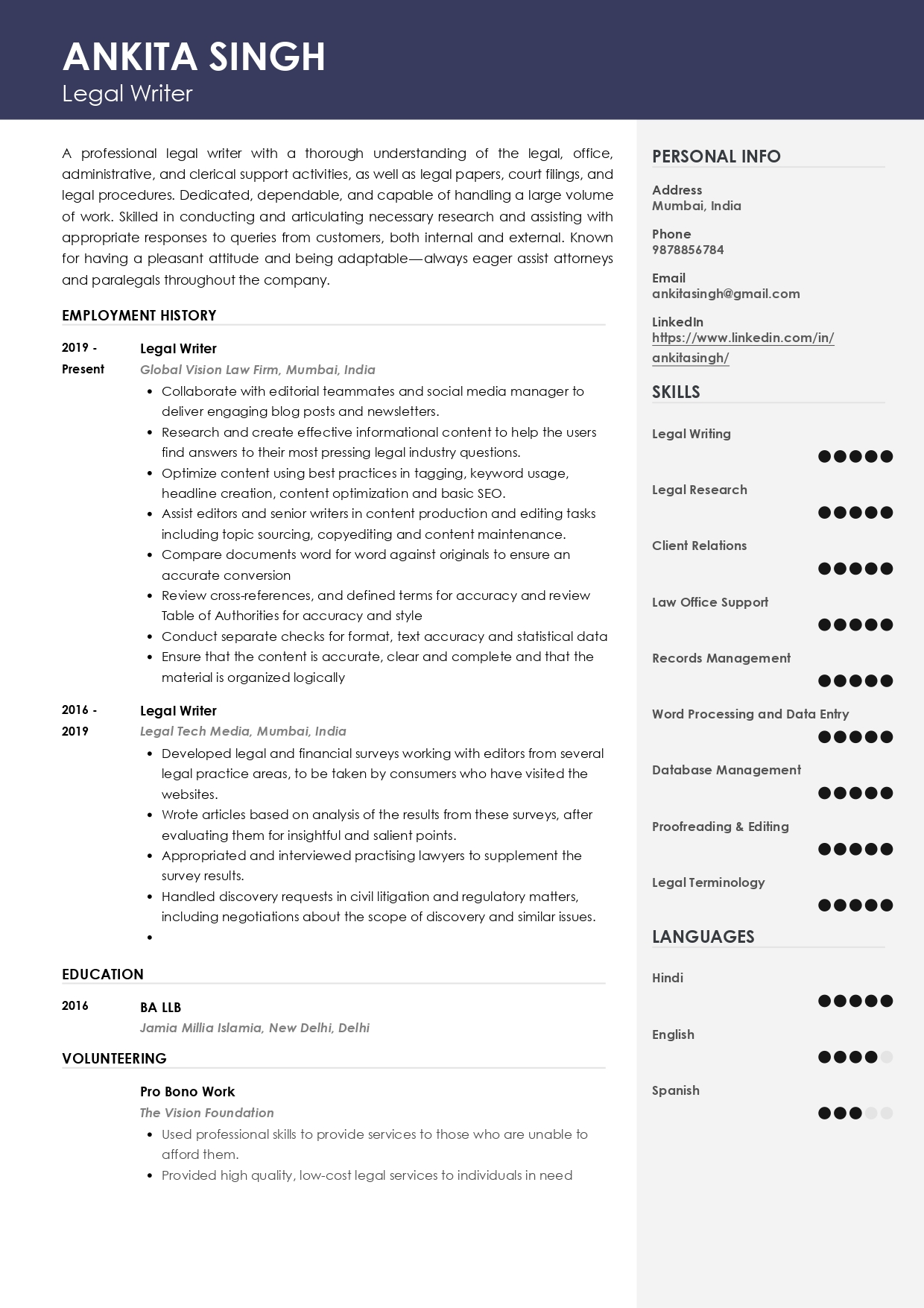 Check the full resume of Legal Writer  here

Resume of Chief Legal Officer
The Chief Legal Officers are leaders of the corporate legal department. They advise the board of directors, chairman of the board, chief executive officer, and other senior management on legal matters. They are hired by both private and public sector firms.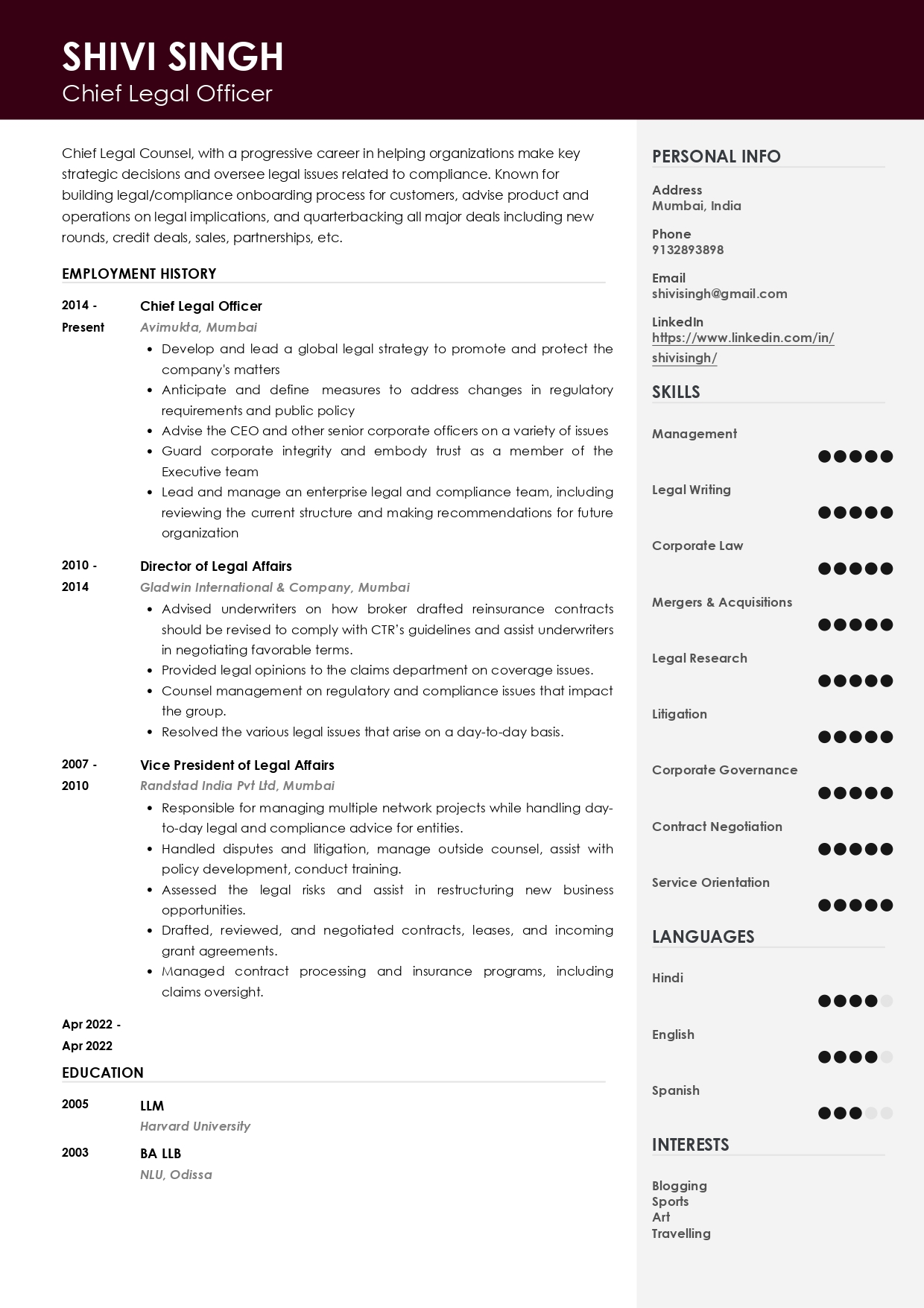 Check the full resume of Chief Legal Officer  here