How to Write a Resume with No Experience [5 Examples]
There are various ways you get that experience and still have a resume with no experience. Read this post on how to write a resume for freshers and beginners.
All first-time job-seekers (freshers, new graduates & post-grads) worry about sitting for their first-ever interview. What scares them more is having a resume with no experience.
Everyone starts their career with no experience, and gradually builds a rewarding career for themselves. This is because recruiters don't expect you to have tons of experience while starting. What they do expect is a decent background and a skill set that will enable you to perform the tasks. There are various ways you get that experience and still have a resume with no experience.
Keep reading to know the systematic process to make a resume with no experience
How to Pick the Right Format for a Resume with No Experience
Jobseekers find picking the right resume format or resume layout the most difficult task. However, it is not as complicated for a no-experience resume. Consider the following while you pick a format:
Check for reverse chronological order which lists your most recent engagements on top
The format should contain all your information on one page
A simple yet elegant format with ample white space and a clear font
How to Create a Contact Details Section
Your name and contact details form the topmost section of your resume. This section should be visible, short, and crisp. Start with writing your name in bold capitalized letters followed by location, phone number, and email address. You can include links to professional websites like LinkedIn, your portfolio, or your website.
How to Write a Resume Summary or Objective
A summary is a brief representation of your resume in a readable yet impactful form. A resume objective demonstrates the skills, you want to leverage for a particular job role.  Placed right after your name, this section is critical in creating the "first impression" on the recruiter.
Write a powerful objective or summary and motivate the recruiter to read your entire resume.
Objective for a resume with no experience
Marketing graduate looking for a position at a digital marketing agency, where I can apply my skills in market research, competitive analysis, communication, social media management, and team coordination to support lead generation growth and success.
Summary for a resume with no experience
An aspiring digital marketer, with the ability to communicate brand stories through various social media channels and campaigns. Skilled in implementing a proactive social content calendar and coordinating all aspects of digital marketing projects from conception to delivery and optimization.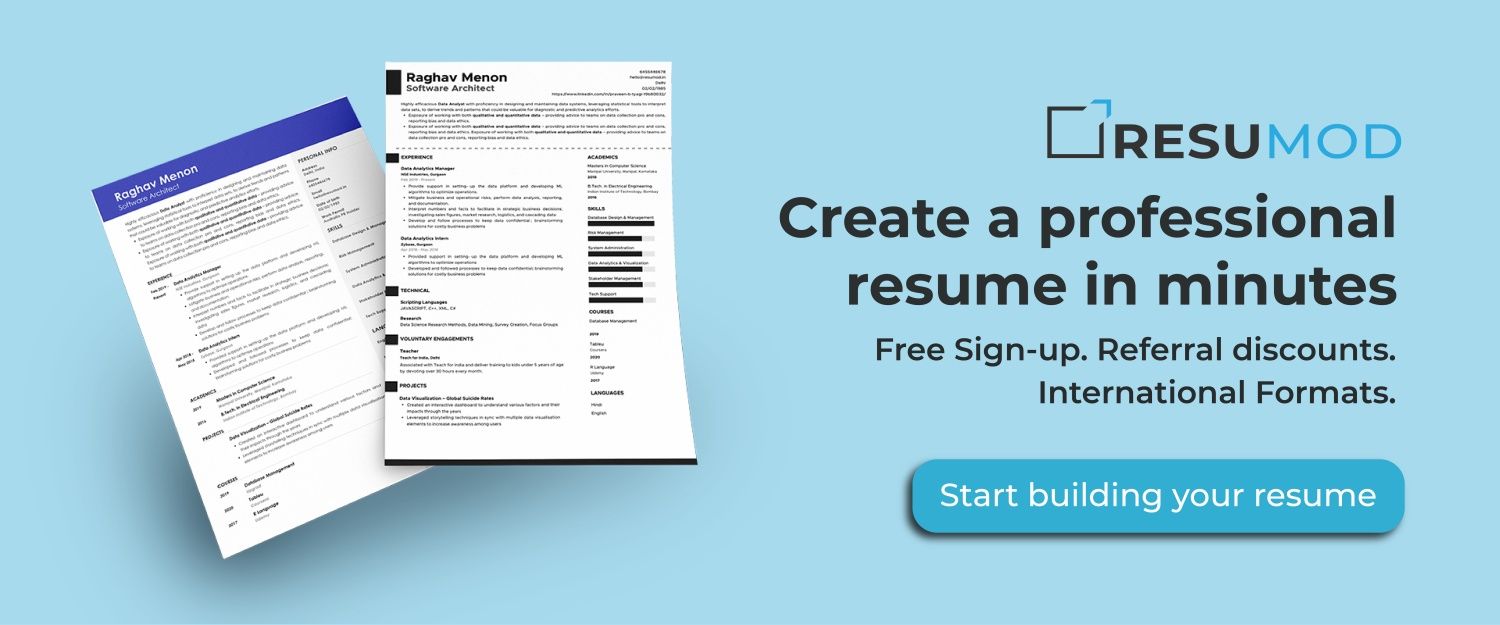 How to List Your Education & Certifications
Education is one of the most important sections for a resume with no experience. Your academic background (high school and university education) displays your skills and acts as proof of your knowledge. If you are a college graduate with specialized education, mention your coursework. If you do not have any work experience or projects, place this section on top of your resume.
This is what an education section looks like:
California State University – Long Beach, CA
BA in Interior Design
Dec. 2021
What are the Experience Alternatives for a Resume with No Experience
Work experience alone is not the only deciding factor for recruiters. Your background and the value you can add to the organization propel the hiring decision. Internships, Volunteering, Projects, or Extracurricular activities are some alternatives to work experience. These show your time management and prioritization skills, as well as your drive to excel.
1. Internships:
Internships are a great substitute for work experience if you are still in university or just out of it. Here is an example of how you can list them on your resume:
HR Intern
360-degree Staffing Solutions – New York, NY
09/2019 - 12/2019
Updated internal databases with new employee information
Gathered payroll data like leaves, working hours, and bank accounts.
Assisted the recruiter with screening resumes and application forms.
Scheduled and confirmed interviews with candidates.
2. Volunteering
Volunteering or community contributions show your commitment and service orientation. All employers look for these qualities. The next best thing about volunteering is you can write the smallest of your contributions to the community.
Here is an example:
Animal Care Volunteer
Queen Elizabeth Animal Protection Shelter
7/2021- Present
3. Projects
Projects are the ultimate tools to fill in the knowledge gaps in a resume with no work experience. Projects include research projects, assignment projects, or any other independent projects.
Here is how to represent projects in a software engineering resume with no experience:
Android Local Train Booking System
Independent project
Built a local train ticketing software that allowed users to book tickets for local trains and receive online booking receipts via the app. For local train travel, they were able to print the online booking receipts as hard copy proof.
Bug Tracker
B.S. Project
Developed a bug tracking tool to assist in the identification and tracking of defects in projects and systems.
4. Extracurricular activities
These are activities outside the scope of your course curriculum. They help with developing essential professional skills like networking, communication, etiquette, cultural competence, and much more. They include arts, athletics, student clubs, sports teams, and student government. In a resume with no experience, they show how you have developed your skills. Employers always prefer candidates with some engagement in activities.
Extracurricular activities example for an entry-level resume with no experience
Clubs and Societies – University of California, Long Beach
07/2021 – 04/2022
President of Economics Society
Volleyball Club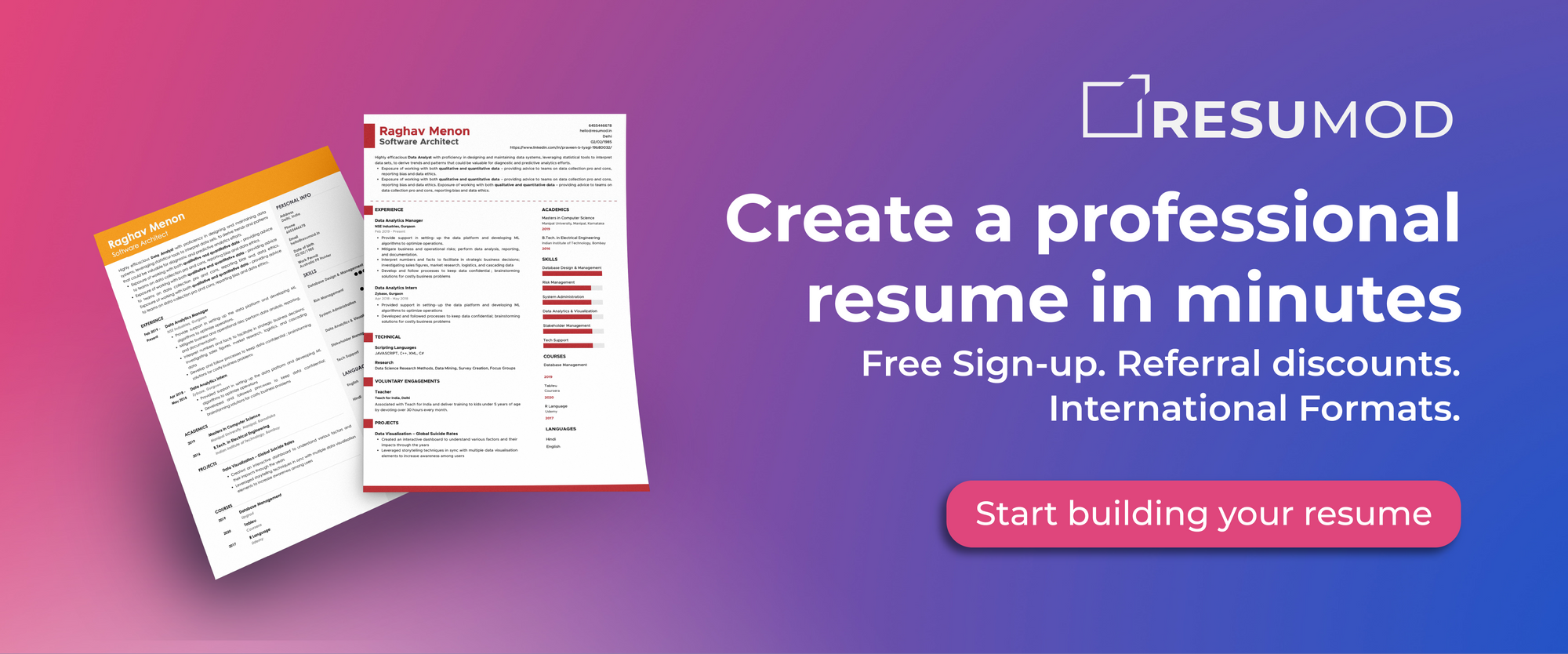 How to Stand Out With Your Skills
Skills are equally important for a resume with no experience as in a resume of experienced professionals. For those with no experience, you can enlist skills you have acquired so far through your academics and other engagements.
You can include two types of skills in your resume: soft skills and hard skills.
Soft Skills
Soft skills are transferable skills that help you operate in a professional environment. They are job-specific and immune to automation. Employees look for transferable skills like teamwork, time management, problem-solving, and flexibility.
Hard Skills
These skills enable you to perform your core job. They are different for each job, and you need specialized training to develop them. Your academics act as proof of your soft skills.
What are the Other Sections to Include in a Resume with No Experience
You have got a lot more to put in your resume than you think. Awards, certifications, languages, and hobbies add up to your skills and deserve some space in your resume.  Out of the above list, mention only those that are relevant to the role you are seeking.
1. Awards, Courses and Certifications:
You can include online certification or awards received for your academic or non-academic performance.
Certification example for a marketing graduate resume with no experience
Professional Certificate Program in Digital Marketing and Social Networks (Universidad Galileo)
Edx
2. Languages:
Bilingual professionals are always in demand as they help organizations reach a wider audience. Mention the languages you know with the skill level. If you've done courses to learn another language, or they were part of your coursework, do specify that as well.
Here's how you can represent language in your entry-level resume
English- Native Speaker
Spanish- Effective Operational Proficiency (C1)
3. Hobbies & Interests:
These are things you are passionate about – art, painting, cryptocurrency travelling. However, if you have not been active with your interests, do not mention them in your resume.
Why is Proofreading your Resume Important
Proofreading is the final step to making a job-ready resume
Check for redundancy, punctuation errors, spelling mistakes, and capitalization. You'll miss out on the opportunity if you are a skilled candidate with a poorly written resume.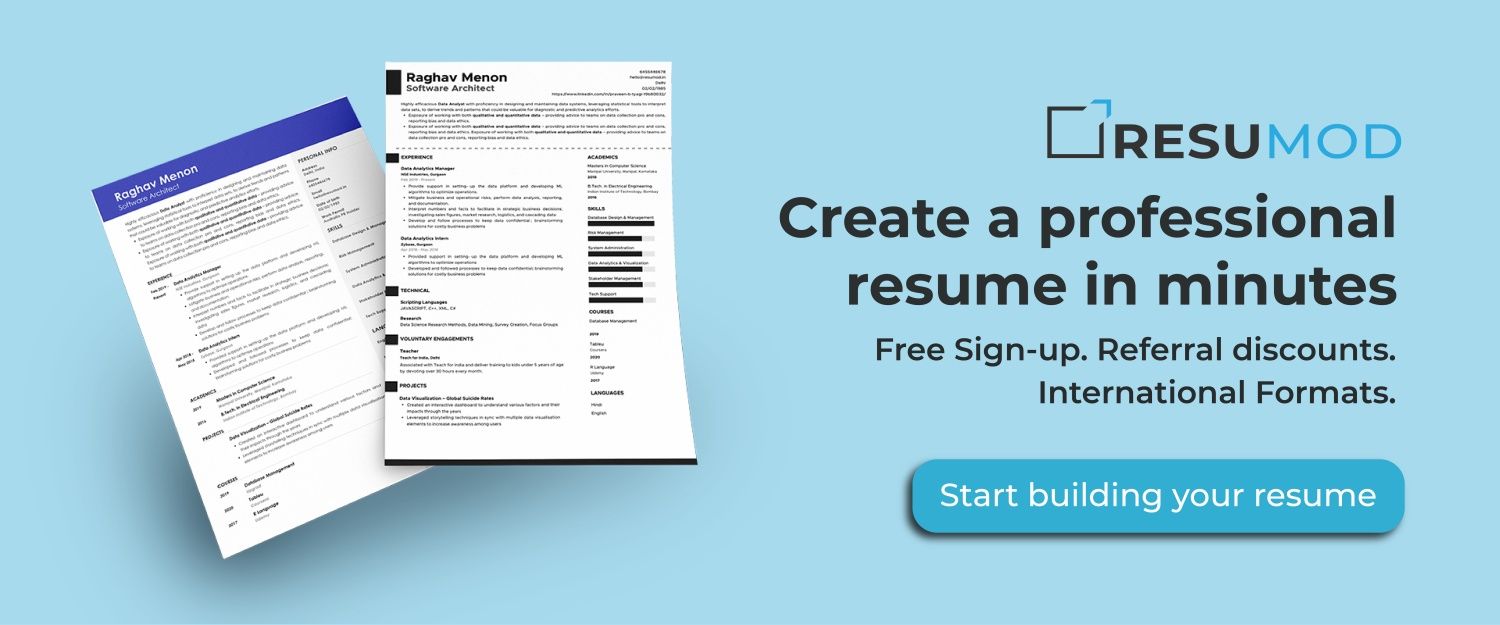 How to Tailor Your Resume for Each Application
All organizations have different requirements. Most job seekers miss this and use the same resume for each application.
Here is how you can do it:
Check the keywords in the job description and incorporate them into your resume.
Remove all internships, certifications, and awards that are not relevant to the job.
Top No-Experience Resumes on Resumod
Resume of Computer Science Engineer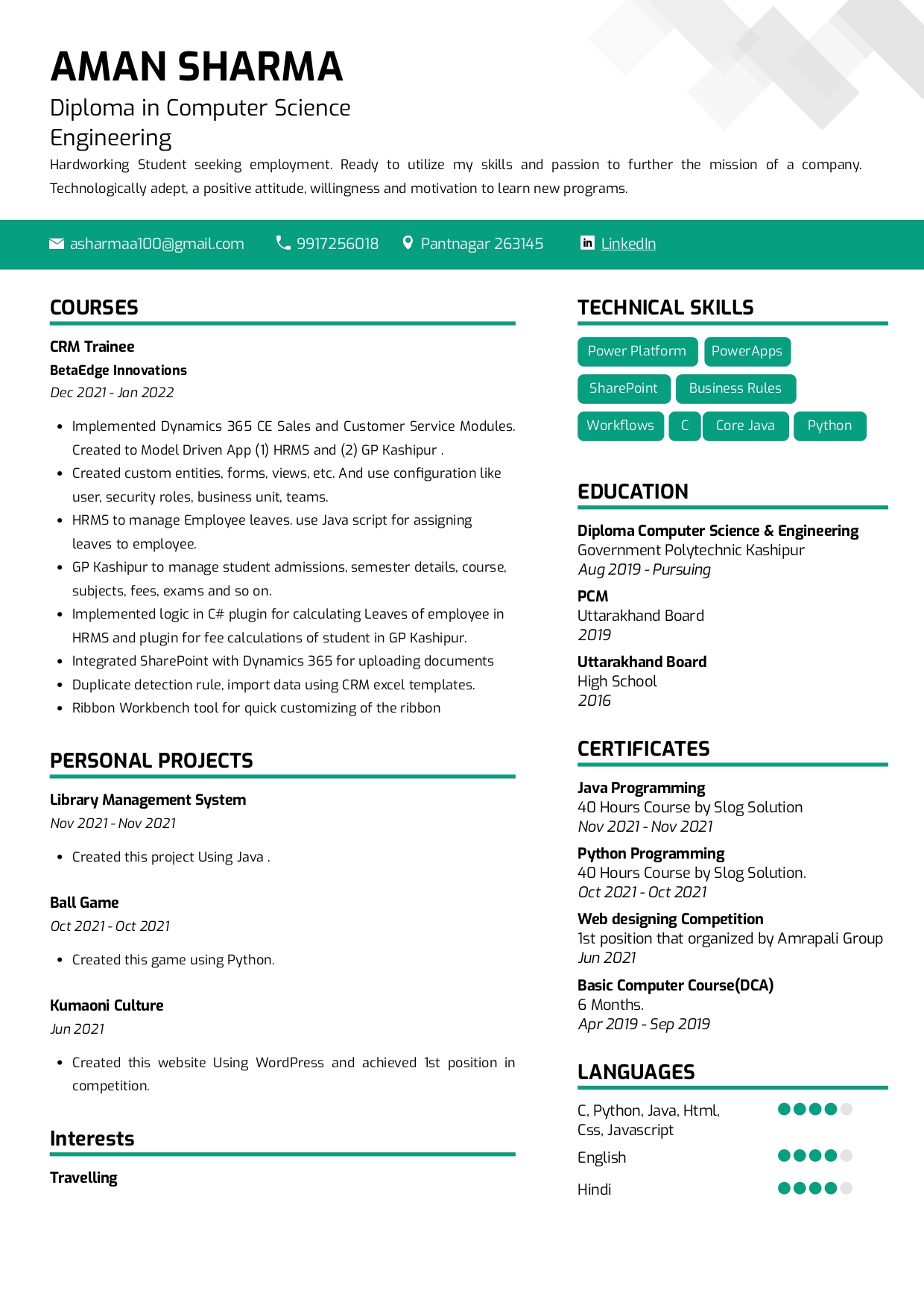 Check the full resume of a computer science engineer here
Resume of Junior IT Engineer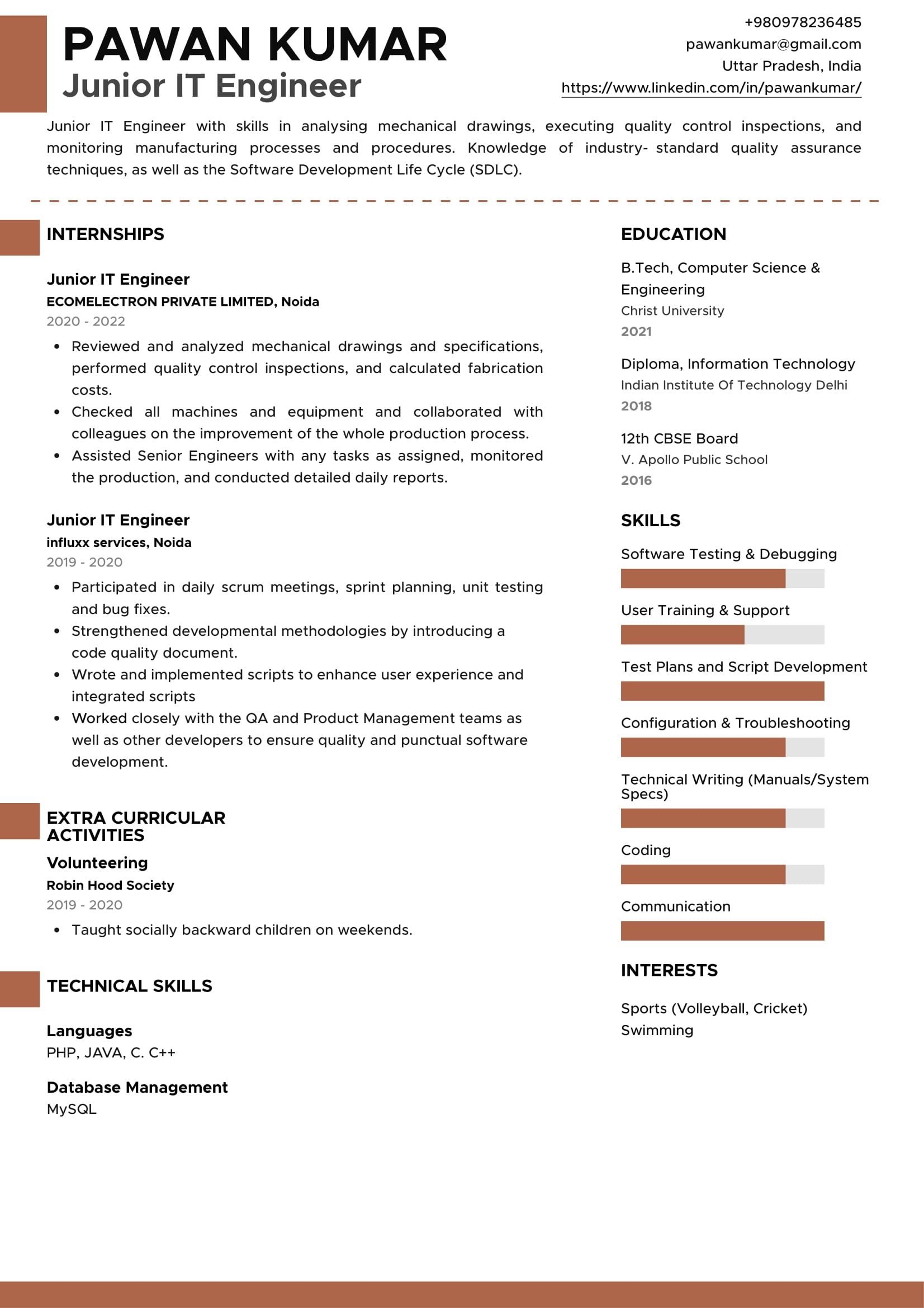 Check the full resume of Junior IT Engineer here
Resume of Video Editor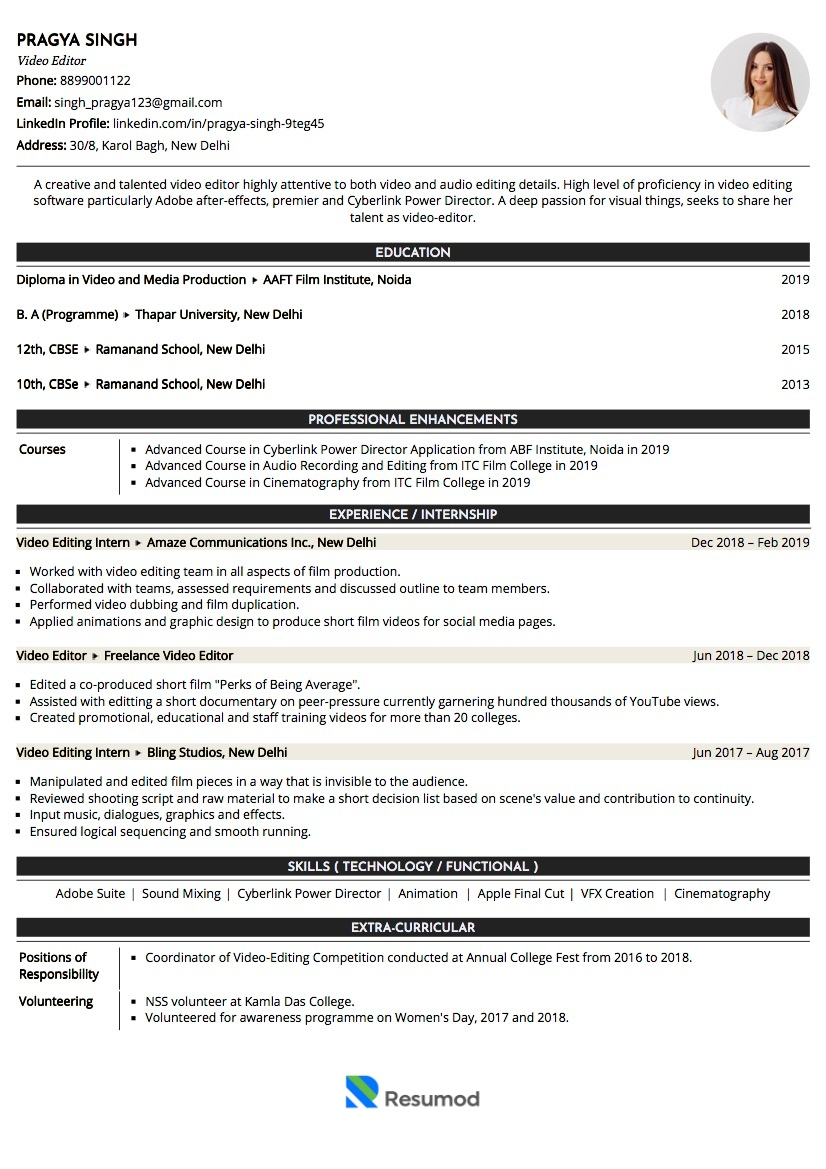 Check the full resume of Video Editor here
Resume of Online Tutor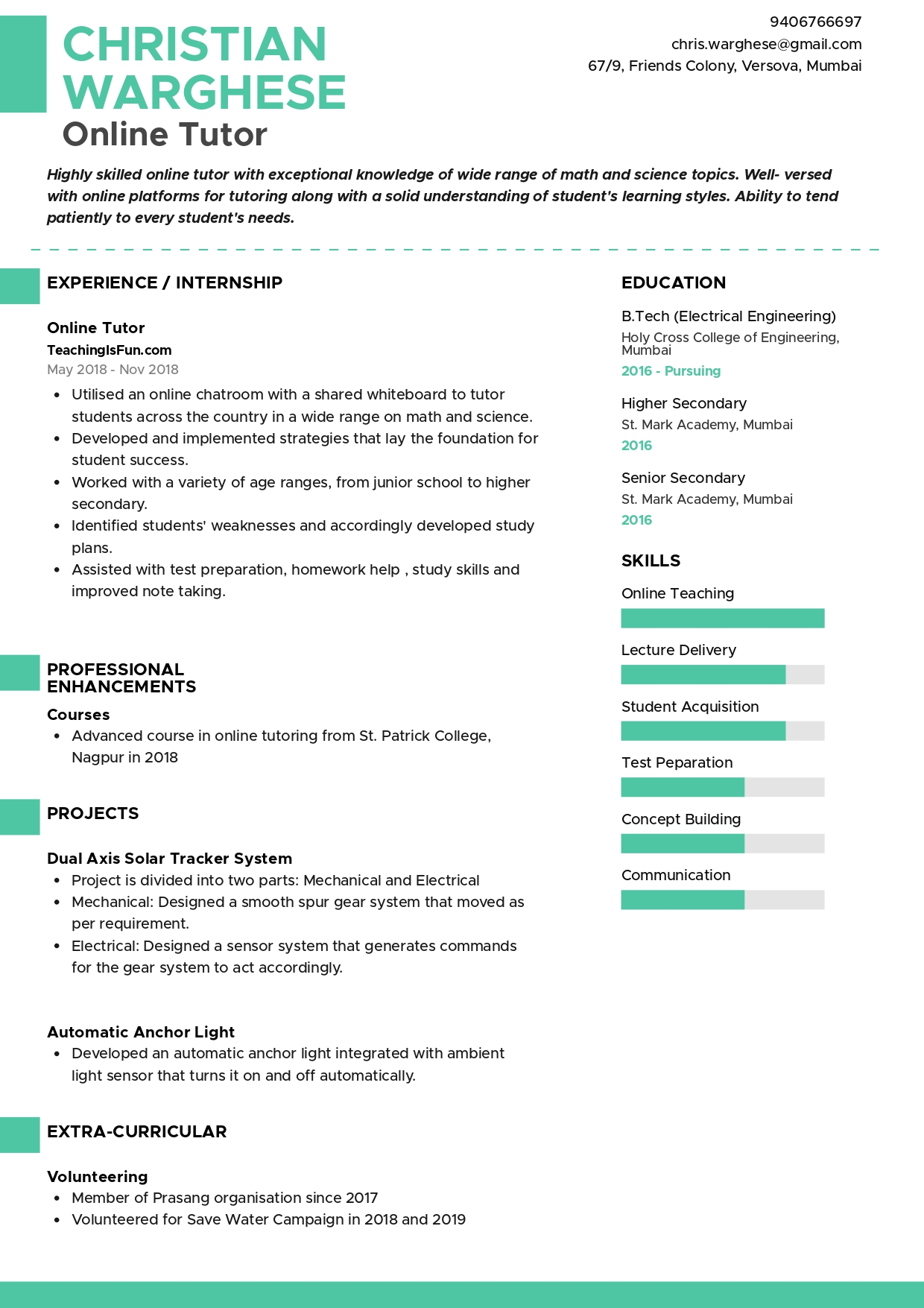 Check the full resume of Online Tutor here
Key Takeaways
We've got you covered on writing a resume with no experience. Here's a small recap as you begin writing your resume for the first time:
Use a one-page format, laid out in reverse chronological order.
Be clear and concise with the head section; include your name and contact details.
Set the tone of your resume with a short objective/ summary statement.
Your academic background is your biggest asset in a resume with no experience; emphasise on it
Include sections like internships, extracurricular activities, projects, and community contributions to cover up for zero experience.
Recruiters love to see your skills, don't miss out on those
Optimize your resume for each application and include additional sections like interests & hobbies, languages, achievements and more