Why your LinkedIn Profile is not your Resume
Both a resume and a LinkedIn profile serve different purposes and can't be used interchangeably.
Often LinkedIn is seen as an "online version of your resume" for multiple reasons. The most common one is because it keeps a record of your work history and education just like a resume.
But there is much more to a LinkedIn profile and the platform as well. Both a resume and a LinkedIn profile serve different purposes and can't be used interchangeably.
This article critically evaluates the question "why your LinkedIn is not your resume?". You will read about:
Let's get started!
What is a Resume and What is it Used for?
A resume is a document about your professional journey, which is used to land an interview/job. It's a reflection of a person's personality consisting of various details that recruiters use to evaluate a candidate. The format of a resume can vary from person to person, based on personal experiences and skills.
Resume of a talent acquisition manager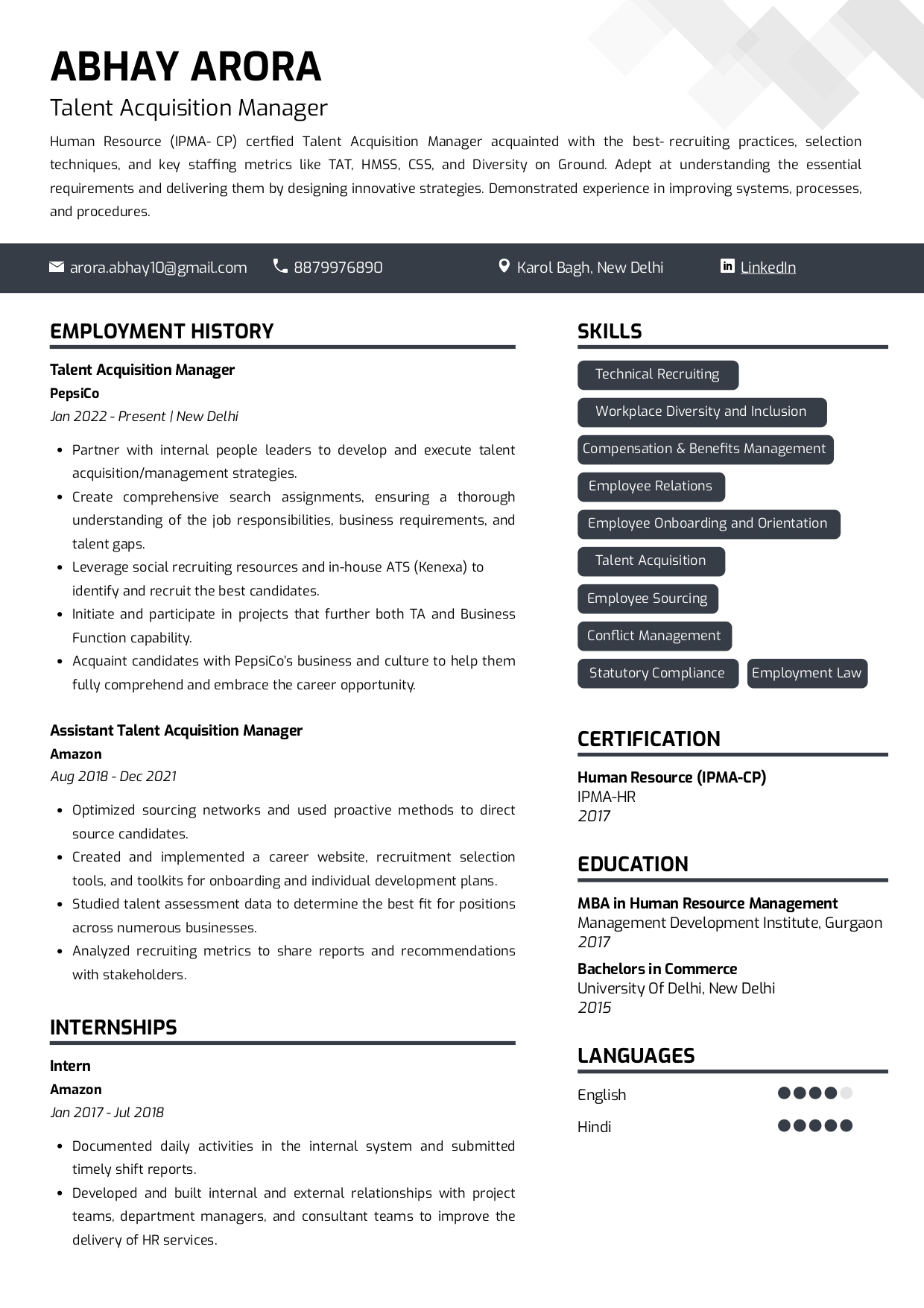 However, a general resume comprises of following sections:
Contact Information (Name, Location, Phone Number, Email address)
Summary or Professional Objective
Education
Current Position
Experiences
Skills
Achievements
Projects or Portfolio
Honors or Awards
Others (any other information specific to job requirements like Certifications, etc.,)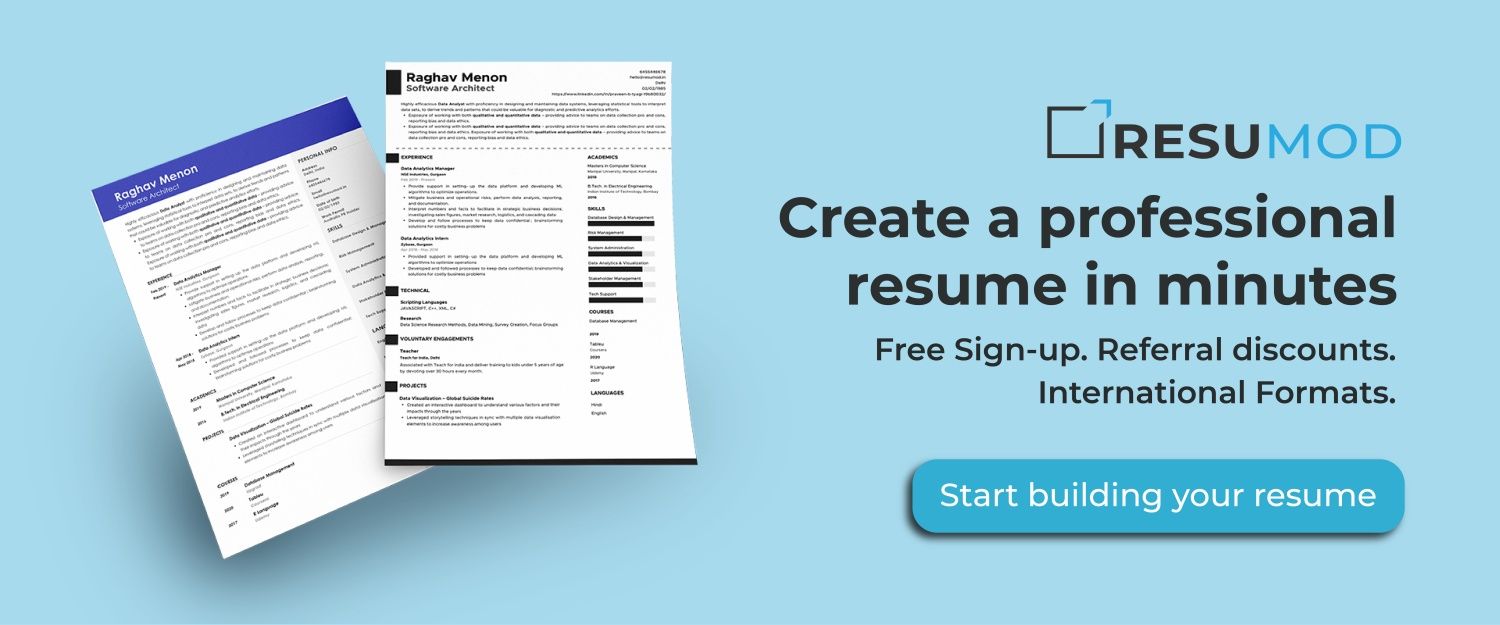 What is a LinkedIn Profile and What is it Used for?
LinkedIn is a professional networking site. LinkedIn is not just a job search engine like Indeed.com or Shine.com. A LinkedIn profile is meant for you to be active, and showcase your personality through content creation and keeping your professional information updated at all times.
LinkedIn profiles are used by LinkedIn's search algorithm to show various profiles under relevant search results and help you get connected with relevant people in the industry, including hiring managers.
The more details you fill in about yourself in your LinkedIn profile, the greater your chances are to become more relevant in search results based on the algorithm.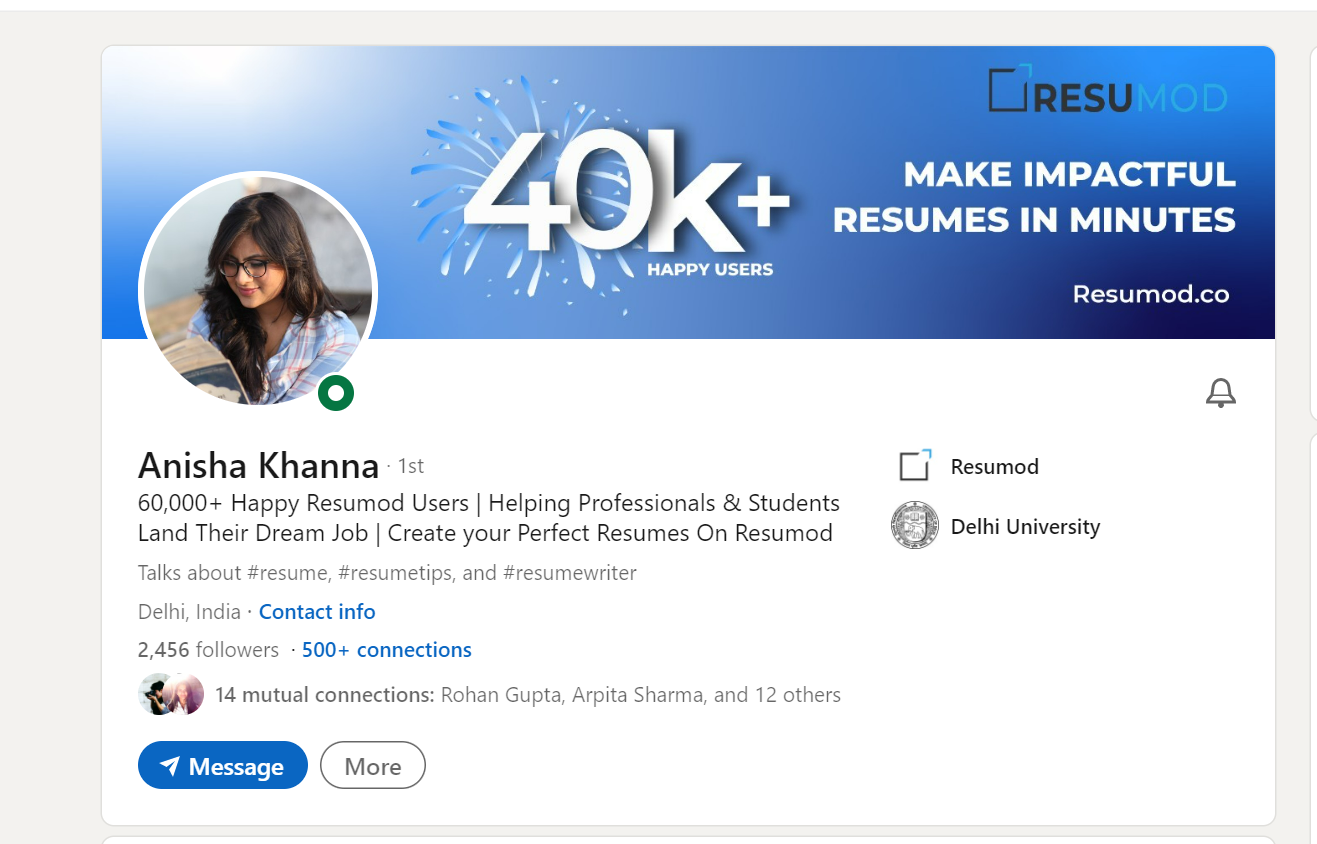 Your LinkedIn profile also has the "Open to Work" tag on the profile picture, which helps you to get noticed by hiring managers.
A LinkedIn profile has the following sections:
Name
Profile photo
Background photo
Headline
Current position
Education
Location
Industry
Contact Info
Summary
Open to Work tag
Experience
Skills
Honors & Awards
Languages
Other Sections (include Patents, Projects, Publications)
Recruiters, thus, are interested in a candidate's LinkedIn profile to evaluate them based on their profiles as it reflects a lot more about a candidate than a resume.
Since most of these elements are common between both a resume and a LinkedIn profile. Thus, people often try to interchange with each other due to similar functionalities. This is why the question arises "Why is your LinkedIn not your Resume?".
Let's compare both to evaluate the question critically and land a conclusion.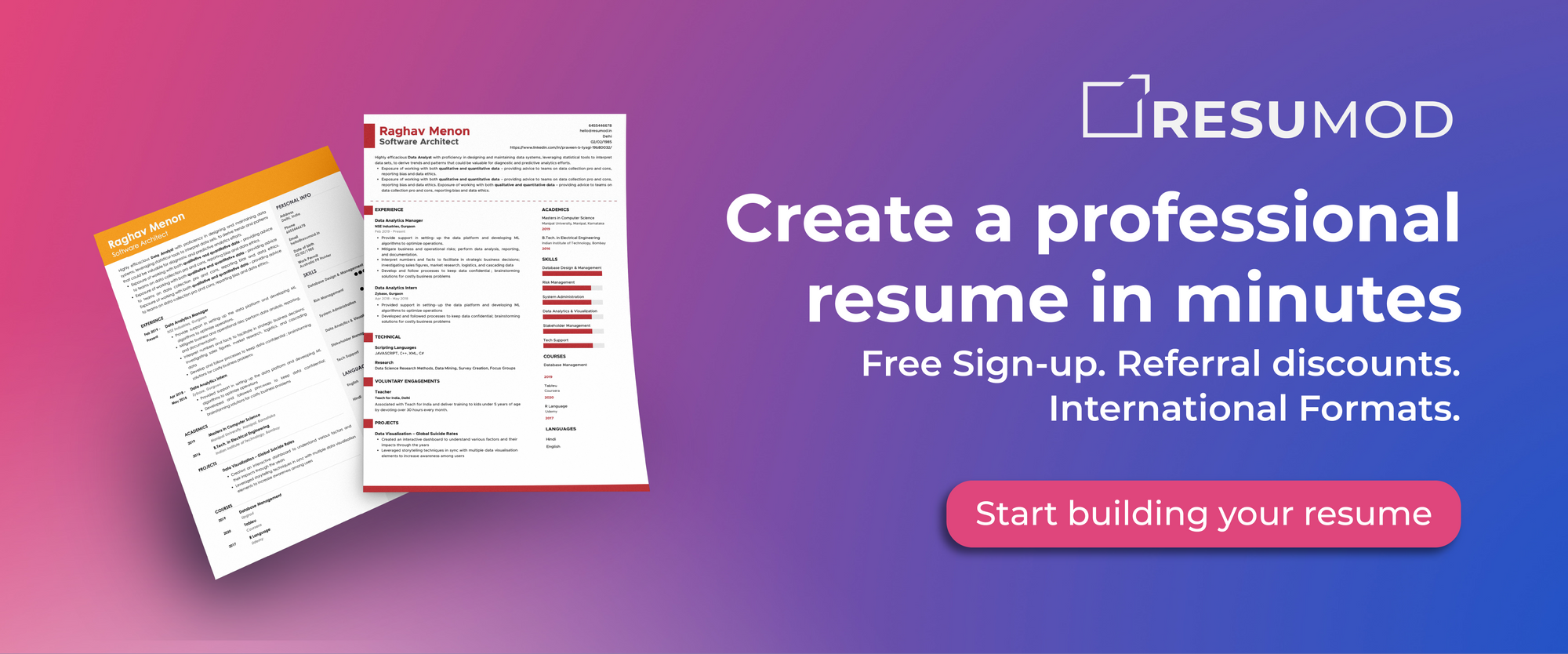 Similarities Between a LinkedIn Profile and a Resume
Here are some quick facts that are similar to a LinkedIn profile and a resume:
Both outline your professional details  
A LinkedIn profile and a traditional resume, both mention your education, achievements, and work history in chronological order. In fact, they both must be aligned in terms of your factual stats.
Quick Summary and Professional Objective
Both a LinkedIn profile and a resume have a section to describe your compelling professional goals.
However, how you approach a summary of a Resume and a LinkedIn profile are very different
Both are used for hiring purposes
Normally, the intention of getting hired is the same behind creating a LinkedIn profile and a resume. Both are maintained and updated strategically to reach out and catch the recruiter's eye. Whether the reach to recruiters is visibly different for both, but both offer the same intended purpose.
Keywords play a critical role in a resume and a LinkedIn profile
A resume and a LinkedIn profile both rank on the basis of keywords. You don't get visible in the search results if you don't use the right keywords for the right profile.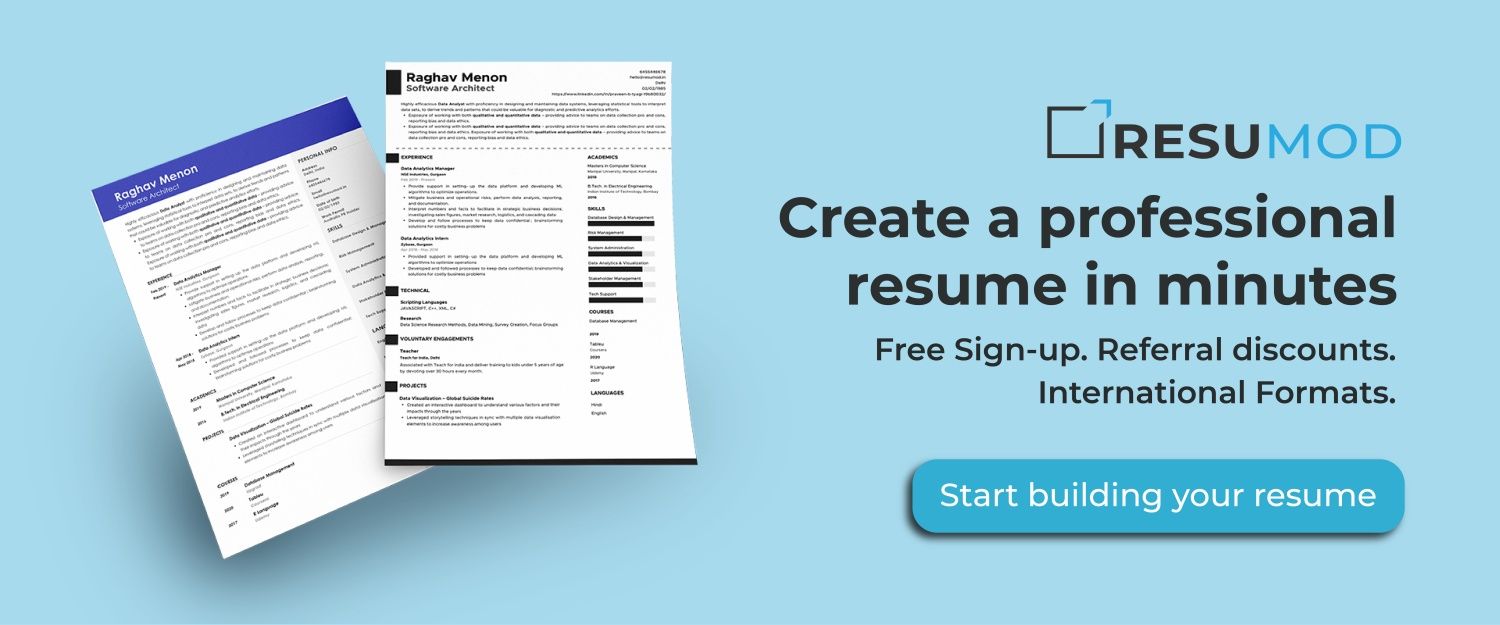 Core Differences between a LinkedIn Profile and Resume
The similarities mentioned above may make you feel they are similar with only the purpose of getting people hired.
But that's just an illusion.
A LinkedIn profile and a resume are vastly different. Here's how:
LinkedIn profile is more comprehensive
Your resume is just a glance at your professional career, whereas a LinkedIn profile is much more than that! A resume doesn't share your personal story, but it's easily possible with the help of LinkedIn. You can easily share videos, photos, daily updates, etc., on LinkedIn highlighting your personal interests or skills with better evidence for the recruiters.
Both your personal and professional qualities can be reflected in your LinkedIn, while a resume is limited to professional status. Thus, a difference in a personal perspective is visible in a tailored profile and a traditional resume.
You can make multiple resume versions but a single LinkedIn profile  
Multiple resumes can be written for multiple profiles, whereas a single LinkedIn profile exists generally. You can't create multiple profiles on LinkedIn as it's not feasible to maintain them all specifically. Even if you do, you lose your credibility and the whole purpose of being on LinkedIn is defeated. . Thus, a functionality difference exists for both.
Resumod has taken this into account and offers an option to create up to 5 resumes versions at a time to its premium users.
Dynamic Nature of a LinkedIn Profile
Your LinkedIn profile is ever-evolving, you continuously need to actively update it, while a resume is rigid in terms of expansion. Once a resume is submitted, you cannot change even a single word in it while you can always edit your LinkedIn profile as per requirements and trends.
A resume limits your visibility
Your resume is only usable after you are already connected or reachable by a recruiter, while a LinkedIn profile is specifically designed to help you connect with other potential profiles. Only those with your resume have access to it.
LinkedIn is open and can be viewed by anyone on the platform. Yes, anyone who found you.
LinkedIn is Social Media platform
LinkedIn is not a mere two-page-long portfolio. It's a giant social media portal with over 500+ million accounts. You can use a casual and informal tone in your posts on LinkedIn just like social media, whereas a resume needs to be completely formal and professional. You can be totally descriptive about your experiences and achievements, whereas you have to be concise and short due to limited space.
LinkedIn Comes into Play When Resume Stops
Oftentimes, when you add your LinkedIn profile link to your resume, recruiters do open it. If the recruiter is not impressed by your resume, your LinkedIn profile can do the magic and make the recruiter land a decision in your favor.
Your profile speaks about your compelling personality whereas your resume is limited in scope to represent your personal self.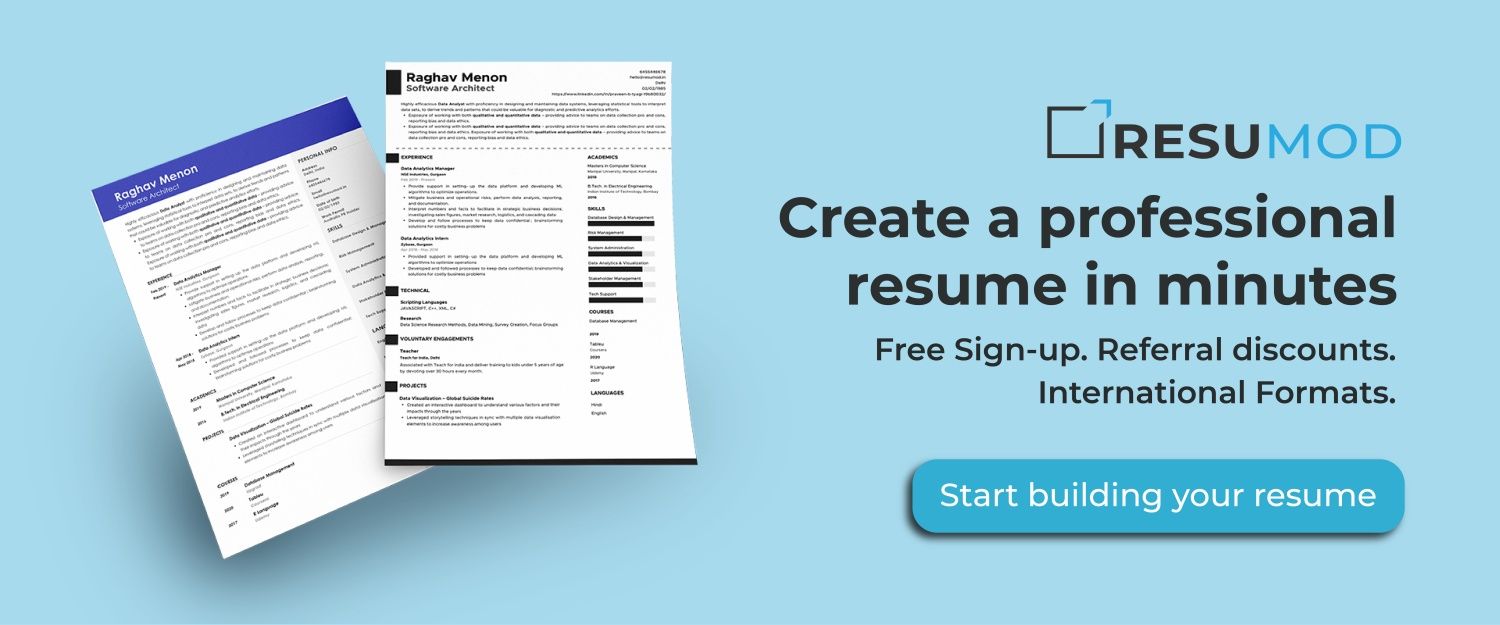 Bottomline
This was all about comparing a resume and a LinkedIn profile. The question "Why your LinkedIn is not your Resume" can be answered by the single fact that whenever you apply using LinkedIn, you are required to submit a resume while applying. Thus, even the LinkedIn platform classifies a LinkedIn profile and a resume differently. The bottom line is your LinkedIn profile can't be your resume, at least for now.