10 Sales Resume Examples + Writing Guide
In a competitive job market, generating results is not enough. You need to be able to showcase your results in a piece of paper. And you need a resume to that. Keep reading to learn how to make a compelling sales resume.
Do you know that one job that never goes out of demand?
You guessed it right!
It is SALES
Sales jobs never go out of the demand for the simple reason that sales is a revenue-generating activity that keeps the business on its toes. Nonetheless, sales is one of the most demanding careers, and salespeople need to be on their feet all the time to generate results and meet sales quotas.
In a competitive job market, generating results is not enough. You need to be able to showcase your results on a piece of paper. And you need a resume for that.
Keep reading to learn how to make a compelling sales resume.  
3 Tips to Write your Sales Resume
You have resumod's templates and content suggestions to have the right information and format for your resume. But there is more to making an outstanding resume.
We've summed up three important things for you:
Showcase results: A result-driven approach to your resume is the best one if you want to be among the first few applicants to be shortlisted. You can do this by quantifying your achievements, writing about awards, and mentioning your team size among others.  
Talk about soft skills: We often use sales terms like leads, deals, sales pipeline, product demonstrations and many more but miss out on soft skills required to close deals.
Use action words: Using the right lingo is important for creating the perfect first impression you want.  One way to optimise your resume using language is by starting bullet points with action verbs. Some examples of action verbs include delivered, performed, and gathered among other hundreds of action words.
5 Things to Include in your Sales Resume
Like every job has some aspects unique to it, sales also has some. Here are a few things you must focus on:
Deal/Ticket Size: The higher the size of the deals your close, the better your sales abilities. Instead of mentioning the size of every deal, you can write about the average deal size or the revenue from deals generated annually.
Area (geography) you cater to: If you are managing regional sales for a particular area, and want to continue serving the same in your next role, mention the geography. Since you've been working for a particular geography, and know the demographics, your knowledge is an added advantage for your future employer.
Type of business you cater to: Over the years, you develop expertise in a particular industry like pharma, FMCG, electricals etc. Your knowledge of the industry and its goods help you attain an edge over those who are from a different industry and helps you close better deals.
Type of Customer: By this, we mean B2B, B2C, product or service. Talk about the area you specialise in and want to build your career further. Deal size, market size, and customer persona vary for a different type of customers and defining what you specialise in help in getting you shortlisted.
Quota Achievement: Your ability to achieve the given sales targets plays a big role in getting you selected for the dream job. Every sales job from being a representative to a sales manager will require you to achieve quotas. So this cannot be missed.  
All these specifics help you to stand out from the crowd and showcase what takes to be a good sales professional.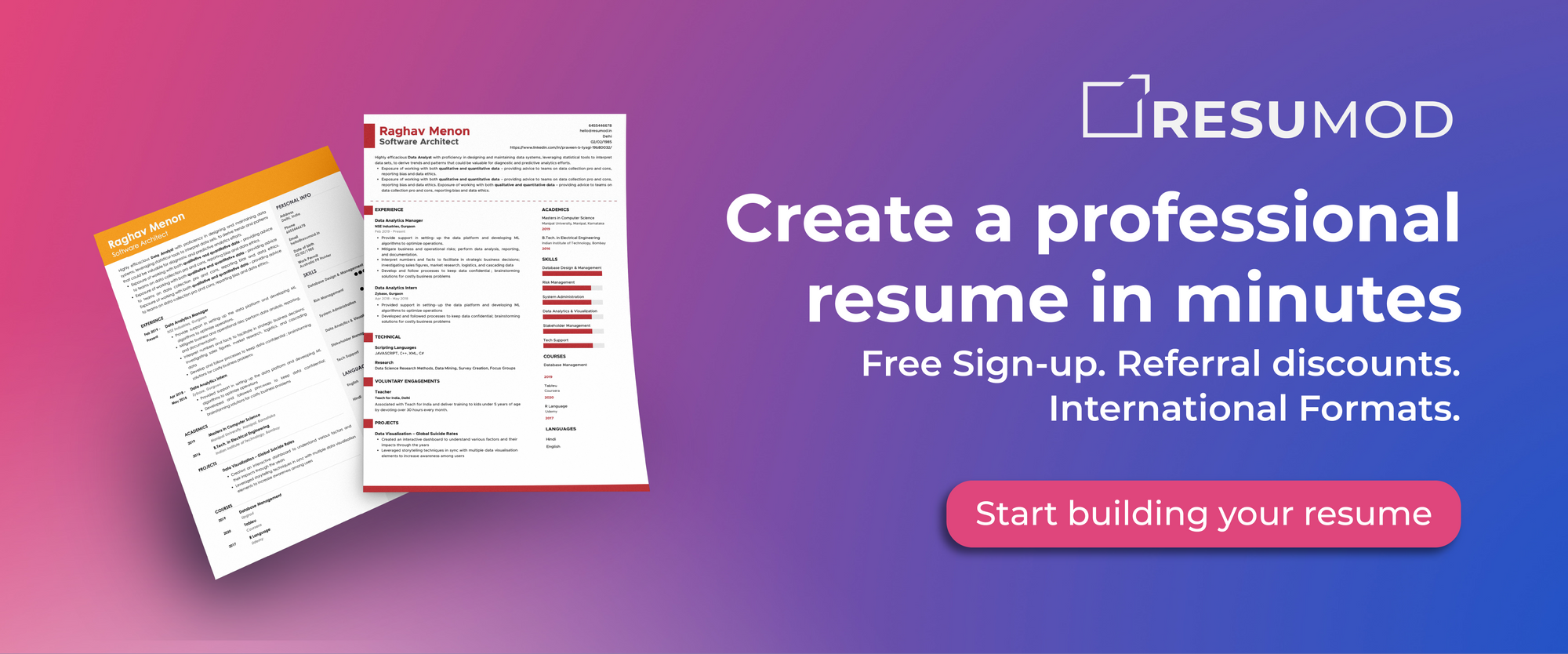 Top Skills to Mention in Your Sales Resumes
Retail Chain Management
Revenue Generation Strategies
Market Research
Sales Offer Creation
B2C Sales
Requirement Gathering
Customer database maintenance
Customer Service
Communication
MS Office
P&L Management
Operations  Management
Team Management
Vendor Relations
Team Building
Territory Expansion
Negotiation
Multi-tasking
Decision-making
Leadership
Motivation
Organizational skills
Product Presentation
Sales Training
Team Building
POS
Purchasing
Vendor Management
Operations Analysis
Inventory Planning
Budget Administration
Cost Reduction
Lead Generation
Shrink Avoidance
Turnaround  Management
Visual Merchandising
Profit Optimization
Strategic Market Planning
Business Development
Territory Management
Channel Sales Strategies
Customer Acquisition and Penetration
Salesforce Development
Sales Best Practices
Business Acumen
Relationship Building
Adaptability
Time Management
Commitment
Product Knowledge
Rapport Building
Critical Thinking Skills
Lead Qualification
Presentation Skills & Demoing
Active Listening
Lead Prospecting
Problem Solving Skills
Customer Needs Analysis
Referral Marketing
Collaborative Skills
Objection Handling
Contract Negotiation
Self Motivation
Client Nurturing
Optimizing Monthly Recurring Revenue (MRR)
Increasing Customer Lifetime Value (CLV)
Reducing Customer Acquisition Cost (CAC)
Adaptable
Closing Sales & Signing Contracts
CRM Software (e.g., Salesforce CRM, Hubspot CRM, Zoho CRM, Freshsales)
Conflict Resolution
Decision Making Skills
Project Management Skills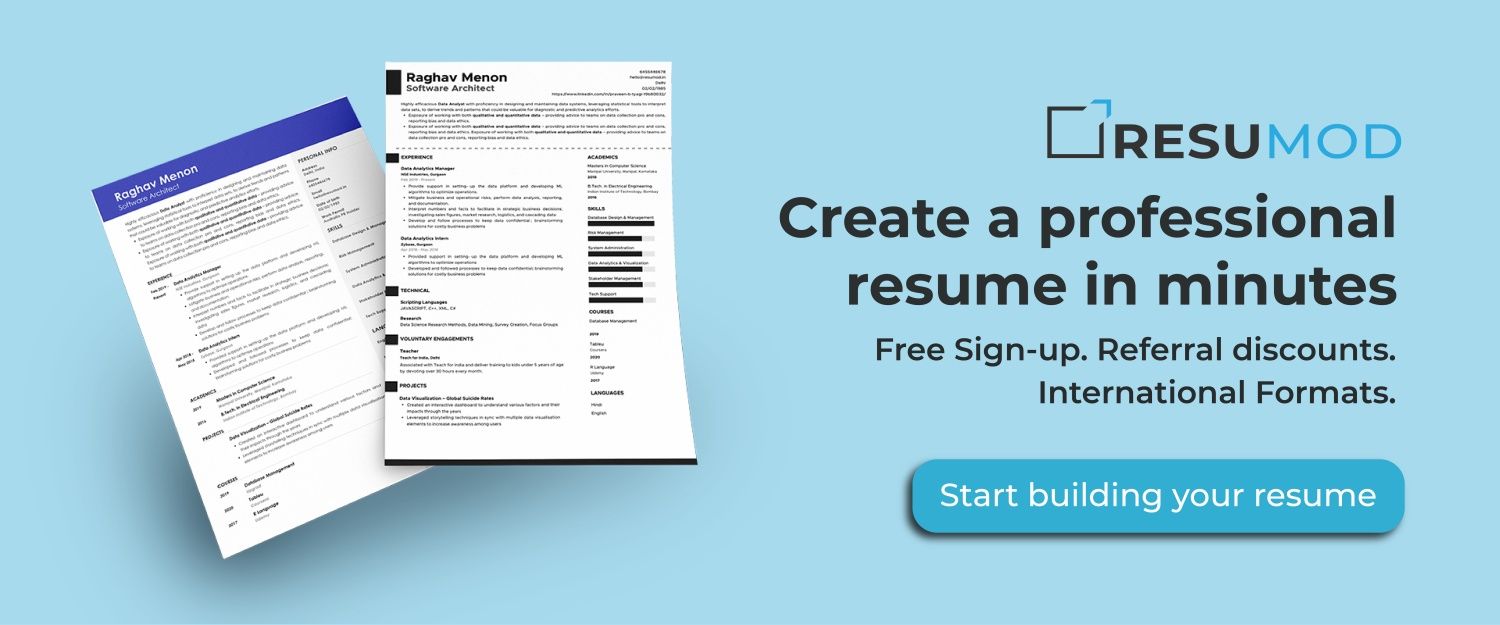 Top-Rated Sales Resumes on Resumod
Resume of Channel Sales Manager
Channel sales managers build and maintain connections with partners to maximise income from those accounts. They establish tactics for converting high-value leads and key potential partners into productive and profitable relationships. Proposals, pitches, company plans, and other sales materials are frequently created by them. These positions may also include budgeting responsibility and data analytics. Sales managers may also be in charge of training and supervising other salespeople.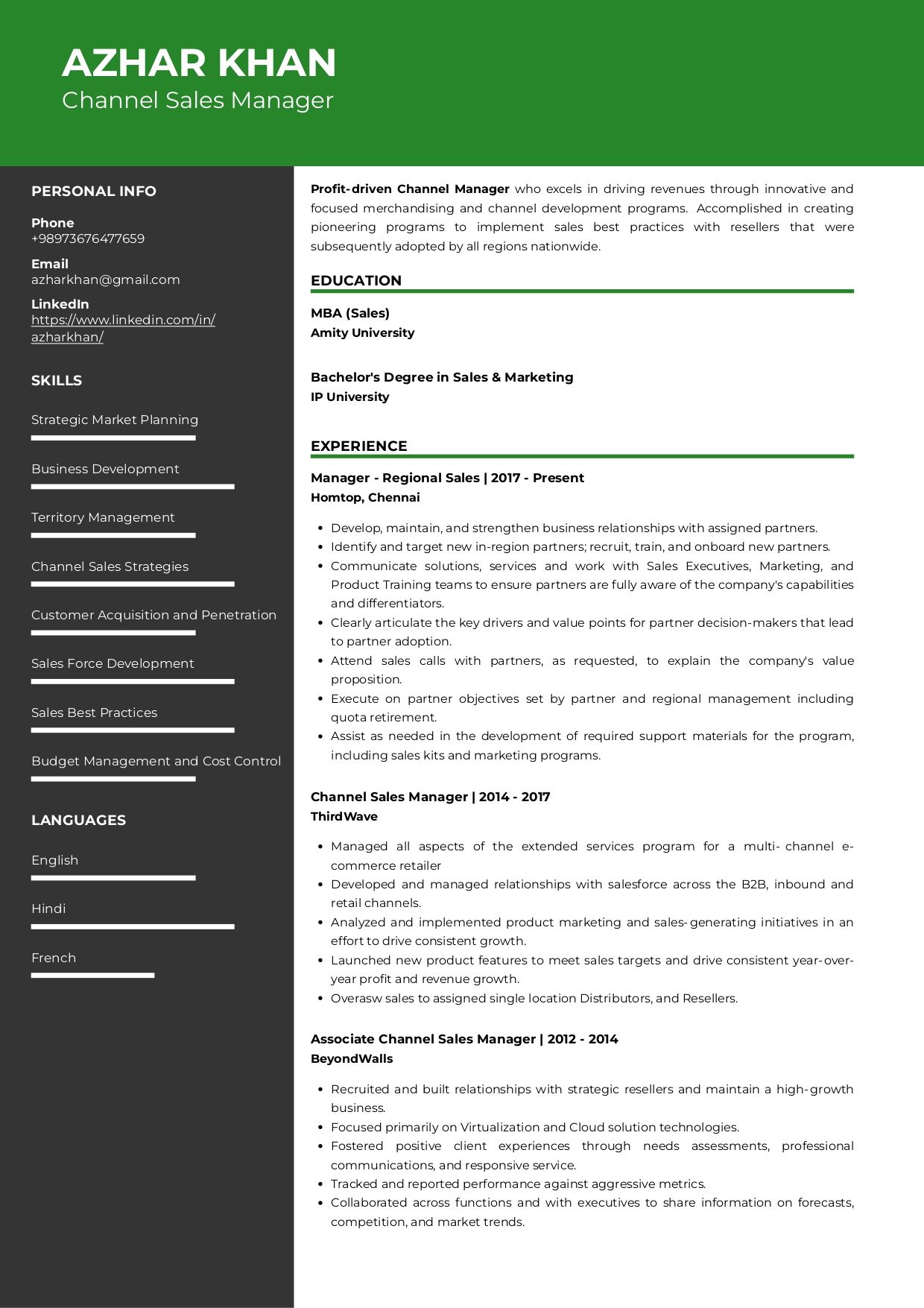 Check the full resume of Channel Sales Manager in text format here
Resume of Store Manager
A store manager is in charge of managing the business's daily operations and ensuring that everything works smoothly and efficiently. Motivating sales teams, formulating business plans, designing promotional materials, and training new employees are among their responsibilities. They are in charge of the store's operational and organisational standards, administrative chores, inventory monitoring, and business strategy development.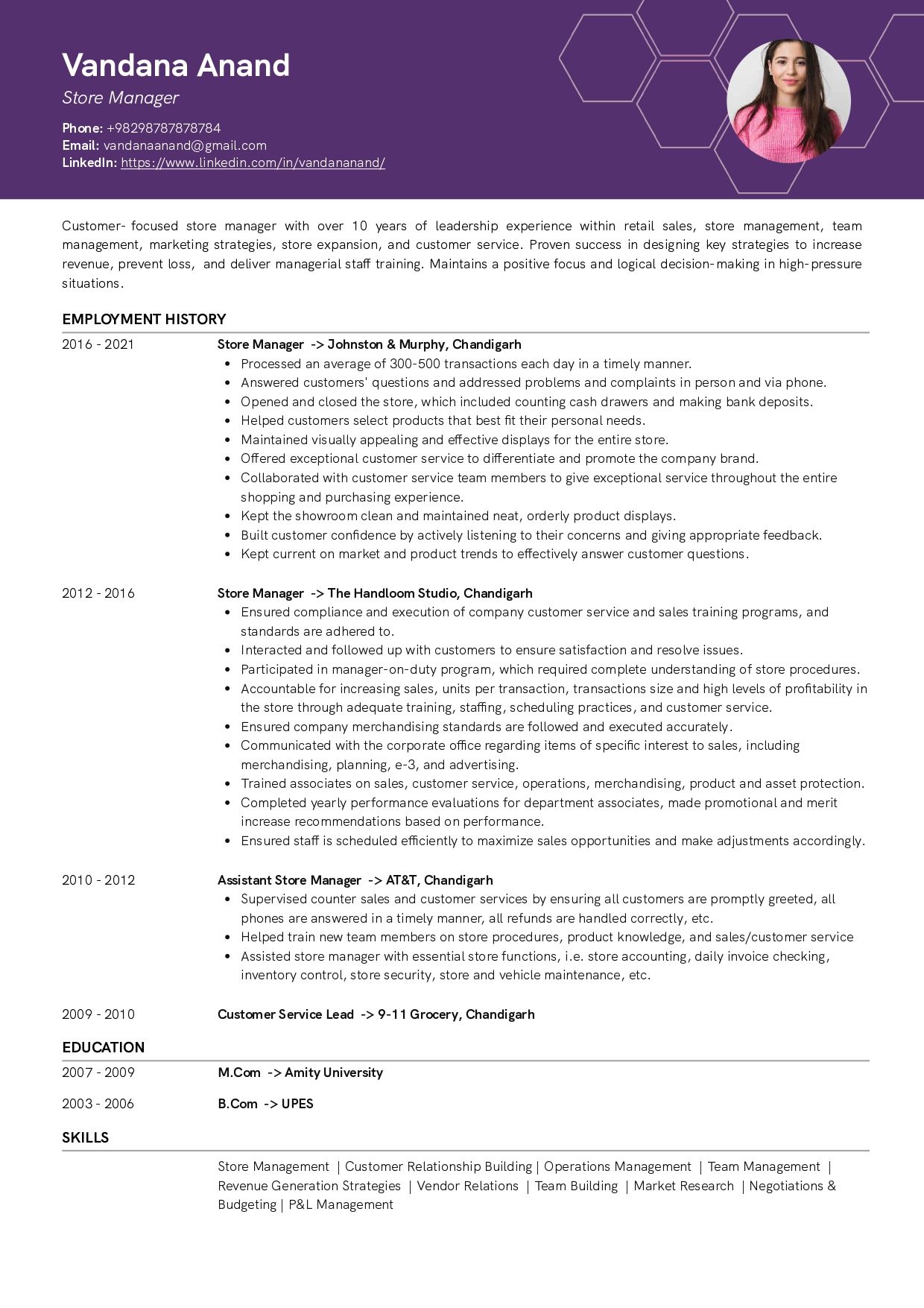 Check the full resume of Store Manager in text format here
Resume of Store Executive
A store executive is in charge of monitoring a store's daily operations and ensuring that everything works smoothly and efficiently. Their responsibilities include assisting customers, ensuring a delightful experience for clients, managing product features, preparing promotional materials, and training new employees.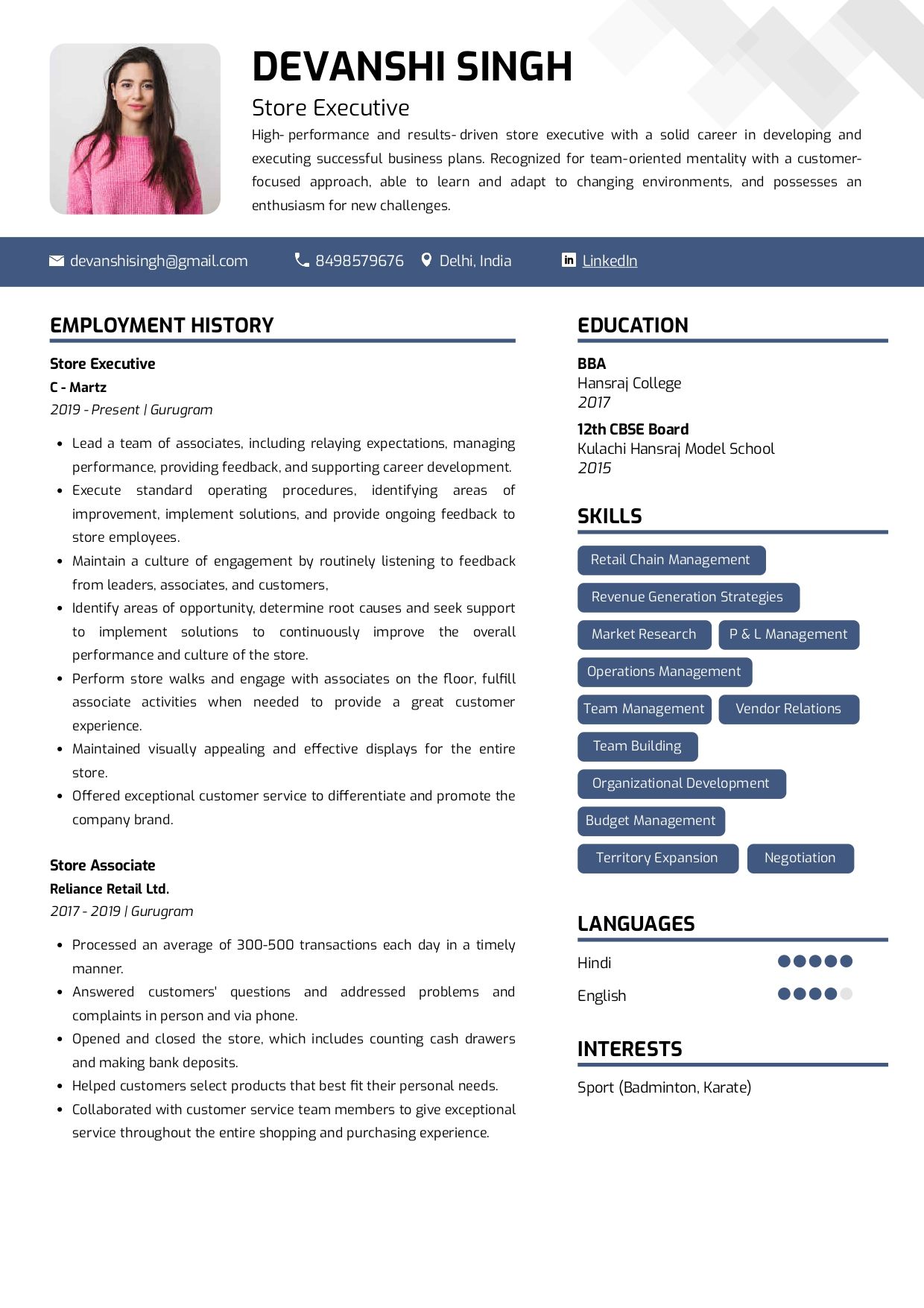 Check the full resume of Store Executive in text format here
Resume of Retail Manager
Retail Managers are in charge of overseeing all operations at the site and ensuring that the store runs efficiently while maximizing earnings. They are further restocking, floor merchandising, hiring, scheduling, and training. Further, they support with implementation and enforcement of controls that protect the company's assets from an internal and external shrink.
Check the full resume of Retail Store Manager in text format here
Resume of Sales Executive
Sales executives drive a company's product and/or service sales by actively seeking out prospects and pursuing sales opportunities. Sales Executives are responsible for planning, implementing, managing, and overseeing the company's overall sales strategy. They may be involved in selling products, goods, and services to customers and clients. Their job is based on setting up a strategy for finding new prospects and sales leads and converting them into paid users.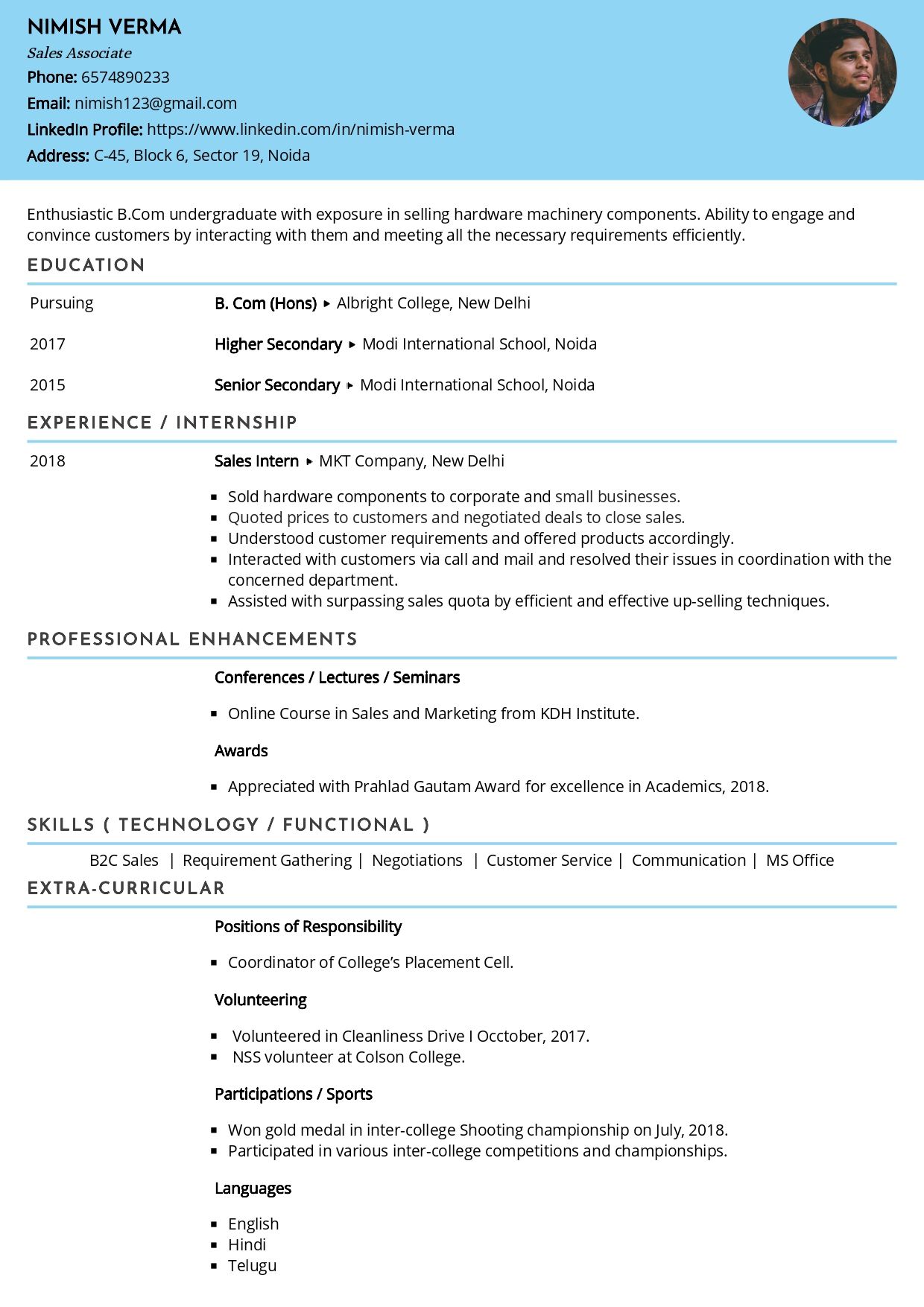 Check the full resume of Sales Executive in text format here