15 Resume Format Ideas for your First Job Interview
There are thousands of resume formats on the internet. It's natural to be caught in a pool of formats. We share with you how you can select the right format, and how you can use them
Preparing for your first job interview is a challenging task. You are probably in the final year of your college or have just completed it.
There is a flood of emotions-excitement, nervousness, happiness - all at the same time.
A lot of questions too:
What will the recruiter ask?
Am I even qualified enough for the job?
What if I don't qualify?
We understand your pain. All this happens to every job seeker.
Some stress can be eased out if you have a resume that's easy to read, neatly formatted, and lays out your background distinctly.
There are thousands of resume formats on the internet. It's natural to be caught in a pool of formats. We share with you how you can select the right format, and how you can use them.

Tips to Write a Resume for Your First Ever Job Interview
Pick the right resume template
There are thousands of resume templates available online. Picking the right one becomes a tough call when it's your first resume and you are given thousands of options. Here are a few things to check while choosing a resume template:
Editability: Your resume template should be easy to use and edit. It's your first resume and we are sure you will be doing multiple trials and errors to make sure it's the ONE. Make your task easy by choosing a template that is easy to edit
Proper Sections: A good template should give you proper sections, where you can enter your professional information and your resume is ready in minutes. If your selected template does not have all sections, you are at the risk of losing out on opportunities
Confine the resume to a single page:
Resumes, where a line or two goes into the second page, are very common. But that does not mean it is correct.  As a beginner, your resume length should be limited to a SINGLE PAGE.
Check the following:
The format has just the optimum spacing and margins
The font size is easy on the eye
There is limited space- taking graphic elements
Write a brief resume Summary:
The ultimate way to introduce yourself to the recruiter is through a summary statement. At the beginner level, talk about your course, your skills and how you can contribute to your company. Within this information in your summary, the recruiter knows if you a perfect fit or not.
Use reverse chronological order
There are various ways to arrange a resume including chronologically, reverse-chronologically, and functionally. The most common and relevant one is reverse chronological order.
Why?
Reverse chronological means keeping the most recent things on the top. This applies to education, achievements, experience or any other element that has a timeline associated with it.
For your first interview, put your most recent education, internship or project on the top.
Cut the jazz:
Recruiters are short on time, so much so that they only have 6 seconds to go through it. Yes, it is right you only have 6 seconds. Include only information that'll serve useful in getting you the job.
Some sections you should not miss out on
Contact Details
Resume Summary
Experience/Internship
Projects (If ant)
Skill
Education and Courses
Extracurriculars
Why use Resume Template for your First Job Interview
Our team of experts worked hard to understand the requirements of job-seekers like you. After hours and hours of research, template creation, and testing, we launched these resume formats for you.
Here's what you will love about our templates:
User Friendly: Our resume templates are developed with the view to help the entire workforce from beginner job seekers through to executives. They are easy to navigate and understand.
Elegant yet utilitarian: We've made sure that our resume templates are aesthetic and yet modern, yet do not compromise on their usability. You will find all the sections in our templates that you might need.
Unlimited colours: You can create a single resume in unlimited colours. Every industry and profile requires a different kind of resume. And our option to customise your resume in the industry-accepted standard does that for you, Completely FREE!
Unlimited downloads and edits: There is no bar to editing your resume. Even with our free version, you can edit your resume multiple times and download all the versions, without any hidden or additional cost.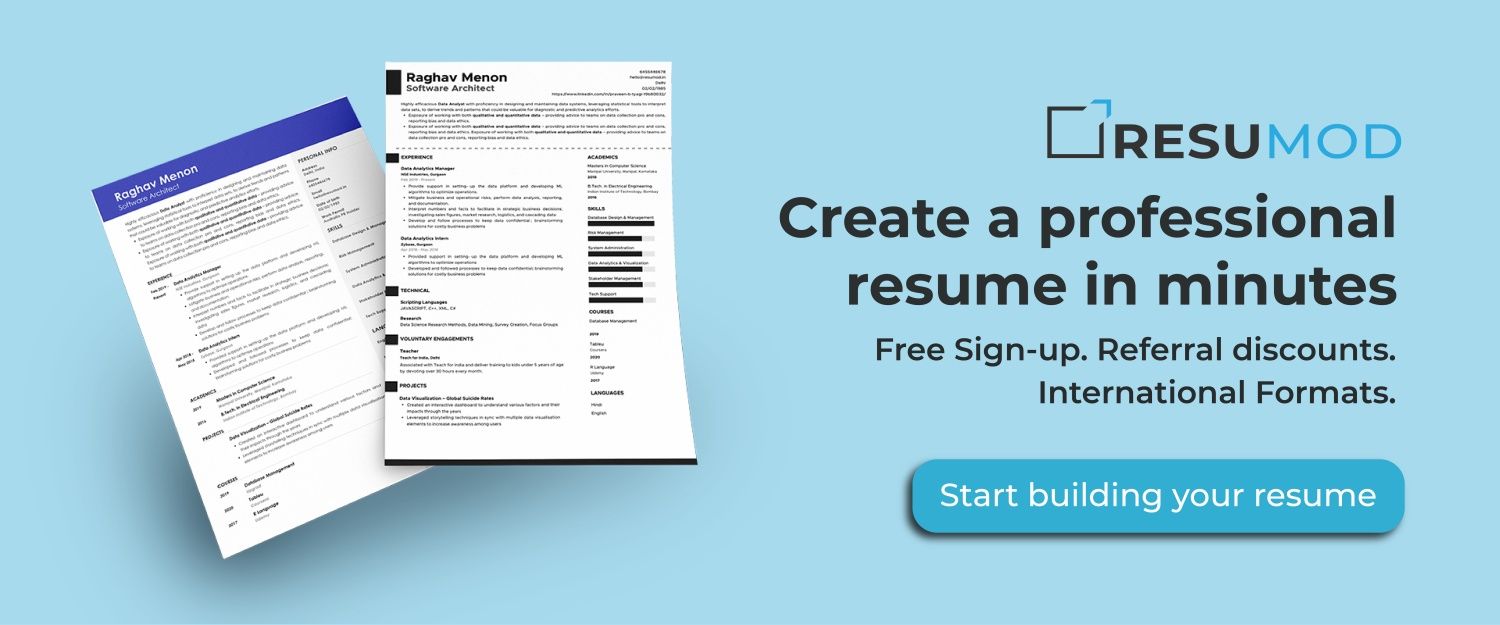 15 ready to use resume formats on Resumod
Atlas
Altas is our one-size-fits-all format. Its classic look and feels make it a go-to format for employees across all experience levels. The format is simple yet universal, and there is no way you can go wrong with this format.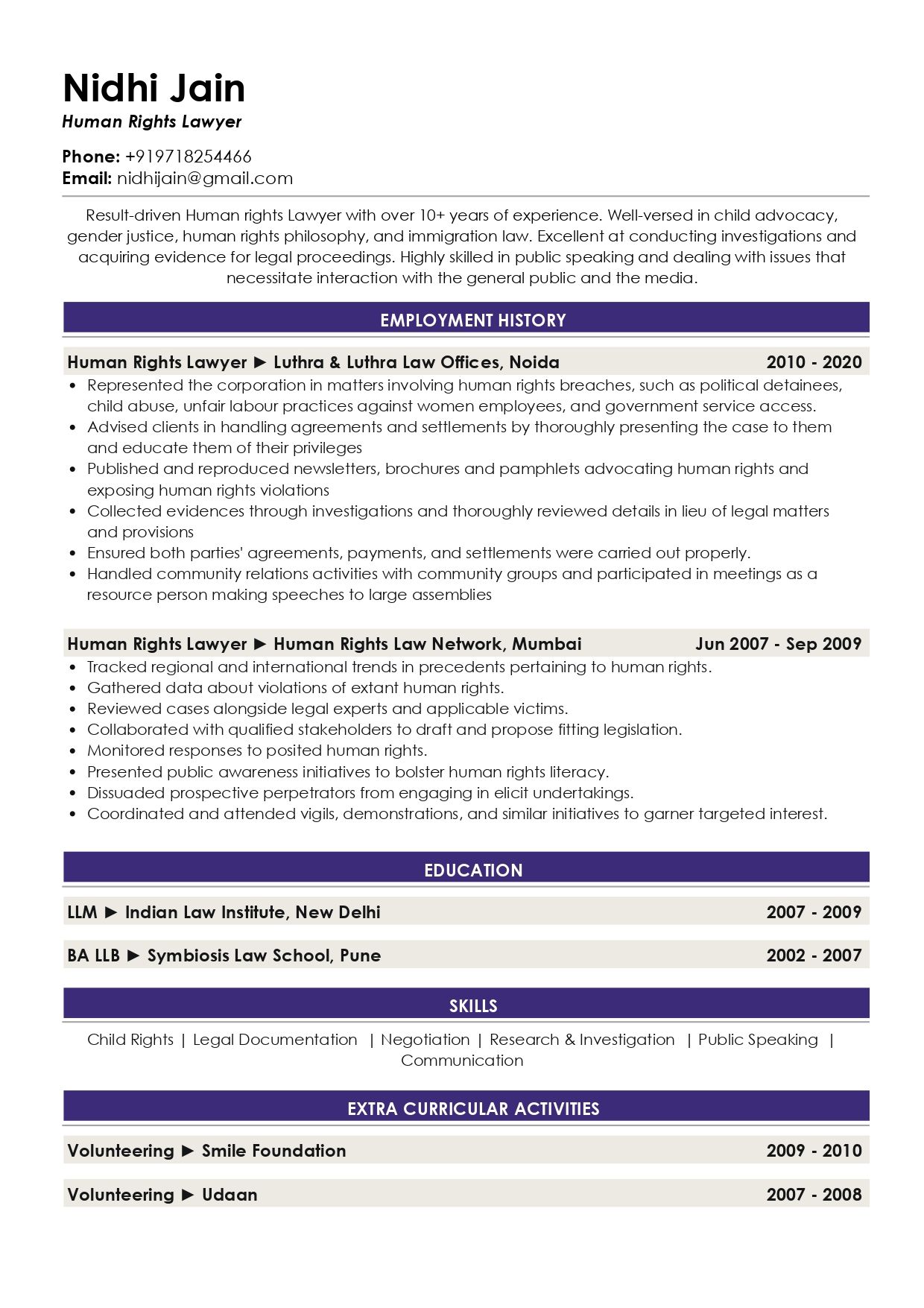 Popular Resumes on Resumod in Atlas Format
Saturn
Saturn is one of our aesthetic formats. This format is one option to consider if you have a lot of sections in your resume, each with little information. Its two-column approach will help you with laying out distributed information clutter-free.
A lot of content + Pop of colour = Perfect resume aka Saturn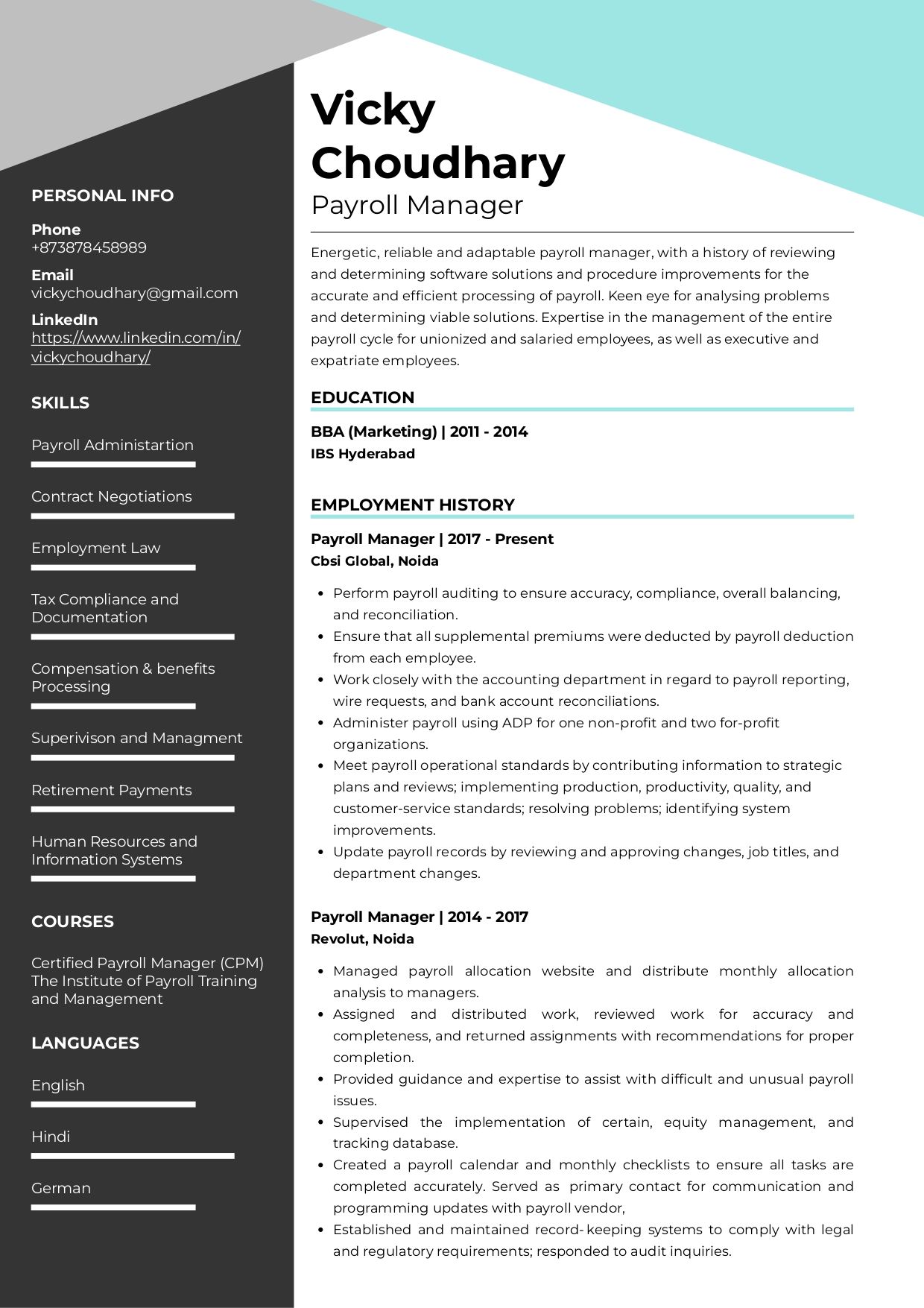 Popular Resumes on Resumod in Saturn Format
Venus
Venus is one of our latest formats. We are absolutely in love with this format because it is just the right amalgamation of graphic elements to highlight your skills and apt white space. This format is visually appealing yet minimalistic.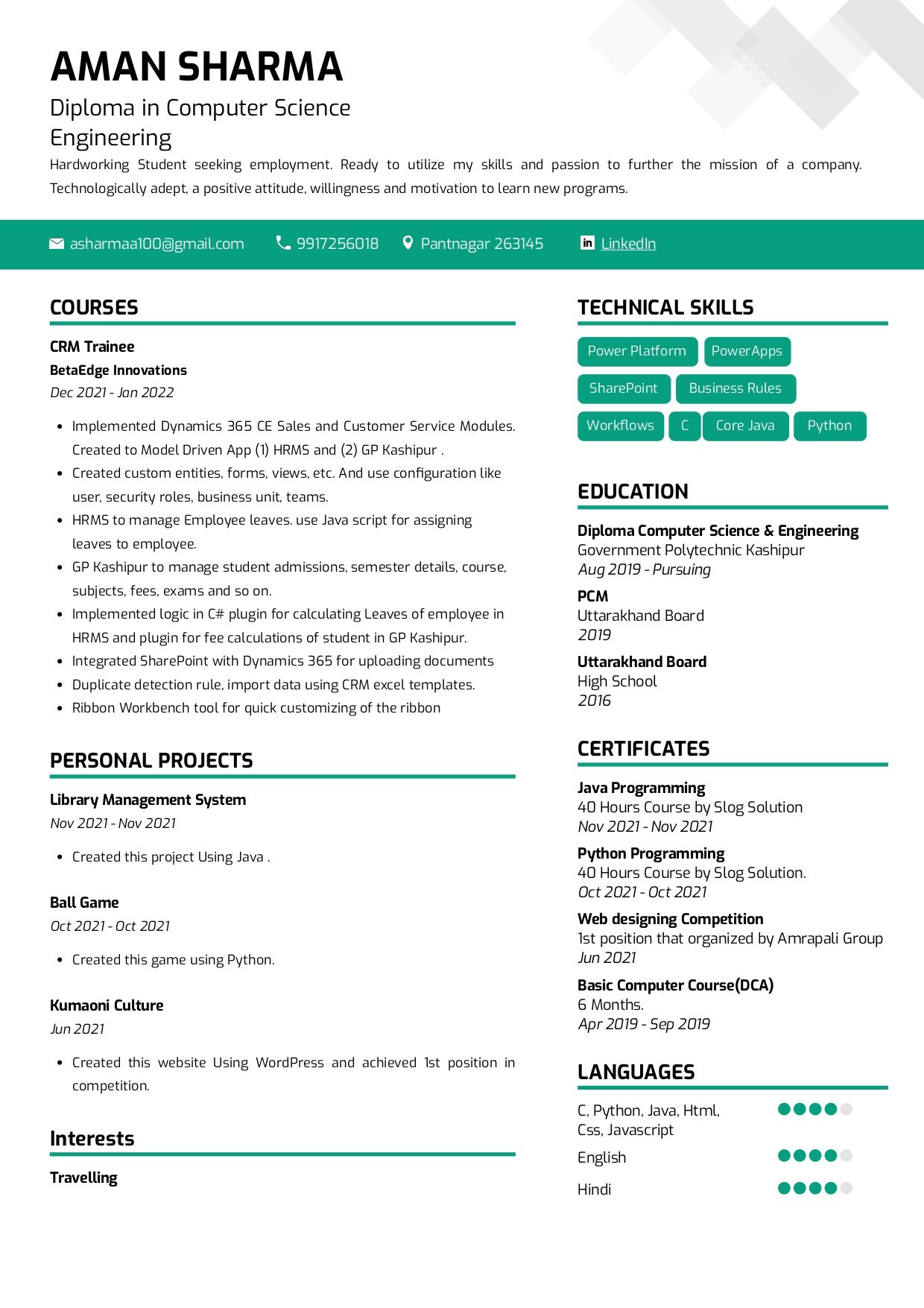 Popular Resumes on Resumod in Venus Format
Titan
We launched this format when revamped our builder and launched Resumod 2.0. Since then it's been a cult favourite. The reason is simple, just the right amount of design elements and structure. Use our skills rating feature and draw attention to your top skills.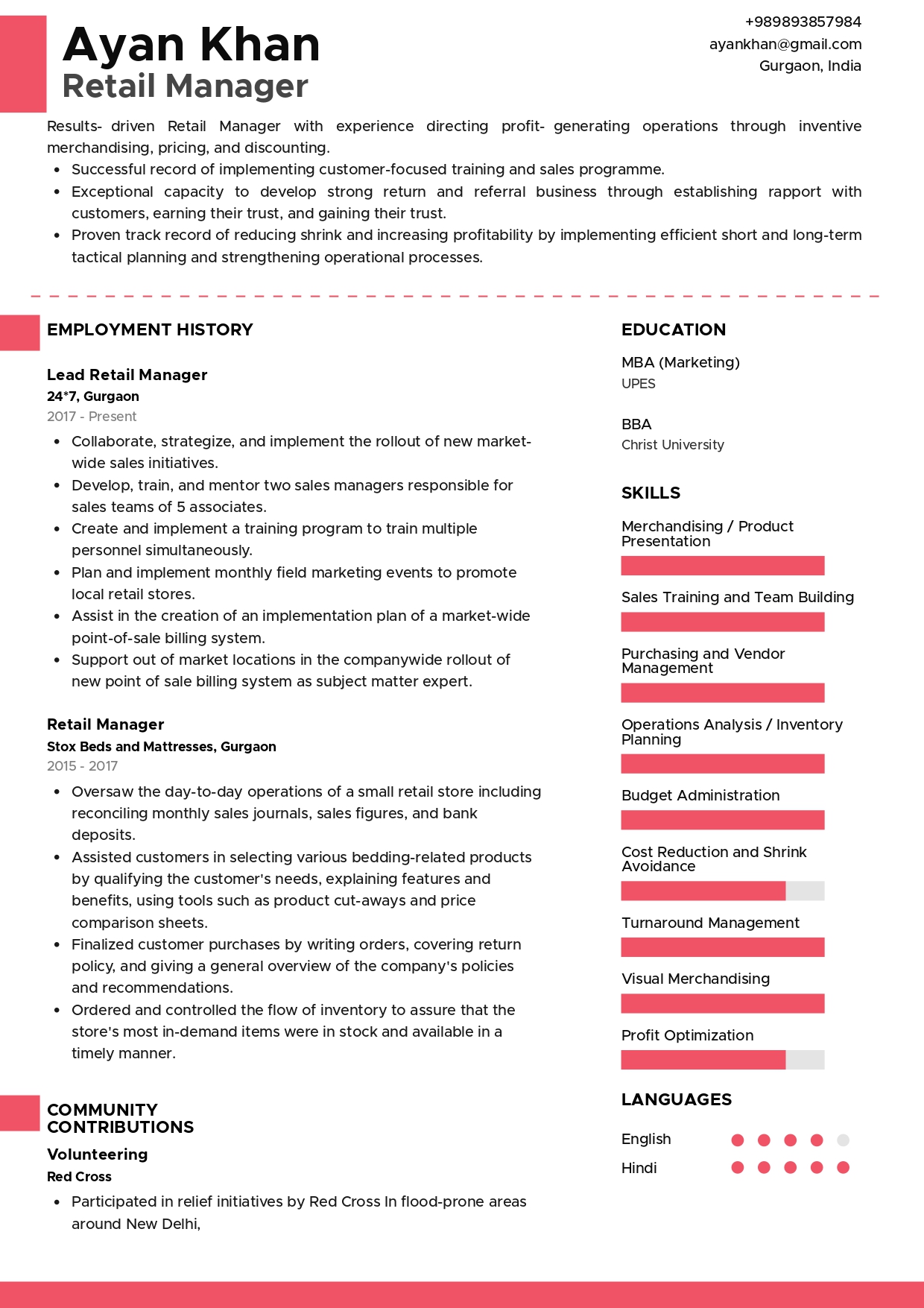 Popular Resumes on Resumod in Titan Format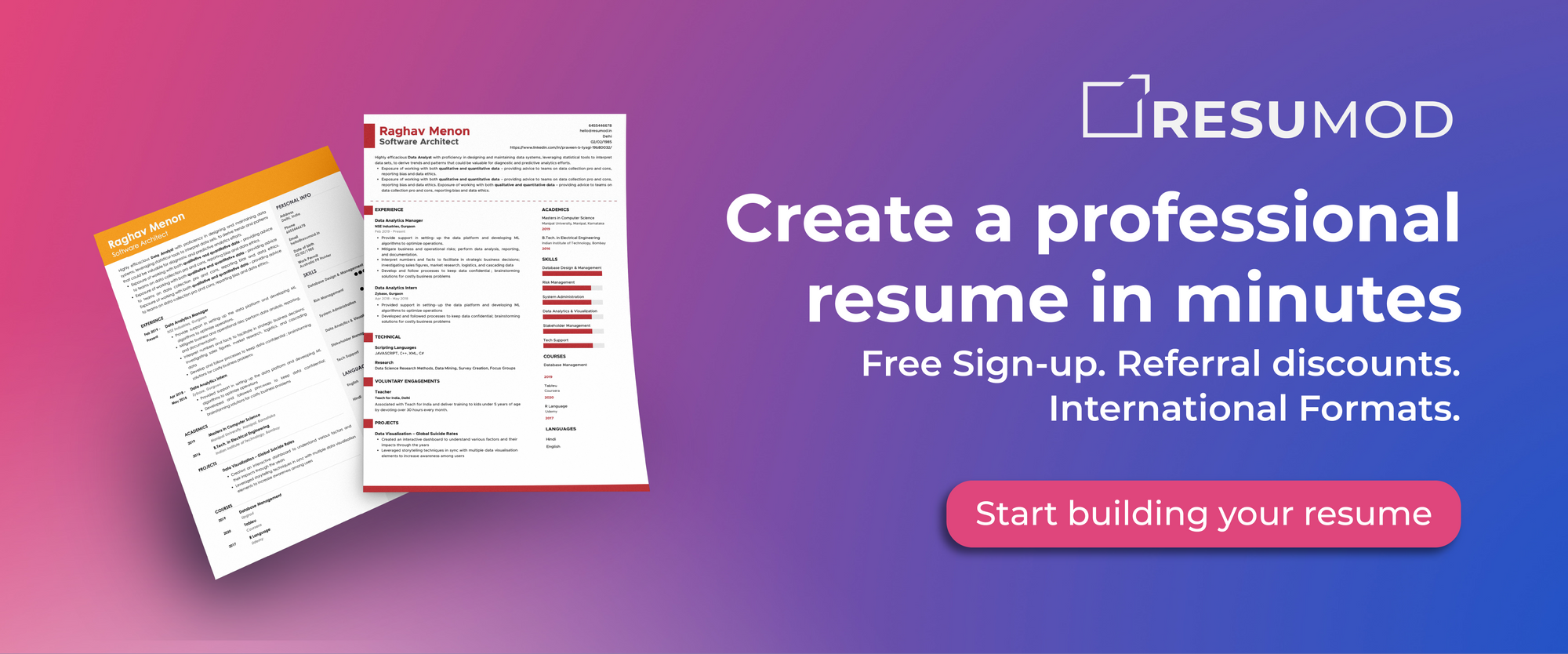 Pluto
Just like Atlas, Pluto is another universal format. This format is completely free of any graphic elements and works great for senior-level professionals. No-fuss, just simply laid out content, easy on the eye for the recruiter to go through.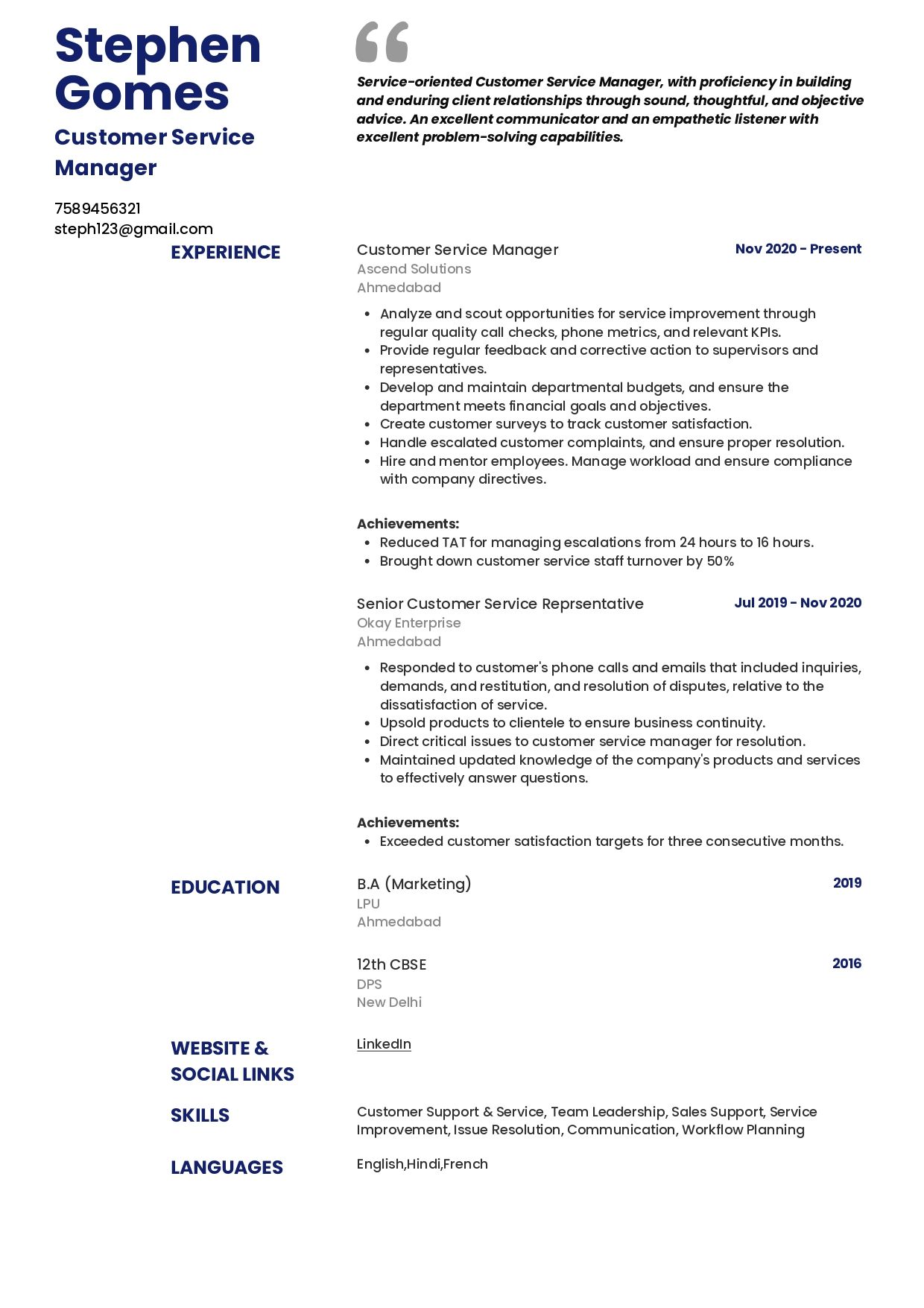 Popular Resumes on Resumod in Pluto Format
Neptune
Let's skip to the good part!
Yes, the good part of this format is the skills section. Skills are the only element which has colour and can be used as a tool to draw immediate attention to your strengths. Chose your skills wisely, rate them strategically, and let the recruiter know your strengths at a single glance.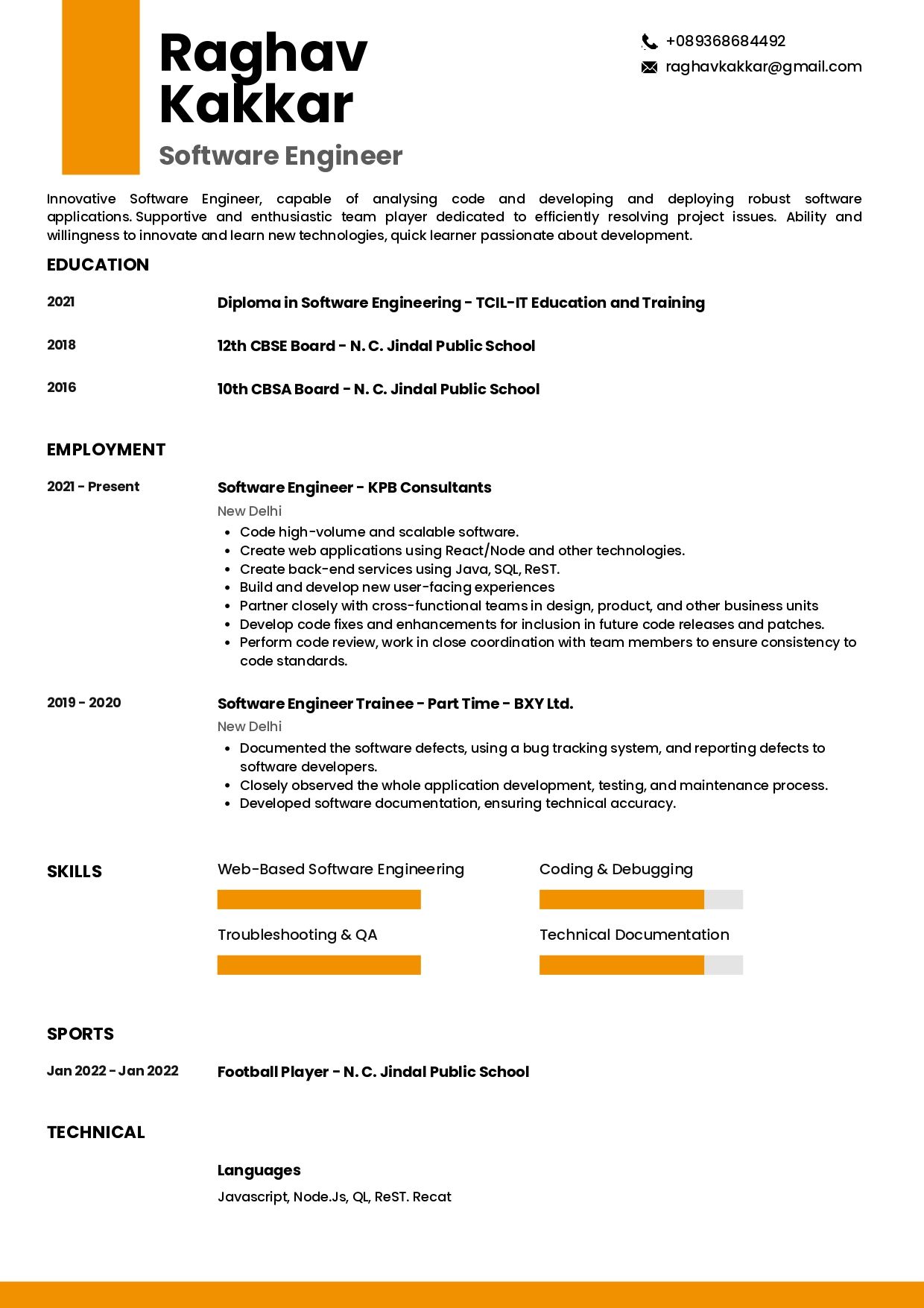 Popular Resumes on Resumod in Neptune Format
Luna
Two-column resumes are gaining traction - they look modern and layout your career better than a linear single column resume. Luna format does both of these. The colourful bar on the top just shows two things - your name and title. the title on the top is a great way to tell the recruiter what you exactly do.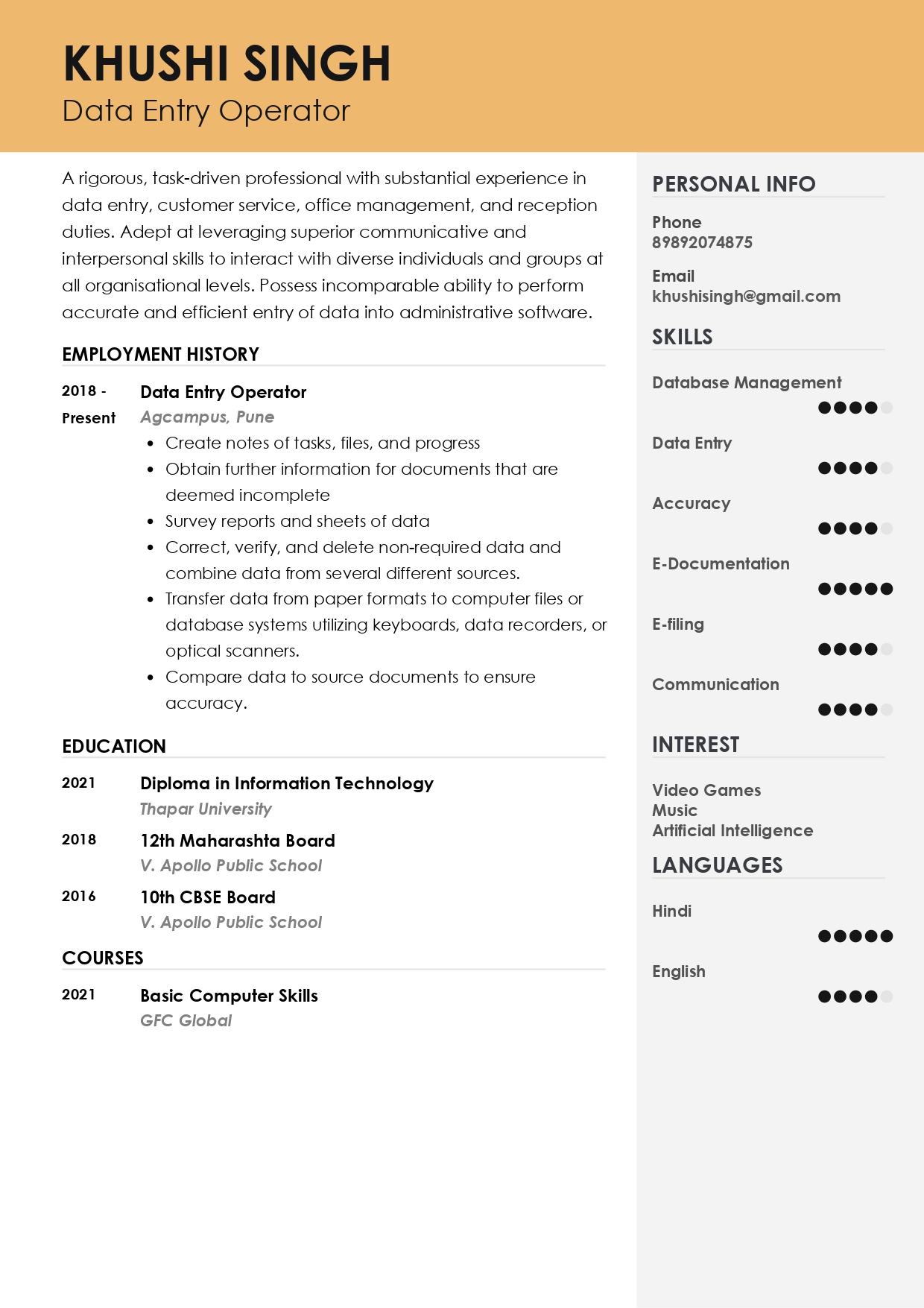 Popular Resumes on Resumod in Luna Format
Mercury
This is hands-down our favourite format. With just a little bit of texture and a bar on the top, this format looks so refined. The top gives your contact details followed by a linear approach to the credentials. This works equally for both entry-level and established professionals.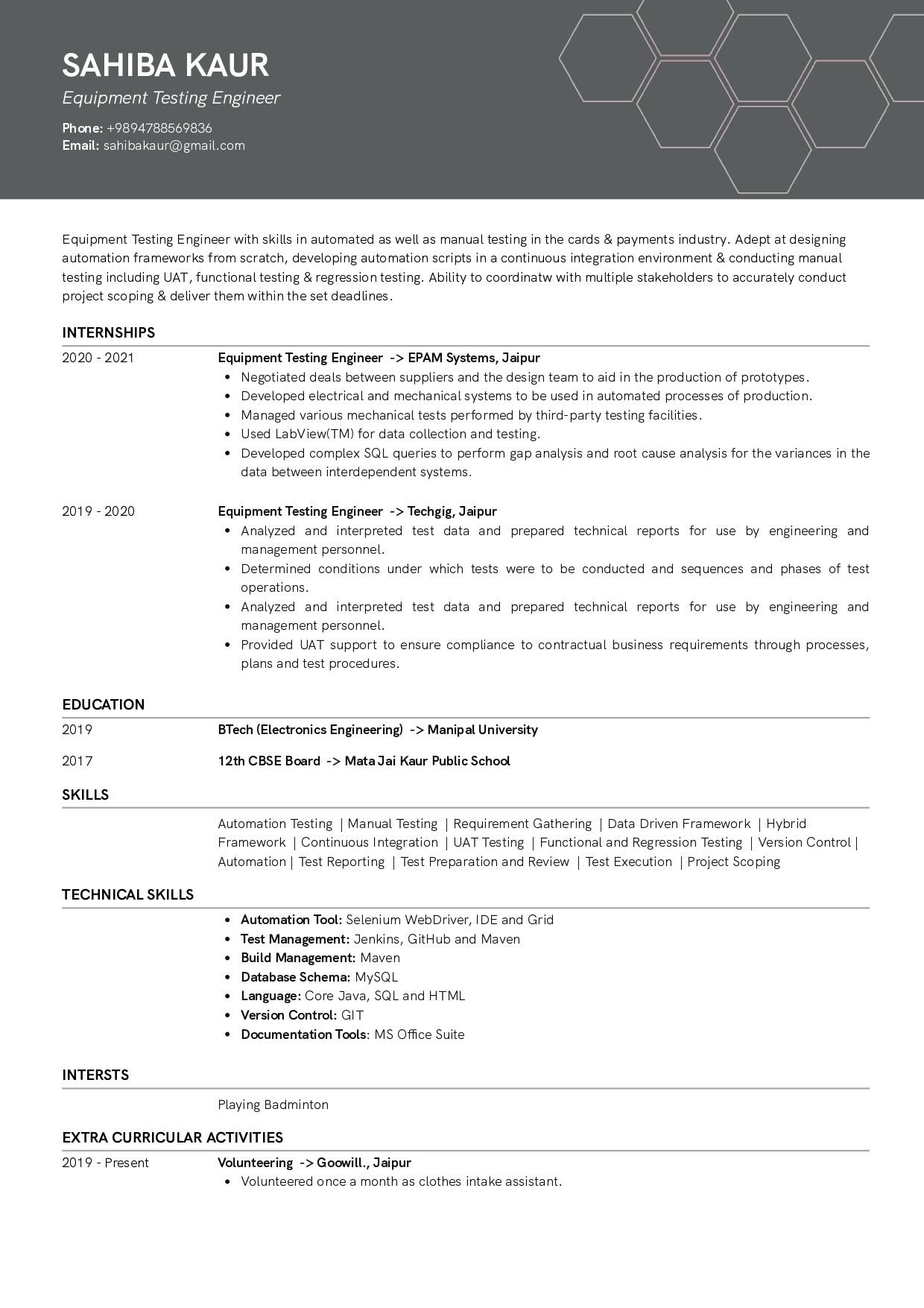 Popular Resumes on Resumod in Mercury  Format
Apollo 1
If you are tired of standard black and white formats and still want to retain, the mainstream resume flavour, this one is for you. Very well spaced out yet structured, use this if you want to say more in fewer words.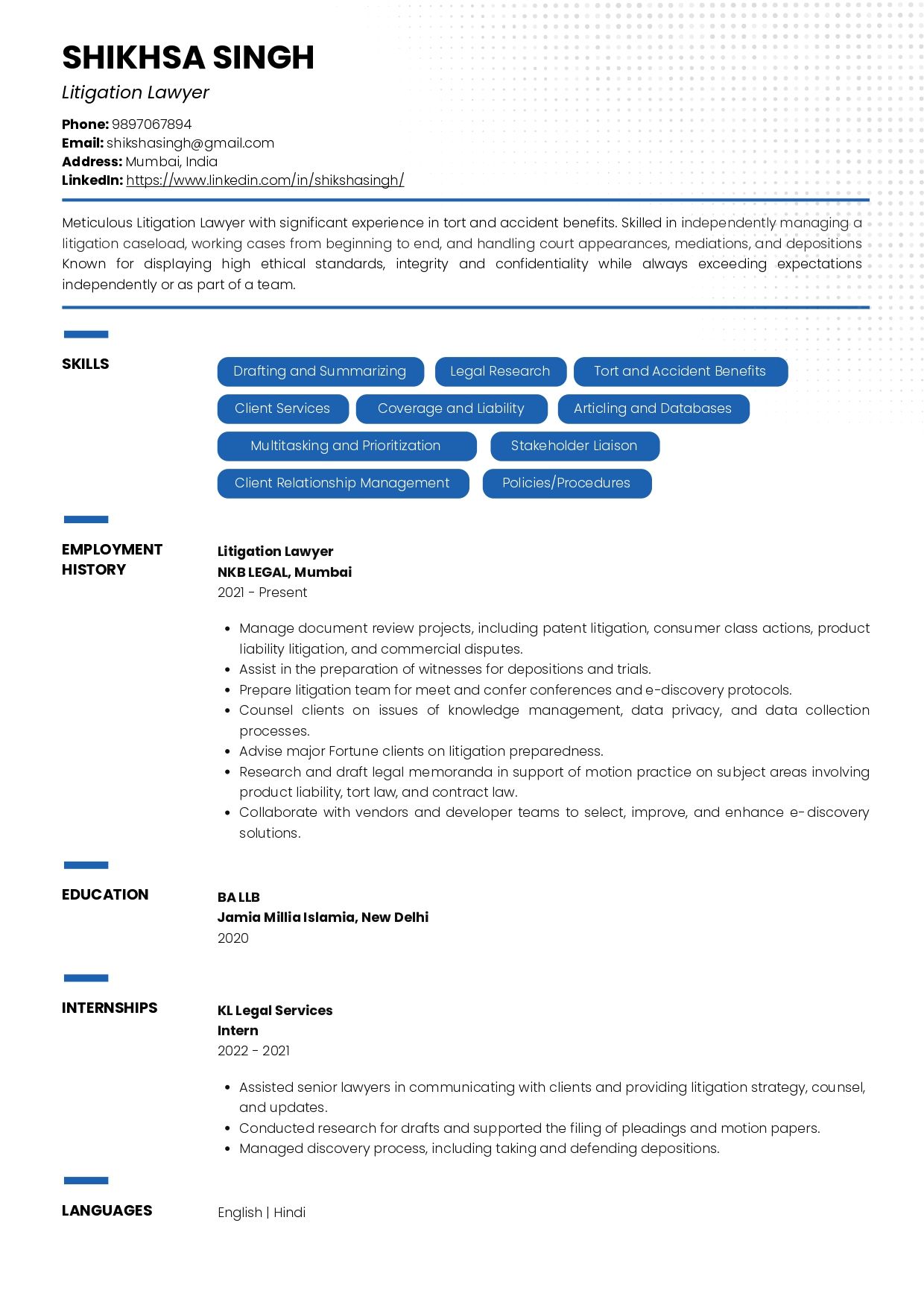 Popular Resumes on Resumod in Apollo 1  Format
Apollo 2
Apollo 1 was the original format crafted by our team of experts. With just a bit of texture on the top, this format is a perfect combination of all things good - subtle, artistic, and professional. We recommend this for senior professionals in entertainment, media, marketing, and other creative field.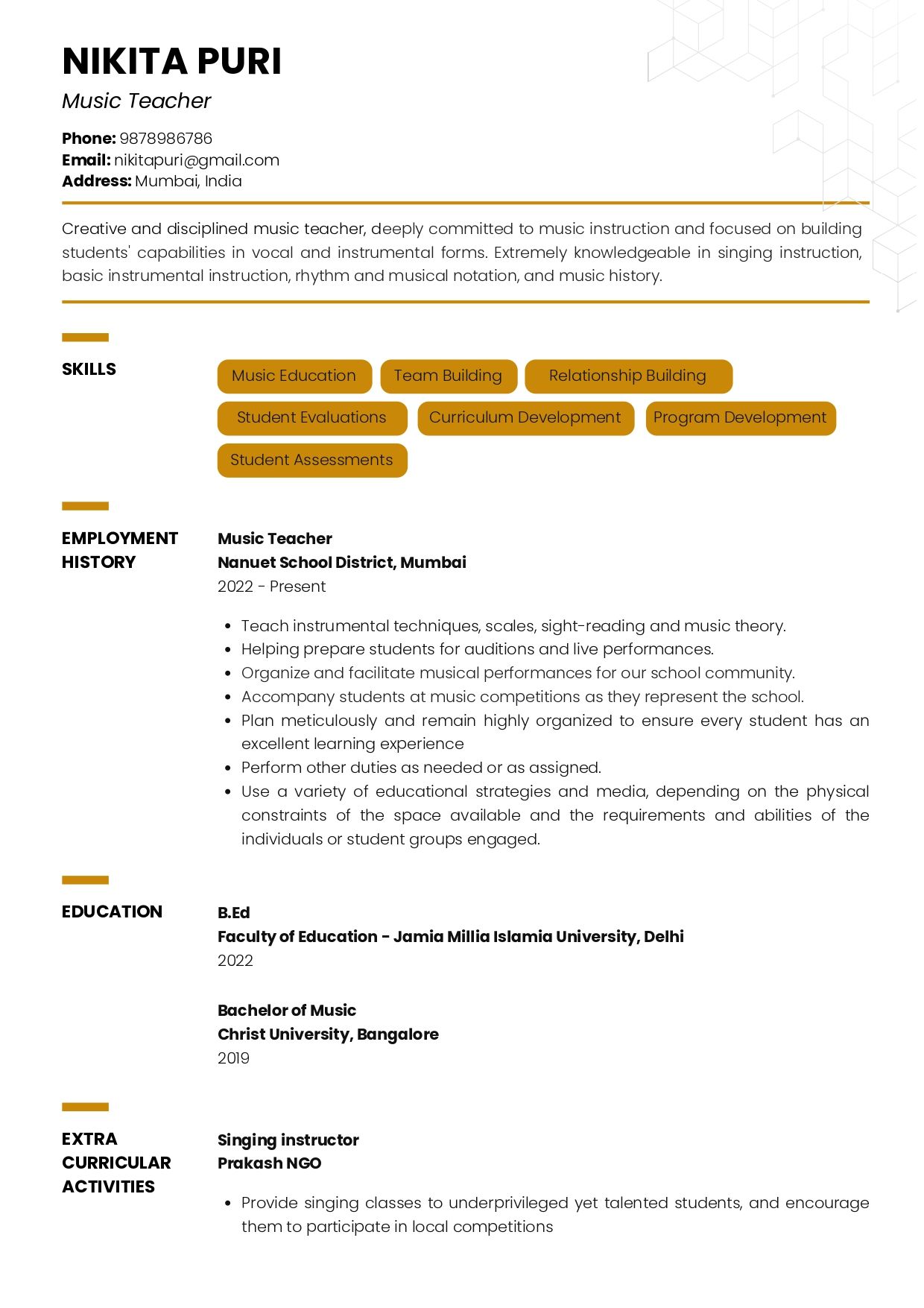 Popular Resumes on Resumod in Apollo 2 Format
Jupiter
Jupiter format is a mix of everything: two-column, neat white area, colour, and rating for skills. If you are looking for so much in one resume, this one is for you. With the option to choose any colour of your choice, make this format a colourful one as a creative professional or an executive resume with tones of grey and blue.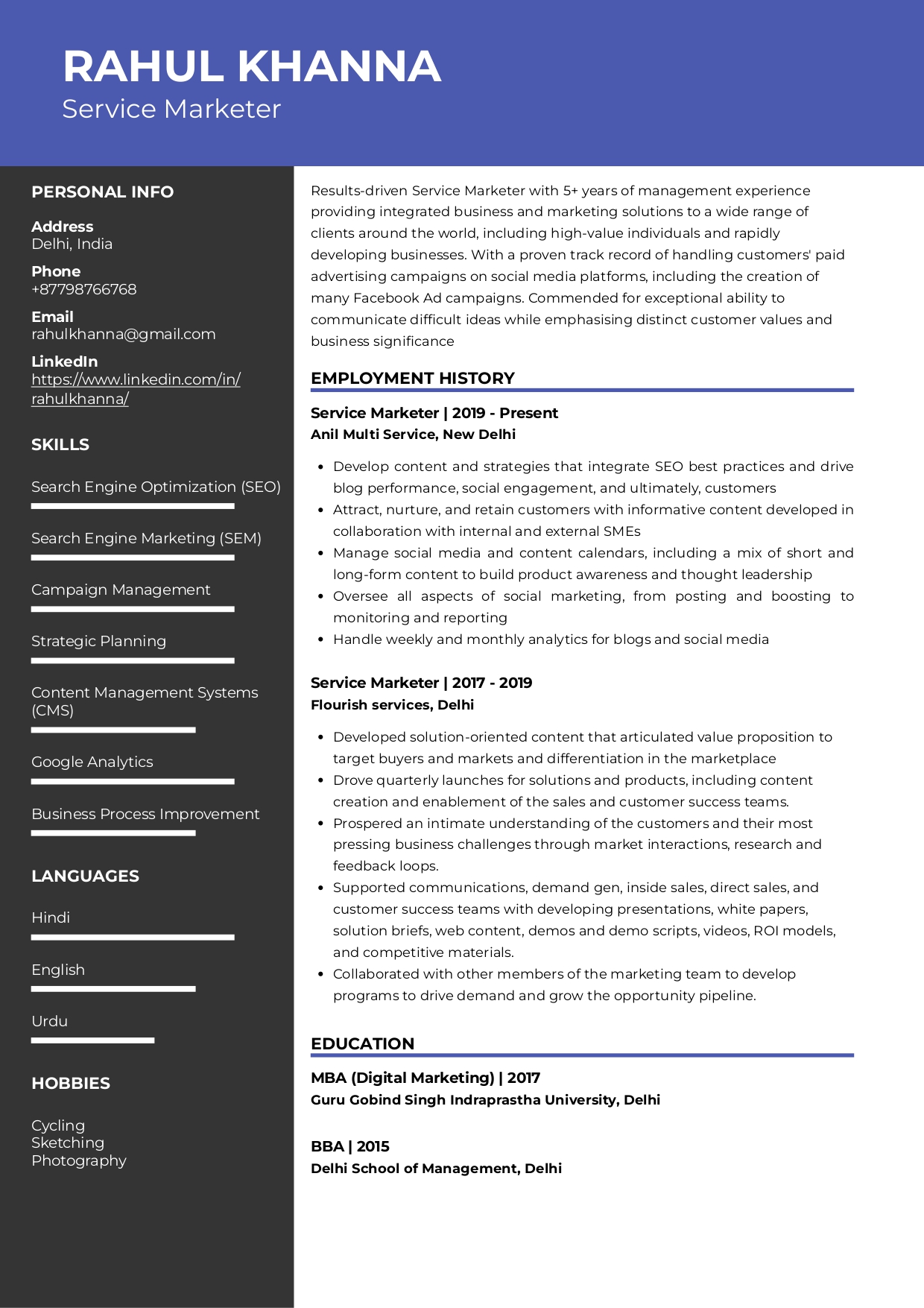 Popular Resumes on Resumod in Jupiter Format
Taurus
For us, this is the most compact format - strategically created for those who have lost of information to give but never find the right format. Make a content-heavy resume and still stay within one page.
Isn't it amazing?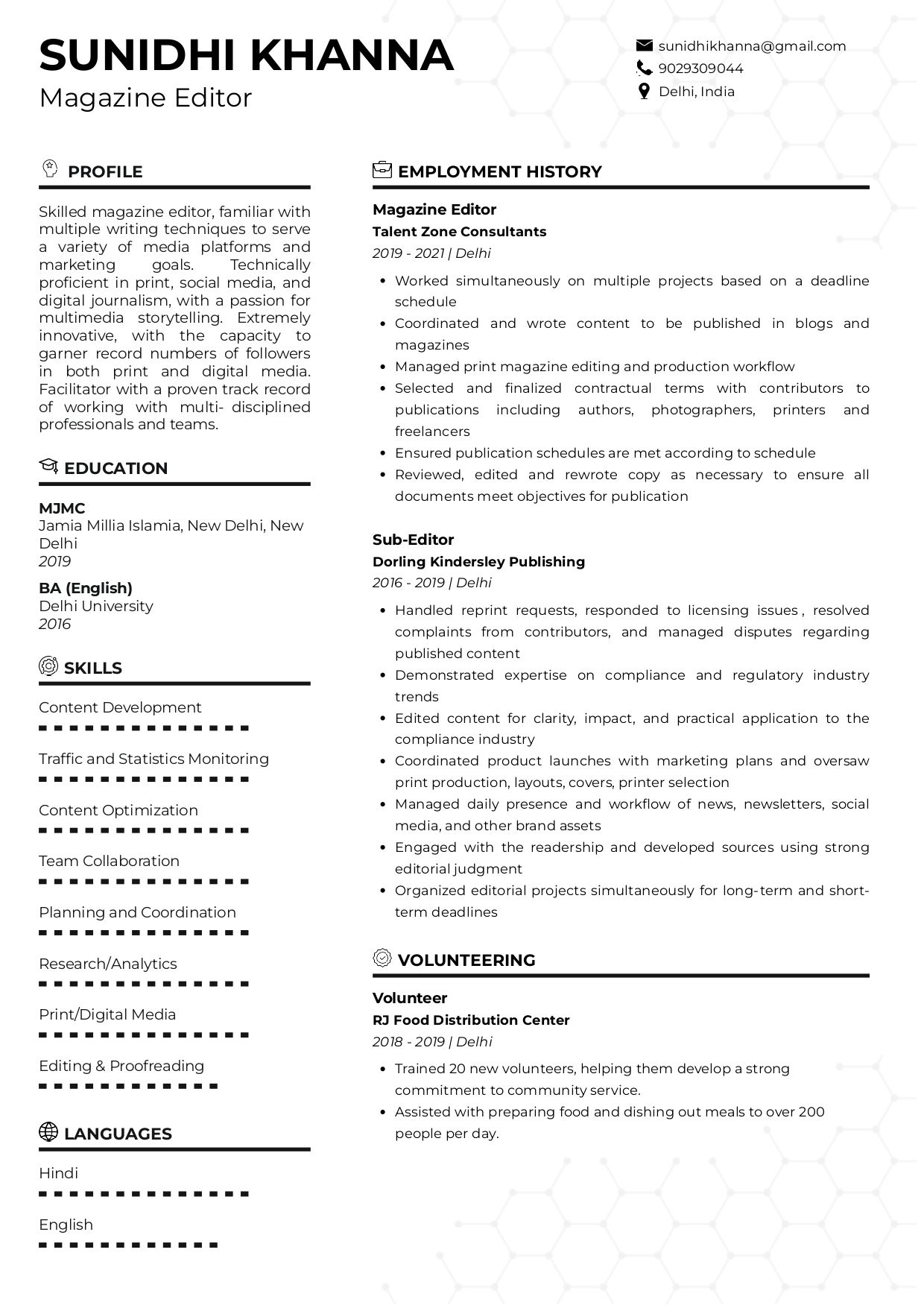 Popular Resumes on Resumod in Taurus Format
Resume of Employment Lawyer
With so many options under one roof, we knew you will be confused.
So we crafted a solution for that as well - test these formats here in different colours and chose the best fit.