10 Marketing Resume Examples That Will Land you a Job In 2022
More people than ever are acquiring marketing skills through online courses and applying to jobs. A good marketing resume is surely a need of the hour to beat the heat.
Marketing is one of the fastest-growing sectors. Marketing is becoming a conscious choice of many individuals and is largely being listed among conventional careers.
With the expansion of marketing as an industry and a higher number of jobs,  competition is also increasing. More people than ever are acquiring marketing skills through online courses and applying to jobs.
A good marketing resume is surely needed to beat the heat.
Worry not!
We have got you covered with 10 stunning marketing examples. In this blog:
---
10 Tips to Create a Marketing Resume
Stay Focused: Marketing is a wide sector and has various roles. However, each of the roles within marketing requires specific skills. Be clear about your core skill, tailor your resume for the same and apply to jobs only that apply with your skill set (exception if you want a career change)
Use Bullet points: Bullet points are a resume's best friend. They make the resume look neat, structured, and easy to read. Keep your bullet points short and to the point.
Quantify information: Data and facts are the best way to communicate your value to the recruiter. Further, it makes it easier for you to articulate information without really using too many technical terms or writing a lot.
Write a clear summary statement: An objective or summary statement sets the recruiter's expectations. A bad summary statement will put the recruiter off and may lead to rejection.
Check out more than 50 summary statement examples here
Use Crisp Language: Recruiters are short of time and seldom give resumes a second chance. Using language which is fancy or unclear is a proven way to get rejected. Use simple and straightforward language without much jargon. Make sure you avoid filler words and personal pronouns that take up room.
Talk about your background: Marketing requires you to have specific skills like market research, competitive analysis, targeting, and understanding of audience behaviour. But that is not possible without a background in marketing in terms of education or internship if you are a beginner.
Add targeted keywords and Skills: Targeted keywords and skills demonstrate your focus, make it easy for the recruiter to understand your expertise, and help you stand out from the crowd. Another advantage of using targeted keywords is passing the initial round of screening, done through ATS.
Use your creativity: Creativity is an important skill for marketers and your resume is a good way to showcase your creative instincts. Play with colours, aesthetics, and formats. Ditch the traditional black and white resumes and let your creative juices flow.
Add dates of employment: Most job seekers miss out on the dates of employment and end up with a resume that just has the employer's name and title. If you are one such individual, you need a change. Missing dates creates suspicion and feelings of inconsistency.
Support your work with hyperlinks: Links to your work are one of the ways to corroborate your claims and data. If you are a campaign manager, give links to the campaigns you created.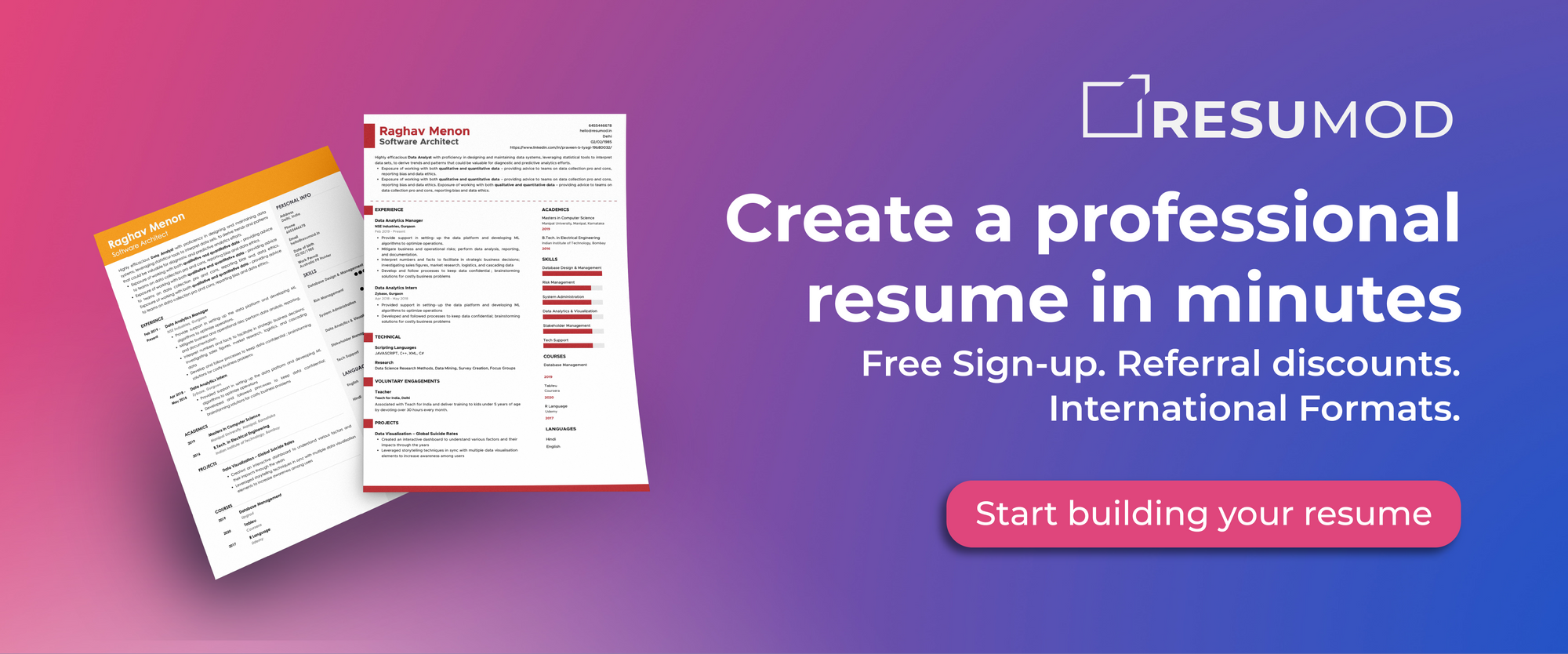 Top Skills to Mention in Your Marketing Resume
Marketing Campaign Management
Campaign Performance Improvement
Campaign Analysis
Key Metric  Analysis
Competitive Bench-marketing
Marketing Strategy
Business Development
Training
Team  Management
Detail-oriented
Strategic approach
Analytical thinking
Google Analytics
Focus Group & Market Research
Corporate Communications
Public & Media Relations
Product  Positioning & Branding
New Product Launch
Web & Print Content Development
Vendor Management
Decision Making
Planning and Organizing
Problem Solving
Source: ClickDimensions
Negotiation
Social Media Management
Social Media Strategy
Content Calendar Development
Online Audience Engagement
Customer  Acquisition Support
Competitive Research
Campaign Creation & Management
Liaison & Coordination
Traditional & Digital Marketing
Customer Care
Ideation
Marketing Plan Development and Implementation
Account and Team Management
Experiential Marketing
Sponsorship Asset Management
Special EventsP lanning
Graphic Design
Client Hospitality
CRO and A/B Testing
SEO/SEM
Creative Thinking
PPC
Pricing structures
Fact-checking
Newsletter Writing
Email Writing
Email Marketing Tools
Lead Generation
Strategic Planning
Adobe Creative Cloud
Client Relationship Management
Digital Asset Management
Digital Imagery
Project Management
Marketing, Branding, and Sales Collateral Development
Strategy Development
Project Coordination
Video and Audio Editing
Visual Storytelling
Product Ideation
Team Management
Product Strategy
MVP Development
Stakeholder Management
Design Thinking
Product Roadmap
Operations Management
Strategic Alliance
Strategic Planning
Content Management Systems (CMS)
Google Analytics
Copywriting
Editing and Proofreading
Marketing Collateral Development
Targeted audience research
Client Communication
Problem-Solving Skills
Keyword Research
Content Strategy Development
Audience Engagement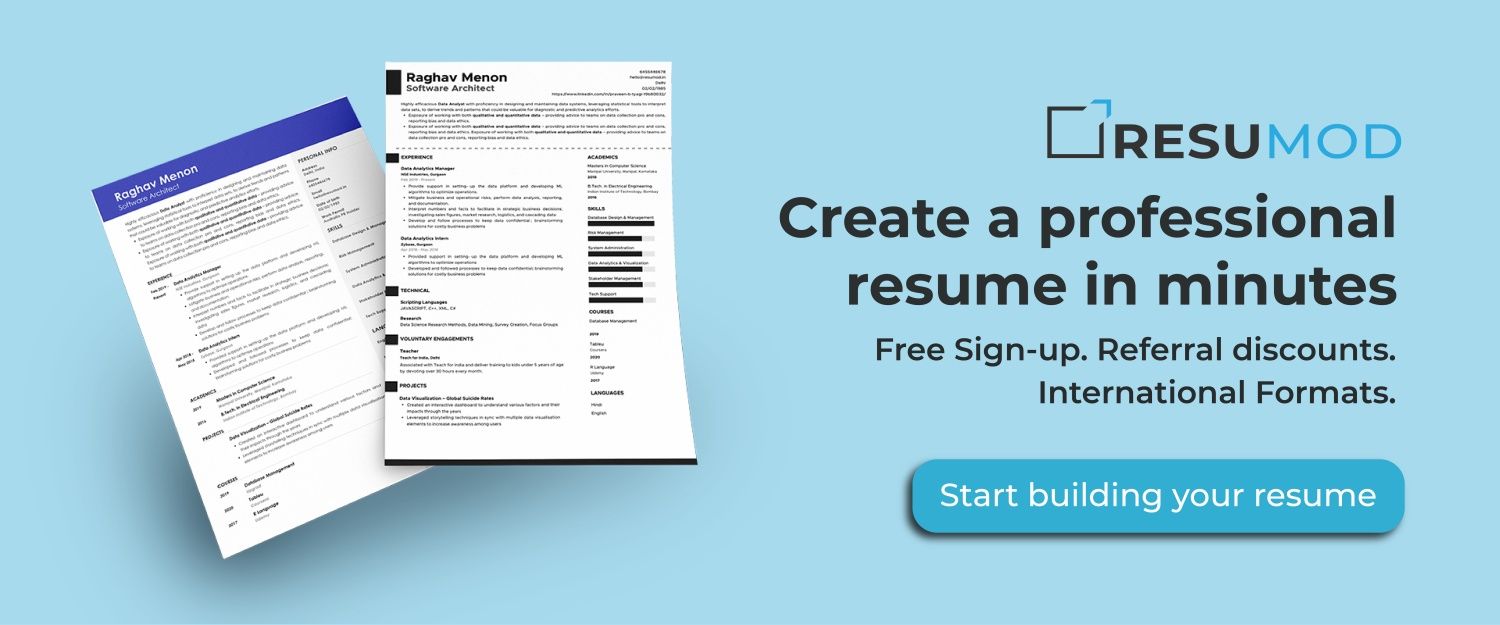 Top-rated Marketing Resumes on Resumod
Resume of Marketing Analyst
A market analyst's job is to research market conditions in order to forecast product and service sales. A good market analyst will be able to assess qualitative data, trends, strategies, and competition in order to boost their company's competitiveness. Market analysts help corporations figure out what items are in demand, who will buy them, and what price they are prepared to pay.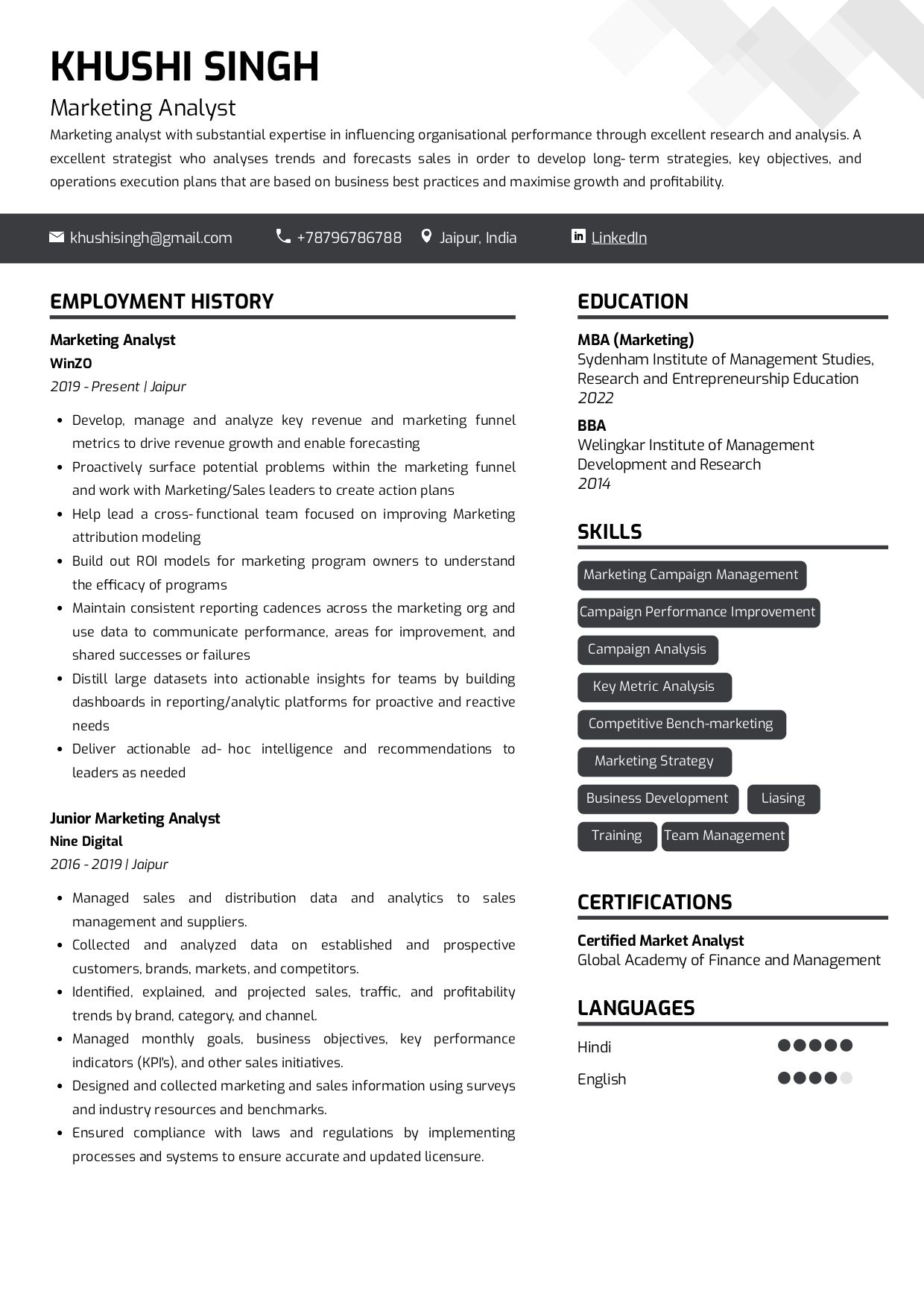 Check full resume of Marketing Analyst in text format here
Resume of Marketing and Communications Manager
The Marketing and Communications Manager is responsible for the development and supervision of all marketing and communications strategies for the company. This individual will oversee the development of goals, strategies, and implementation plans to execute comprehensive marketing campaigns.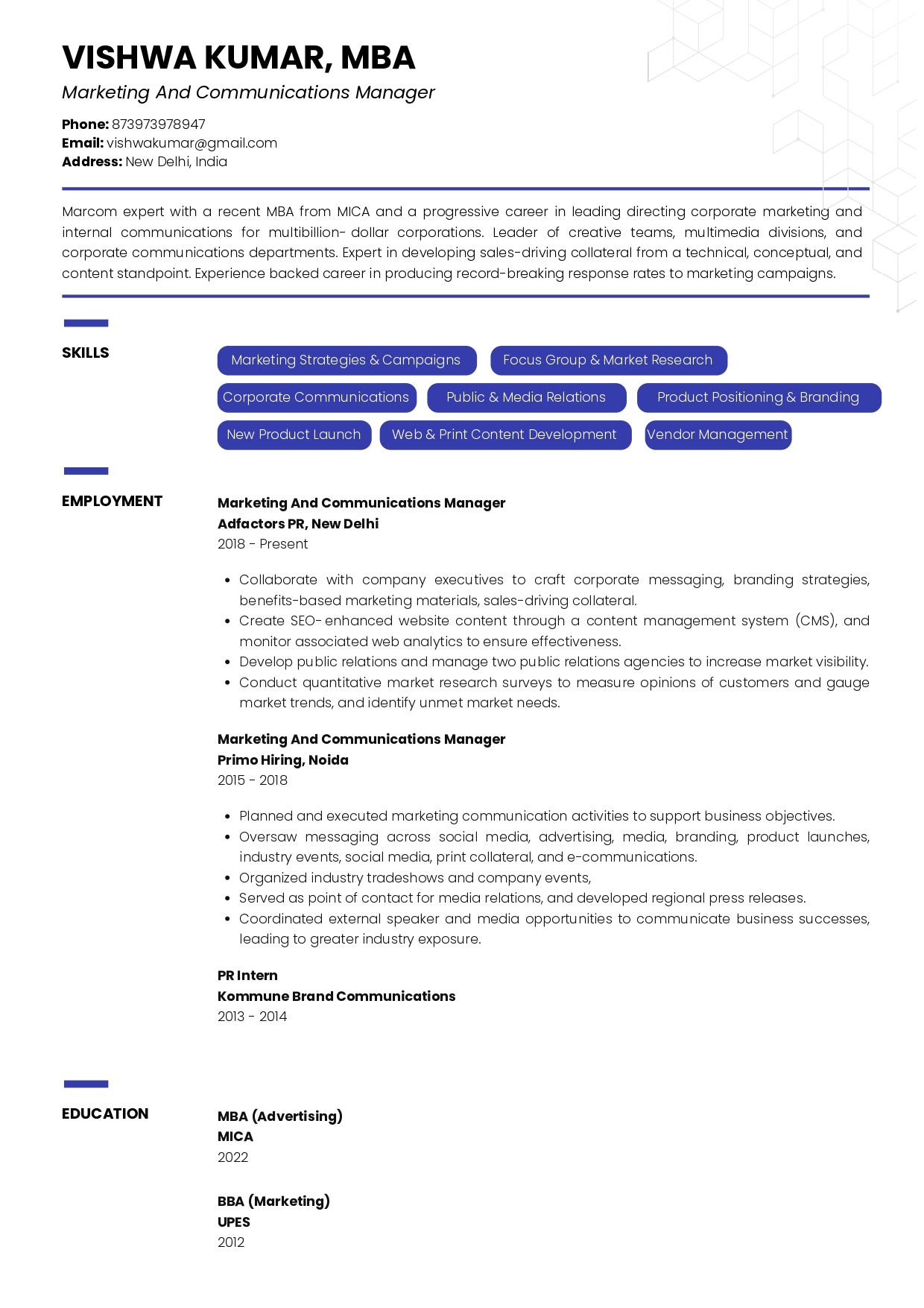 Check full resume of Marketing and Communications Manager in text format here
Resume of Social Media Manager
A Social Media Manager can assist you to gain more visibility on social media sites. They collaborate with a specialist team to achieve your brand's objectives. A Social Media Manager is the link between your business and your social media followers, from designing monthly content calendars to applying marketing methods to deliver your brand's message in new ways. A Social Media Manager does more than just attract new consumers; they evaluate data to identify which activities work best and use that information to continue developing the business.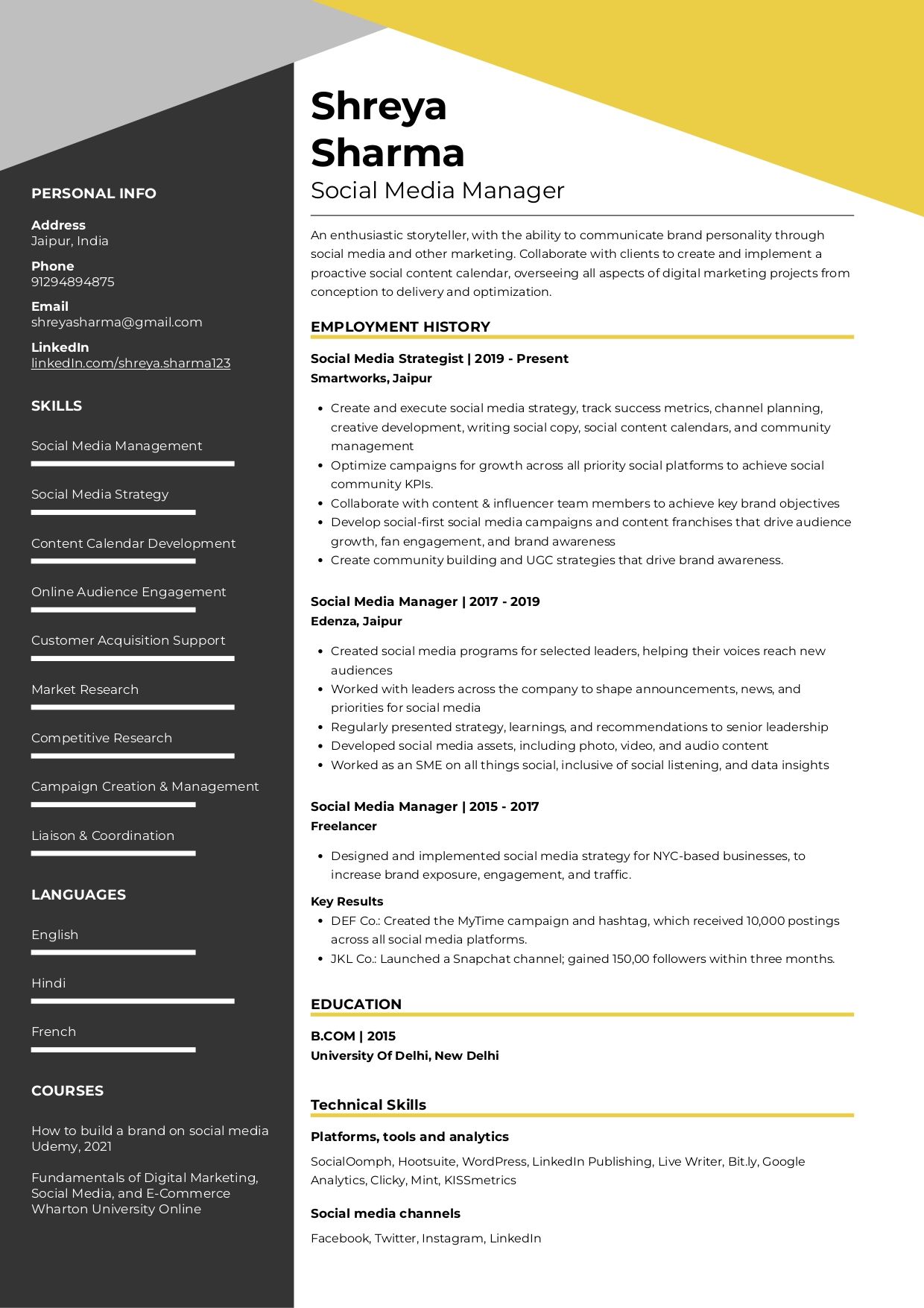 Check full resume of Social Media Manager in text format here
Resume of Experiential Marketer
Experiential marketing, often known as engagement marketing, is a marketing technique that immerses or deeply involves customers in a product. Consumers can not only buy items or services from an experiential marketer, but they can also experience the brand.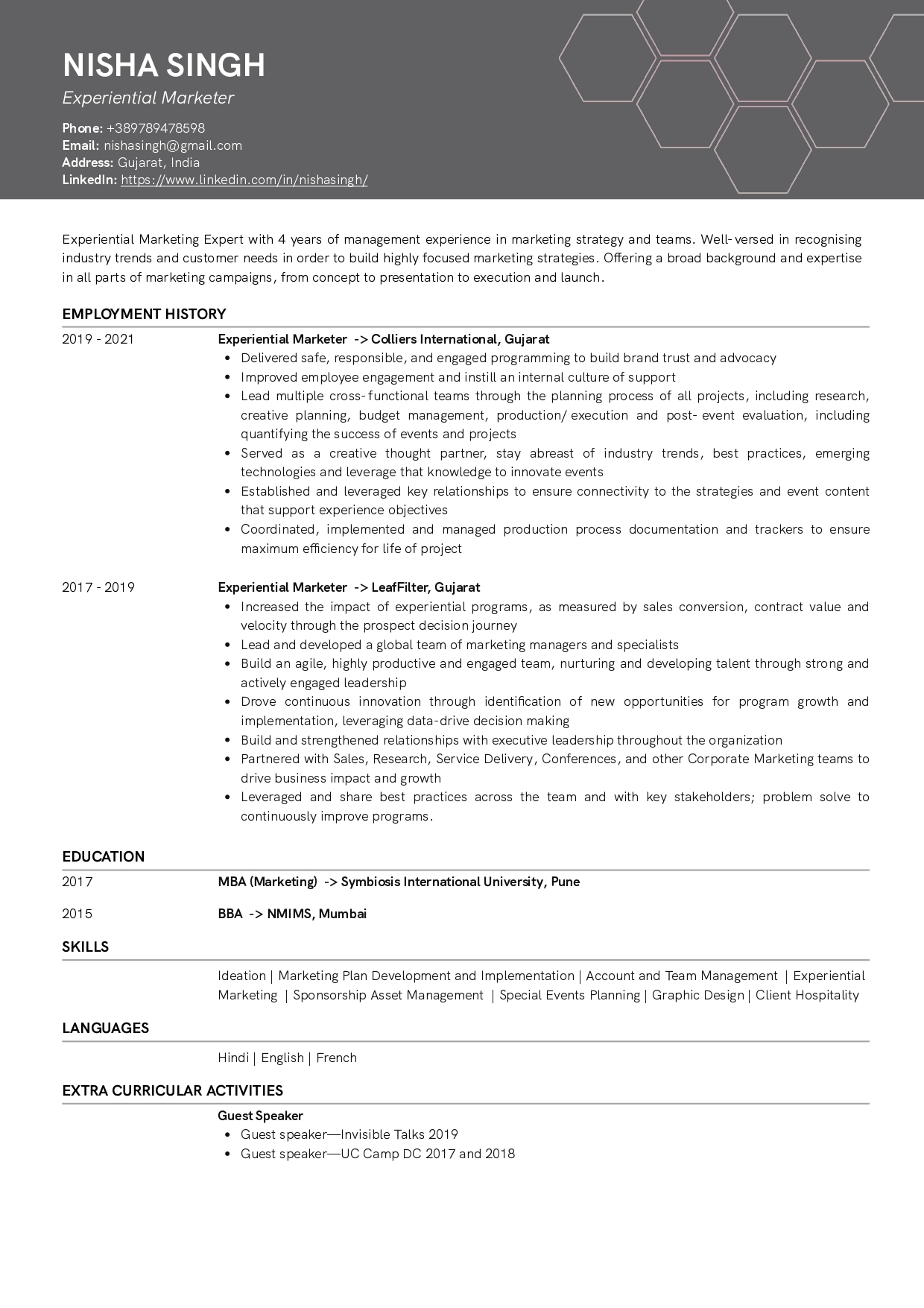 Check full resume of Experiential Marketer in text format here
Resume of Email Marketer
An Email Marketing Specialist is in charge of email marketing campaigns, newsletter creation, email database management, and email campaign optimization for better deliverability and open rates. An email marketer Identifies the target audience, designing and implements direct email campaigns that involve proofreading emails, writing newsletters, upgrading current templates to personalized ones.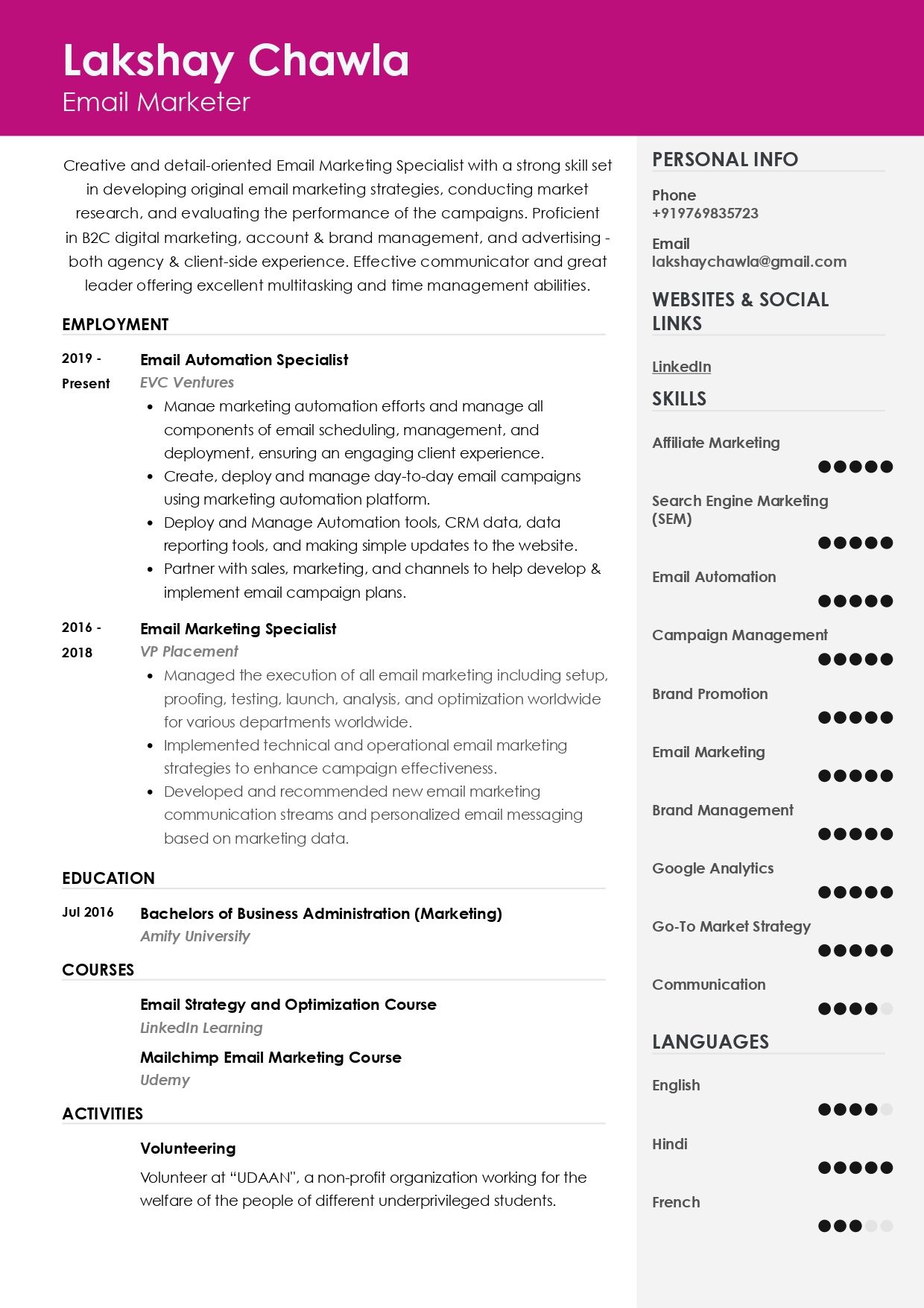 Check full resume of Email Marketer in text format here
Resume of Creative Director
A creative director manages a team of designers, copywriters, account managers, and sales reps, directing marketing and promotional activities to bring client products and services to market. A good creative director understands what people want and knows how to induce action when faced with the task of inspiring and brainstorming new ideas, managing deliverables, and capturing the target market. They would be involved in every aspect of collaboration from the idea phase to the execution. During a project, they supervise and guide copywriters, artists, and designers to create a work, such as a website, an advertisement, or an email campaign.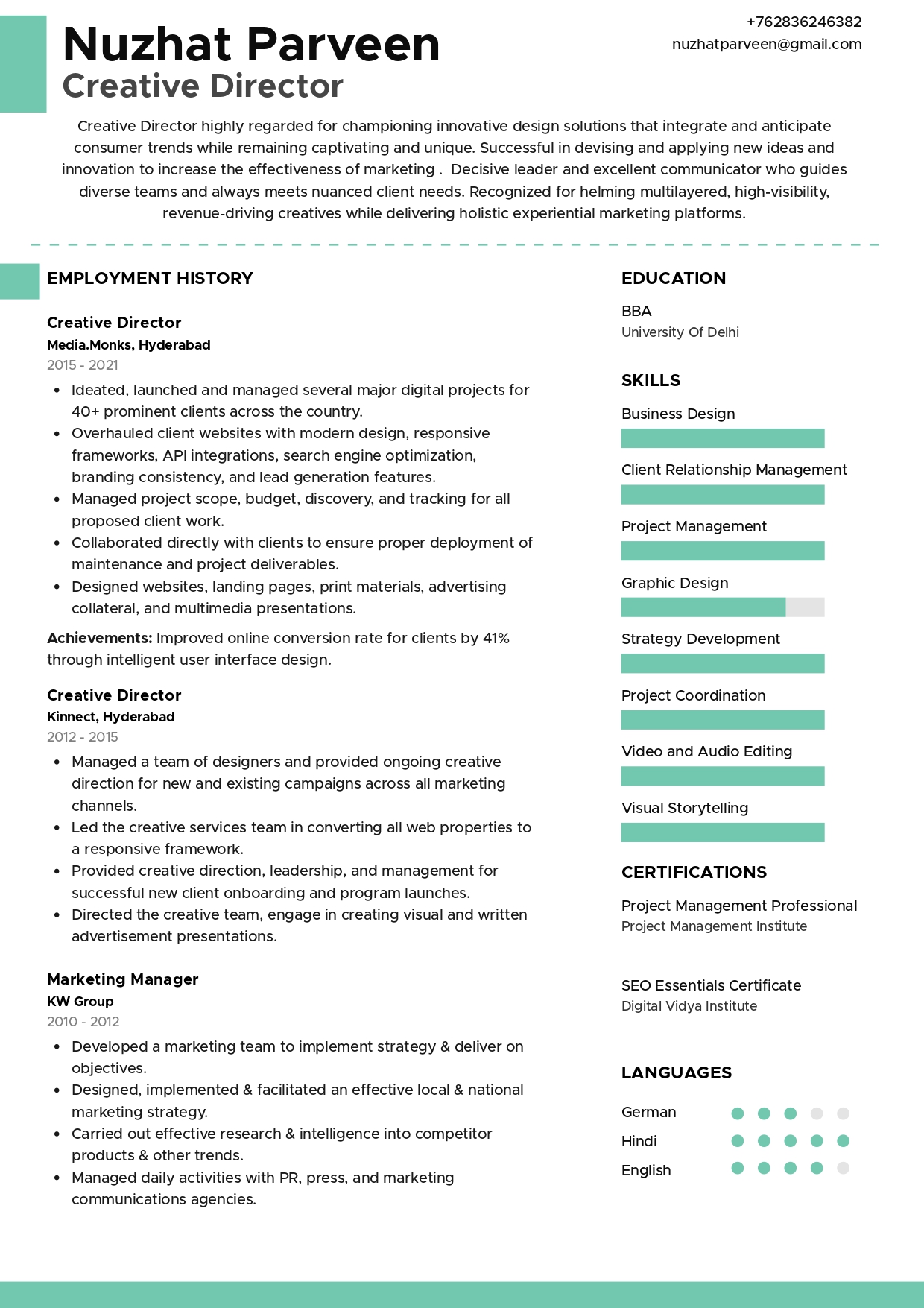 Check full resume of Creative Director in text format here
Resume of Product Marketing Manager
A Product Marketing Manager, also known as a Product Promotions Manager, is responsible for promoting products and their features to the target audience of an organization. Product marketing managers are in charge of assessing which characteristics of a product are the most marketable and then creating marketing campaigns around those features.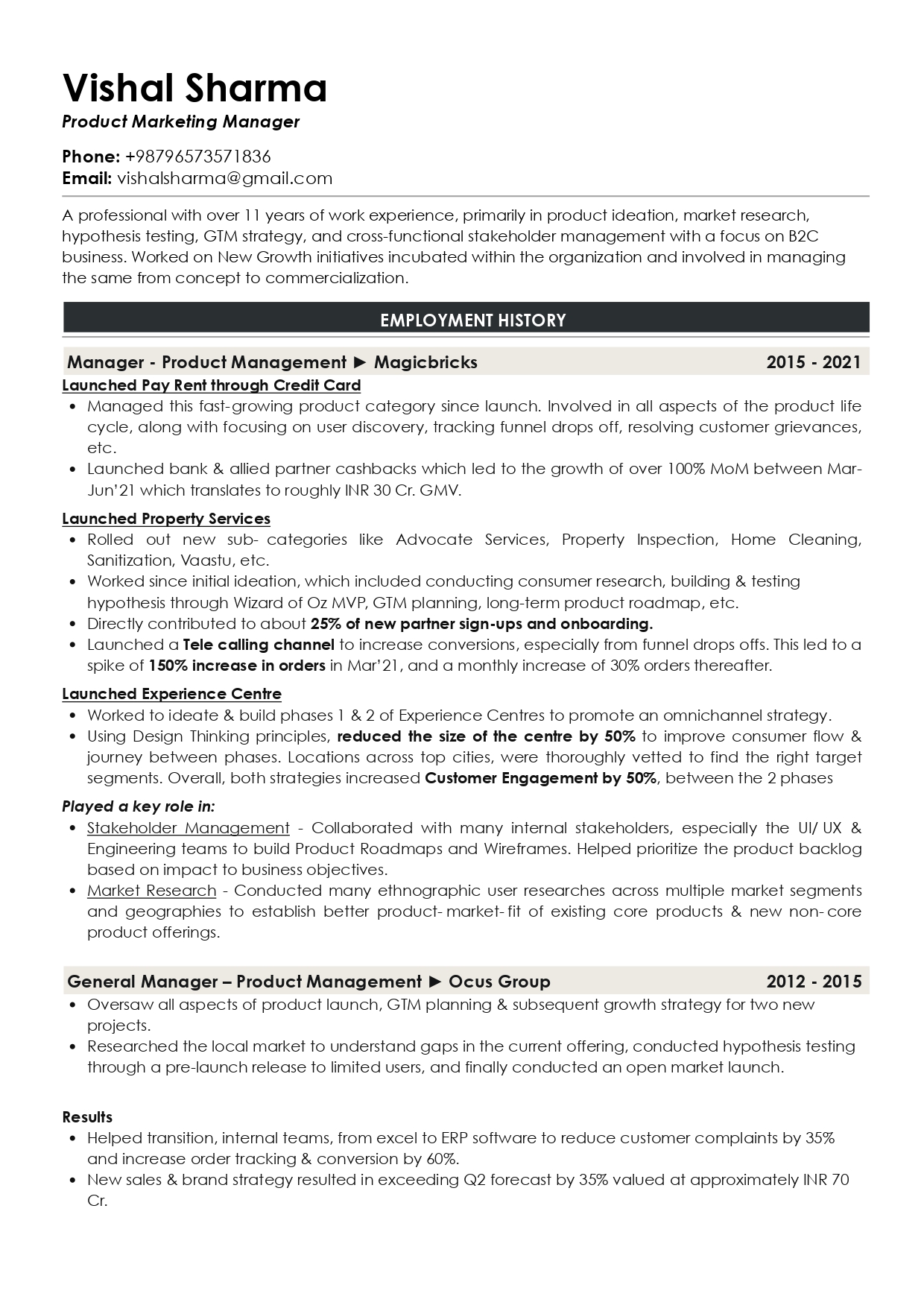 Check full resume of Product Marketing Manager in text format here
Resume of Service Marketer
A Service Marketer manages a company's marketing operations and ensures that they are efficient and run smoothly. Finding promotional tactics, evaluating staff performance, organizing multiple teams, managing budgets, investigating new marketing and client opportunities, analyzing data, and developing solutions to optimise marketing services and operations are all common roles. Further, Service Marketers lead and inspire their team to achieve their objectives while adhering to the company's laws and regulations.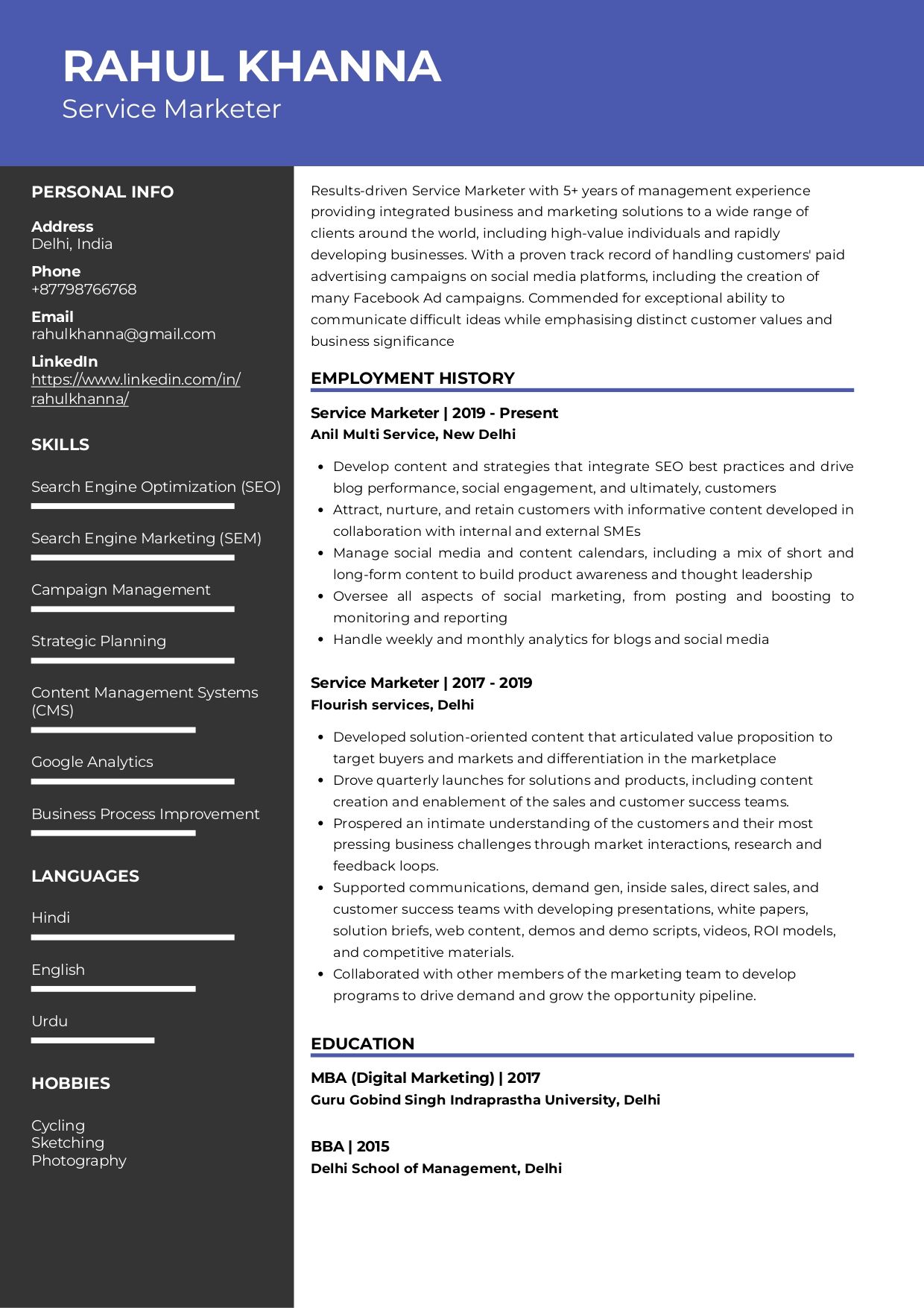 Check full resume of  Service Marketer in text format here
Resume of Copywriter
Copywriters provide written content for the purposes of marketing and advertising. Their scope of work is vast and spans writing web copies to emails through to social media posts and billboard advertisements. They learn about their employer's or clients' demands, participate in brainstorming sessions, create unique material, and possibly help with other areas of the creative process.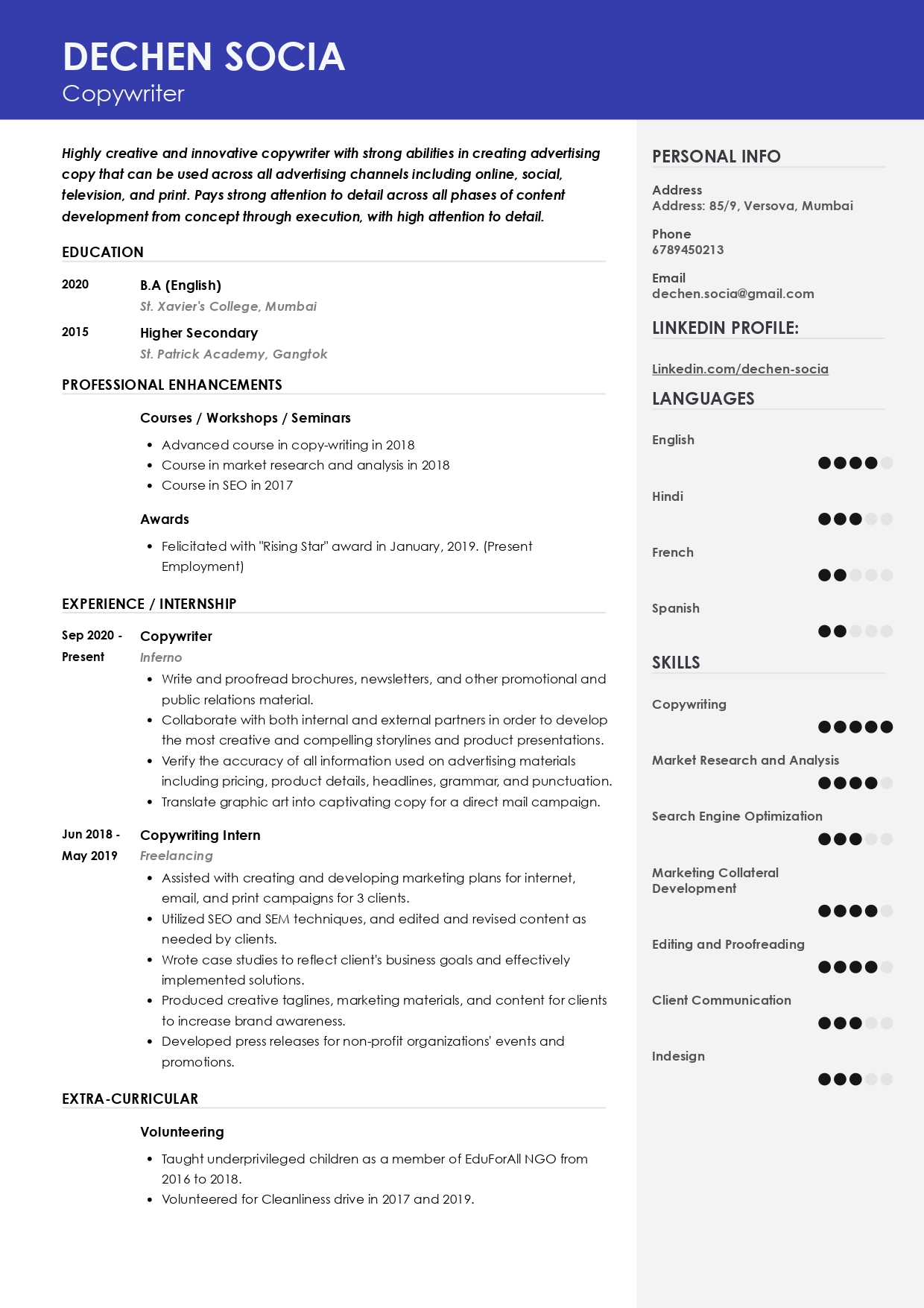 Check full resume of  Copywriter in text format here
Resume of Performance Marketer
A performance marketer collaborates closely with advertisers and is in charge of planning and evaluating ad campaigns. Successful performance marketers must be adept at data-driven decision-making. They employ a blend of analytical, strategic, creative, and technological abilities. When advertisers engage with agencies or publishers to design and run adverts for their firm on a variety of performance marketing channels — social media, search engines, videos, embedded web content, and more – performance marketers are involved.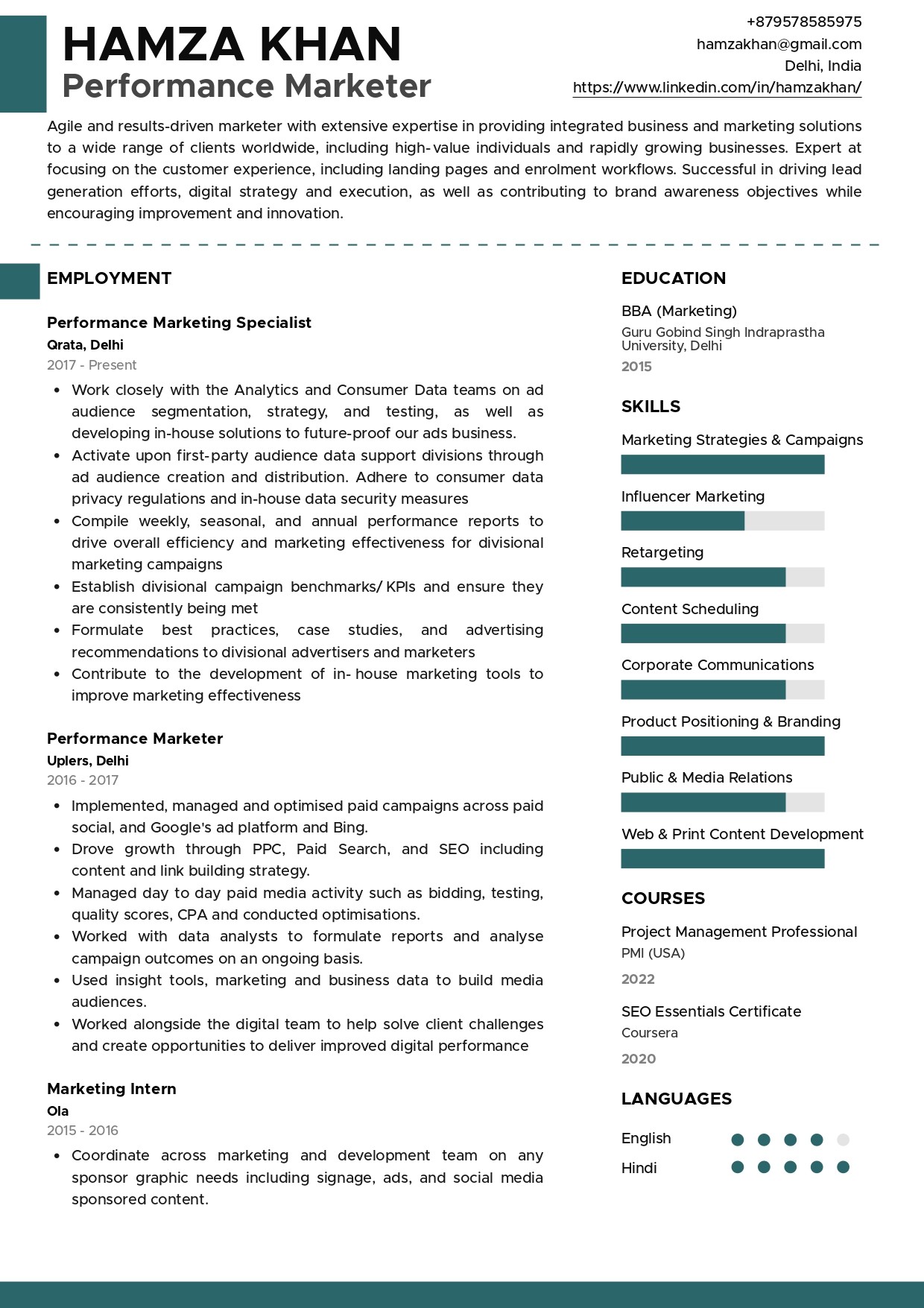 Check full resume of Performance Marketer in text format here