A Guide to Using Colours in Your Resume [5 Examples]
You can use any colour of your choice in your resume, provided the resume is easy to read and is not heavy on the eye due to bright colours.
After finalising the entire content of the resume, the most difficult task is to make it appealing while keeping it professional. But what to do?
Add colour? Maybe!
Use Graphics? Not sure!
Try different font styles? Still confused!
One easy way to make your resume attractive is by using colour. Keep scrolling to learn the hows and whys of using colour.
In this blog: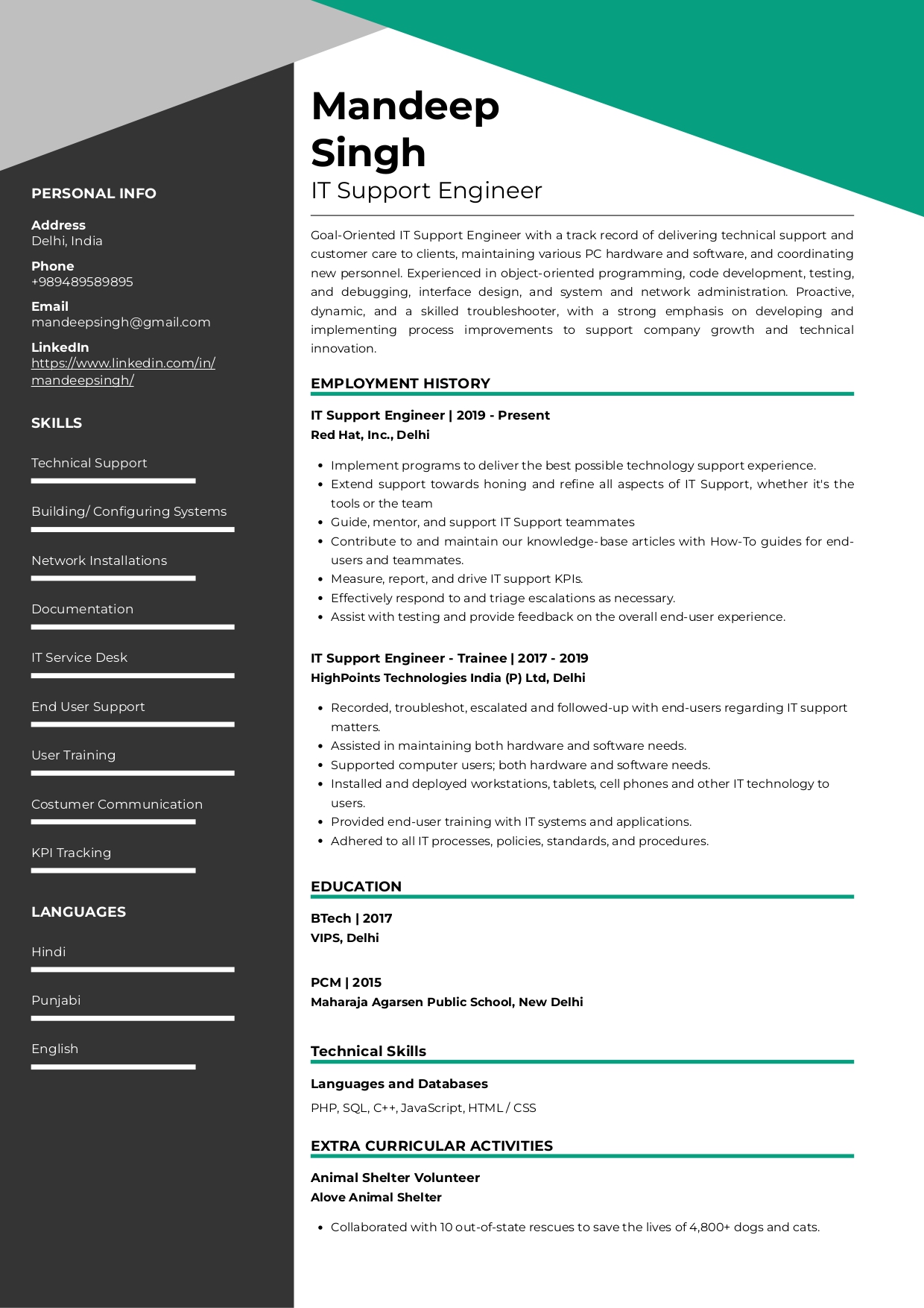 Should you Use Colours in Your Resume?
Most text resumes we see are black and white.
But it is not an industry standard. No authority has prescribed any standard for resume development.
It is what you see everyone doing and apply that.
So are there any rules about using colours in your resume?
No!
You can use any colour of your choice in your resume, provided the resume is easy to read and is not heavy on the eye due to bright colours.
Conclusion: You are free to use colours of your choice in your Resume!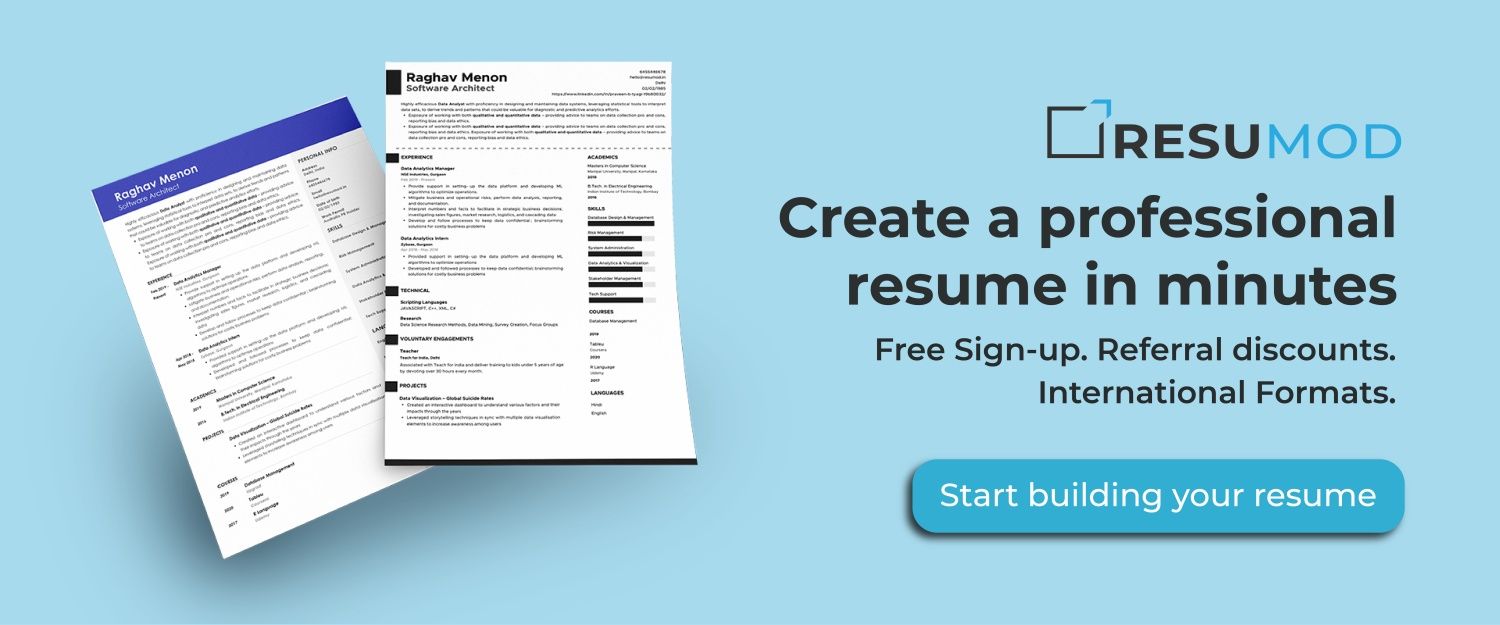 Advantages of Using Colour in Your Resume
Colours are attractive and they have the power to influence humans.
And the case is no different in a professional space. Even after automation and scanning of your resume by bots, what we fondly called ATS, your resume will be reviewed by a human. So it is important to wisely use colours in your favour.
If you are still confused about the "WHY" behind using colours in your resume, have a look at the following:
The ultimate tool to draw attention: When presented a black and white resume and a cloured resume, the recruiter is most likely to be drawn towards a coloured resume. In a large pool of resumes, the recruiter will stop at a resume that stands out in any way.
Enables an easy glance: Colour enables you to highlight the important sections. You can use a different colour to underscore your achievements or any other quantifiable resume. A quick scan will enable the recruiter to understand these points.
Drawbacks of Using Colour in Your Resume
Using colours in your resume has many advantages and is most likely to play in your favour.
But, it may not give certain results in the following cases:
Personal bias: Some recruiters don't find colours in the resume very pleasing. Your resume might stand out and use colours strategically, but if the recruiter does not prefer colours in your resume, using colour might not work for you.
Improper usage: If you use too many colours or very bright colours, it will make the resume look cluttered and decrease replaceability. A black and white resume gives a sure shot benefit of clear readability, which the coloured resume might not give.
Might seem unprofessional: Some recruiters find colourful resumes unprofessional. They contain themselves to traditional black and white resumes. In such cases, using colour will downplay you.
How to Select the Right Colour For your Resume
Now that you know, using a colour or not using any in your Resume is a completely personal choice, here are some factors that will help you decide on it further.
Industry-standard: Industry-standard plays a vital role in deciding the colour of your Resume. Though plain resumes are universal, a hint of blue is widely acceptable. A general notion about resumes in corporate jobs like finance, accounting, IT is that of clean, black resumes, a little colour, if used wisely is acceptable.
Your profile: A lot of how your resume looks and feels depends on the type of profile and your seniority. As you grow in your career, more straightforward and achievement-oriented resumes are preferred. If you are 10-15 years in your career already, use colours subtly and only where it is required.
What you want to convey: Before you put your resume in place, decide how you will be using it. Is it a generic resume, for a specialised company, or a career change one? There can be so many scenarios. Understand what you want to convey, and use colour to your benefit.
However, there are some industries, where these factors disappear into thin air, and colourful resumes are accepted. If you work in the following industries you are the lucky one.
Acting
Advertising & Marketing
Architecture
Art
Design
Film & Video
Photography
Writing & Publishing
Journalism
Music
Go ahead and have some fun while you make your new resume on Resumod!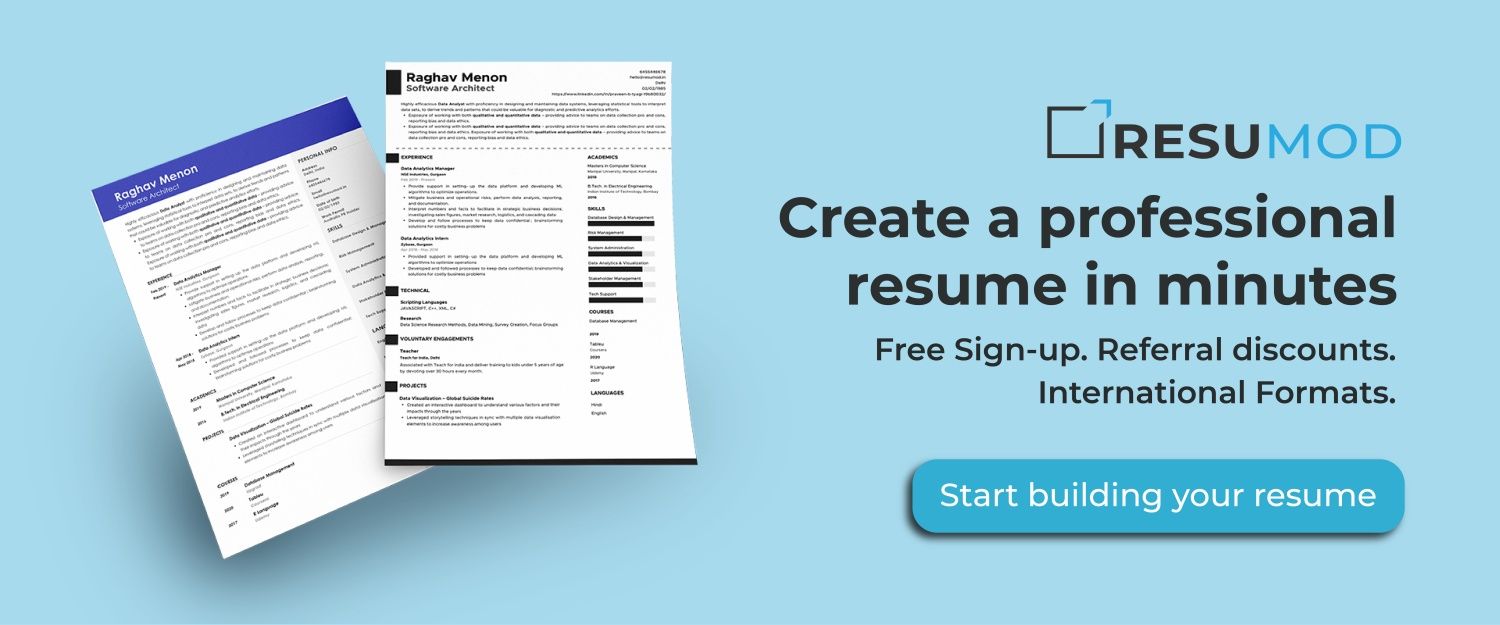 Where to Use Colour in Your Resume
Using colour in your resume is a proven way to stand out, but it cannot be where. It can neither be in amounts so less, that the resume loses its purpose.
Use in Graphic Elements: Infographic resumes are the most colourful resumes you will ever find. And they are widely accepted. They are only of the most common ways to incorporate colour in your Resume. They bring focus to the right place without making the resume look light.
Highlight Important Sections: Infographic resumes are the best if you want to highlight colours. But you can use colours in the text. Text like headings, bullets, important information, or your name can be highlighted to draw attention.
Add aesthetic elements: A simple black and white resume with just a few colourful elements go a long way in making your resume aesthetic. You do not need to colour your entire resume, but just working out some sections shows a balanced use of colour.
How to strategically use colour in your resume?
Once you know that you can use colour and you also know the benefits. The next question is how do you use colours to my best benefit. Here are a couple of ways you can use colours strategically and provide a deeper meaning to your Resume.
Fit their culture: Every company uses a colour that has a deeper meaning than just being a brand colour. The colour plays a huge role in demonstrating a company's core values and messaging. It shows that you understand the company culture and relate to it. If you give that personal touch to your resume, the recruiter is bound to instantly connect with you.
Showcase your personality: The recruiter creates the first perception of you through our resume. If you understand colour psychology a bit and use it to showcase your personality traits, you win the rat race. Your choice of colour can demonstrate personality traits like power, empathy, sophistication, and calmness among others. Recruiters always appreciate the creative thought behind your resume. This is your chance to stand ahead!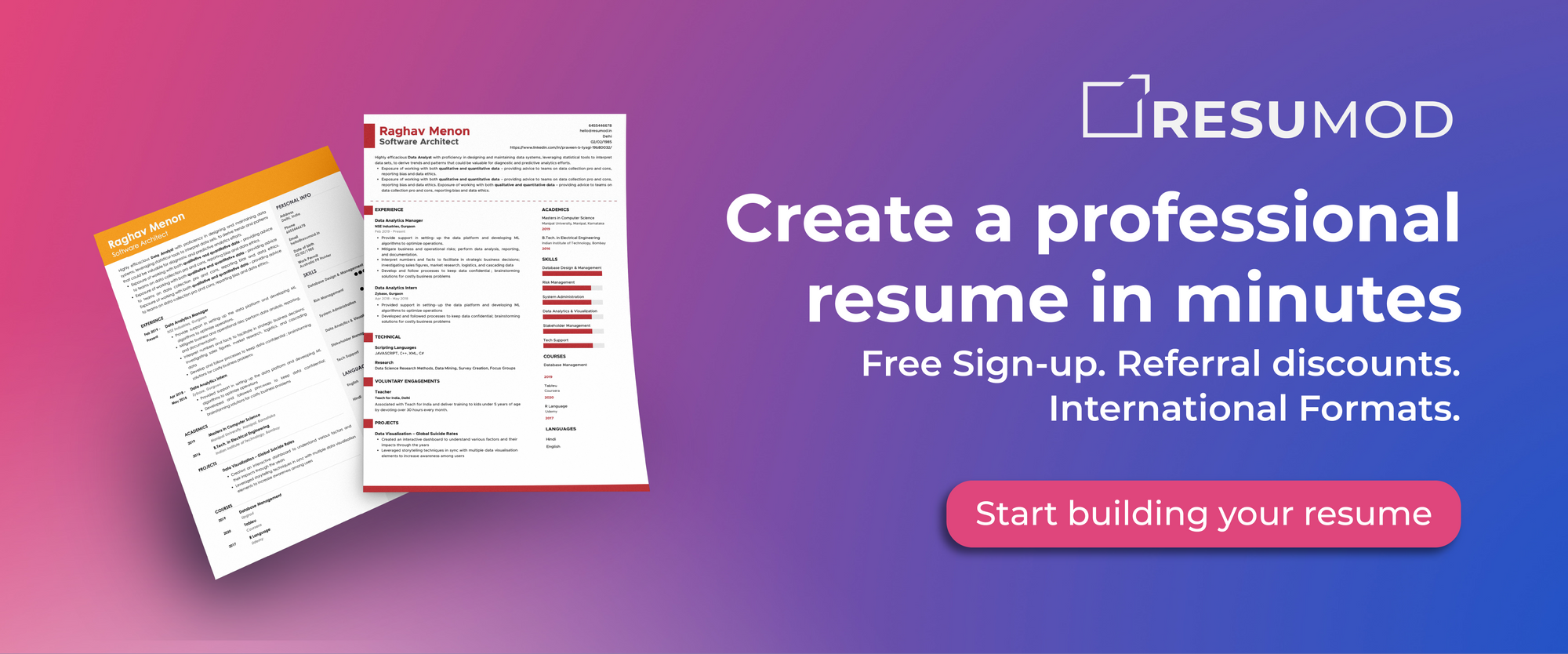 Colourful Resumes on Resumod
Resume of CFO
CFO oversees the financial operations of a company or organisation including all financial reporting. They evaluate financial risks and possibilities, as well as supervise and manage financial managers at lower levels. They also assist in the establishment and monitoring of financial goals, objectives, and budgets.
CFO is a senior profile and is a corporate career. We used a basic format and used blue and grey. This makes the resume look
Sophisticated
Straightforward
Structured
Professional
Organized
Easy on the eye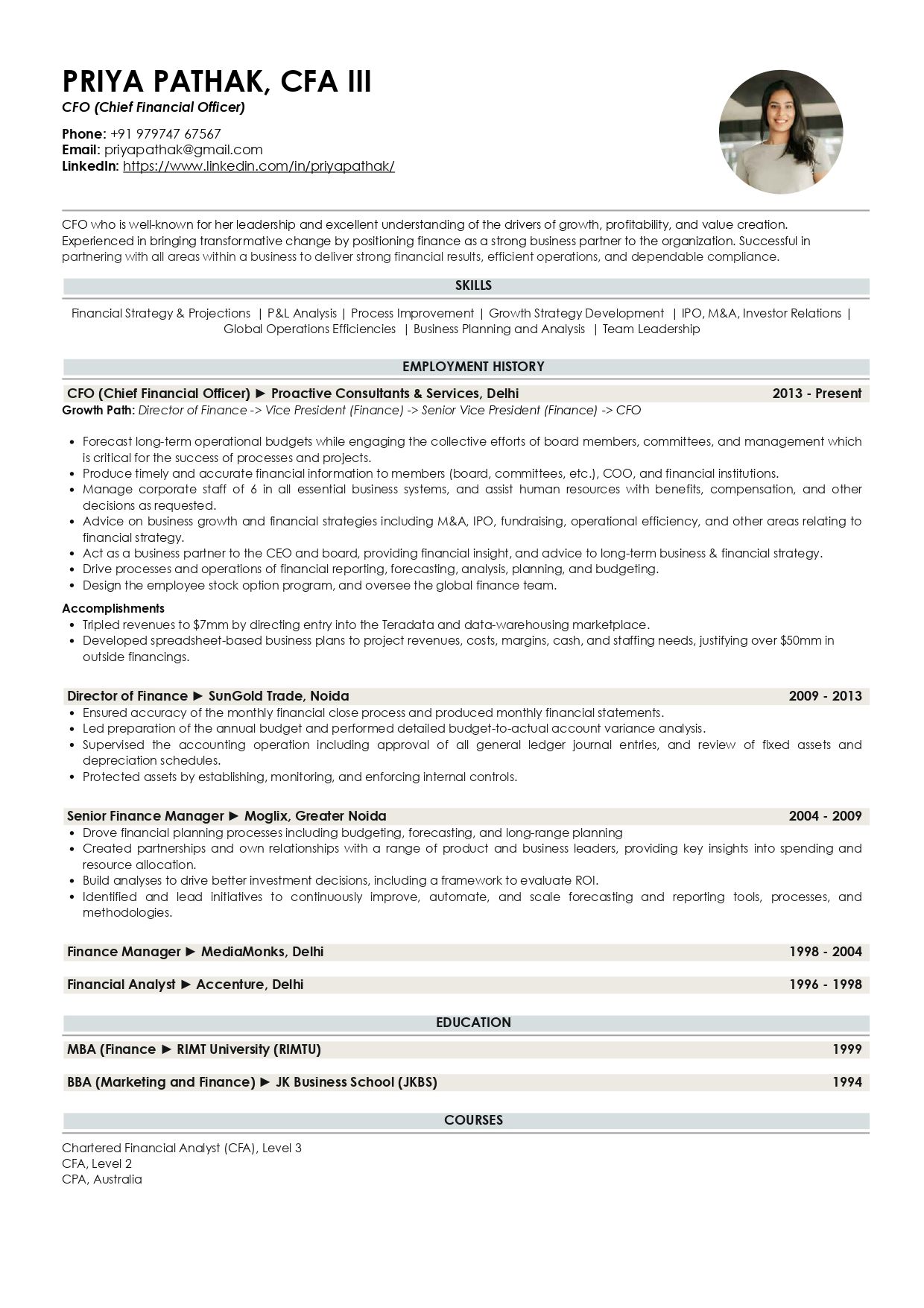 Check full resume of CFO in text format here
Resume of Logistics Coordinator
A logistics coordinator manages shipping, and deliveries, with a particular focus on customer satisfaction. Further, a logistics coordinator is also knowledgeable in supply management. This position requires you to respond quickly to client concerns and complaints, as well as advise them of any delays in the delivery schedule.
We used brown in a logistics coordinator's resume.
Reason?
A lot of shipment boxes are packed in boxes that resemble this brown. Apart from establishing a connection, the resume looks
Neat  
Not very bright yet pleasant
Draws attention to the skills
Provides break to the text on left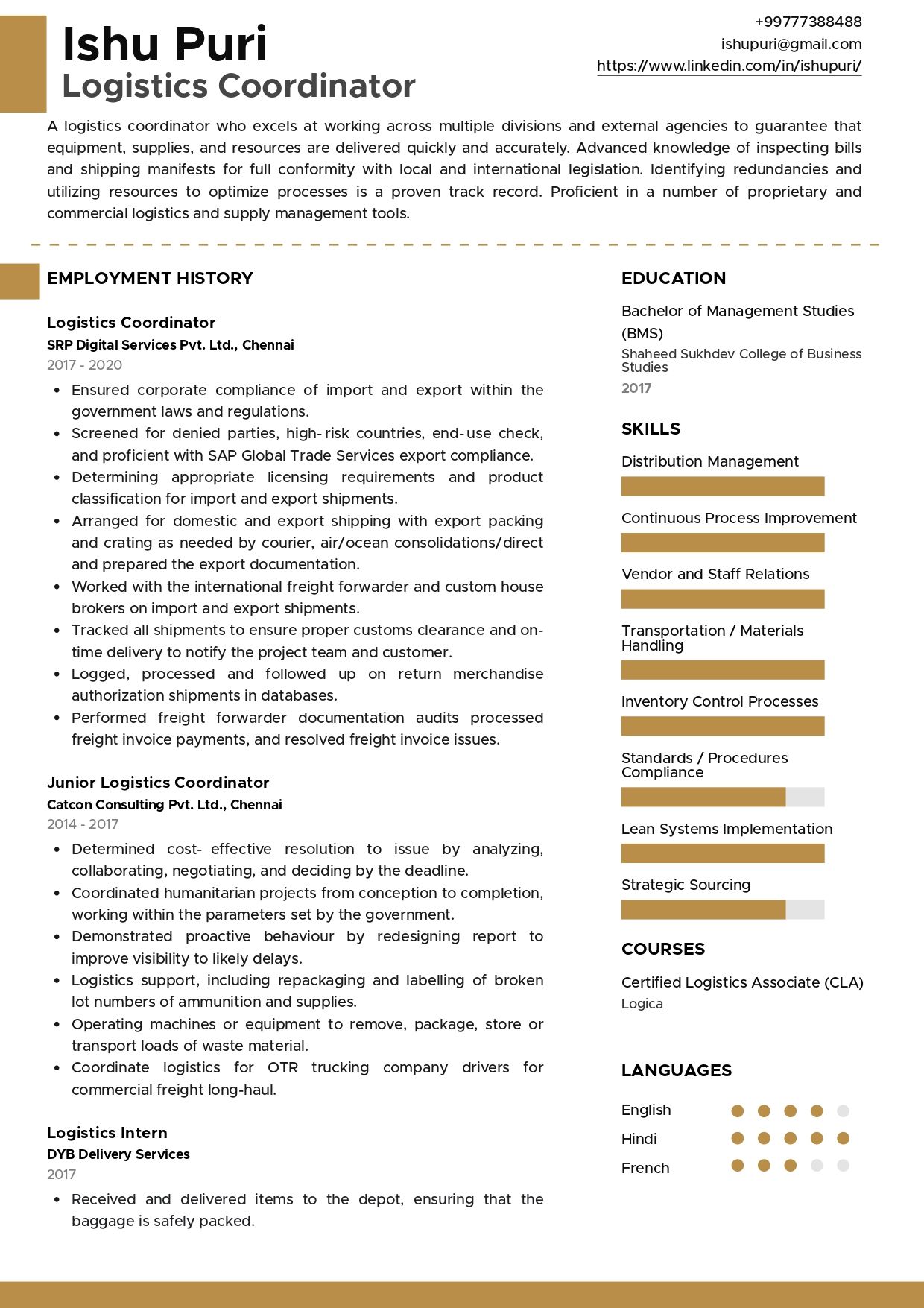 Check full resume of Logistics Coordinator in text format here
Resume of Corporate Lawyer
Corporate lawyers are commercial law professionals who ensure that a company's transactions adhere to all applicable rules and regulations. They might work for a law firm or a company's legal department. Preparing documentation, evaluating relationships, and negotiating deals are all part of the job description.
As the profile says "corporate", we opted for a corporate colour - grey. The texture in the background adds an extra oomph to the resume while still maintaining a highly professional approach.
Almost like a black and white resume
Just the skills in colour to break the monotony of the text
Well-spaced for an easy glance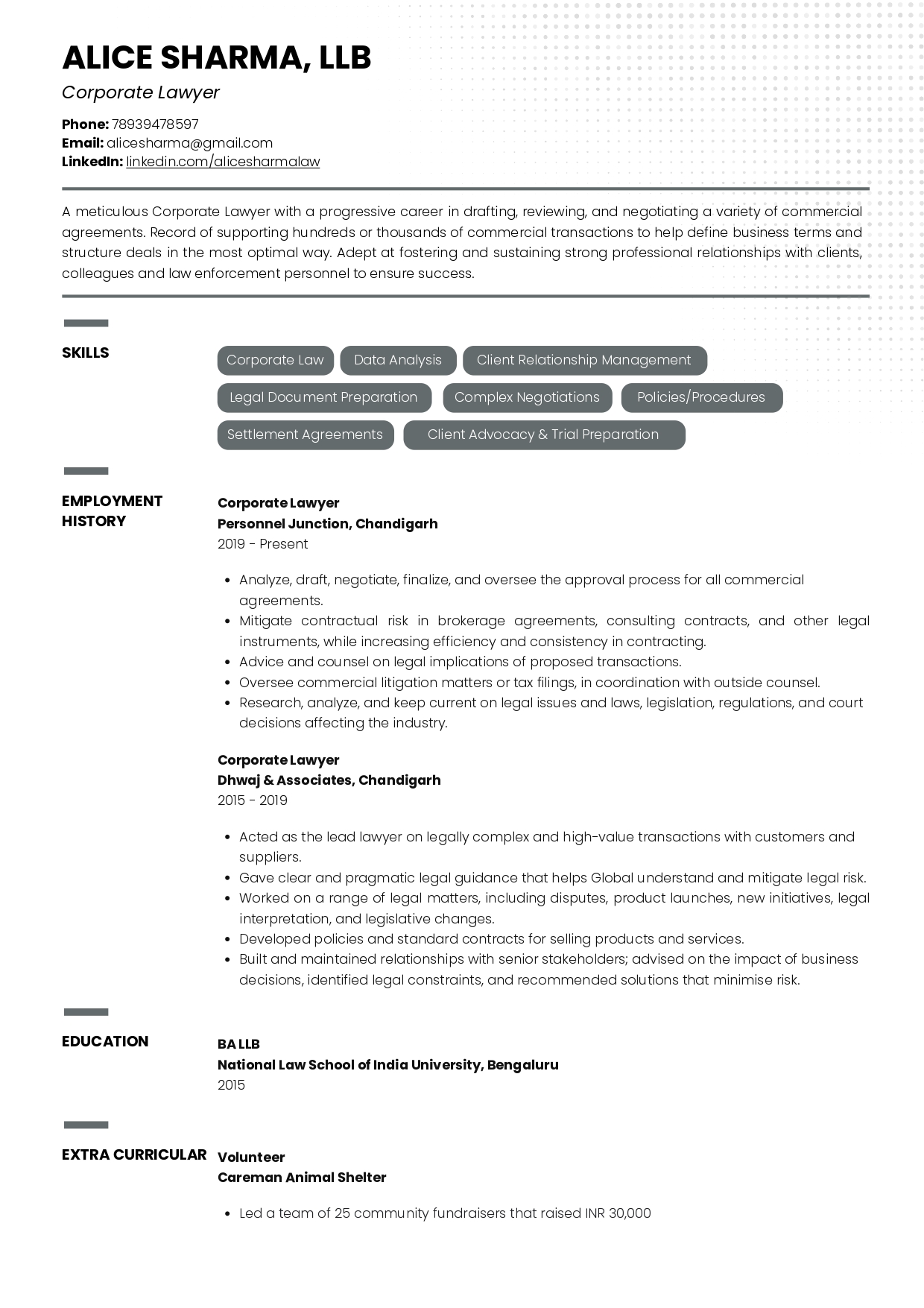 Check full resume of Corporate Lawyer in text format here
Resume of Physician
A physician works with patients to diagnose and treat a wide variety of common health problems, illnesses, disorders, and injuries. They help patients in a number of ways, from treating chronic conditions to offering preventative healthcare advice. While medical specializations differ, one thing they all have in common is that they work to diagnose and treat injuries and diseases. Physical exams, medical histories, administering and interpreting diagnostic tests, and prescribing a treatment plan are all common ways they do this.
A doctor is associated with healing and restoration.
We chose green here because it stands for life, fertility, renewal, and resurrection.
A simple format to remove all the fluff
Short and crisp sentences to keep is to the point and show clarity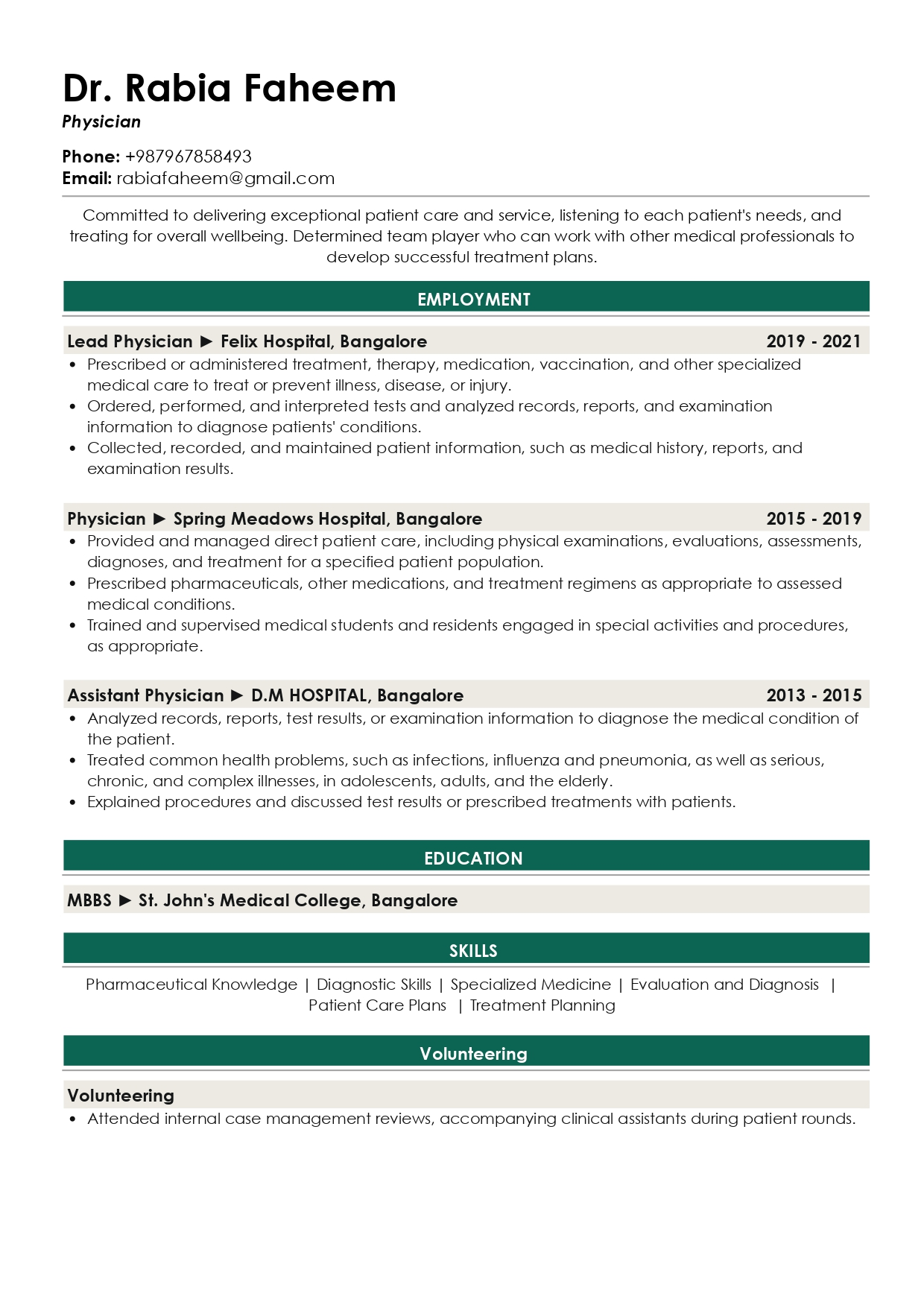 Check full resume of Physician in text format here
Resume of Math Teacher
Math teachers prepare and deliver math classes to elementary and secondary school pupils. They are responsible for grading assignments and quizzes as well as keeping track of students' progress. Their purpose is to assist students to develop critical thinking skills by teaching them mathematical ideas.
Math is often considered a boring subject. To break the monotony associated with the subject, we chose a playful and energetic shade of blue. Blue on the top balances out the tones of grey and brings values of
Calmness
Reliability
Inspiration
All of these students will need while they understand mathematical concepts.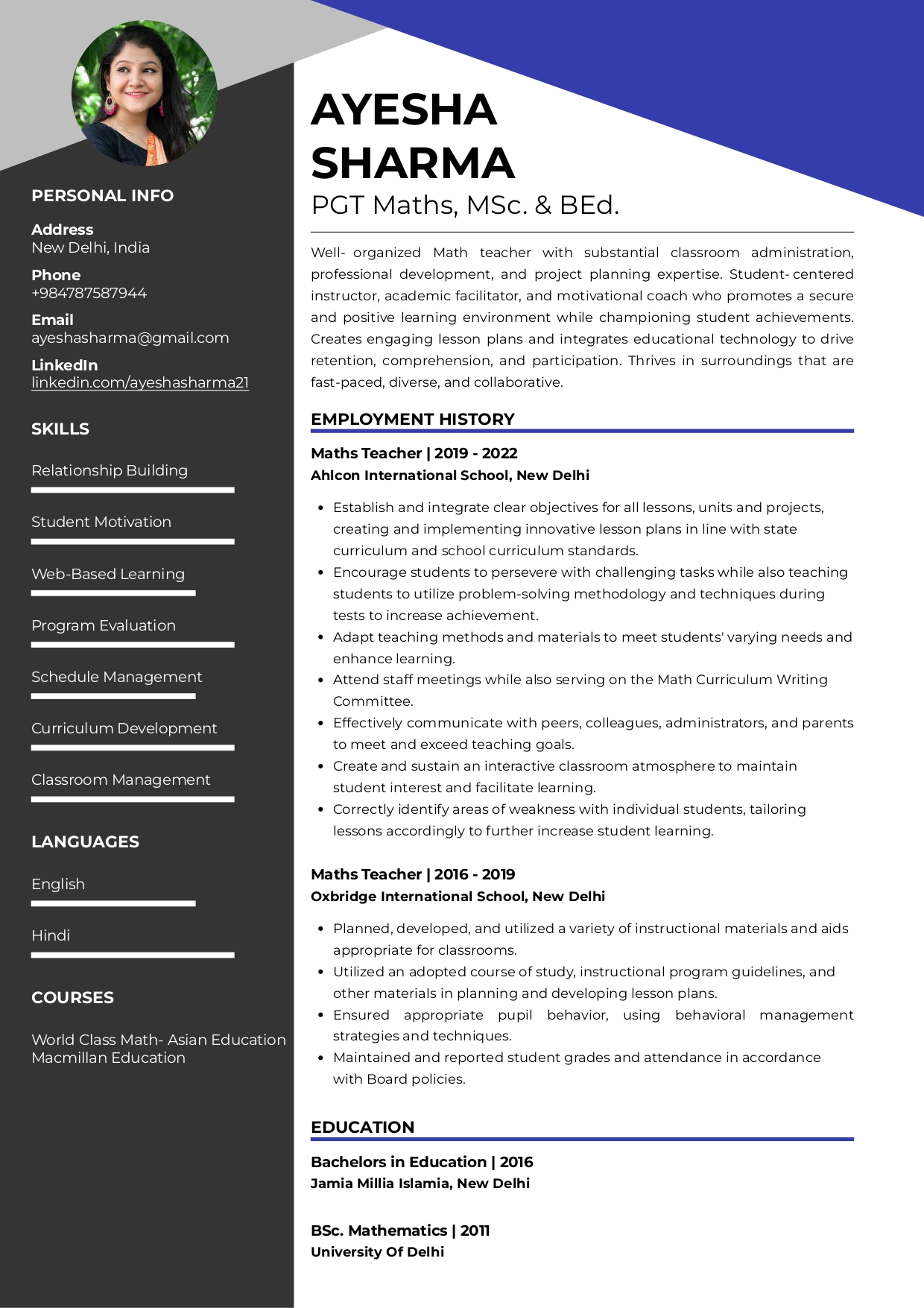 Check full resume of Physician in text format here
Final word
Using colour is up to you. However, we suggest you the following before you decide to use your colour:
Check if colourful resumes work in your industry, if they don't opt-out of them
Do not overdo the colour
Do not opt for very bright colours to maintain the essence of the resume
Even if you use colours, maintain a professional look
We at Resumod truly believe that professionalism and creativity when blended give the best results. Therefore, at Resumod, we offer an option to make your resume in unlimited colours.
Why not have some fun with Resumes?