How To Use Extracurricular Activities In Your Resume [5 Examples]
Extracurriculars are important not only at the school or college level but help in developing personality traits and skills that help throughout your career.
While developing a resume, we often consider sections like education, summary, skills, and experience but other important sections get missed.
One among such forgotten or ignored sections is the extracurricular activities section. Though it seems trivial to many, it plays an important role in propelling a recruiter's hiring decision.
In this blog post, we decode why you need the extracurricular activities section in your resume and how you can use it to your best benefit.    
Keep reading to know: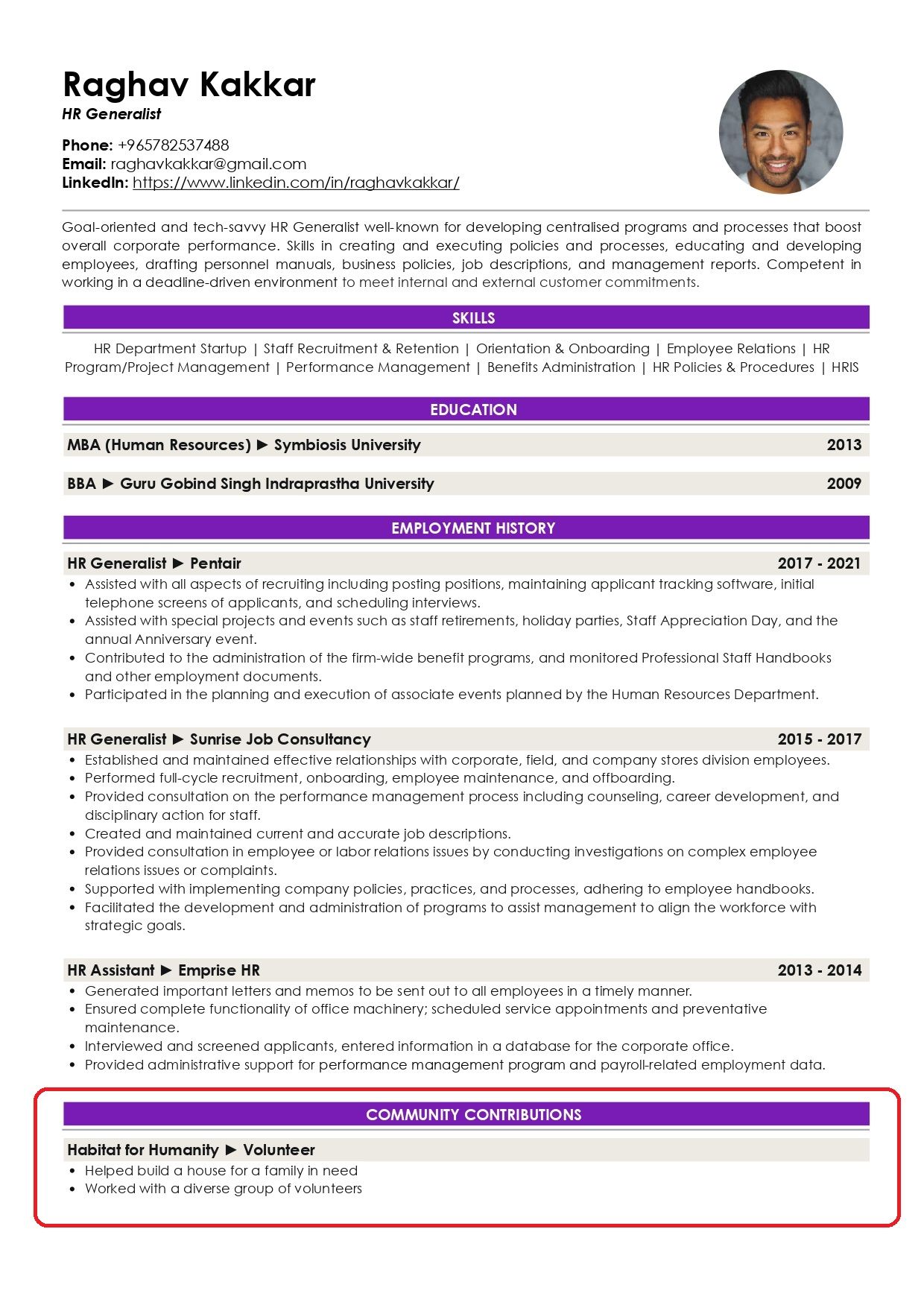 What Are Extracurricular Activities?
Any activity performed beyond the course curriculum, while you are a student comes under the category of extracurricular. These activities are aimed at building a student's intellectual, spiritual, social, physical and moral capabilities.
They broadly include engagement in:
Arts
Athletics
Student clubs
Sports teams
Volunteering
Student government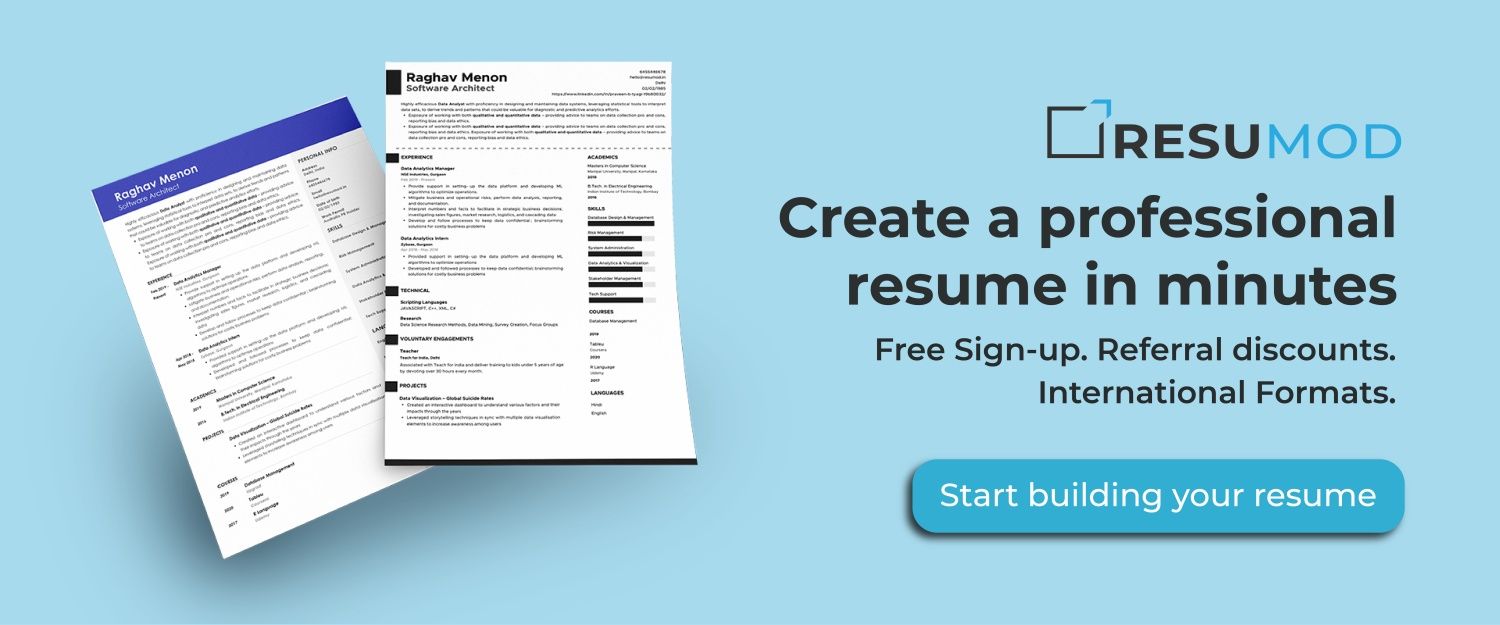 Extracurricular Activities vs. Co-Curricular Activities
These two terms are often used synonymously, however, they are two different things.
Here are the key differences:
Extracurricular Activities are performed outside the scope of the course curriculum. They are meant to develop skills that are not part of the academic course, therefore usage of the word "extra".
Co-curricular activities are conducted by the school as a part of the course curriculum, therefore the usage of the word "co". These activities are performed to complement or aid student learning.
Why Extracurricular Activities Help in Career
The concept of extra-curricular activities is not new, and the inclination towards these is increasing every passing day. Once considered a tool to engage kids, it is now being seen as of crucial importance in both social and personal development.
Extracurriculars are important not only at the school or college level but help in developing personality traits and skills that help throughout your career.
Networking: One of the most common reasons for you to engage in activities outside the classroom are developing networks that help you through your lifetime. Networking opens doors for many opportunities that might not be possible otherwise. One added advantage is that, once you learn how to build networks, it is a skill that gives fruit your entire life.
Personality development: Your personality cannot be developed in four walls of the classroom. It is through engaging with people from various cultures and doing activities that do not focus on academics, that your true personality comes out. And employers prefer individuals with dynamic personality traits.
Shaping thought process: Non-academic development plays a big role in developing your understanding of the world, creating perspectives, and developing beliefs, that further leads to developing a thought process. Your thought process decides how you solve problems and look through situations.
Break the monotony: Who doesn't want a little play in life. These activities help to break the monotony of the usual life and develop creative capabilities. These creative capabilities further complement your daily tasks and help you to better focus on your core job or studies.
Shows soft skills: Soft skills like communication, time management, empathy, decision making cannot be developed if you keep yourself engaged in course books. Extracurricular activities come in here to develop important life traits that are required besides having adequate knowledge.
Teaches prioritization: Prioritising tasks and creating balance are underrated life skills. If you learn how to manage academics with your hobbies, it develops skills like prioritisation, time management, and attaining balance. You also learn how to plan your day to include everything and know how to make use of any free time they may have.
Develop a sense of commitment and responsibility: If you participate in extracurricular activities, it develops a sense of commitment to whatever you are involved in, and this sense of commitment and responsibility extends to all other areas of your lives.
Working in varied environments: It is through your involvement, outside the classroom, that you are exposed to newer environments. Continued practice to adjust in various environments through extracurriculars paves way for working in newer environments in your career.
Covers up for no or negligible experience: If you do not have any internships or projects, extracurriculars are your way of showing your ability to work and make use of opportunities. Imagine a resume with nothing and imagine another resume with extracurriculars. Which one do you think the recruiter will pick?
How to Use Extracurricular Activities in Your Resume
Most job seekers create a different section to list down their extracurricular engagements, but that is not the only approach. There are multiple ways to showcase these
Create a separate section: This is the most common way. Create a special section for the activities and put them in reverse chronological order along with the name of the organisation. Place this section at the bottom, so that your hard skills and job description remain the recruiter's focus. This approach is most favourable for experienced professionals.
Add with academics: One of the ways to organise extra-curricular activities, this saves a lot of white space. We suggest all new job seekers or freshers to use this approach. Write your extracurricular engagement alongside each of your academic degrees. It enables an easy glance and conveys that you were actively involved in developing yourself apart from learning through academics.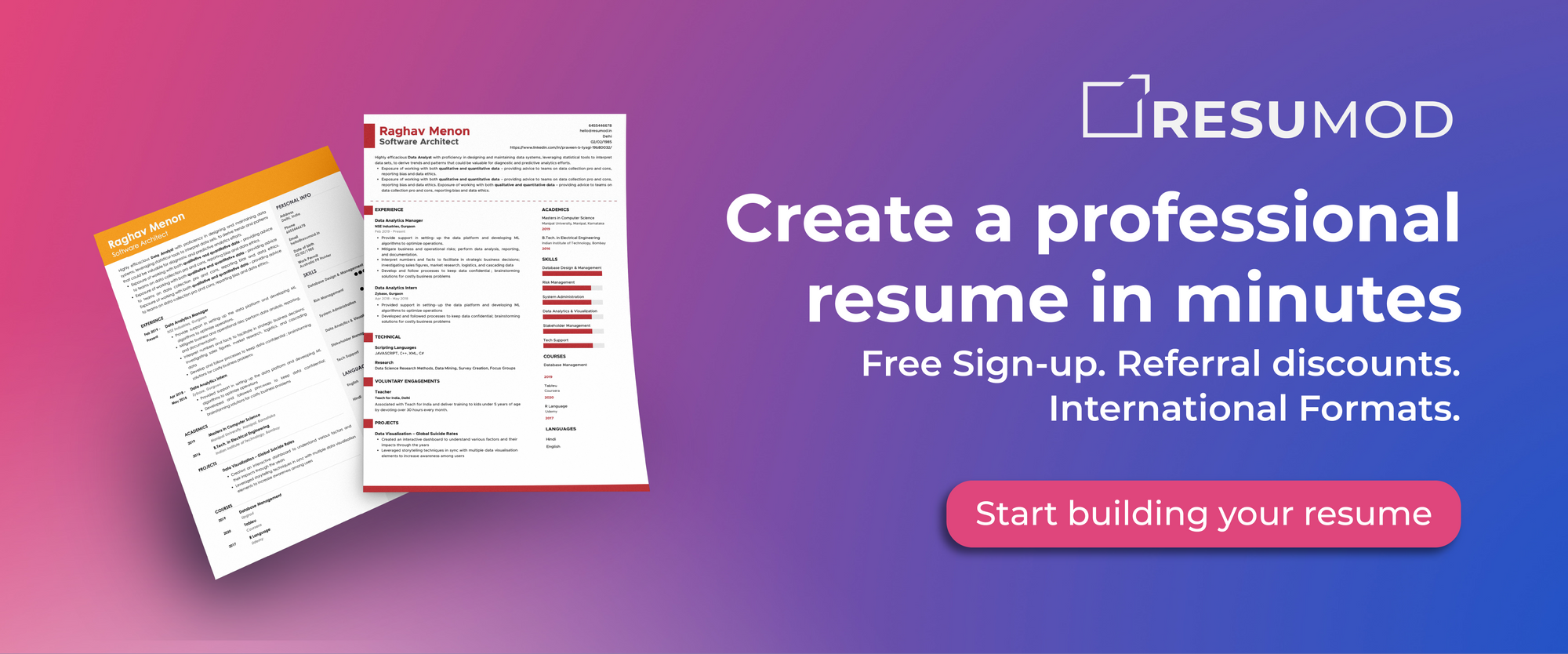 Tips to Write Extracurricular Activities in your Resume
Yes, extracurricular activities are engagements outside your classroom or workspace, but everything you do outside your professional space cannot be listed in your resume. Your extracurriculars should be improvising or enhancing your skillset.
Follow these tips to understand how to use extracurriculars in your Resume:
Include only relevant activities: As kids, we've all been involved in some or the other activity. But that does not mean that all of it will find a place in your resume. Include activities that are recent, not more than a couple of years old. Ensure that they are helping you perform better in your present role or will help as you grow in your career
Expert Tip:
expert tip
Can I use activities from my school days in my Resume?
If you are fresher and have no internship experience, you can consider using extracurricular activities from your high school. Otherwise, we do not recommend using activities performed during school time.
Focus on quality over quantity: Adding all activities just to fill up space is not a good practice. The Recruiter will make out your intent behind this exercise. Even if you've been a very active contributor towards the community or work hard on developing your interest area, pick the best out of them.
expert tip
What should I do if I have a lot of extracurricular activities to write
Pick the ones that are most recent. You can also priortise those where you've received appreciation.
Structure the information well: Plan the extracurricular activity section. Use reverse chronological order and maintain consistency in terms of mention duration, location, description, and organisation you've been involved with.
List of Extracurricular Activities for Your Resume
There is no limit to extracurricular activities that you can do alongside your career or university education.
Here is a small list of activities for students, that help in skill development and job seeking. If you haven't participated in activities yet, here is a list for you to choose from.
Student Council
Clubs or Societies
Sports Teams
Tutoring
Volunteer Activities/Organization
(Non-)Academic Competitions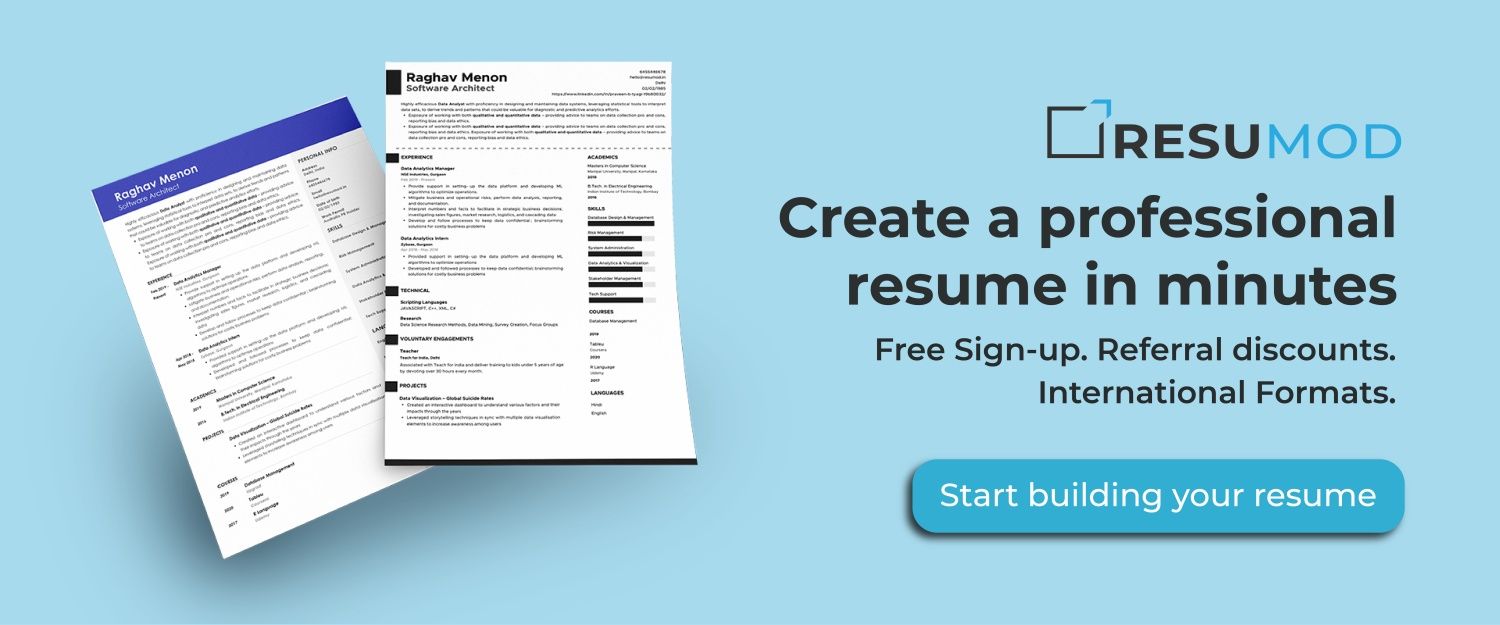 Skills to Develop Through Extracurricular Activities
We have seen above that extra-curricular activities play a crucial role in developing soft skills.
However, students always end up confused about what they have learnt through extracurriculars that can be put on the resume.
Check this list out to pick skills that you have developed by engaging in activities outside of your classroom:
Organizational skills
Working ethic
Strong motivation
Initiative
Flexibility
Activeness
Planning
Strong adaptability
High cultural awareness
Good stress resistance
Foreign language ability
Independence
Patience
Networking
Sportsmanship
Time management
Creative thinking
Teamwork
Leadership skills
Communication skills
With a rapid shift in how organizations function and movement towards remote culture, these are in demand higher than ever.
Source: Visual Paradigm Online
Resume Examples with Extracurricular Activities on Resumod
Resume of iOS developer
iOS developers create apps for iPhones and iPads that operate on Apple's iOS operating system. They are in charge of creating and programming the base application, as well as assuring its quality, correcting problems, maintaining the code, and implementing application upgrades.
An iOS developer's job is majorly a desk role, which does not offer much scope for networking and interaction. However, you require basic communication skills to function in a team. In Nikhil's case, he has worked volunteered at an NGO and led a team of 5. This shows his leadership as well as great communication skills.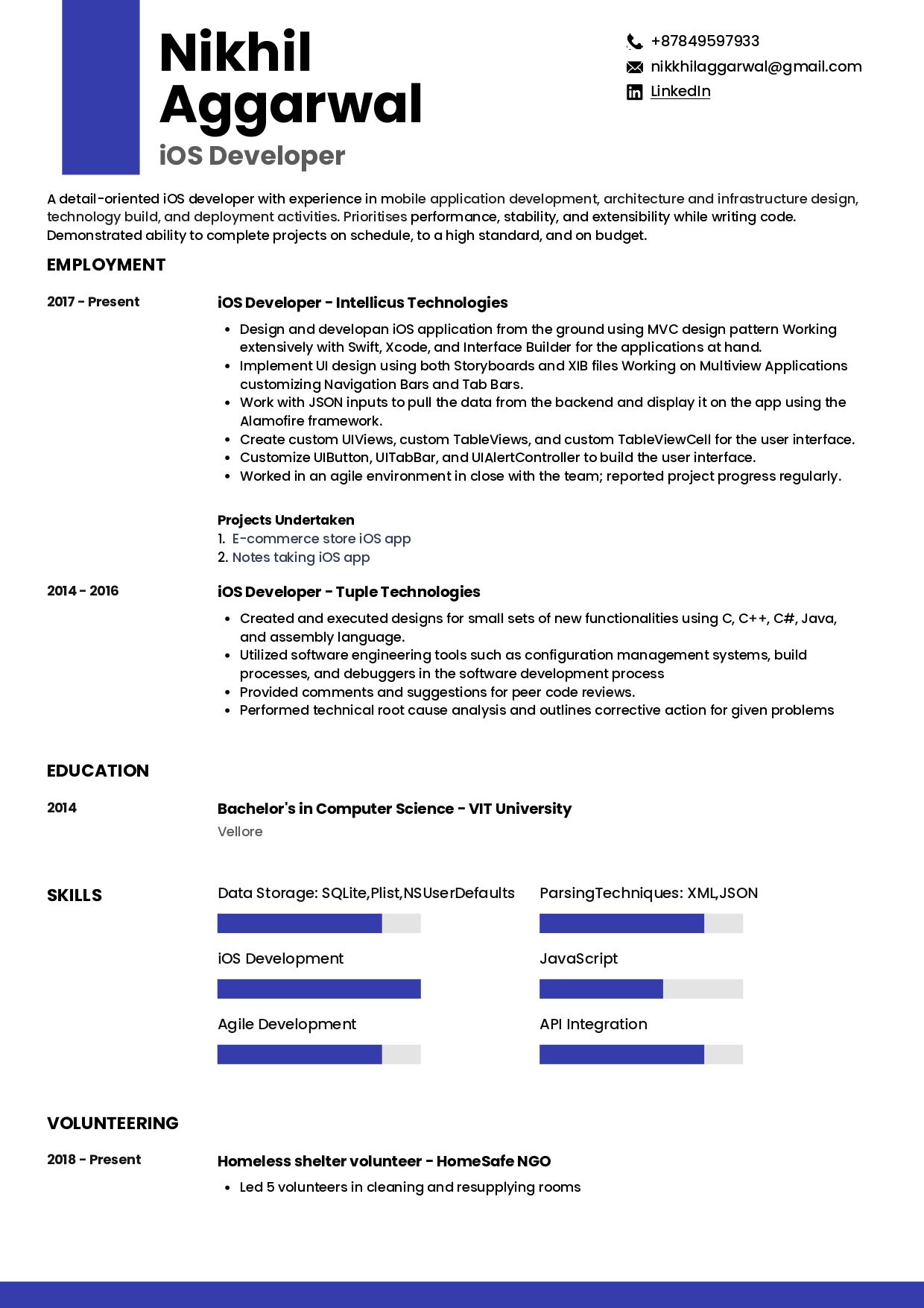 Check full resume of iOS Developer in text format here
Resume of an Experiential Marketer
Experiential marketing, often known as engagement marketing, is a marketing technique that immerses or deeply involves customers in a product. Consumers can not only buy items or services from an experiential marketer, but they can also experience the brand.
Involvement in activities is not only appreciated at college. Even if you are a professional, you always get brownie points for engaging outside your core job. Nisha has addressed the audience as a guest speaker, which acts as a good corroboration for her public speaking abilities but also her knowledge.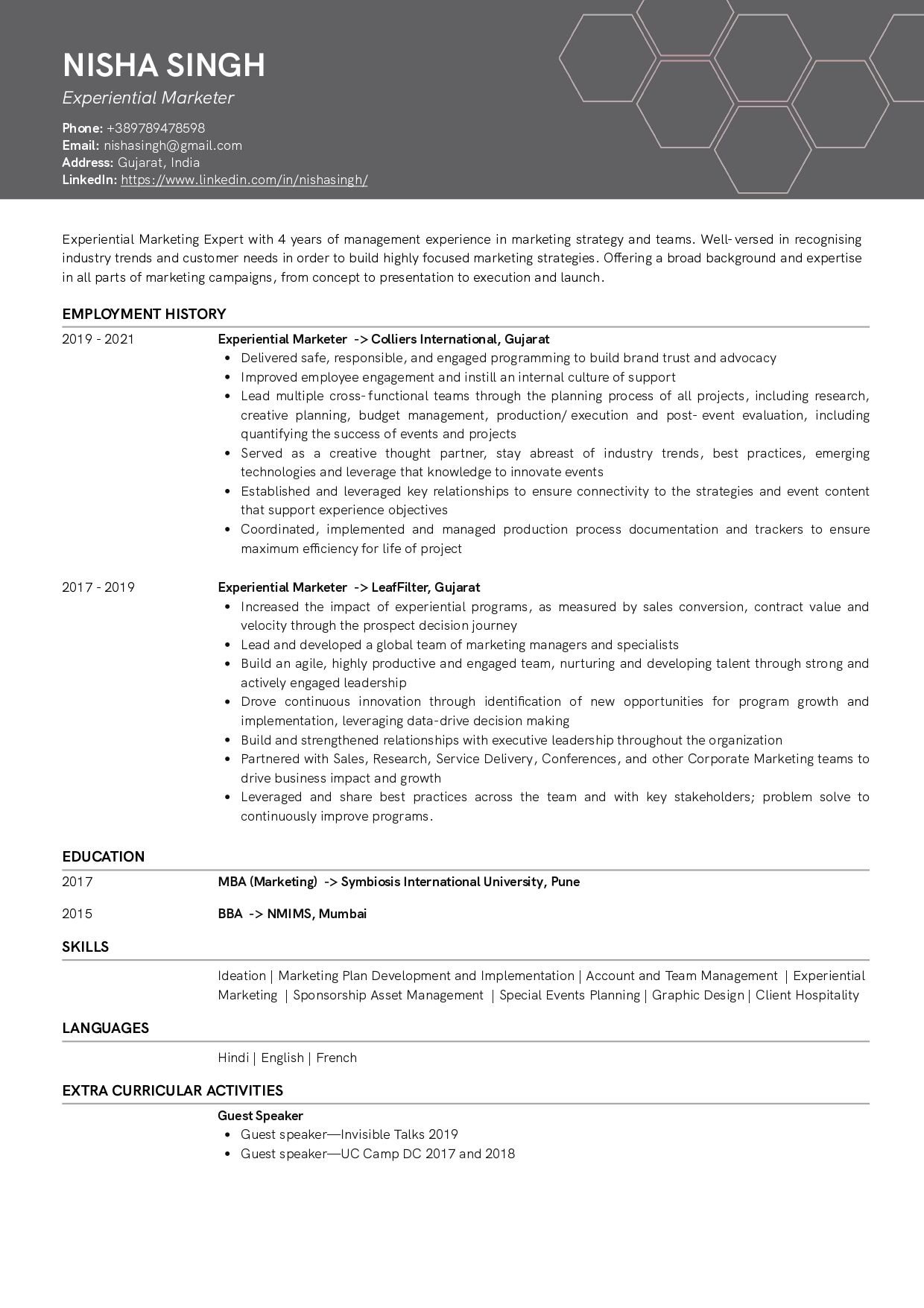 Check full resume of Experiential Marketer in text format here
Resume of Online English Teacher
Online teachers instruct and educate students of all ages all around the world using the internet, computers, and online tools. Online teachers provide instruction in every academic subject, based on the previous training and education they have already acquired.
Rashmi, besides being a teacher, is also a treasurer at the rotary club. This shows her skills in fundraising and budgeting. The involvement outside her job is also an indicator of her time management abilities. Both of these skills - budgeting and time management, complement her role as a teacher.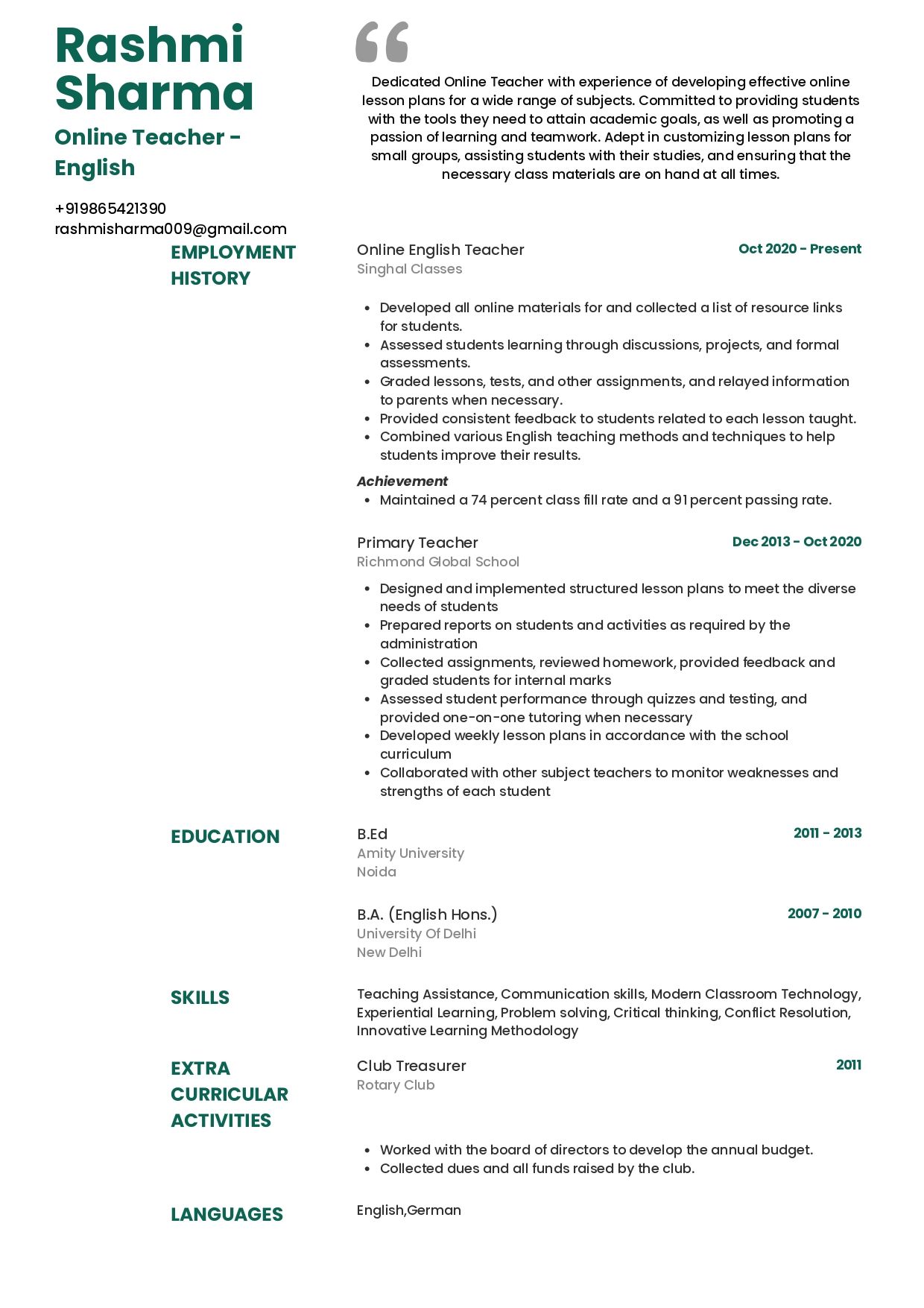 Check full resume of Online English Teacher in text format here
Resume of PR Coordinator
PR Coordinators manage the public image of the companies or clients they represent, intending to increase their media presence and overall popularity. They plan and execute publicity strategies and campaigns, oversee printed, broadcasted, and online communications, and perform relevant market research.
Even before starting his career as a PR Coordinator, he won an award for representing the country and was applauded for his creative writing capabilities. These both play an important role in his career.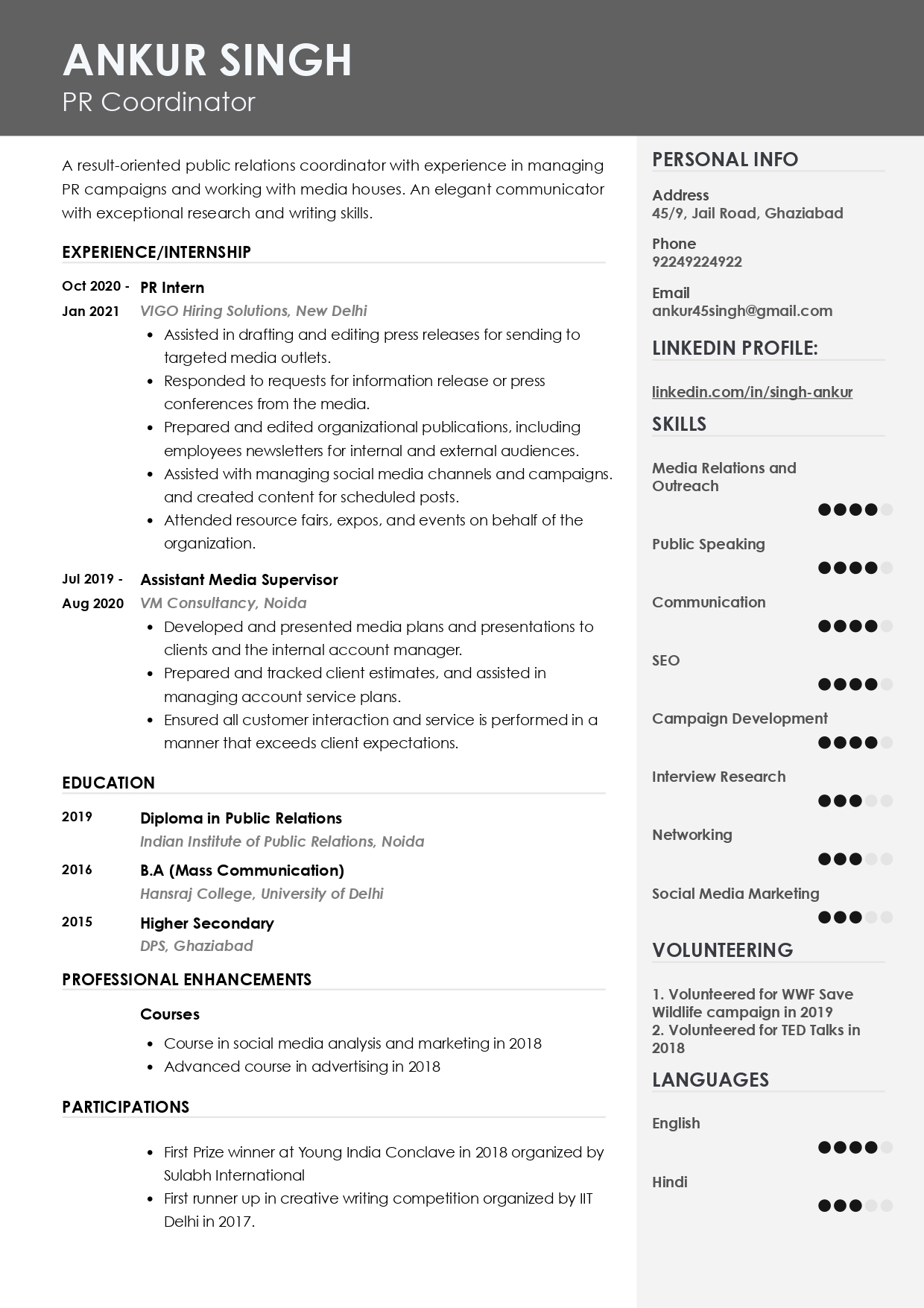 Check full resume of PR Coordinator in text format here
Resume of Fundraiser
Fundraisers often called Development Associates, work for the non-profit sector. They plan and organize charity, donation, and campaigns to raise funds for a specific cause. Development Associates work with various teams including research, digital media, communication, finance, and more.
A fundraiser's job requires continuous outreach, communication, and negotiation. Saumya developed these skills early on while she was the President of her college and cultural secretary before that. Both these roles required extensive networking, communication, and public speaking. Besides these, she also volunteered at various organizations, which shows her inclination towards the non-profit sector.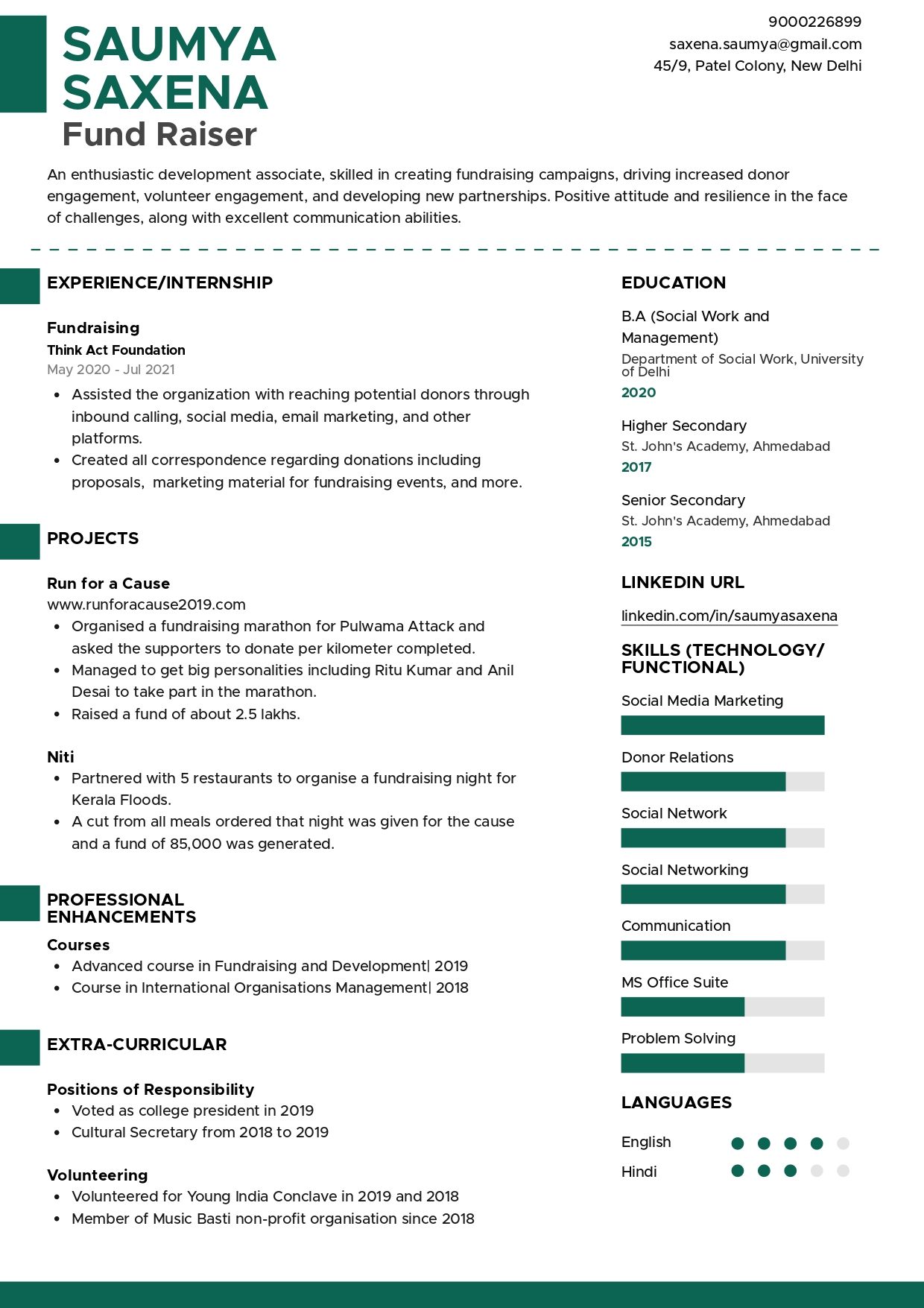 Check full resume of Fundraiser in text format here