All you Need to Know About Medical Resumes (with Examples)
A well-developed medical CV helps you summarise your skills and experiences comprehensively to help you apply for any consultant posts (job), general practice training, portfolio assessments, fellowships, and grants.
All medical professionals require a medical CV through the course of their careers. A well-developed medical CV helps you summarise your skills and experiences comprehensively to help you apply for surgical training, any consultant posts (job), general practice training, portfolio assessments, fellowships, and grants.
In this blog, you will learn: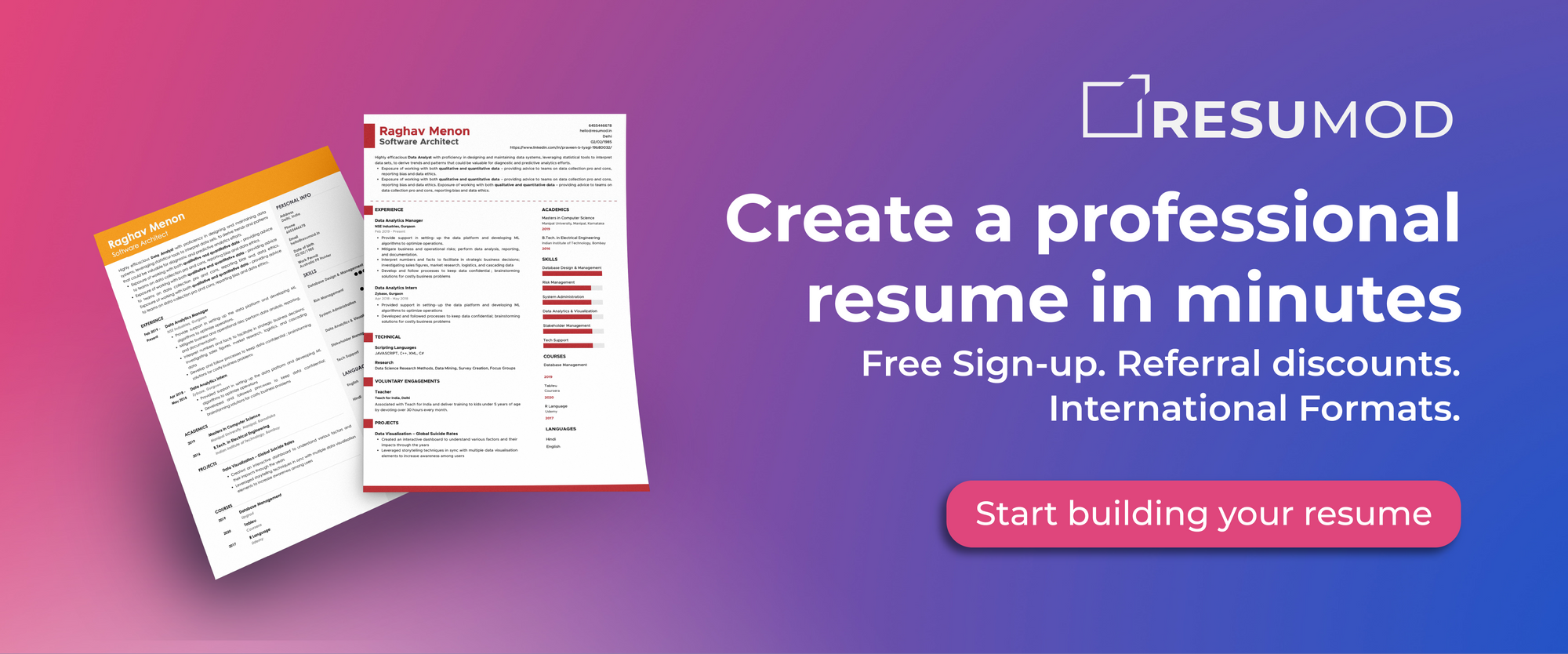 Who Requires a Medical Resume
Medical resumes are required by all professionals that provide and assist with delivering medical services. Here are is a broad list of professionals in the medical or healthcare space that require resumes.  
Medical Assistants and  Lab Technicians
Physician Assistant
Doctors
Medical Researchers
Nurses and Nursing Students
Medical Resumes on Resumod
Elements of a Medical Resume
A medical resume is different from resumes for other professions like marketing, sales, HR, IT, and more. Some sections that are important for a medical resume include:
Research
Publications
Awards
Seminars and Conferences
These sections play an instrumental role in establishing your authority and your ability to keep up with the latest developments in the field.
Other sections are similar to those for all resumes. Read on to know the details.  
Contact Details
Contact details are equally important as any other section in your resume. These include your email id, phone number, and location or address.
expert tip
Where to place contact details?
Place contact details on the top, where they are easy to find.
Resume Headline
A title or resume headline is meant to describe your specialization. It is placed at the top of the resume, with your name.
Summary
A summary introduces you to the reader. It is a brief about your strongest area of work, the crux of your experience, and your richest credentials.
Experience
This section describes what you did during your employment. Also include the details here if you have your practice or clinic.
To craft an appropriate experience section, list the name of the employer, tenure, and your designation.
Education
This is the place where you write about all your academics and academic achievements.
Mention the name and location of the institution, name of the degree, and specialization. Effectively utilize this space to briefly mention any distinction, scholarship, medal, or award related to academics.
Research and Publications
This section is the gateway to help you establish authority and show your interest in new developments.  Name the books and papers that you publish and include the link to any online library where you published your work.
Important Conferences
Many medical professionals miss out on this section or combine it with the education section. However, it is a good idea to create a different section for this because it helps in highlighting your active involvement in your specialization and your willingness to explore new vistas. While preparing this section, write about the name of the conference, its place (maybe online), and dates.
Awards and Accomplishments
These are an important part of any medical professional's career. In this section, mention the award you received, the name of the awarding body, the date, and why you received the award.
For instance, in recent times many doctors have been awarded and recognized for their contribution to battling the pandemic. Such achievements go in here.
Dos of making a Medical Resume
Keep the spacing and font consistent and avoid large chunks of white spaces.
Avoid any large white spaces as they demonstrate low attention to detail and a lack of information.
Use system-generated fonts like Times New Roman, Calibri, and Ariel, as these fonts are easily readable and available across all software, devices, and operating systems.
The ideal length of your resume depends on your experience and profile. It is not suggested to extend more than 3 pages even if you are a senior level medical practitioner
Try to keep the sentences short and to the point. Directly write what you want to convey. Writing long sentences may confuse the reader.
Use Reverse Chronological Order to highlight the most recent achievements and other aspects of your career.
Maintain consistency in using alignments, font size, font colors, and spacing.
expert tip
How many fonts should you use?
Use only two font sizes in your Resume.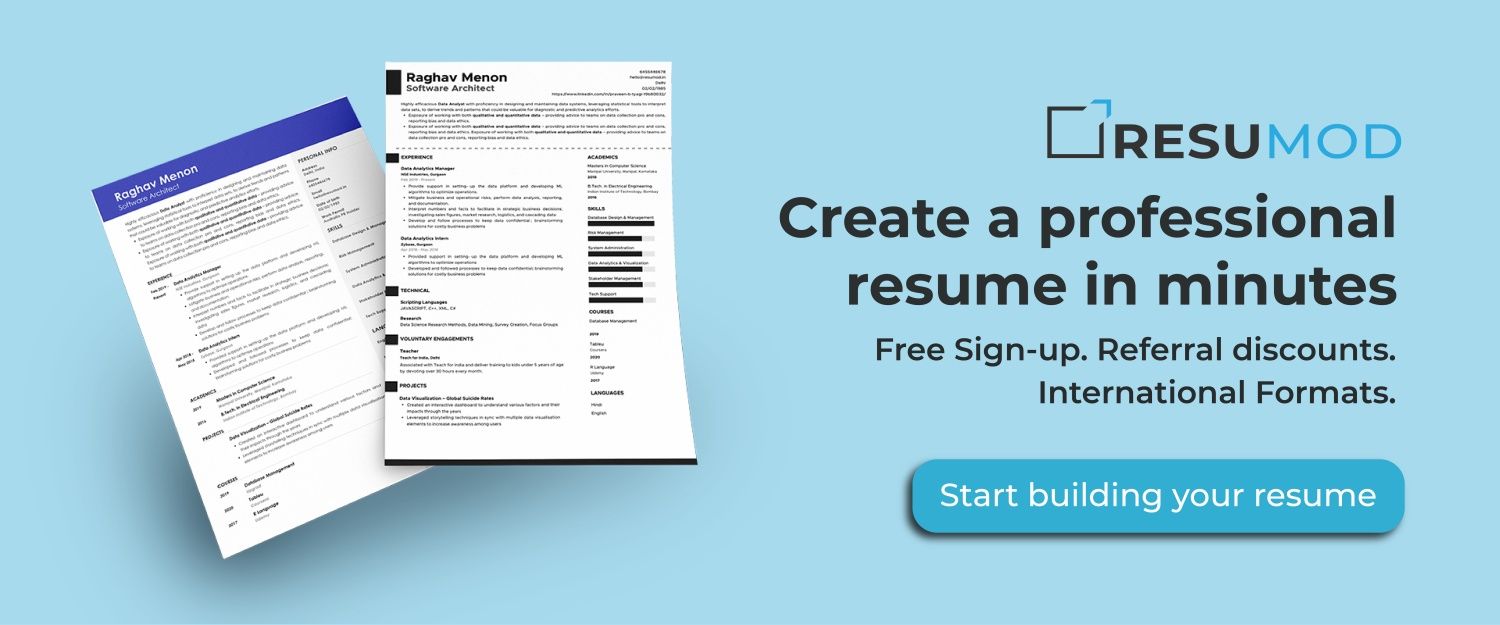 Don'ts of making a Medical Resume
Avoid Usage of Personal Pronouns like I, me, and my. These make the resume look less professional and sometimes divert the reader's attention from the point you are trying to make.
Do not make any grammatical and Spelling Errors as they demonstrate a lack of attention to detail
Abstain from mentioning Personal Details like height, weight, religious orientation, and marital status. These do not help you with attaining that job or grant you want to.
Mentioning wrong or misleading information puts you in a bad light and further reduces your chances of being hired.
Medical Resume Examples
Resume of a Radiologist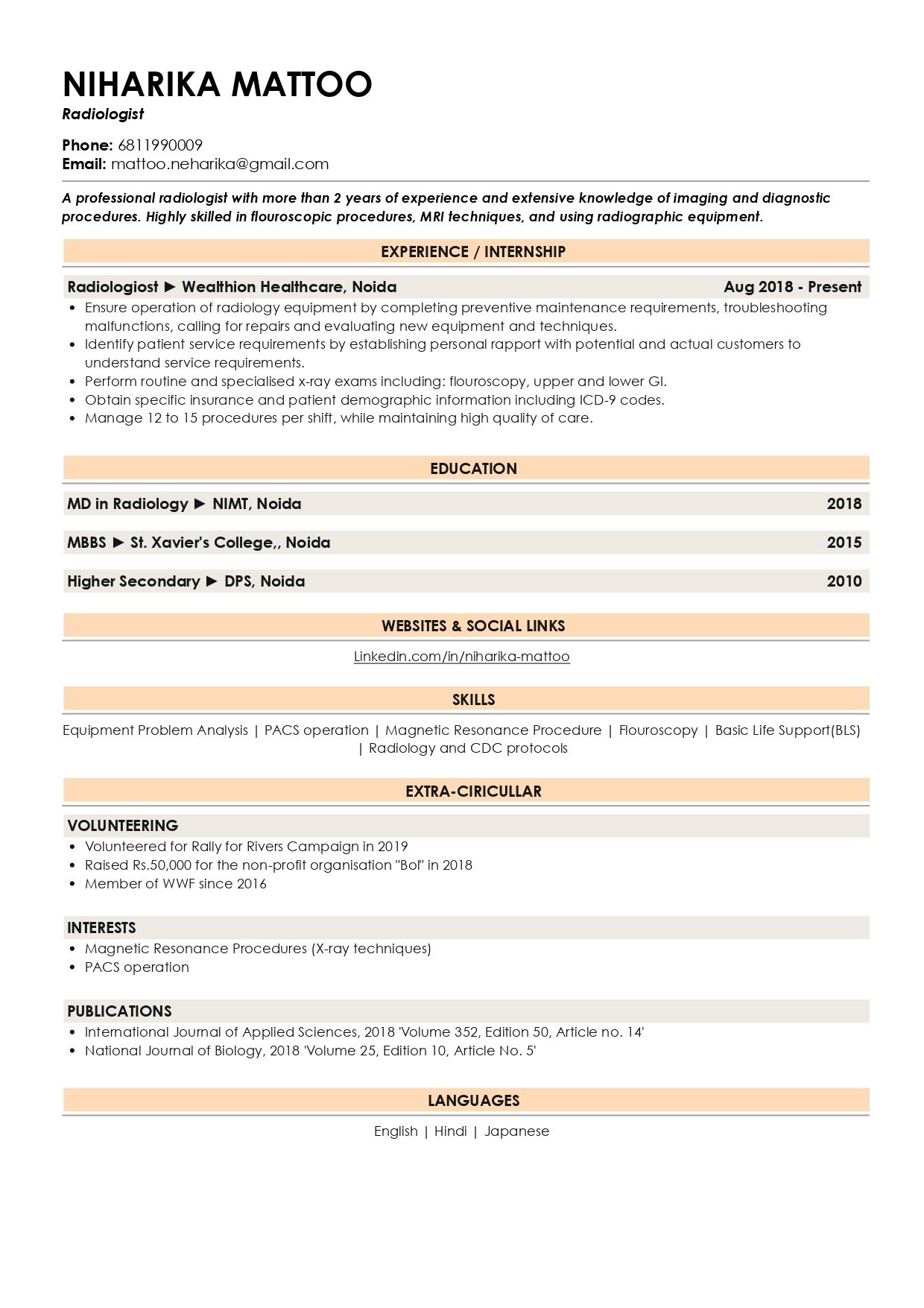 Click here for full resume in text format
Resume of Physiotherapist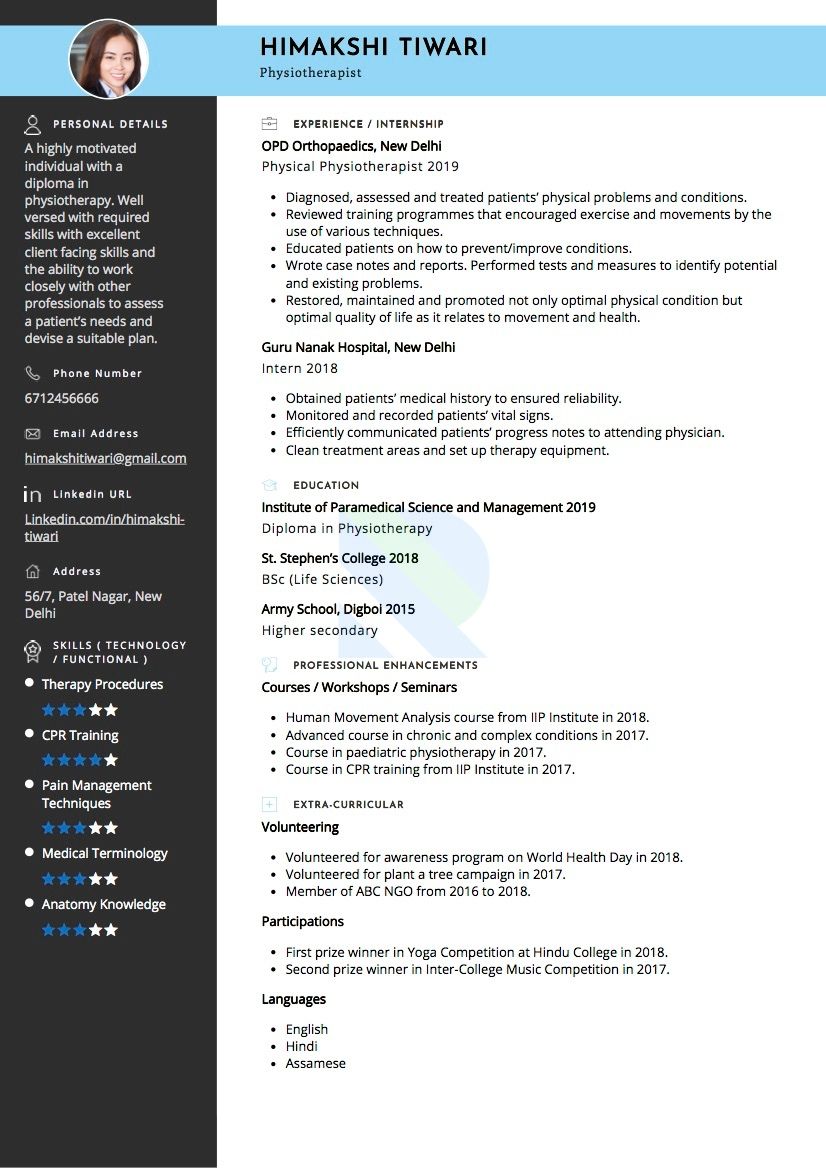 Click here for full resume in text format
Resume of Medical Lab Technician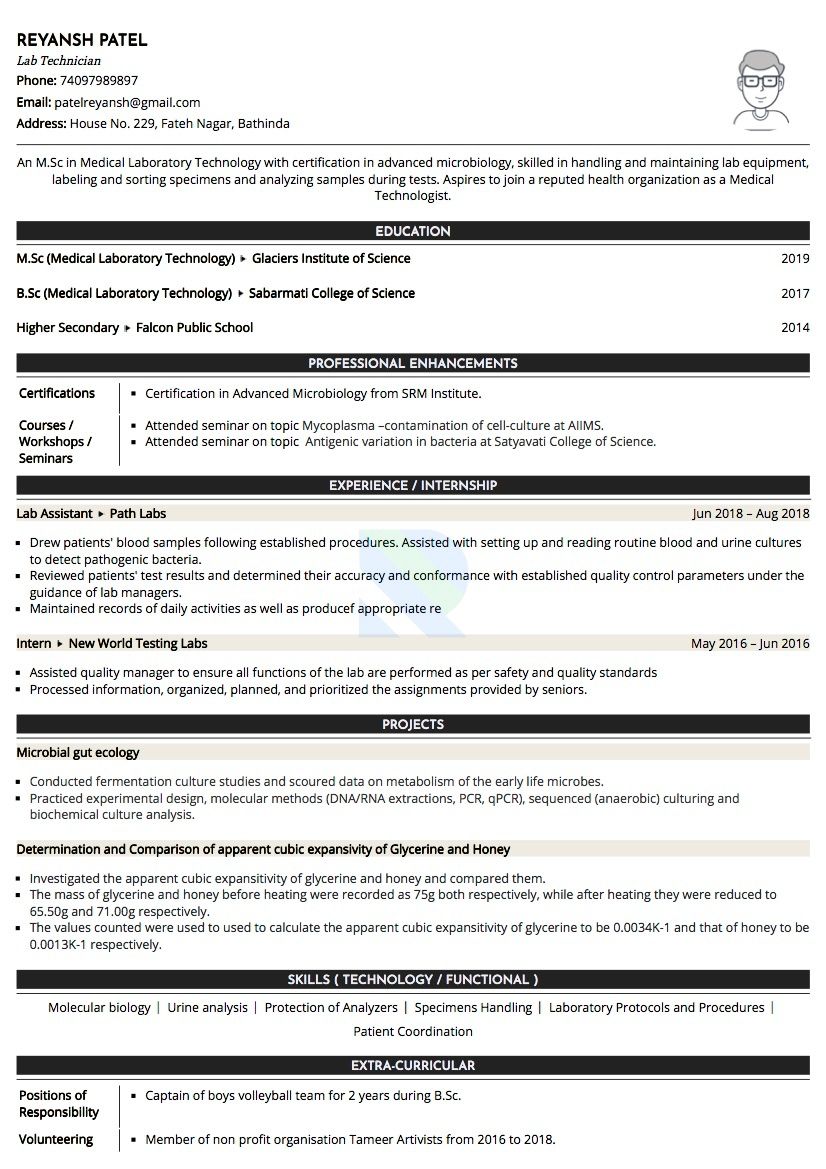 Click here for full resume in text format
Resume of Medical Billing Specialist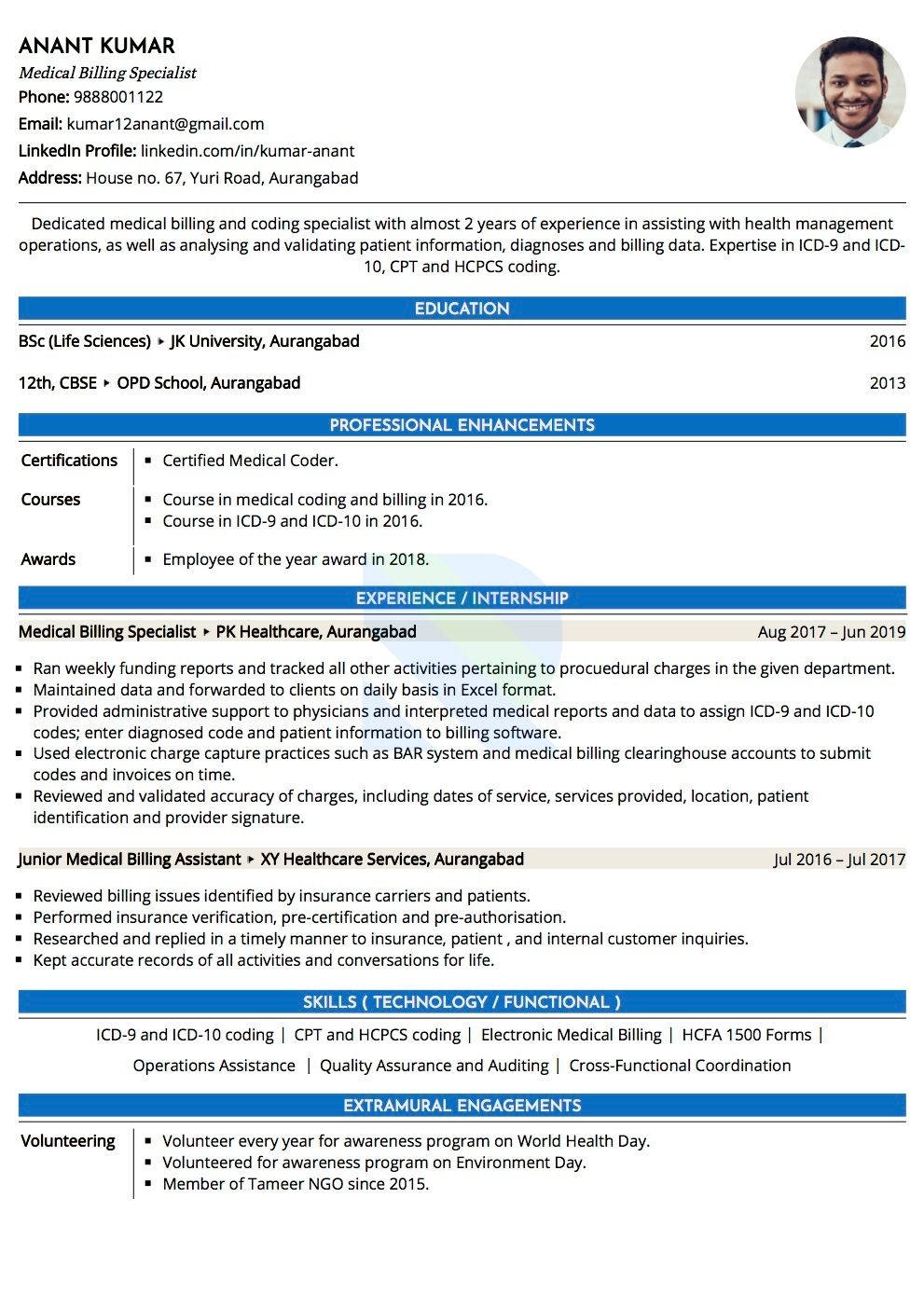 Click here for full resume in text format
---
This blog was first published on the Resumod Blog. If you like our content, do share it with your friends
Click here to make your medical resume now