Writing a Teacher's Resume [4 Examples]
With a large number of applicants for a single role, it is crucial to make your teaching resume stand out. In this blog, you will learn about:
Teachers are the backbone of any academy institution. Therefore most institutions follow a stringent recruitment and selection processes for teachers with an aim to ensure high quality of education.
With a large number of applicants for a single role, it is crucial to make your teaching resume stand out. In this blog, you will learn about: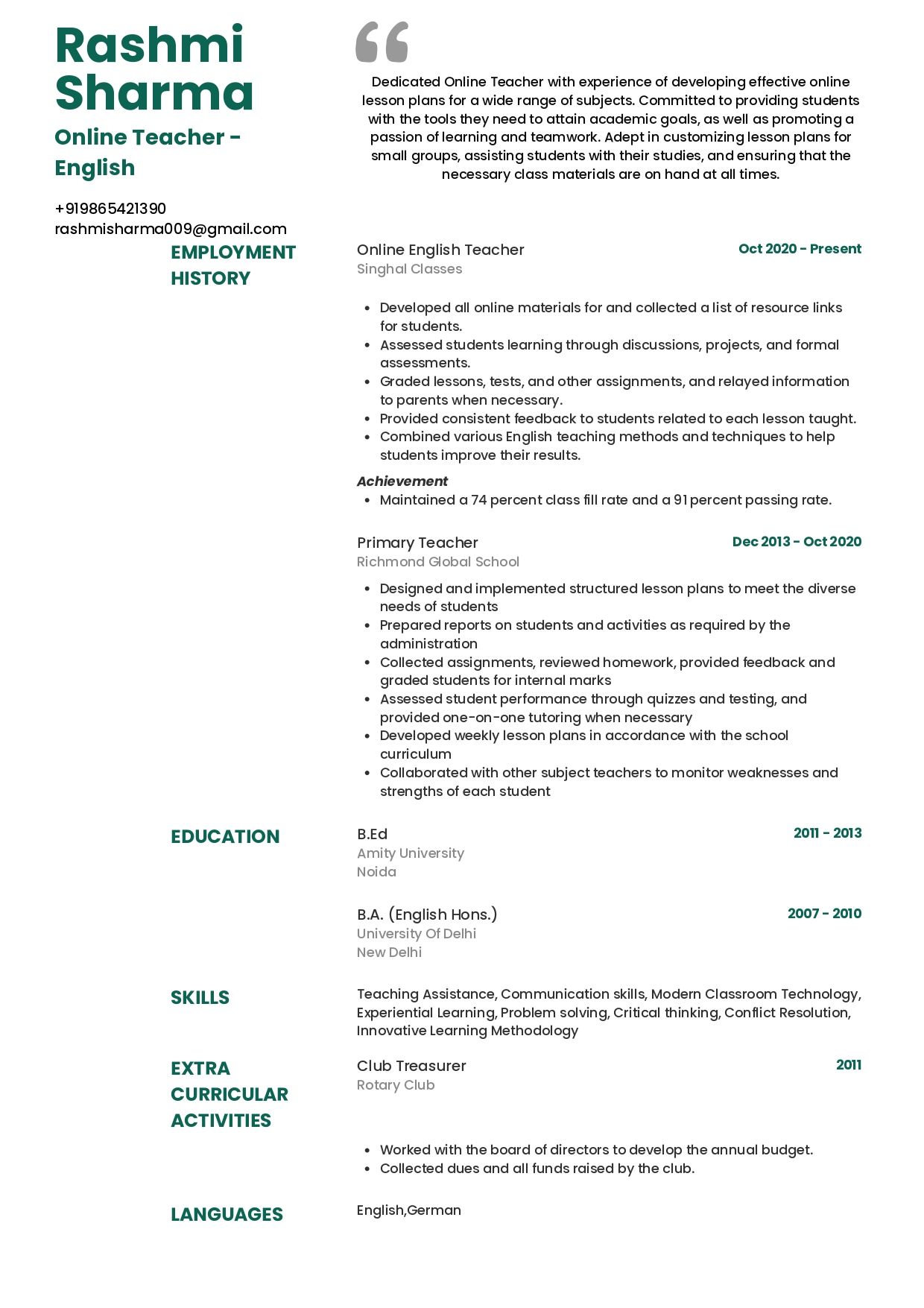 Various Sections in a Teacher's Resume
Headline
A resume headline informs the reader about your expertise. It tells the reader what your resume is going to be about.
If you are a teacher,  you can mention the following things in your headlines
Educational Qualification
Subjects you teach
The classes you teach
Years of Experience
Some examples of headlines for a teacher's resume include:
Online Tutor - Talks about where you teach
Teacher TGT - Informs the reader of the classes you teach
Online Teacher - English - Talks about your subject knowledge and the mode of instruction
Chemistry Teacher - Reader instantly knows your expertise in the subject
Summary
A summary in any resume is written with a view to describe your capabilities and the results you've generated. It is the best place to inform your prospective employer about what you can do for them and why they should hire you.
An ideal summary in a teacher's resume should include:
Past teaching experience and classroom skills
Educational achievements or any new courses that you have taken to upskill
Any big project you have been involved in
Any particular instructional style that you have practiced and bore fruitful results
Soft skills like communication, presentation, time management and work ethics among others
Experience
Include each job title, company name, company location, and date range you worked while writing the job descriptions. Use this section judiciously by penning down all that you have done in your career. Remove things that are recurring.
Some tips for writing an experience section in a teacher's resume:
Mention the classes taught and class size
Write about any outside teaching initiatives
Start with action verbs and use small sentences
Keep it simple and to the point
Education
The importance of this section in a teacher's resume is unparalleled to that of any other professional.
Here's why
Mastery in a subject is pivotal for a teacher. And your level of education is a way to show that
Teachers require certifications or degrees to enter the vocation. This is the section where you mention those
Your own academic performance is also used as a benchmark of your knowledge of the subject
What to include in the education section:
Name of the degree
Year of completion
Name on institute
Any award or medal
expert tip
How to make your education section stand out?
Show your marks in your qualifications if they are outstanding, or make you stand out.
Skills
A teacher is not only responsible for the academic development of the student but also for modeling behavior, developing critical thinking capabilities, and fostering creativity.
These can be only achieved through a combination of both hard and soft skills. Strike a balance and include both.
Continue reading to get a list of skills that you can use in your Resume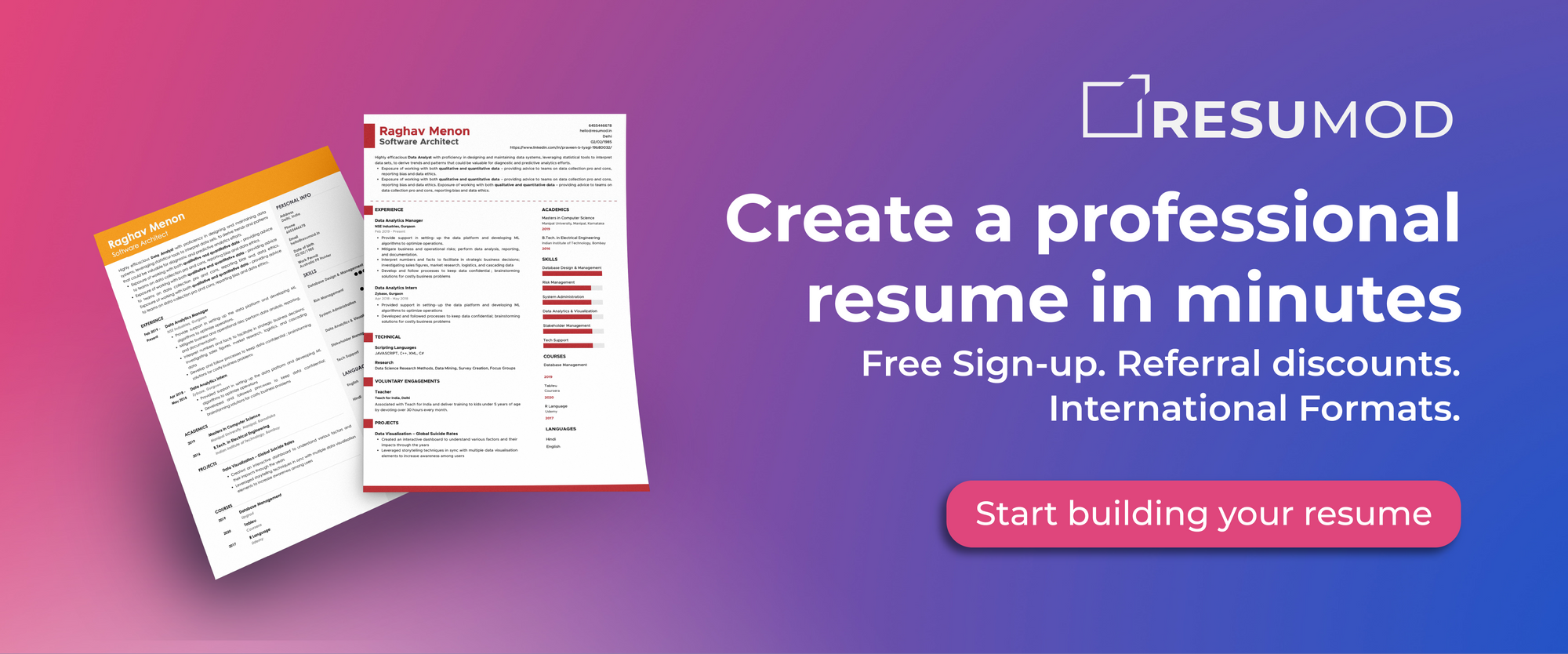 Tips to create a Teacher's Resume
Write About your Subject Matter Expertise
Your subject knowledge is a key factor in getting employed, especially if you teach middle or high school students.
Mention your subject in the headline and also in the experience section with the job title.
Follow Reverse Chronological Order
You will find many formats on the internet very appealing. Don't hesitate in choosing a creative template but always follow reverse chronological order.
It makes it easier for the recruit to assess your capabilities and shows how you've grown as a professional.
Tailor your Resume for Each Job
Every school or institute has different expectations from a teacher.
Though the core job of mentoring students remains intact, there will be varied requirements from all employers.
Go through each job description carefully, eliminate what is not required, and add what you might have missed.
Mention Achievements other than Teaching
A teacher is expected to do much more than just tutor students.
A teacher's job also includes helping students with extracurriculars, ensuring proper behavior, organizing activities for the school, and performing administrative duties.
Make sure that your resume talks about these and how you've generated results in these areas.
Skills to Include in a Teacher's Resume
Lesson Planning and Delivery
This skill almost sums up a teacher's role in developing a student's academic capabilities.
Write about how you executed a difficult lesson and the results it generated.
Classroom Management
As a teacher, you are expected to be a pro at this skill. An effectively managed classroom will lead to better performance and student development.
You also mention the classroom size here.
Ability to Adjust with varied backgrounds
A classroom is made of students from varied cultural and social backgrounds. Your ability to effectively work with students with different levels of understanding is of utmost importance for any school.
Communication Skills
You don't only communicate with students, but the entire school community that includes parents, other teachers, and school staff.
Schools and institutes function collaboratively, so this skill is of prime importance.
Administrative Capabilities
Maintaining records, liaising with staff, managing supplies go hand in hand with a teacher's job.
Even if you are teaching in an online space, some kind of administrative work and basic record keeping will be a part of your job.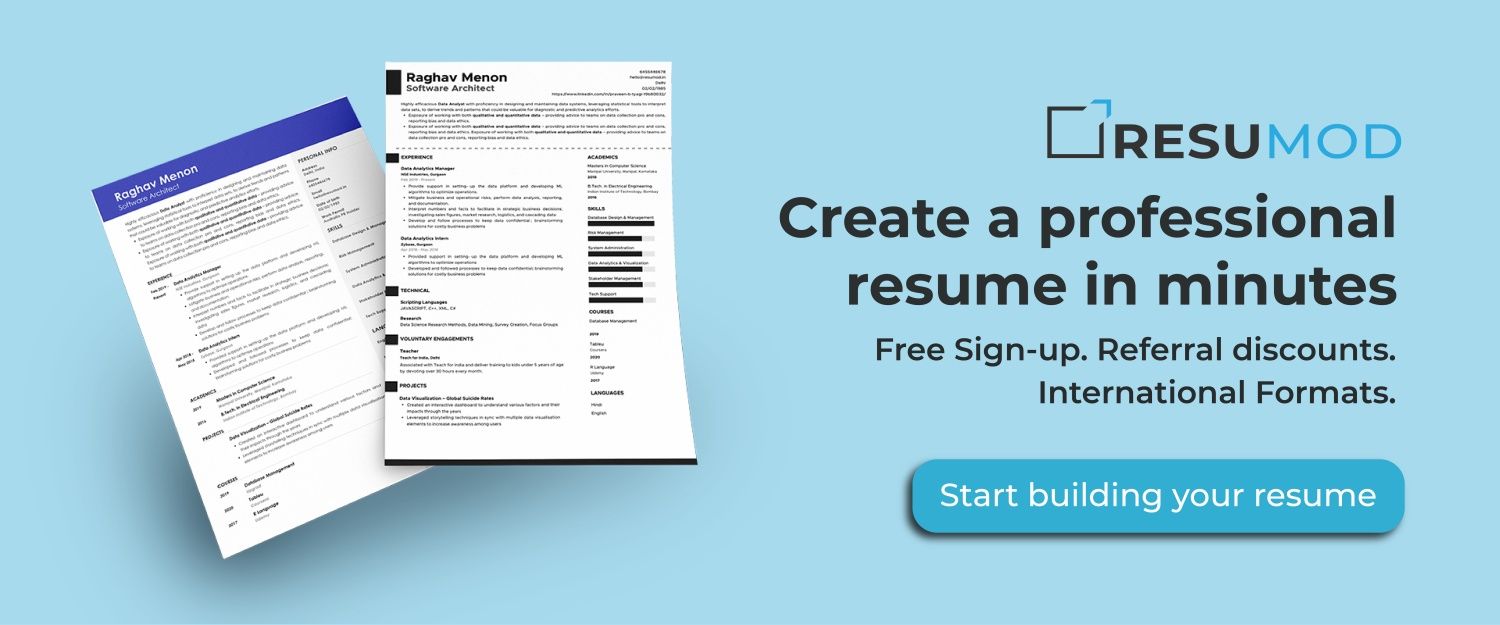 List of Skills Required for a Teacher's Role
Student Engagement
Creative Lesson Delivery
Non-Academic Development
Liaison and Coordination
Assessment Planning and Evaluation
Mentoring and Leadership
Online Teaching
Lecture Delivery
Student Grading
Homework Assessment
Teaching pedagogies
Test Preparation
Concept Building
Communication
Patience and motivation
Classroom Moderation
Subject Matter Expertise
Examples of Teaching Resumes built on Resumod
Resume of TGT Teacher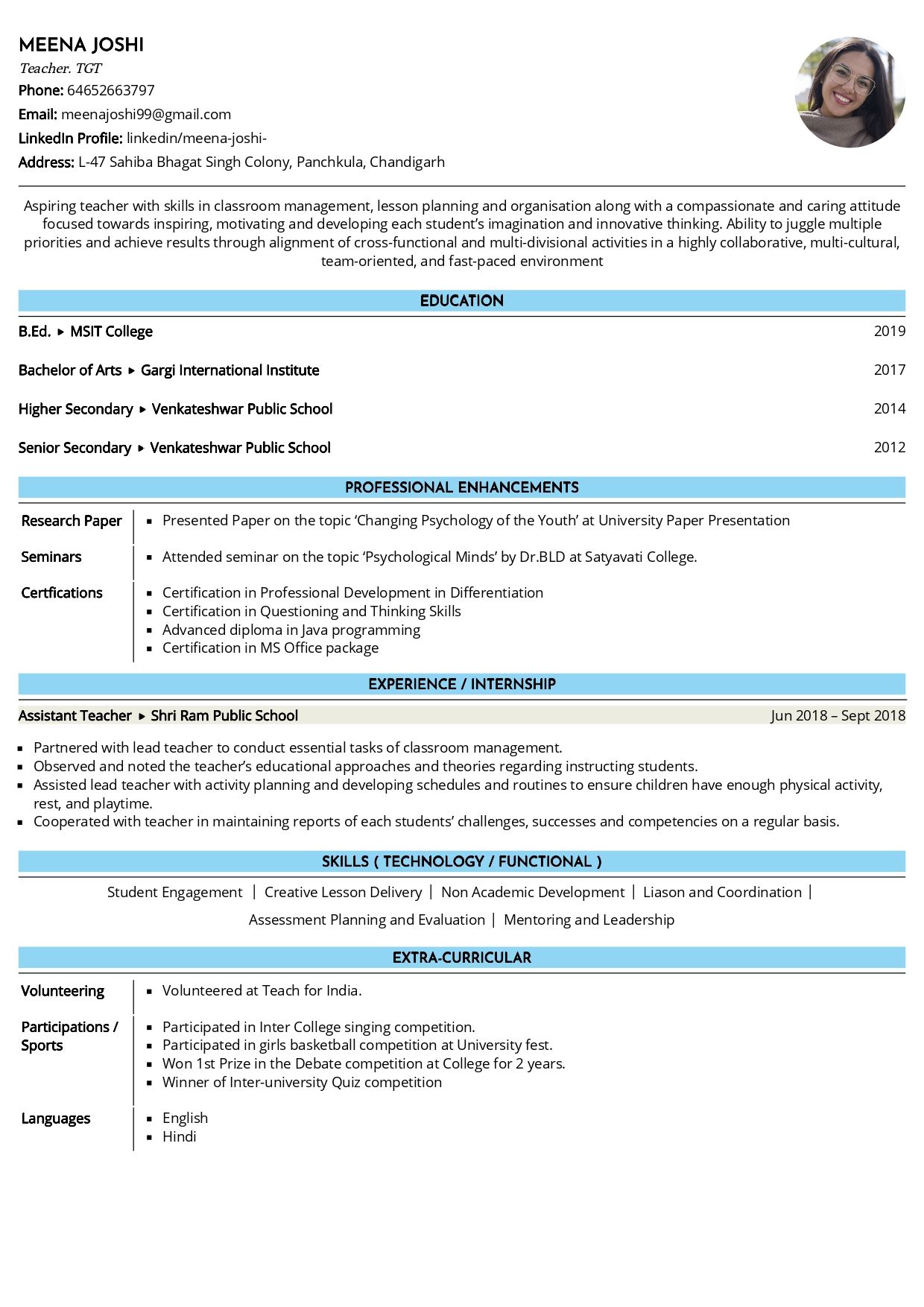 Resume of Online Tutor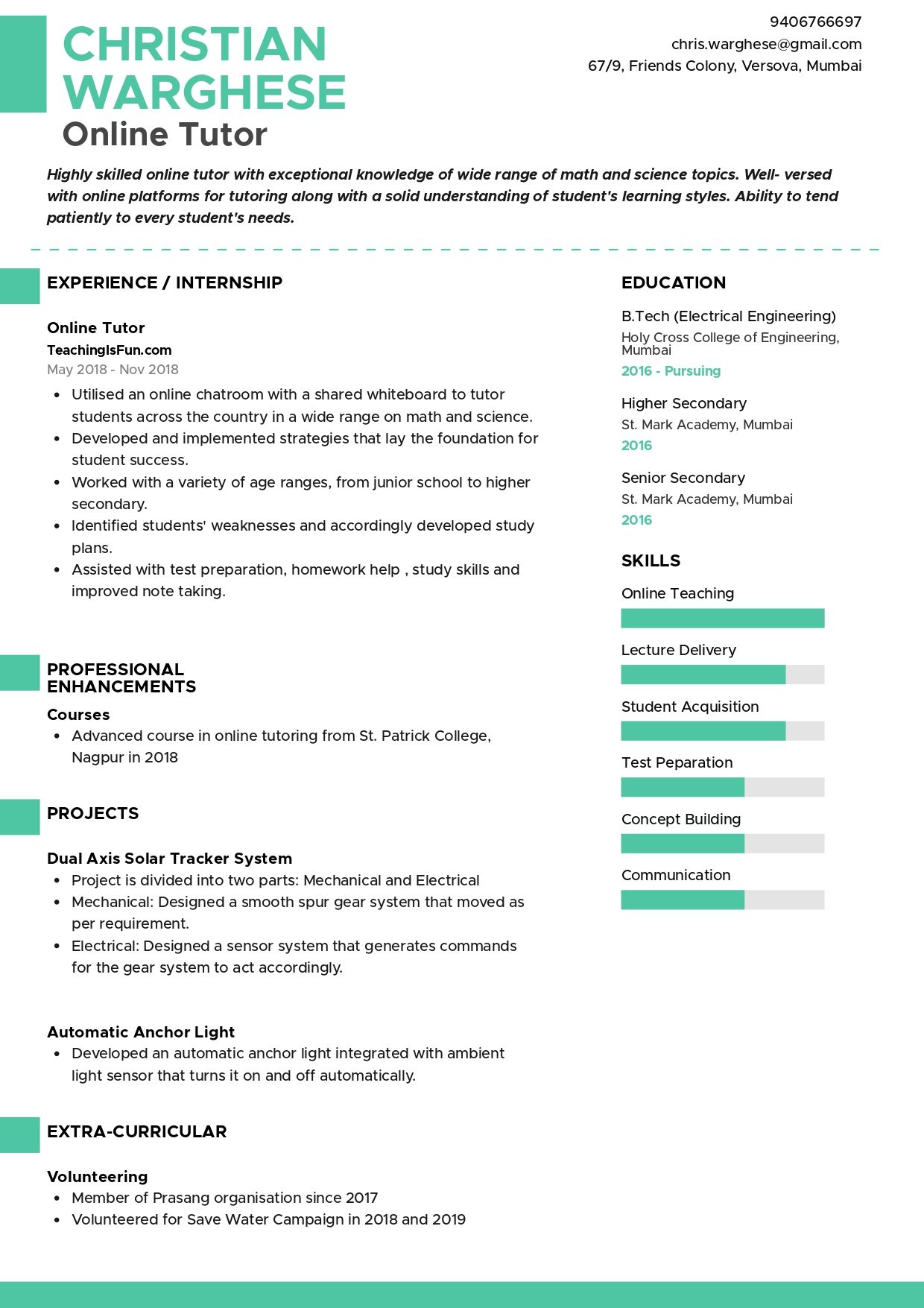 Resume of Chemistry Teacher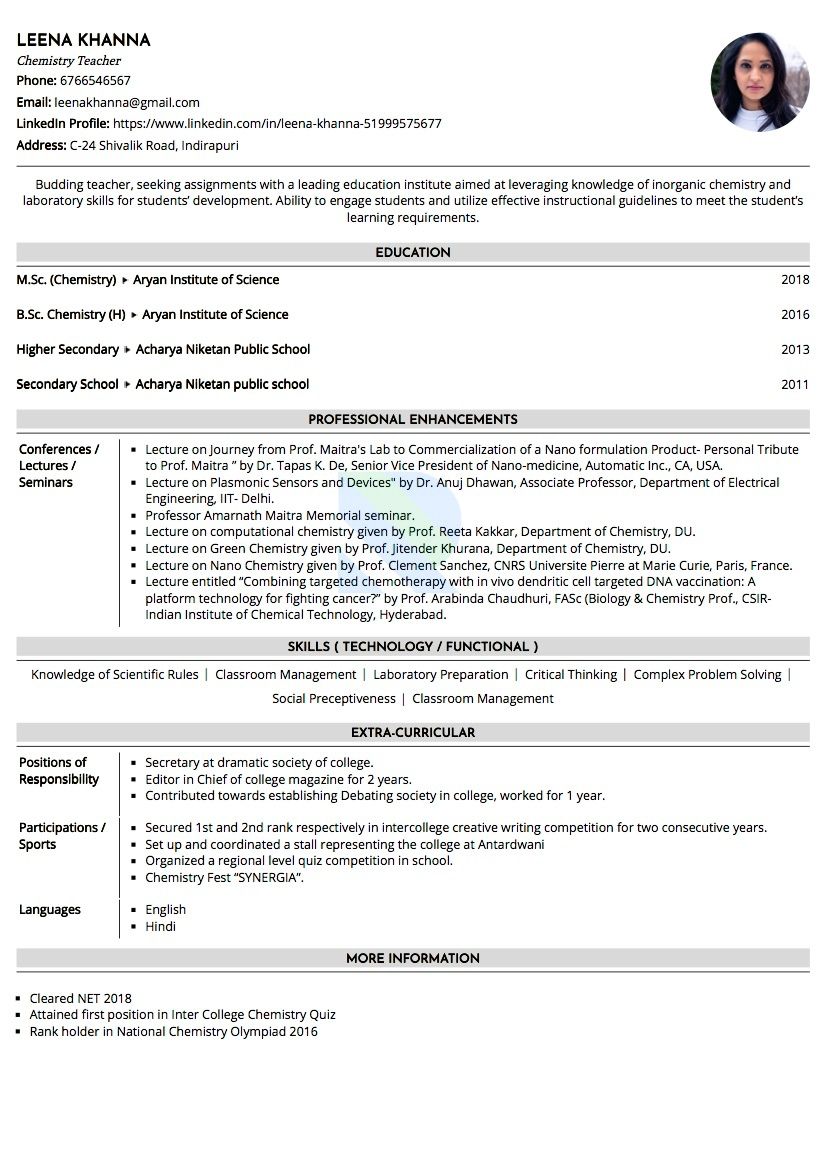 ---
This blog was first published on the Resumod Blog. If you like our content, do share it with your friends.
Click here to make your Teaching Resume now