How to write Work Experience in your Resume, including job descriptions [20+ Examples]
An experience section as the name suggests lists out your employment. It is made of employment details of all or some of your most significant employments.
A resume works in your favor to get you your ideal job by describing your skills, qualifications, and the results you have brought.
But which section makes the most impact?
It is the experience section of your resume.
With lists and details about your jobs, the experience section is what employers look at the most in your resume.
As a job seeker, it is one of the most valuable sections for you because:
You have space to put in the most relevant parts of your career
Being descriptive in nature, it gives you room for adding the most relevant keywords
You can easily optimize it as per your future job requirements
Job descriptions for the experience section are the easiest to make, as you know what you have done. Follow this post to learn about
Various aspects of an experience section
An experience section of the resume, as the name suggests, lists out your employment journey. It is made of employment details of all or some of your most significant employments.
Now what does it contain:
Job/Position Title: What is the role you were hired for. For instance, Marketing Manager, Content Writer, Software Engineer
expert tip
How many employments to list in your Resume?
Write about the last 10 years of experience in detail, and provide a brief list of all experiences prior to that.
Dates of employment: These include the month and year of your joining a particular job and the month and year of finishing it.
Name of the employer and location:  Mention the name of the company you worked for, followed by the location of your office. IF your company is headquartered in the USA, but they have an office in India, where you work. Your location would be the city in India.
Job description: This is what you did during the job. This is the most extensive part of your entire experience section.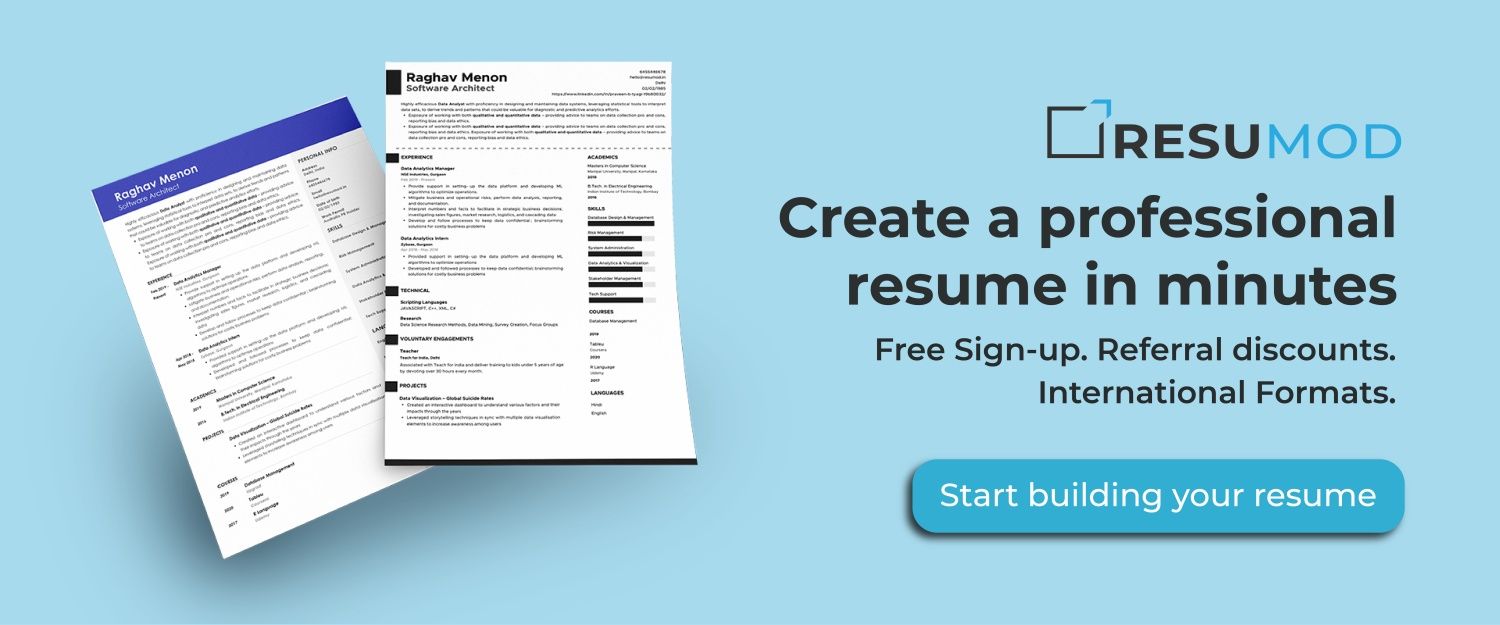 Where and How to place the Experience section
It is usually placed just below the skills and summary section. There are three ways you can format the experience section of your resume.
Reverse Chronological
In reverse chronological order, you list the most recent job first and work it back in time. To put it simply, your first employment will come at the end of the experience section.
This is the most preferred format for writing the experience section.
Why it works:
Lists most recent achievements and skills on the top
Shows how you've evolved in your career
Plays an important role in demonstrating that you are updated with the industry trend.
Functional
Functional means listing your experience basis the type of work you do. This format is independent of chronology
When to use it:
You are looking for a career change and what you did in the past resonates moe with your potential job
If you have gaps in your employment history
Chronological
In a chronological format, you list the events or employment in the sequence it occurred. Your very first job will be on the top.
This is the least used format. Here's why:
You do not need the employer to know what you did year's ago
Your first job might be irrelevant to your present role and what you are seeking.
Employers want to know what you are doing right now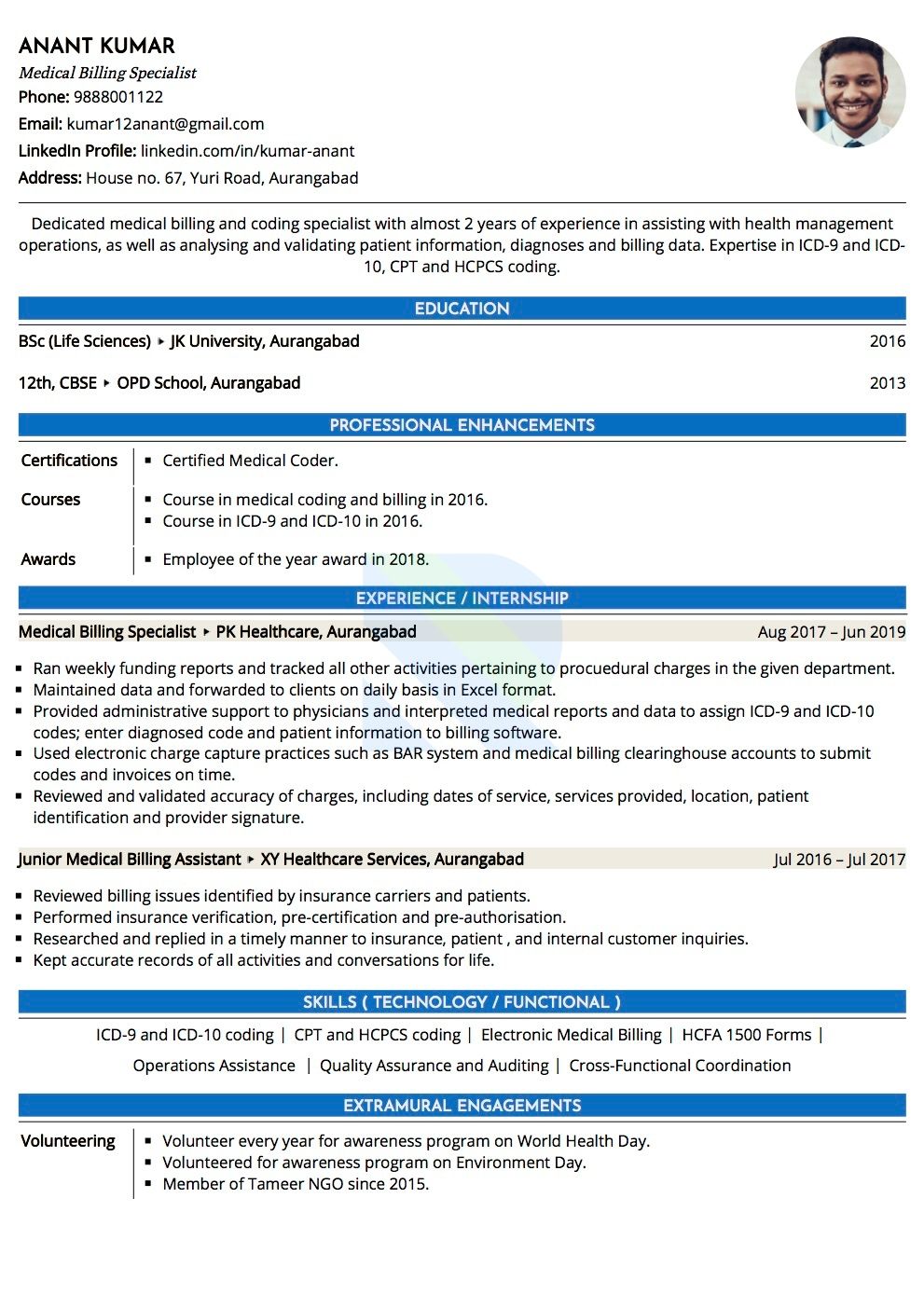 10 Tips to write job descriptions
It can sometimes be tricky to put your data across in a consolidated yet comprehensive form.
Here are some tips to help you write job descriptions that catch the recruiter's eye.
Follow a Consistent Pattern for all job descriptions
The formatting for all job descriptions should be the same across the entire resume. If you are writing your designation first, it should be on the top for all your employments.
Ensure Proper alignment and spacing
You may write the most impressive and impactful job description. But it is incomplete without proper formatting and spacing.
Leave appropriate and consistent space between the two job descriptions is extremely important to make your resume look structured and readable.  
Do not overcrowd with information
Let's say you are with a company for more than 5 years, you have wrecked on multiple projects, working with several high ticket clients and there are numerous results to showcase, and your role is broad. You have a lot to write.
But saying it all may downplay you. Even if your role is broad, and there is a lengthy list of responsibilities, pick the few that are most relevant to your new prospective role, or those that best demonstrate your strengths.
Be to the point and specific
Being specific here does not only mean puling out information that is not adding value.
It also implies not making your sentences verbose or beating around the bush.

expert tip
How to make the content easy to glance?
The best way is to keep one line sentences as they are easily comprehensible .
Include relevant keywords
You've cut down the data that is not required and you've also made your sentences short and sweet.
Now is the time to add some value.
Add relevant keywords in all your job descriptions. Each of the job descriptions has at least 4-5 points, which gives you enough space for dropping in industry-relevant keywords.
Quantify information
Quantifying information means making it result-driven, and adding figures.
It involves adding numbers and insights that show what you have done for your employers and you have the ability to achieve similar results for your potential employer too.
Example:
Unquantified: Served food and drink and took orders in a fast-paced restaurant
Quantified: Served in a 300-seat restaurant, handling up to 5 tables at a time in a fast-paced restaurant
Use bullets and short sentences
To make your resume easy to read and understand, use bullets and short sentences.
Paragraphs make your content look bulky even it is not. Bullets add structure to it.
Short sentences make it easy to glace.
Example:

Talk more about work that relates to your target job
You've been in your career for a long now. You know a lot and you are having a difficult time squeezing all of it in a page or two.
But you don't need to.
Pick up the highlights and what you require the most for your potential role. And you will have limited yet impactful content for your job descriptions.
Refrain from talking about soft skills
Soft skills are as important as your core or technical skills. But job descriptions or the experience section is not the right place for them.
Why?
Soft skills can be developed over time
They compliment your ability to generate results but they actually don't, barring dome jobs like customer service
Instead, talk about the results you've generated and how.
The right place to show your soft skills is the interview table.
Start sentences with action words
There are many ways to start a sentence. You can simply demonstrate your abilities, without using action words.
But verbs or action words help to create an impact when you're delivering information to another reader. They show what you have already done rather than what can you do.
Example:
Welcome over 50 guests daily and respond to all inquiries. Book and schedule appointments for more than 100 clients every week via phone, email, or in person. Ensure proper upkeep and appearance of the front office.
Develop front office schedules on monthly basis, and track employee attendance and vacations.
Maintain inventory of products/supplies, and work with nurses and physicians to set up treatment rooms.
Monitor pre-purchased services/products by clients. Prepare charts for 30 patients with upcoming appointments.  
expert tip
Whare the keywords to start bullet points?
Use Verbs Like Managed, Trained, Recruited, Saved, Created, Developed, Sold, Arranged To Start Your Bullet Points –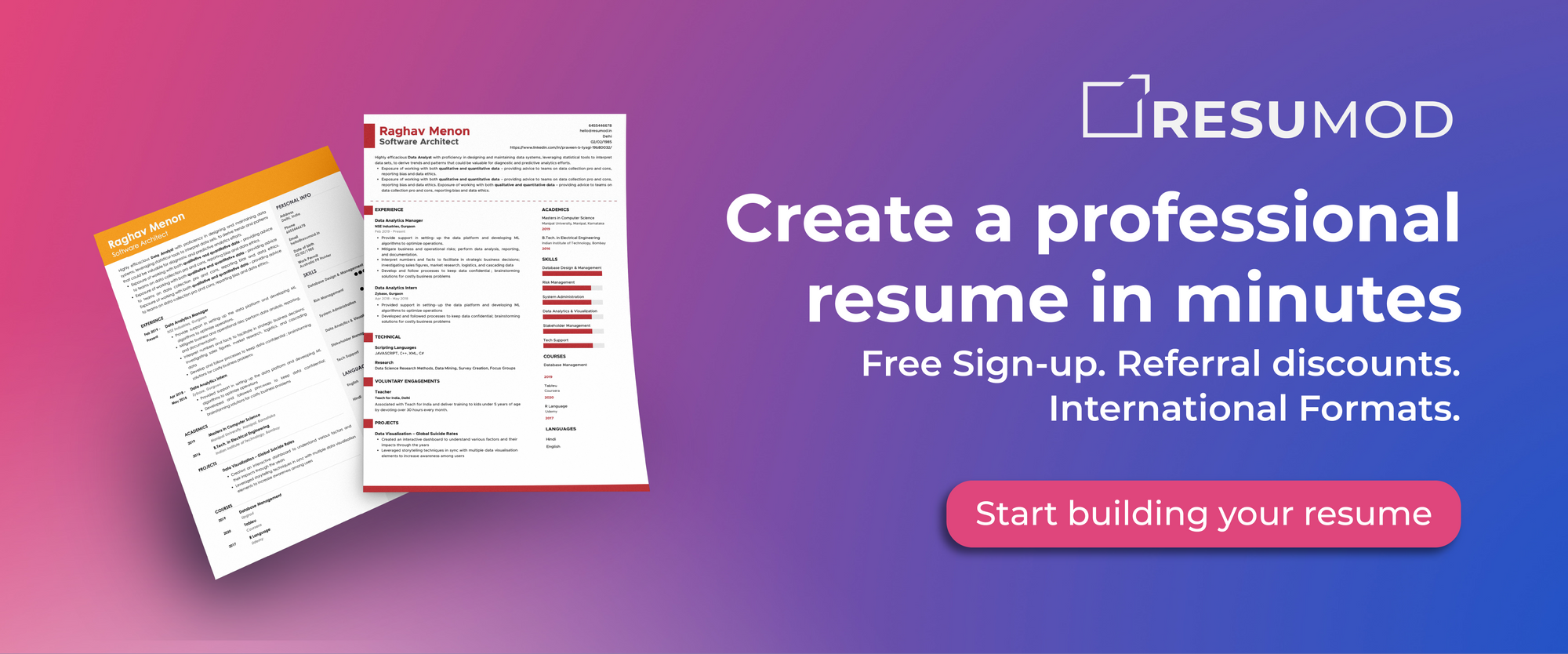 Examples of Job Descriptions for common Jobs
Job Description of a History Professor
Delivered lectures to undergraduate and graduate students on topics such as ancient history, postwar civilizations, and the history of third-world countries.
Assessed individual strengths, weaknesses and opportunities of each student, addressing issues as needed.
Maintained working knowledge of state-set standardized tests and prepared students to take and pass each, instilling confidence in their capability to demonstrate knowledge gained during the school year.
Facilitated classroom discussions and encouraged the participation of all students, incorporating relevant reading and current events
Click here for the full resume of History Professor in text format
Job Description of a Radiologist
Ensure operation of radiology equipment by completing preventive maintenance requirements, troubleshooting malfunctions, calling for repairs and evaluating new equipment and techniques.
Identify patient service requirements by establishing personal rapport with potential and actual customers to understand service requirements.
Perform routine and specialised x-ray exams including: fluoroscopy, upper and lower GI.
Obtain specific insurance and patient demographic information including ICD-9 codes.
Manage 12 to 15 procedures per shift, while maintaining high quality of care.
Click here for the full resume of Radiologist in text format
Job Description of a Human Rights Lawyer
Represented the corporation in matters involving human rights breaches, such as political detainees, child abuse, unfair labour practices against women employees, and government service access.
Advised clients in handling agreements and settlements by thoroughly presenting the case to them and educating them of their privileges.
Published and reproduced newsletters, brochures and pamphlets advocating human rights and exposing human rights violations.
Collected evidence through investigations and thoroughly reviewed details in lieu of legal matters and provisions.
Ensured both parties' agreements, payments, and settlements were carried out properly.
Handled community relations activities with community groups and participated in meetings as a resource person making speeches to large assemblies.
Click here for the full resume of Human Rights Lawyer in text format
Job Description of a Customer Service Professional
Analyze and scout opportunities for service improvement through regular quality call checks, phone metrics, and relevant KPIs. Provide regular feedback and corrective action to supervisors and representatives.
Develop and maintain departmental budgets, and ensure the department meets financial goals and objectives.
Create customer surveys to track customer satisfaction.
Handle escalated customer complaints, and ensure proper resolution. Hire and mentor employees. Manage workload and ensure compliance with company directives.
Achievements:
Reduced TAT for managing escalations from 24 hours to 16 hours. Brought down customer service staff turnover by 50%
Click here for the full resume of Customer Service Professional  in text format
Job Description of a Systems Engineer
Installed and maintained client networks and workstations ranging from small (10 workstations) to large (2 workstations).
Provided technical support for voice and non-voice data networks.
Performed duties such as configuration and maintenance of network services including web servers, and FTP on both Windows and Linux.-based environments.
Executed software and hardware upgrades as scheduled,  including emergency roll-outs.
Click here for the full resume of Systems Engineering Intern  in text format
Job Description of a PR Coordinator
Assisted in drafting and editing press releases for sending to targeted media outlets.
Responded to requests for information release or press conferences from the media.
Prepared and edited organizational publications, including employees newsletters for internal and external audiences.
Assisted with managing social media channels and campaigns.  and created content for scheduled posts.
Attended resource fairs, expos, and events on behalf of the organization.
Click here for the full resume of PR Coordinator in text format
Job Description of a Telemarketer
Accomplished with a persuasive and confident approach.
Scheduled appointments for sales executives to meet with prospective customers.
Adjusted sales scripts to better target the needs and interests of specific individuals.
Provided timely, courteous, and knowledgeable responses to information requests.
Screened and transferred calls and prepared official phone log correspondence.
Created detailed spreadsheets containing information on every call that was summarized for management at the end of the week.
Click here for the full resume of Telemarketer in text format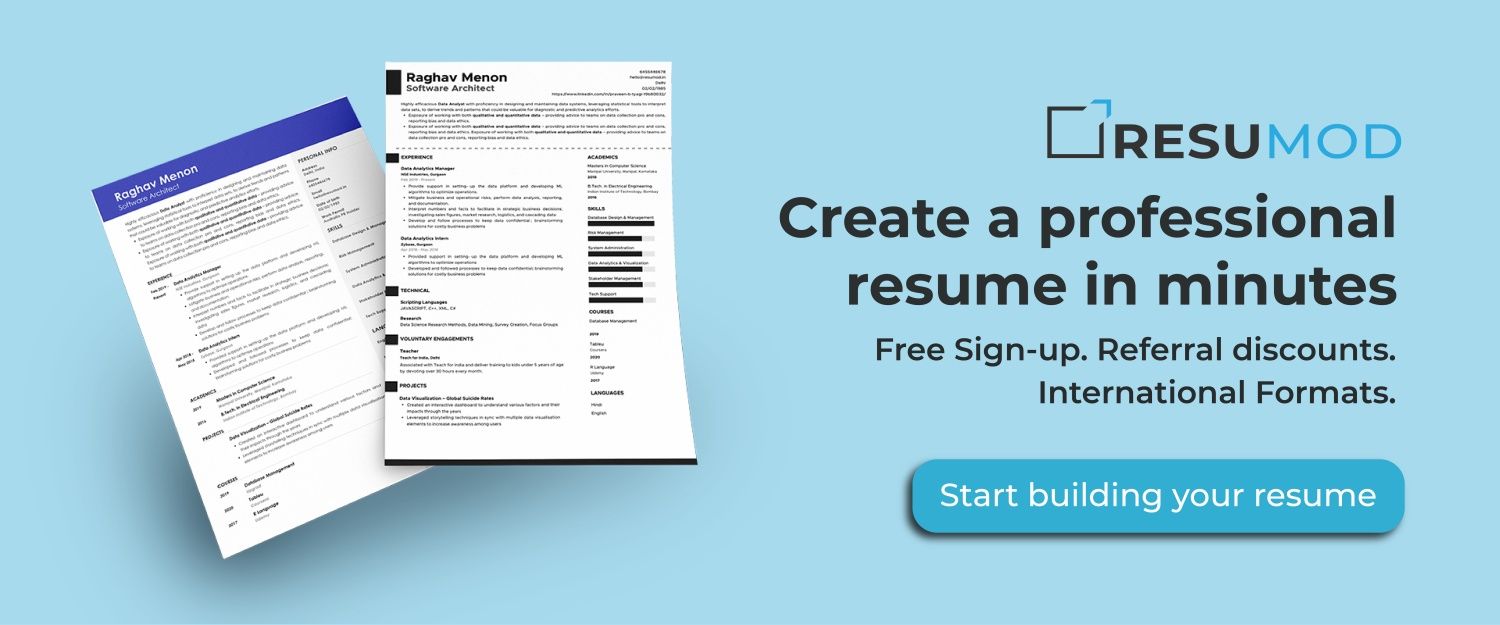 Job Description of a Branch Banking Professional
Reconcile assets between finance & operations and ensure verification. Research accounting issues for compliance.
Maintain detailed records of crucial financial transactions.  Develop/document accounting policies to maintain and strengthen internal control systems.
Conduct risk assessments and identify controls to mitigate risks.
Create & sustain a dynamic environment that fosters development opportunities and motivates high performance amongst team members.
Click here for the full resume of Branch Banking Professional in text format
Job Description of an Online Teacher-English
Developed all online materials for and collected a list of resource links for students.
Assessed students learning through discussions, projects, and formal assessments.
Graded lessons, tests, and other assignments, and relayed information to parents when necessary.
Provide consistent feedback to students related to each lesson taught.
Combined various English teaching methods and techniques to help students improve their results.
Click here for the full resume of Online English Teacher in text format
Job Description of a School Principal
Ensured adherence to regulatory funding sources across programs and outcomes.
Modeled expected and appropriate leadership to promote teaching staff and administrative personnel's positive interaction with students and families.
Facilitated continued education for teaching staff through implementation of quality curriculum training.
Click here for the full resume of the School Principal  in text format
Job Description of a QA Analyst
Reviewed programming code for mistakes, and created a test automation framework that is used to drive 400+ automated tests.
Created performance dashboards to track faults and resolutions and to share information with the product team and client support on a regular basis.
Noteworthy:
Resolved over 100 defects prior to product launch.
Implemented security testing procedures, resulting in a 5% reduction in software development project cost.
Click here for the full resume of QA Analyst in text format
Job Description of a Project Manager
Oversaw end-to-end project management including creating scope and timelines for new projects.
Managed project budget financial tracking to compare budgeted against actual project costs. Identified the resource requirements, organized human resources, assigned responsibilities and coordinated with staff members to complete the project successfully.
Prepared reports and maintained documents regarding the progress of the project and communicated the same to PMO.
Interfaced with other functional areas and managed projects with decisions often impacting several units.
Click here for the full resume of Technical Project Manager  in text format
Job Description of a Network Engineer
Executed network hardware and software purchase, use, maintenance, security, and backup policies and procedures.
Established and maintained network users, user environment, directories, and security, and trained users on software and equipment usage.
Responded to network users' requests and questions about their access to network resources and the operation of various software packages.
Optimized network speed and reliability by maintaining hardware and software, troubleshooting technical difficulties, and ensuring system users' availability.
Click here for the full resume of Network Engineer in text format
Job Description of an Actuarial Analyst
Assisted in preparing optimization models for supply chain and operations management.
Used matrix analysis, operations research, and optimization techniques for solving real-world problems.
Evaluated performance of various products in terms of market capability.
Contributed to the development of monitoring tools and analytical methods.
Click here for the full resume of  Actuarial Analyst  in text format
Job Description of a Fundraiser
Assisted the organization with reaching potential donors through inbound calling, social media, email marketing, and other platforms.
Created all correspondence regarding donations including proposals, marketing material for fundraising events, and more.
Click here for the full resume of Fundraiser in text format
Job Description of a Construction Engineer
Identify project budget and schedule, conduct site visits, and monitored the project throughout its lifecycle
Obtain necessary permits, approvals, and other regulatory prerequisites.
Document and report the project timeline.
Ensure proper workplace safety and adherence to quality protocols.
Click here for the full resume of Construction Engineer in text format
Job Description of an Industrial Engineer
Set production standards using appropriate industrial engineering techniques and coordinated results to concerned production units.
Recommended production improvement methods to support changes in the production standards.
Planned manpower requirements that resulted in effective control over temporary manpower headcount and increased direct labor utilization.
Created and maintained current routings, BOM's, and standard costs for manufactured products.
Identified methods to improve the value chain process by eliminating redundant activities and following more effective processes and procedures.
Studied methods and planned utilization of facilities, equipment, and materials to improve the efficiency of operations.
Prepared charts, graphs, and diagrams to illustrate workflow, routing, and material handling.
Click here for the full resume of Industrial Engineer in text format
Job Description of a Scrum Master
Refined and evolved agile processes for predictable and rapid software delivery.
Implemented agile methodologies using a Scrum framework throughout the project
Led all sprint planning, sprint reviews, sprint retrospectives, and daily scrums with the development team.
Served as the main point of contact to drive effective communication throughout all project phases.
Click here for the full resume of Scrum Master in text format
Job Description of an Animator
Worked with game designers and developers to assist in developing animations.
Created models, drawings and illustrations by hand and also electronically.
Developed timing and pace of movement of characters for a sequence of images and ensured they followed the audio requirements.
Delivered product-ready graphics in HTML for all marketing assets.
Worked with art director and immediate creative team to collaborate, visualize and create game-play animations for VR.
Click here for the full resume of Animator in text format
Job Description of a News Presenter
Obtained and compiled information from various sources that included local police releases, PR releases, and reports from co-workers in the field.
Wrote new stories in AP style from wire copy, field reports, and conducted telephone interviews to obtain information to be used in stories and bytes to be used on air.
Performed daily station website maintenance by uploading up to 5 new stories and videos, and cycling out old and irrelevant stories.
Assisted in anchoring 8 episodes of the show 'Bulletin' for their channel 'ITv news'.
Generated story ideas, cultivated news sources and provided editorial support in coordination with programming directors.
Click here for the full resume of News Presenter in text format