How to Quantify Your Resume Bullets [10+ Examples]
Using bullets is a great way to organize and present large chunks of information in a readable manner. Important KPIs can make your resume stand out.
One of the biggest challenges while creating a resume - squeezing all of your data into a limited space while making it presentable, and easy to understand.
This problem has a simpler solution than you think.
And no, it is not adding graphics or increasing the white space.
It is rather using bullet points.
Using bullets is a great way to organize and present large chunks of information in a readable manner. But your job doesn't end at just changing the format of your resume and adding bullet points everywhere you possibly can.
To further amplify the impact of the information, you need to "Quantify" them. The term quantifies here means using numbers as performance indicators in your resume to give a scalar field for your accomplishments.
We will discuss all the points one by one. Stick till the very end to read about the following:
What are Bullet Points and How are They Helpful in Resumes?
Bullet points are short sentences that start with a symbol. The symbol indicates a new set of information, making it easier for the reader to process and understand.
Opposed to paragraphs they are better organised and do not look cluttered.
Bullet points also look very appealing and help you grab the recruiter's attention.
You can save a lot of space and emphasize your achievements, skills, etc. by using bullet points.
They have replaced paragraph-style resumes, as recruiters encounter a number of resumes on a daily basis. It becomes really hard to consume useful information from paragraphs.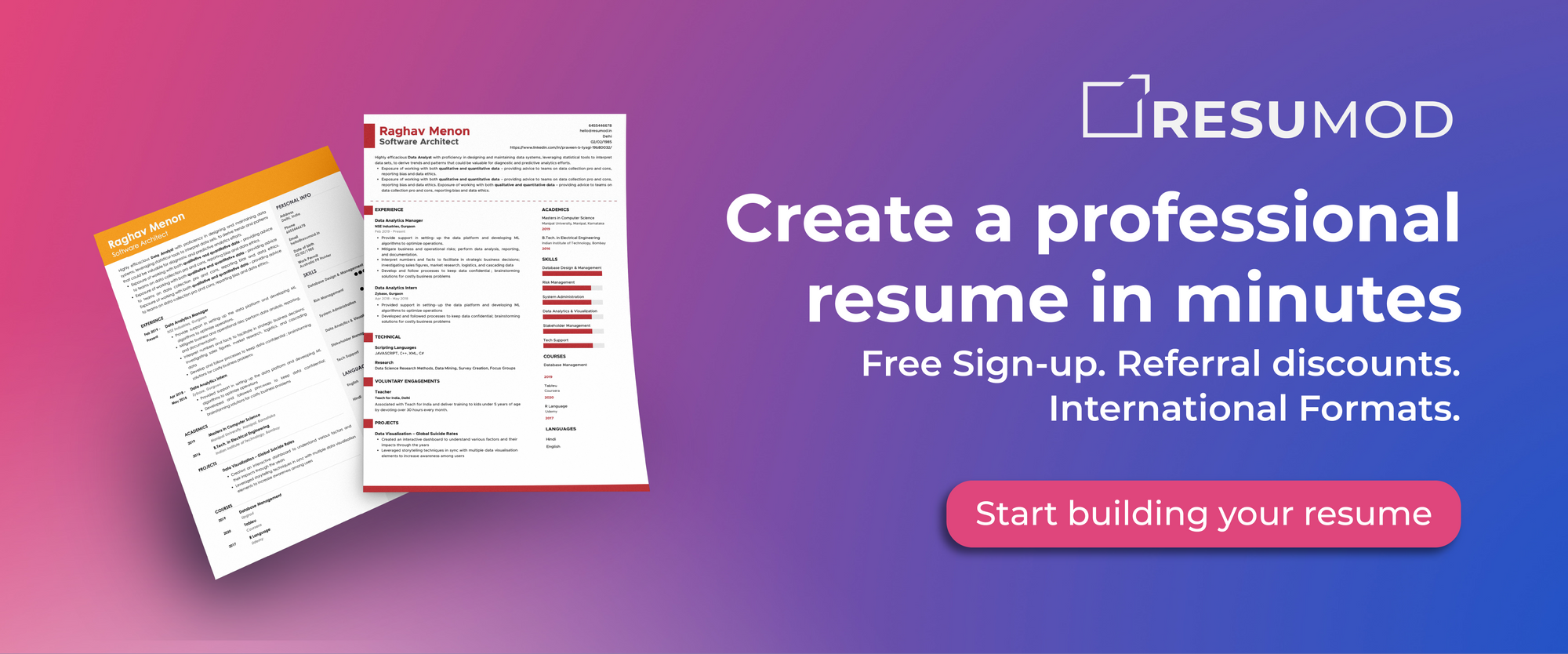 Why are Bullet Points Important?
Bullet points help you to stand out and keep the reader engaged in contrast to old long paragraphs.
They reduce unnecessary visual clutter and allow the recruiter to scan the information quickly to land a decision for shortlisting.
With a lot of information to be mentioned under skills, experiences, education, achievements, etc., resume bullet points help you keep everything organized in a very sophisticated format.
The importance of bullet points lies solely in the fact that recruiters can't wait to read long and unappealing paragraphs in a resume due to time constraints.
As per LinkedIn stats, recruiters only take 6-8 seconds between revealing a resume and making a decision to shortlist it or not.
How to Use Bullet Points?
Have a look at the steps discussed below and notice how these bullet points are delivering your quick and clear information:
Always try to start the sentence with Action verbs. "Adapted", "Collaborated", and "Facilitated" are some examples of action verbs to use.
Write the sentence briefly without using unnecessary filler words that don't add any value to the sentence.
Don't stretch the points long. Keep the bullet points up to 2 lines. We would say- teht shorter, the better the impact, skimmability and redability.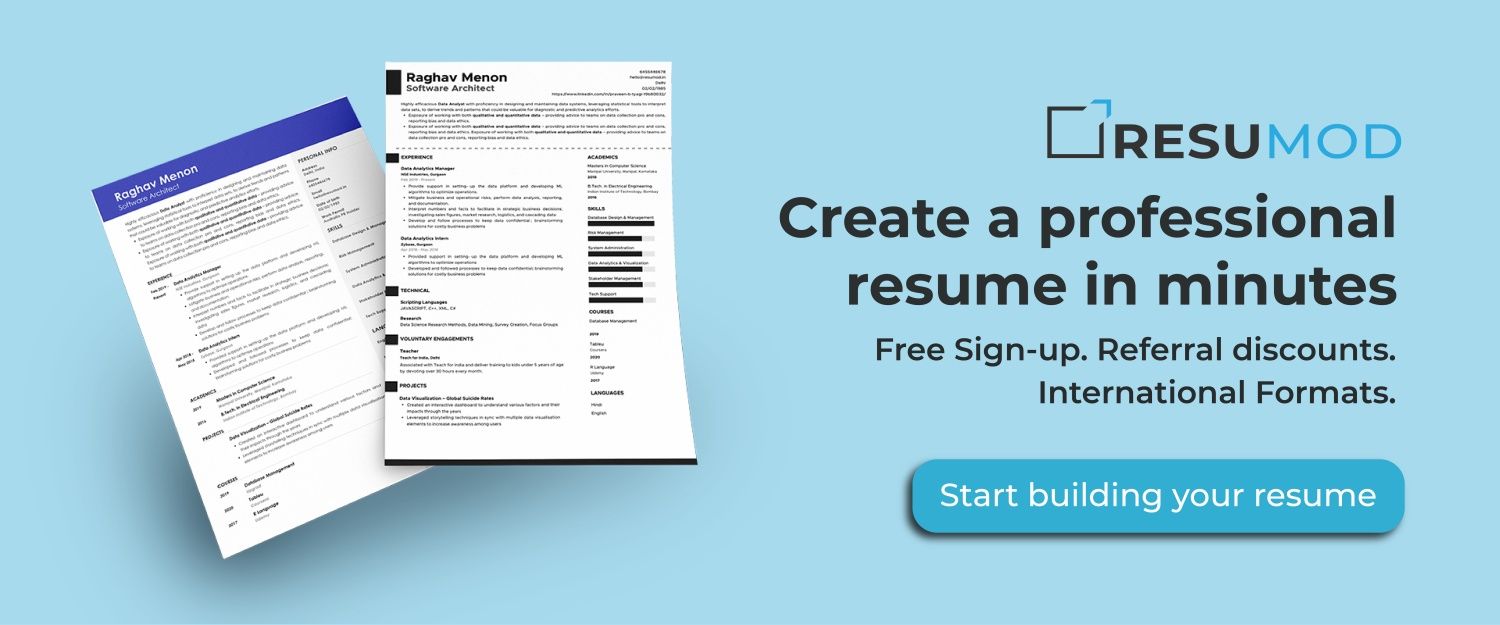 What Does it Mean to "Quantify" Resume Bullet Points?
Quantifying basically means adding numbers or numerical data in your resume bullet points.
Consider these two statements:
Achieved a great rise in sales in the last quarter
Achieved a total 36% rise in sales in the last quarter
Here, 36% is used to quantify the word "great". This is what quantifying your information means.
You add numbers in the sentences to showcase some amount of scale for comparing your accomplishments with other candidates. Qualified information helps in giving a clear picture of your potential while vague and general words just look more like self-exaggerations.
You convey your point clearly with the help of numbers and tell the recruiter about your achievements in an impactful way to compare with any other candidate.
Let's move on to why it is beneficial to quantify resume bullet points.
Benefits of Quantifying Your Data
Numbers are a great way to give soul to dull sentences and make them impressive and appealing. Quantified resume bullets act as performance indicators to help you make a strong impression on the recruiter. Here are some benefits of quantifying data in your resume:
Quantifying data brings specificity
Open-ended words like "great", "excellent", "really good" etc. are not giving any specific value to analyze. With numbers, you bring specificity to your achievements and results. This also allows the recruiters to better analyze your accomplishments and resolves the problem of open-ended statements that looks over-exaggerated.
Quantified data is credible
Using specific and precise numbers makes your claims more credible. They look achievable and clear doubts of the recruiters regarding your true potential.
Quantified data brings a result-oriented perspective to your resume
Quantifying your claims helps you present yourself as a result-oriented person. When you quantify your results achieved from past challenges, you leave the perspective of someone who brings results to the table and is driven by results, not mere talking.
Quantified data is a great tool to gather attention
Numbers automatically make the brain to be attentive and focus on the task. Thus, quantifying sentences adds a strong attention factor to your resume and helps you gain the necessary attention of the recruiter.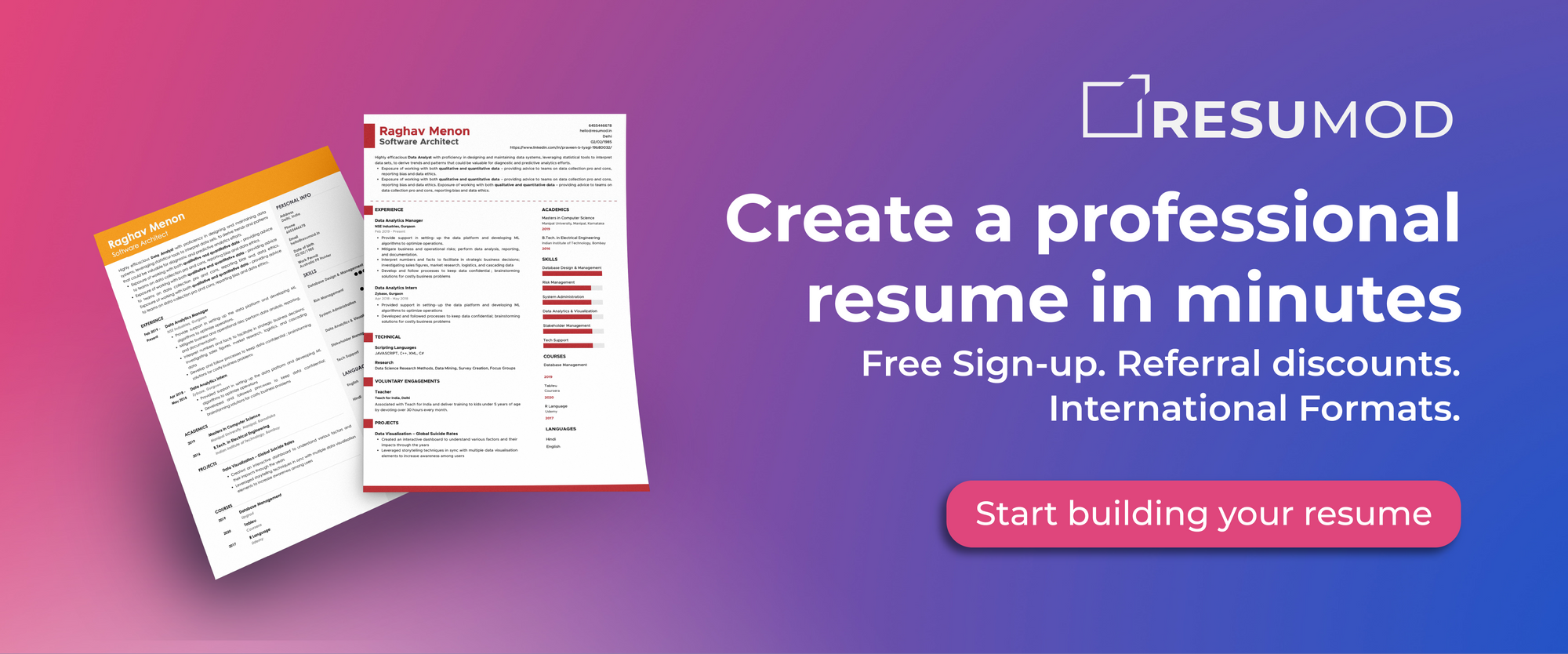 Steps to Quantify Resume Bullet Points with Examples
Analyze key Metrics in Past Work Experience
Analyze your past achievements and find out if the result can be quantified. There is always some sort of progress records that a company keeps analyzing growth. Look for them and find out how your work might have contributed to it.
Also, try to keep a record of progress in a document where you can compile all of your performance aspects or achievements. This way, you will end up with a lot of necessary information that you can showcase in your resume. It also helps you to keep a check on your performance and improve it with the right analysis.
2. Look for Samples Available on Internet
If you are struggling with how to quantify various sections of your resume, then the best solution is to look online. Search for resumes online with the same profile as yours. Notice the various sections and how statements are quantified. This way, you will get a better idea how to use numerical sentences.
Example: :
Unquantified: Helped students to improve their standardized testing scores in order to raise their college application prospects.
*Quantified: Developed and implemented an AP Calculus curriculum that resulted in a 4.3 average on AP testing and a 92% success rate*.

3. Give a range of data
It's understandable that quantifying your performance is limited to some extent for non-technical profiles. However, you can always mention some practical range of numbers to quantify your accomplishments.
Example 1:
Unquantified: "Trained clients on a regular basis to help them achieve better consistency"
Quantified: "Trained 8-10 clients regularly with up to 90% increase in their consistency".
Example 2:
Unquantified: Coordinated payroll, benefits and conflict resolution for a large staff while maintaining high company morale.
Quantified: Oversaw human resources staff of seven employees serving an office of 450 staff members, maintaining strong staff relationships to aid in retention and production
4. Use Key Performance Metrics
Quantifying statements that represent key performance metrics like Profit, Ranking, People, Time, etc., offer the best value in a resume.
Profit or finance is a very crucial aspect of any company and any sort of accomplishment in this field is a huge advantage to winning the recruiter's approval. Describe any sort of growth or profit you achieved in your working history based on the amount or percentage.
Example 1:
Unquantified: Developed an online marketing platform to improve organic search traffic results and increase client acquisition numbers.
*Quantified: Developed an innovative online marketing platform that produced top-three results on all targeted keywords, yielding a 48% increase in organic search traffic and $17,000 of increased sales*.
Similarly, you can mention any kind of accomplishment in your past experiences such as time optimization, leading a team, ranking as top performer employee, etc.
Example 2:
Unquantified: Coordinated payroll, benefits and conflict resolution for a large staff while maintaining high company morale.
Quantified: Oversaw human resources staff of seven employees serving an office of 450 staff members, maintaining strong staff relationships to aid in retention and production*.
Example 3:
Unquantified: Created bonds with clients to develop lasting relationships, resulting in significant sales performances in every quarter.
Quantified: Developed strong bonds with clients resulting in long-lasting relationships and the title of #1 Sales Associate in the Northeast and #3 Sales Associate Nationwide.
5. Back with Your Claim
Do add some bullet points about how you achieved the mentioned achievement. It helps you to back your claim. Not to mention, it also reflects your problem-solving ability. It makes your quantified claims look practical and believable.
Resume Examples with Quantified Bullet Points
Resume of General Manager - sales
Zonal Manager (North) at Pepsico, Noida | Aug 2018 - Nov 2021
Expanded the turnover close to the 43MM physical cases in the assigned region.
Developed and implemented a Sales Force Automation module to improve sales process including timely order collection, stock accumulation, inventory management, and sales force coordination.
Received 'fly beyond award' on achieving planned target & collection in years 2018-19
Executed sales compensation plans for Sales, Pre-Sales, and Account Management teams and analyzing data to understand the market trends.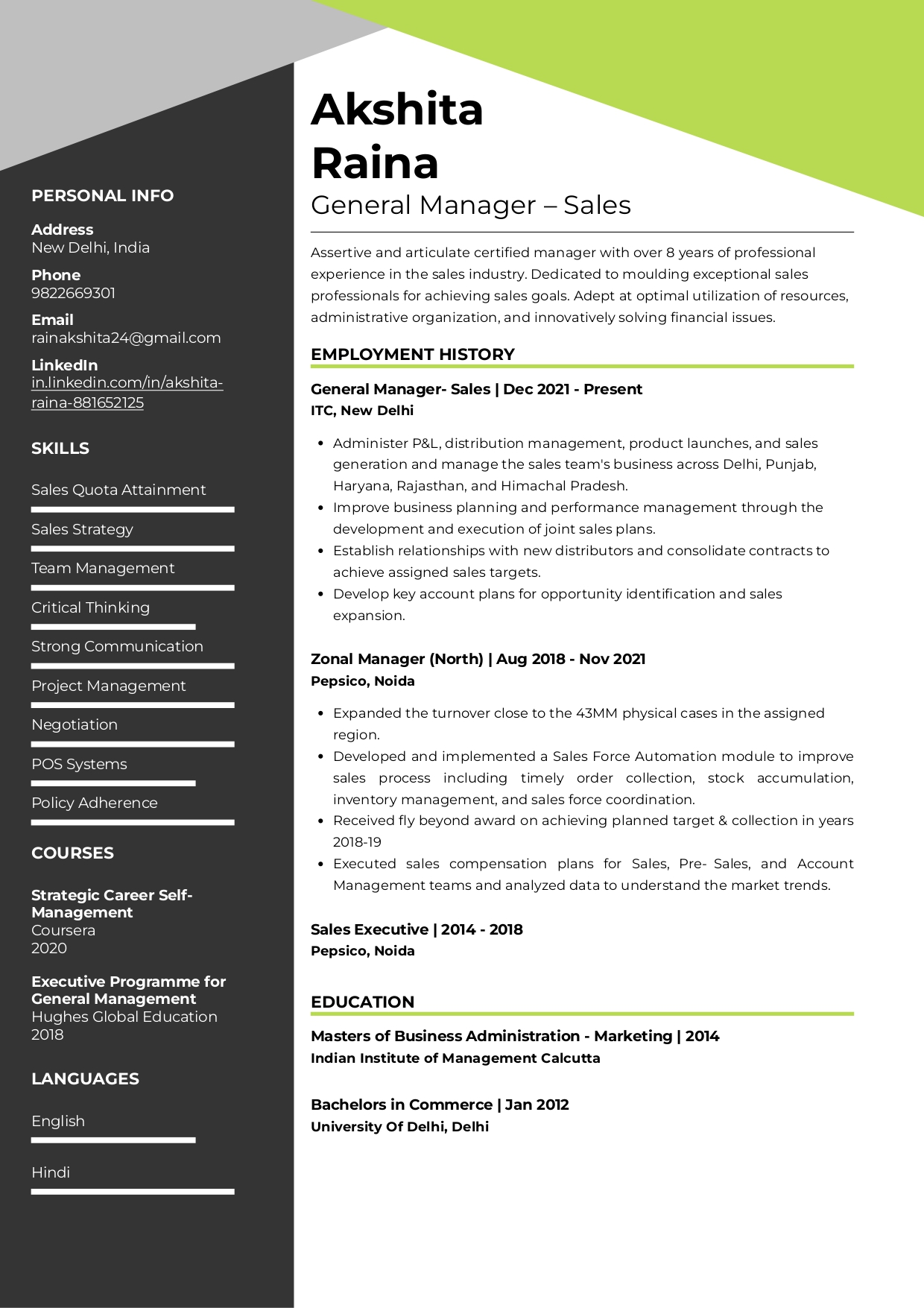 Check the full resume of general manager sales in text format here
Resume of Operations Manager
Assistant Operations Manager ► Verizon, Delhi | 2015 - 2018
Coordinated production, distribution, warehousing, and sales in accordance with policies.
Conferred with the sales team and associated representatives to evaluate and promote improved and expanded services.
Oversaw inventory, ordered new equipment, and scheduled repairs for damaged equipment.
Planned, assigned, and directed work, appraised performance, rewarded and disciplined employees, addressed complaints and resolve problems.
Restructured operational jobs and assignments that significantly improved cost control and accuracy, resulting in an increase in sales of  $5k or more daily.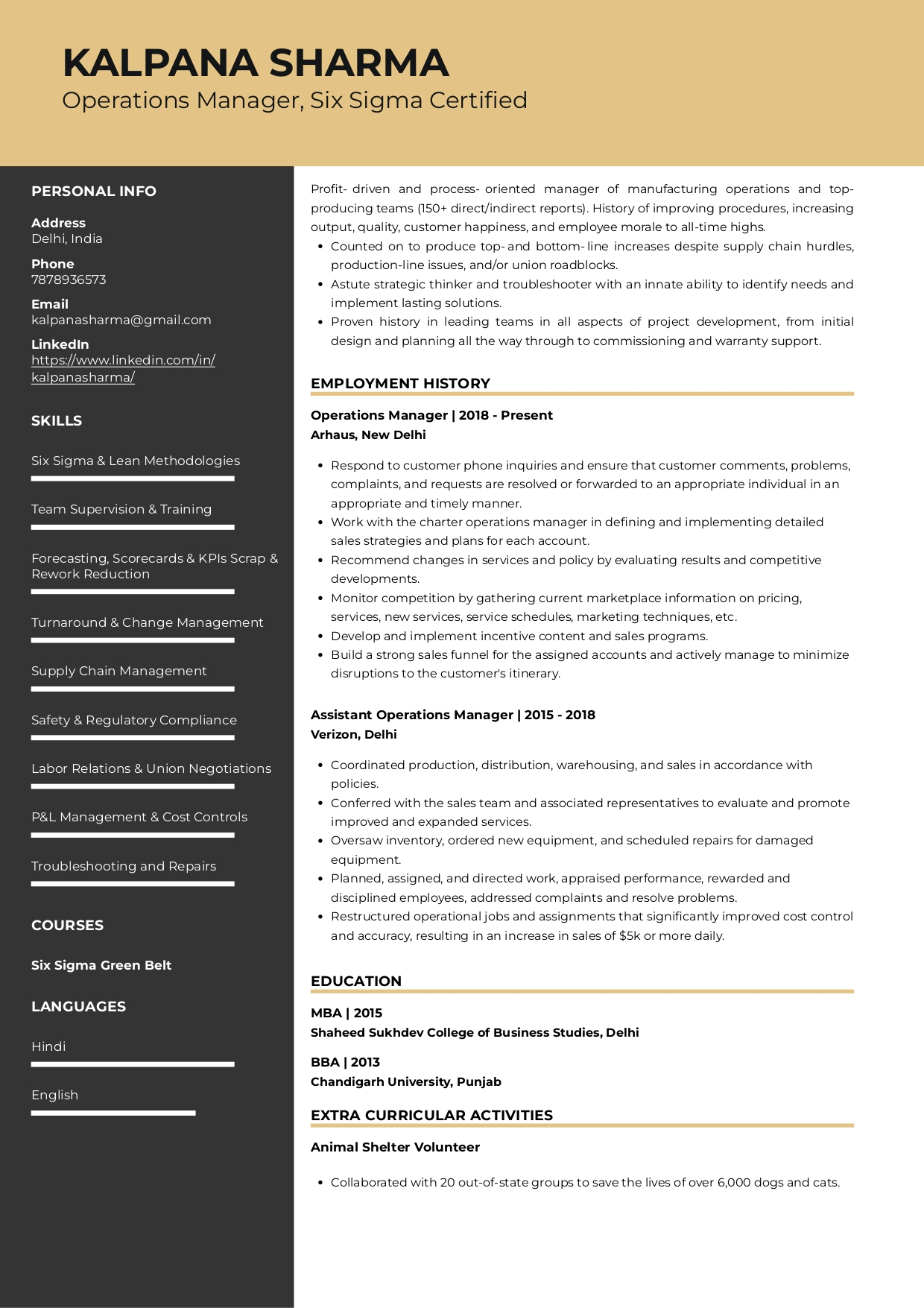 Check the full resume of operations manager in text format here
Resume of Enviornmental Lawyer
Environmental Lawyer | Goa State Pollution Control Board, Goa | 2016 - 2018
Worked within a team environment to defend against complex class action lawsuits involving administrative law and the implementation of statutes and regulations.
Represented clients during the complicated Social Security disability application process and assisted in the representation of clients during administrative law hearings.
Reduced processing errors by 60% within 6 months while simultaneously accelerating processing times.
Provided pro-bono representation to low-income populations, non-governmental organizations and local government on environmental matters.
Conducted independent interagency and international negotiations on maritime and environmental matters.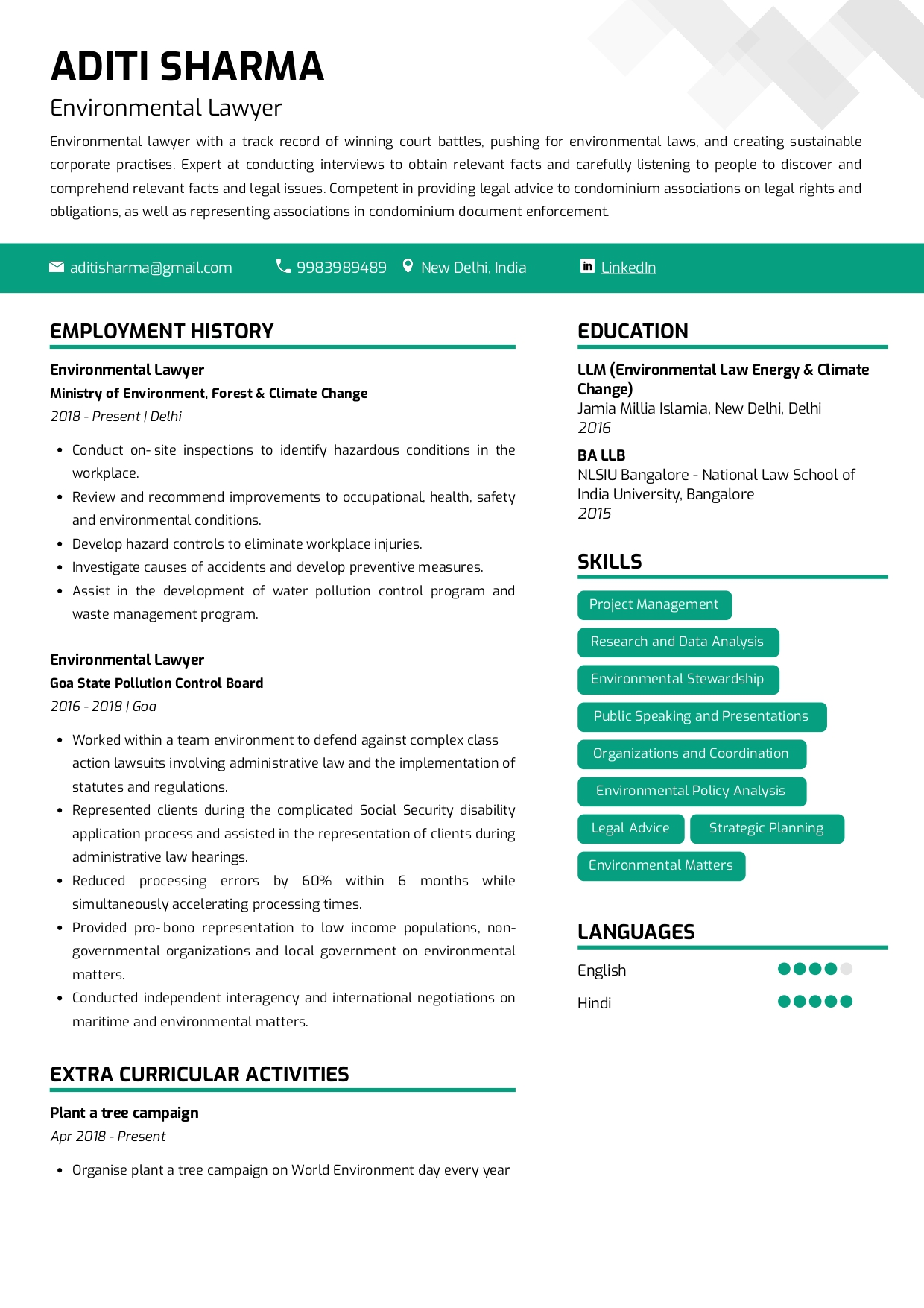 Check the full resume of environmental lawyer in text format here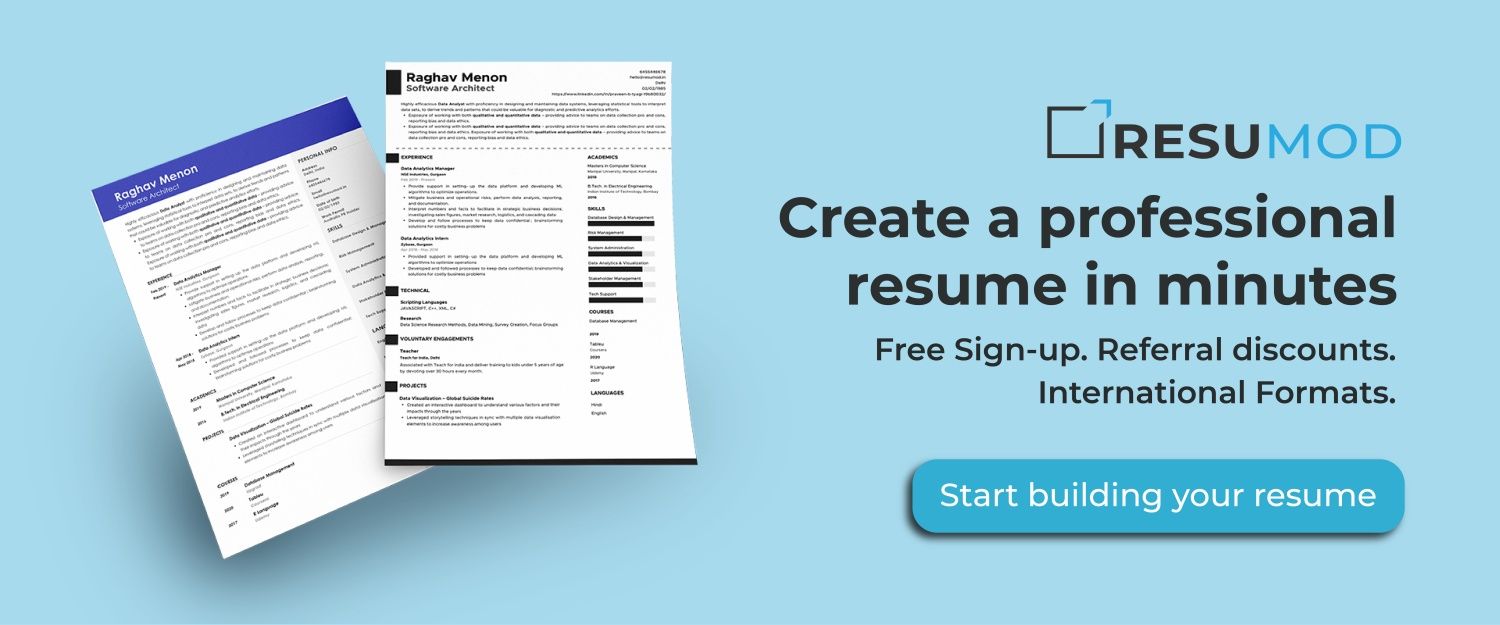 Resume of Pharmacovigilance Analyst
Drug Safety Associate | Jubilant-Biosys, New Delhi | 2019 - 2021
Processed more than 6000 ICSR and disposition of more than 2000 ICSR from IRT to ARISg, including spontaneous, patient support programs, Market Research Programs, and Non-Interventional studies.
Handled Quality reviewer's position and performed a quality check of ICSR, processed by case processor for accuracy and completeness.
Served as a Subject Matter Expert during regulatory inspections, business partner audits, and quality investigations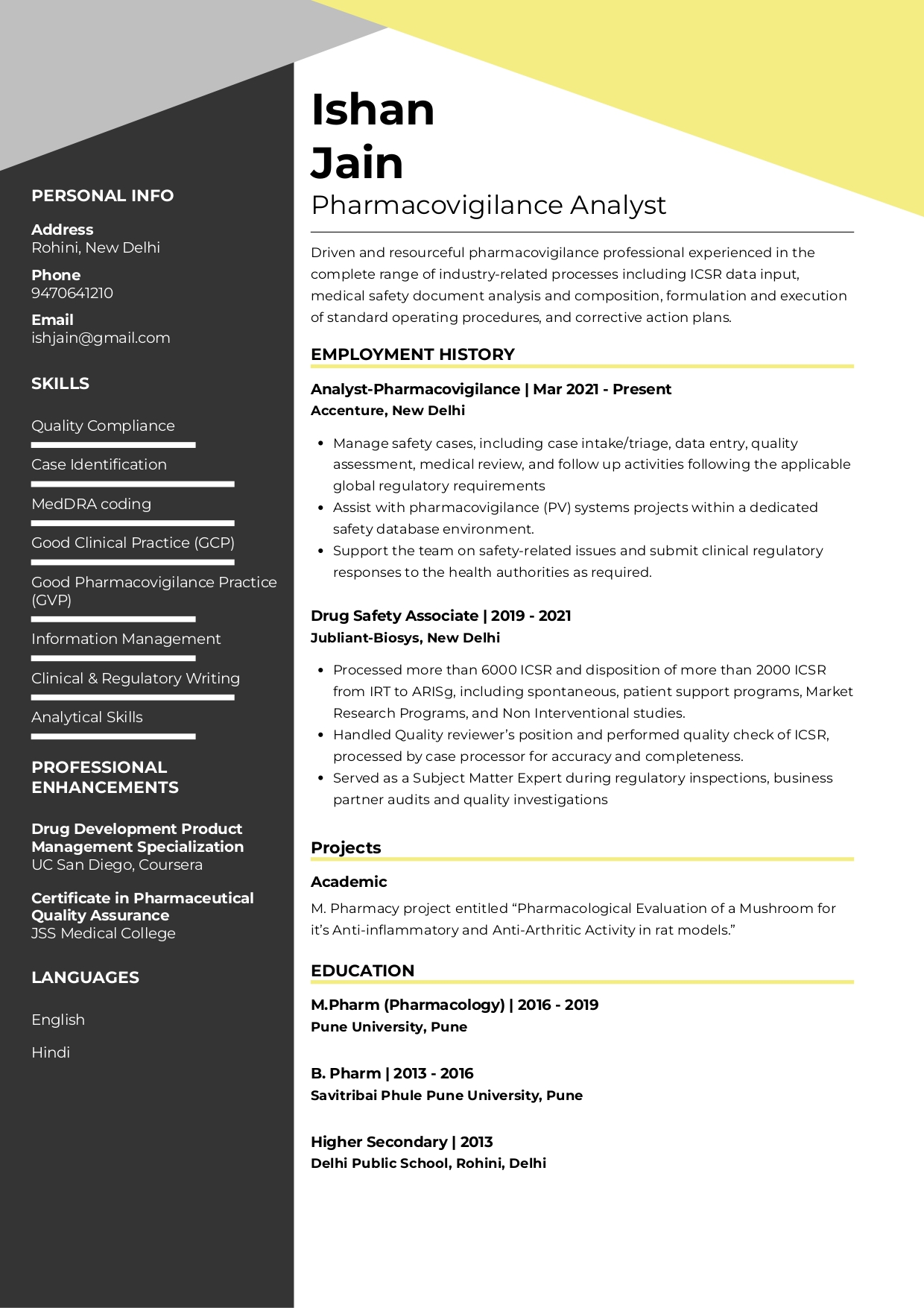 Check the full resume of pharmacovigilance analyst in text format here
Resume of IT Operations Manager
Operations Manager | Accenture | 2018 - Present
Coordinating production, distribution, warehousing, and sales as per policies.
Reviewing production costs and product quality, and modifying inventory control programs to maintain and  enhance the annual business plan.
Preparing annual data to support the business plan along with the metrics for operational performance. Overseeing inventory, ordering new equipment, and scheduling repairs.
Planning, assigning, and directing work; appraising performance; rewarding and disciplining employees; addressing complaints and resolving problems.
Implementing lean manufacturing, waste minimization, and six sigma methodology to improve efficiency.
Accomplishments: Restructured workflow that significantly improved cost control and accuracy, resulting in an increase in sales of $5k  daily.
Operations Manager | JustWravel | 2014 - 2018
Developed new systems and process designs or enhanced existing systems or processes for improved efficiency.
Managed a team of approximately 21 employees, while establishing and implementing departmental policies, goals,  objectives, and procedures.
Maintained a good relationship with clients to ensure continuous business growth.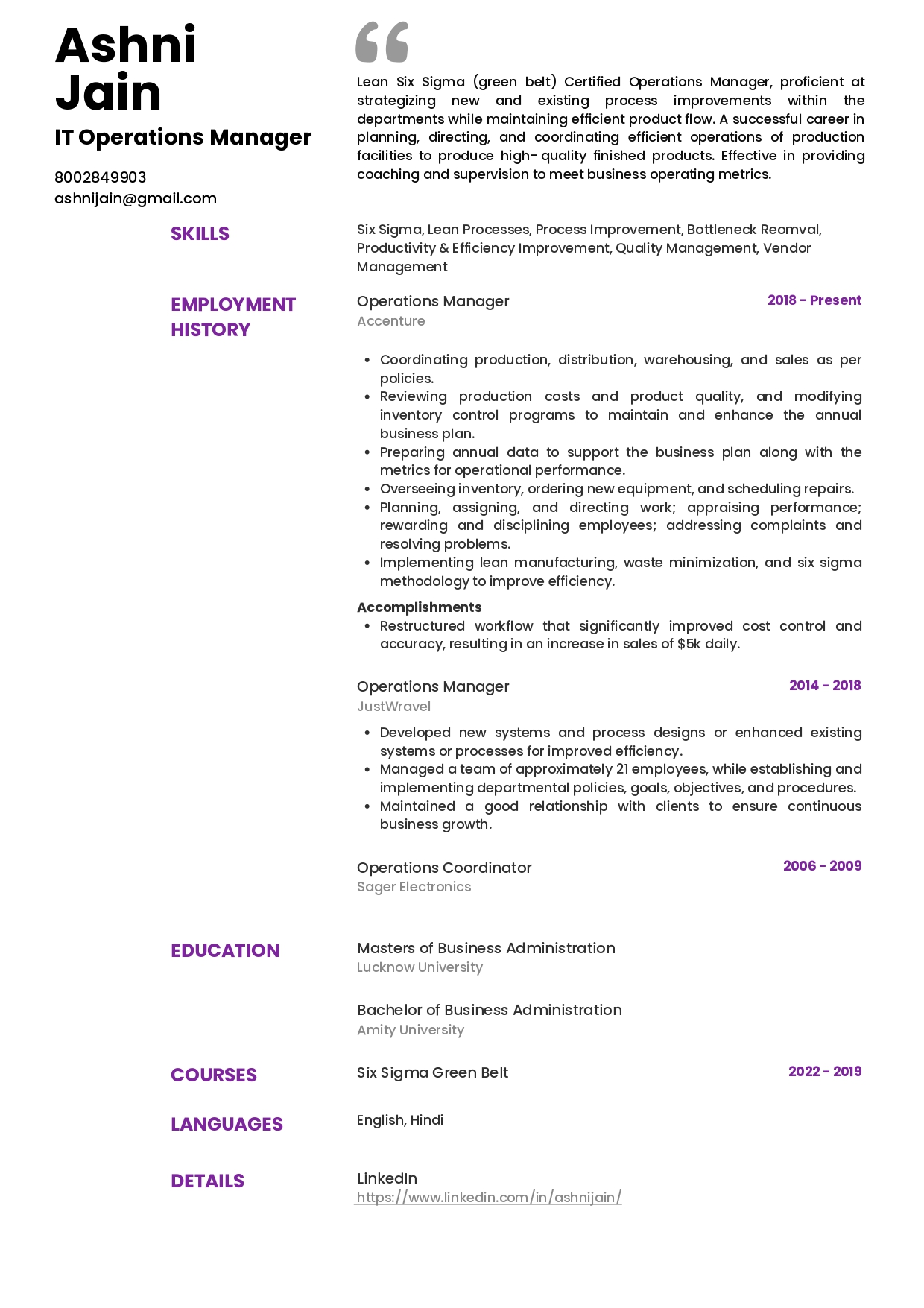 Check the full resume of IT operations manager in text format here  
Resume of Senior Retail Buyer
Senior Retail Buyer | BridgeIntelia Knowledge Solutions, Mumbai 2020 - 2022
Performed retail merchandising and purchasing operations for a company offering art and education products via retail store and nationwide catalogue.
Led procurement, vendor sourcing, shipping/receiving coordination, process improvements, inventory management/ tracking, quality control, and product placement.
Designed and implemented new tools to improve invoice processing efficiency for 70+ vendors across 10+ locations,  including e-commerce.
Improved demand forecasting capabilities through the creation of a new process that reduced out-of-stock situations and optimized inventory levels.
Identified hot trends in the educational products industry instrumental in introducing new product lines to maximize bottom-line results and drive profit enhancements.
Recommended and introduced eBook products for the company, which created a new revenue source that demanded minimal resources and resulted in bottom-line growth.
Led team mandated to select and implement a new ERP system.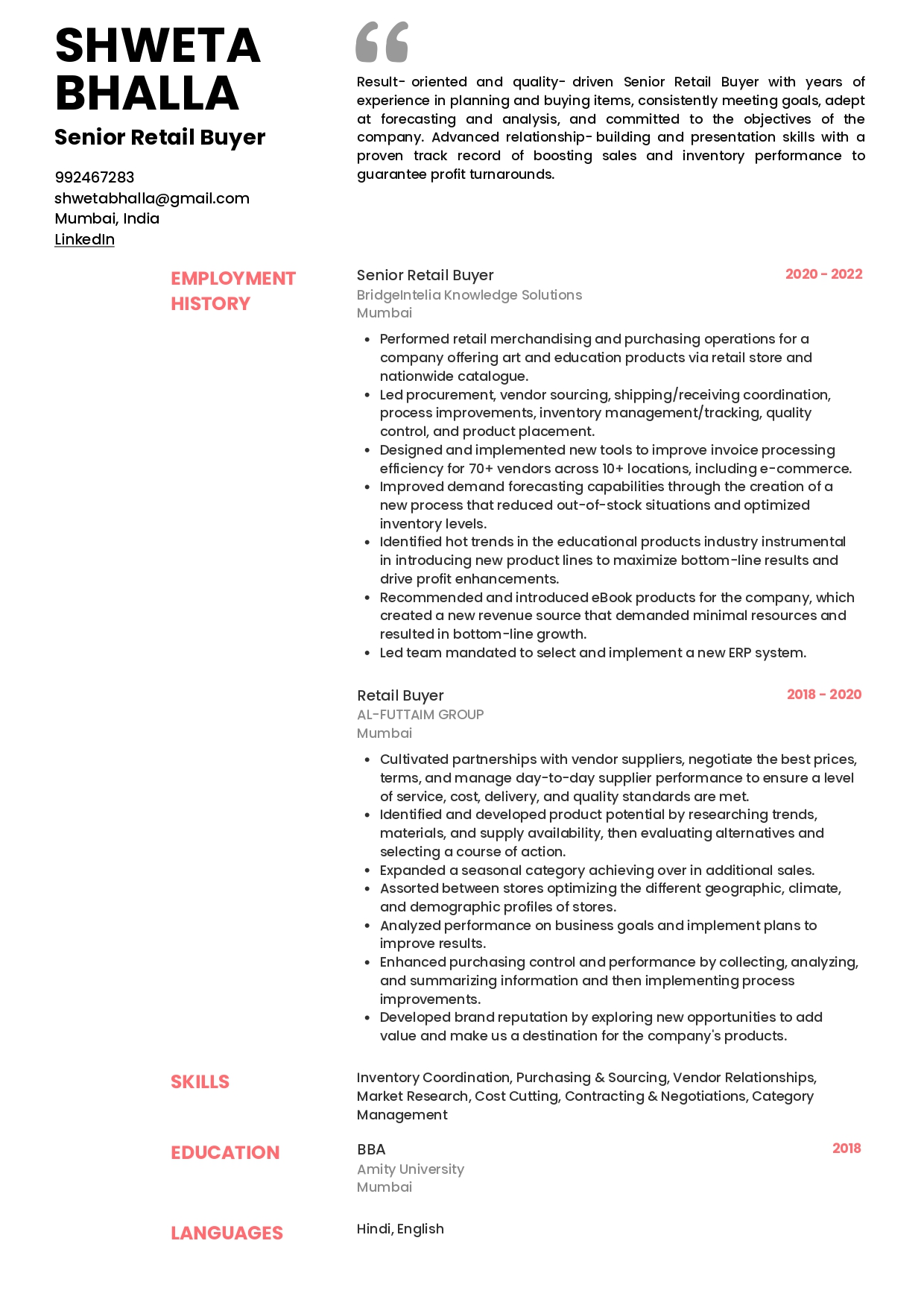 Check the full resume of senior retail buyer in text format here
Resume of Biotechnologist
Biotechnologist (Research Technician) at  Cipla, New Delhi | 2018 - 2021
Analyzed, reviewed, and characterized new functional materials and interventions through the application of a range of biochemistry, molecular biology, biotechnology, and microbiology methods.
Assisted in mapping and charting medicinal side effects by interpreting statistical data.
Ensured that the biopharmaceutical products are manufactured to the highest standard of quality within a GMP (Good Manufacturing Practice) regulated environment.
Achievements: Streamlined manufacturing process by reducing production time by 6%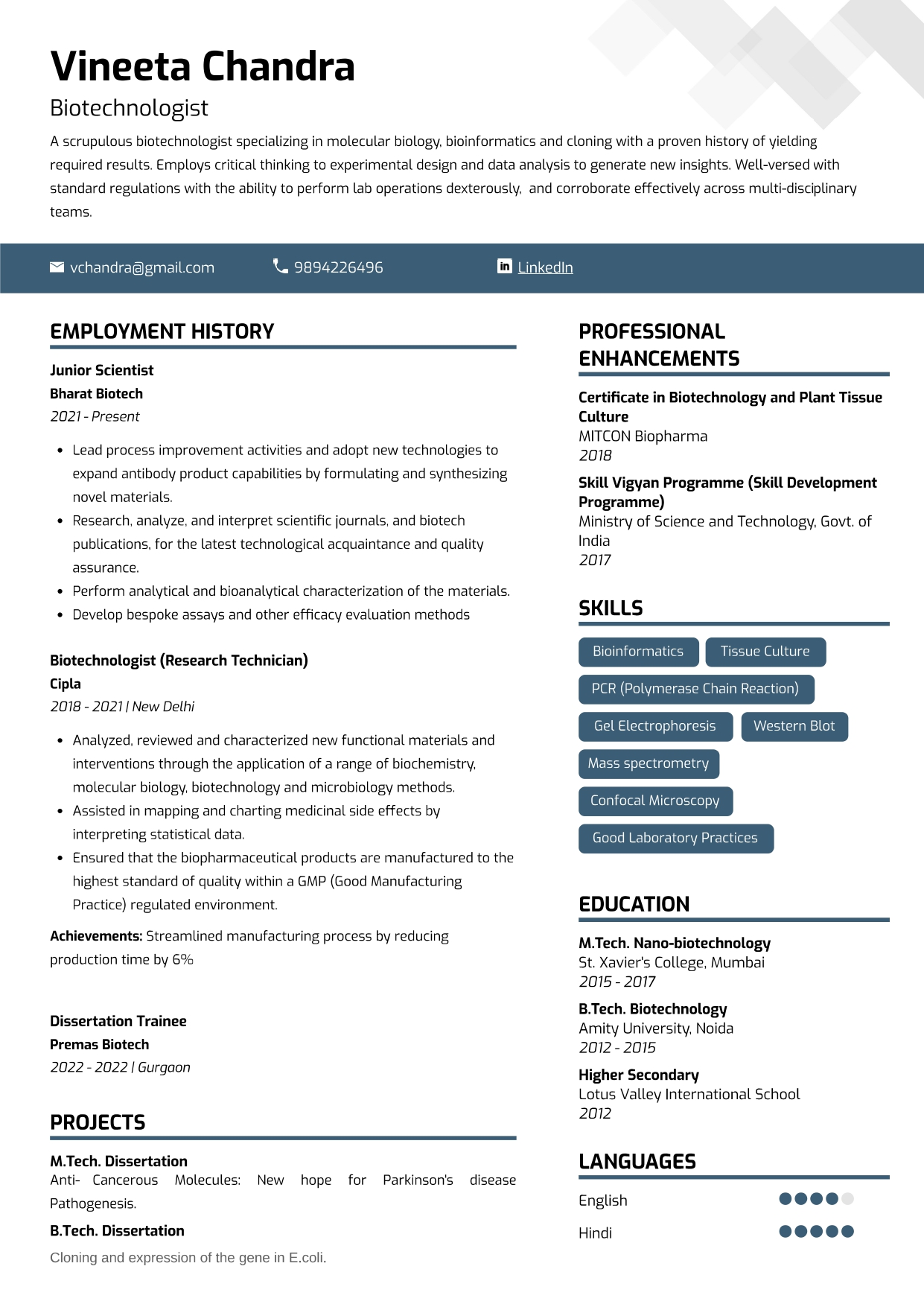 Check the full resume of Biotechnologist in text format here
Resume of Medical Sales Representative
Medical Sales Representative at Abbott, New Delhi | May 2020 - Present
Built consistent, long-term relationships with Key Business leaders in the assigned territory by involving them in scientific engagements at regular intervals and through effective coverage at the right frequency
Tracked market and industry trends, regulations, and practices through trade shows and publications.
Demonstrated negotiation skills by closing [52] premium sales monthly and increasing client retention rate by [14]% in the assigned area.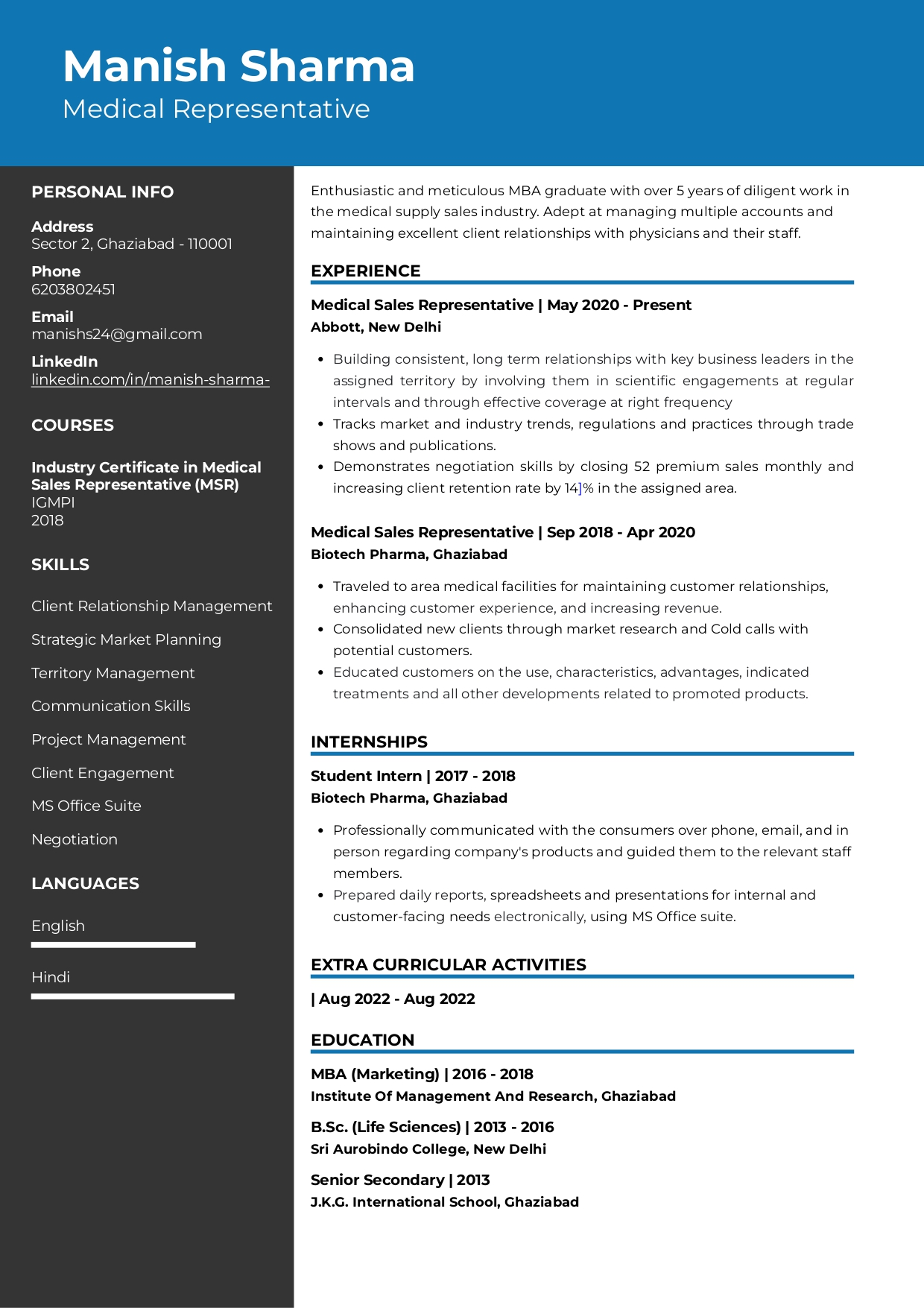 Check the full resume of medical sales representative in text format here
Resume of Radiologist
Wealthion Healthcare, Noida | Radiologist | Aug 2018 - Present
Wealthion Healthcare, Noida Ensure operation of radiology equipment by completing preventive maintenance requirements, troubleshooting malfunctions, calling for repairs, and evaluating new equipment and techniques.
Identify patient service requirements by establishing personal rapport with potential and actual customers to understand service requirements.
Perform routine and specialised x-ray exams including fluoroscopy, upper and lower GI.
Obtain specific insurance and patient demographic information including ICD-9 codes.
Manage 12 to 15 procedures per shift, while maintaining a high quality of care.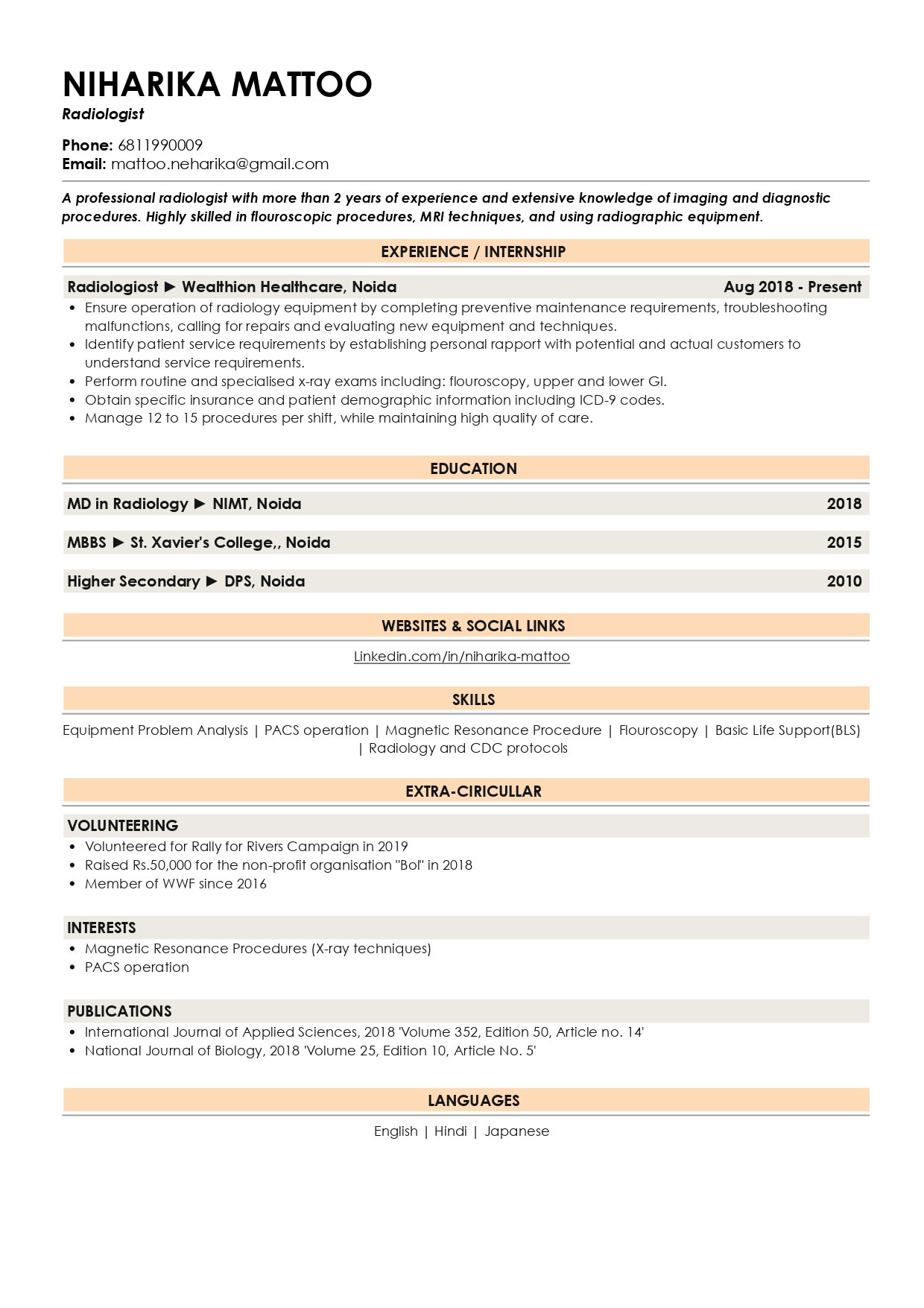 Check the full resume of radiologist is text format here
Resume of Technical Support and Customer Success Manager
Cloud Learning Solutions | Lead - Customer Success Engineering, Bangalore | Jul 2015 - Jul 2016
Grew existing client base and attained a high level of customer satisfaction (team transitioned about 35 live implementations).
Delivered outstanding customer service to on-site and remote users. Collaborated with Engineering, Professional Services and Product  Management to ensure operational excellence.
Implemented changes to templates for ER submission, sending emails to customers and troubleshooting methodology, and increase d  team's efficiency.
Tracked active support tickets to ensure a quick turnaround. Resolved requests, complaints, and queries within Service Level Agreement.
Prepared reports to monitor open cases. Reviewed product documentation for content & syntactical accuracy and created new  knowledge articles
Highlights:
Defined metrics to measure Customer Satisfaction (CSAT) and evoked 93% CSAT score
Decreased case count from 100 to 35 within 2 months. Successfully transitioned 15 projects into Support
Teach India
Fellow & Class Leader - Teaching & Assessing Learning, Pune | May 2013 - Apr 2015
Selected into the Fellowship from among more than 11200 applicants in 2012
Planned, prepared & delivered instruction based on the SSC curriculum and facilitated student learning
Raised funds (over INR 1L) for the classroom and obtained funding for a library
Worked to bridge the achievement gap of grade 2 students in a local municipal school (2014-2015)
Achieved a growth rate in English Comprehension and over 30% in Mathematics.
Taught SSC curriculum and built reading and comprehension levels using various learning tools
Taught grade 4 subjects as per SSC curriculum.
Motivated teamwork through a "Buddy System" to build reading skills and vocabulary
Check the full resume of technical support and customer success manager in text format here
Resume of Meteorologist
Meteorologist at Hitchen & Co, Ahmedabad | Aug 2017 - Sep 2019
Evaluated and interpreted information from air stations, radars, satellites, remote sensors and weather stations all over the world.
Supervised an 8-person graphics team in producing weather forecasts and analysis charts with an on-time rating of over 90%.
Organized and researched climatological data critical to aircraft systems.
Applied physical and mathematical relationships and sophisticated computer models to make short and long-range weather forecasts.
Investigated subjects such as airflow in the lowest kilometer of the atmosphere.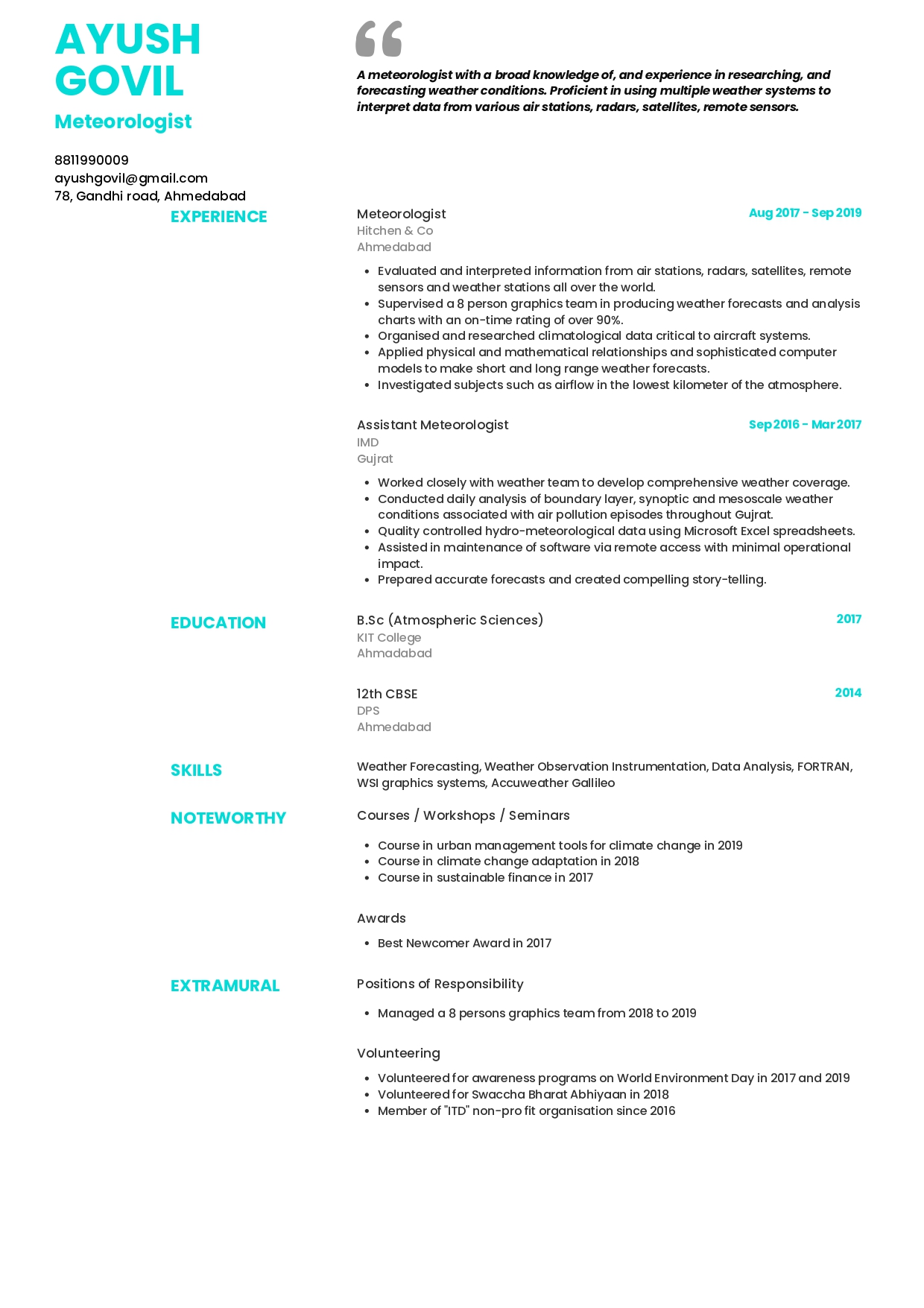 Check the full resume of meteorologist in text format here
Key Takeaways
We have discussed what are the benefits of using bullet points and how you can quantify them to stand out. The examples illustrated are just a glimpse of some common professionals. Do have a look on the internet to see how top-performing resumes are quantified and try to imbibe them in your resume.