How To Make a Resume That Gets You Hired In 2023 [10+ Examples]
With a large number of applicants for each role across industries, it is time to get your resume ready and sit on a job application spree.
"As per Foundit data, the retail, BFSI, and automotive sectors are expected to grow 20 percent in 2023" - Money Control.com
Job forecasts for 2023 are out, the final round of hiring in colleges is in full swing, and employees laid off in 2022 are rigorously hunting for jobs.
With a large number of applicants for each role across industries, it is time to get your resume ready and sit on a job application spree.  
Before you start job hunting, here is one thing you can't start the process without- a well-tailored appealing resume.
Here's how your resume should look like in 2023: Your resume should reflect your persona as the right candidate for the applied job.
Keep reading to find out how to stand out with your resume  in 2023:
What makes a stellar resume
As per Statista, the "Employment Recession" is under process with an expected rise of 63% in employee removal rate by 2023 globally.
With such scary statistics in place, you need to change how you look at your resume.
Your resume is not more than just a document that outlines your professional history.
Rather it is a personal branding document that differentiates you from other candidates and gains the recruiter's attention.  

How to stand out in a pool of applicants using your Resume
No, we aren't giving you a 5-point sheet to make your resume stand out.
These are the top 3 ways to make your resume stand out.
Personalized Branding
Your resume reflects who you are and what you can bring to the company.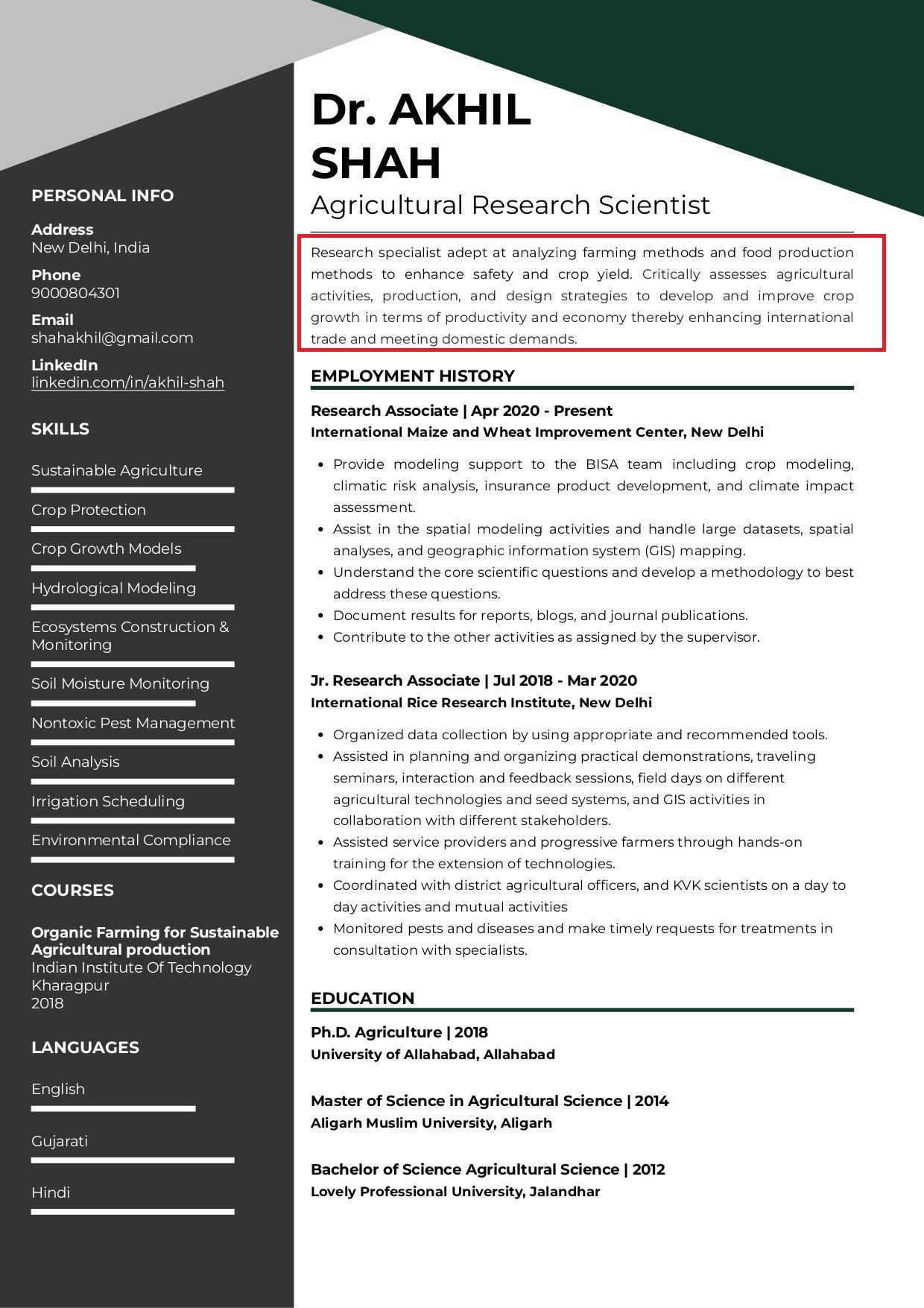 The strongly you appeal, the more convinced the recruiter will lead you to get hired. All this starts with having a strong summary, or a "branding statement".
Write a strong personalized statement in your professional summary (or objective) that speaks for you, just like a brand's statement.
Make the summary clear, and concise with a combination of action words to get the best benefit out of it.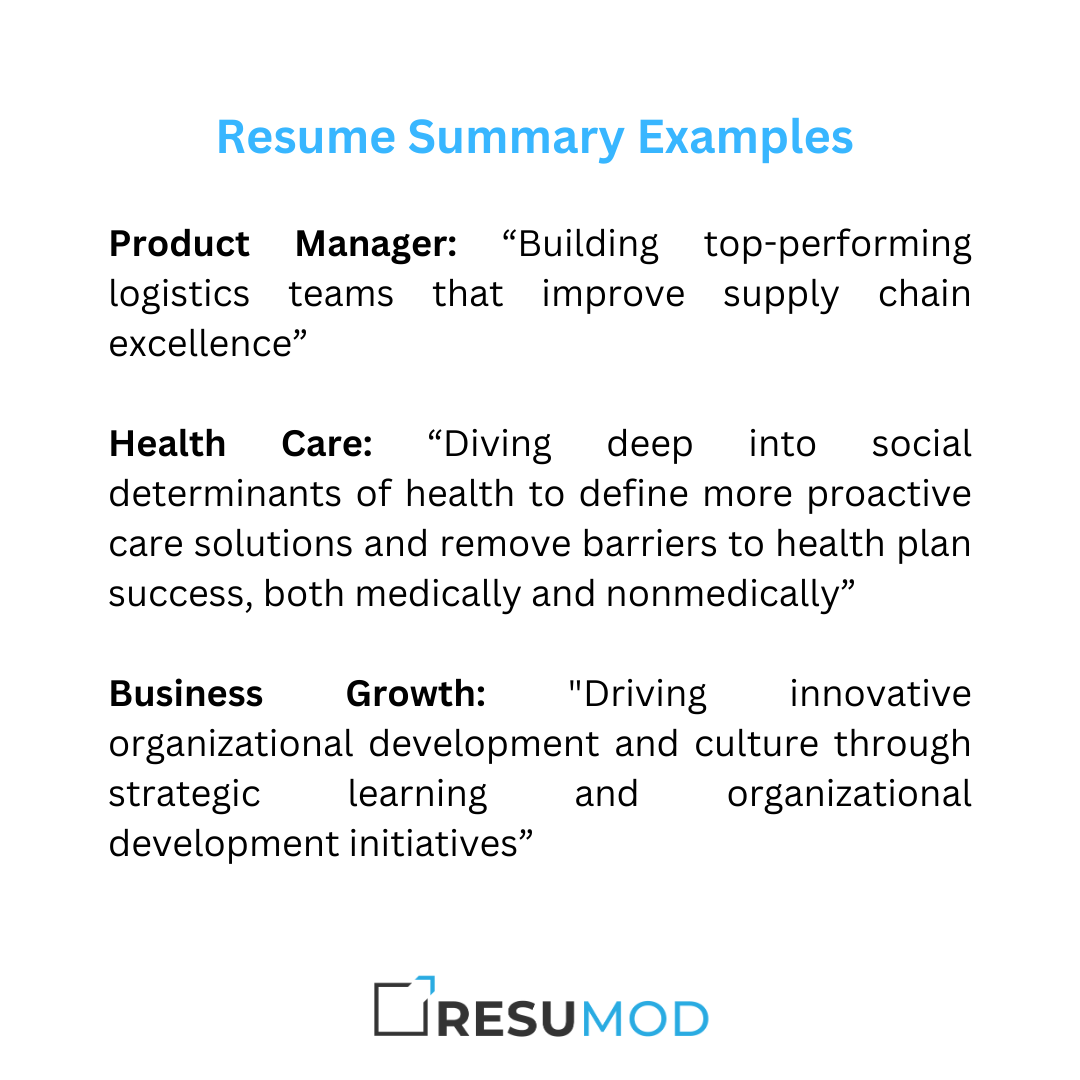 Some examples:
For Engineering Profile:
"Aspire to be a magnet that solves real-world problems and defines me as a true engineer"
For Product Management Profile:
"Building top-performing logistics teams that raise the bar on supply chain excellence"
For Health Care Profile
"Diving deep into social determinants of health to define more proactive care solutions and remove barriers to health plan success, both medically and nonmedically"
Business Growth Profile
"Driving innovative organizational development and culture through strategic learning and organizational development initiatives"
expert tip
How to write a strong summary statement?
Try to combine your target job title with a concise statement that points out how you can add unique value to the company. It can also include skills relevant to the applied job.

Check our detailed guide on Writing a Winning Resume Summary here
Get the best out of the experience section
To get the maximum effectiveness from your resume, align your skills and experiences with the job requirement.
How to align your resume to the job profile you are applying for
List down all the key requirements given in the instructions by the recruiter and then add these keywords in your resume in various sections like skills, achievements, experiences, professional objectives, etc.
It also helps to get a good score in Application Tracking System (ATS) software and surpasses them.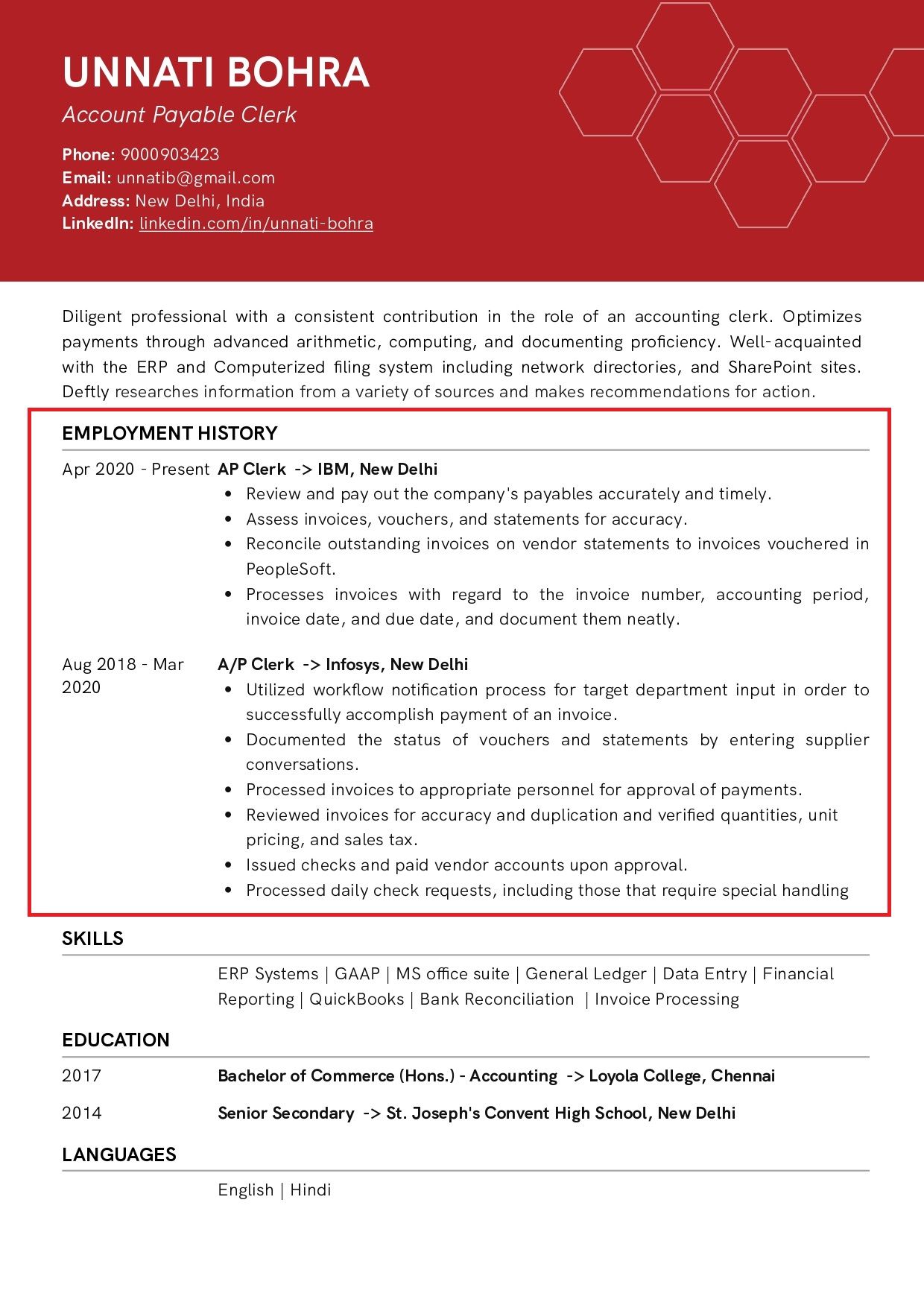 How to present your experience in your resume
There are multiple ways to point out your skills and experiences.  
Use active words along with skills keywords given in the job description.
Use words and phrases that say more without taking up much space in your resume. Ideally, keep everything in your resume easy to read with clear and concise language.
We will discuss these phrases in detail in the next section, "phrases you must avoid" of this blog.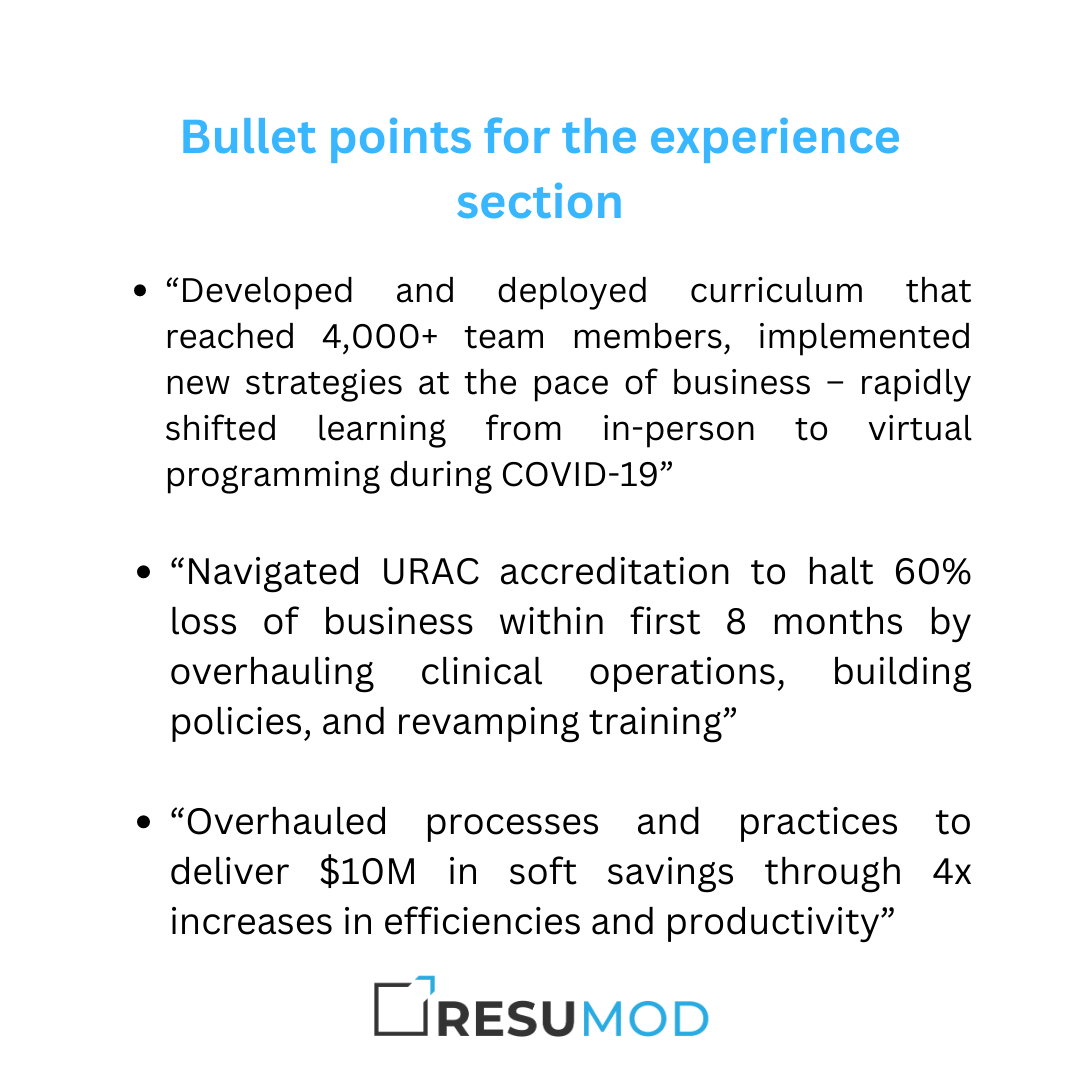 Meanwhile, here are some examples to give a better idea of how to explain your job experiences

"Developed and deployed curriculum that reached 4,000+ team members, implemented new strategies at the pace of business – rapidly shifted learning from in-person to virtual programming during COVID-19"

"Navigated URAC accreditation to halt 60% loss of business within first 8 months by overhauling clinical operations, building policies and procedures, and revamping training"

"Overhauled processes and practices to deliver $10M in soft savings through 4x increases in efficiencies and productivity"
Check out detailed resources on writing a work experience section: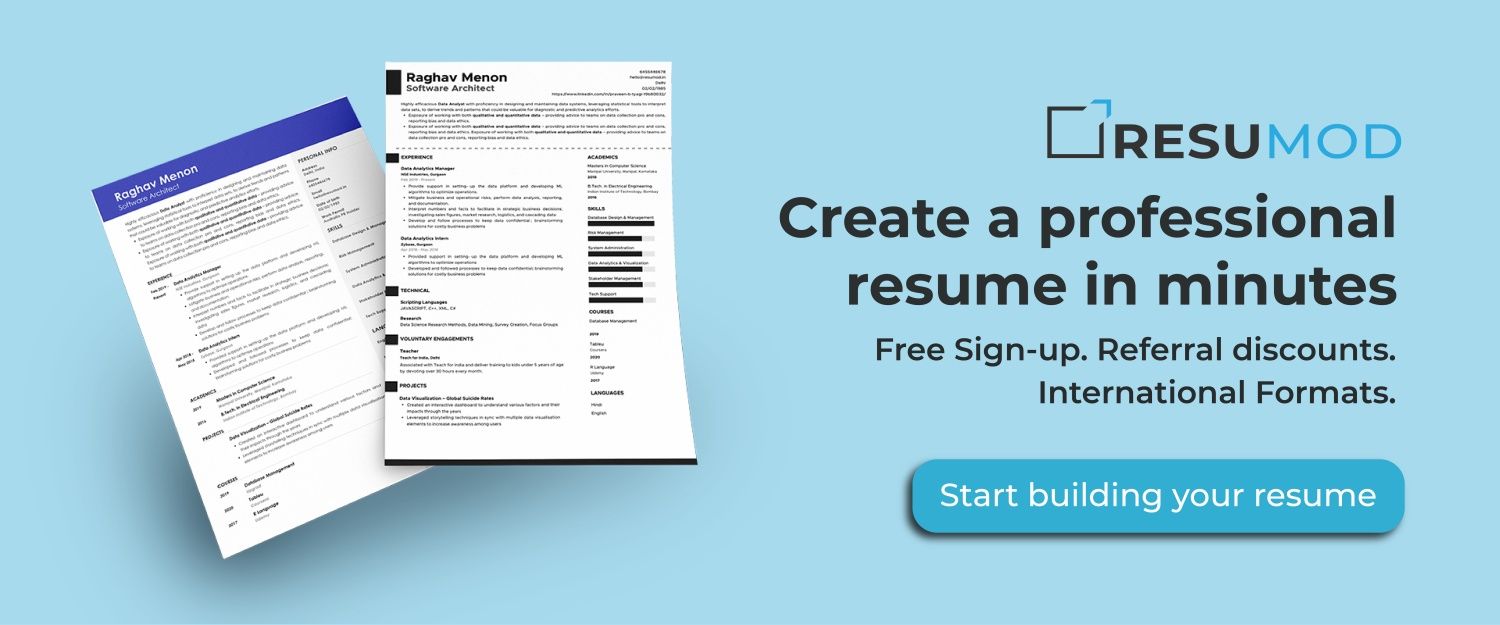 Quantity of Your Data
"Your action speaks more than your words".
This saying holds for careers as well.
Writing about our actions or achievements is the best way to highlight your capabilities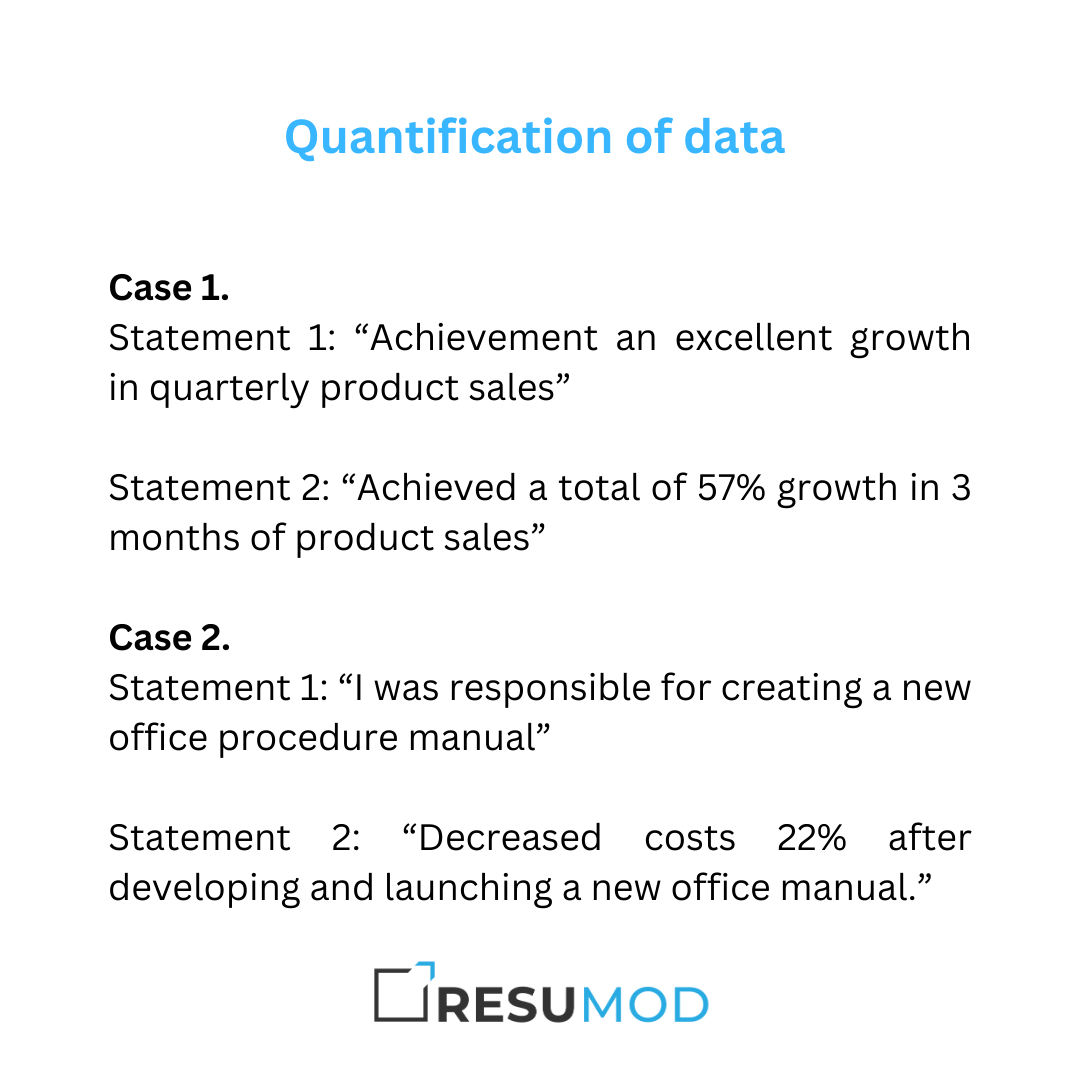 For example, consider these statements:
Case 1.
Statement 1: "Achievement an excellent growth in quarterly product sales"
Statement 2: "Achieved a total of 57% growth in 3 months of product sales"

Case 2.
Statement 1: "I was responsible for creating a new office procedure manual"
Statement 2: "Decreased costs 22% after developing and launching a new office manual."

Which one looks more appealing in both cases? The second statement, right? This is because, with numbers, it's really easy for us to compare the overall impact of any achievement, and thus, it looks more appealing. Therefore, always quantity your achievements wherever possible in your resume.

Various Sections in a Resume
You have two types of sections that are mentioned in a resume. One is "Must Have," and the other is "Can Have."
"Must have" sections include:
Contact Information
Resume Summary or Resume Objective
Work Experience Section
Education Section
Skills Section
The recruiters focus on information in these sections during resume shortlisting and interview rounds.
Now comes the "Can Have" sections. These sections are optional and non-mandatory, only to be mentioned on personal preferences.
"Can have" sections include:
Awards and Honors
Volunteer Work
Certifications and Licenses Projects
Hobbies and interests
Qualifications
Extracurricular Activities
Accomplishments
Associations
Publications
Languages
Training
Conferences
These sections vary from candidate to candidate.
However, they have a unique advantage. These sections help you personalize yourself as a brand in the resume. These little achievements add value, the condition being that they are relevant to the applied profile.
For example, any training or associations, or conferences in your chosen field of industry can help you elevate your relevancy to a higher level. Most of these achievements are often emphasized by the recruiters during interviews. These are unique, and not many candidates can mention the same things, ultimately helping you to stand out and win the interview.
expert tip
What skills should I mention in my resume?
Mention only those skills or accomplishments aligned with your industry profile and relevant to the applied job description.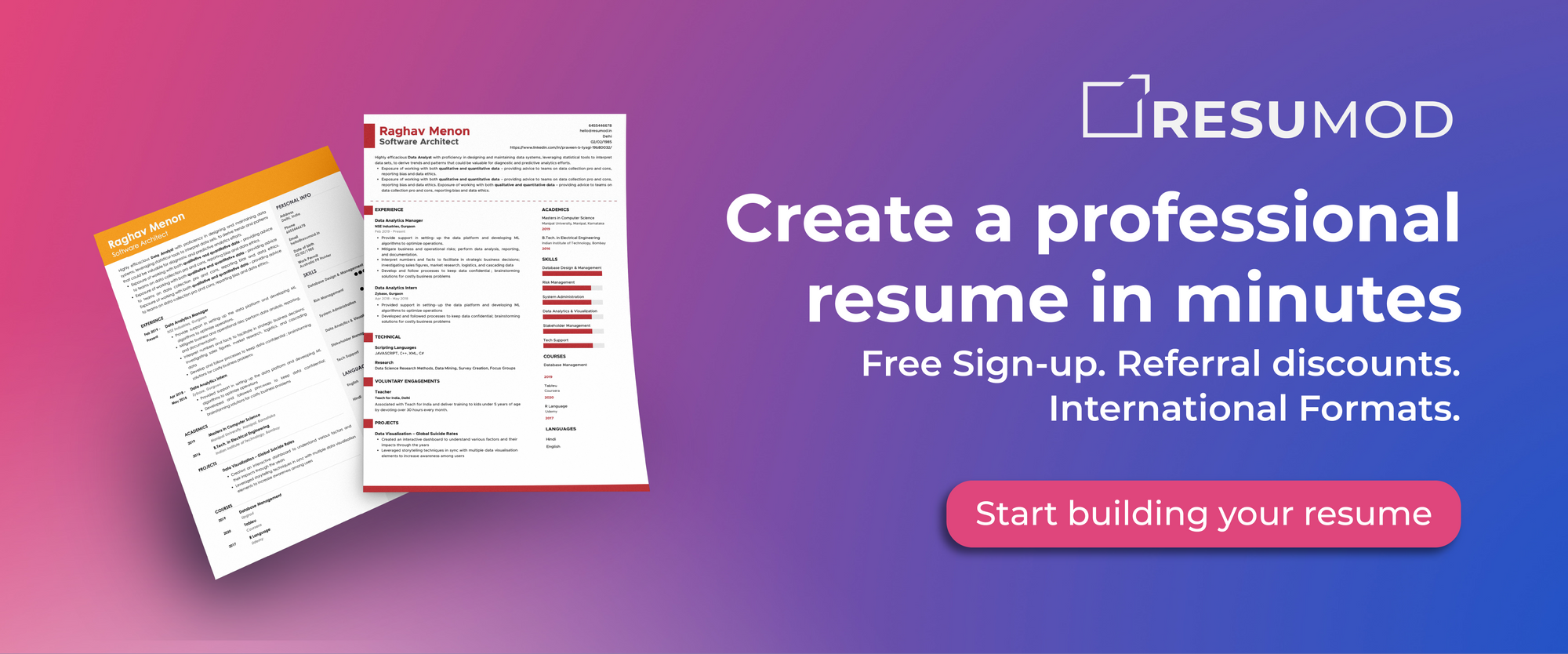 5 Additional Tips for Writing an Outstanding Resume
Let's face it- conveying anything clearly and to the point with an appealing tone is hard.
Follow the key tips to improve the overall impact of your resume and set a professional tone with appealing quality.
Avoid Passive Words
Avoid passive phrases and use active phrases. Passive phrases don't give any idea about comparable action, take up space, and decrease the effectiveness of a sentence.
Recruiters generally feel passive phrases to be boring and monotonous.
Here are some commonly used passive phrases in resumes:
Responsible for
Duties included
Seasoned
Worked with
served as
If you are using any of these, it's time to change.
expert tip
How to make sentences in my resume more effective?
Always use active (or action) phrases that convey actions followed by any quantified stat. This will make the sentence really concise and effective.
Plan Your Resume Layout and Sections
There are so many functional resume layouts available for free. Take your time to finalize the layout that goes with your style and feel.
Make sure that your layout is aligned with the resume sections that you are planning to mention in your resume.
Consider customizing a resume template as per your requirements. For example, you can add your LinkedIn profile link at the top of the the contact section which is very valuable if you have a strong LinkedIn profile.
The sole purpose of the layout should be to convey the necessary information in an organized manner. Be flexible and create the best layout that fits your requirements.
Use Bullet Points to Organize your Resume
A resume containing bullet points is easy to read, makes it faster to profess information, and saves time for recruiters during shortlisting.
Use bullet points to differentiate various subheadings and points under different sections.
Targetted Keywords to beat the ATS
It is important to beat Application Tracking Systems (ATS) software to crack the shortlisting round. ATS focuses on the information in your resume and compares it with the data in the job description. The more targeted keywords it finds in your resume, the more it recommends you for the applied profile.
Here's what we suggest - do your research and list down skills and responsibilities keywords from the job description. Use these keywords wherever possible in your resume, it will make you more relevant for the profile to pass the ATS test.
Keep it Short and Concise
Recruiters have limited time, making it important for you to keep your resume short.
Use bullet points instead of long paragraphs.
Avoid unnecessary filler words that will help you say more in fewer words.
Use active voice, preferably.
Proofread to ensure correct grammar and punctuation.
Be professional
An attractive resume can and should look professional.
Don't go overboard with images, and colors to standout.
Write your full real name, as written on the documents.
Avoid using slang as they distract the reader from the main points.
Top Rated Resumes on Resumod
Resume of PGT Geography
Check the full resume of PGT Geography in text format here
Resume of Psychiatrist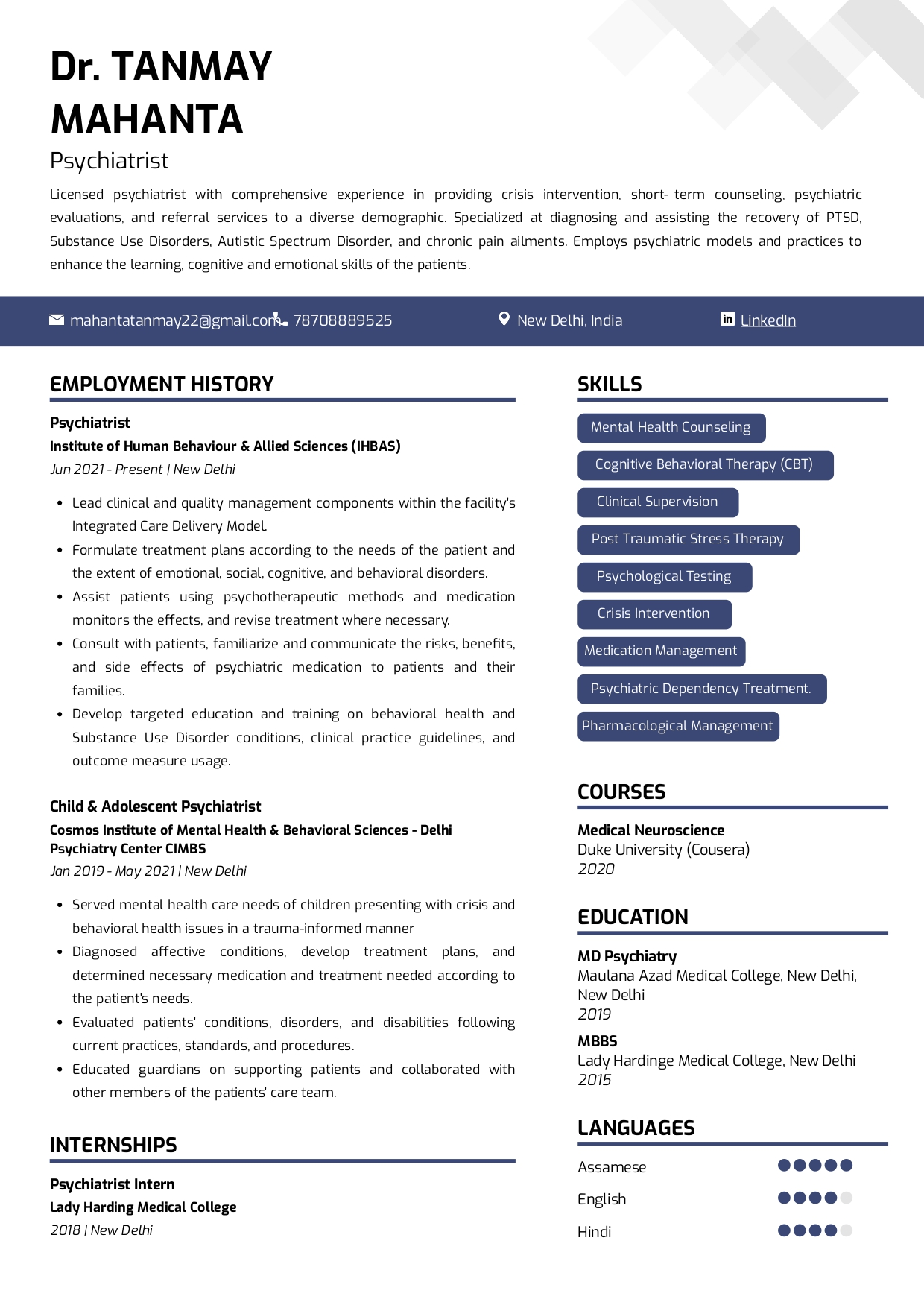 Check the full resume of psychiatrist in text format here
Resume of Clinical Social Worker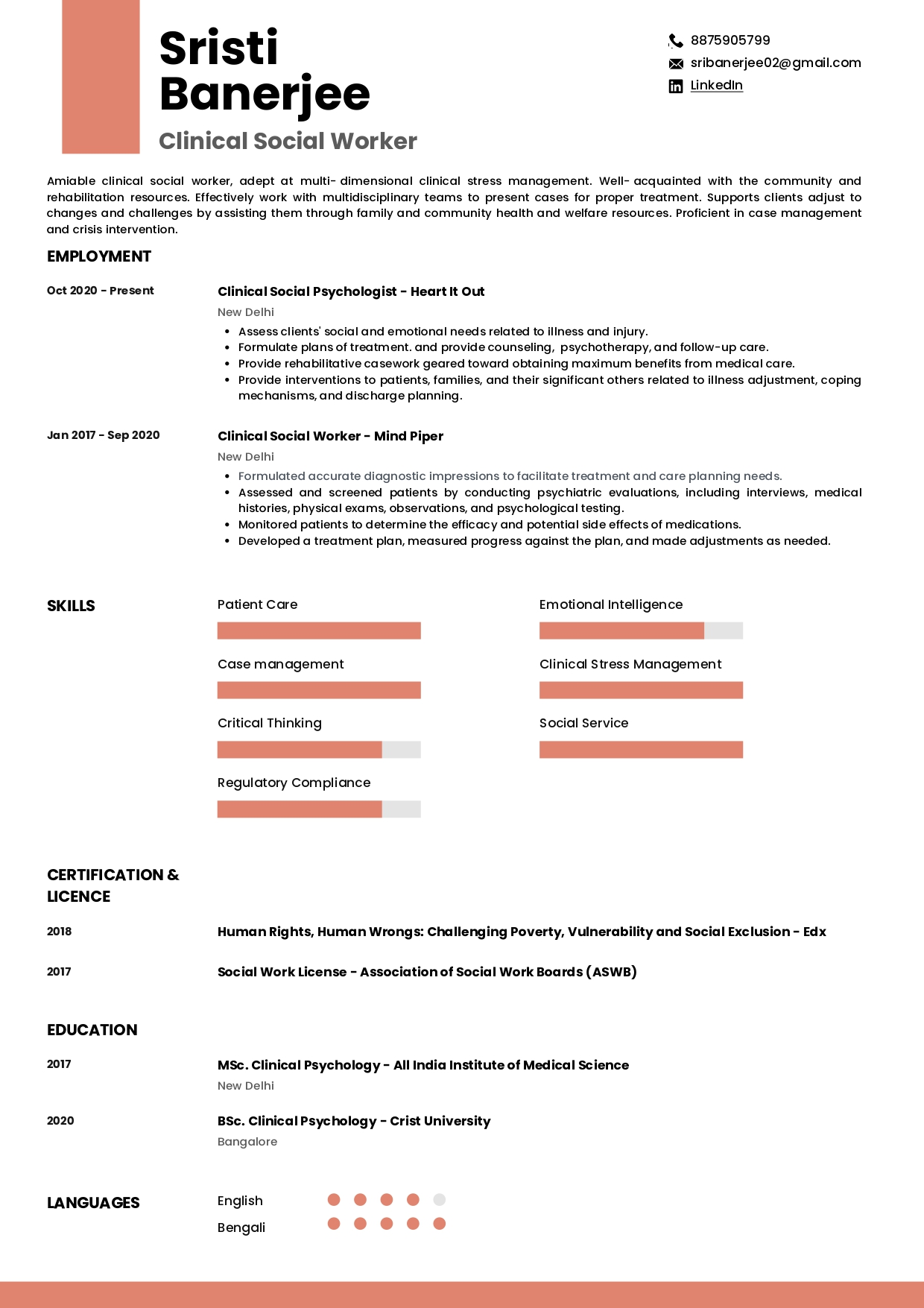 Check the full resume of clinical social worker in text format here
Resume of Training and Delivery Manager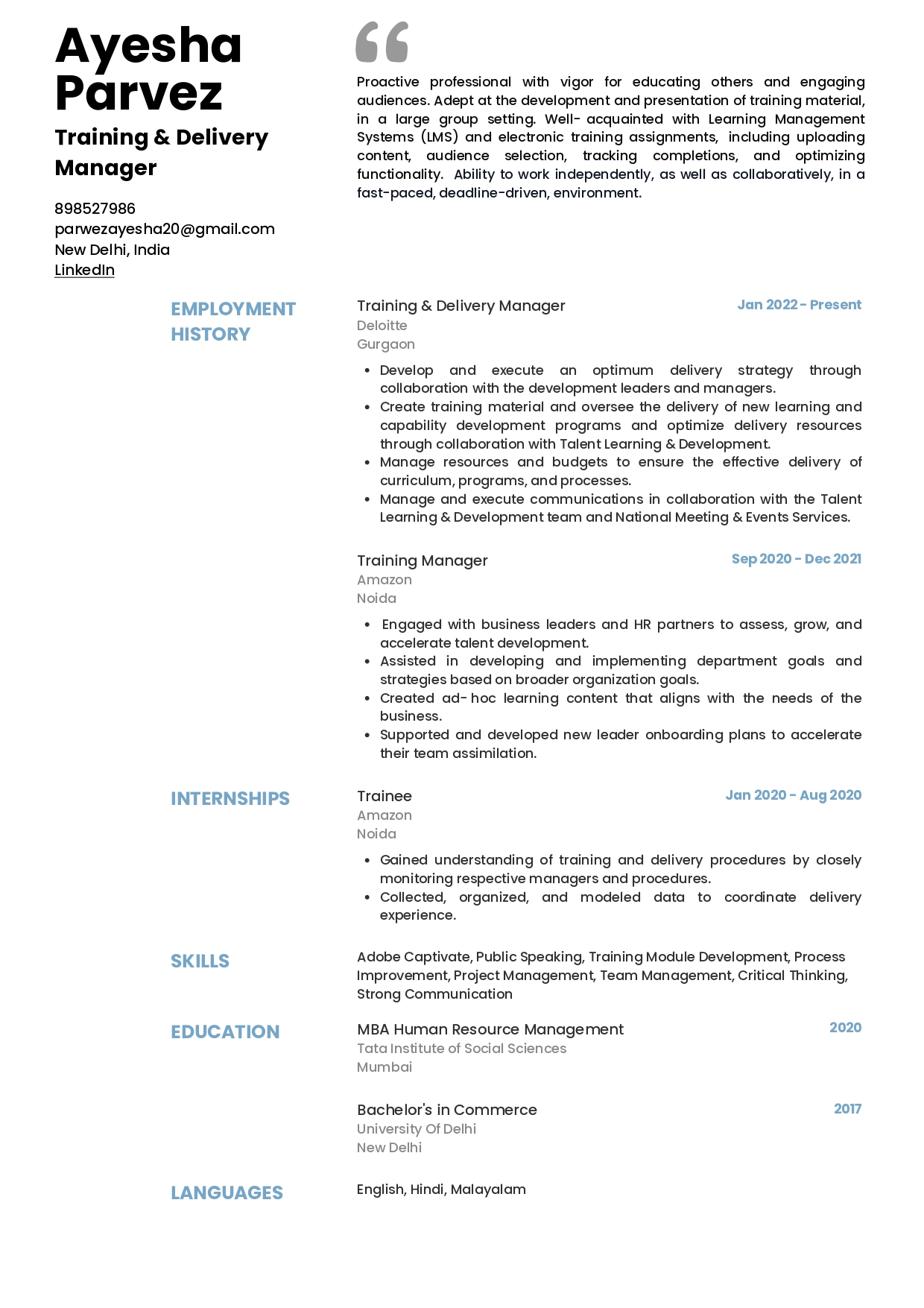 Check the full resume of training and delivery manager in text format here  
Resume of General Manager - Sales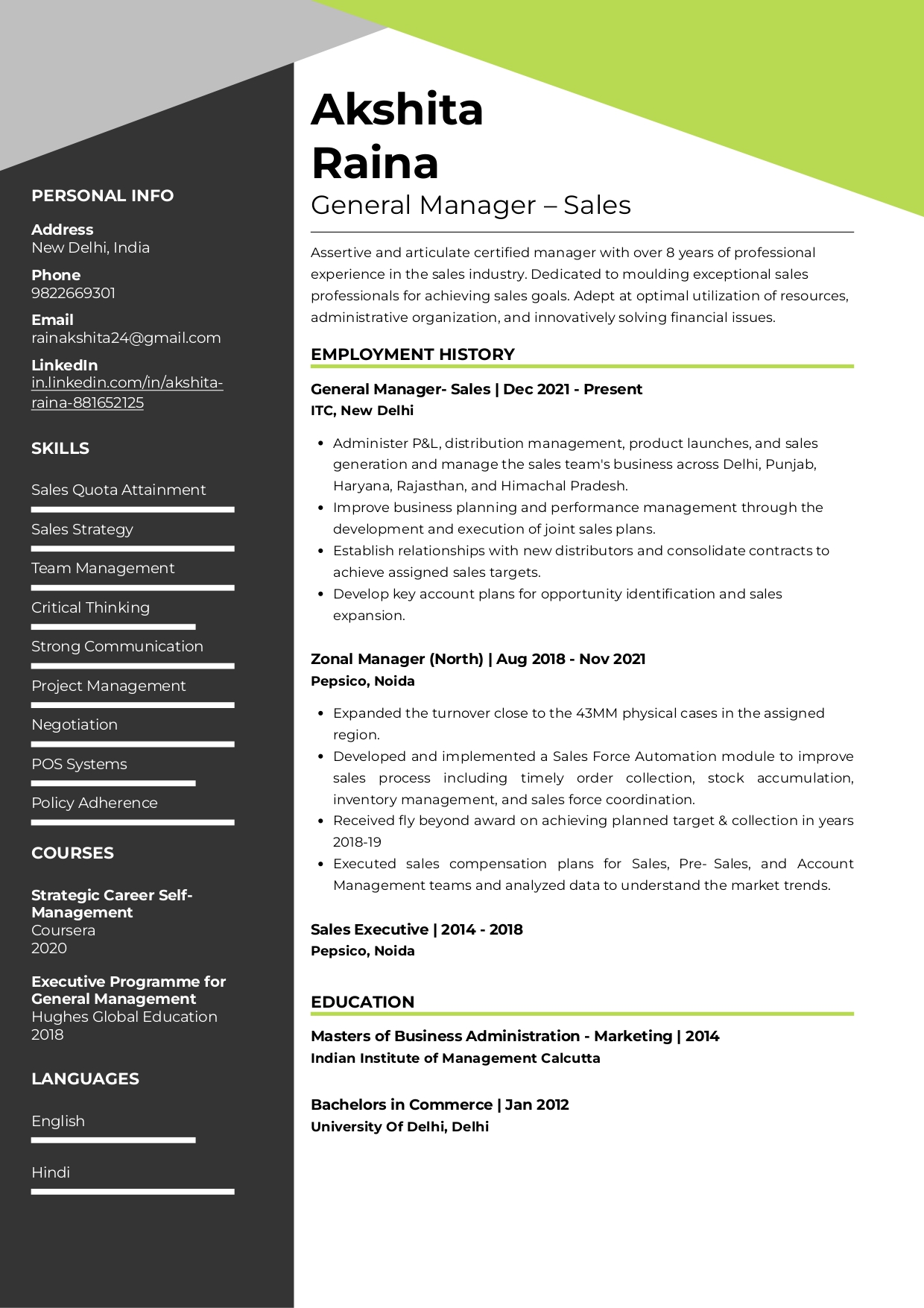 Check the full resume of general manager - sales in text format here
Resume of Data Protection Officer  
Check the full resume of data protection officer in text format here
Resume of Transportation Specialist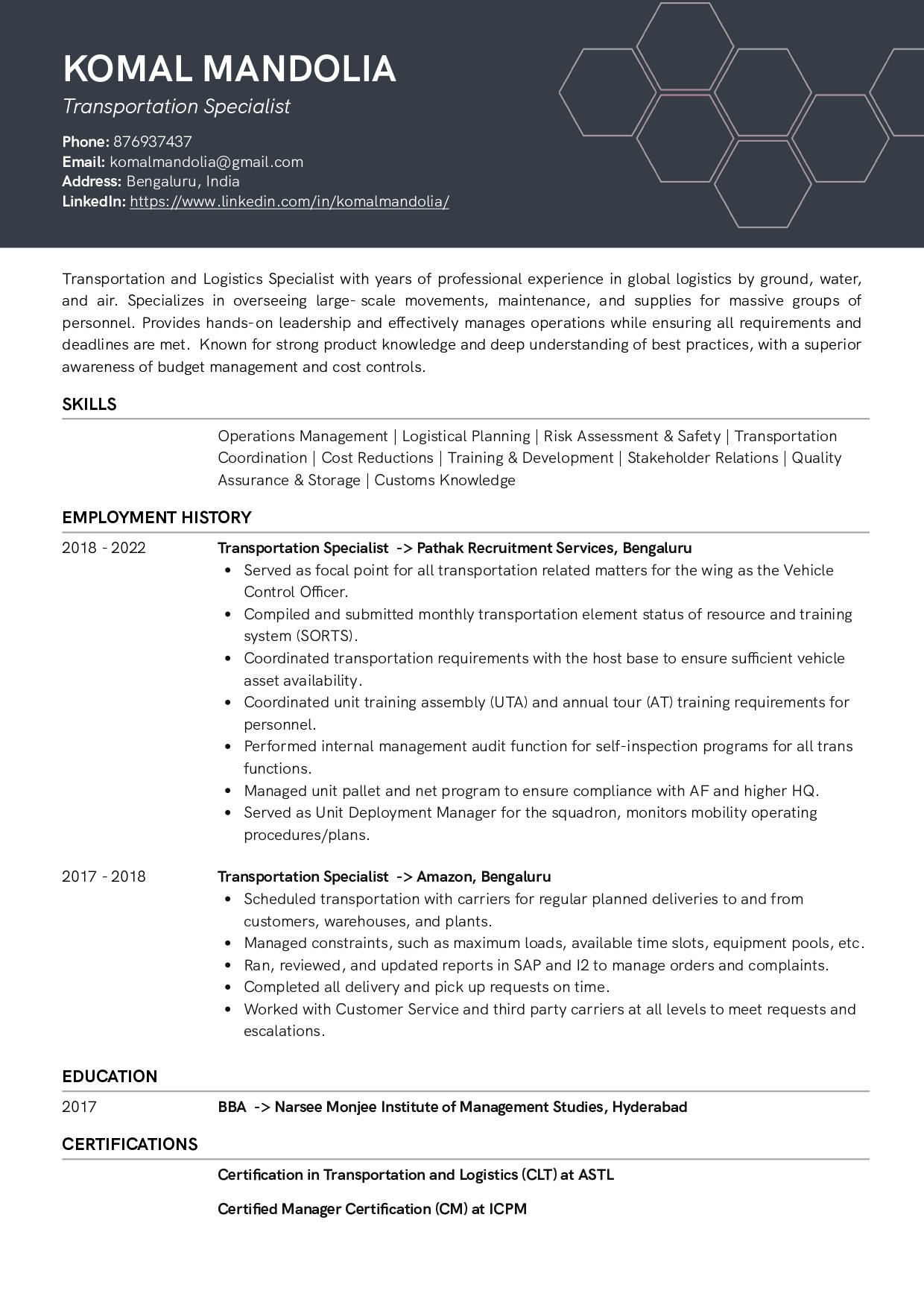 Check the full resume of transportation specialist in text format here  
Resume of Laboratory Analyst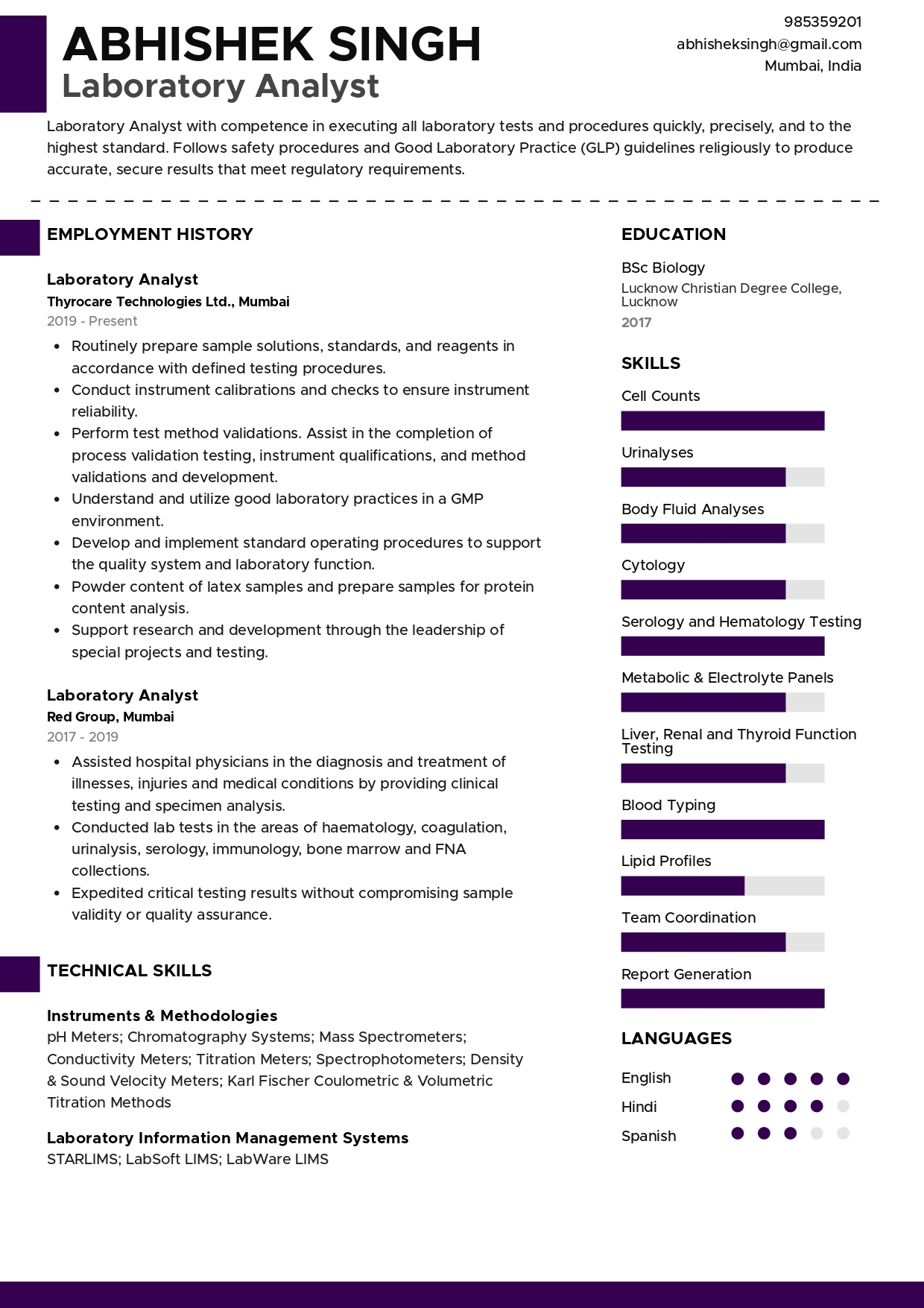 Check the full resume of laboratory analyst in text format here
Resume of Head of Corporate Affairs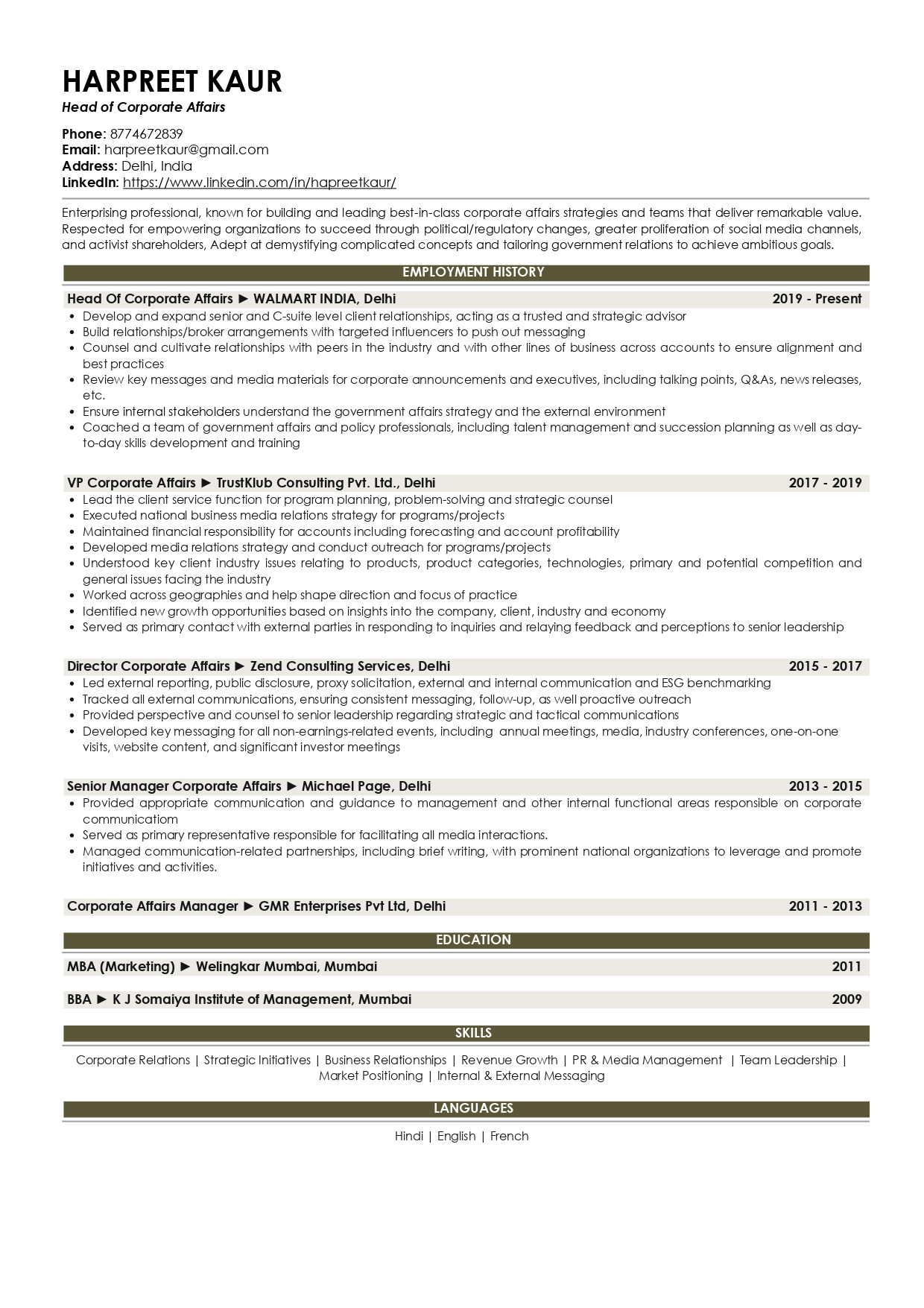 Check the full resume of head of corporate affairs in text format here
Resume of  Customer Support Associate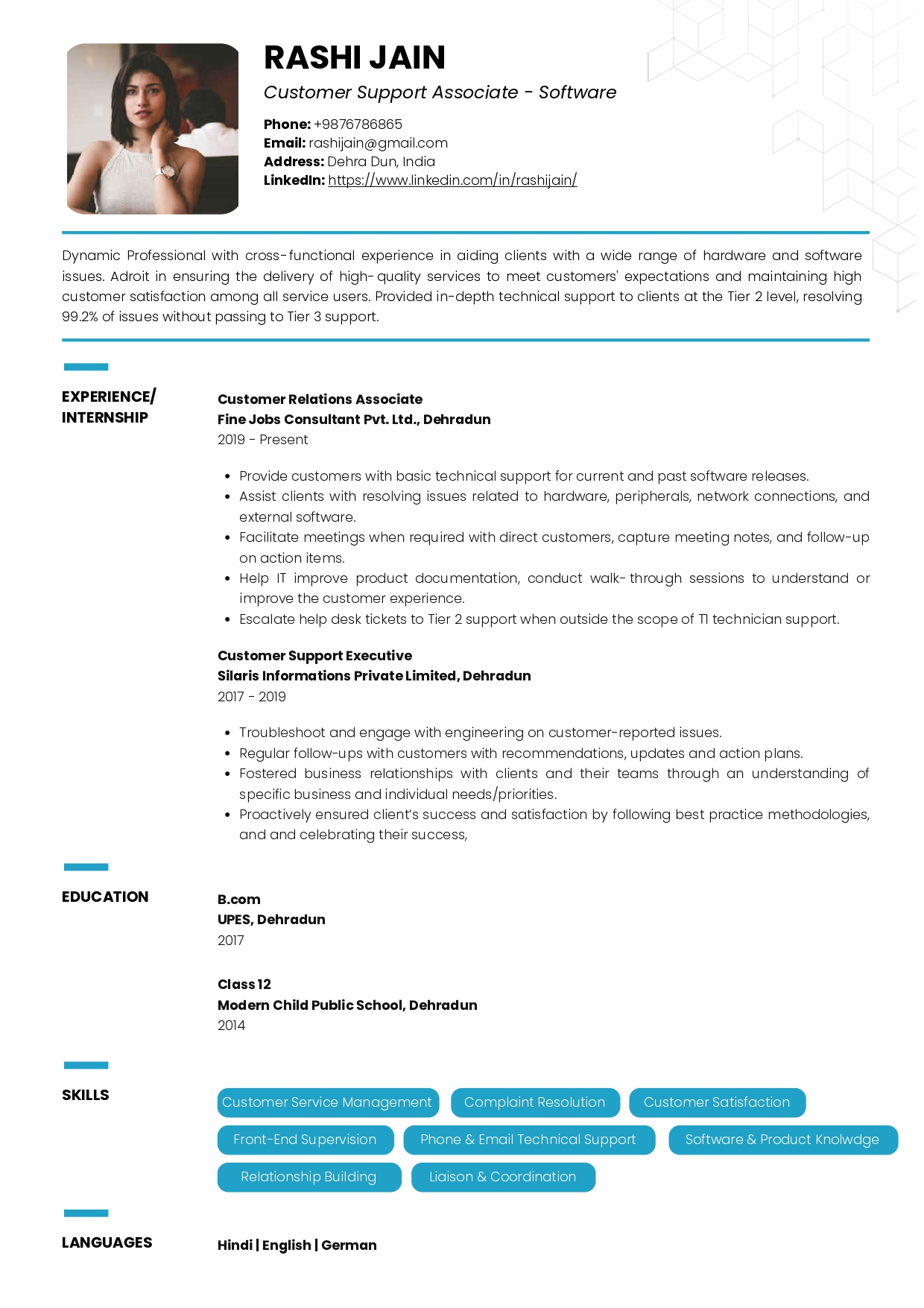 Check the full resume of customer support associate in text format here
Resume of Plant Manager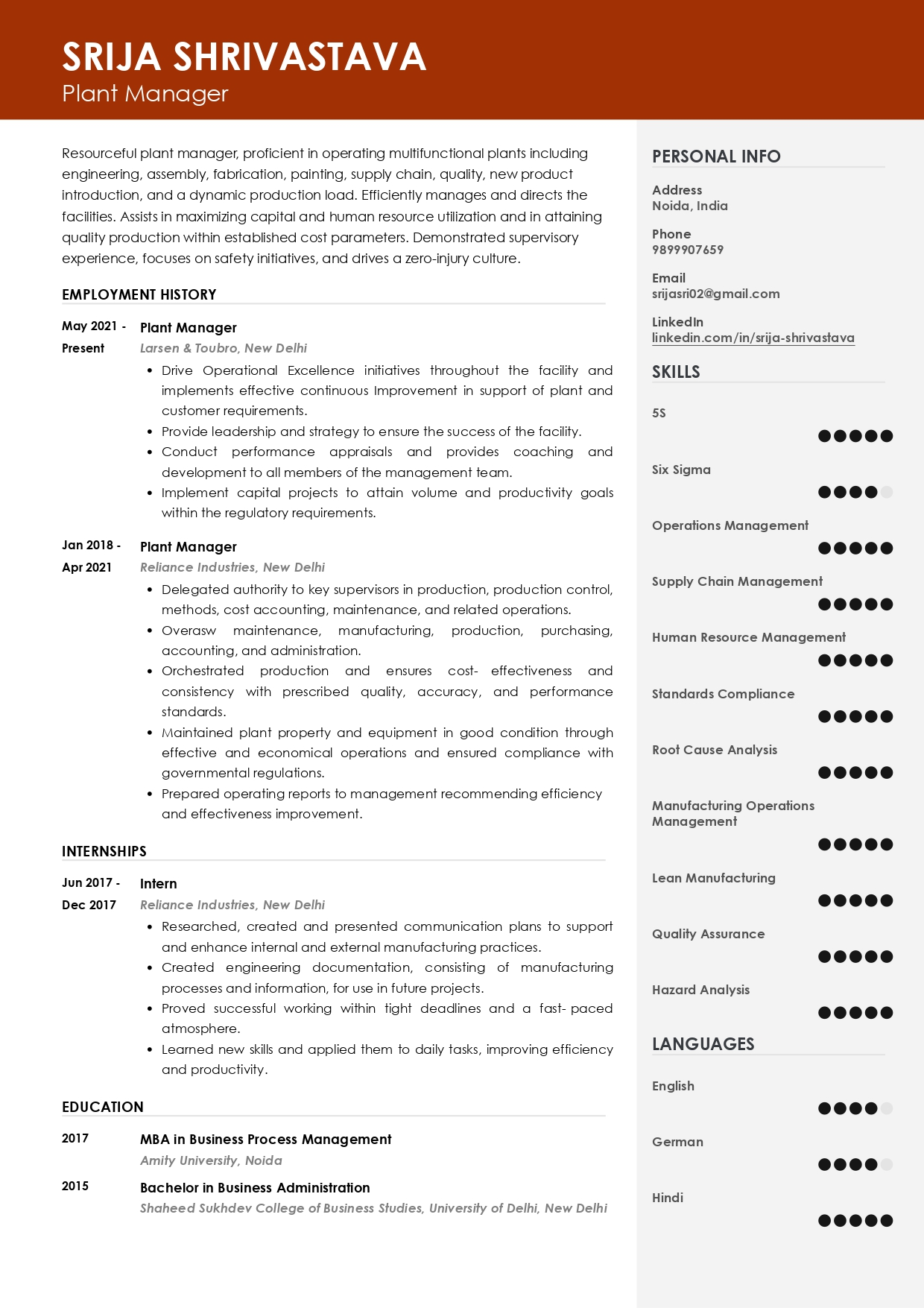 Check the full resume of plant manager in text format here
Resume of  Insurance Underwriter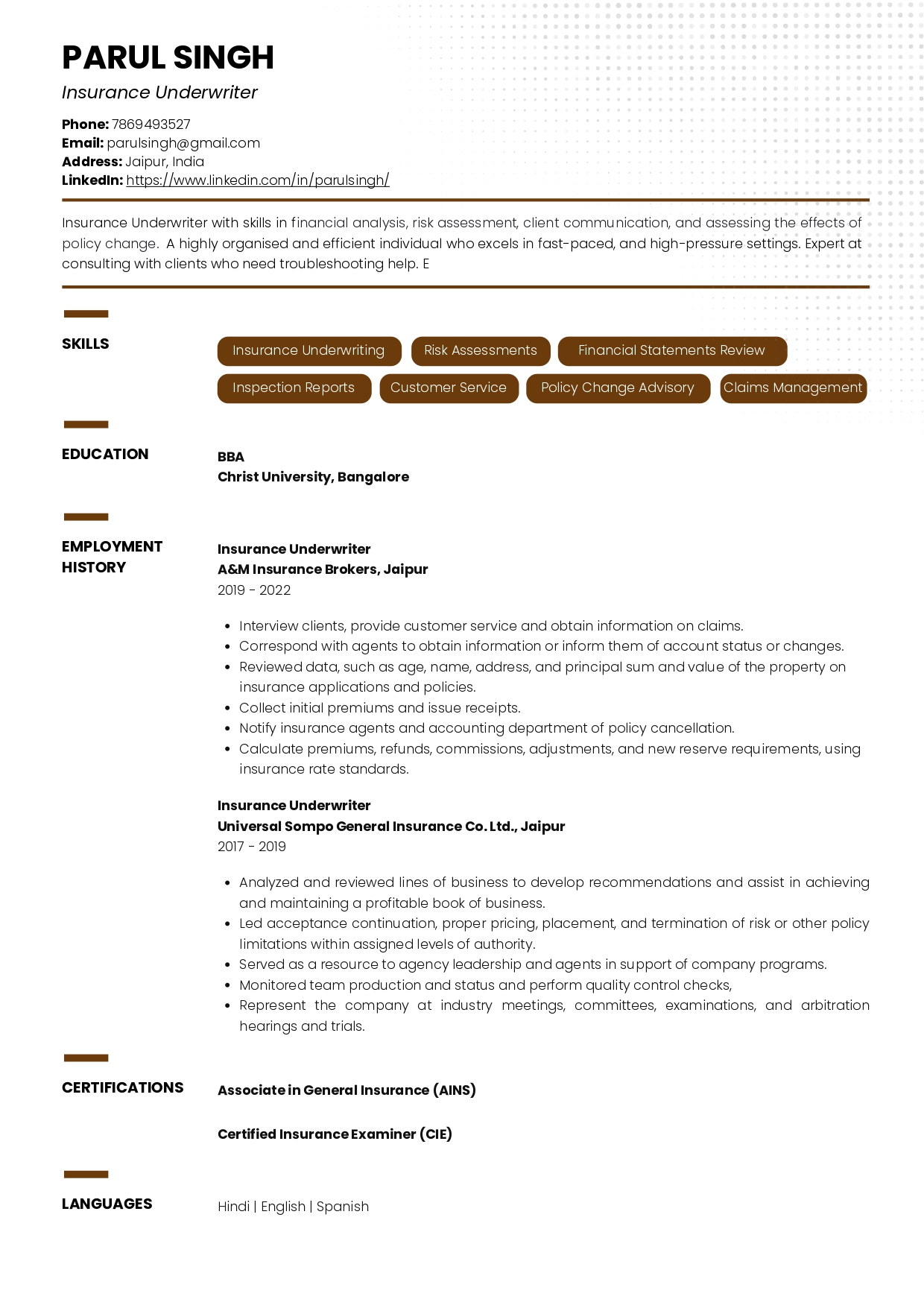 Check the full resume of insurance underwriter in text format here
Conclusion
Now that you know what makes a resume more appealing and helps you stand out, start writing your resume based on these tips. However, if you need professional help to make a winning resume for 2022, check out our top-notch resume-writing services today and get your dream job!!!