How To Write a Resume for Arts Students - BA & MA [15 Examples]
Even with a lower preference in the job market, art students have a fair chance to get a job that compensates for their skills.
With hiring trends shifting from qualification based to skilled-based, getting a degree or diploma from a reputed college or university does not confirm you a job anymore.
Despite the shift, it is still a struggle for art students to find high-paying jobs. Candidates with professional degrees are still preferred by employers worldwide. Even with a lower preference in the job market, art students have a fair chance to get a job that compensates for their skills.  
The first step is developing employable skills
The second one is having a resume that strongly presents your case.  
A resume is like a snapshot of your skills and potential, illuminating your worth to a company if hired. Thus, it's necessary to write a thoughtful resume for winning your first job interview. You have landed in the right place where you will get a step-by-step guide to writing a resume that stands out.
This blog will guide you through:
The Correct Resume Format for Arts Students
The first thing is to choose the best format for your resume. There are three common formats for writing a resume, each having specific intentions and impacts. Let's see their role and how they work to help you choose the right format for your needs:
#1 Chronological Resume Format
This format is best suited for individuals who hold a rich working experience to showcase in their resumes. Here, all the experiences are mentioned in chronological order from the latest at the top and the oldest at the bottom, becoming the main focus of the resume.
As a new graduate especially for art students having very few internship opportunities, a lack of representable experience is common. Thus, a chronological resume doesn't make the best choice.
#2 Functional Resume Format
This is a skill-oriented format. With this format, the aim is to highlight your skills, not the length of your experience.  
You do not organize your experience based on the chronology, but rather on your skills. For instance, you have had jobs in multiple fields. You will position your experiences as per the category, rather than your employment date.  
#3 Hybrid Format
This is a mixture of both chronological and functional resume formats. It makes a perfect choice for art students. Your lack of experience is backed by your skill set, increasing your relevancy to the job.
Thus, mention your skills and any relevant experience such as internships or summer camps.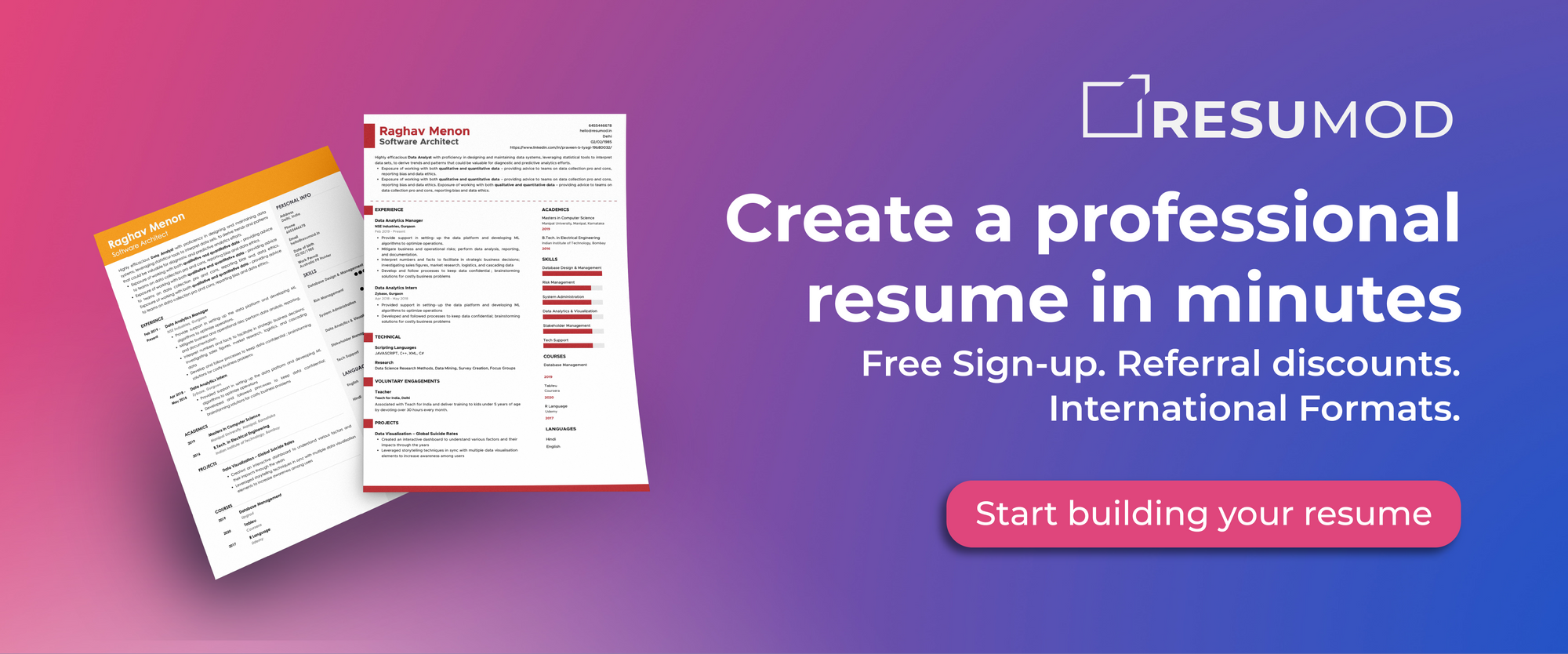 Various Sections of a Resume for Arts Students
There are a lot of doubts in a student's mind while writing a resume. The whole process can be really stressful if you don't know what and how much content to add to your resume. However, we have compiled some common techniques useful to write an organized and standing-out resume.
Contact Details
No resume is complete without contact details. These come on the top.
Write your official full name and phone number, along with your email address and LinkedIn profile (if possible) credentials and your current address. Avoid using vague email addresses and nicknames. Keep everything concise and professional.
Objective Statement
Make your objective, also known as a "statement of intent" relevant to the job, by mentioning a few key responsibilities in it.
For an arts resume, make your objective statement skill-based and talk about the core skills that you'll require during your job role.  
Education
Your educational status says a lot about you despite your experience. Many candidates mention their education status at the bottom which decreases its overall intentional impact.  Therefore, do not hesitate to write your education section at the top, right after the objective statement.
If you have internships that directly support your future job, then make space for those in the bottom.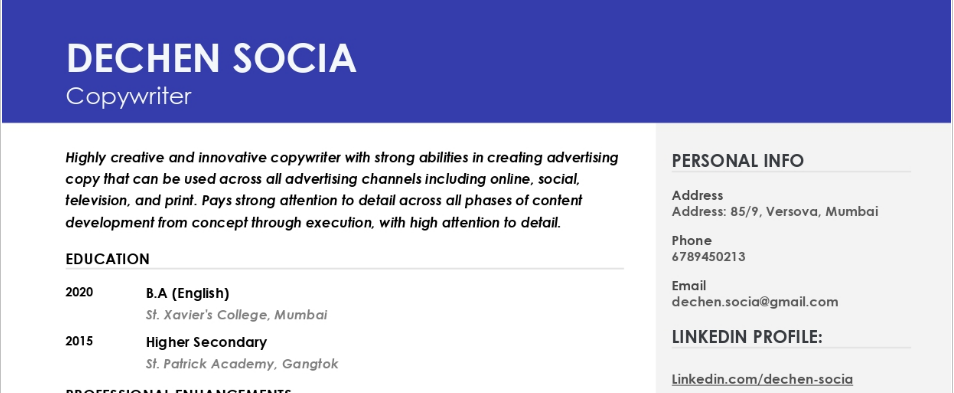 Tailor your education by following these simple steps:
Add your educational status in chronological order, from the latest/pursuing to the oldest.
Mention the complete name of your institution, along with the year of graduation or total tenure spent during graduation. Write the expected year if you are still pursuing the course.
Describe key areas of your study that you overtook while studying. It could be anything based on your projects, research, or academic achievements.
Projects, Research, and Published Writings
Most Arts students are required to submit some research papers or theories at some point related to their study area during graduation. It could be in the form of group projects or assignments.  
Use them to your benefit by writing them in your resume.
Write the topic of the project or research paper and describe your outcome in a separate para limited to 2-3 lines only.
However, make sure that you only add the most relevant ones, based on the profile's requirements. Keep it concise and relevant.
Skills & Competencies
Normally flexing is bad, but there is no harm in flexing your skills while writing a resume. However, write only those skills relevant to the job profile. It also helps in trespassing the automated process of resume rejection based on skills.
Read the job description carefully and list out key skills keywords. Write them down under your skills section.
Extracurricular Activities
Extracurricular activities are your holy grail. They give you brownie points for being outside the classroom and developing your interest areas.
You never know, your engagement in a college society might land you a sales job.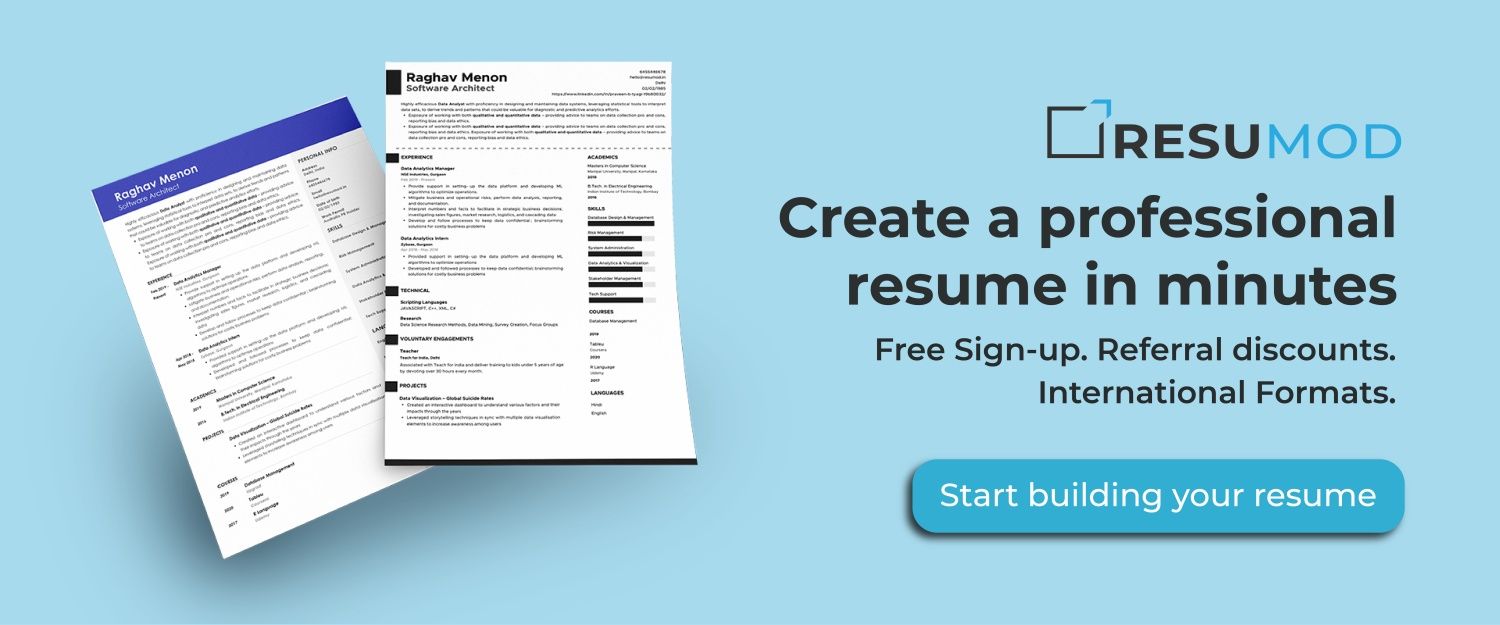 Tips to Make Your Arts Resume Stand Out
Make your resume organized and easily readable. Only choose professional fonts like Arial and the correct font size.
Do not repeat the skills and keep them limited to 10-12 skills only.
The best way to make use of your education is by mentioning your learning from the various courses undergone and describing how they can help you with the applied position.
Mention your GPA, but only if it is impressive and you can back it up. Don't mention otherwise.
Include a combination of soft skills like communication, problem-solving, quick thinking, etc, and technical skills like MS Office, foreign languages, editing, content writing, etc. This gives a balance to your personal and professional qualifications.
Recruiters do notice these small things, making you stand out and way more relevant than others candidates.
Skills for your Arts Resume
Legal Writing
Legal Research
Client Relations
Law Office Support
Records Management
Word Processing and Data Entry
Database Management
Proofreading & Editing
Legal Terminology
Legal Advisory
Proofreading
Legal Documents Writing
Content Development
Media Relations
Market Research
Marketing Metrics
Multi-Channel Advertising
Researching and Outlining
Google Analytics
Operational Support
Human Resource Management
Business Operations Management
Early Childhood Education
Creative Lesson Planning & Unit Design
Early Literacy Programs Development
Curriculum  Development
Cooperative & Experiential Learning
Performance Learning Objectives
Learner Engagement & Assessment
Classroom Management Strategies
Organization
Collaboration
Creativity
Empathy
Traffic and Statistics Monitoring
Content Optimization
Team Collaboration
Planning and  Coordination
Editing
Graphic Designing
Lifestyle Writing
Online Publication Management
Photography
HR Policies & Procedures
HR Department Leadership
Orientation & Onboarding
Recruitment Lifecycle Management
Training & Development
Attendance Management
Leave Planning and Implementation
Termination and Exit Processes
HR Program/ Project Management
Performance Management
Benefits Administration
Employee Relations
Professional Development
Instructional Material Development
Team Coaching
Assignment Development
Department Collaboration
Student Evaluation
Staff Coordination
Instructional Design
Training Materials Creation
Course Content
Learning Management System
Project Management
Training Program Development
Business Growth
Market & Competitor Research
UX / UI Improvement
Marketing Funnel Management
Revenue Generation
Product Improvement
Team Leadership
Product Adoption
Cross-Functional Collaboration
Teaching
Communication skills
Modern Classroom Technology
Experiential Learning
Problem-solving
Critical thinking
Conflict Resolution
Innovative Learning Methodology
Curriculum Development
Relationship Building
Web-Based Learning
Team Building
Cost Containment
Staff Training
Safety Management
Customer Service
Quality Assurance
P&L  Management
Indian History
Faculty Collaboration
Lecture Delivery
Classroom Management
Research & Thesis Development
Student Records Management
Media Relations and  Outreach
Public Speaking
Communication
SEO
Campaign Development
Interview Research
Networking
Social Media Marketing
Press Releases
Editing
Editorial Opinions
Journalism
Speech Writing
Presentation Skills
Program Coordination
Leadership
Coaching
Relationship Building
Health & Safety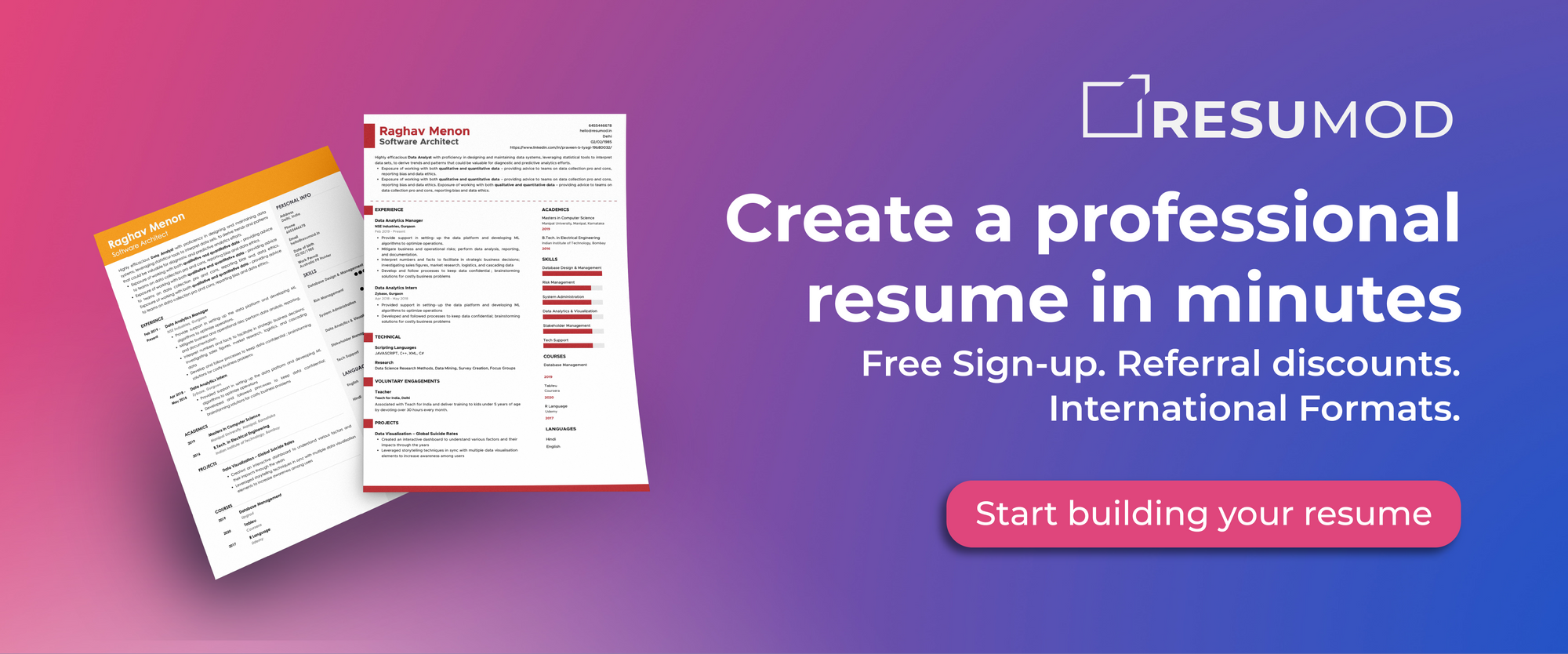 Practice Session Planning & Improvement
Sports Coaching & Mentorship
Sports Management
Team Sponsorship Activation
Player Development
Sport Ethics
Managing Sports Team's Finances
Telesales
Communication
Documentation
Negotiation
Database Management
Attention to Detail
Customer Service
People Engagement
Top Rated Arts Resumes on Resumod
Resume of Legal Writer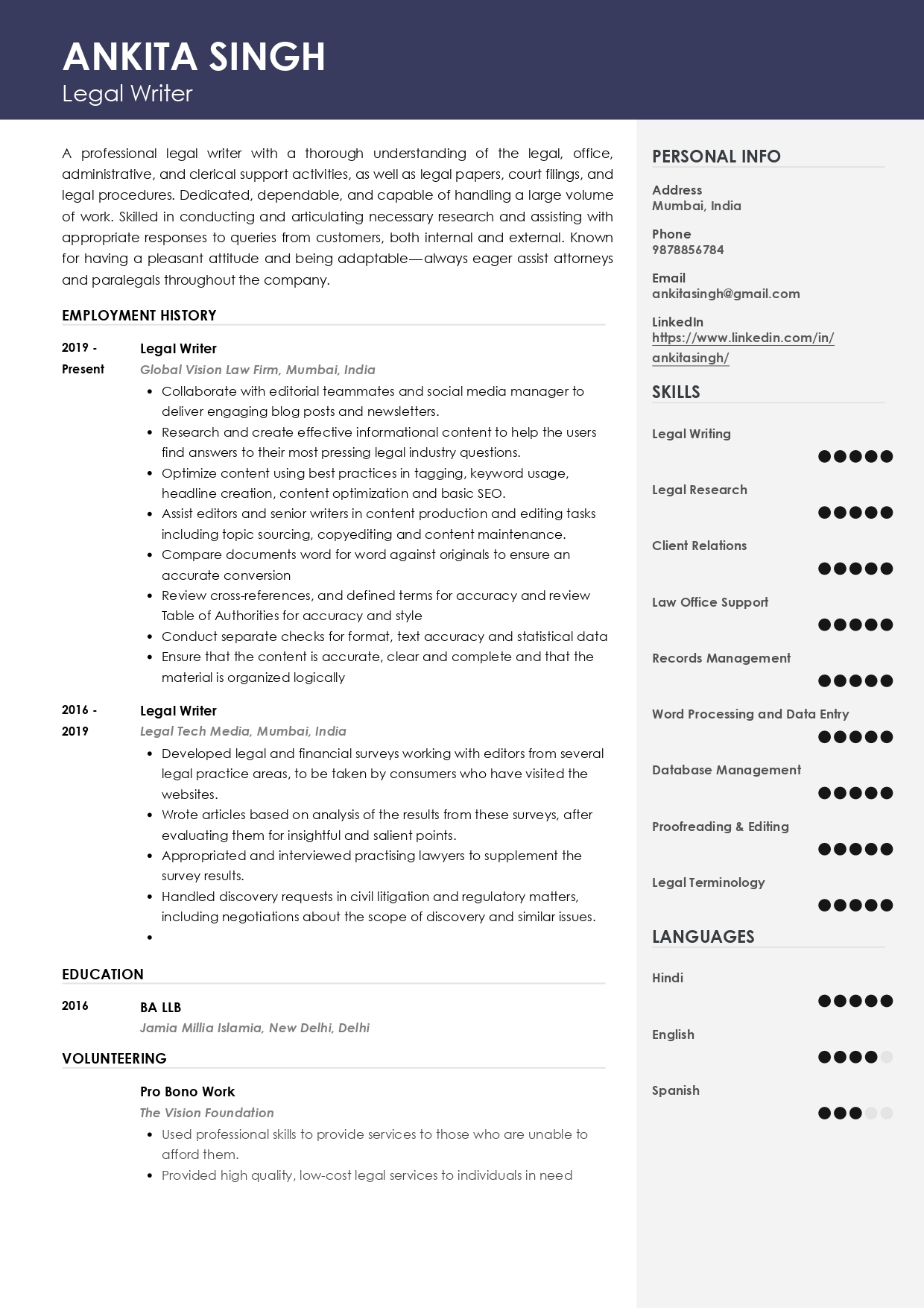 Check the full resume of a legal writer in text format here
Resume of advertising operations coordinator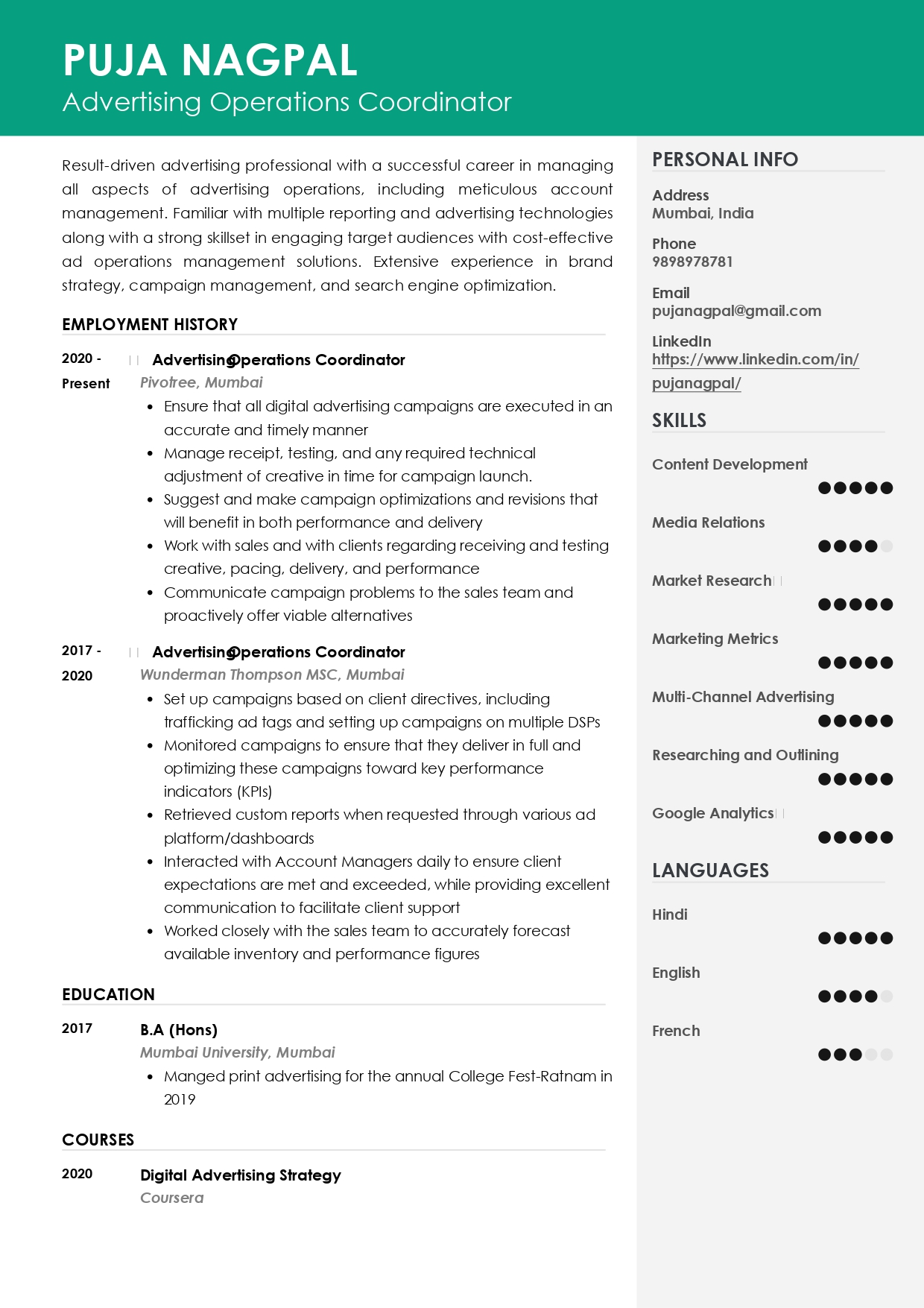 Check the full resume of advertising operations coordinator in text format here
Resume of preschool teacher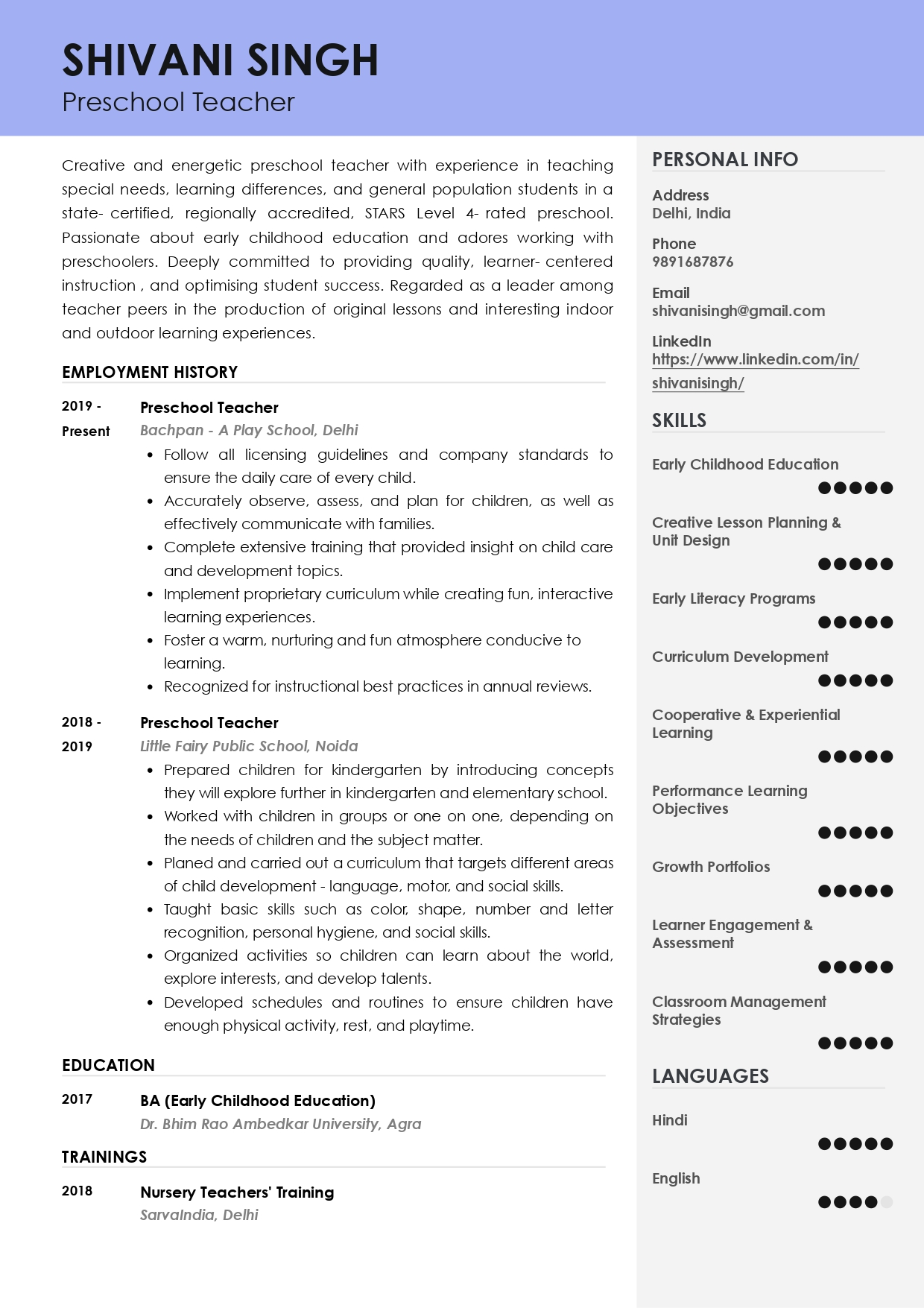 Check the full resume of preschool teacher in text format here
Resume of magazine editor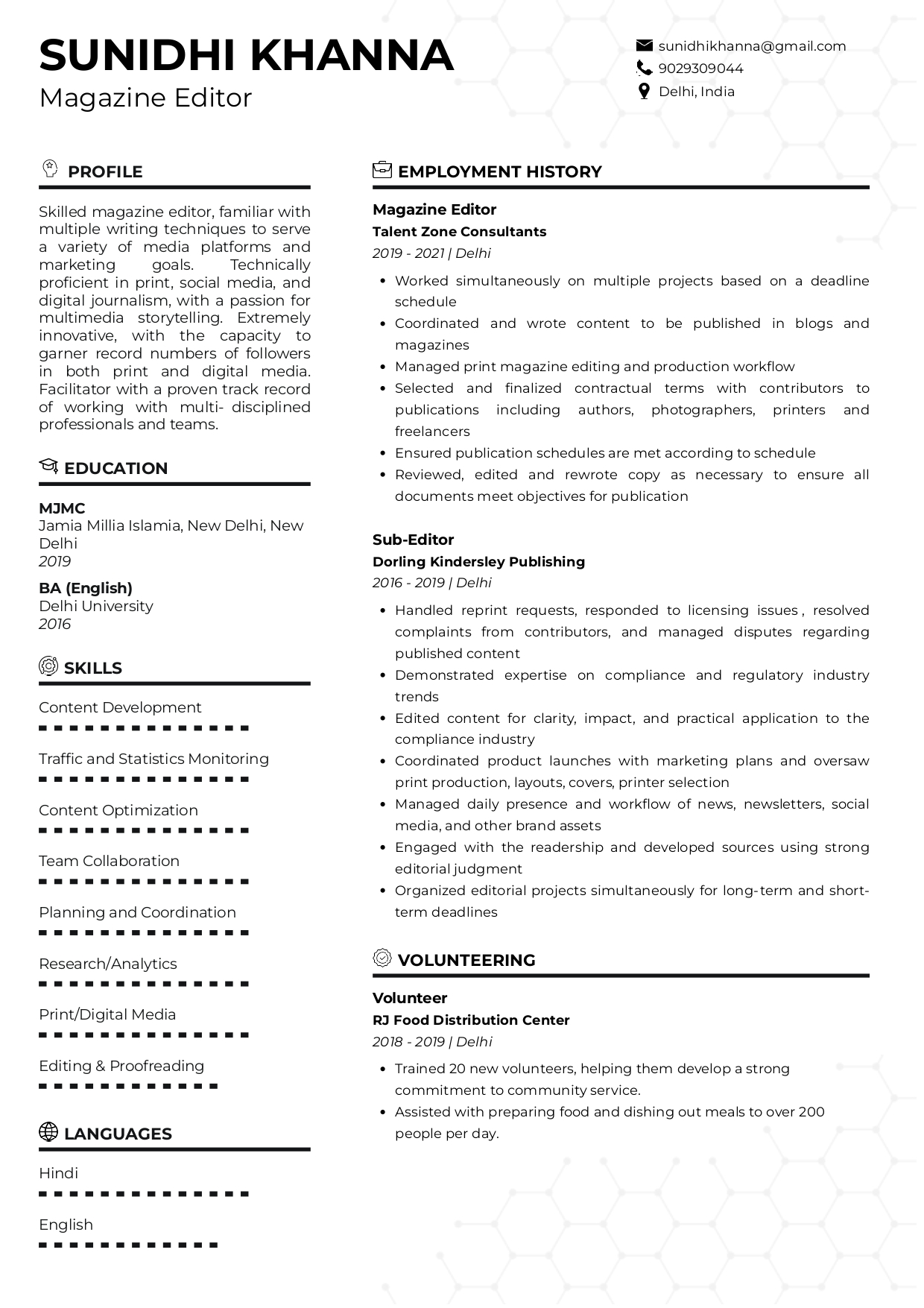 Check the full resume of magazine editor in text format here
Resume of HR manager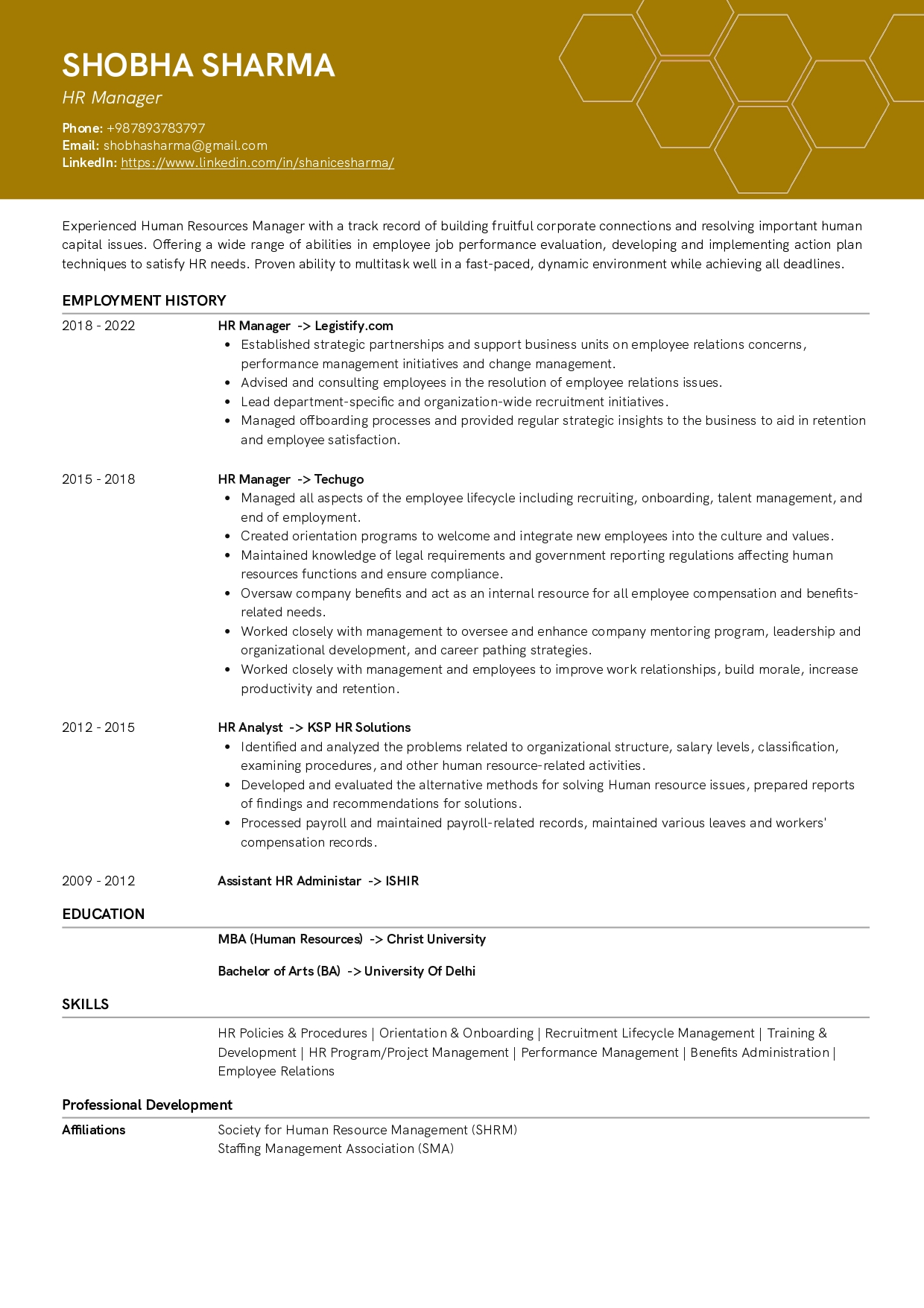 Check the full resume of HR manager in text format here
Resume of instructional designer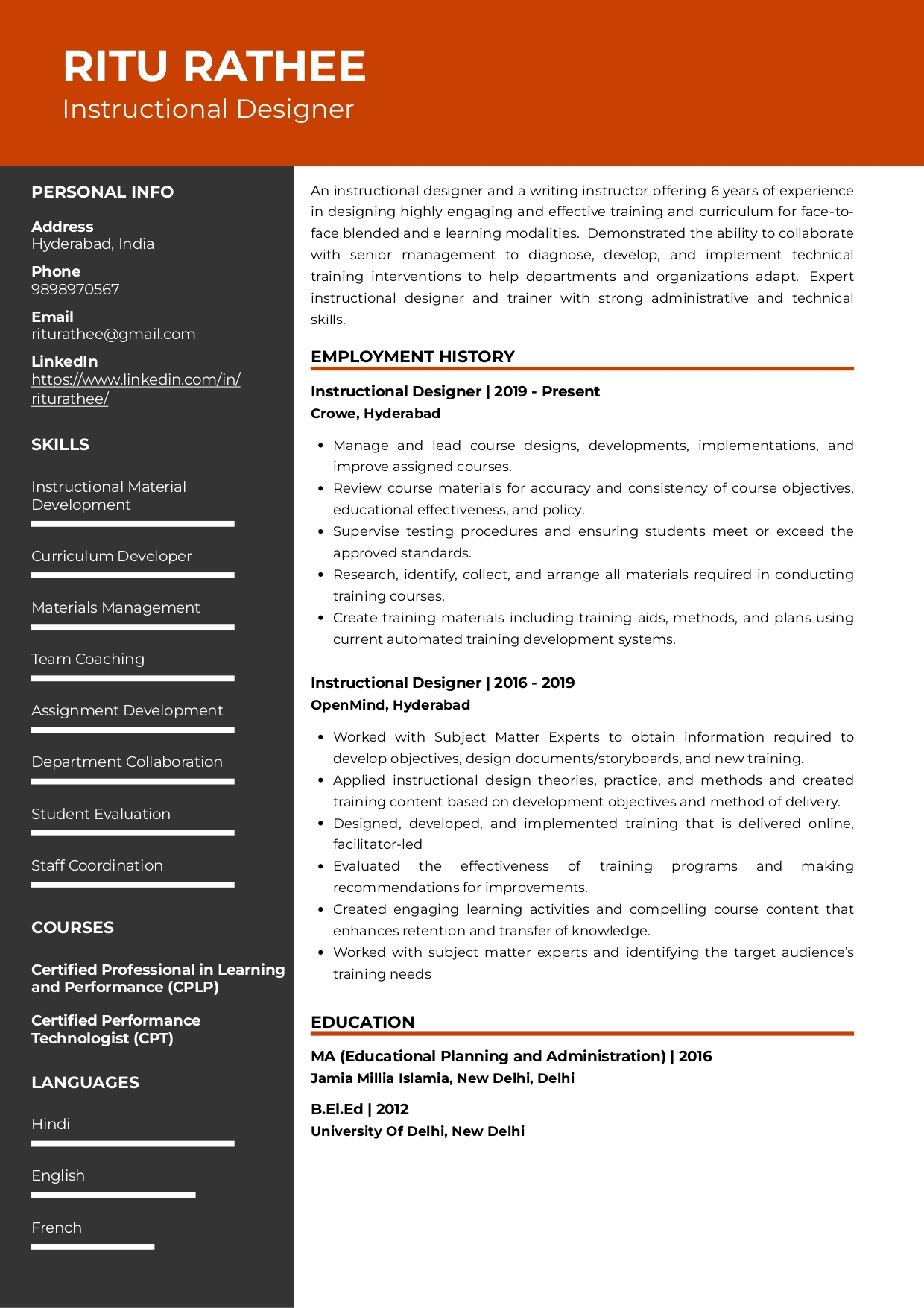 Check the full resume of instructional designer in text format here
Resume of curriculum designer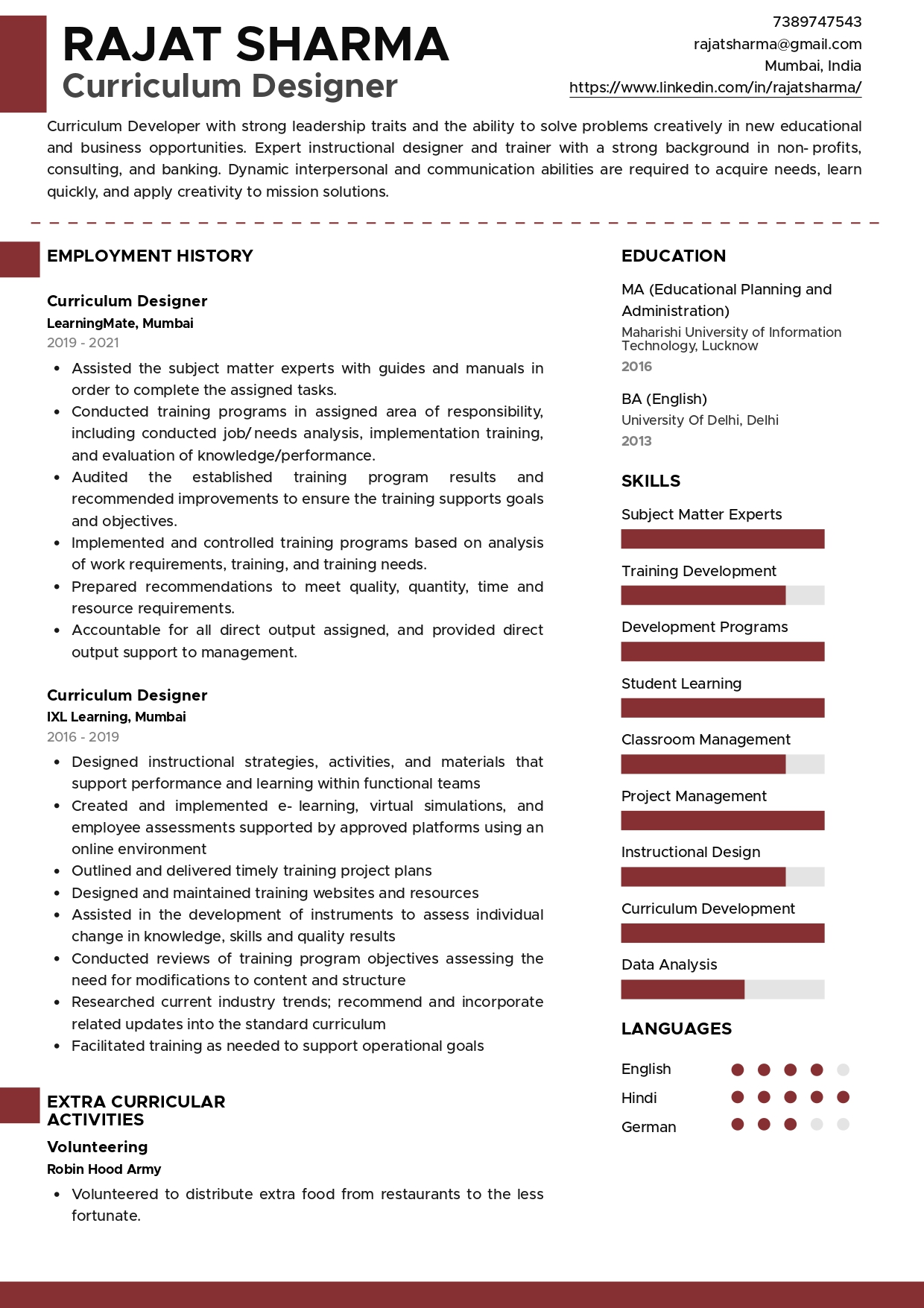 Check full resume of curriculum designer in text format here
Resume of growth product manager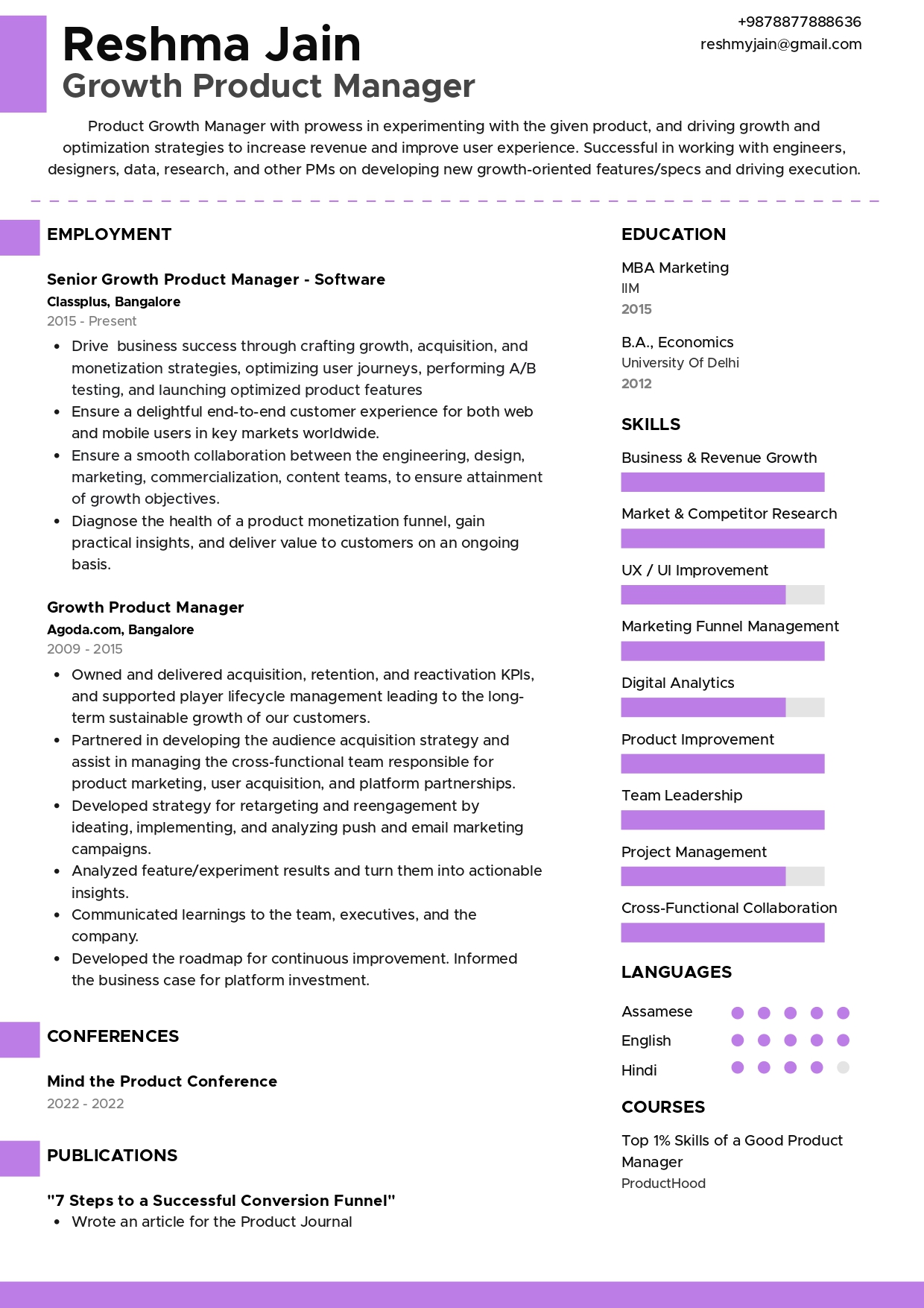 Check the full resume of growth product manager in text format here
Resume of online English teacher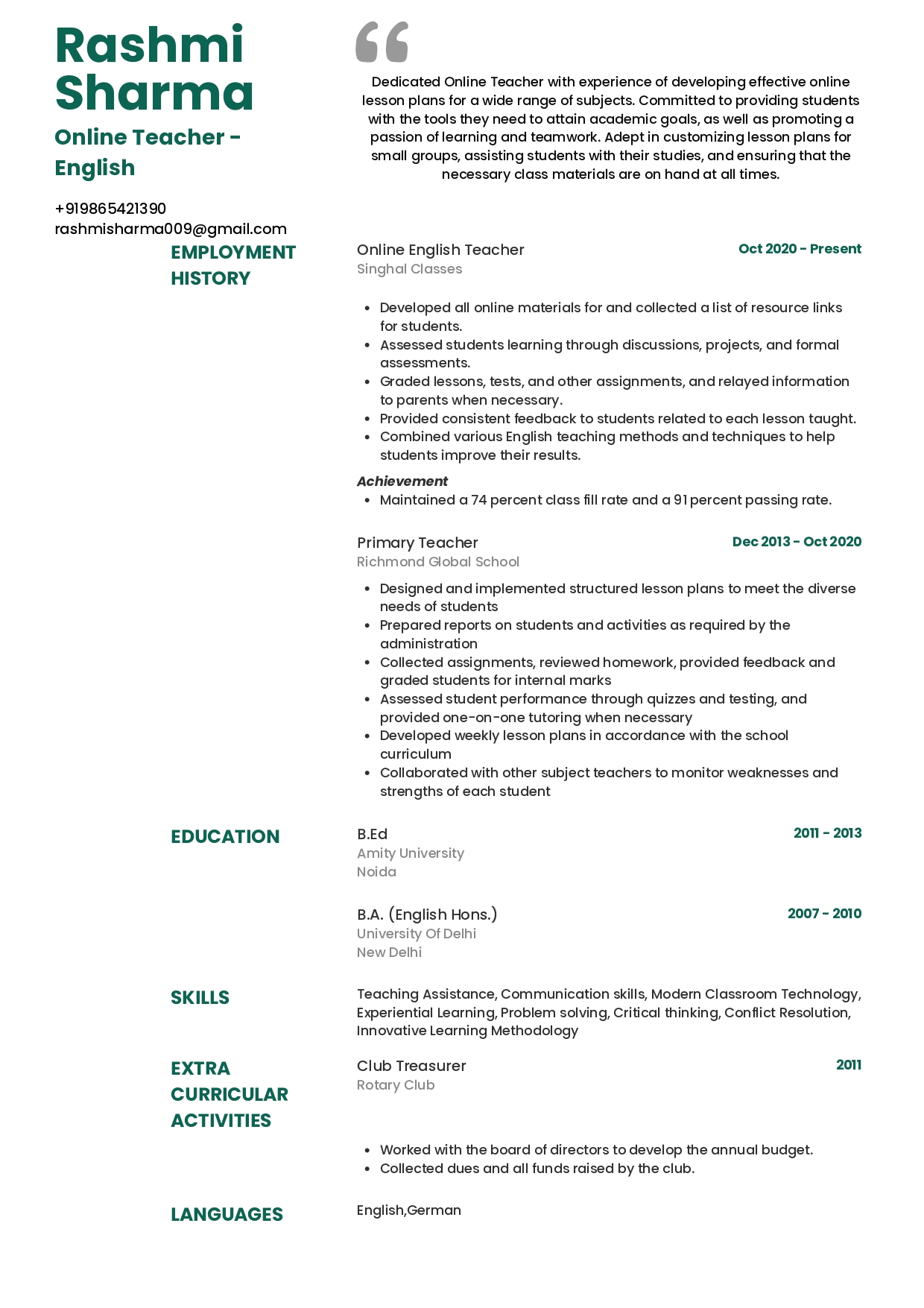 Check the full resume of online English teacher in text format here
Resume of F&B manager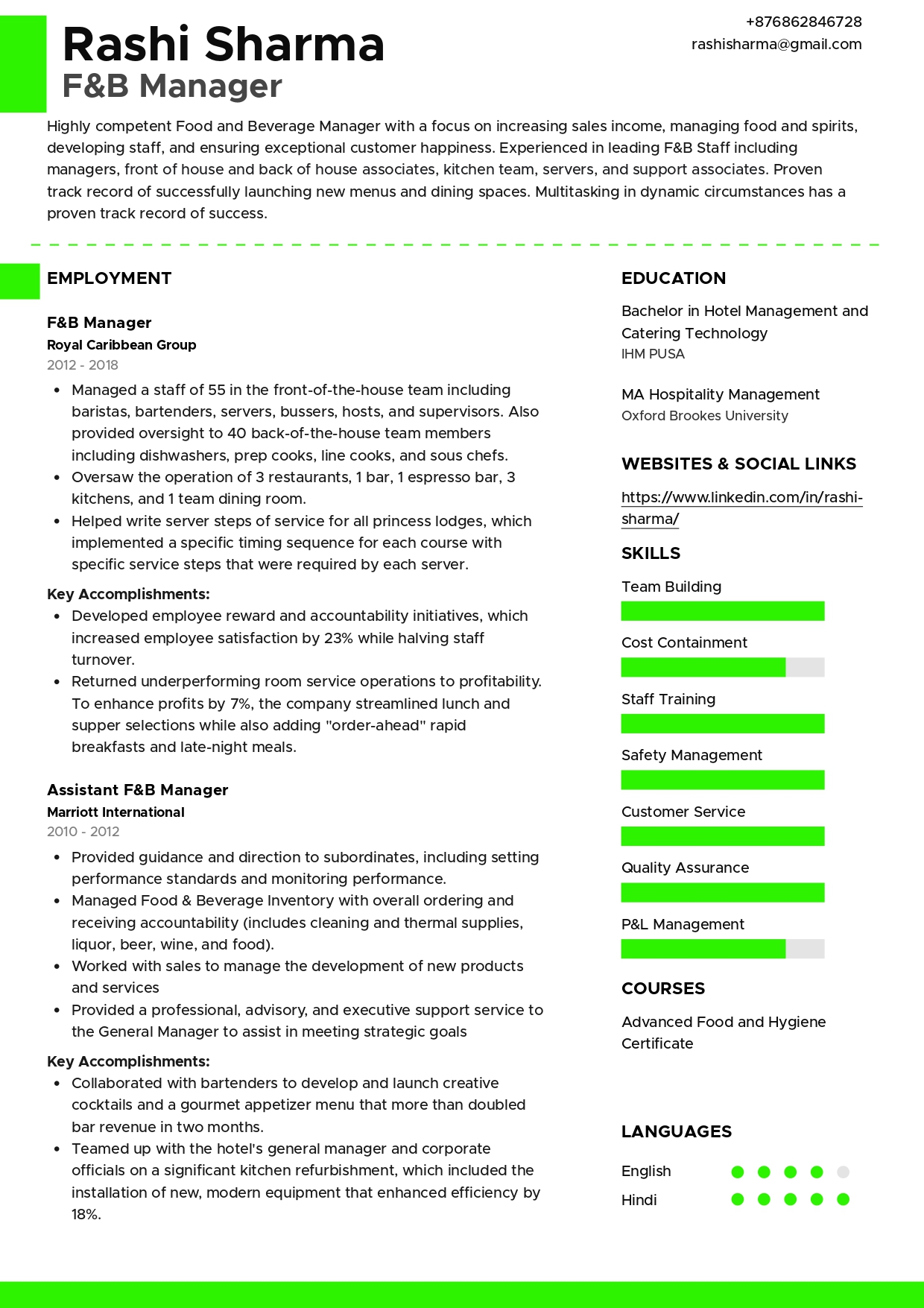 Check the full resume of F&B manager in text format here
Resume of History professor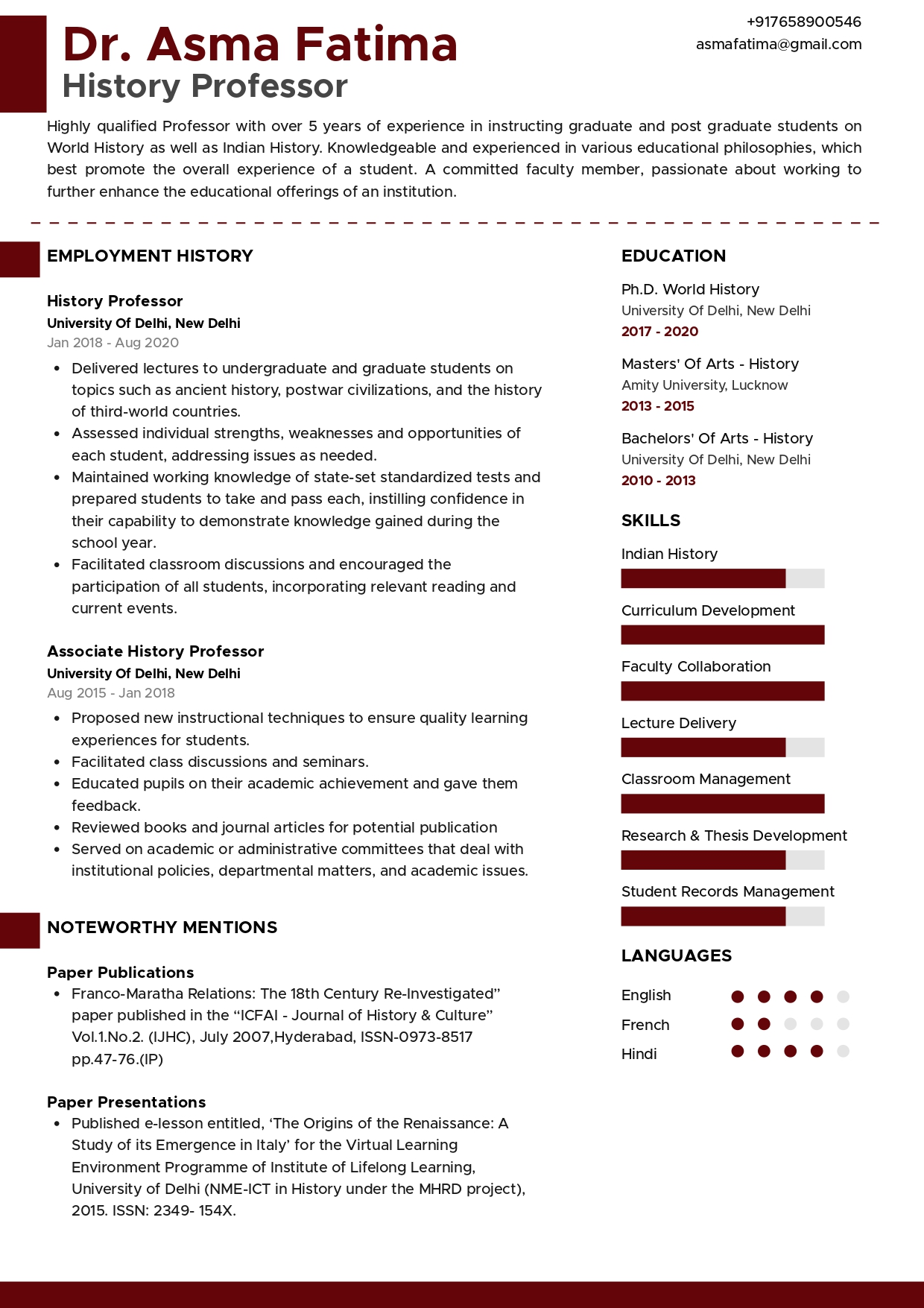 Check the full resume of History professor in text format here
Resume of PR Coordinator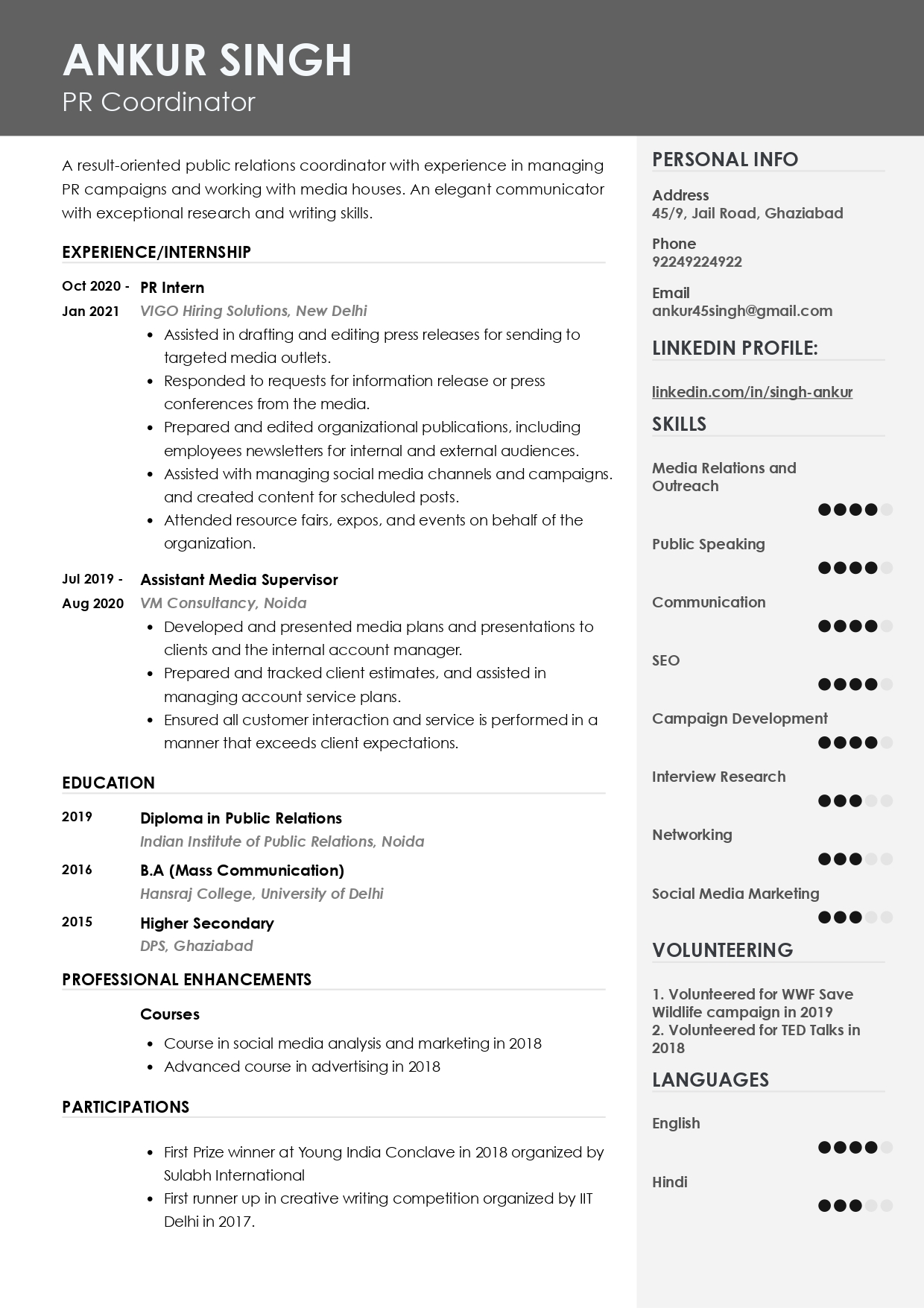 Check the full resume of PR Coordinator in text format here
Resume of telemarketer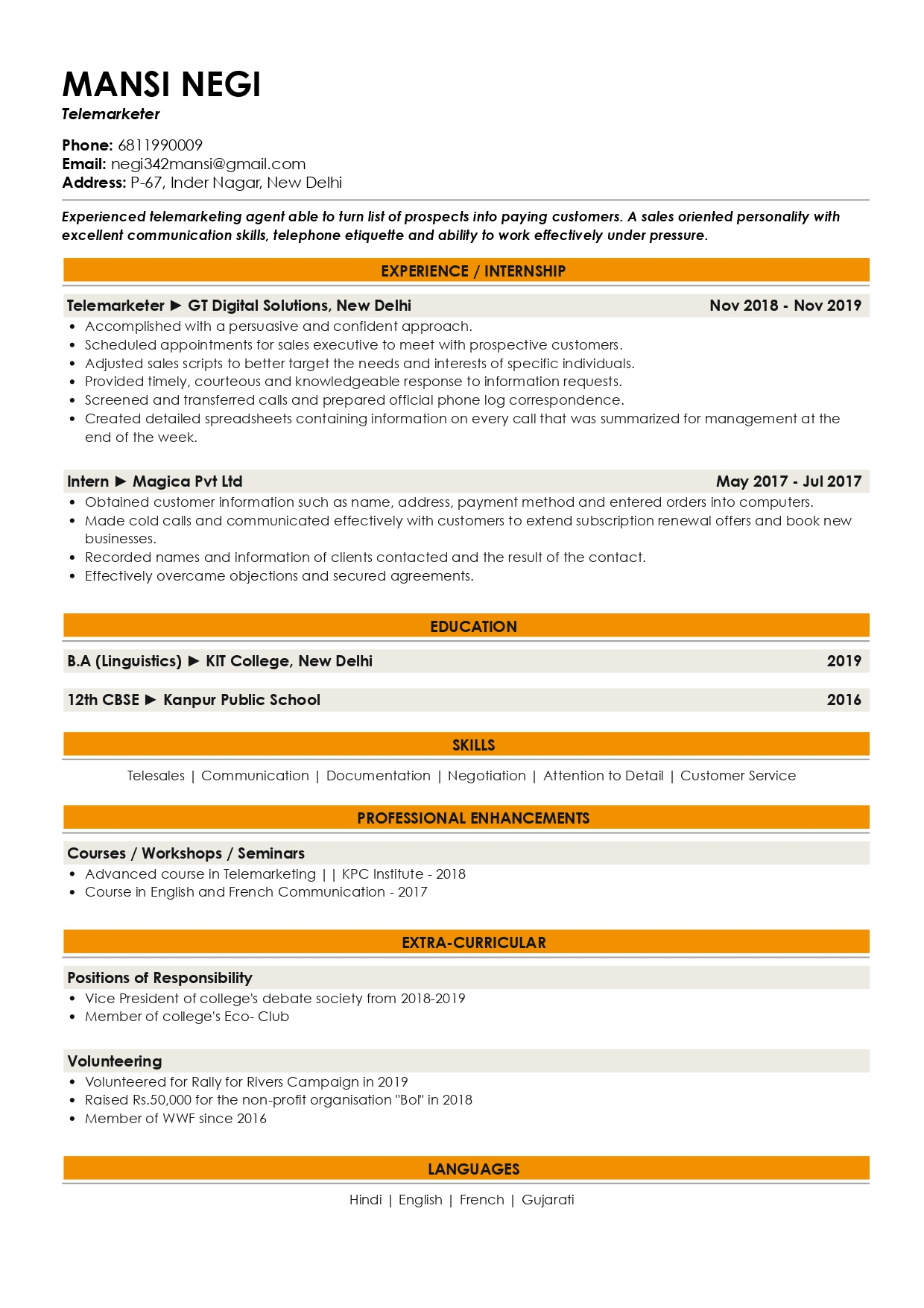 Check the full resume of telemarketer in text format here
Resume of Sports Coach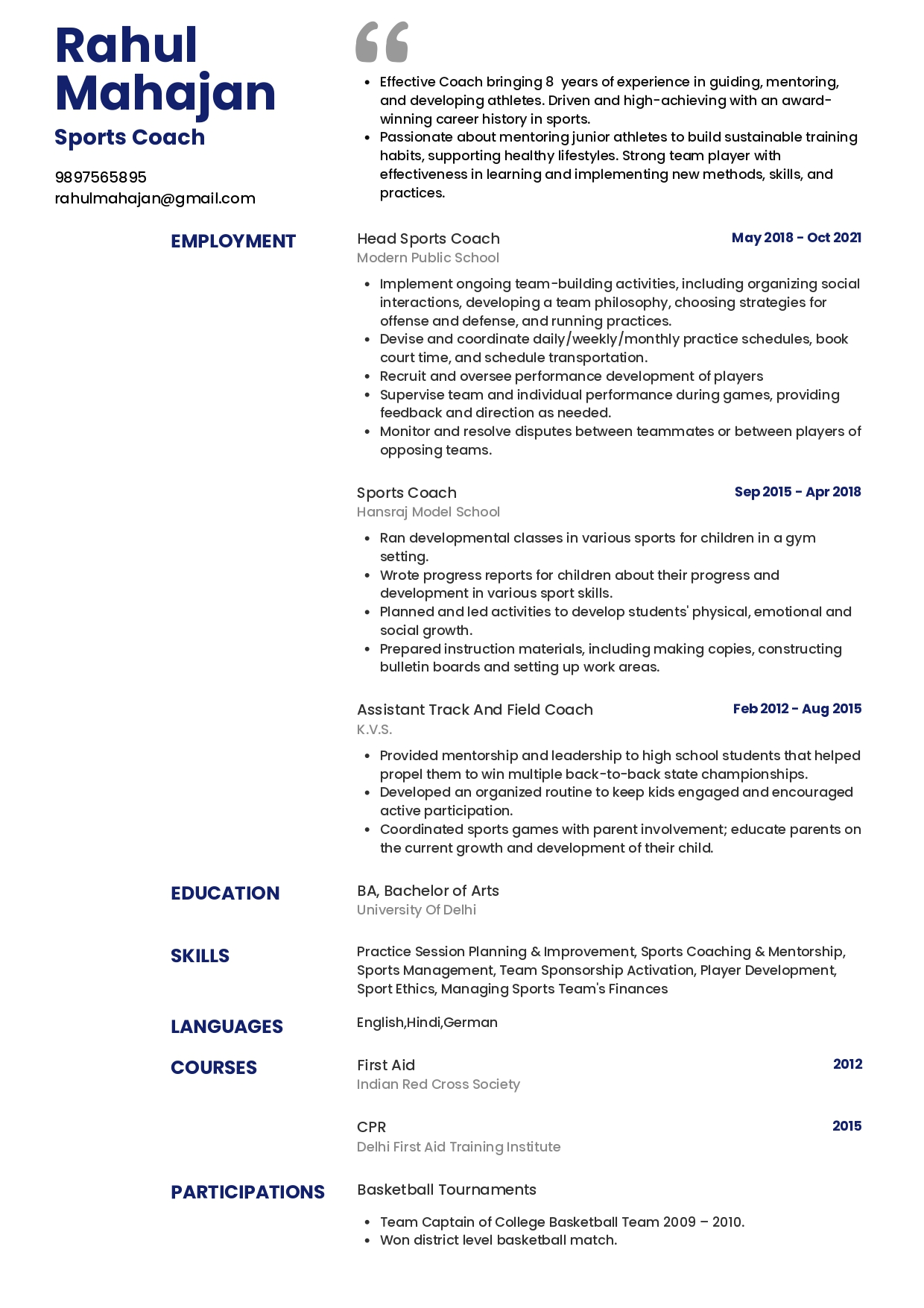 Check the full resume of  sports coach in text format here  
Resume of fundraiser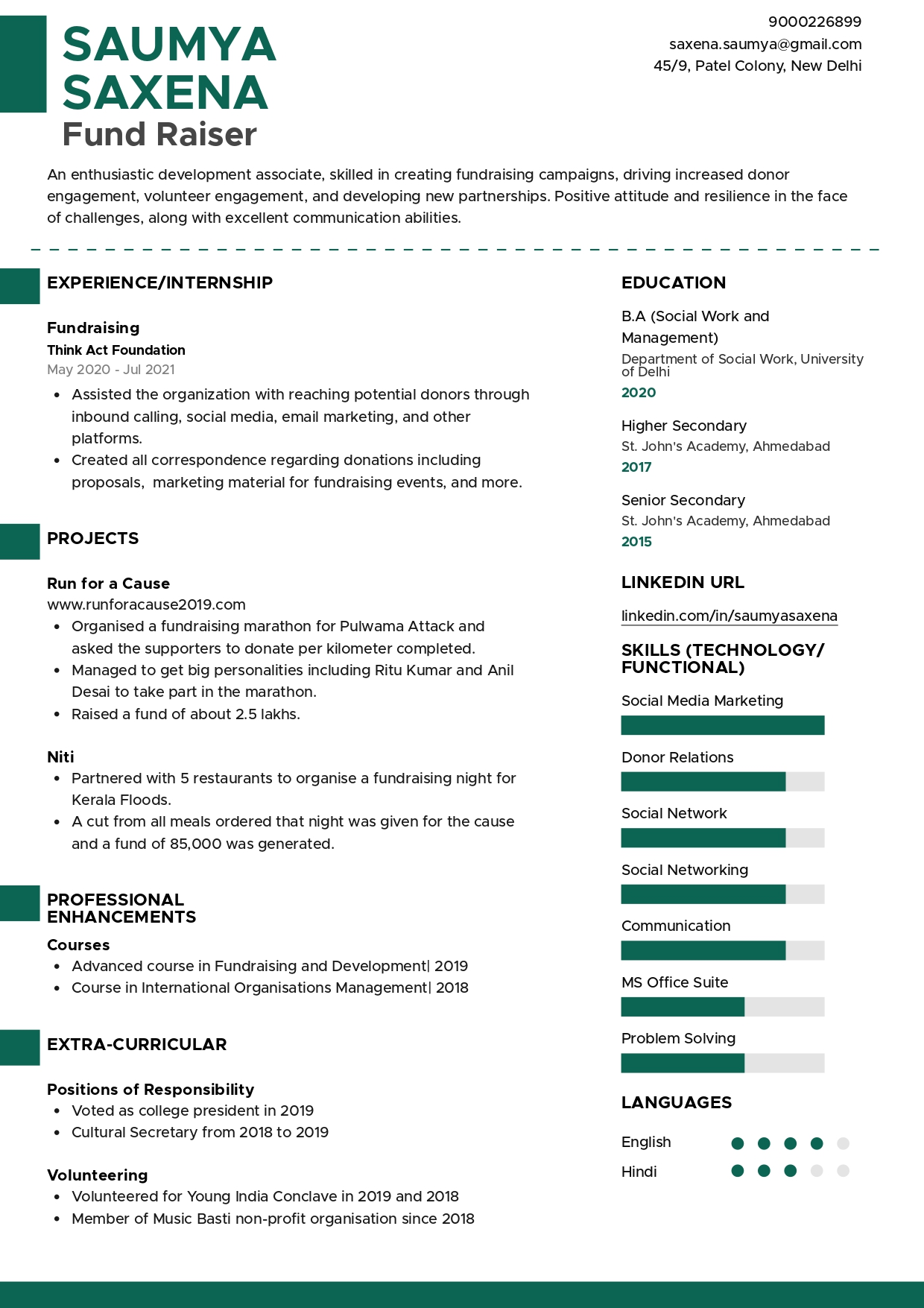 Check the full resume of fundraiser in text format here