How to Write a Resume for Admin Jobs in 2023
The most common traits required for an admin profile are time management, multitasking, good communication, and prioritization Thus, to land an admin job, you must represent these skills in your resume.
An administrator is responsible for the smooth functioning of the office by efficiently multiple tasking to manage day-to-day office work and projects. A good administrator is like a Swiss army knife, equipped with multiple tools to help multiple times. The most common traits required for an admin profile are time management, multitasking, good communication, and prioritisation Thus, to land an admin job, you must represent these skills in your resume.
This article is an easy guide on how to write a resume for admin jobs in 2023:
Keep following for some brownie tips for making an outstanding resume in 2023
What are Admin Jobs?
Shanna Hocking, Principal of Hocking Leadership, says  "Administrative jobs are the engine of the office... They keep things running and help the company move forward."
Well, that sums that up pretty much. These are not specialized jobs like data analytics or HR but include answering phones, sending emails, scheduling meetings, or updating files. However, even data analytics or HR departments can't function without admin work.  
According to The Job Network, many jobs under the admin category are listed among the fastest-growing jobs in 2023.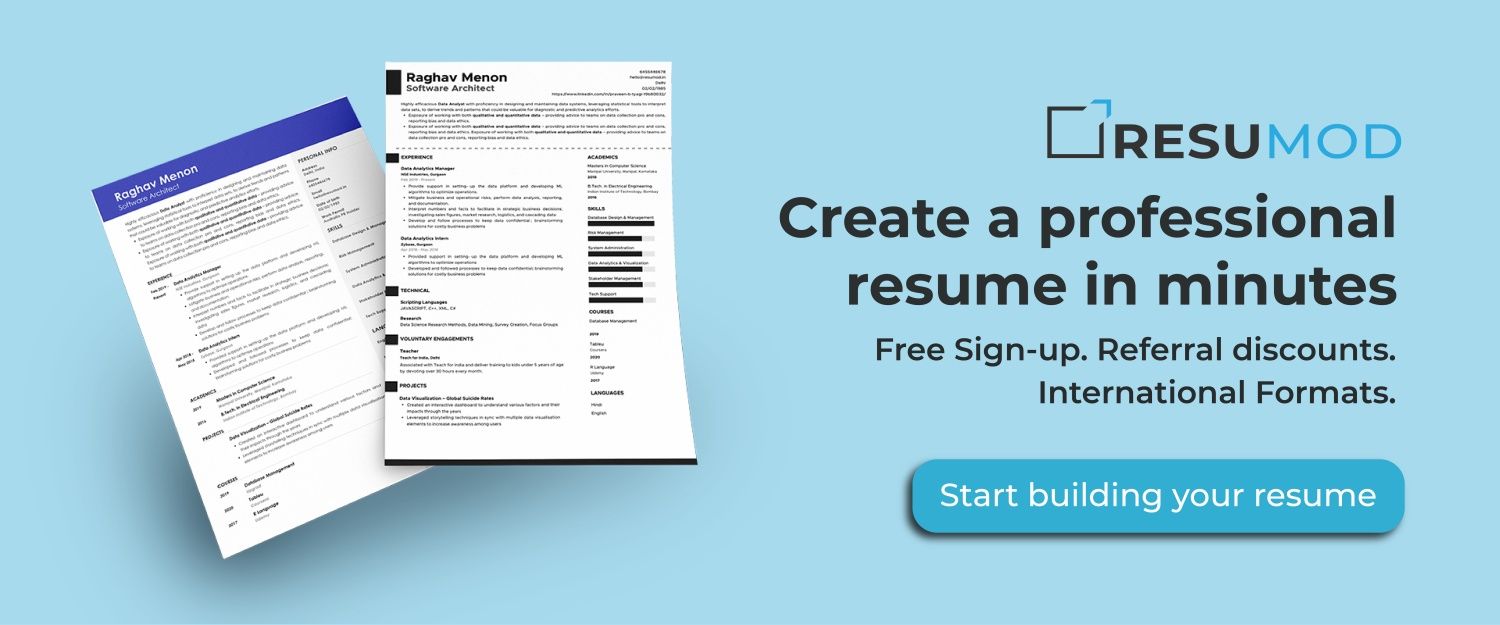 Common Admin Jobs for 2023
If you are under the illusion, that data entry is the only option within the administration and that too a low-paying one. You are misled.
Here's a list of admin jobs to choose from if you aspire to be an administrative professional in 2023:  
Administrative assistant
Administrative clerk
Administrative Specialist
Administrative support assistant
Office Assistant
Office clerk
Data entry operator
Admissions Officer
Staff Assistant
Virtual Assistant
Administrator
Administrative Coordinator
Administrative director
Administrative manager
Administrative officer
Administrative services manager
Business Administrator
Business Manager
Business office manager
Office Administrator
Office Manager
Accounting Assistant
Accounting Clerk
Payroll clerk
Bank teller
Billing and posting clerk
Credit authorizer, checker, or clerk
Payroll and timekeeping clerk
Data entry clerk
Registrar
Data entry operator
Data entry specialist
Data transcriber
Records clerk
Executive administrative assistant
Executive Assistant
Executive personal assistant
Production Assistant
Inventory clerk
Production planner
Receiving associate
Receiving coordinator
Shipping Coordinator
Front desk agent
Front desk attendant
Front desk clerk
Greeter
Receptionist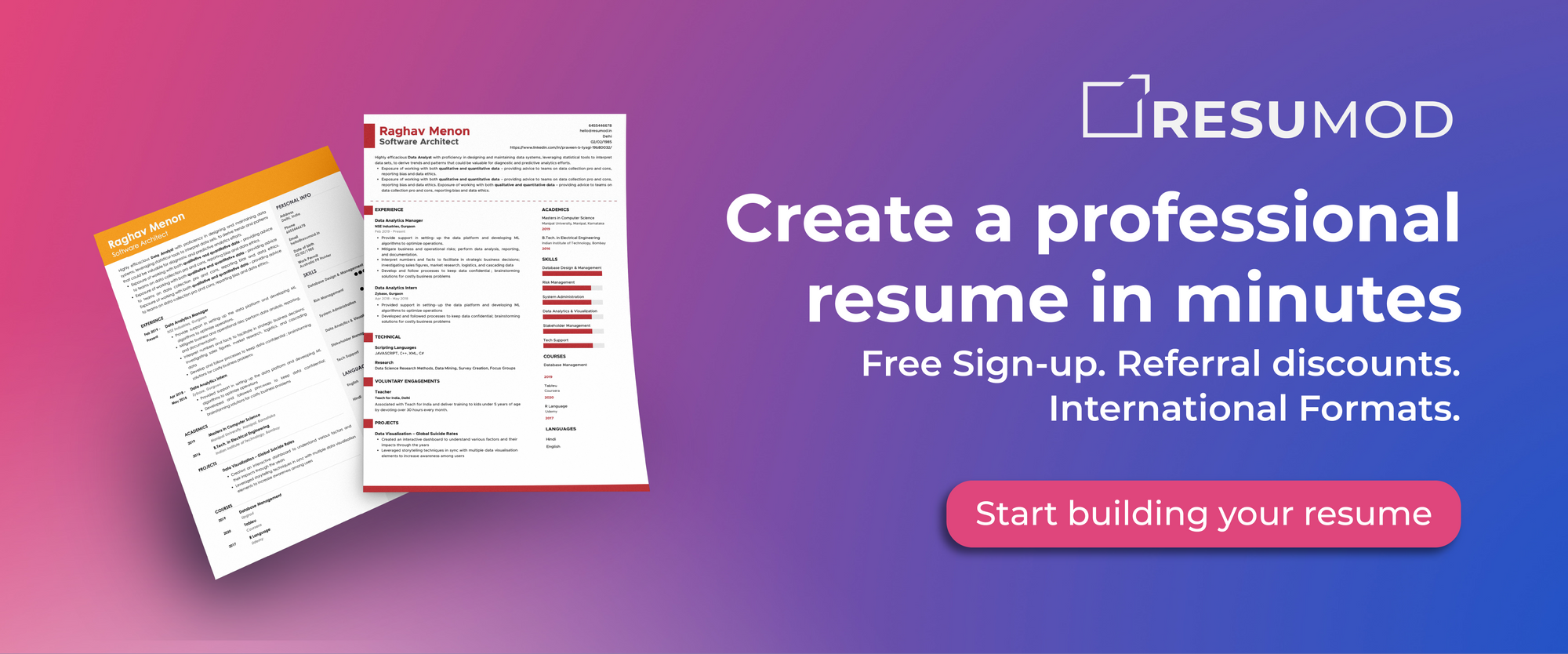 How to Write a Resume for Admin Jobs in 2023?
Below is a step-by-step guide on various sections of an admin resume and how to can ace each of them.
Step 1: Create a Resume Header
As the name suggests is the top-most section of your resume. It contains the most basic yet important information. Make sure it's complete and well presented.
Start with your full name in bold capital letters followed by contact information.
Mention your full name as per official documents avoid using nicknames.
Contact details include your phone number and official email address.
You can also add your LinkedIn profile URL. Linkedin is getting increasingly popular and most HRs use it for hiring purposes. being active on LinkedIn adds to your credibility and opens up bigger and better opportunities for you.

Resume Header of an Admin Resume

Create an appealing resume objective
This is the second section after the resume header.
Your resume objective must appeal to the recruiter to continue reading and give a brief idea about your profession. It's like a short introduction about you and your career goals or aspirations for the job.
A good admin resume objective contains 2-3 key skills, a few soft skills, and your achievements if any.
Consider this example of a resume objective:
"Highly skilled administrative professional seeking to utilize my office and interpersonal communication skills for the betterment of a company. Adept in managing and maintaining an organized documentation system, working one-on-one with customers, and providing optimal front-end and back-end support."
This objective mentions keywords like "communication skills", "organized documentation", "back-end-support", etc., which are key responsibilities for an admin profile job. Hence, this way, you can make the most out of your resume objective.

Add skills relevant to admin jobs
Candidates with relevant admin skills are easier to train for the job, thus becoming the obvious choice of the recruiter.
Ensure that you read the job profile's key requirements first and find out the keywords for each skill. Add them to your resume in an organized manner, under the "Skills" section.
The most common skills required in admin jobs are given below:

Admin skills for your admin resume in 2023:
Team Leadership
Administration
Higher Education Guidance
Decision Making
Relationship Building
Admission Process Management
Record keeping
Database Management
Correspondence  Management
Academic Support
E-Documentation
E-filing
Communication
Transcribing
Listening
Comprehension
Organization
Creativity
Accuracy
Organizational Skills
Customer Service
Multiple Project Management
Relationship Building
Document Preparation
Time  Management
Data Entry
Resourcefulness
Self-Motivation
Organization
Typing
Program Management
Communication Planning
Hiring Coordination
Learning Management System
Planning  and Coordination
Organization and Management
Alumni Relations
Professional Development
Special Projects Management
General/ Office Administration
Quality and Safety Compliance
Client Relationship Building
Projects Administration
HR and Training Support
Cross-functional Team Collaboration
Reports Preparation and  Filing
Scheduling and Coordination
Office Management
Inventory Management and Control
Database Administration
Staff Development and  Training
Admissions
Document Preparation
AP / AR and Budgeting
Correspondence Management
Liaison &  Coordination
Financial Statements Preparation
Customer Service
Insurance Companies
Enrollment Management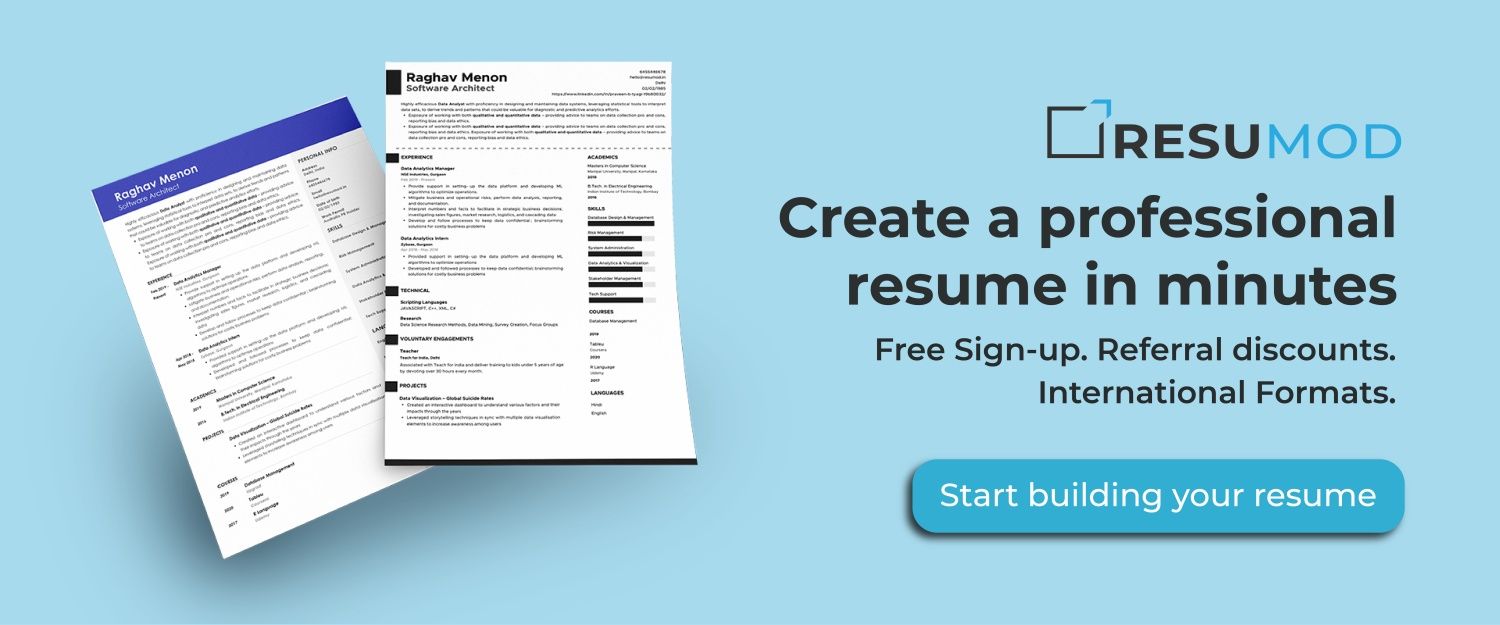 Add Your Employment History
Reinforce your skills and qualifications with a targeted and discrete experience section. Being an experience-based profile, recruiters hiring for admin jobs keep a sharp eye on the candidates, experience.
Key things to focus on:
Make your experience section outcome-oriented, and include statistical data in your experience. They add to your credibility and show that you can bring the same to your future employer.
Make the crucial keywords bold, that you want the recruiter to focus on.
Here are some examples of the right way of writing your experience:
Trained two interns in office tasks who later became full-time employees.
Maintained appointment calendar for 12 conference rooms.
Developed new filing and organizational practices, saving the company $3,000 per year in contracted labor expenses
Add Your Education Background
An administrative job is more of an experience-based profile, where you learn with time. This does not mean you remove the education section. Create a crisp yet informative education section. include n the complete name of the college, along with the program name and year of passing.
Make sure to write your latest education first, then move backward. This is called the reverse chronological order
TIP: You don't need to mention your grades, particularly in your resume. Only mention them if you have good grades.

Additional Tips to Stand Out With Your Resume for Admin Jobs in 2023
Tip 1. Use Crisp and Powerful language
Use professional language with short sentences. Don't over-explain anything and use bullet points.
Tip 2: Ensure your resume is easy to read
Keep your resume organized with different sections like professional objective, education, experience, skills, etc.  Use professional fonts like "Arial" and font size of 12, for easy visibility.
Use professional fonts like "Arial" and font size of 12, for easy visibility.
Tip 3: Use Action Words
Action words pump up your resume's overall impact. They help in emphasizing your skills and experience. Use google search to find out action words relevant to your industry.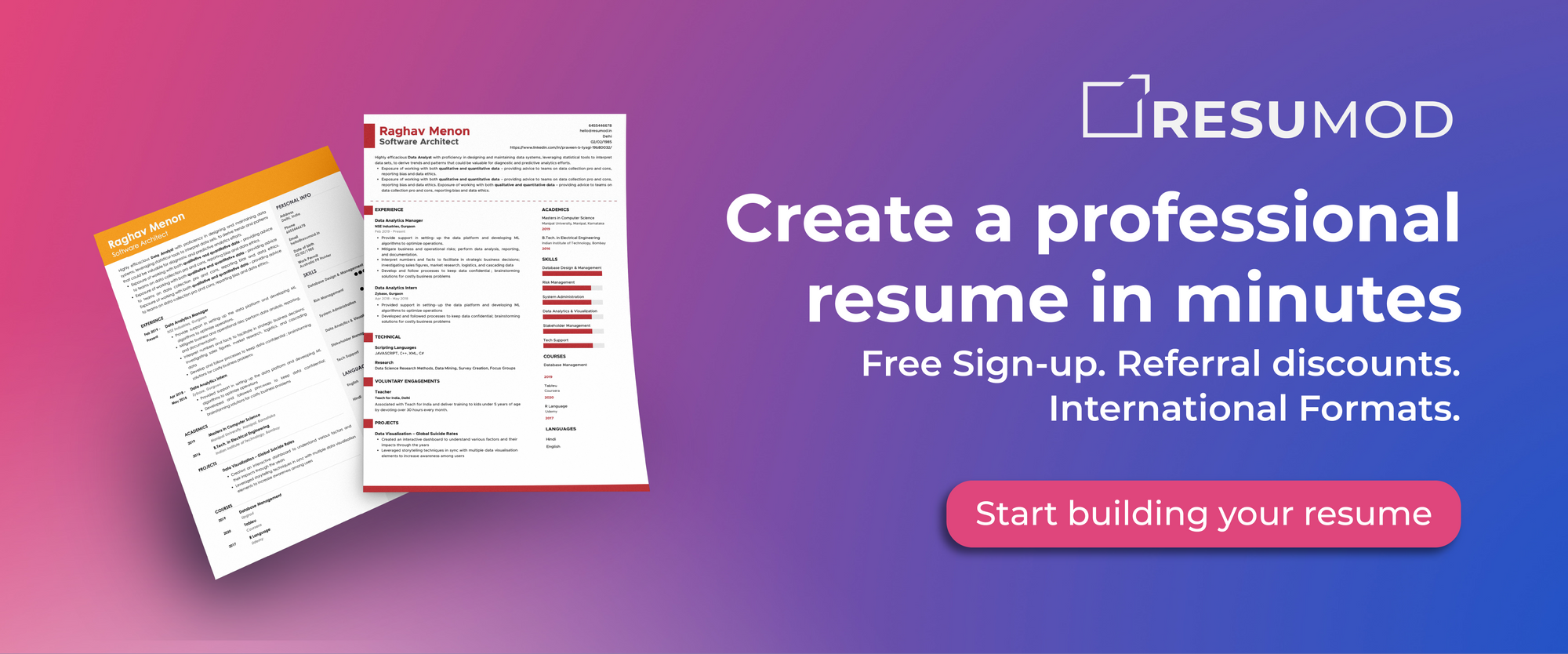 Top Rated Admin Resumes on Resumod for 2023
Resume of Admissions Officer on Resumod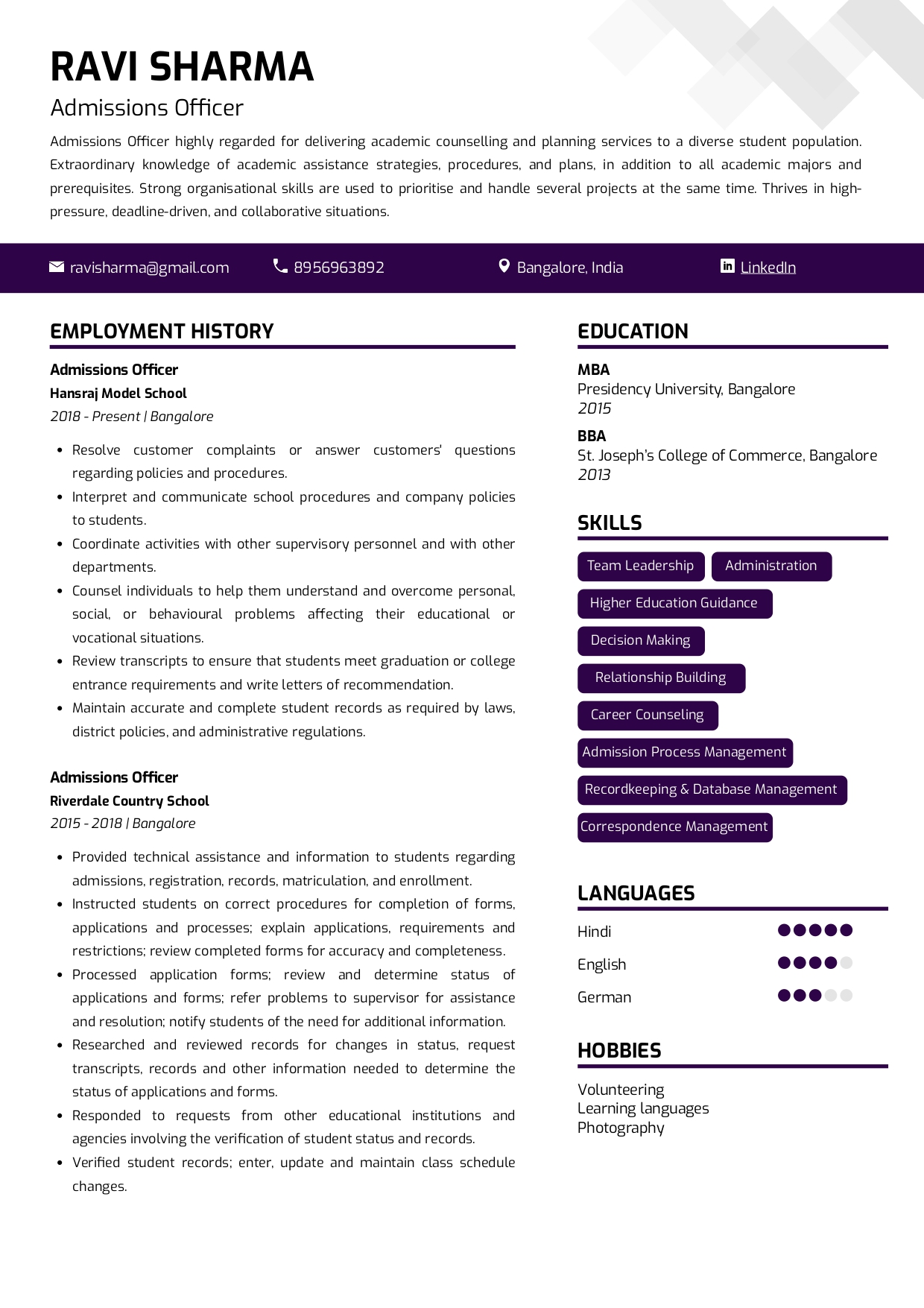 Check the full resume of the admissions officer in text format here
Resume of data entry operator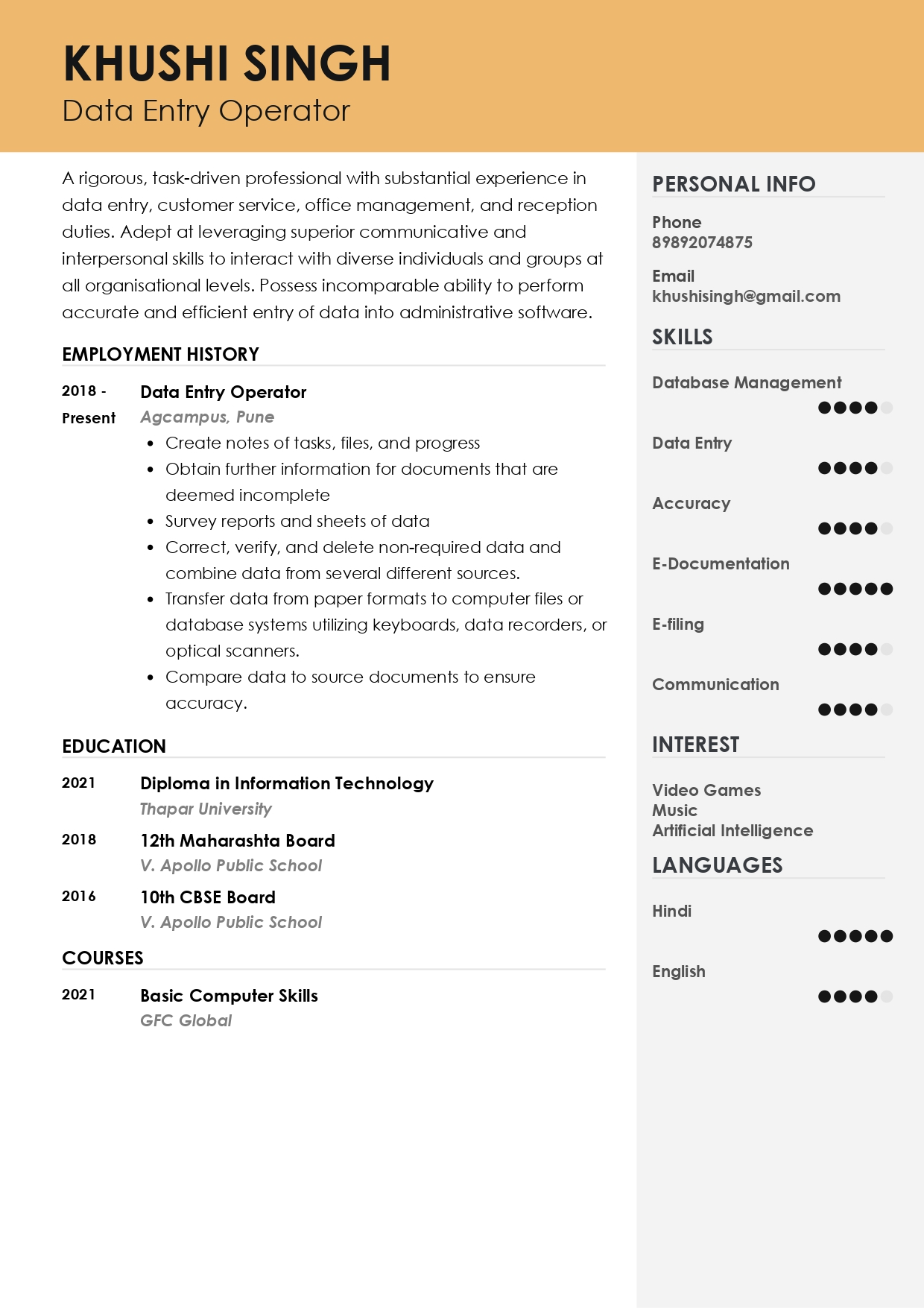 Check the full resume of the data entry operator in text format here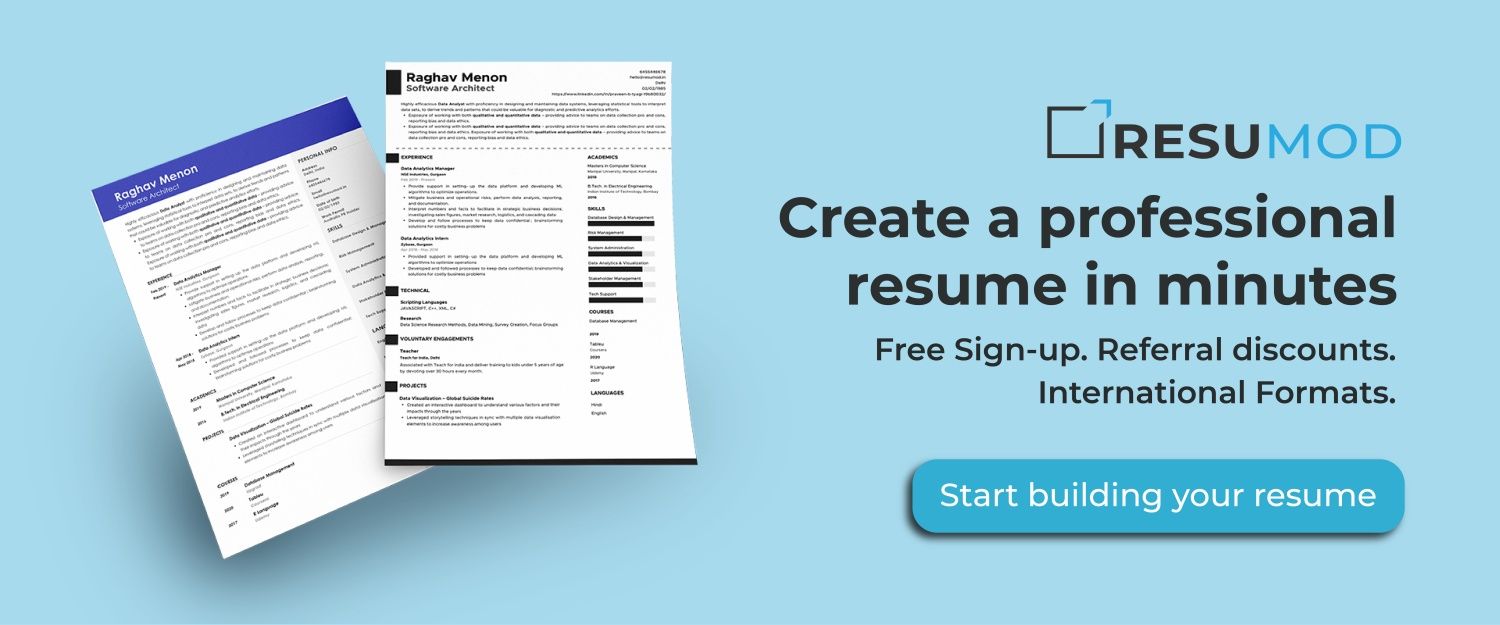 Resume of virtual assistant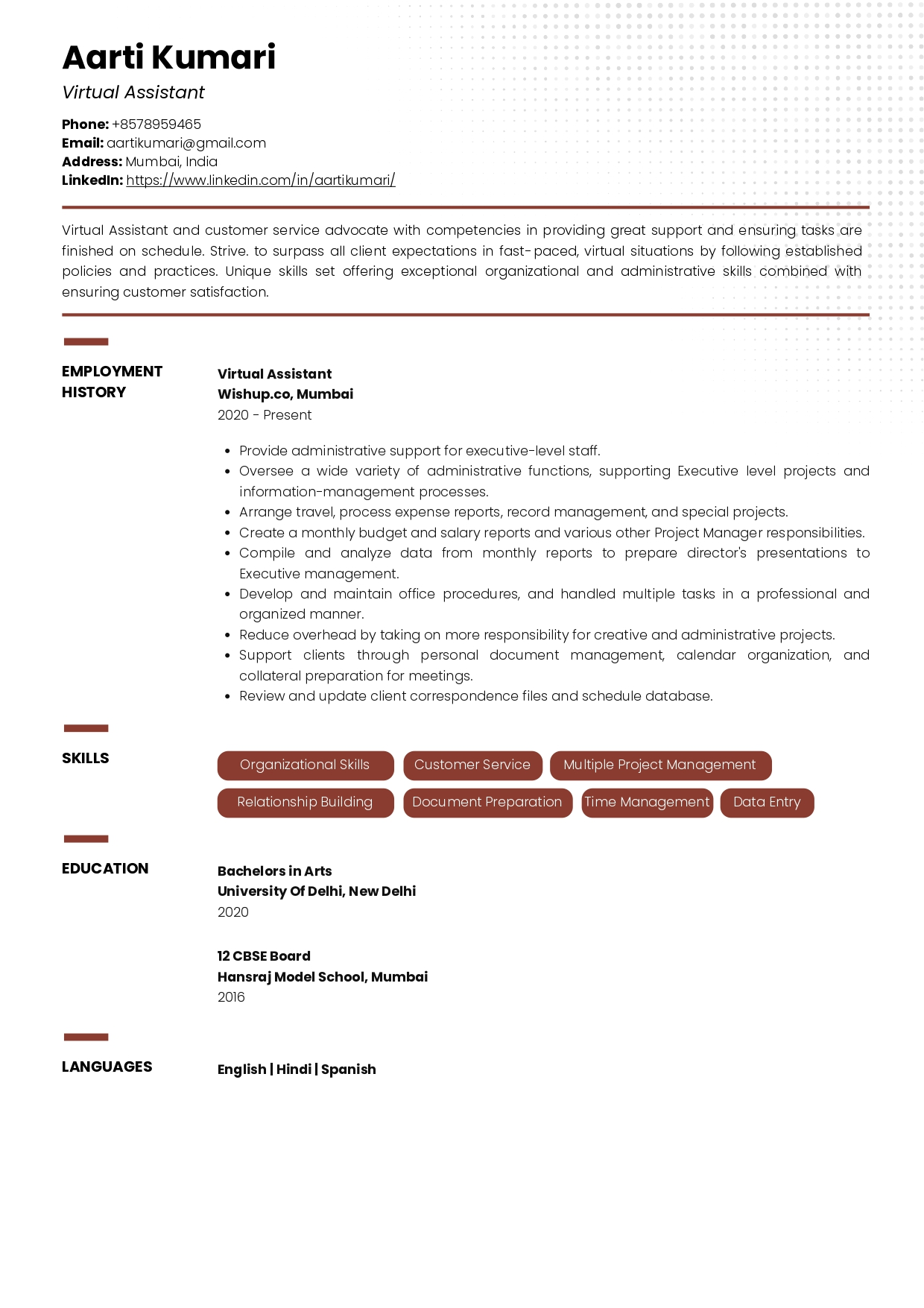 Check the full resume of virtual assistant in text format here  
Resume of Alumni Officer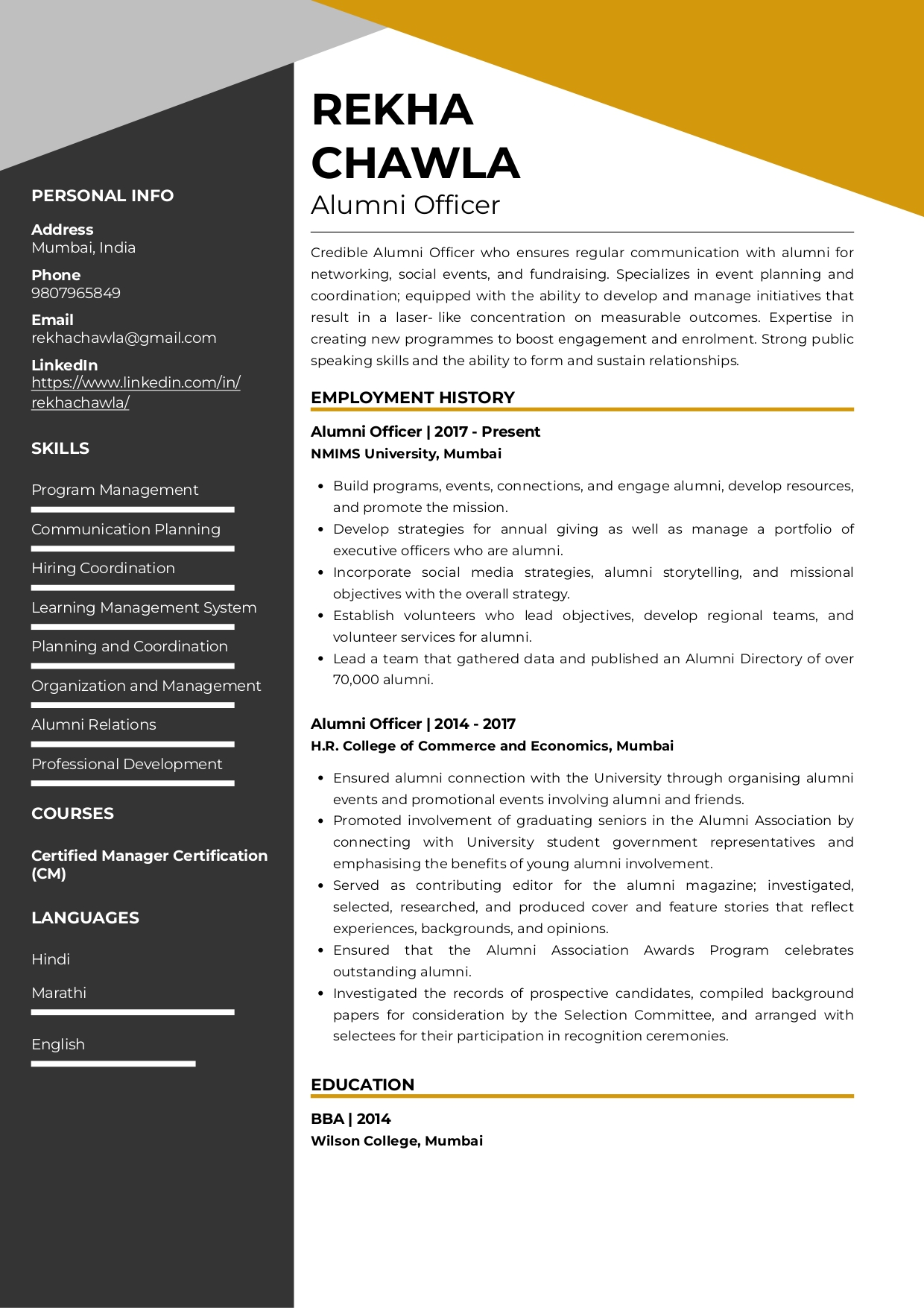 Check the full resume of alumni officer in text format here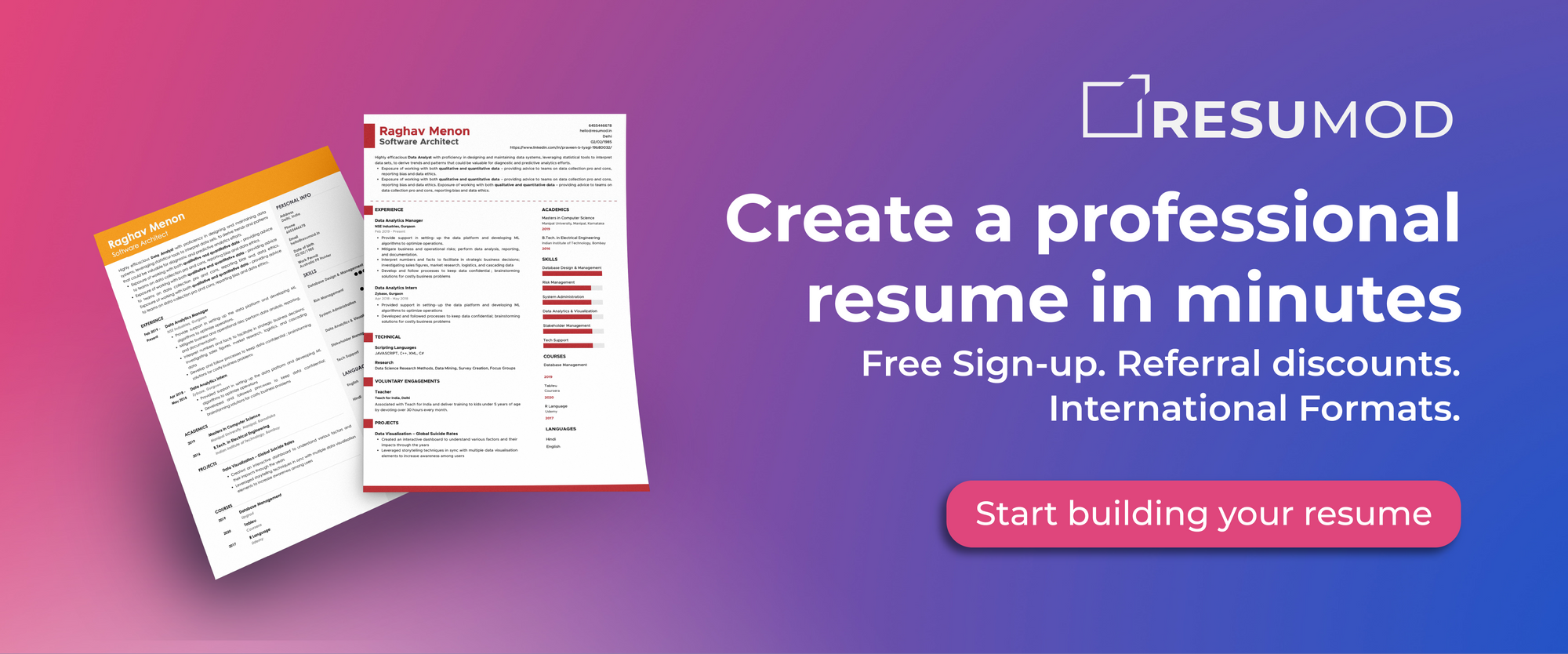 Resume of front office manager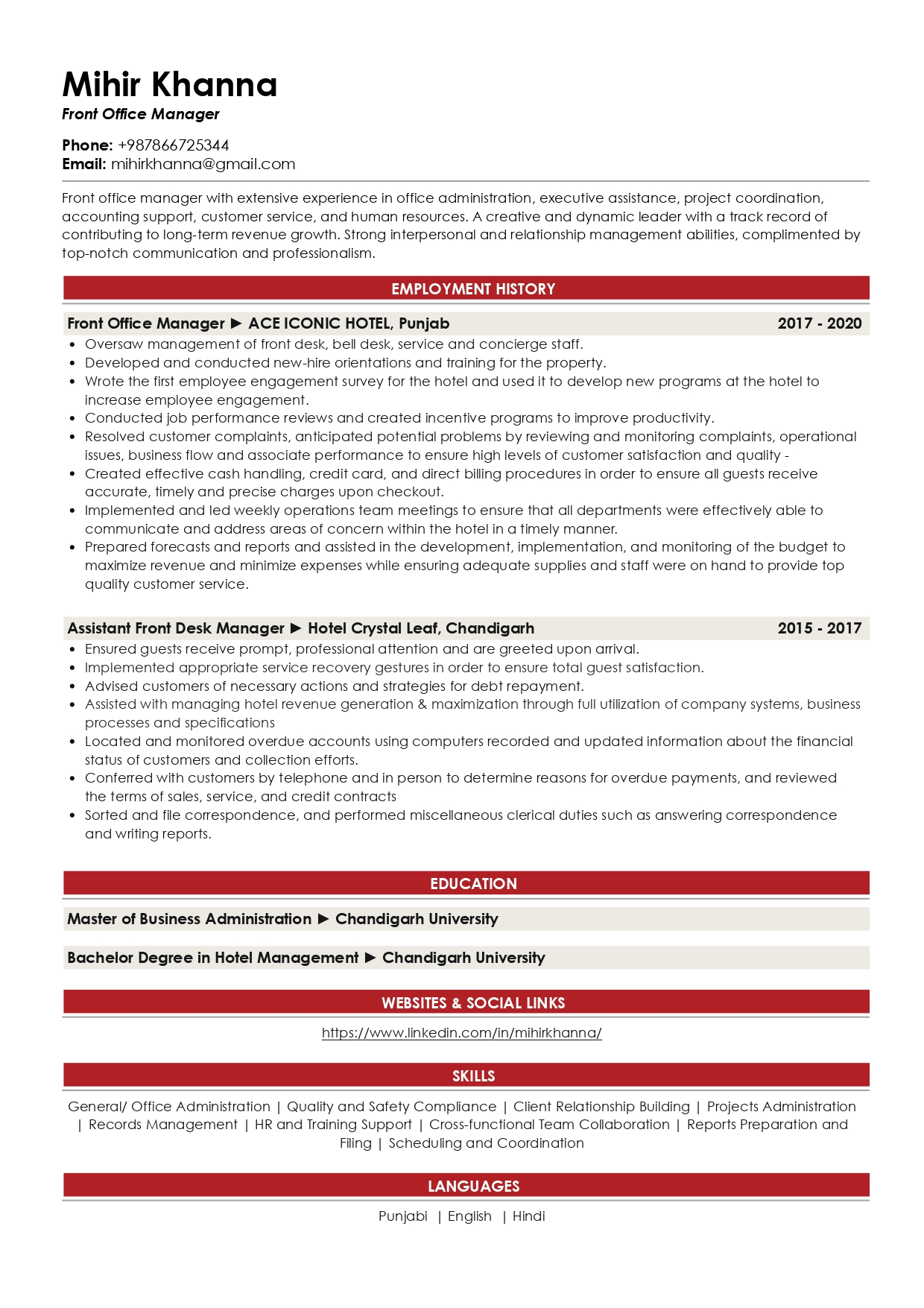 Check the full resume of front office manager in text format here
Resume of registrar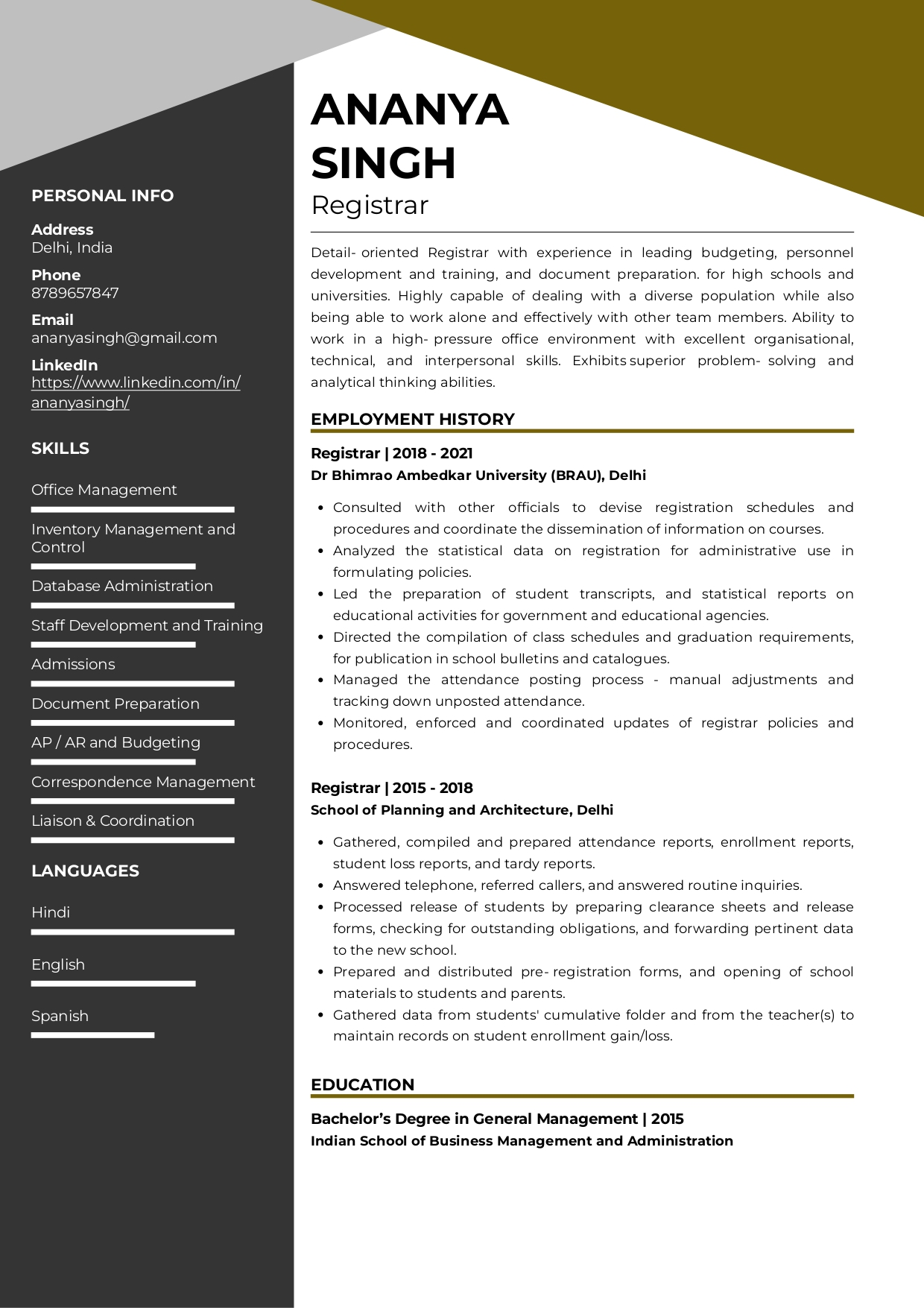 Check the full resume of registrar in text format here