Top 10 College Grad Mistakes to Avoid This Hiring Season
Making career-related mistakes in college time is quite common. But it's the right time to start working on career strategies.
With the growing competition, it's now harder than ever to get your first job after graduation, especially when you are a fresher.
Making career-related mistakes in college time is quite common as you are occupied with various things and inexperienced with hiring. But it's the right time to start working on career strategies.
Let's dive into the top 10 mistakes college grad makes and how you can avoid them to get a strong career start.
Mistake 1: Not tailoring your Resume
The very first step of getting a career started in the corporate world is to build up your resume. Your resume is the first thing that reaches the recruiter's table before you.
An ideal resume needs to speak for you, showcasing your skills and experiences in a way to present you as a valuable asset to the company.
Many small things add up to make a powerful resume.  
Use action words to describe your skills and projects to get their maximum potential output.
Add keywords relevant to the profile you are applying to, to reflect your relevance to the job.
Make your Resume organized and structured by making different sections like "Contact Details",  "Educational Qualifications", "Skills", "Projects", "Honors & Awards", "Professional Objective", etc.
Do mention your college achievements in your resume, to stand out among others. Use short sentences with professional language, to make your resume tailored.
expert tip
What's the most common mistake to avoid while sending your Resume to HR?
Customize your resume by mentioning skills and keywords relevant to the applied job. It helps increase your relevance to the applied job, thus increasing your chances of getting shortlisted for the interview.
Check over 500 resumes on Resumod here.
Resume of Virtual Assistant on Resumod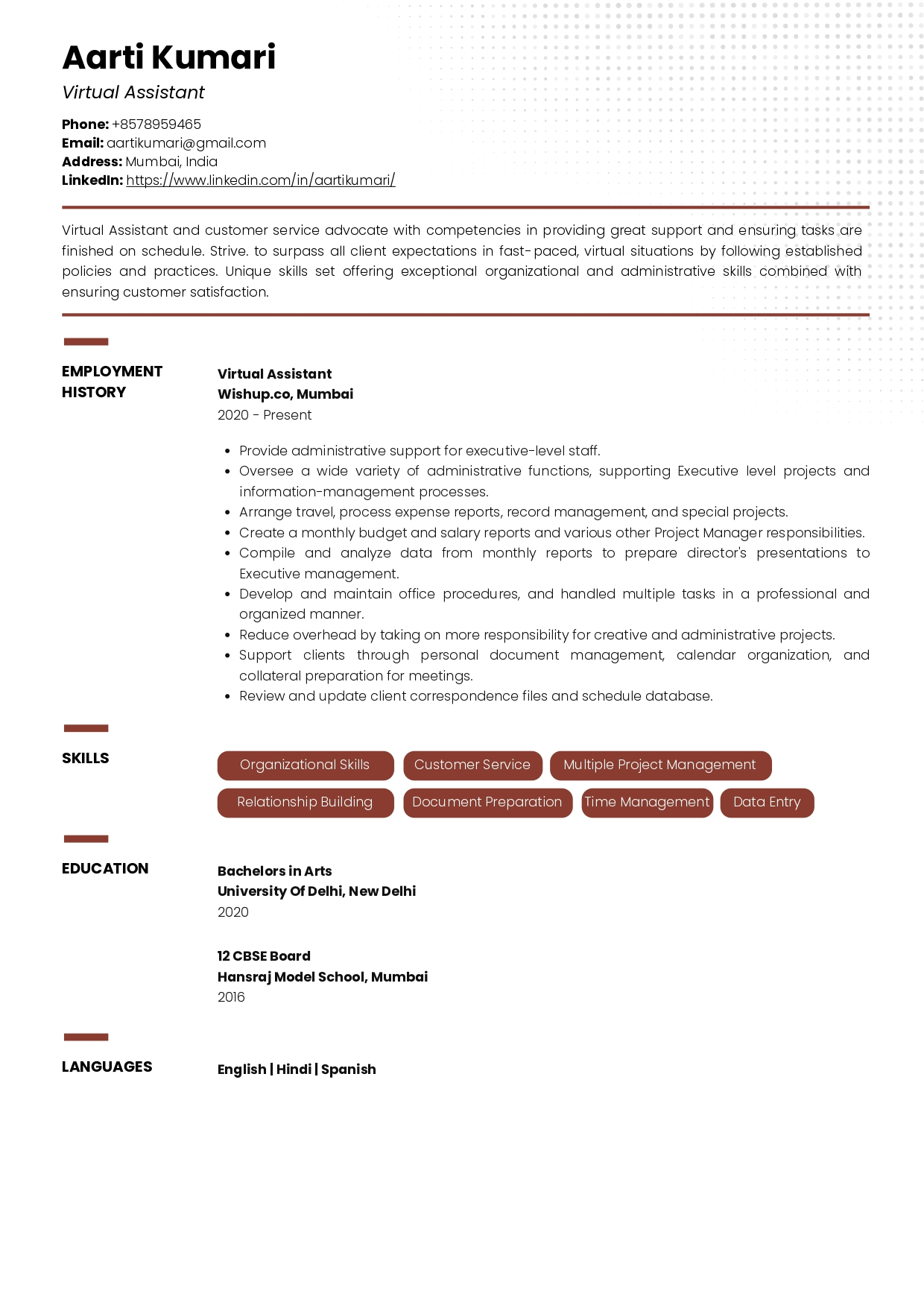 Check the full resume of virtual assistant in text format here
Mistake 2: Not Having a LinkedIn Profile
LinkedIn has over 850 million active users, with over 58n million companies actively hiring.
A total of 6 people are recruited every minute on LinkedIn.
Think of your LinkedIn as your Resume
There is no reason for why do not having a LinkedIn profile.
Create a decent profile on LinkedIn and add your education and skills. Make sure you connect with people relevant to your choice of industry.
Actively upload posts showcasing your skills and projects.
Engage with recruiters from your dream companies in the comment sections, and like their posts to reflect your interest.
Remember, it is significantly easy now to connect on LinkedIn with people who might be non-accessible on other platforms and means.
Mistake 3: Searching for Jobs All Alone
The pressure of finding your first job is intense. You don't want to see yourself jobless when all your friends have found a way in their careers.  
So the catch is, despite the pressure,  you don't have to bear it alone. Reach out to your peers who are looking for jobs too.
Together, the whole process of job searching will get easier and keep you motivated. You will find multiple ways for finding jobs while working with a group with the same aim.
You will be better updated in hiring for your profile, job outlook, market conditions, and more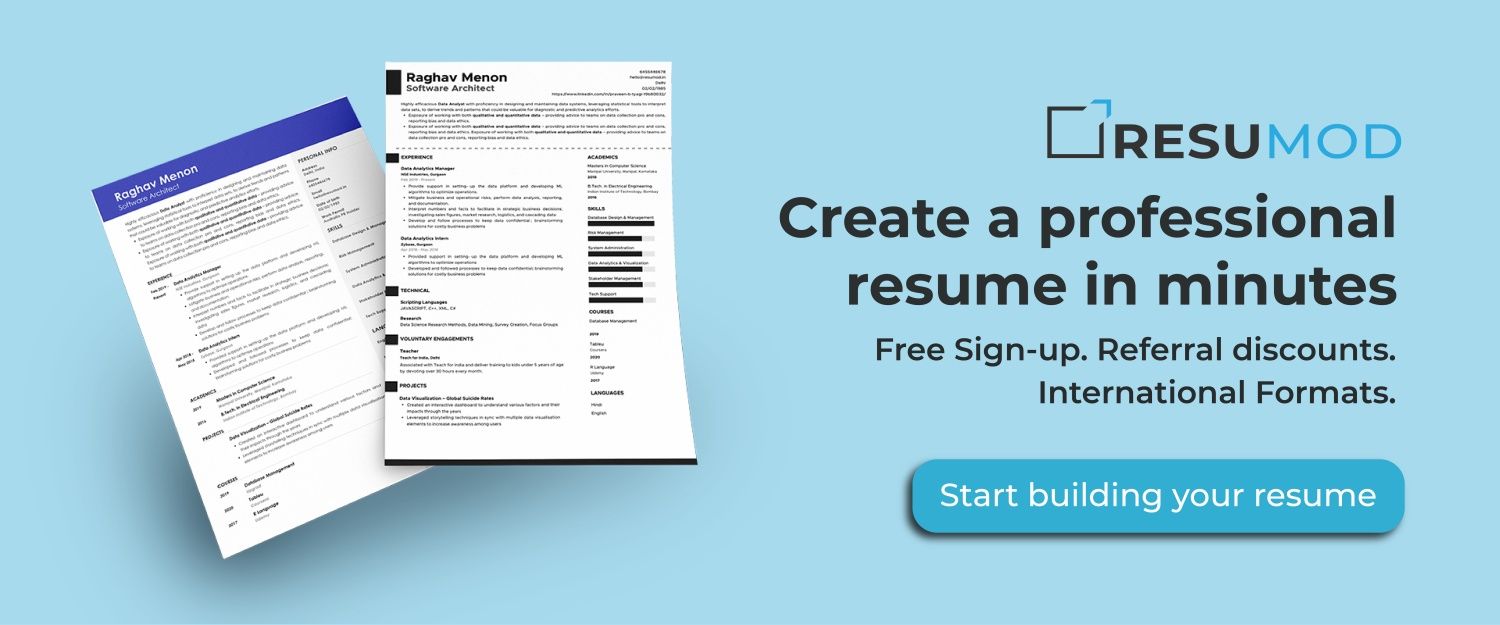 Mistake 4: Not Developing a Reliable Network
The power of networking can't be emphasized enough. Networking is a skill in itself, helping you in the most critical times in your life. Not making contacts is a critical mistake being a college student, especially when you are inexperienced in the corporate world.
Network with your seniors, professors, friends, relatives, etc., and let them know that you are looking for a job.
With the referral system in most companies, referring someone known gives you some commission. Thus, people do refer friends helping each other out.
In fact, when you get referred for any post, you gain an extra advantage. The recruiters already know about you, plus you can get insights about how to prepare for the interview, too.
Thus, reach out to new people proactively and build a strong network. LinkedIn again is a great platform to engage and make long-lasting networks with people related to your profile industry.
Mistake 5: Not Improving Your Interview Skills
Making it to the interview round is just one part of the process. You need to prove yourself to the recruiter that you are a valuable candidate. For that, you need to work on your interview skills.
Start working on your communication skills, analytical skills, group discussions, and extempore. These skills are necessary from the recruiter's perspective and increase the chances of cracking the interview round.
Here's how to perform well at ANY interview:
Read about the job profile and its necessary requirements. Research the company's aims, mission, technologies, strategies, etc.
Make structured answers for general interview questions like "Tell me about yourself", "Why should we hire you", "Your strengths and weaknesses", etc.
Find out the most common questions asked in the interview for the applied profile. Simply search "common interview questions" with profile name in Google to get the most relevant results.
Bonus Tip: You can also watch videos of other candidates available online giving the same interview to get more insights on the interview round.
Everyone makes mistakes but make sure you learn from your mistakes. Do not ignore the skills that you lacked during the interview now. Work on them. Every interview teaches a valuable lesson and makes you better prepared for the next interview.
Mistake 6: Not Reaching out to College Placement Cell
Don't underestimate your college placement cell. They have experience in bringing companies to the campus and helping the students get hired.
It's always easier to get hired on campus than to apply off campus. Thus, keep a sharp eye on your college's placement cell activities, and attend their seminars. Make yours visible and updated about the hiring companies. It will help you to not miss out on any company coming to campus and be prepared beforehand for the hiring season.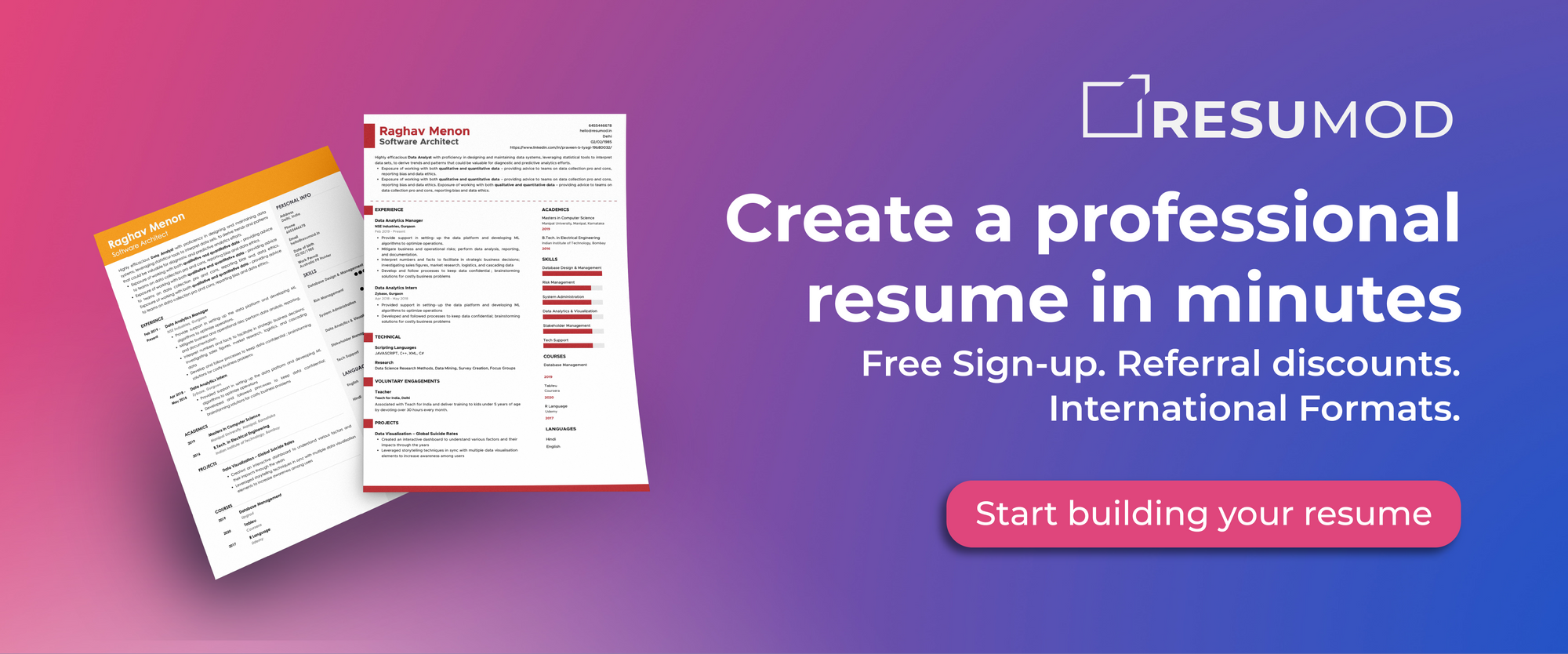 Mistake 7: Keeping Your Expectations Too High
New graduates too often keep their expectations for the perfect job high. They are so occupied with looking for a perfect job, that they miss out on many good opportunities.
Everyone has to start from the ground with their first job.
Don't wait for your dream companies only. Apply to companies that suit your profile and have scope for you to grow professionally.
Your first job needs to give you a push to start your career, while all the "dream" opportunities will be available to you as you grow with experience.
Thus, focus on applying all the relevant to your profile and skills. Don't set up too high expectations and lose potential companies during the hiring season.
Mistake 8: Not Following Up with the Recruiter
Following up with the recruiter after your interview sets you apart from even the best of candidates who disappeared after giving the interview.
It reflects that you are serious and interested in this job, thus reflecting a proactive personality. The best way to follow up is by emailing the recruiter.
Also, follow up after the interview round too for feedback and updates, even if you are rejected. The feedback will help you look for mistakes from the recruiter's perspective and avoid them next time.
expert tip
When should I email the recruiter?
Send a follow-up mail to the recruiter after submitting your resume, showing your interest in the company. The recruiter will remember you and put extra effort while reading your resume.
Mistake 9: Not Doing Projects and Internships
With the lack of working experience as a grad student, your projects and internships are your best assets during an interview round.
Don't sit idle just because you don't have relevant projects or internships. Make a plan and start learning skills online. With many online education platforms, you can now learn new skills in the comfort of your home. Use these learned skills to work on projects relevant to your profile.
It will not only help you grow as an individual but also help you during the interview. Many times, your past projects are topics of discussion during the interviews.
Also, start applying for internships meanwhile. Be it paid or just voluntarily, they do add to your resume a significant value. Plus, many times, companies even offer full-time job offers to interns, which can help you get started with your career.
Mistake 10: Not being Optimistisc
As a college student, it's often too easy to get demotivated due to failures. But remember, there is no harm in failing. Don't get demotivated if you are constantly failing. You just need one win to get the job done. So, keep on proactively applying to jobs with a positive mindset and learn from your past mistakes. Don't repeat your mistakes, work on them and improve your skill-sets gap.
Remember, you are just starting and figuring out, and opportunities are yet to follow you.