How to Write a Resume for Pharma Jobs
Put forward a tailored resume elaborating your high technical skills relevant to the Pharma jobs.
Based on a recent study by "Business Wire", the global pharmacy management market will see a robust growth of 11.29% in pharma jobs by 2027 increasing the hiring rate correspondingly. Thus, there are going to be a lot more opportunities for pharma specialists to get hired and lead a successful careers.
The Pharma industry requires technical and highly skilled professionals for various profiles like Research scientists, Drug Manufacturers, Clinical Data Managers, Laboratory Managers, etc. Hence, put forward a tailored resume elaborating your high technical skills relevant to the Pharma jobs.
This blog will give you a detailed guide on how to write a winning resume relevant to the skills required in the pharma industry. Follow these steps to understand the technical resume writing process.  
In this blog, you will learn:
Various Sections of a Pharma Resume
Add Contact Information
Contact information forms the header of your resume and includes your full name, city and state, email address, and phone number. Mentioning your LinkedIn profile also gives you a huge advantage. It helps the recruiter to know more about you and your professional status.
Plus, if the recruiter sees your profile, it would be shown under the "people who viewed your profile" LinkedIn section too. Thus, confirming that your resume was seen by the recruiters.
Make sure you use correct and accurate information in the contact information section. The hiring committee may use these pieces of information to connect with you to discuss the next steps of your job application process.
Include a Professional Objective
The "Professional Objective" section offers you the opportunity to make a professional statement about yourself using your experiences with the strongest attributes.
An effective objective is two to three statements long and gives a brief idea of what your motives are and what you have to offer. A good feature can be emphasizing the experiences from internships and projects.
Examples of professional objectives specific to the pharma industry can include:
"Detail-oriented diploma holder in pharmacy, looking for a suitable position to start and groom a career in the pharmaceutical industry."
"Motivated pharmacy graduate seeking a full-time position as a junior pharmacist in Kaylif Healthcare Solutions."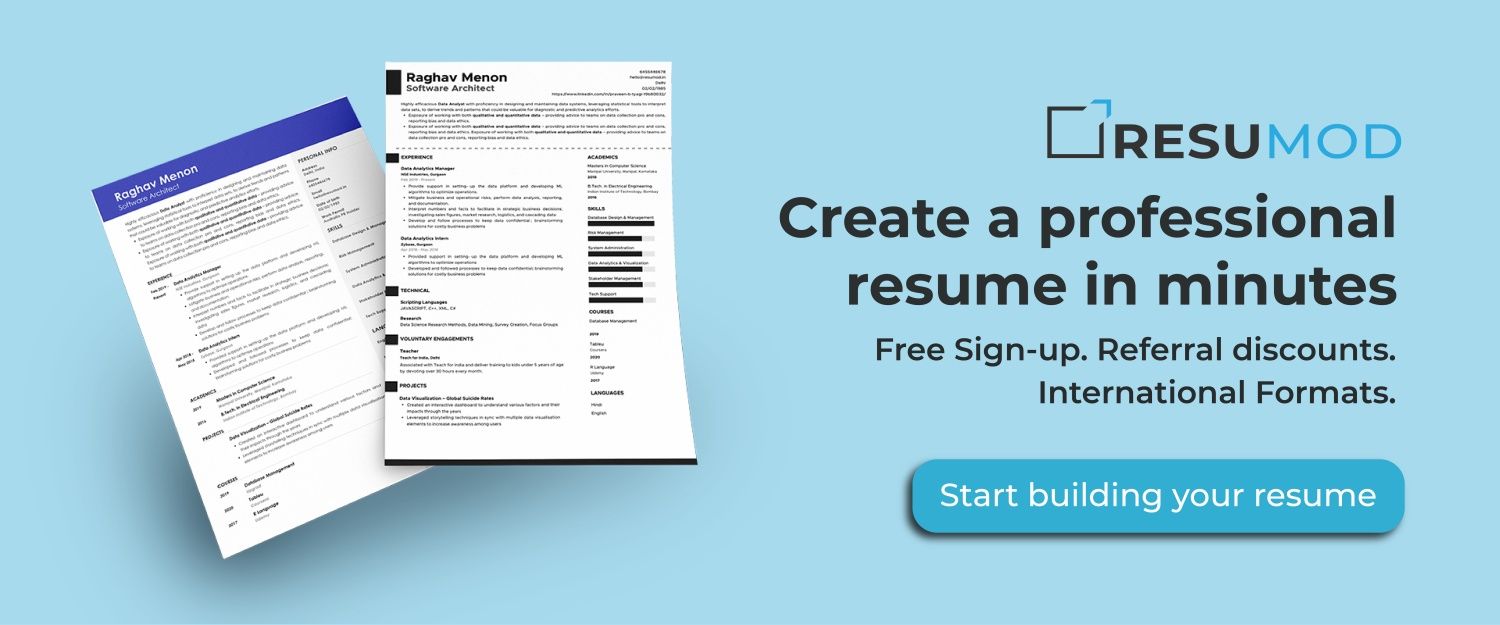 List Educational Qualification
The educational qualification consists of a list of all your educational qualifications and certifications earned by you in the past. Being a high-skilled requiring industry, the recruiters in the pharma industry critically value the candidates based on their education.
Keep it short, precise, and well-organized.
Include the year of passing or the total tenure of the program undertaken, along with the name of the program (do mention them as major or minor) and the name of the college or the institution too.
Mention the most recent educational qualifications first, continuing your educational status in reverse chronological order.
Emphasize the qualifications and certificates which are related to the applied job. For example, if you have published any research during college time, you can mention them too. They reflect positively on your skills and qualifications.
Do not exaggerate or give false data about the qualification.
Mention your grade or performance description including received certification in the past. However, if you are not confident with your grades, you can skip mentioning them. Just mention your degree name and qualification.
Add Relevant Work Experience
The most crucial part that directly increases your chance to get selected is your past experience. The job profiles in the pharma industry require experience. Be it a drug store manager or researcher, your past experience really polishes the necessary skills and gives you hands-on how to handle any emergency or odd situations. The experience gained over years in the pharma industry weighs a lot and offers great value during the interview.
Read the job profile requirements clearly and write your past experiences mentioning those same skills in your resume. Once you showcase your past experiences in the right way to meet the company's expectations, you get an edge with an image of a potential candidate.
Mention your lab skills, administrative experience, quantitative methodology, communication, and good team spirit.
Include your past experience with the company name and tenure spent on the job.
Use quantification whenever possible to give your achievement a practical and easy-to-compare side.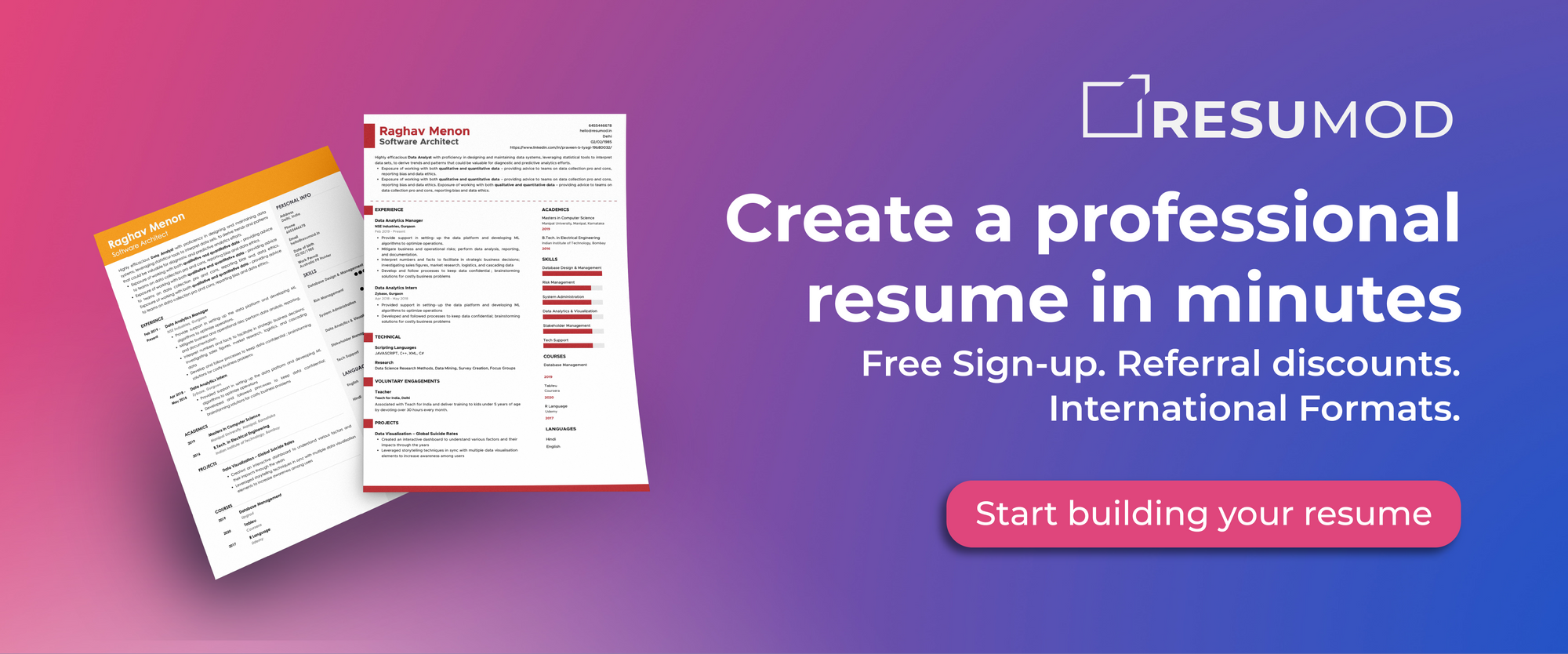 Make a Skill-Set Section
The right skills complement your experiences and can prove you an asset. Mention your soft and hard skills along with the technical skillset widely used in pharmaceutical industries.
Again. this section should also be well-formatted and organized prioritizing the most related skills to your profile.
Skills for a pharma-resume
Client Relationship Management
Strategic Market Planning
Territory Management
Strong Interpersonal Skills
Sales
MS Office Suite
Organizational skills
Persistence
Good Clinical Laboratory Practice
Formulation Development
FBRM/ PVM Simulations
Crystallization optimization
Aseptic Techniques
Process Improvement
Critical Thinking
Project Management Data analysis
Strong Communication
Good Manufacturing Practices
Quality Compliance
Case Identification
MedDRA coding
Good Clinical Practice (GCP)
Good Pharmacovigilance Practice(GVP)
Information Management
Clinical & Regulatory Writing
Problem Solving
Scientific writing
Reporting Analyst
Risk assessment
Observational Skills
Quality Driven Management (QDM)
Pharmaceutical Compliance
Project Management
Team Management
Internal Auditing
Good Manufacturing Practice (GMP)
CAPA
Good Laboratory Practice
Strong Communication
Reporting & Documentation
Pharmaceutical Research
Team Management
Quality Assurance
Product Development
Compliance Management
Analytical Skills
Retail Pharmacy Operations
Drug Utilization Review
Final Quality Assurance Checks
Inventory Control
Vendor  Negotiations
Pharmacy Marketing and Promotions
Patient Counseling
Insurance billing
Medication safety
Regulatory compliance
Mention Honors and Awards
The "Honors and Awards" section gives you an advantage over other candidates.  Highlight your educational awards and research, or the certificates and honors awarded during past experiences. Your achievements reflect your focus and hard work.
Don't be afraid to mention anything that you think is earned by you based on your dedication and hard work. It might become one of the topics during the interview, giving you a chance to showcase your talent.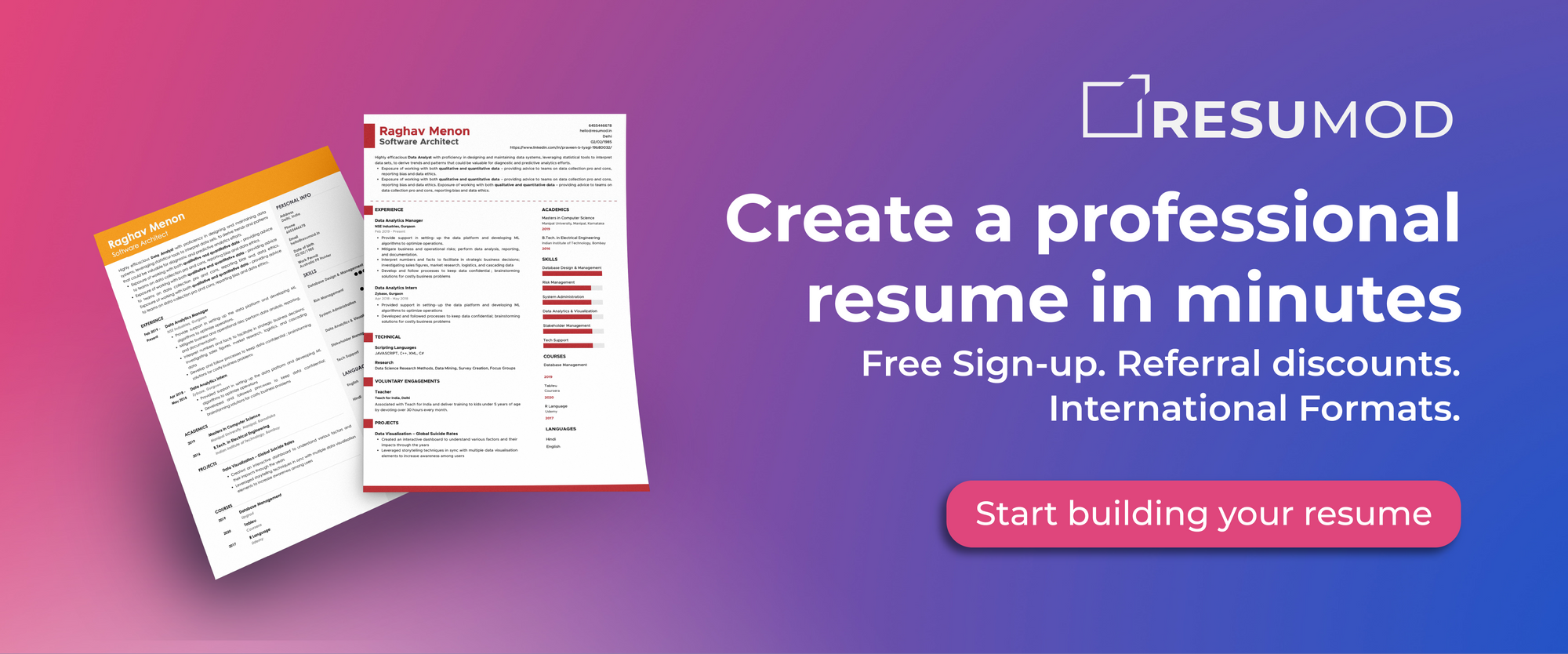 Add Publications and Presentations
Having publications and presentations is a significant accomplishment, bringing your professional status to one step ahead. This really adds to your resume, making your chances to get hired for the job.
Use n reverse chronological order
Include only those publications which have appeared in peer-reviewed journals.
Mention the seminars and presentations attended. Ensure that you write about seminars and events related to the pharmaceutical industry only. Thoroughly mention the dates, events topics, and organizers.
Additional Tips for Writing a Resume for Pharma Jobs
To stand out from other candidates, apply these tips in your resume and see the results yourself.
All relevant experiences count: Write about your skills and experience that showcase the skills necessary for the pharma industry. It could be anything like a sales job or working as an intern under a physician, etc.
Include additional projects: Most majors make it necessary for students to complete at least one major project including a few minor projects during college years. You can mention and explain a little bit about them in your resume. They really help you fill the lack of experience gap, being a fresher in the pharma industry.
Make it short and concise: Don't over-explain anything in your resume. You will get the chance to explain during the interview. Thus, wait for your chance to explain everything during the interview. Your resume is just a glance at what you can offer if hired and how relevant you are for the job profile.
Make it Grammatically Correct: You can use any tools available on the internet for ensuring that your resume doesn't have any grammatical errors. A resume with bad grammar generally raises the eyes of the recruiter and is mostly rejected as being a sign of unprofessionalism.
Get it Proofread by Someone: This is the last step while writing your resume. As soon as you are done with writing it, get it proofread by someone who works in the same industry. If that's not possible, then get it read by any of your friends to see the overall impact of your resume. Work on any suggestion given by them and make necessary changes to it.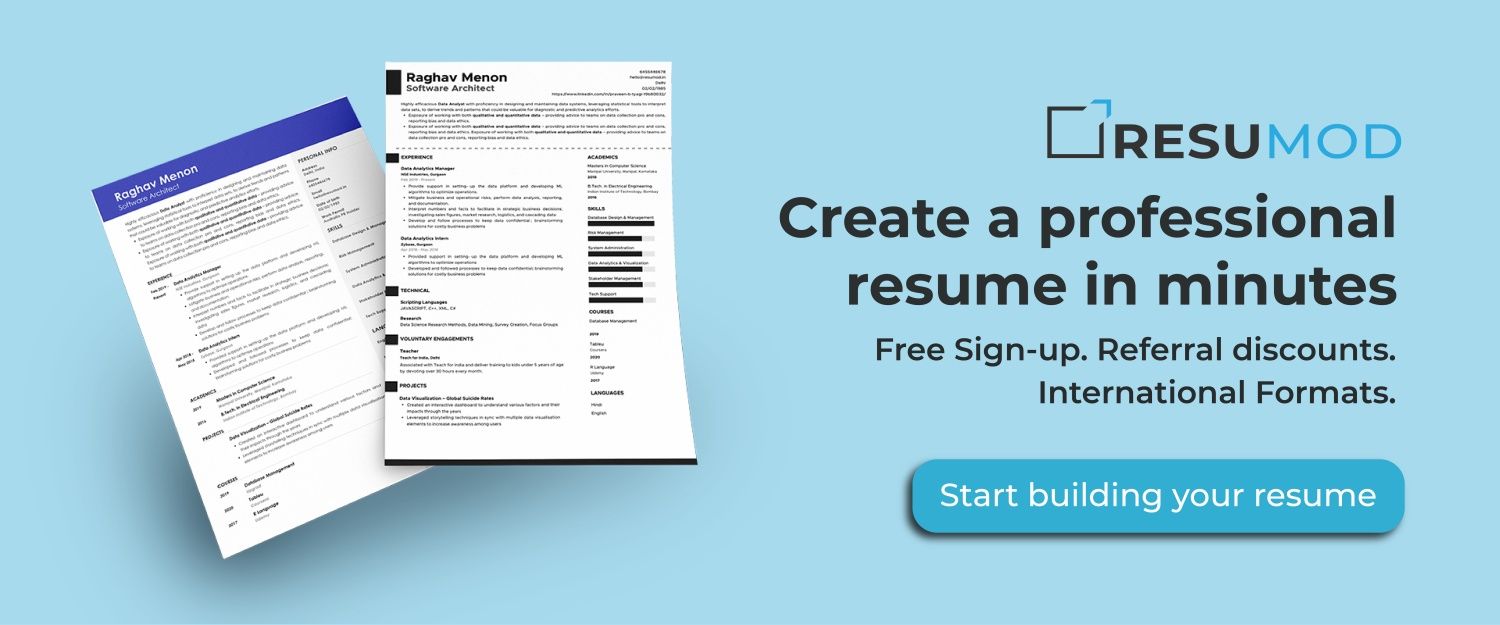 Pharma Resumes on Resumod
Resume of Lead Pharmacist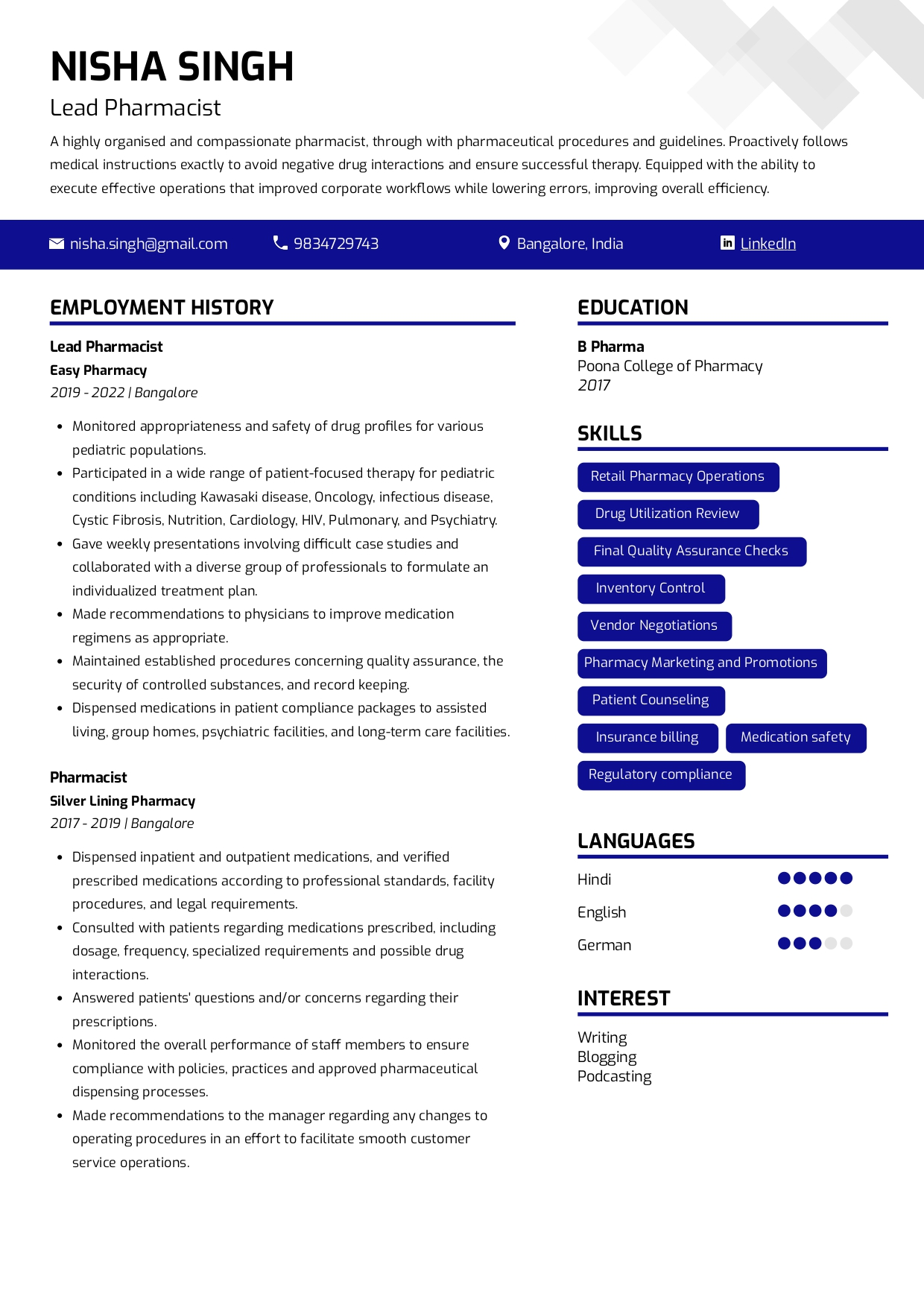 Check full resume of lead pharmacist in text format here
Resume of R&D Manager- Pharma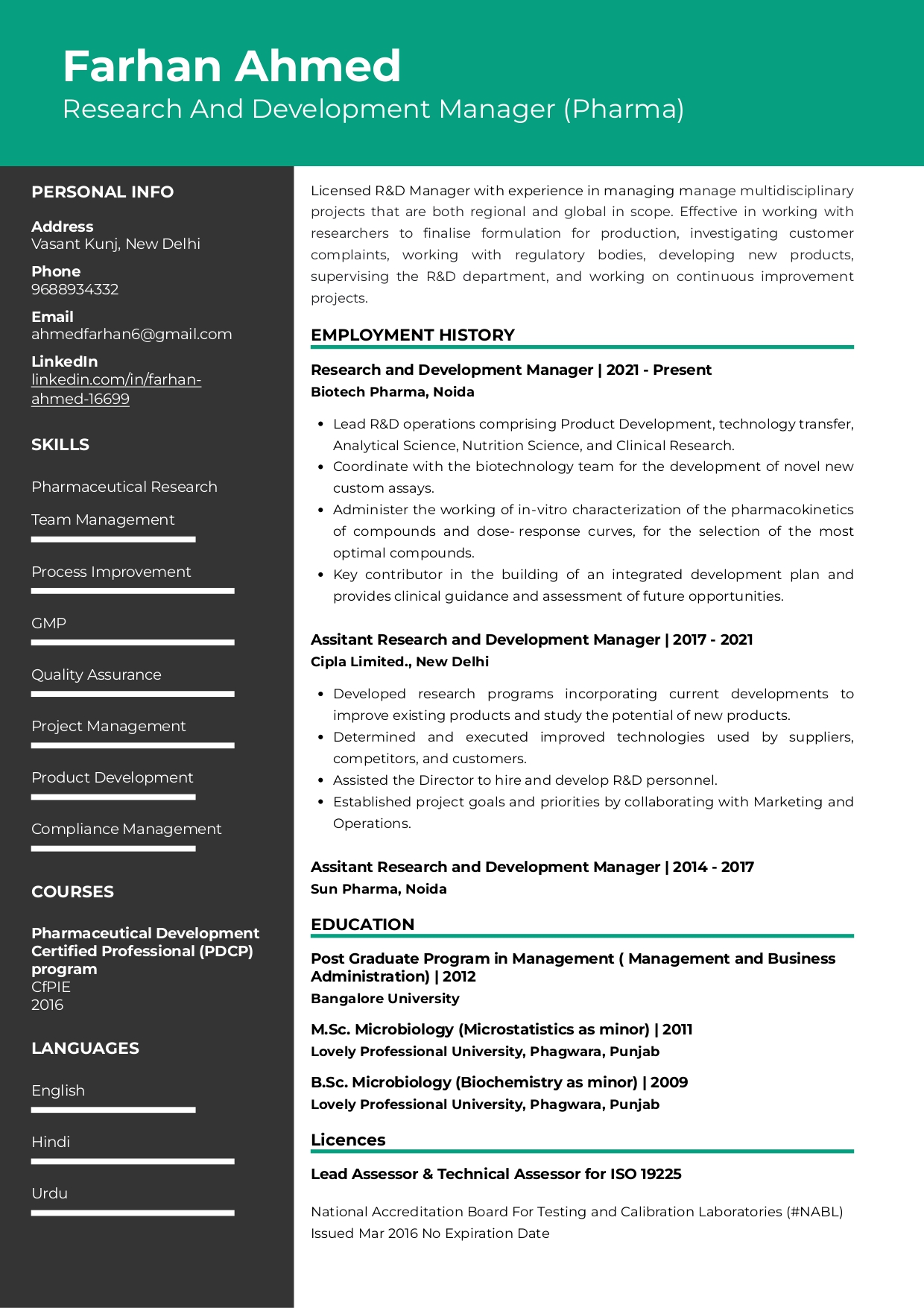 Check the full resume of R&D manager-pharma in text format here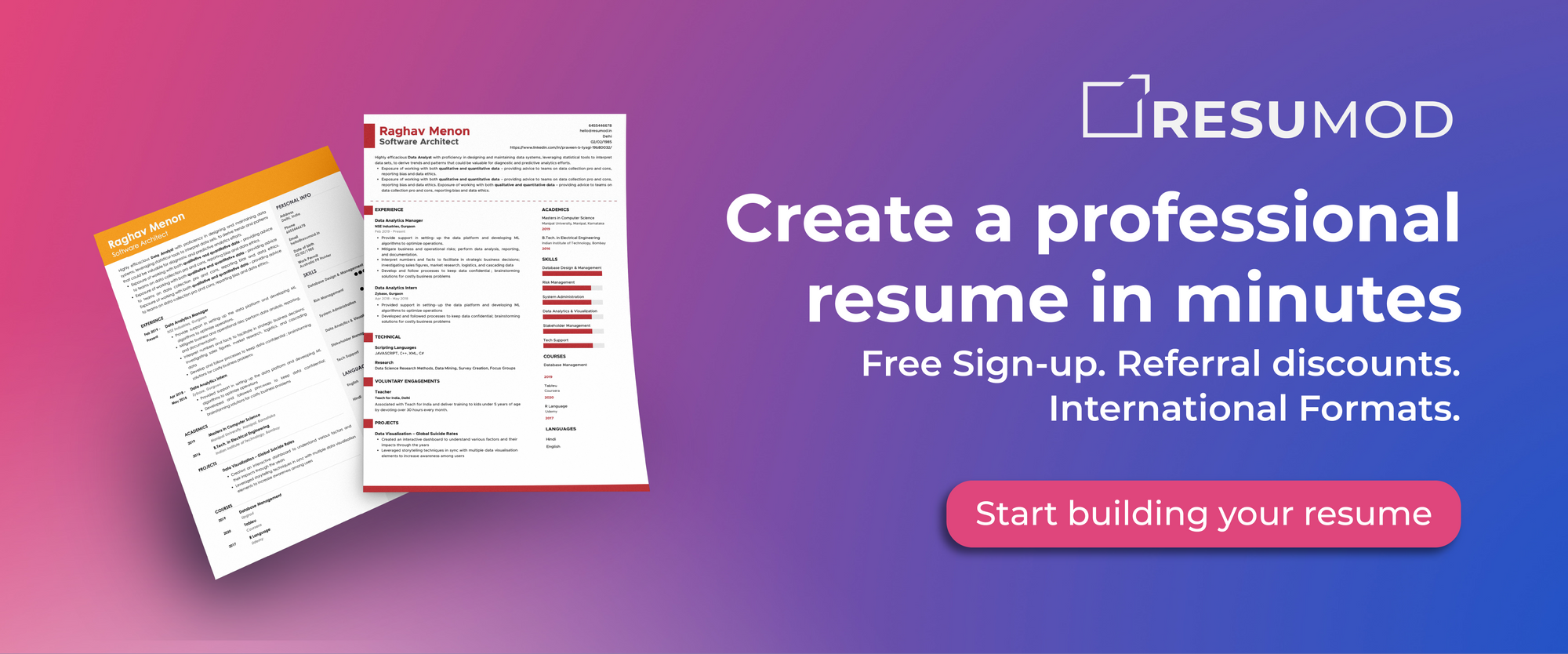 Resume of Quality Manager - Pharma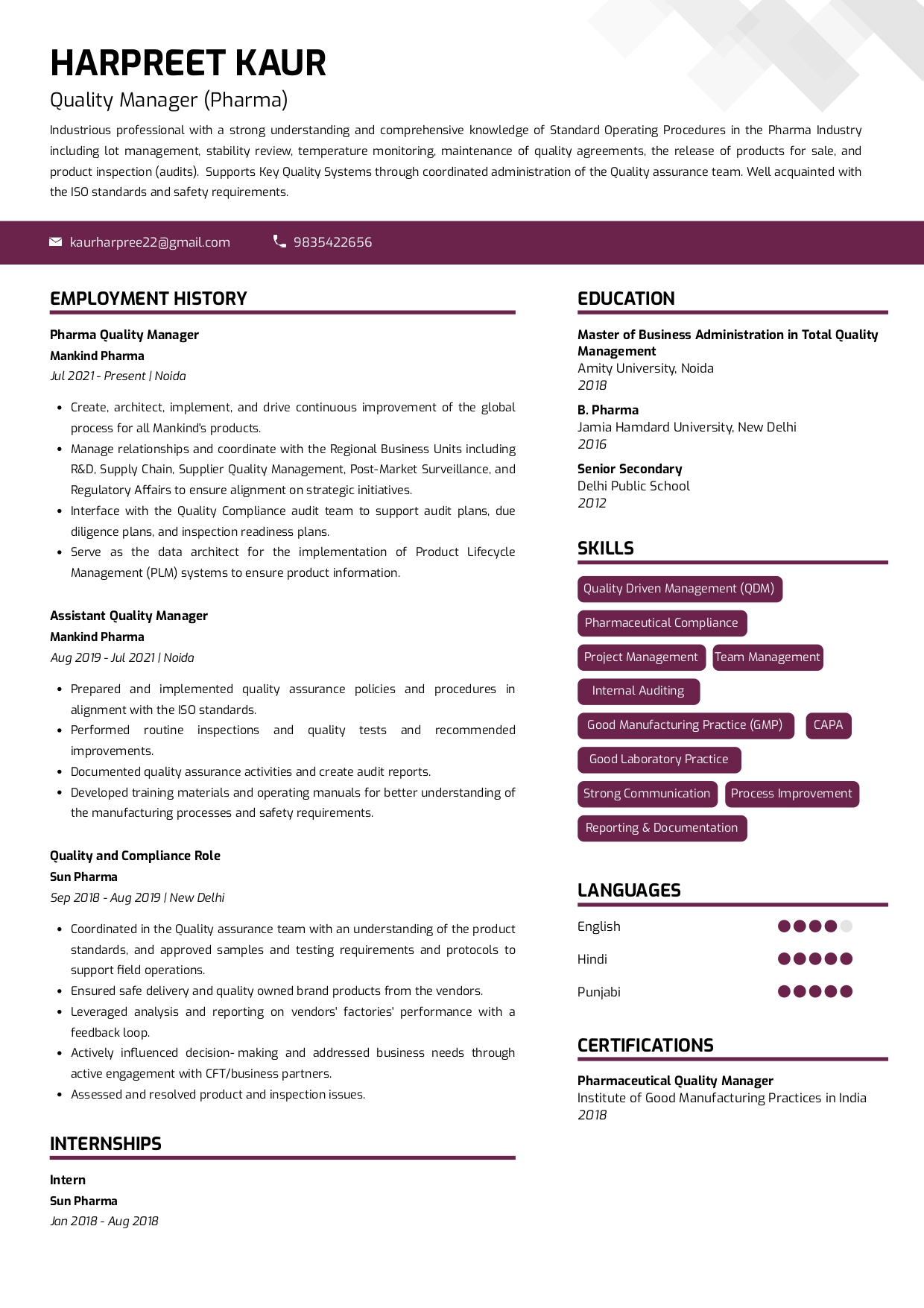 Check the full resume of quality manager-pharma in text format here
Resume of Pharmacovigilance Analayst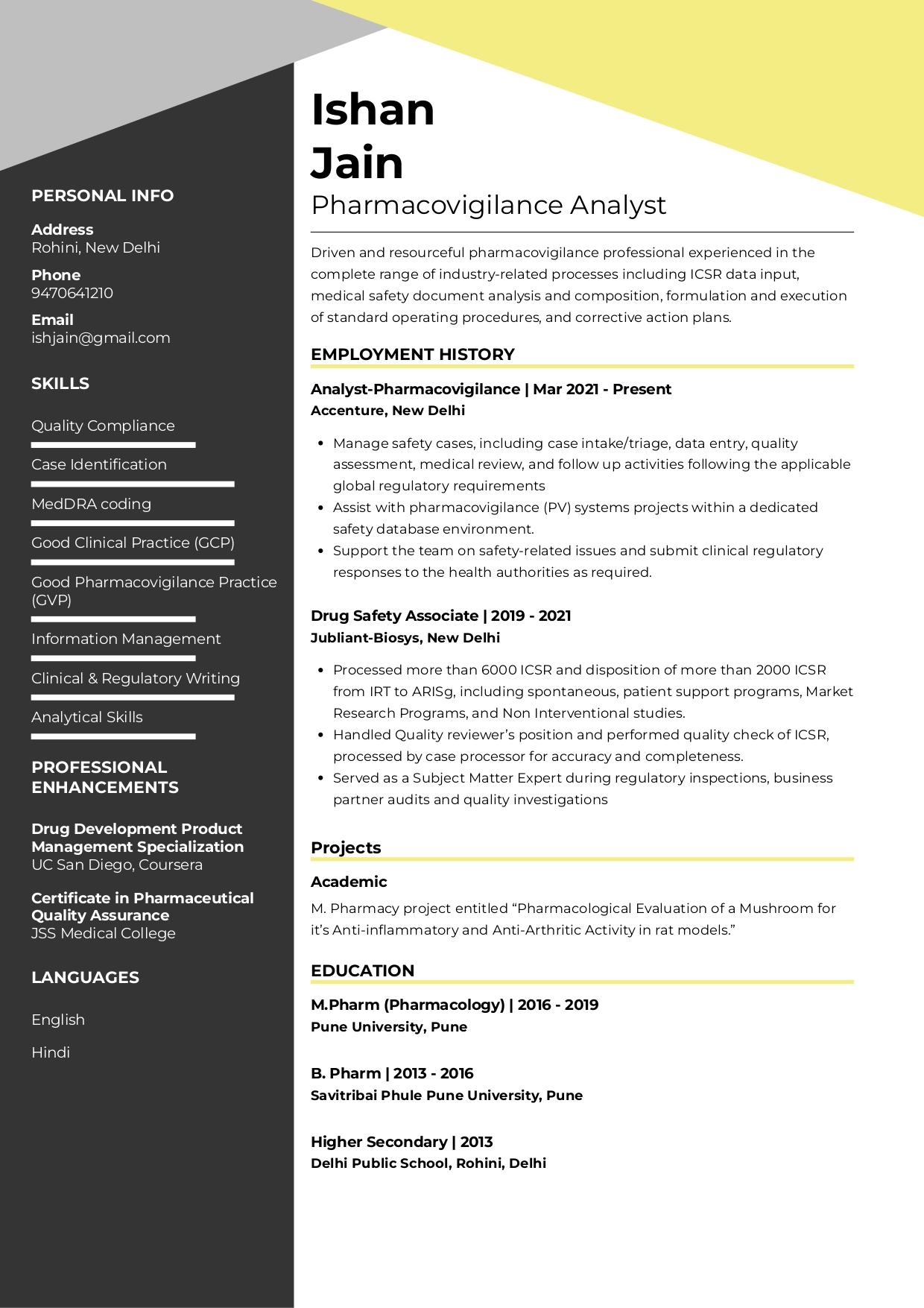 Check the full resume of pharmacovigilance analyst in text format here
Resume of Medical Sales Representative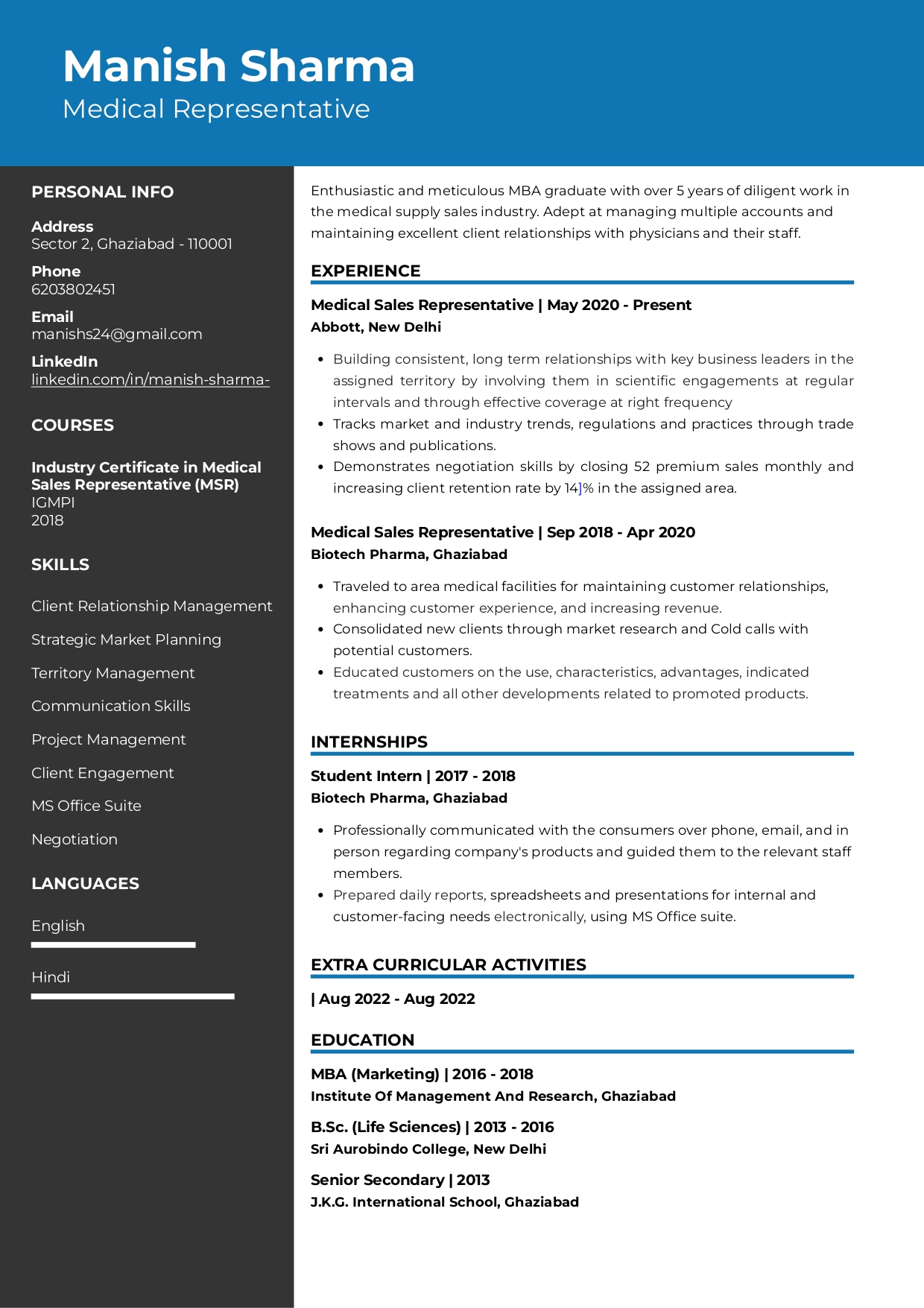 Check the full resume of medical sales representative in text format here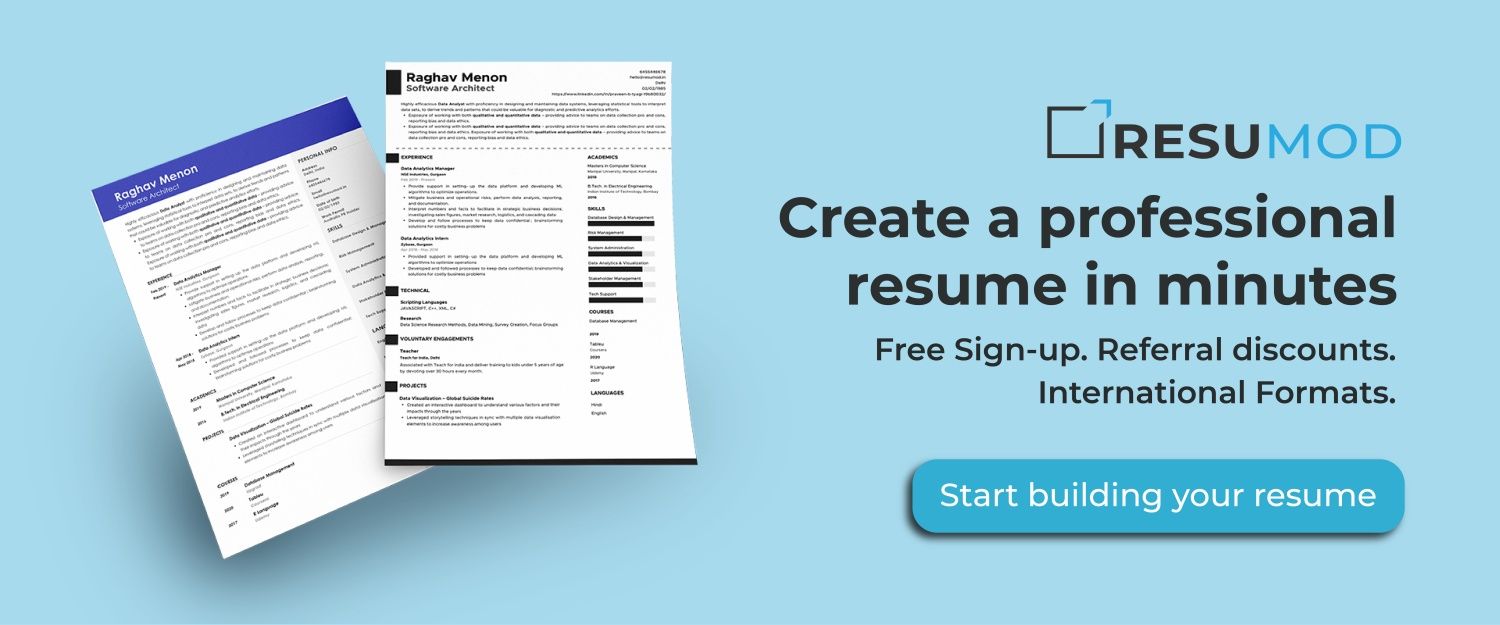 Resume of Pharmaceutical Scientist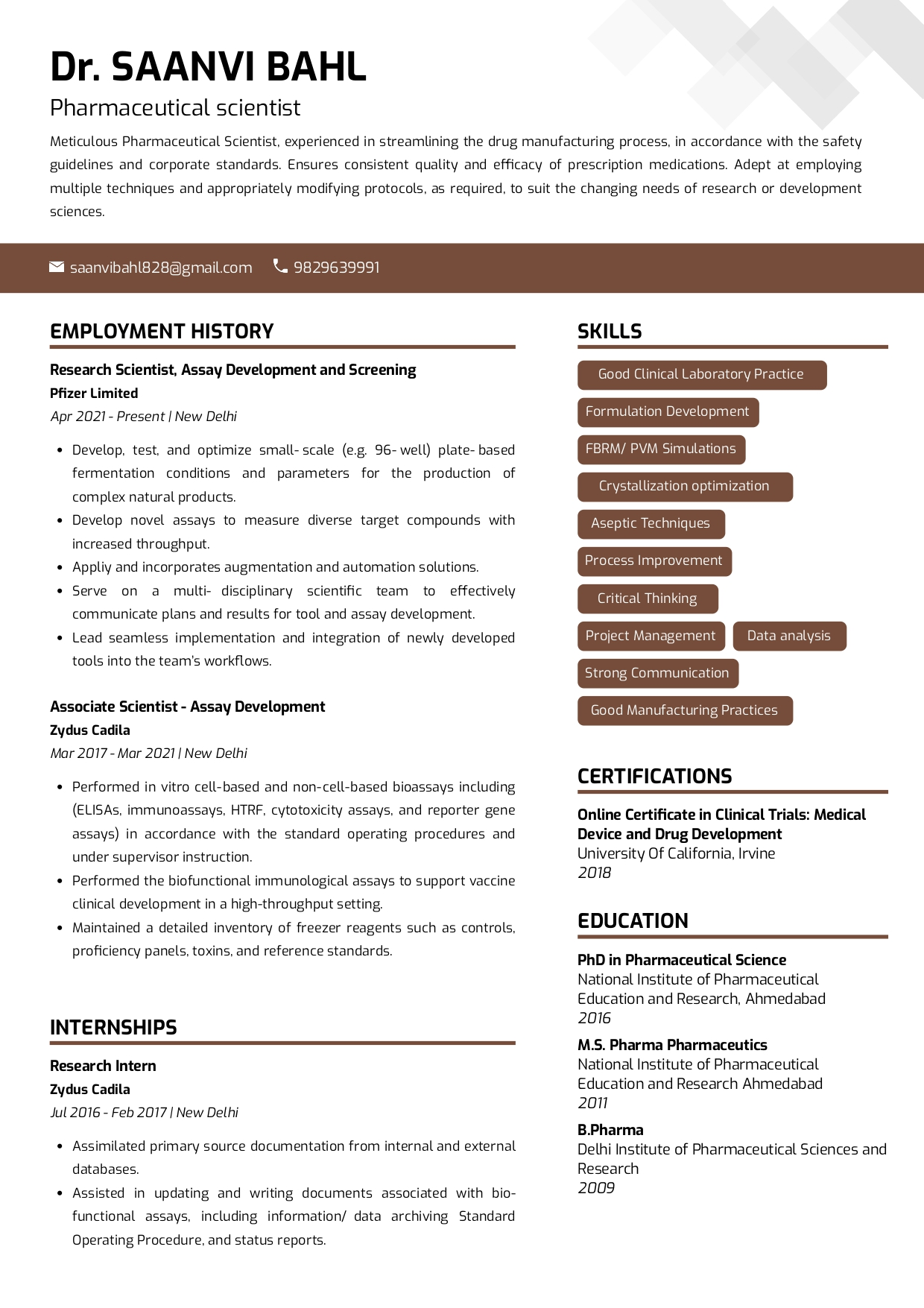 Check the full resume of pharmaceutical scientist in text format here
Resume of Account Manager - Pharma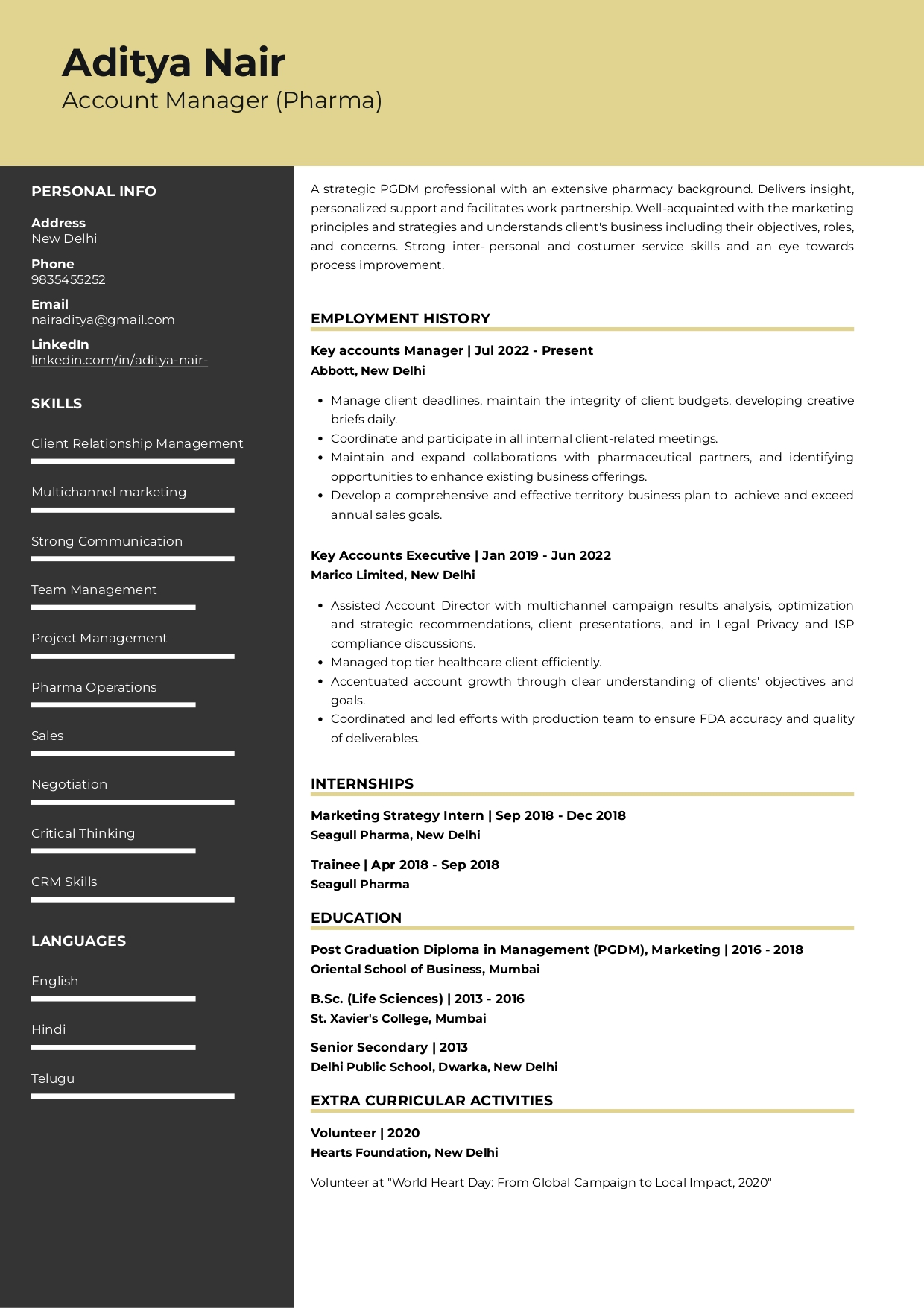 Check the full resume of account manager - pharma in text format here