Writing a one-page resume for Freshers [5+ Examples]
A resume is that bridge which connects a job seeker to a job. A one page resume exactly does that- clearly lays out only the focused and important information.
A resume is your door to your dream job. A well-optimized resume increases your chances of getting hired. But freshers are often confused between writing a one-page or a two-page resume.
The answer is a single-page resume. Continue reading to learn:
Why do freshers need a one-page resume?
The top-most priority of entry-level job seekers is to enter the job market. A resume is that bridge that connects a job seeker to a job. This makes it important for you to make a resume that is targeted and shows your experience and talent to the recruiter.
A one-page resume exactly does that- clearly lays out only the focused and important information.
It is more important for freshers to use this format as:
No Extra Gimics: Due to the limited space you only add what is required to get your job. Achievements in senior school are completely ruled out for more recent information.
Better Layout: One-page resumes are designed to present a large amount of information in a limited space. This makes them innovative and better structured.
Time-saving: One-page resumes save time for the recruiters. And what pleases the recruiters get you the job.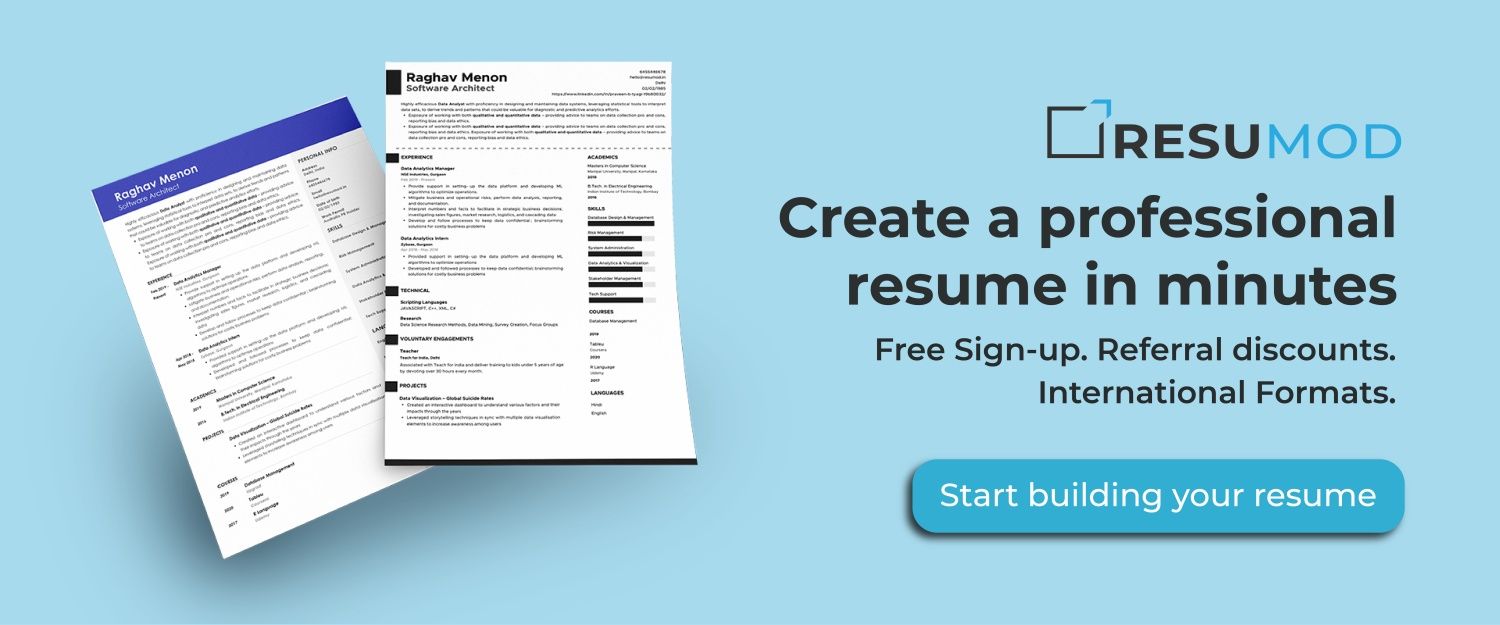 Two-page resume v/s single-page resume
There is no industry standard for the length of the resume. Resumes are not made on the "one size fits all" principle. The general idea that our experts follow is to make your resume as short as possible, showing your experience and suitability for the job role clearly.  
Here is an in-depth discussion about a single-page and a two-page resume.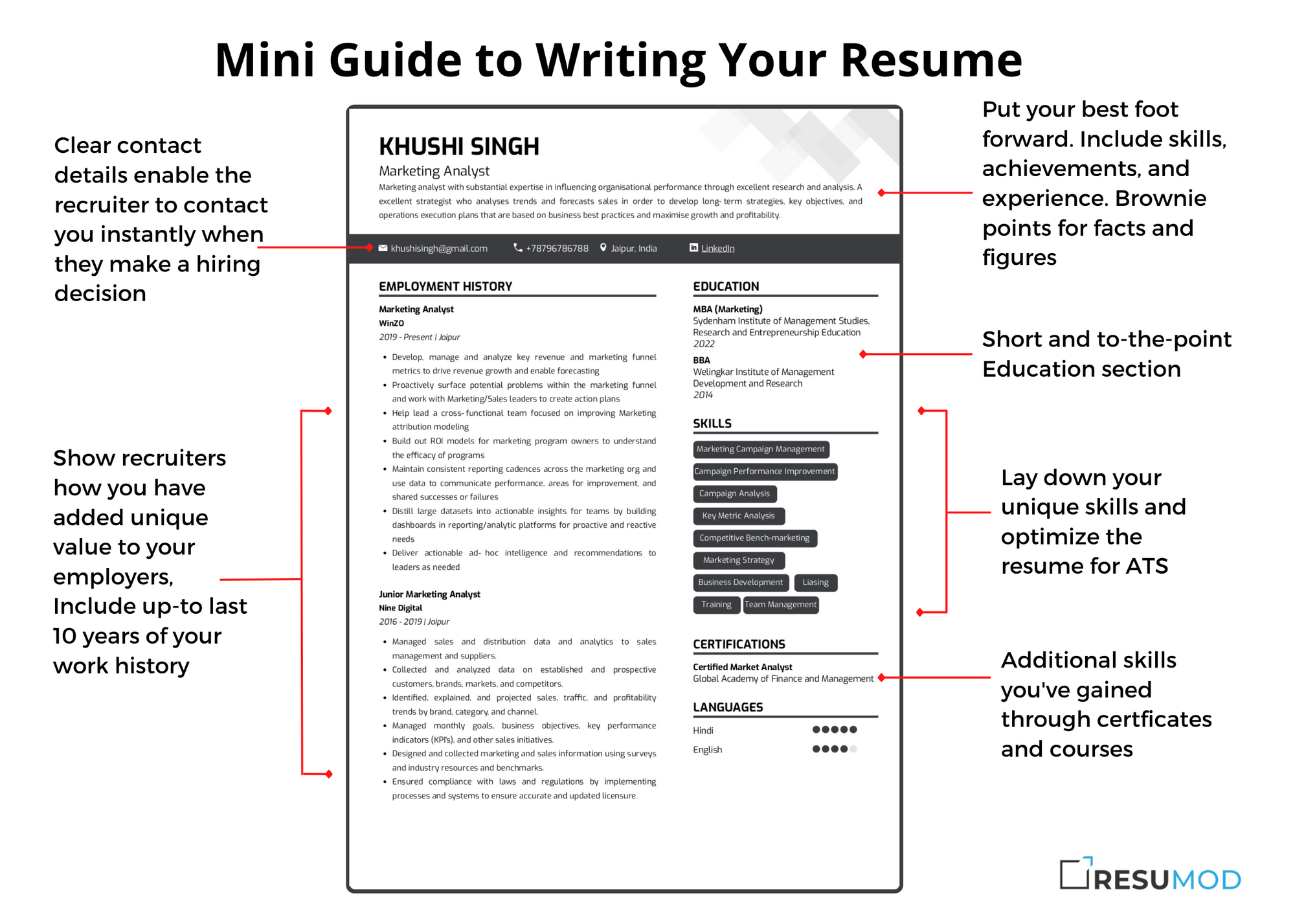 One Page Resume
A one-page resume is easy to glance at and gives an overview quickly. It is mostly used by entry-level professionals and some senior-level professionals as a biography or introductory document.
Online resume builders like Resumod are best for creating a one-page resume as they come with customized formats for a one-page resume.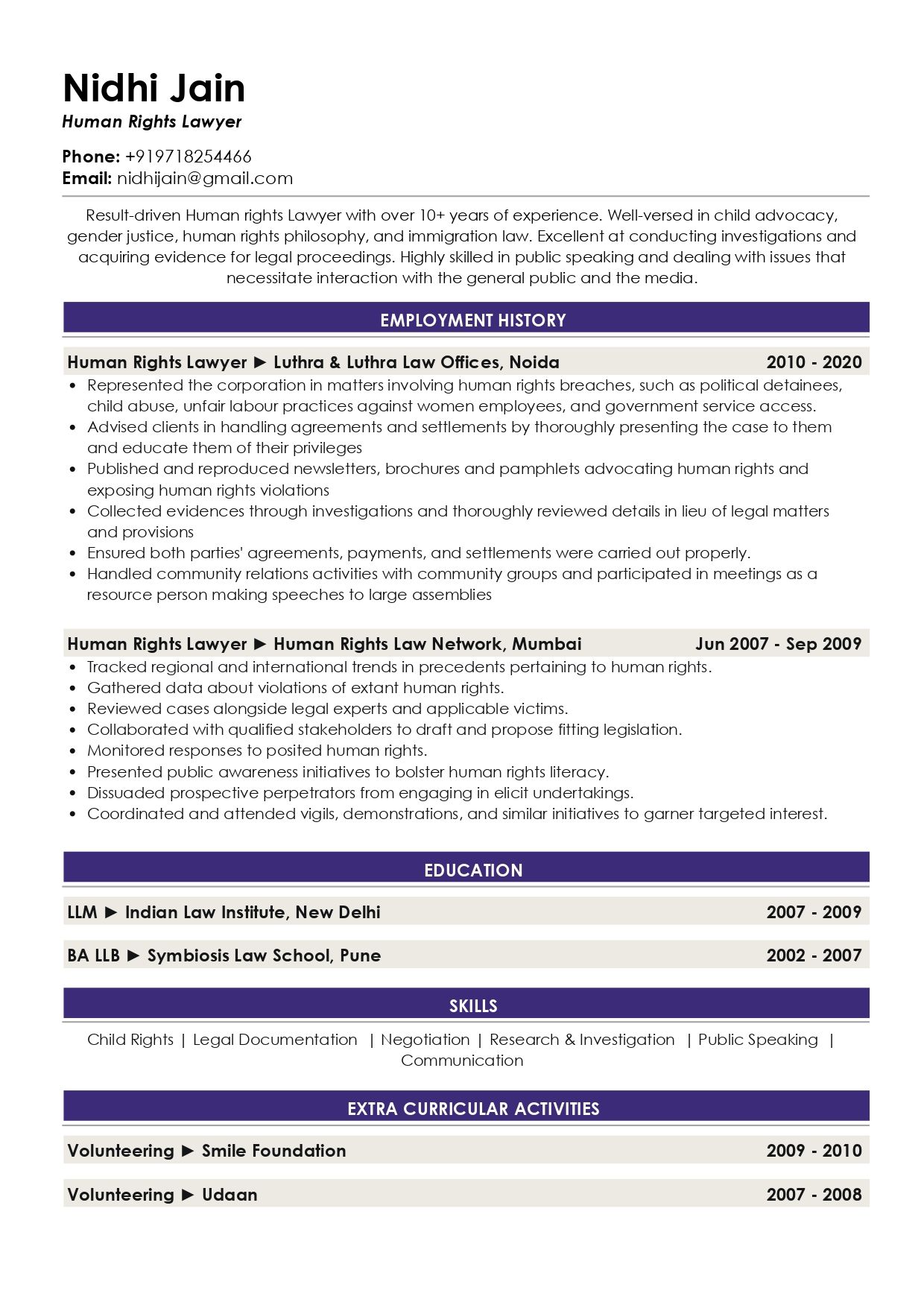 Two Page Resume
A two-page resume is more common among senior professionals, especially those with more than 10 years of experience.  An extra page enables the candidate to vividly explain all details of the career like achievements, multiple employments, professional development, and more.

The 6- second test for a fresher's resume
With high saturation in the job market and thousands of applicants for a single job profile, HRs run short of time and are pressured into quickly scanning resumes.
Most resumes do not even reach the recruiter's hands as they are ruled out by the bots, but those that reach have only 6 seconds to make their mark.
The six-second test implies that your resume has as little time as six seconds to make its mark and stand out. This is the initial process that HRs use to single out resumes for careful analysis.  
But how to nail this test?
Ensure that your resume adheres to these guidelines to qualify for the initial scanning:
Include all relevant sections: Ensure that your resume has all relevant sections like education, summary, internships, skills, contact details, etc. This enables the recruiter to see if you have the required skills and background to perform the given job.
Proper format and spacing: No resume can be scanned without a proper structure and easily readable format. Even if you have put all the sections in your resume, use spacing, alignment, font size, and font style to your best benefit.
Use bullet points wisely: Bullet points make your resume skimmable. Use them at the right places and the right amount to make your resume easy to glance at.
Quantify Infomation: Quantified data, if highlighted properly, instantly draws attention. It might be difficult for freshers to get data, but you can write about your scores or any participation.
expert tip
How to use bullet points in Resume?
Use 3-4 bullet points in the expereince section. Keep them short and too the point.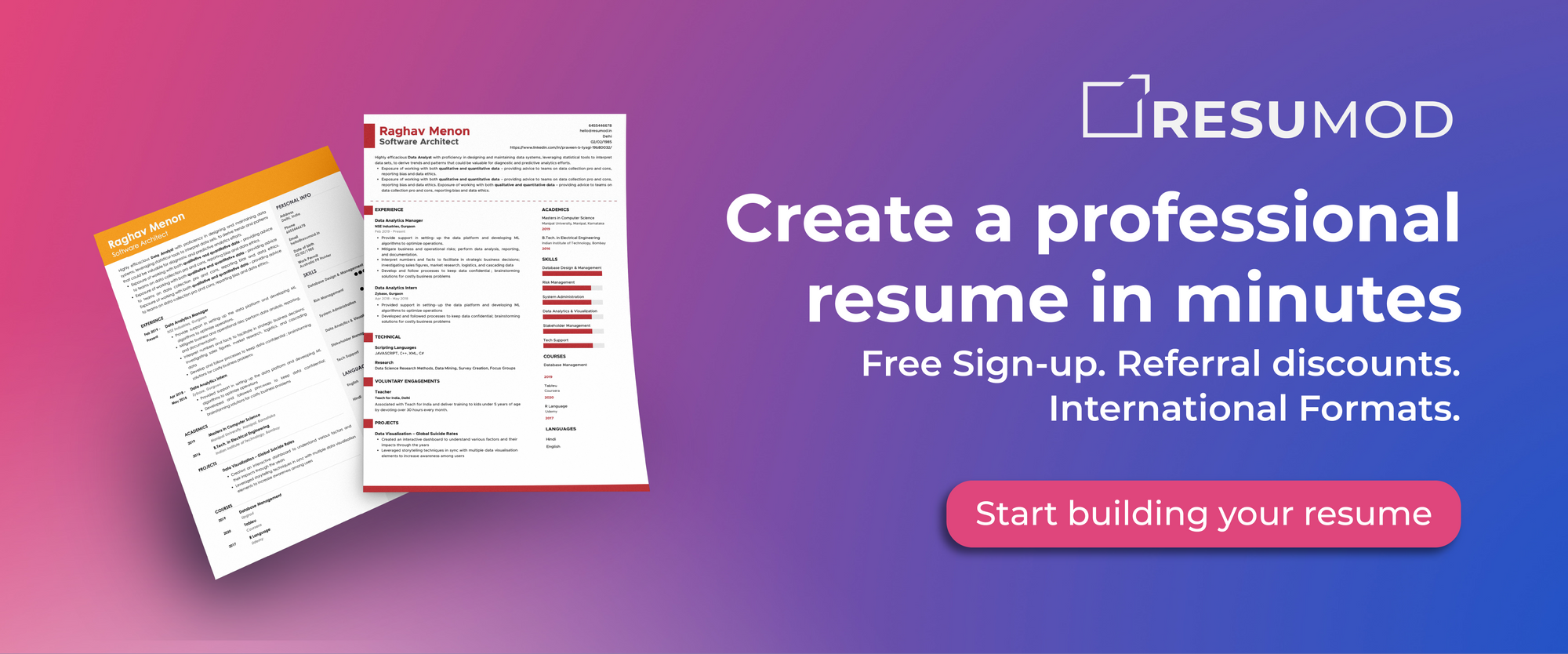 Choosing the ideal resume format for freshers
An ideal format lists all your data starting from personal details to extra-curricular without making the resume cluttered or even too spaced out.
Your choice of format should depend on a few factors including:
Single Column
These are the most commonly used and easy to glance formats. They are internationally accept for all levels of career.
Advantages:
Familiarity: They are so common that all recruiters are familiar with them, no one can ever deny this style.
System friendliness: Being laid out in a linear pattern, they are easy to read across all devices and software.
Reduced Distortion: These layouts rarely get distorted on converting from one digital format to another.
Double Column
Many industries and companies still do not prefer a two-column format. Before using a two-column format, check what is trending or acceptable in your industry or with your potential employer.
More space: If you have a lot of data to put in, this format provides that extra space for you.
Creative: Two columns add a hint of design, if you customize them and add more elements like icons, they seem more sophisticated and creative.
Better Placement: If your information is divided into multiple smaller categories, It can be grouped and placed in one of the columns for better readability.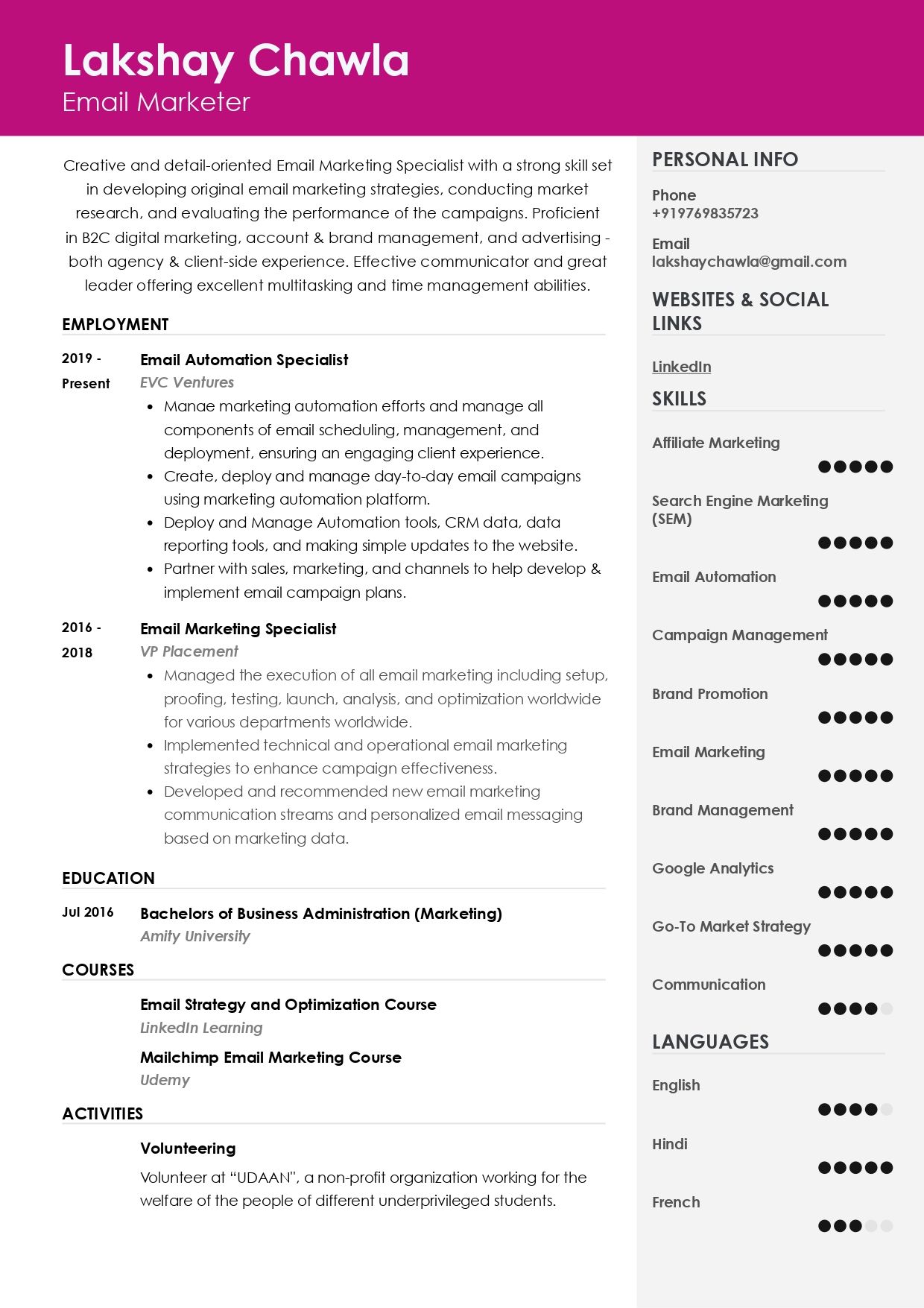 Infographic Resume
Infographic resumes use interactive charts and graphs to represent information. They are best if you have a lot of quantifiable information that can be demonstrated better visually.
Visual Appeal: Due to the use of graphic elements and colors, these formats are the most appealing ones. However, they do not work if your data does not align with the format.
Less Content: Infographics through attention-grabbing, take a lot of space. If you have a large amount of data, they are most likely not a good fit for you.
Good for referrals: If you have a job referral, it is a good idea to use an infographic format. You do not your resume to be ATS optimized, but succulent with portraying your skills.
Text Resume
These are traditional, good old resumes that we have been using all the time. They are plain text resumes, without any via and graphic elements. Though various colors and formatting styles can be used to make the resume attractive.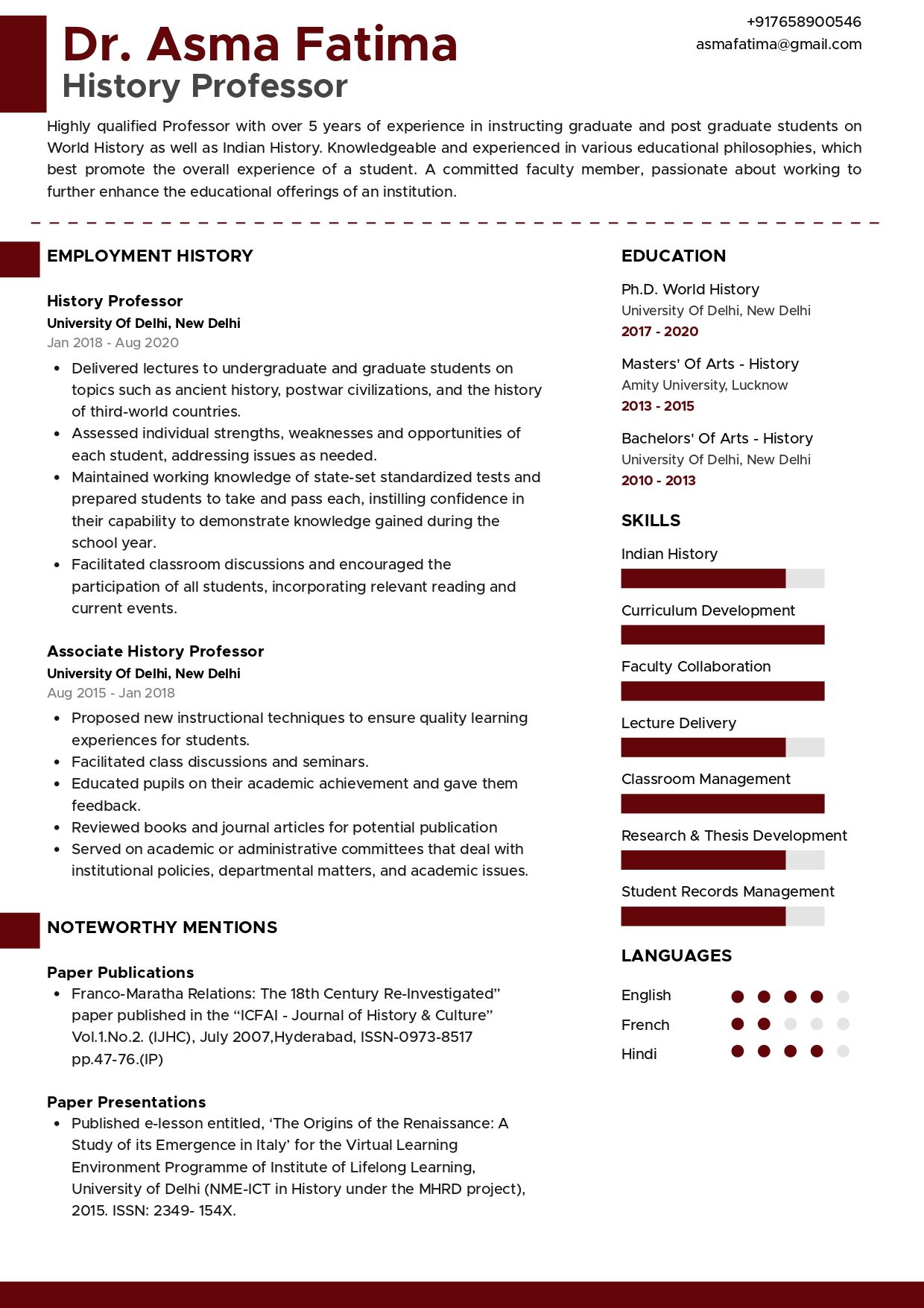 ATS Friendly: What makes these resumes the commonly used ones is their ability to be read seamlessly by online systems. A text resume with a lot of keywords has got you covered
Universal: Text resumes are accepted around the world across all industries. You do not need to think about changing the format even if you are changing the location or profile.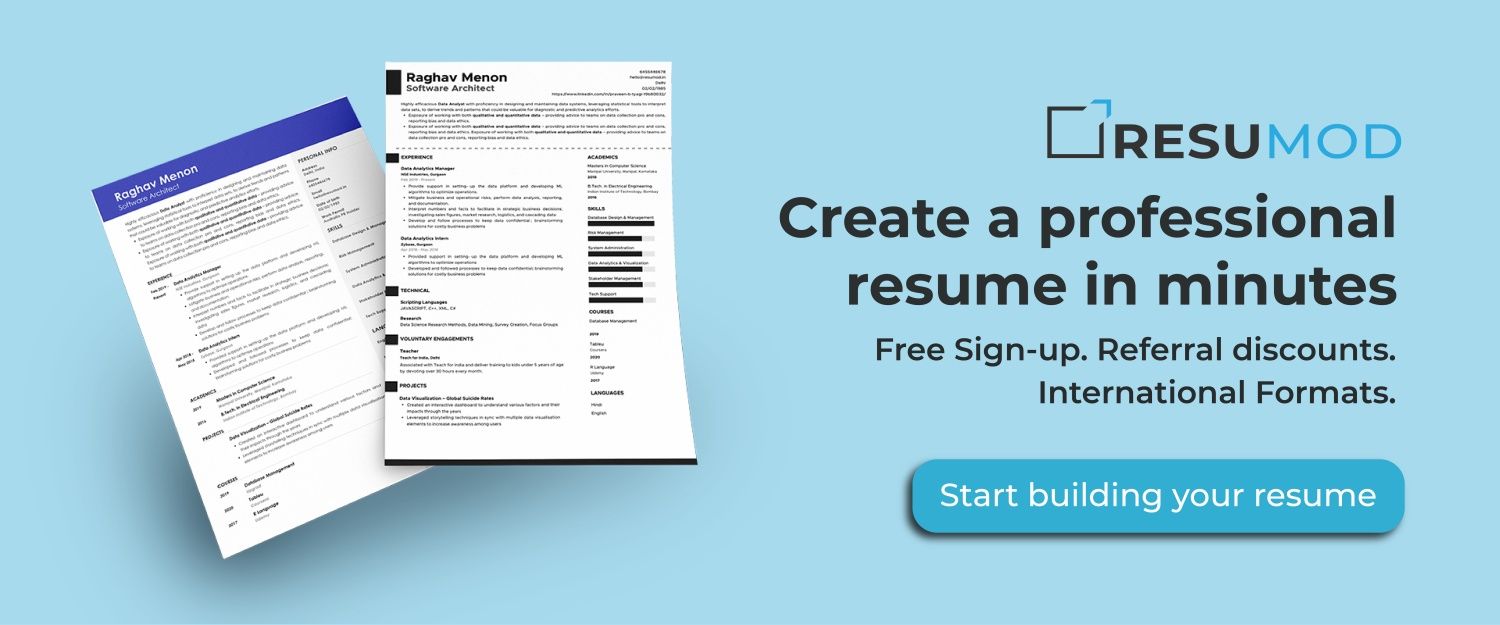 Different sections in a resume for freshers + how to write them
Name and Resume Headline
A resume headline or title comes along with your full name. A resume headline can include your
College and course name
The title you are aspiring for
Any achievement that will help you get the job
Expert Tip:
expert tip
What should be the size of my name on the Resume?
Your name usually has the largest font in your entire resume and is most distinctly visible.
Contact Details
A well-organized and clearly visible contact information section is a must-have for you to get a job. It makes the recruiters' jobs easier if they are interested in your profile. Improper or incorrect details will make you lose the opportunity even if you are the right fit. Here are the things to mention:
Your email id
Your phone number
Link to portfolio or website if any
Summary
A summary is a short description of your educational background, abilities, interests, and the value you can bring for your future employer. Here are a few tips to create a resume summary if you do not have any experience to show:
Proper use of keywords: Enrich your summary with the keywords that are required for the job role that you are seeking. The right usage of keywords further helps your resume with ranking better on ATS.
Use your achievements: You do not need big awards or top the university to mention here. Even the smallest of things like scoring high in a subject related to your future job does the work for you.
Use a title to start your summary: This is a good practice as it provides a strong start to the very first sentence on your resume. These may be related to your skills or your qualification.  
expert tip
The ideal length of a summary for a single-page resume?
The summary should not be more than 3 to 4 lines so keep it short and crisp..
Click here for a detailed guide on making an internship section for a one-page resume for freshers.
Education/ Academics
This is the most important part of your resume if you are a part of the beginner workforce. This includes:
Course/ degree name
Name of the institution
Year of completion
Scores if they are exceptional
Any courses and certifications apart from your core educational qualification
expert tip
How to write the education section?
Use reverse chronological order here and mention your qualifications until high school.
Internships
If you've done some internships alongside your university years, there's nothing better than that. They demonstrate that you have the practical experience and gained some skills in working in a corporate set-up. Here is what all you can include in your internship section:
Role
Internship period
Related deliverables
Name of the employer
Any achievements
expert tip
Importance of unpaid internships in a resume for freshers.
Don't forget to mention your unpaid internships as they do give you an actual insight into what your job would look like..
Click here for a detailed guide on making an internship section for a one-page resume for freshers.
Relevant Skills
You do not need years of experience to have skills that will fetch you your dream job.
Here's what you can include in this section:
Skills you've acquired through your academics
Any software you know
Soft skills like communication and time management
Skills that you've learned through extracurricular activities
Skills that you have learned at your internships
Here is a comprehensive list of skills to include in a resume for freshers
Promotions
Market Research
Presentation and Communication
Service Marketing
Advertising
Market Survey
Retail Marketing
International Marketing
Consumer Behavior
Sales and Distribution
Project Finance
Infrastructure Financing
Portfolio Management
Corporate Governance
Management Accounting
Direct Taxation
Mergers and Acquisitions
Human Resource Management
Compensation Management
Performance Management
Industrial Laws
Human Resource Planning
Organizational Development
Training and Development
Communication
Ability to Work Under Pressure
Decision Making
Time Management
Self-motivation
Conflict Resolution
Leadership
Adaptability
Teamwork
Creativity
Networking
Click here to get a detailed list of skills for a resume for freshers and how can you make a skill set.
Extracurricular  Activities
These are very crucial in helping you get that right job if you are a fresh college graduate. These present different aspects of your personality to the recruiter and also show what you would do besides your work. Some extra-curricular activities to include in your resume are
Sports participations
Involvement in College societies
Pursuing your hobbies outside the college
expert tip
Are extra-curricular activities important?
Involvement in such activities helps in overall personality development, which gives you brownie points.
Awards and Achievements
This does not mean you need to top the university to mention it in your resume. A good score in any one subject or an award at any competition is also something you can mention here. Mention these things in this section
Year of receiving
Award name
Name of the awardee
Any details relevant to the award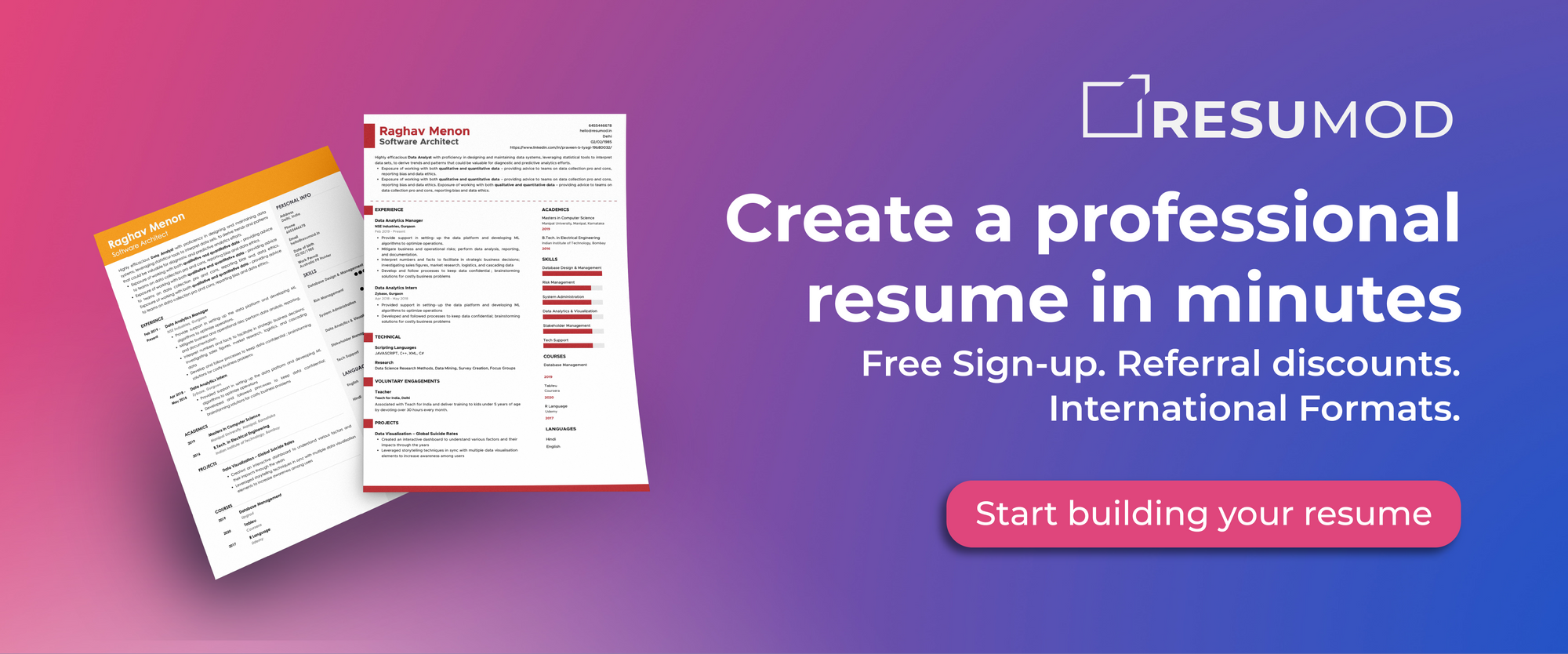 How to place various sections in a resume for freshers
Summary: It is the topmost section of the resume, placed directly below the name and contact details
Internship Experience: Right below the summary, with the most recent internship experience on the top
Education: There are two options for this - Right after the summary if you do not have an internship section, or below the internships section, if you have already done some in the past
Skill Set: Below the internship or experience section, depending on which one of the two is on the top.
Extracurriculars:  This is usually the last section of your resume.
Awards and Achievements: There is no universal way to lace it. You can see how important are these accomplishments for your potential job, and decide the position accordingly
One page resume for freshers on Resumod

Resume of Meteorologist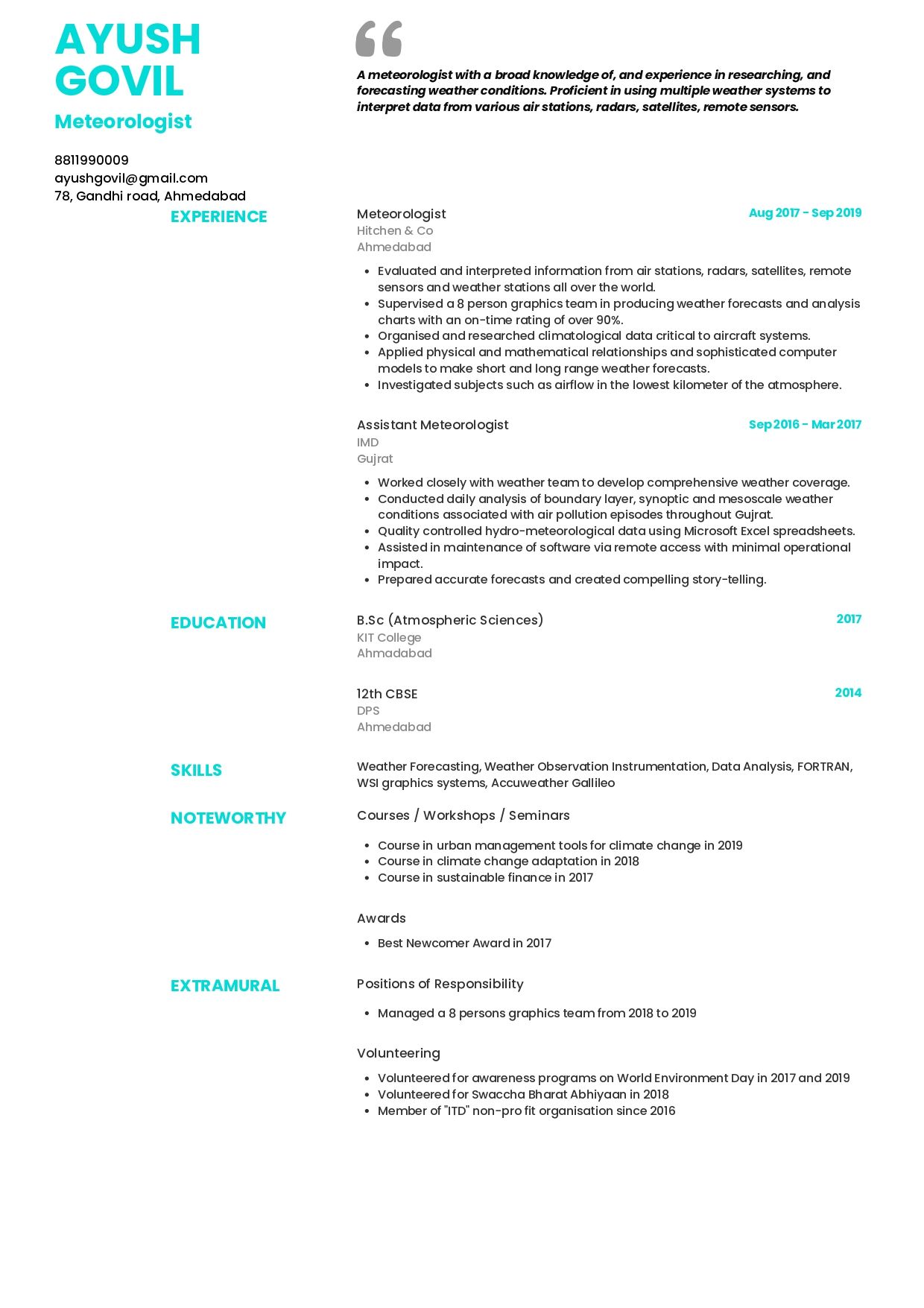 Click here for full resume in text format

Resume of Online Tutor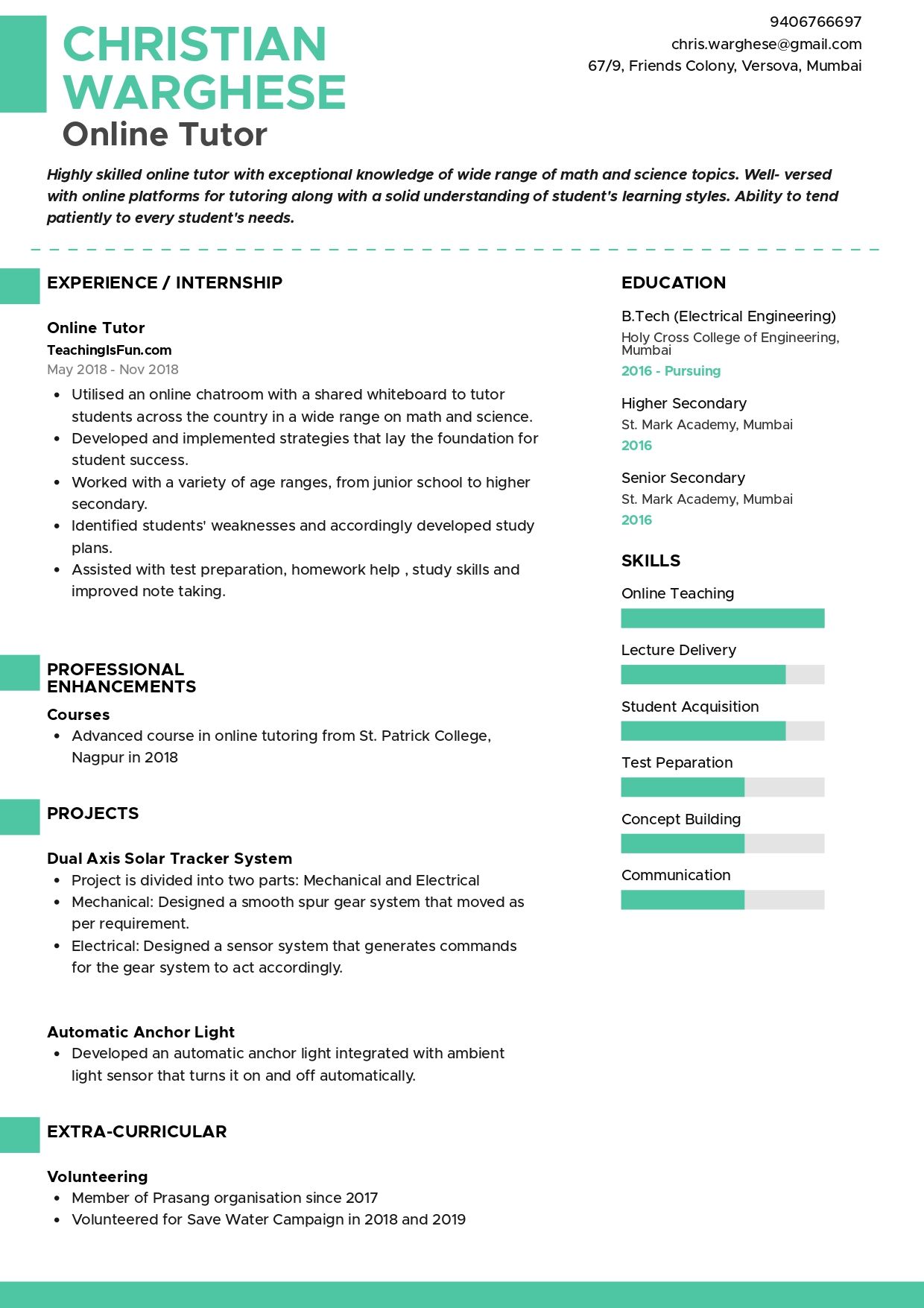 Click here for my full resume in text format  
Resume of News Presenter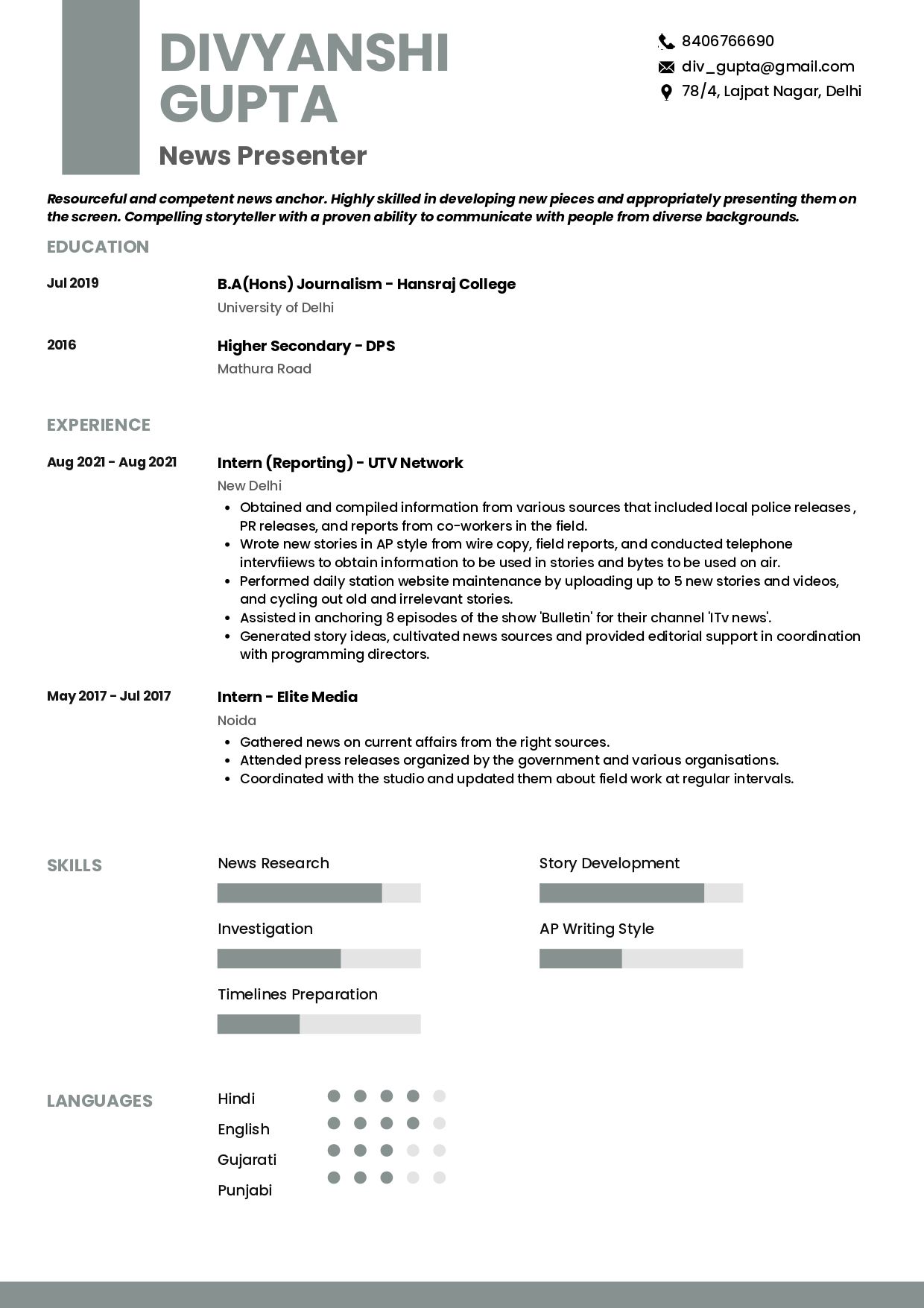 Click here for full resume in text format

Resume of Radiologist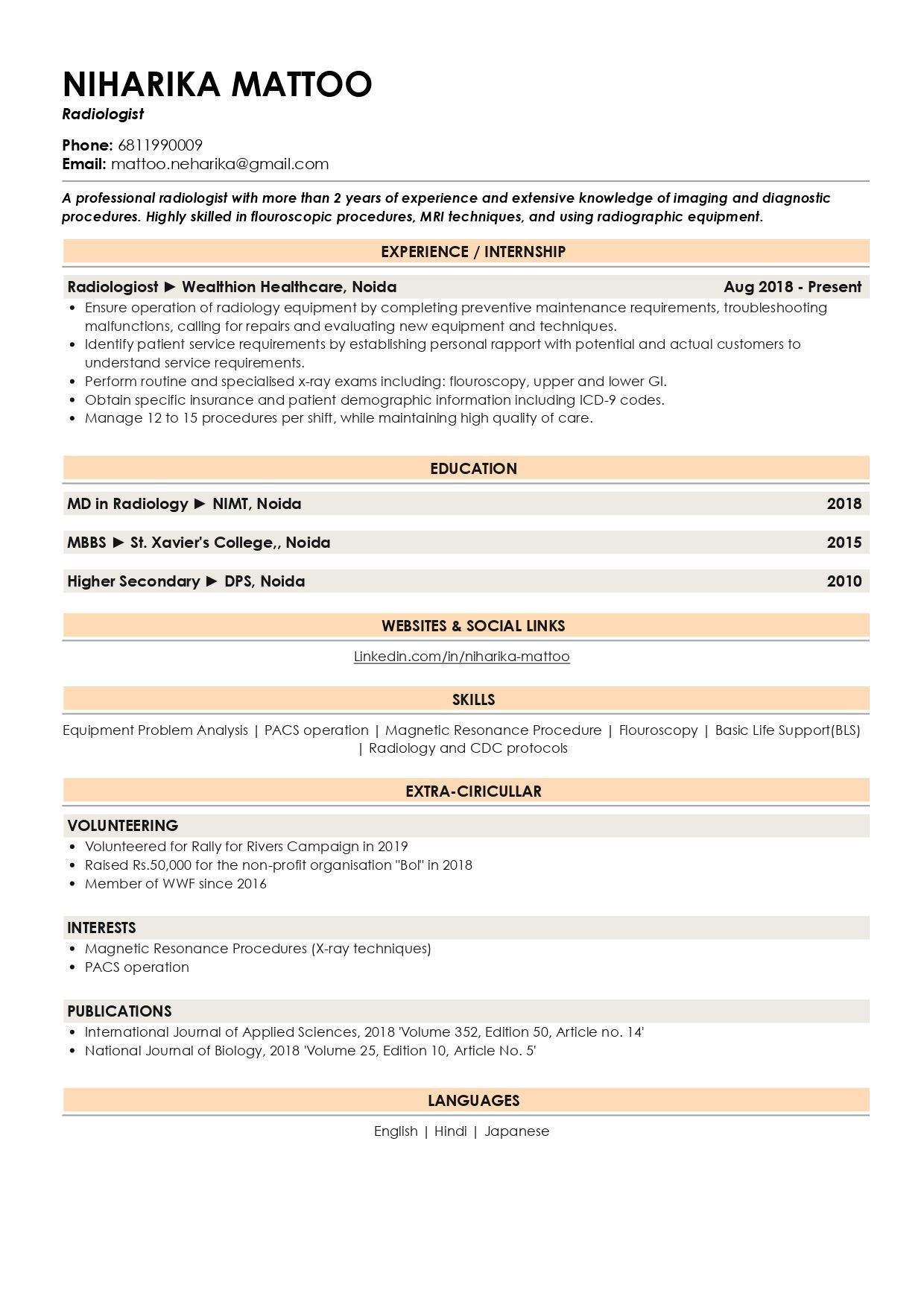 Click here for full resume in text format