An Expert's Guide to Responding to the Question "Walk Me Through Your Resume"
One common question that interviewers use to evaluate your qualifications is asking you to walk them through your resume. This gives them deeper insights into your professional background and assess if you have what it takes to excel in the role.
When being interviewed for a job, you have the opportunity to demonstrate your personality, skills, and experiences to potential employers. One common question that interviewers use to evaluate your qualifications is asking you to walk them through your resume.
This gives them deeper insights into your professional background and assess if you have what it takes to excel in the role. In this article, we'll provide an expert guide on how to effectively respond to the interview question, "Walk me through your resume".
We will be covering these topics one by one:
Why Employers Ask "Walk Me Through Your Resume"
When an interviewer asks you to "walk me through your resume, " they attempt to gain a quick understanding of your work history and your ability to effectively communicate your relevant experience.
This question allows you to bring your resume to life by adding a personal touch to the list of experiences, skills, and qualifications listed.
Though they have your resume and can access all the factual details, by asking the question they are giving you the opportunity to connect all the pieces of your resume together to form a coherent and compelling narrative that supports your qualifications for the role.
Interviewers are interested in knowing about your skills and experiences that make you a fit for the job, and especially when your work history does not directly relate to the position, it can be difficult for the interviewer to make the connections on their own.
The question is also an attempt to judge your soft skills that include your articulation abilities, communication skills, and professional presentation.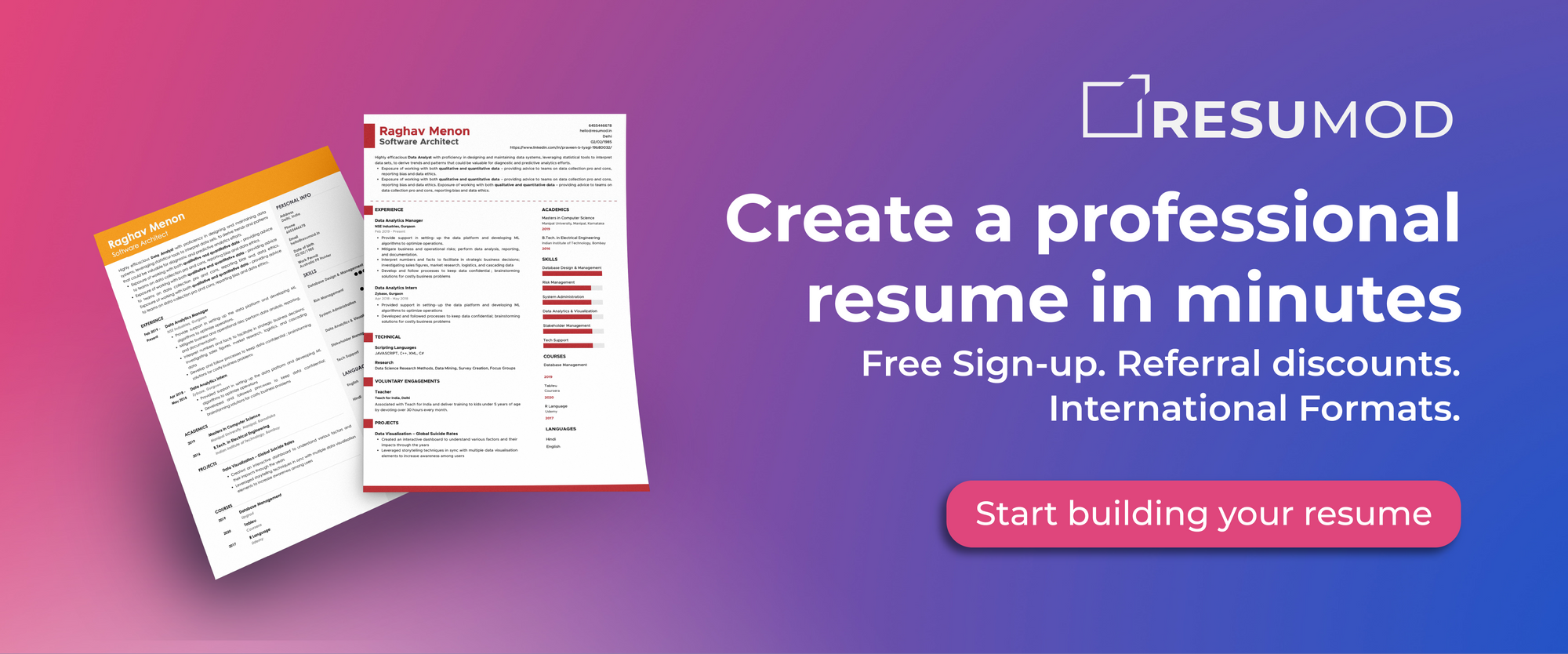 Effective Strategies for Responding to "Walk Me
Through Your Resume"
If you are sitting for an interview, be prepared to answer this. Don't go black as this question is among the first few questions the recruiters ask. Your answer should be an execution of your resume and not you narrating the entire resume again.
Stay Brief and To-the-Point:
Recruiters have your resume to cross-check the details. Don't emphasize on the details but give an overview of each section and job description. Only emphasize the points that you know you can explain in detail. As a rule of thumb, try to keep your response to five minutes or less
Highlight Relevant Experiences and Accomplishments:
When answering "Walk me through your resume," it's essential to concentrate on the parts of your Resume that are more relevant to the role you're applying for. There is no need to go into exhaustive detail about every aspect of your background.
Instead, focus on experiences and accomplishments that showcase your qualifications and demonstrate how they have prepared you for the position. You could even inquire with the interviewer if there is a specific aspect of your resume they would like to know more about in greater detail.
Emphasize Your Contributions and Value-Add:
While reviewing each role in your background, make sure to highlight the value you brought to your previous employers. This can include specific examples of how you made a positive impact, such as working on significant projects, boosting revenue, or other achievements.
Demonstrate the various responsibilities you have taken on and how they have helped you grow as a professional. This ensures that you are not merely repeating what the resume is saying.
Don't Recite Your Resume Entries:
When you're going over your resume with the interviewer, it's important not to simply list your job titles or recite the entries on your resume. You can also go beyond just the bullet points and make a connection between each job and a skill or experience relevant to the position you're applying for. Highlight how you developed key skills, such as problem-solving, or achieved notable accomplishments, like a promotion.
For those making a career change or who are new to the field, it's especially important to emphasize transferable skills and experiences that are relevant to the new position.     Share your past experiences in a way that can be applied to the new role, helping the interviewer see how your background fits with the job requirements.
Emphasize Relevant Skills and Qualifications:
In addition to discussing your work experiences, use this opportunity to emphasize the skills and qualifications listed in your resume. Before your interview, review the job posting to understand the specific skills and requirements the employer is interested in, usually given in the job description.
This way, you can highlight how your skills align with the position and demonstrate how you have used them in your career. Use specific examples to illustrate your expertise and give the interviewer a better understanding of how you can contribute to the role.
Demonstrate Why You Are a Good Fit for the Role:
Throughout the discussion of your resume, aim to prove that your past experiences have prepared you well for the role you are applying for. Before the interview, take the time to research the company and the position to understand what the employer is looking.
Then, emphasize the experiences and accomplishments in your resume that align with the job requirements and make you a strong candidate for the role.
Address Resume Loopholes
If you have gaps in your work history, it's best to address them proactively during the interview. Ignoring them might make the interviewer assume you're trying to hide something, which could raise red flags. It's important to be transparent about your experience, but you should also focus on highlighting why you're the right candidate for the job. If there's an interesting story behind your gap, feel free to share it.
For instance, you might talk about how taking a year off work to travel the U.S. helped you gain a new perspective, or how your visit to art museums in Europe inspired you to pursue your career as a graphic designer. If there's not an exciting story, simply explain the reason for the gap in a straightforward manner.
Focus on what you did during that time and how it can be relevant to the current job opening. The main goal is to show that you're a strong candidate and you're not trying to hide anything.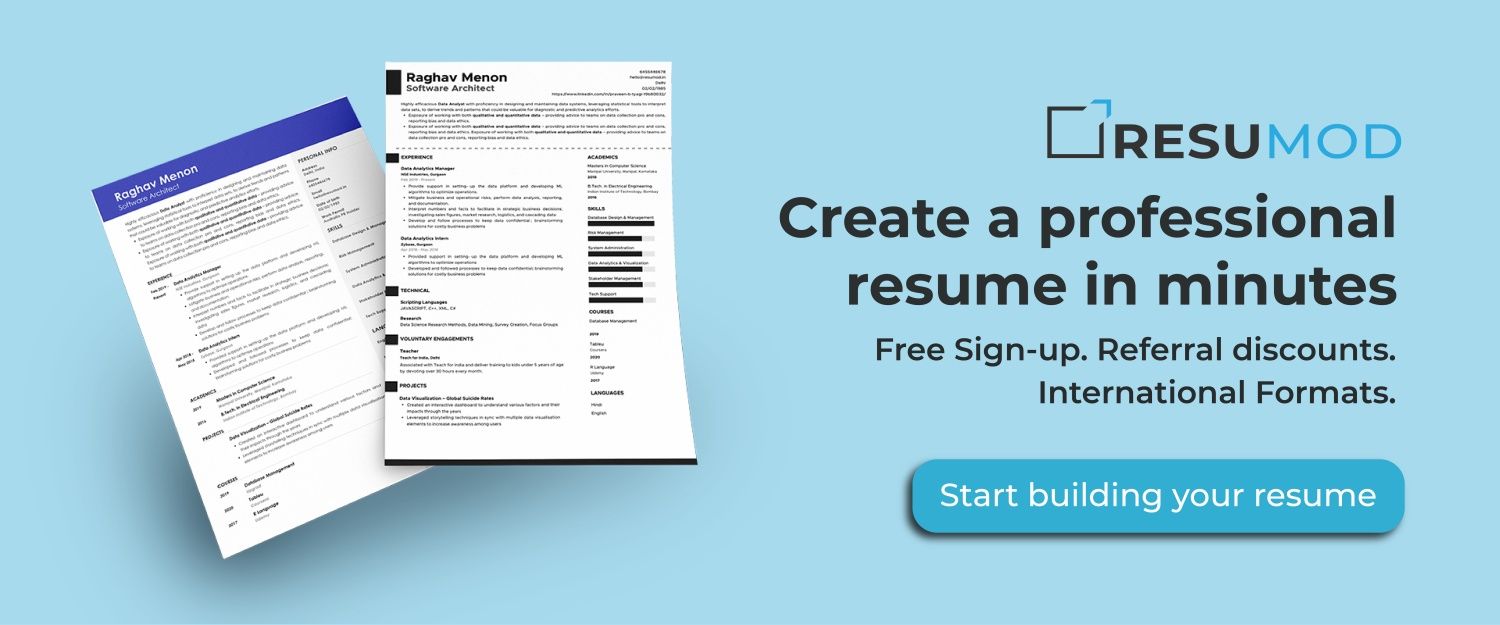 Questions to Prepare Before the Interview
How much time to spend talking about education
Which companies/jobs to share information about, and which specific accomplishments and details to highlight
How to explain reasons for leaving previous positions
Any promotions and awards received in previous jobs (these are always good to share)
What about your background makes you a qualified and appealing candidate
Also, employers are looking to see that you can tell a coherent, organized story when they ask interview questions like this, so always be ready to give a focused, clear response to this question.
Mistakes to Avoid while
Be smart and make a dedicated answer beforehand and practice your answer a few times. Another common mistake is providing a rambling and lengthy response.
When answering questions like Golden Rule is to keep your answer concise and deliver it under two minutes in length.
Delivery also matters! The way you deliver it should be upfront and show confidence. Practice until you are confident enough. You can also ask for feedback from your close ones.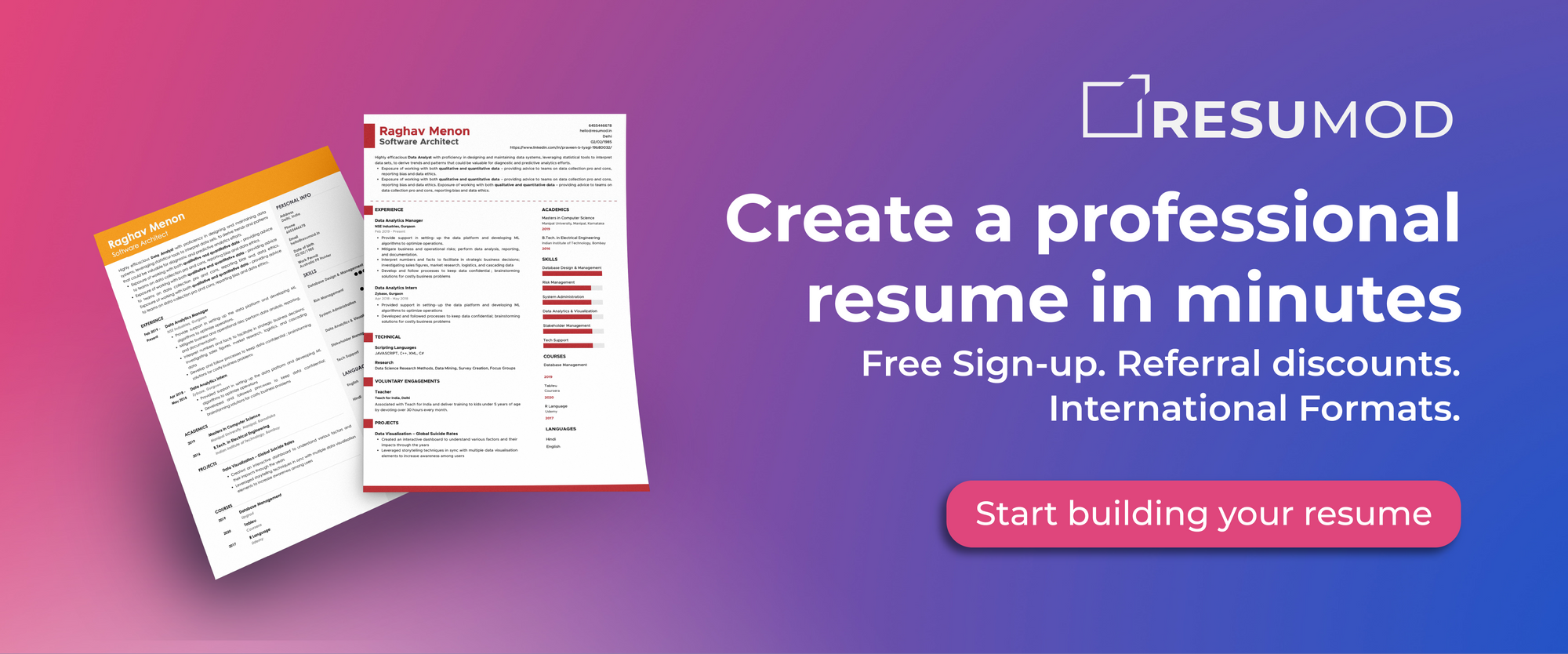 "Walk Me Through Your Resume Interview" Question Sample Answer
Sure, I'd be happy to walk you through my resume. To start, I've been in the industry for about 5 years now, starting in an entry-level position at XYZ company. In my time there, I was able to gain valuable experience in project management, working with cross-functional teams and effectively communicating with stakeholders. This eventually led to a promotion to project coordinator, where I was responsible for overseeing project timelines and ensuring that all deliverables were met.
After that, I moved on to ABC company where I had the opportunity to work on larger, more complex projects and honed my leadership skills as a project manager. I was also able to work with a global team, which helped me further develop my cross-cultural
communication skills. Currently, I am looking for new opportunities to continue my professional growth and expand my skill set
Samples Resumes on Resumod
Resume of Senior Automotive Engineer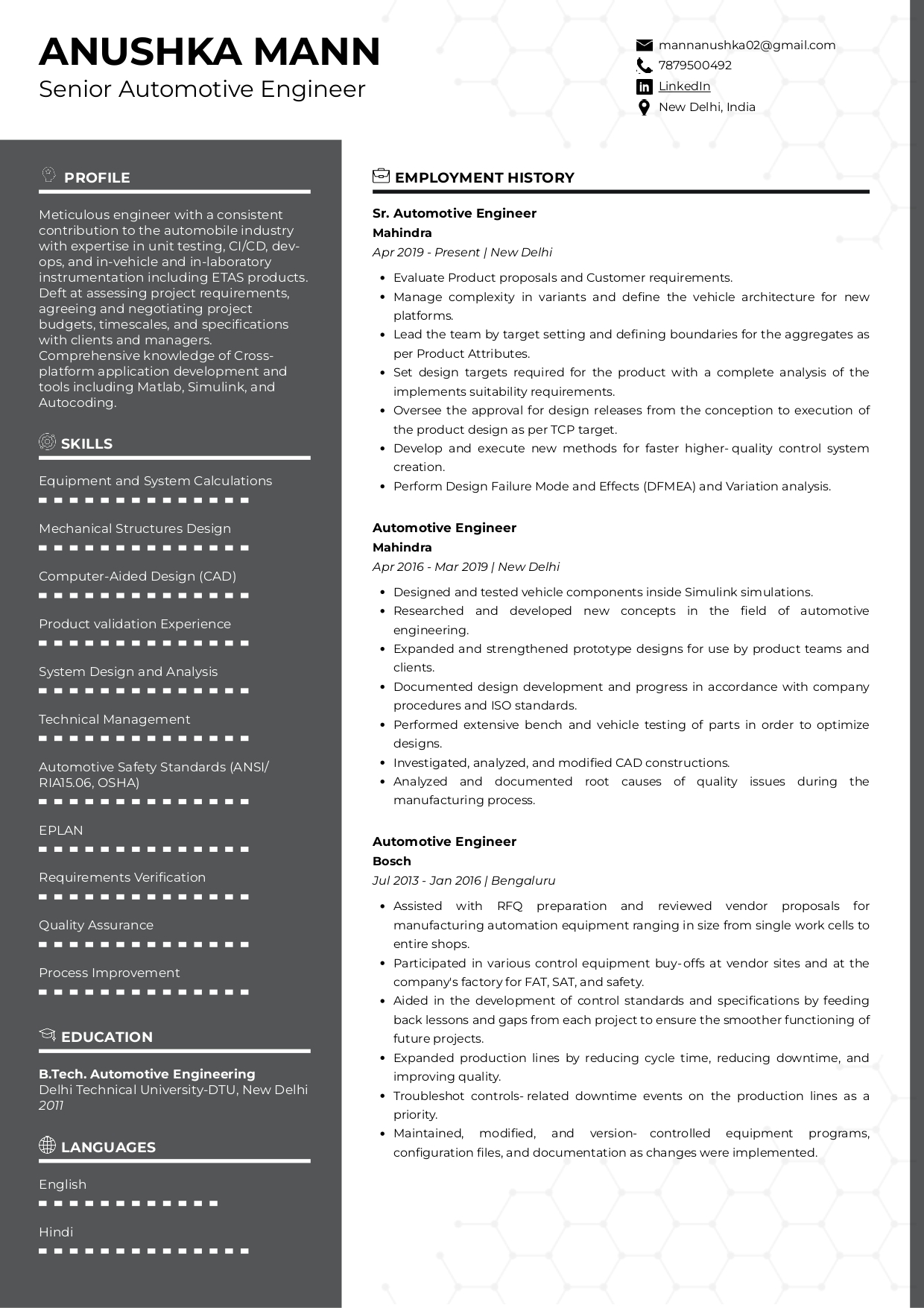 Check the full resume of the senior automotive engineer in text format here
Resume of PGT Physics Teacher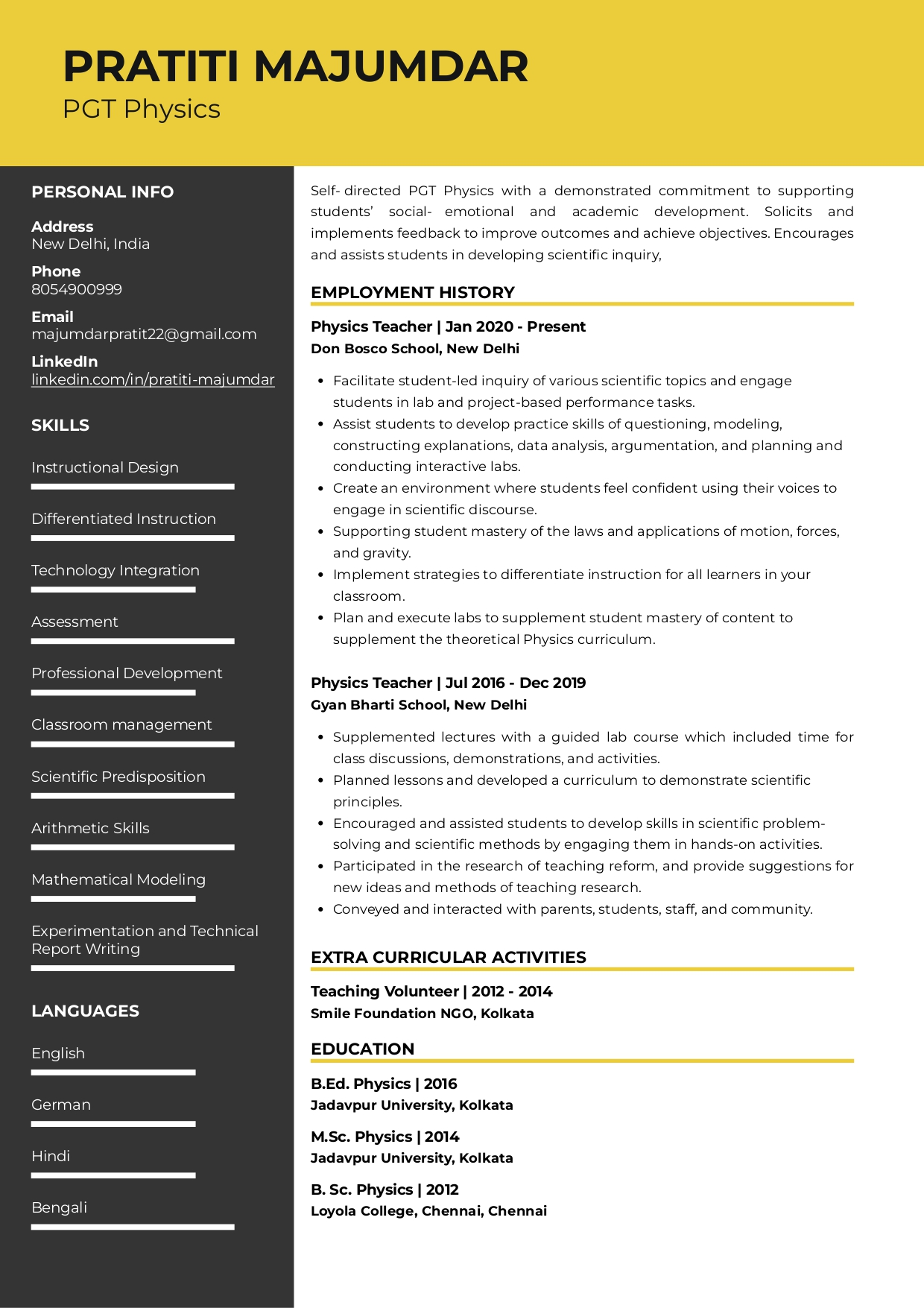 Check the full resume of PGT physics teacher in text format here
Resume of Media Buyer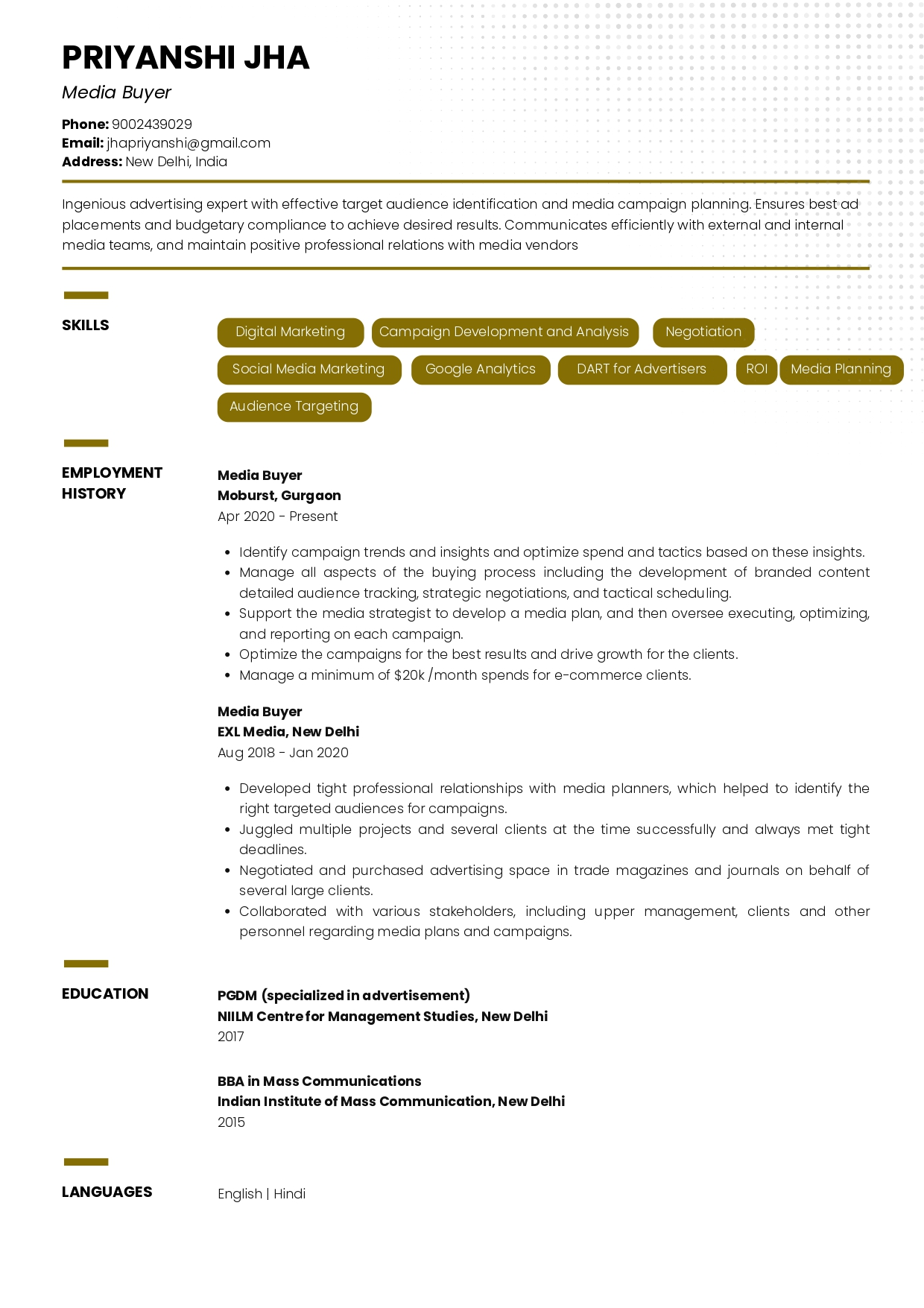 Check the full resume of media buyer in text format here
Resume on Internal Auditor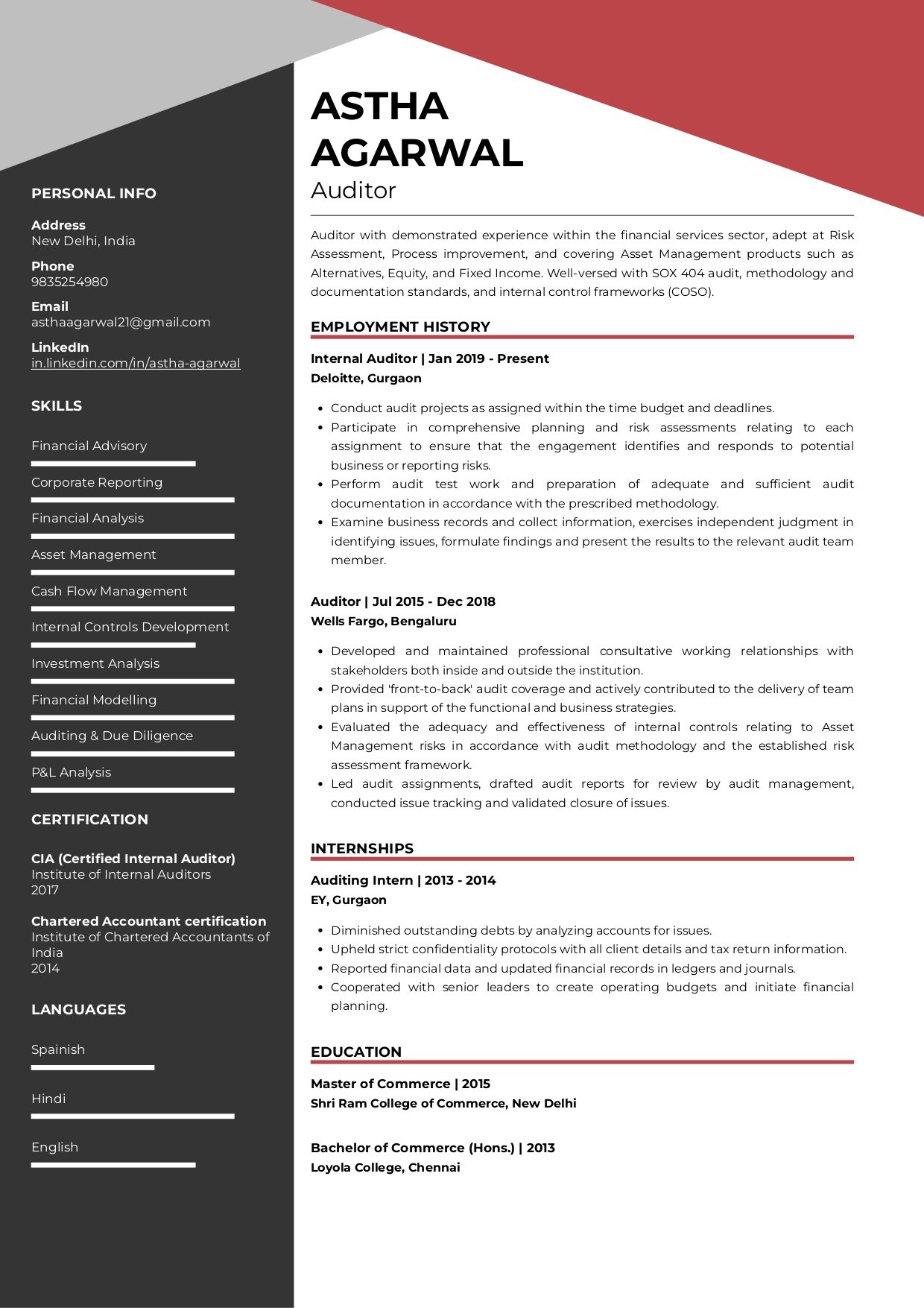 Check the full resume of internal auditor in text format here
Resume of Front-End Developer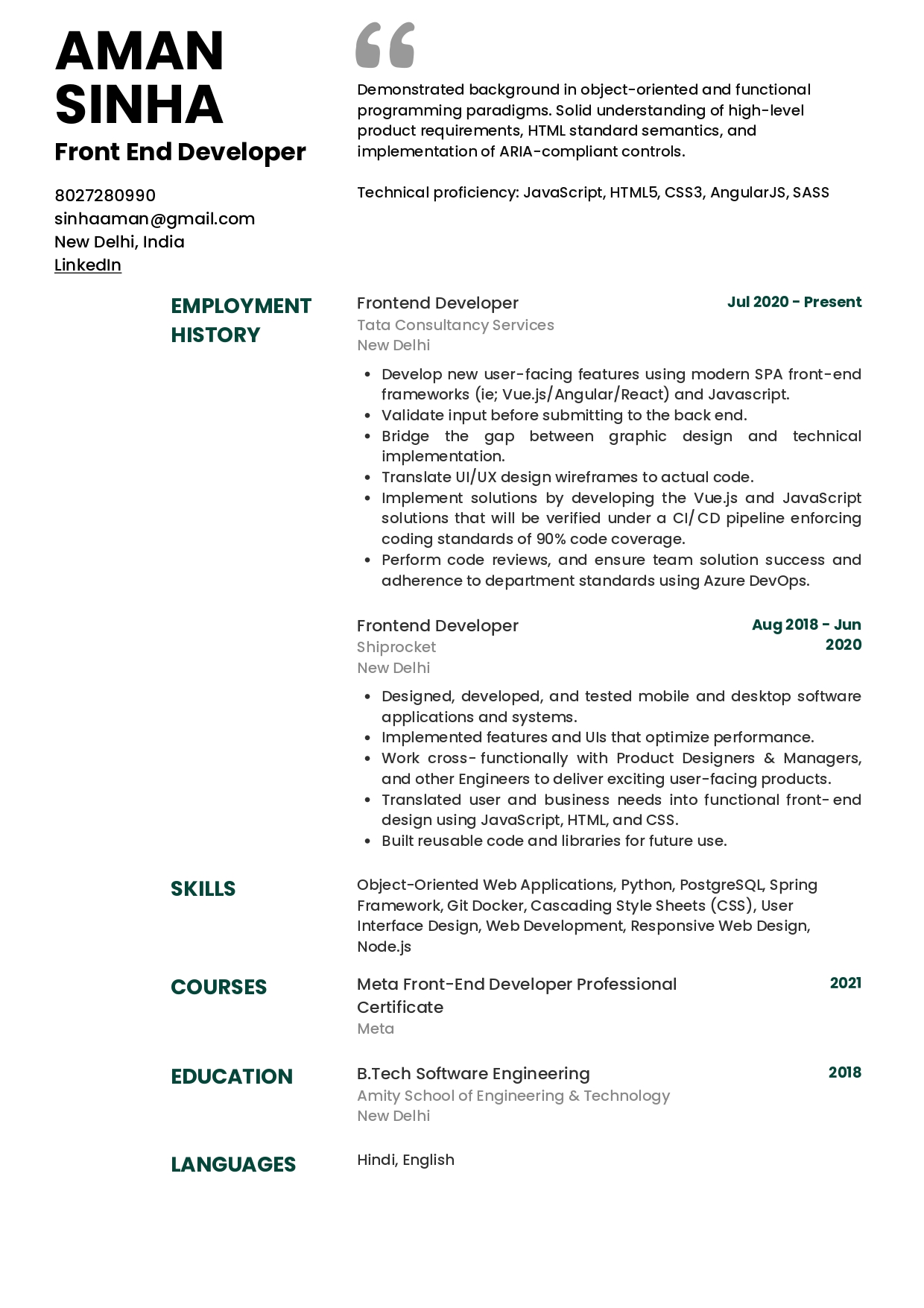 Check the full resume of front-end developer in text format here
Resume of Fragrance Developer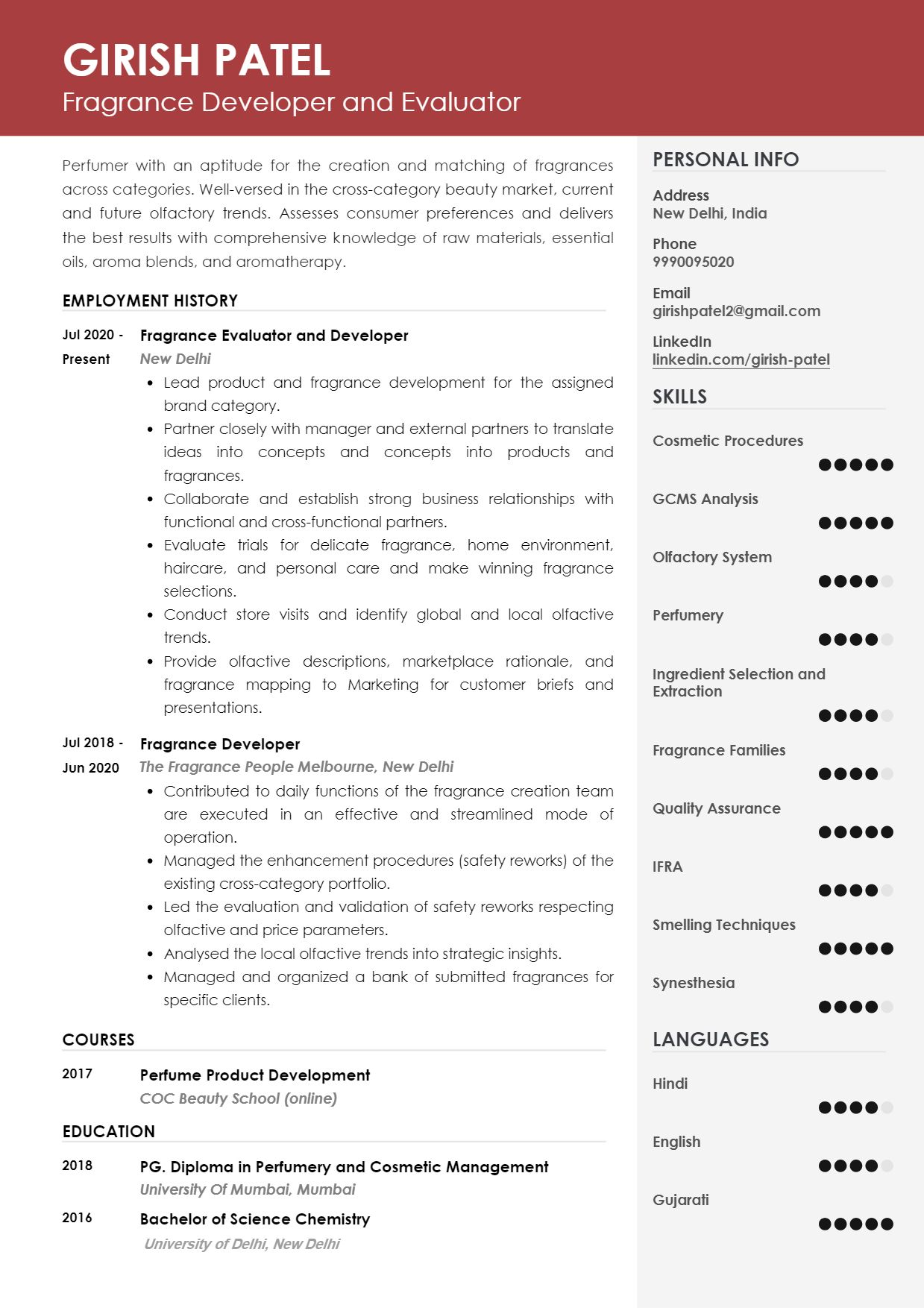 Check the full resume of fragrance developer in text format here
Resume of Fishery Development Officer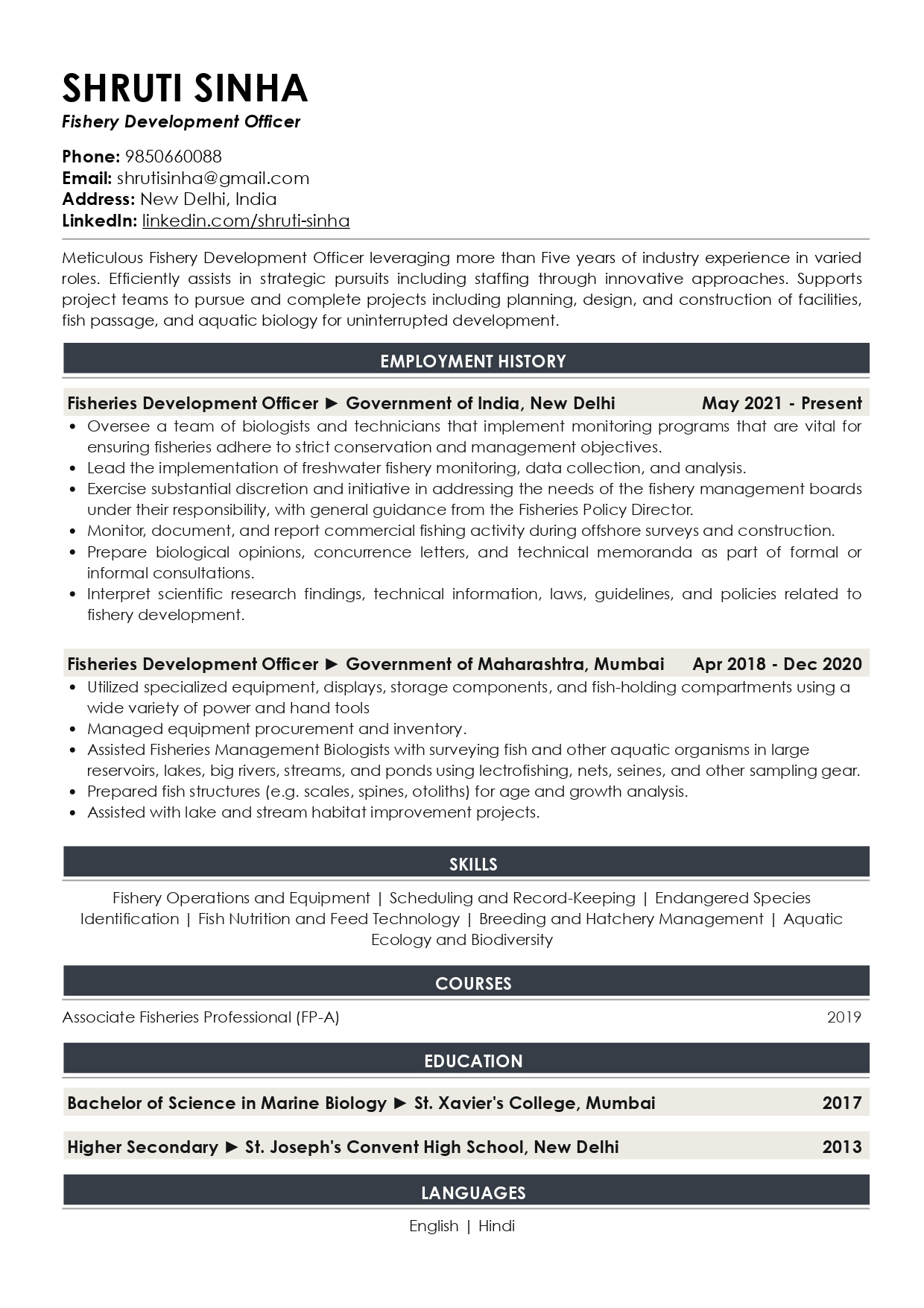 Check the full resume of fishery development officer in text format here
Resume of Company Secretary (CS)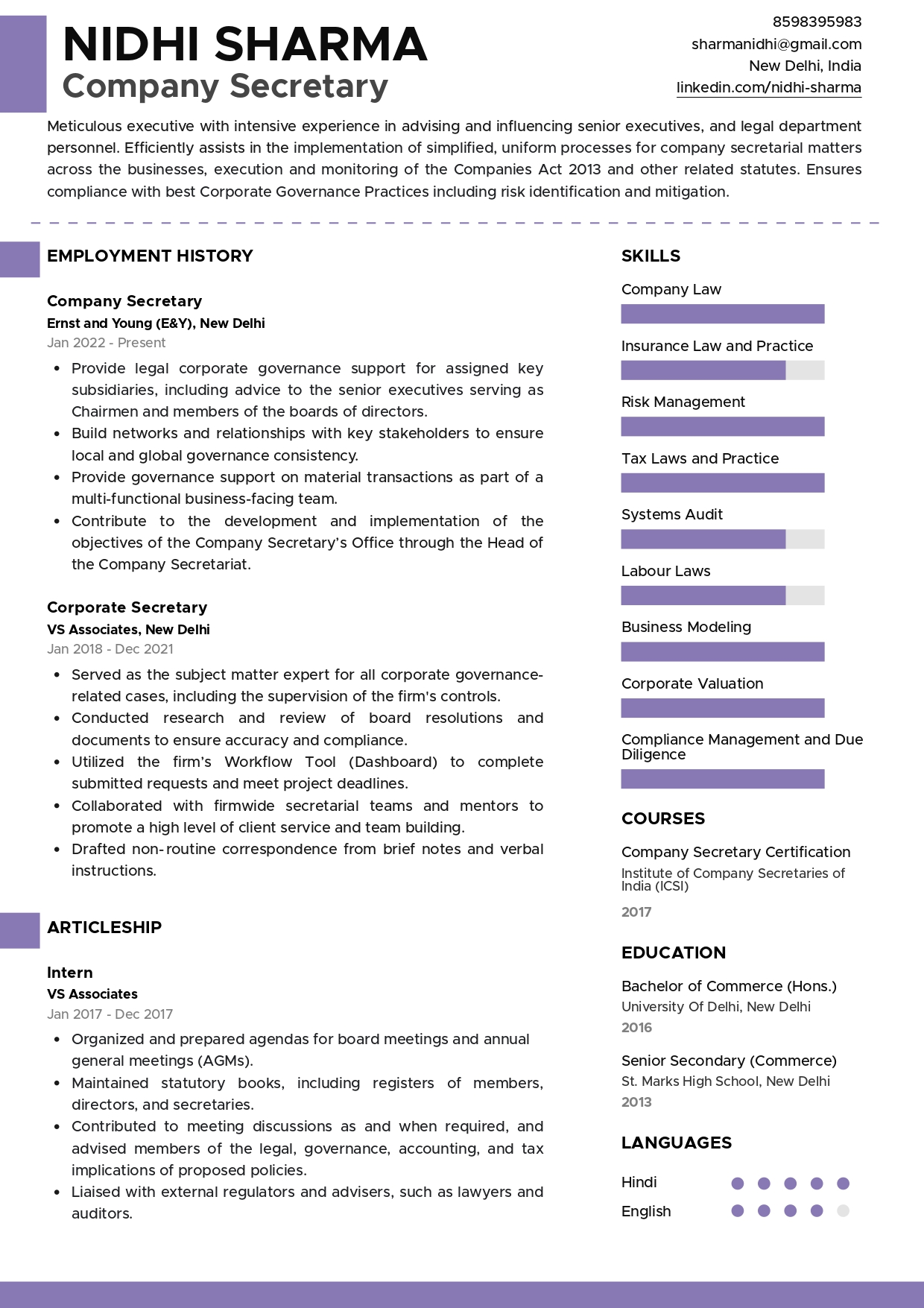 Check the full resume of Company Secretary (CS)in text format here
Resume of Accounts Payable Clerk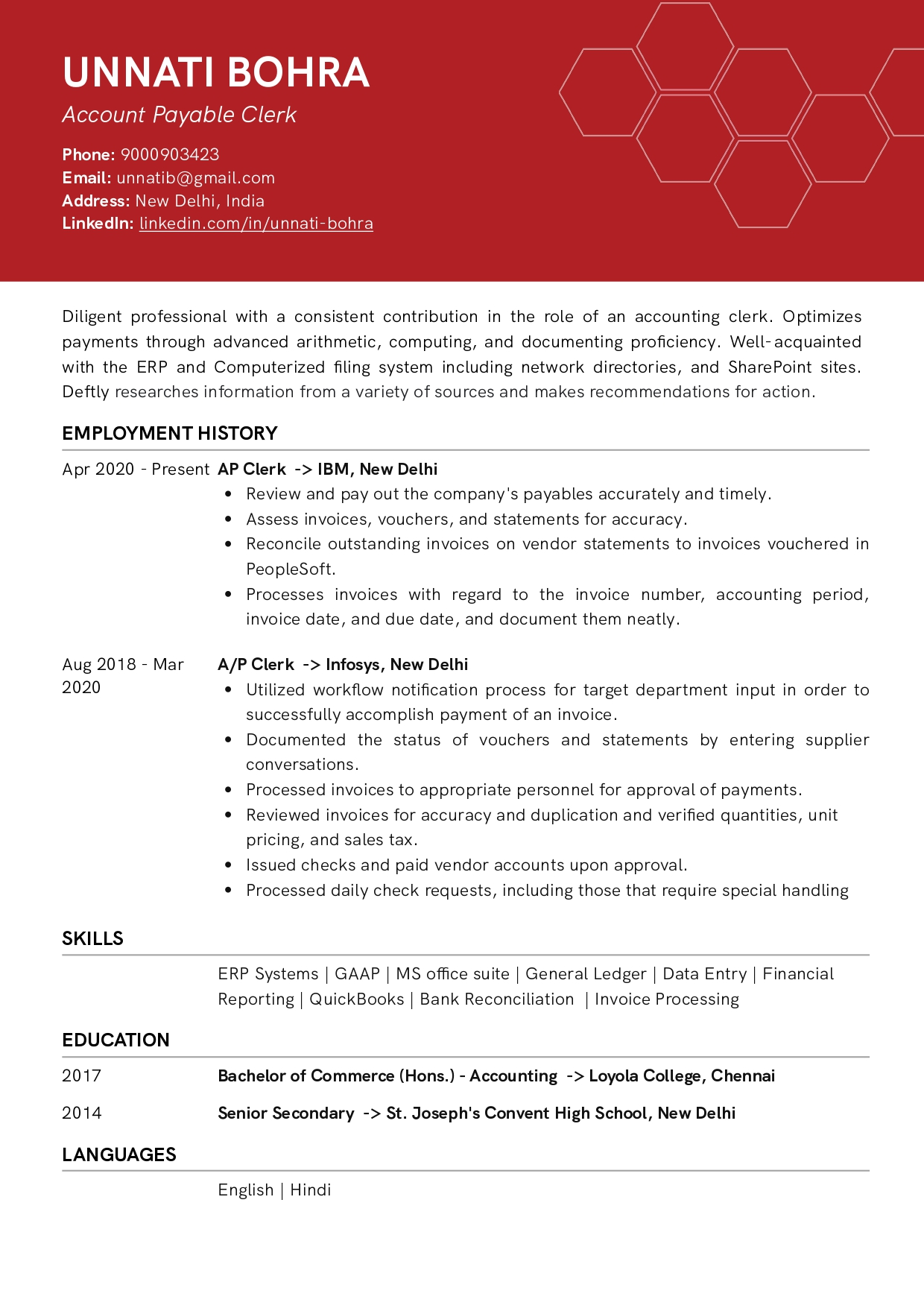 Check the full resume of accounts payable clerk in text format here
Resume of AutoCAD Designer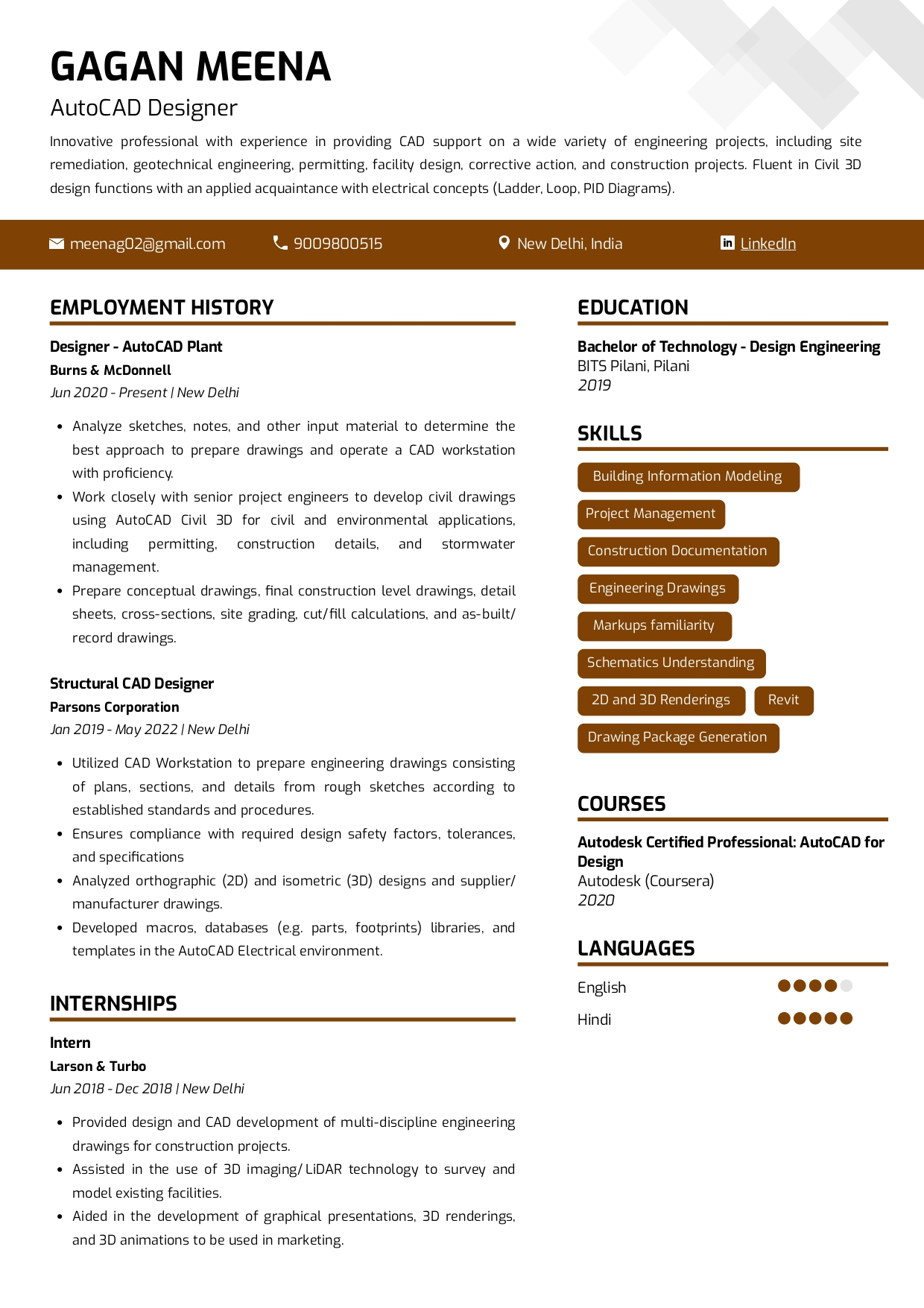 Check the full resume of AutoCAD designer in text format here
Resume of Clinical Social Worker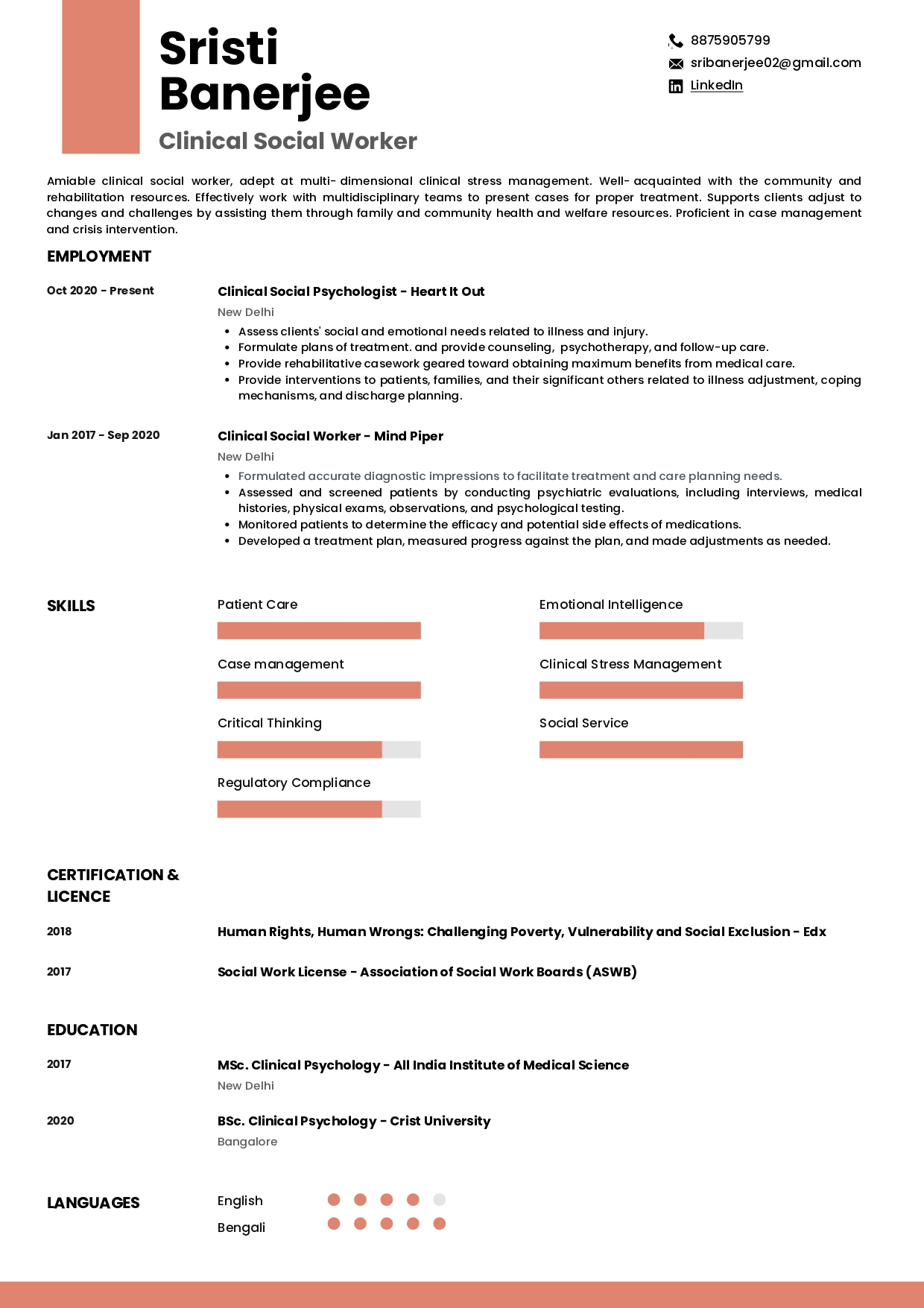 Check the full resume of clinical social worker in text format here