Hospitality Resume Examples that will land you a job in 2022
With more people starting to travel again and going out for luncheons, it is the right time to get back on your toes and enter the industry. If a lack of a good hospitality resume is stopping you, you are at the right destination.
The hospitality industry hit a major low with multiple waves of Covid-19 going around the earth. With a lot of cafes, and luxury destinations being shut, many lost jobs. 18 months down the line, this industry has pecked up like none and has generated more employment than any other that lost business.
With more people starting to travel again and going out for luncheons, it is the right time to get back on your toes and enter the industry.
If a lack of a good hospitality resume is stopping you, you are at the right destination.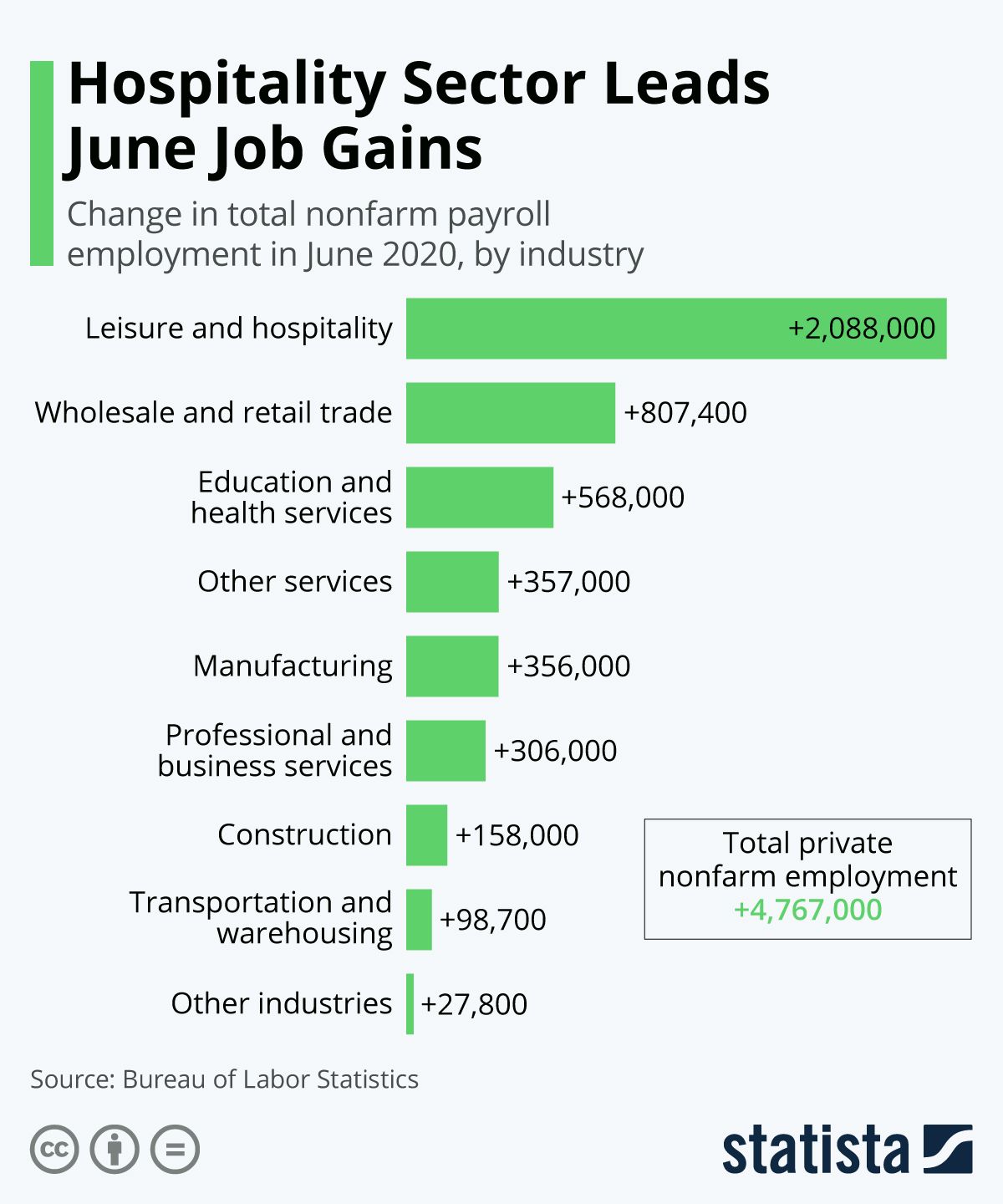 In this blog, you will read about:
Tips to Make Your Hospitality Resume Stand Out
The hospitality industry requires a very different set of skills from industries like construction or IT. It is largely service-based, and your resume needs to demonstrate your vigor to serve and ability to ensure premium customer experiences
The resume thus has to be tailored to meet these specific requirements. Here are some tips for the same:  
Be specific: Hospitality in itself is a vast sector offering jobs in various departments. Decide where you want to be in terms of:
Department - F&B, Housekeeping, Events, Front Desk, Customer Service etc.
Where you want to work - Aviation, Luxury, Restaurants, Hotels
The position you are seeking - Management, entry-level, leadership, support
Use Quantifiable Data: Every bit of activity is tracked in the hospitality industry, from the number of guests, number of rooms, number of reservations, to the amount of food served, to even tracking customer satisfaction. When such is the case focus on achieving the metrics and flaunt them in your resume. These can be:
Your guest satisfaction scores
How you contributed to revenue
How many recommendations you received
How many events you successfully executed
The number of rooms you managed as a housekeeping leads
These are just some examples to give you an idea
Focus on Soft Skills: Soft skills or transferable skills that involve presenting your ideas clearly to your audience. When you craft an easy-to-read and understand resume, half of your job is done. But here are some skills you can consider talking about
Customer service
Networking
Communication
Adaptability
Relationship building
Coordination
Flexibility
Empathy
Professionalism
Timeliness
Conflict Resolution
Attention to Detail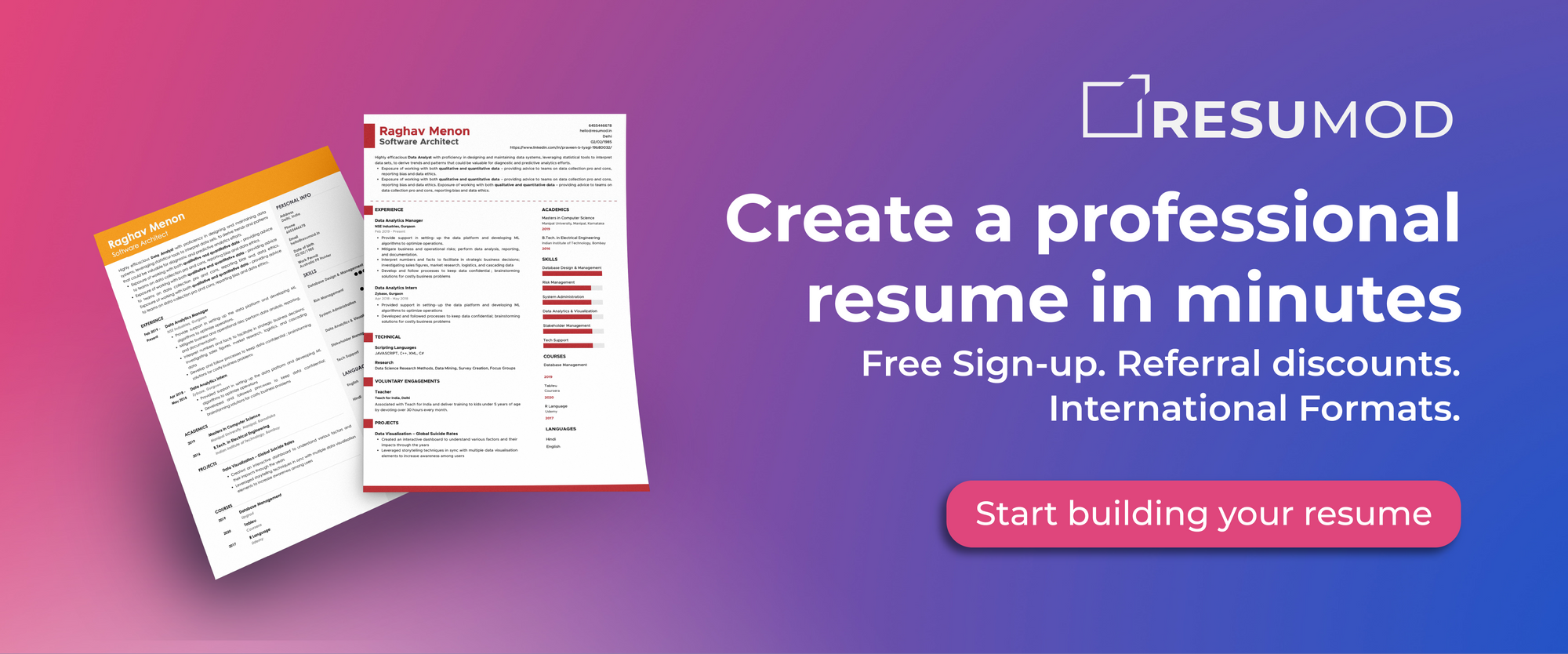 Two Skills That Work for All Hospitality Profiles
Apart from your specialization in hospitality, your success in this industry depends highly on your soft skills. Almost all roles in hospitality across housekeeping, management, guest service, F&B, travel are dependent heavily on your customer-facing abilities.  Therefore the below-mentioned skills are an absolute must if you are planning a career in hospitality:
Communication & Conversation: Communication is often misunderstood as the ability to speak fluently in any language. In hospitality, communication means your ability to have a meaningful conversation with the client, understand their problem, and resolve them.
If you nail this art of understanding what your customer is saying and can comprehend it and professionally pacify the customer, you've won half the battle.
Here is how you can demonstrate in your resume:
Use professionalism in the style of writing, and use a few industry jargons    
Talk about your soft skills in the summary
Write about any customer satisfaction metric that you've achieved
Service-Oriented mindset: We enjoy vacations and lavish dinners because of the service we get. Service here not only means fulfilling guest requests of meeting KPIs, but it may also include helping them with menu selection, answering queries promptly, or simply ensuring that your guests go home happy.
Here is how you can demonstrate in your resume:
Use terms like customer-centric or service-oriented in the summary
Write about the service parameters you have achieved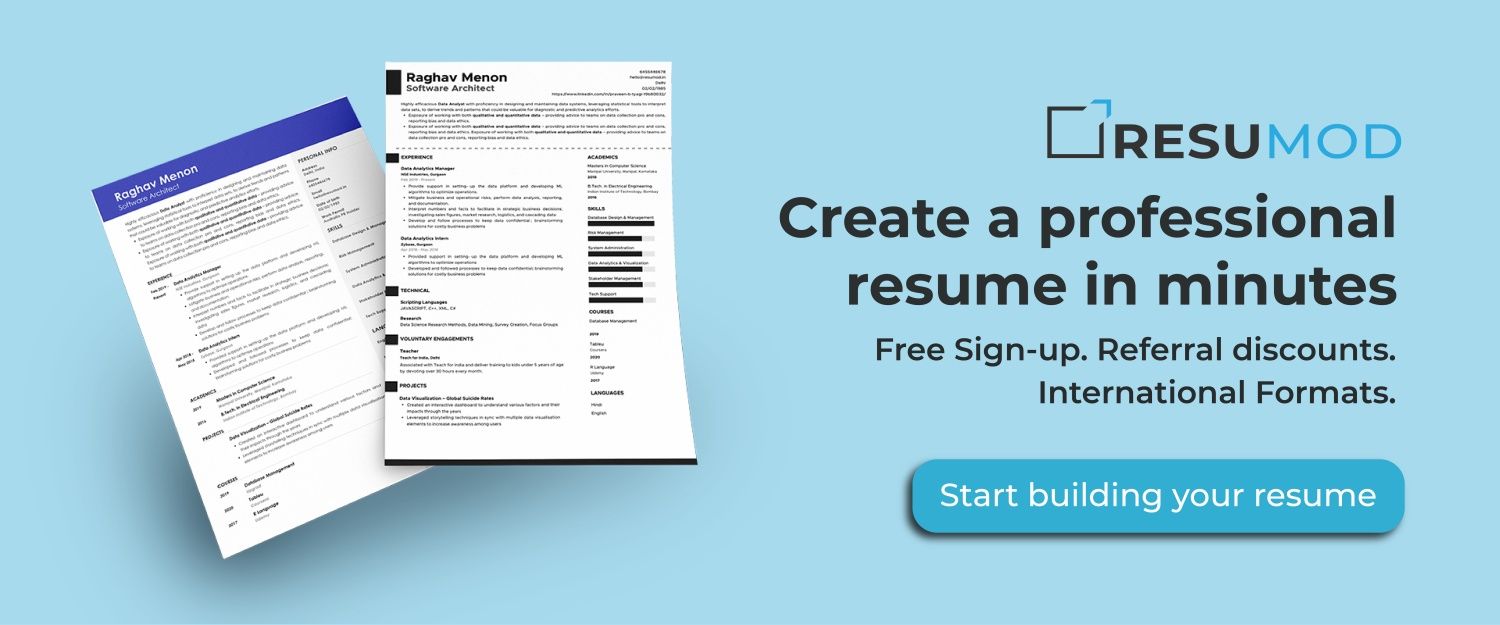 Top Skills to Mention in Your Hospitality Resume
F& B Profiles
Team Building
Menu Planning
Food Inventory Management
Cost Containment
Staff Training
Safety Management
Customer Service
Quality Assurance
Health & Hygiene Standards Implementation
P&L Management
Food Processing
Quality Inspections
Wine & Beer Knowledge
Cooking Techniques
Food Styling and Presentation
Specialty Cuisine Development
Spa & Therapy Profiles
Hot Stone Massage
Client Service Excellence
Deep and Soft Tissue Massage
Shiatsu Massage
Prenatal Massage
Trigger Point Therapy
Cross-Selling Strategies
Referral Generation
Spa Management
Facility Management
Strong Communication
Client Relationship Management
Team Management
P&L Management
Quality Assurance
Staff Training
Front Office Profiles
General/ Office Administration
Quality and Safety Compliance
Client Relationship Building
Projects Administration
Records Management
HR and Training Support
Cross-functional Team Collaboration
Reports Preparation and Filing
Scheduling and Coordination
Reservation Management
Front Office Management
Lobby Area Maintenance
Record Management
Guest Grievance Management
Guest Welcoming and Check-In
Management Profiles
Restaurant Operations
F&B Management
Staff Training and Development
P&L Management
Process Improvement
Guest Relations
Restaurant Management
Purchasing/Inventory
Facilities/Safety Management
Housekeeping Profiles
Housekeeping Protocols
Room Upkeep and Management
Laundry Management
Team Leadership
Hygiene and Sanitation Standards
Cabin Crew
Cabin Crew Activities
Safety and Security Checks
Passenger on-boarding
Guest Relations
Query Resolution
Excellent Communication
Safety Orientation
Customer Satisfaction
Time Management
Jet Bridge Maintenance & Use
Communication Skills
Passenger Off-boarding
Aircraft Intercom Operation
Safety Consciousness
Relationship Building
Travel and Tourism
Hospitality & Travel Management
Tour Guidance
Storytelling
Historical Knowledge
Accommodation and travel support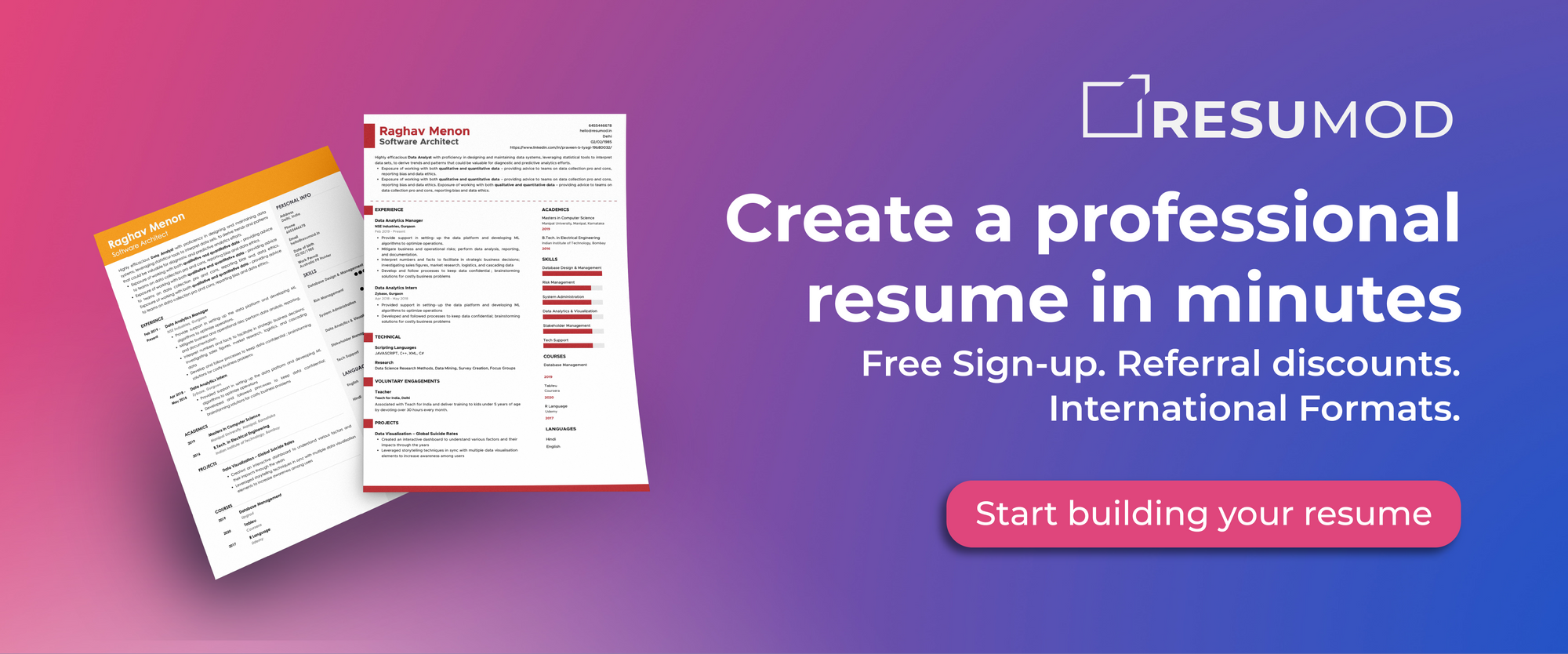 Top-rated Hospitality Resumes on Resumod
Resume of Restaurant Manager
Restaurant managers are in charge of overseeing and planning daily restaurant operations to keep costs down while providing a high-quality customer experience. They hire qualified employees, monitor client satisfaction, and make sure that all food and beverages are ordered in the proper proportions.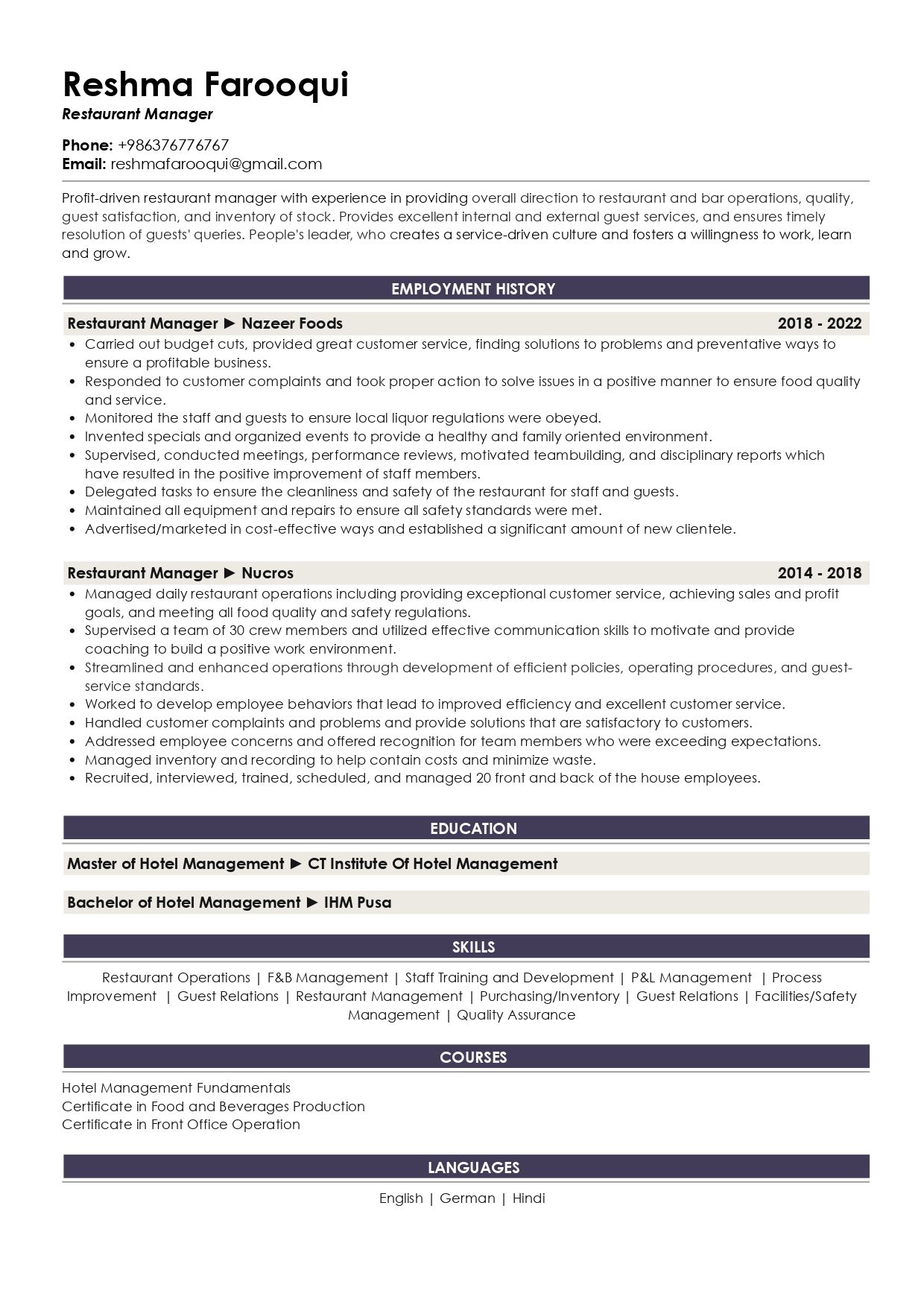 Check full resume of Restaurant Manager in text format here
Resume of F&B Manager
Food and Beverage (F&B) Managers are responsible for ensuring the food and drinks are of the finest quality. Designing distinctive menus, addressing client complaints, setting corporate policies, and adhering to food and safety standards are just a few of the responsibilities of a food and beverage manager. Restaurant manager and general manager are two roles that a food and beverage manager could advance to.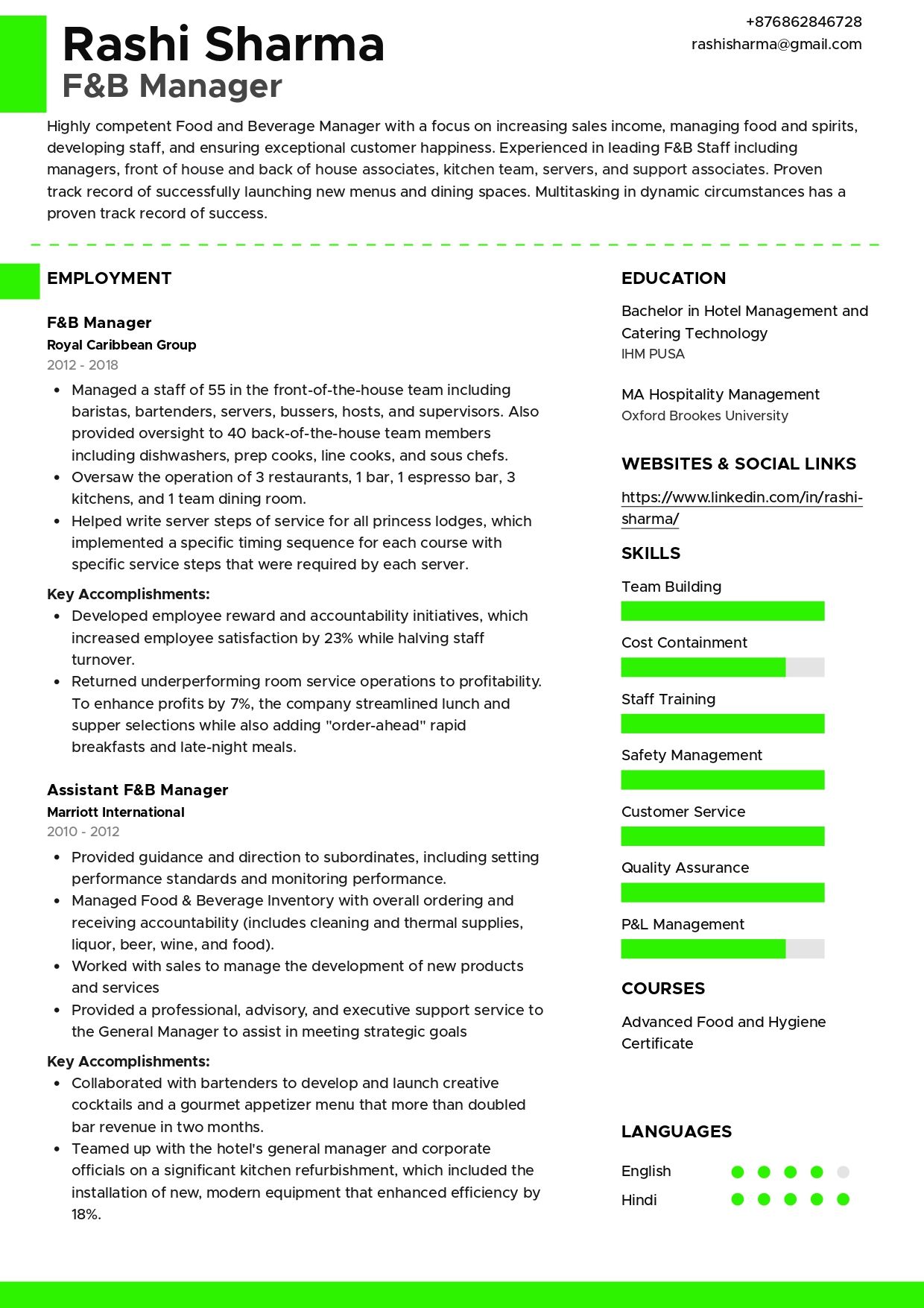 Check the full resume of the F&B Manager here
Resume of Front Office Manager
Front office managers serve as the public face of a business, ensuring that visitors are greeted warmly. Their responsibilities include overseeing the reception area, coordinating the front desk activities, and managing the support staff.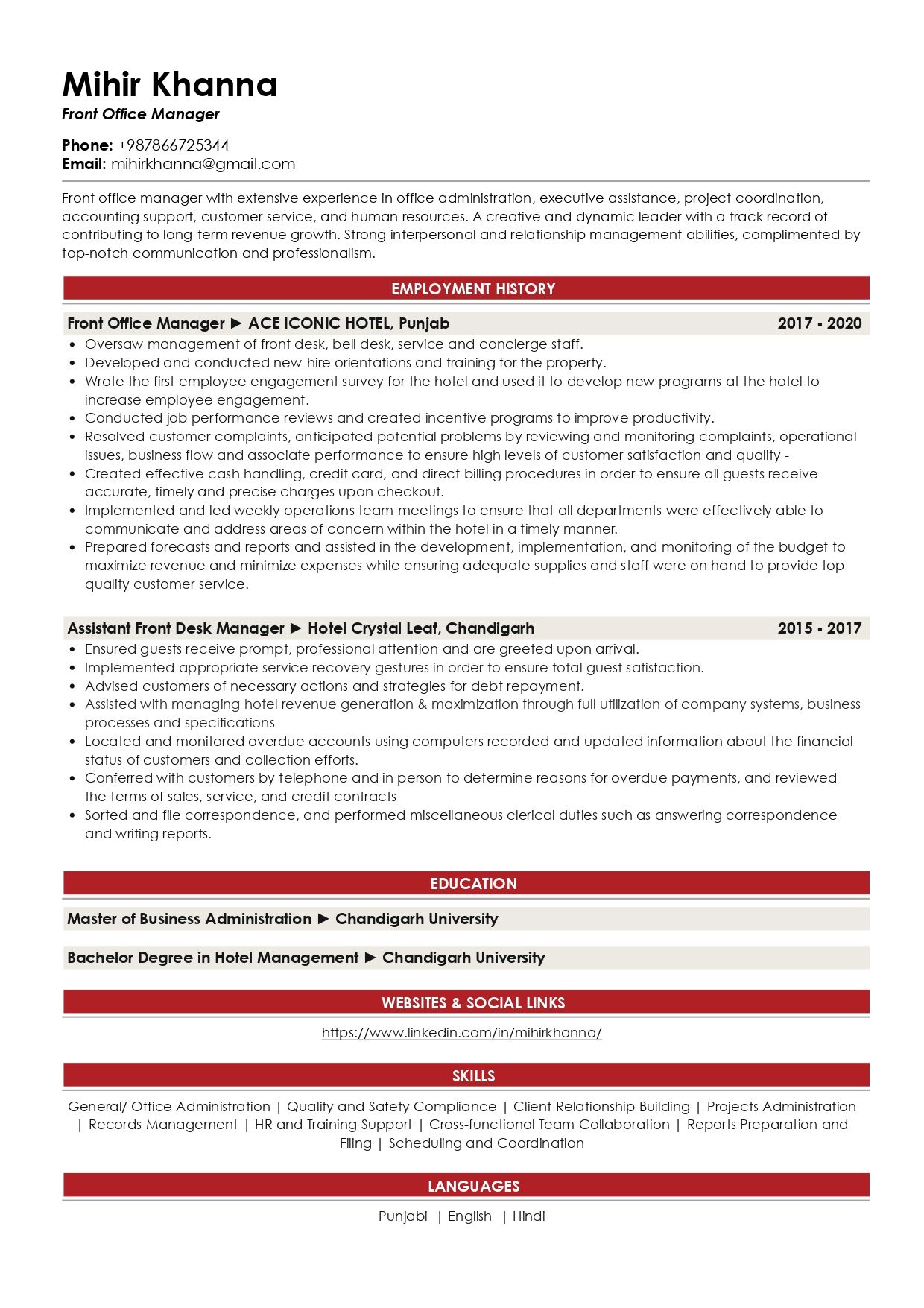 Check the full resume of the Front Office Manager here
Resume of GM- Hotel
General managers in Hotels oversee daily business operations that involve improving overall business functions, training department heads, managing budgets, developing strategic plans, establishing policies, and communicating business objectives. They are proven leaders with strong business minds and a knack for organization and collaboration.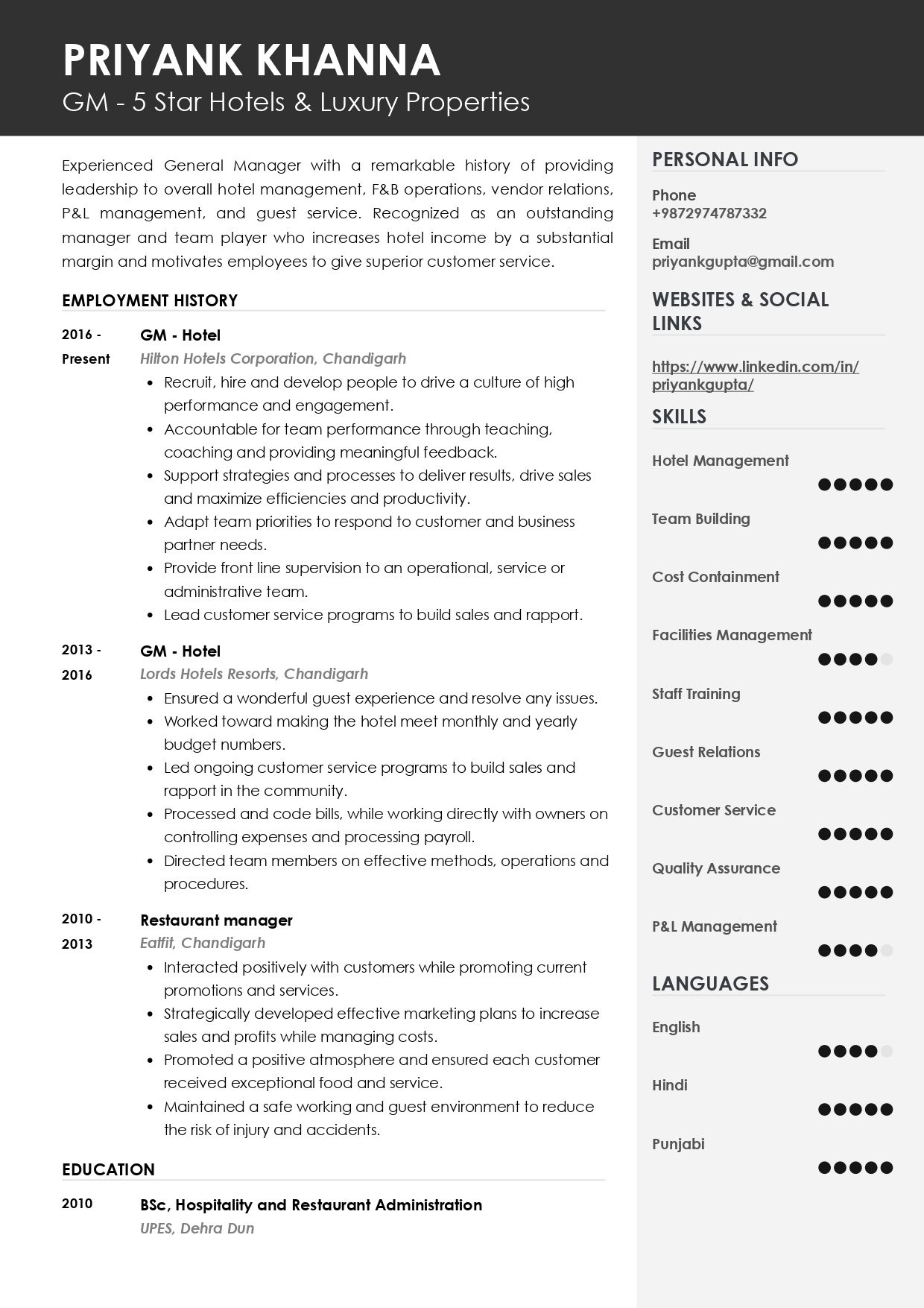 Check full resume of the GM -Hotel here
Resume of Massage Therapist
A massage therapist takes clients through the many service options, assisting them in selecting the type of massage that will be most beneficial to them. A massage therapist also takes a thorough medical history from clients, including any injuries or medical illnesses such as diabetes. They are employed at spas, hospitals, and rehabilitation clinics, among other places.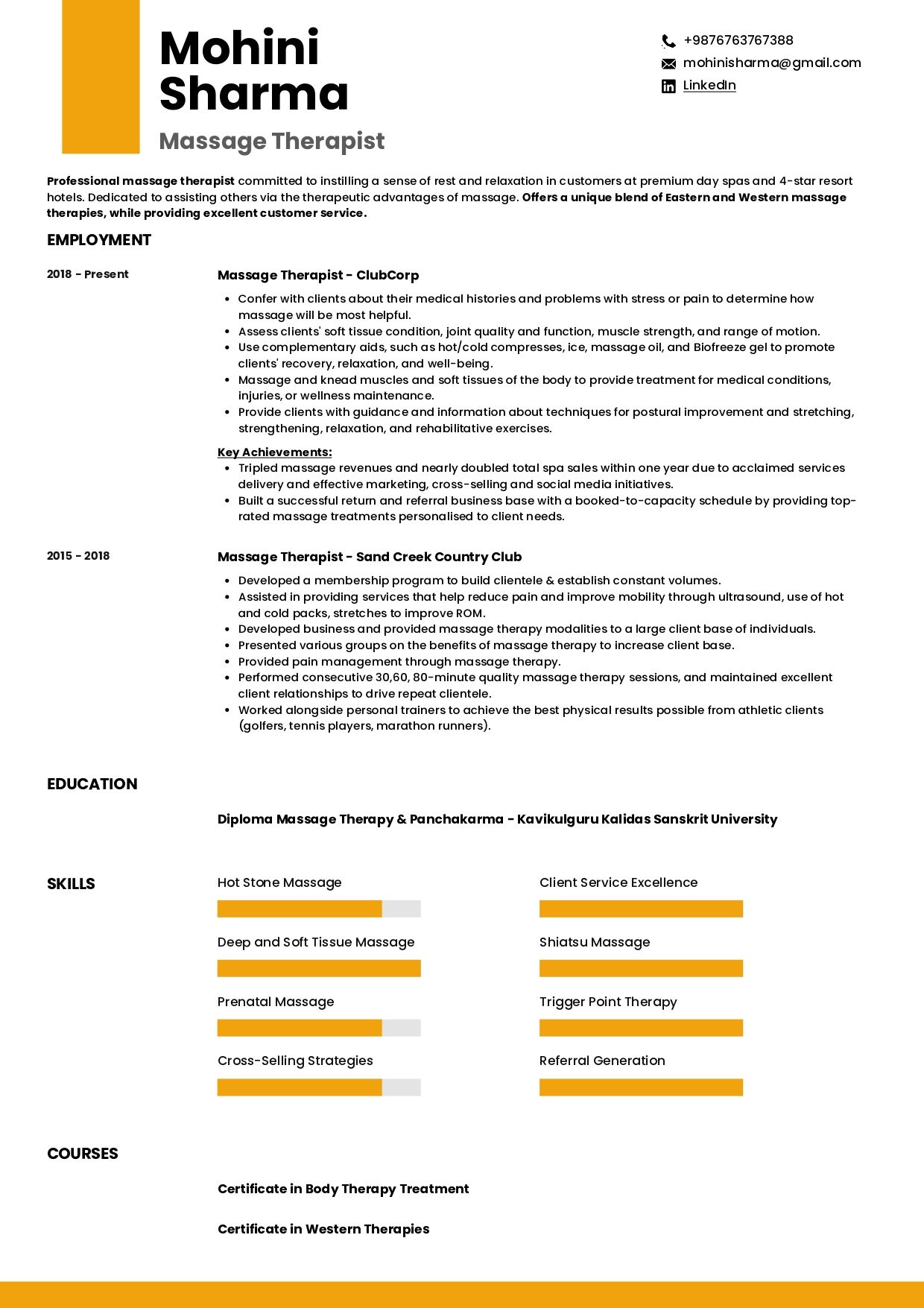 Check the full resume of Massage Therapist here
Resume of Spa Manger
Spa managers lead beauty, health, and wellness spas by supervising employees, overseeing building upkeep, preparing budgets, and devising marketing and promotional initiatives. Hiring, training, and scheduling personnel are all examples of staff-related responsibilities. Spa managers may deal directly with consumers to handle difficulties and ensure that spa services and personnel are to their satisfaction.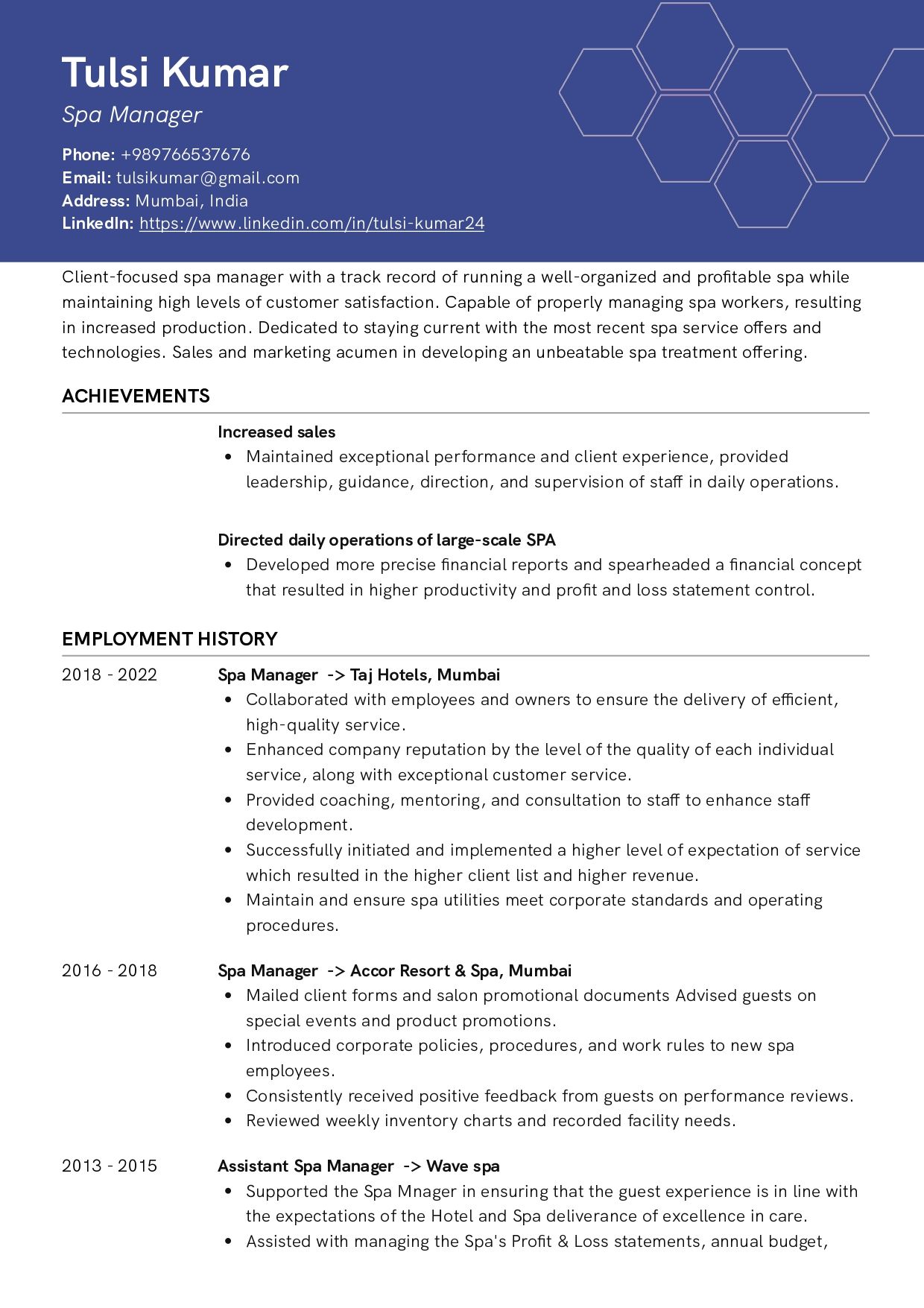 Check the full resume of Spa Manager here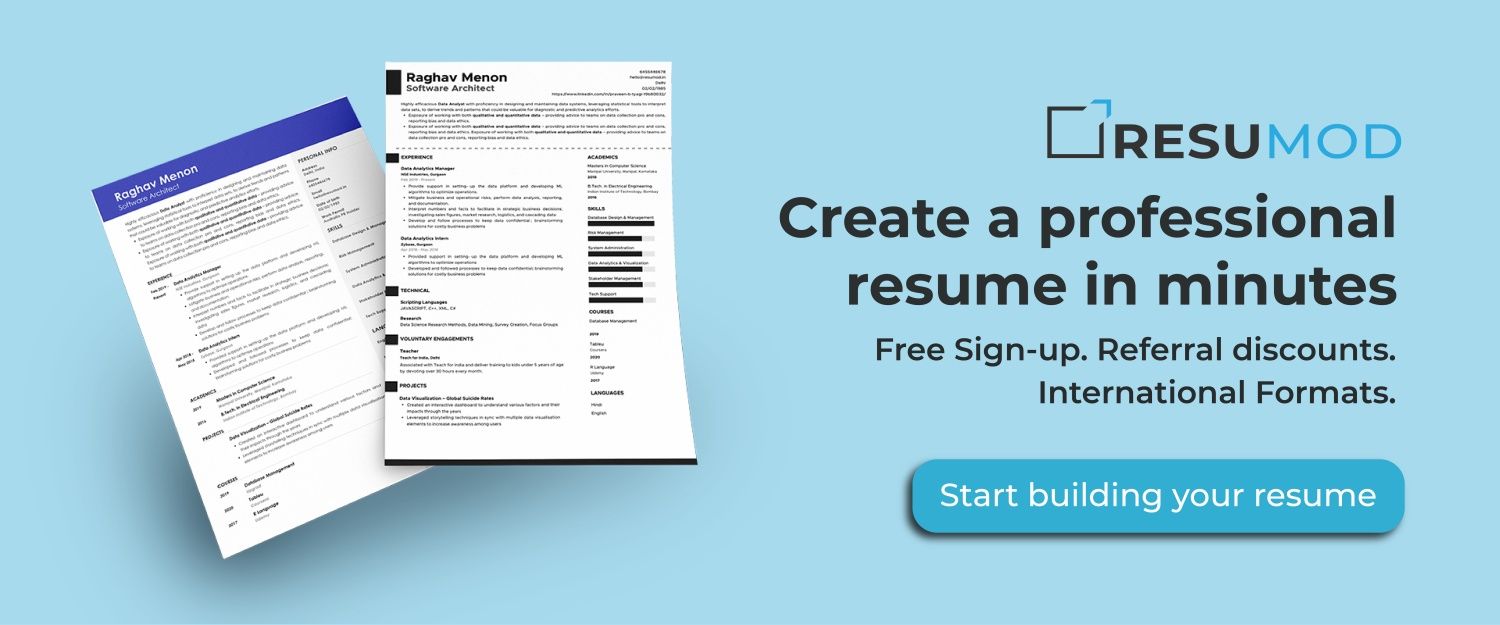 Other Related Hospitality Resumes on Resumod