Writing a Resume for Commerce Students - B.Com & M.Com [4 Examples]
We have simplified the process to make your first ever resume if you are a commerce student or graduate.
Writing your resume is always a daunting task, especially if you are making you first resume to kickstart your career. Your head is flooded with questions on what to include, how to write, the length and whatnot.
We have simplified the process to make your first ever resume if you are a commerce student or graduate. Go to Resumod.co's resume builder, use these tips, and you have your resume ready.  
In this post you will learn about: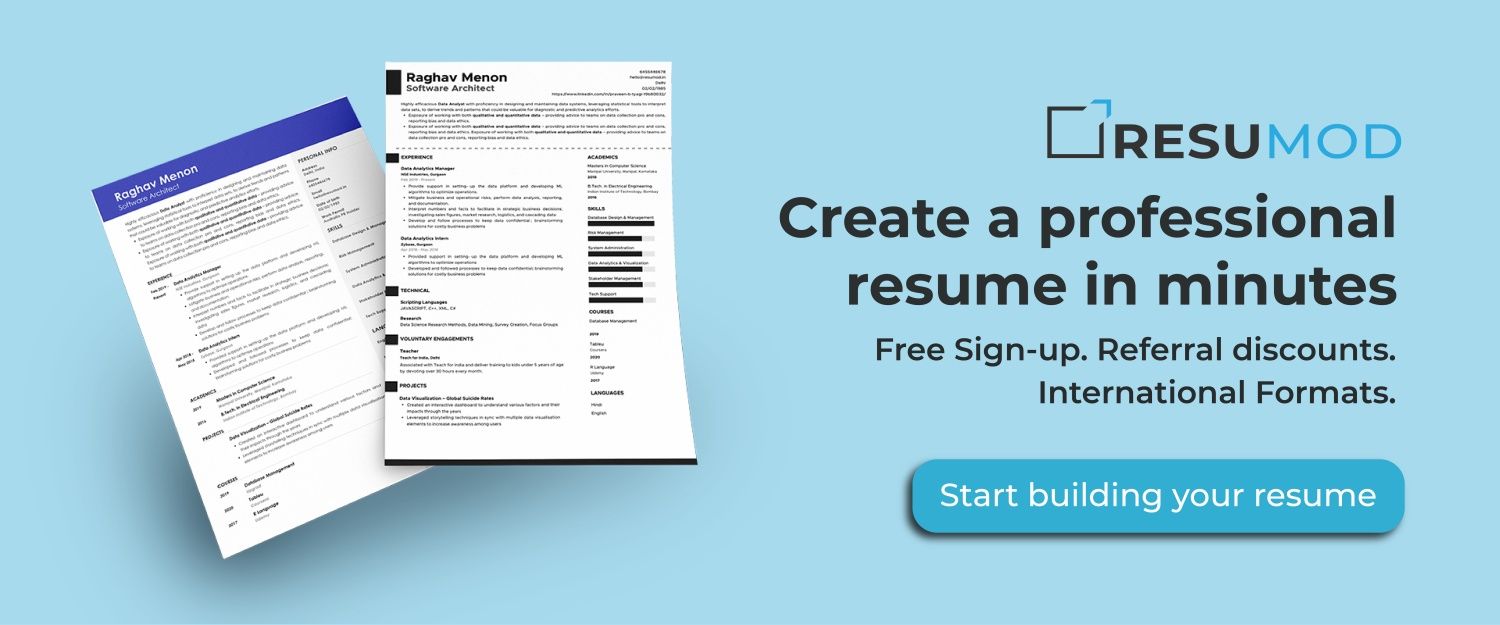 Tips for Writing Resume for Commerce Students
Small things in the resume play a huge role in bringing a professional approach.
Here is a list of four things that will make your resume stand out:  
#1 Use a professional email address: Students often end up using email addresses that are too unprofessional. A professional email address has your name and is easy to read. Your email address should not look like spam. For instance:
Unprofessional email address: sunshine123@gmail.com
Professional email address:  johnborris@gmail.com
#2 Strictly adhere to a one-page resume: A one-page resume works best for students. There are several reasons for that, it is easy to scan, and is enough for information that a graduate student would have.
Check our detailed guide on writing a one-page resume for freshers here
#3 Prepare a strong summary and Resume Title: A Summary and Resume Title are like the scroll-stopping posts you see on social media. They make the recruiter stay and go through the resume in detail.
Check more than 40 summary examples to help you with writing a resume summary here
expert tip
What to write in Resume Title and Summary?
Use your degree name and strong skills in the summary. Your title can be related to the position you are seeking. For eg. Aspiring Financial Analyst
#4Write about Extra-curricular:  Your extracurricular activities are as important as your academics or internships. They show your ability to adjust to a newer setting and your drive to work beyond just the given tasks.
Top  Resumes for Commerce Students - B.Com & M.Com - on Resumod
Resume of a KYC Analyst
A KYC analyst is hired to perform a specific set of vetting functions on customer documents. Responsibilities of a KYC Analyst span reviewing evaluating high-risk accounts, and analyzing new customer processes and regulations. If you want to work in banks or other financial institutions, you can consider a KYC analyst's job.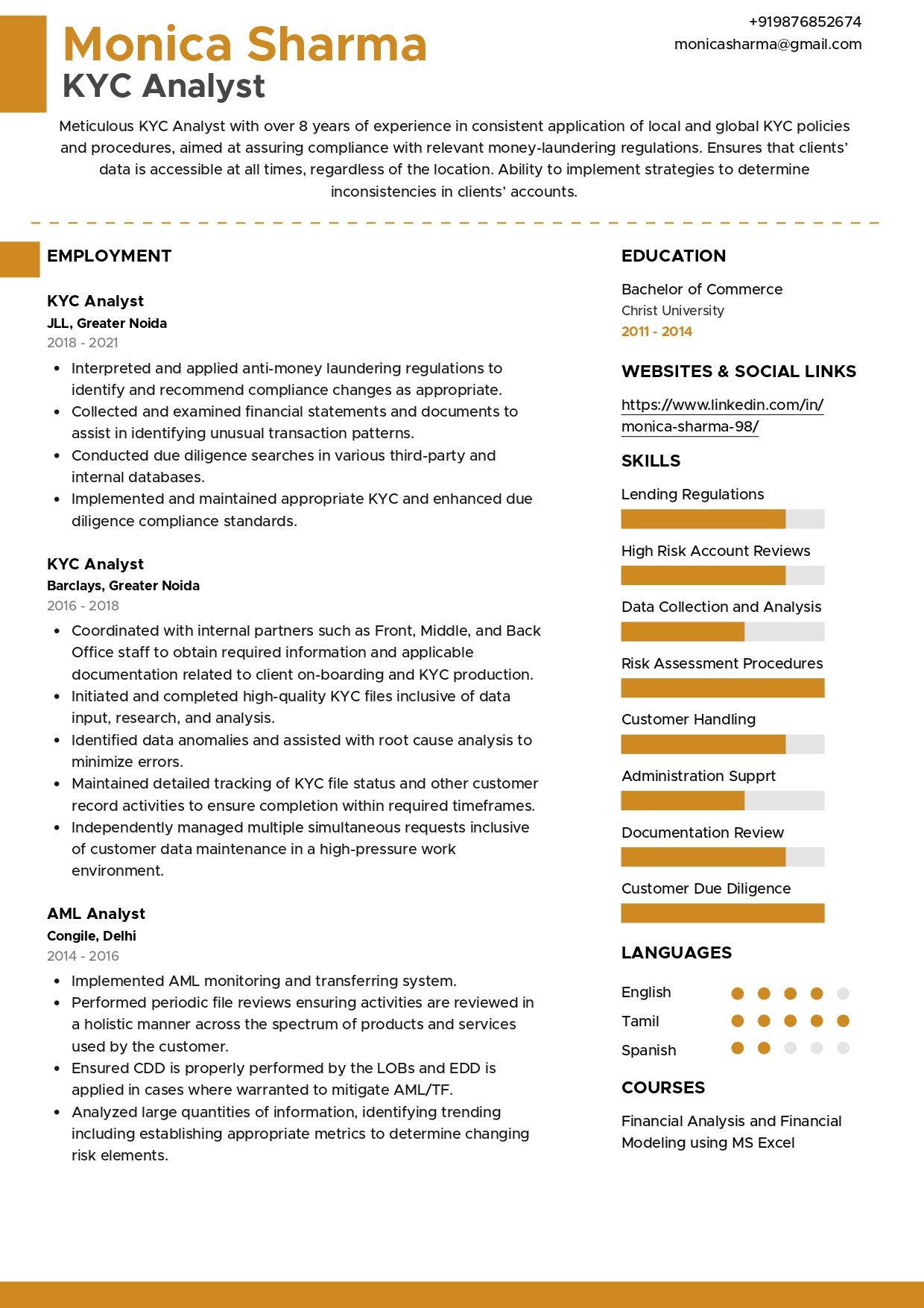 Check full Resume here
---
Resume of a GST Accountant
A GST (Goods & Services Tax) Accountant often referred to as a Tax Accountant, helps clients with all matters related to GST. They prepare tax payments, estimate and track tax returns, and file regular (quarterly and annual) tax reports, apart from other responsibilities.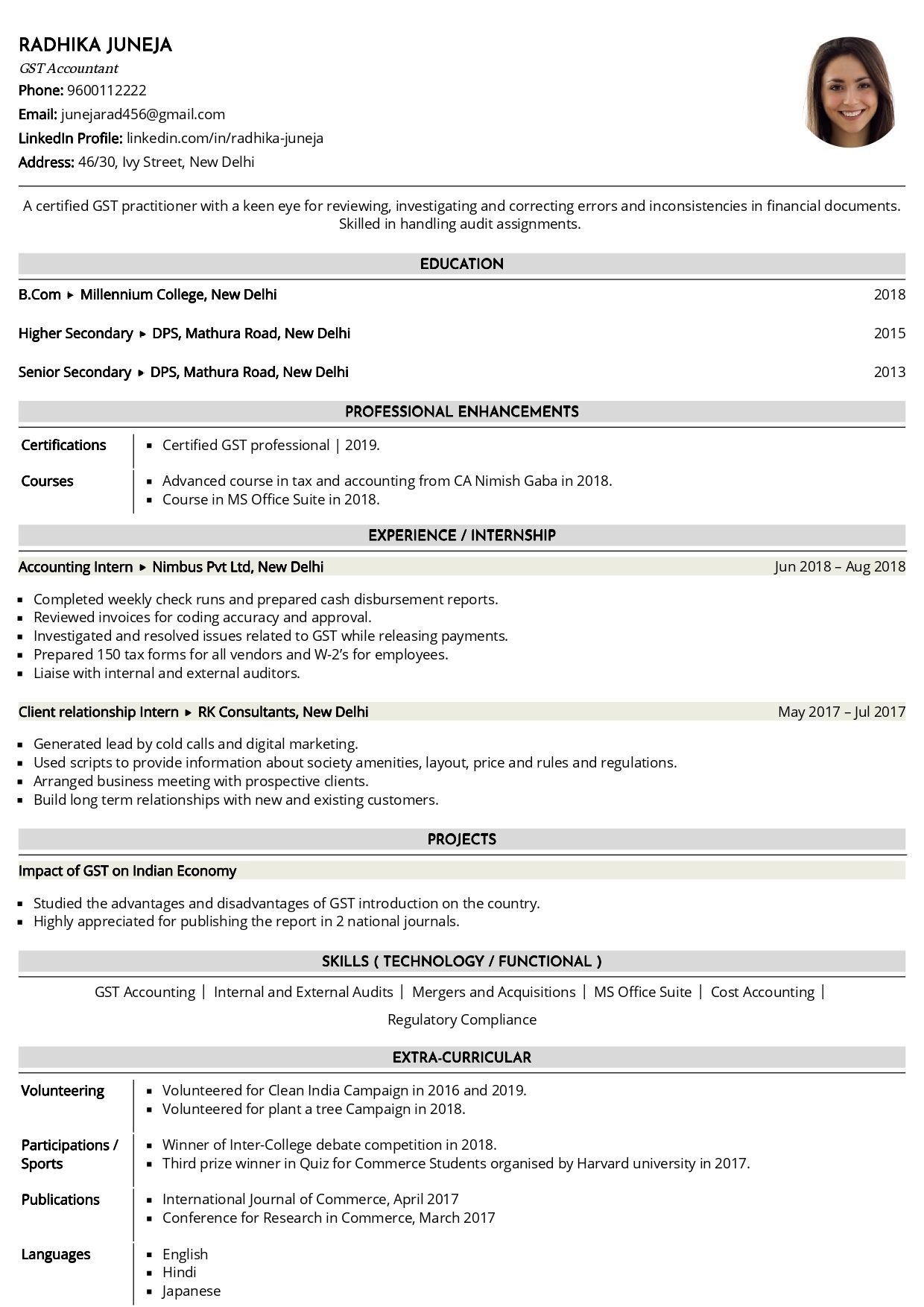 Check full Resume here
---
Resume of a Real Estate Broker
A real estate broker, commonly known as a real estate agent, is the middleman for property buying and selling transactions. A real estate broker connects these sell to the buyer and vice versa and is accountable for the entire buying/selling cycle until the deal closes.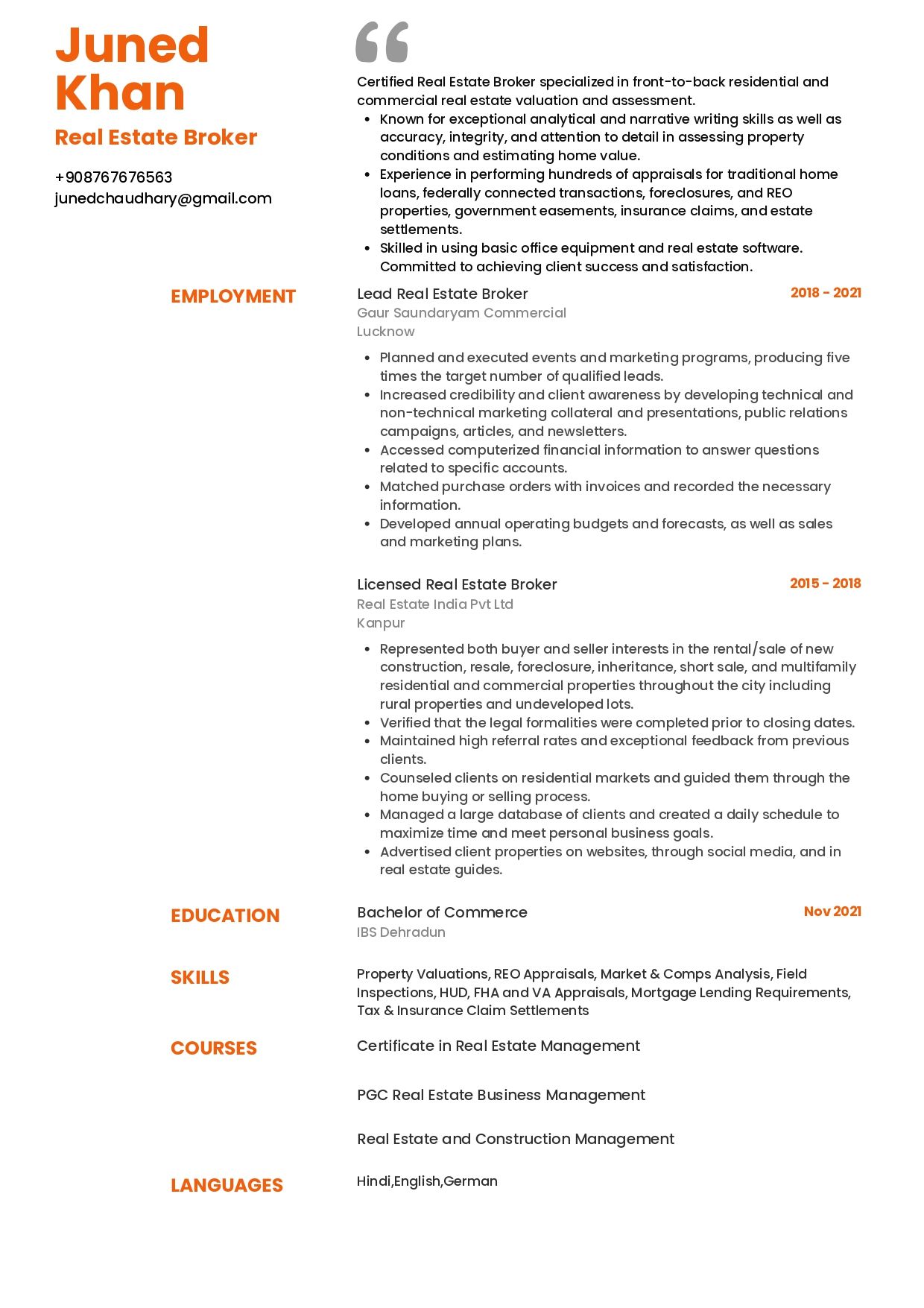 Check full Resume here
---
Resume of Branch Banking Professional
Branch Banking professionals usually include the staff that heads the branch; these are operation managers, general managers, and assistant managers. They ensure the proper functioning of the bank including customer service, cash flow, general maintenance, financial decisions, and more.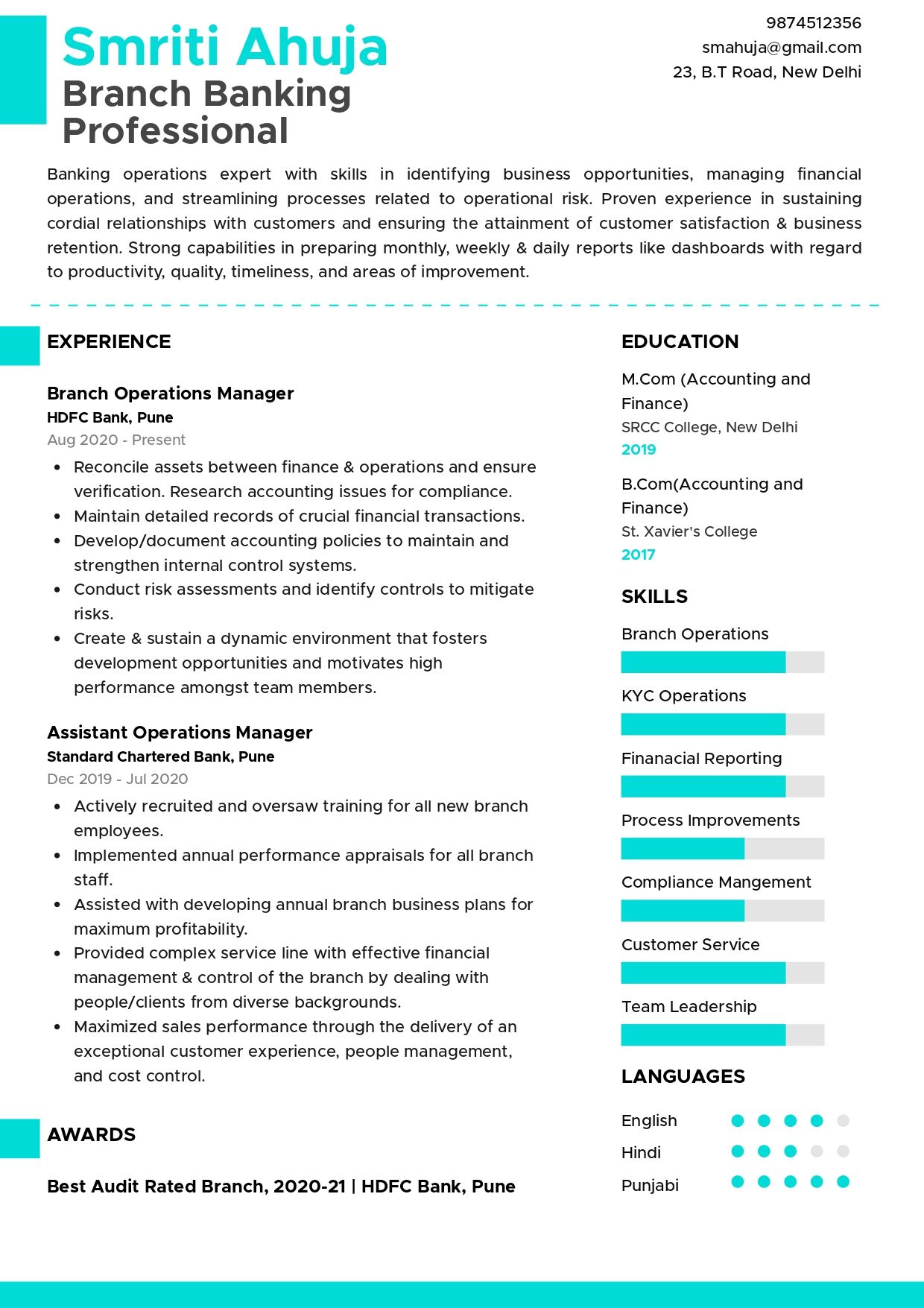 Check full Resume here
---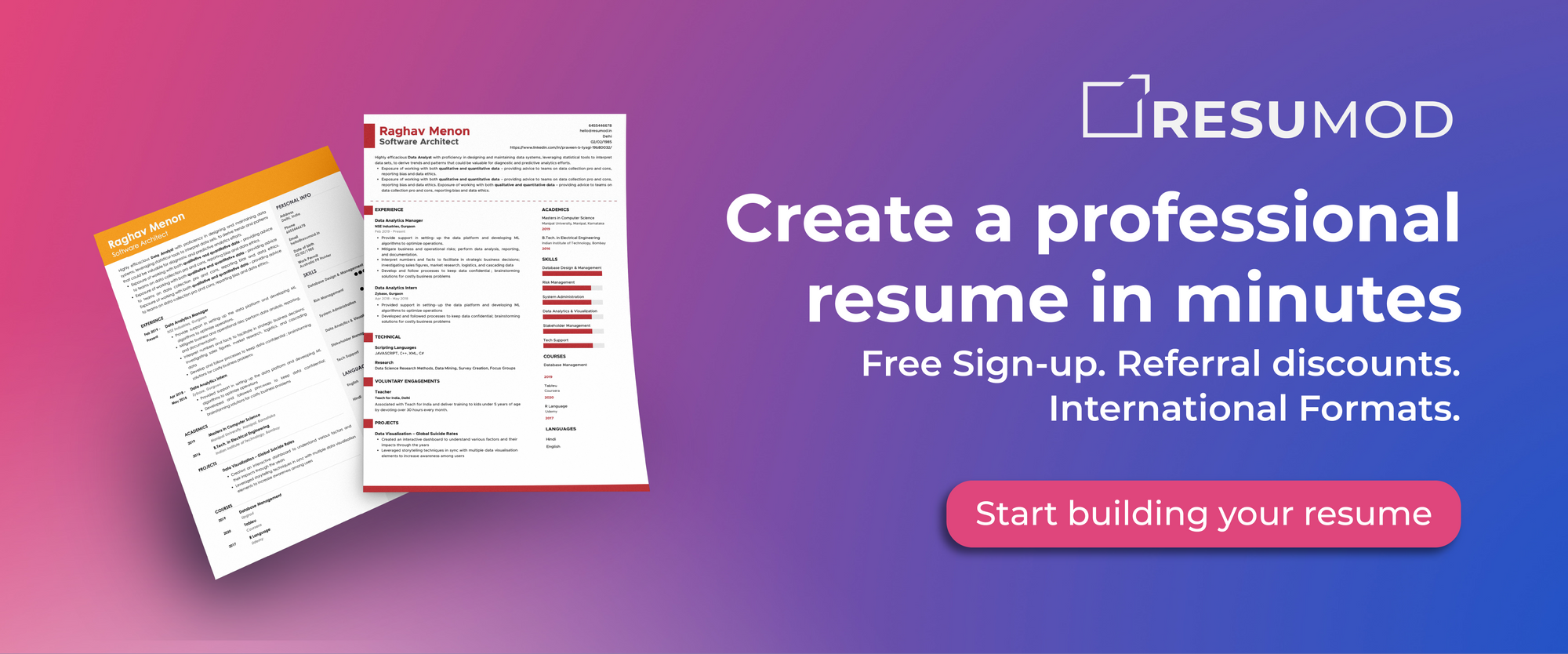 High-paying jobs for Commerce Students - B.Com & M.Com
Commerce students study a variety of subjects focused on Financial Accounting, Business Laws, Economics, Taxation, Auditing, and Cost Accounting among others. These subjects if mastered well, open numerous opportunities including:
Assistant Accountant
Accountant
Senior Account Executive
Cashier
Personal Finance Consultant
Business Consultant
Teachers/Lecturer
Executive Assistant
Real Estate Broker
Administration Assistant
Financial Analyst
Business Analyst
Corporate Analyst
Investment Banker
Financial Planner
Loan Manager
Credit Analyst
Recruiter
HR Executive
Sales Professional
Marketing Associate
Finance Manager
Operations Assistant
Receptionist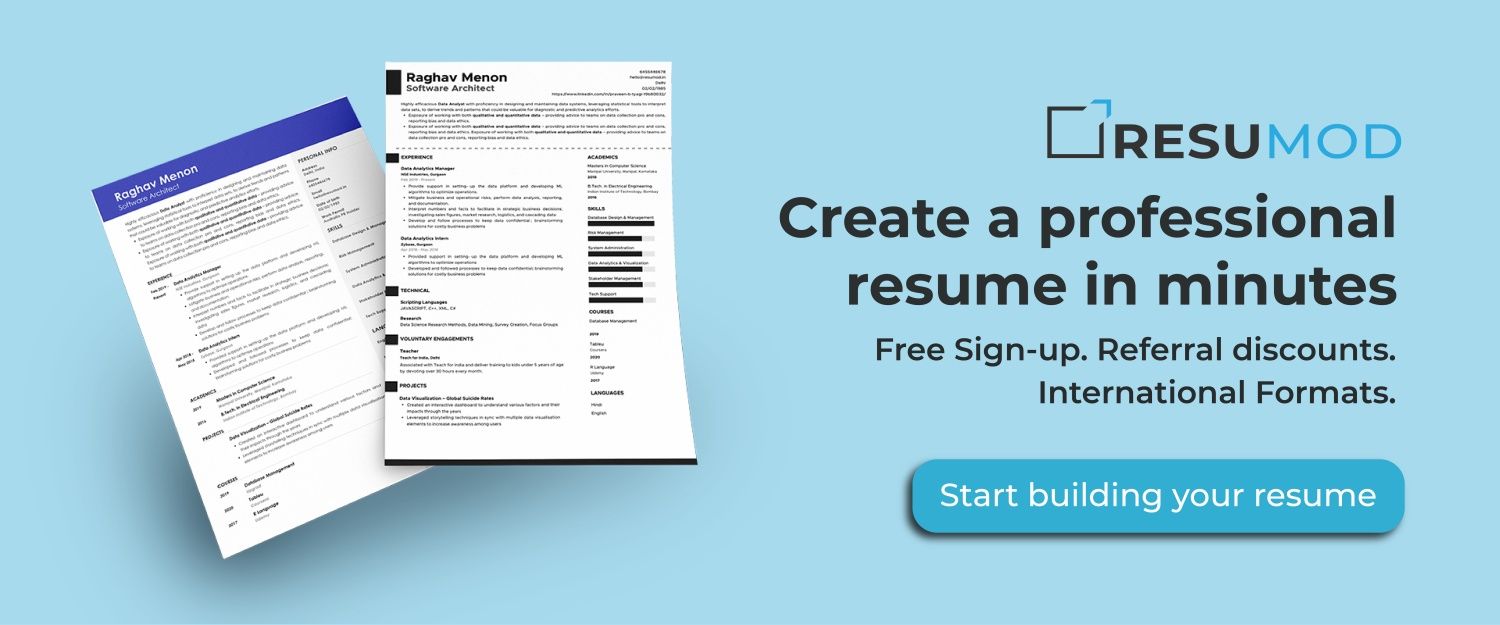 Further Education Options After Completing B.com
Master of Business Administration (MBA)
Chartered Accountancy (CA)
Company Secretary (CS)
Master of Commerce (M.Com)
Chartered Financial Analyst (CFA)
Business Accounting and Taxation (BAT)
Certified Management Accountant (CMA)
US Certified Public Accounting (CPA)
Financial Risk Manager (FRM)
Association of Chartered Certified Accountants (ACCA)
Certified Financial Planner
Certificate in Investment Banking (CIB)
Bachelor of Education (B.Ed)
Digital Marketing Courses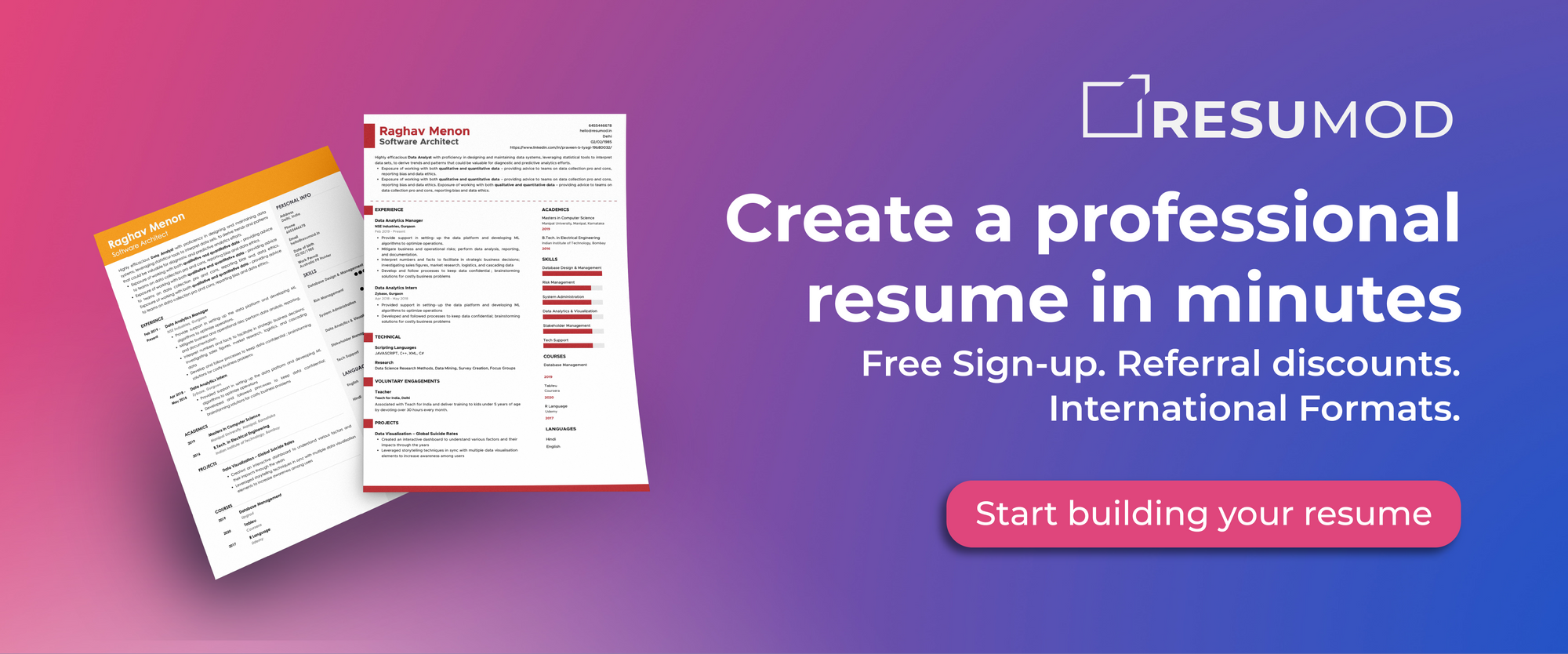 High Demand Skills Commerce Students Should Master
You gain a lot of skills while you study commerce. We have curtaed a list of skills you can use in your resume.
Lending Regulations
High-Risk Account Reviews
Data Collection and Analysis
Risk Assessment Procedures
Customer Handling
Administration Support
Documentation Review
Customer Due Diligence
Business Flair
Marketing Expertise
Research Skills
Branch Operations
KYC Operations
Financial Reporting
Process Improvements
Compliance Management
Customer Service
Team Leadership
Debt and Credit Management
Problem-solving skills
Time Management skills
Investment Management
Cash Handling
Property Valuations
Market & Competitor Analysis
Field Inspections
Client Relations
Sales and Marketing
Mortgage Lending Requirements
Tax & Insurance Claim Settlements
Property Management
Negotiation
Conflict Resolution
Planning & Organization
expert tip
What skills can I use in my resume form these?
This is a comprehesive list. Check the job description of the role you are applying for, and chose skills that resonate with the job requirement.
You can check a detailed list of skills here
Final Word
There are ample job options for commerce graduates to choose from. Despite several options being there, you might not land your desired job and one probable reason is not having a tailored resume as per your industry.
The solution- use one of Resumod's impactful resume templates to make your resume, and do not forget the following:
Create a strong summary which talks about your strongest areas  
Write a compelling Resume Title that talks about your credentials
Keep your resume to one page and rule out information that is not required for your role