How to Write a Winning Resume Summary [40+ Examples]
Some of the most significant accomplishments, your career, and one or two of your strongest skills should all be highlighted in a resume summary. However, in order for your resume summary to truly stand out, it must be customized to meet the specific objectives of the organization.
A resume summary or opening statement, placed at the top of your resume describes your core skills, qualifications, and experience.
It is the goal of the career summary to convey your qualifications for the position in 3-5 sentences and persuade the hiring manager to read the rest of the resume document.
Some of the most significant accomplishments, your career, and one or two of your strongest skills should all be highlighted in a resume summary. However, in order for your resume summary to truly stand out, it must be customized to meet the specific objectives of the organization.
In this blog you will learn:
---
Purpose of a Resume Summary?
Including a resume summary allows you to showcase your strongest assets right away. It gives an overview of the applicant's relevant work history, education, and achievements.
Your Resume in a nutshell
Your CV should be simple to understand and easy to read. If you've had a lot of work experience, your resume may appear clumsy or overly complicated to the reader. A resume summary exactly does that. Presents your entire resume in a brief, easy-to-read, and impactful form.
Proof of your capabilities for your potential role
Employers will examine your CV to check if your profile matches the requirements of the position they are advertising.
To put it another way, you want to make it as simple as possible for employers to identify your most relevant talents and experiences.
Differentiates you from the competition
The number of applicants applying for a job is increasing. You ought to make your mark, rather your resume needs to make a mark.
Strong summary statements at the top of your resume can help you stand out from the competition.
Earlier on, emphasize your most important qualifications and experience.
To conclude :
With a summary increase your chances of being noticed faster
Make your resume stand out with all your highlights on the top
Show the recruiter that you are the best fit
Positions you as an expert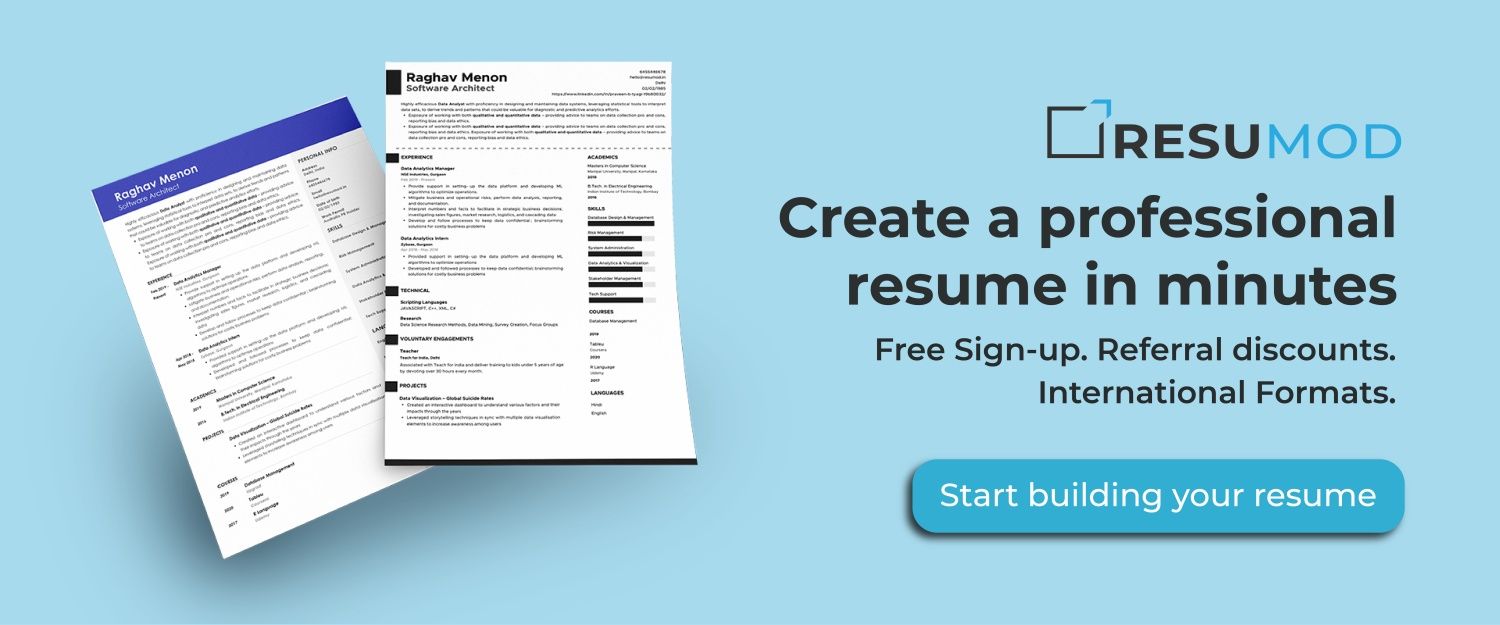 ---
Difference between Objective and Summary?
Objective
The resume objective outlines your career ambitions in relation to the position for which you're seeking. You do not mention employment experience in this section.
An example:
Elementary teacher looking for a position at a small independent school, where I can apply my five years of teaching experience, STEM-oriented instruction, technology, and curriculum development skills to support student growth and success.
In the objective the applicant in conveying what skills he/she wants to leverage for a particular job
Summary
While a summary condenses your prior work experience and shows how your skills and qualifications will help your potential employer. The summary goes into greater detail about why you'd be an excellent fit for the position.
It is the summaries that are most commonly used now, and are also a better approach at communicating what you bring to the table.
An example:
Qualified JAVA developer, with experience in software design, development, and maintenance of java enterprise applications. Ability to analyze user needs & software requirements to determine the feasibility of design with a strong approach to perform testing & debugging processes within set timeframes & cost constraints
In the summary, the applicant is conveying his strengths.
Here's how to make a decision - A Summary or an Objective
Do you have any relevant professional experience?
Include a brief summary in your resume.
For people with a broader range of experiences, a summary section can help distill the information down to the most relevant and crucial elements. If the hiring manager finds what they're looking for in your resume summary, it can motivate them to pay more attention to your application.
Lack experience or making a career change?
Include an objective on your resume.
If you're fresh out of college or making a professional change, a resume objective can be a better fit for you than a traditional resume.
Consider the job you're applying for, the firm, and the industry when deciding what to include on your resume, including your summary statement.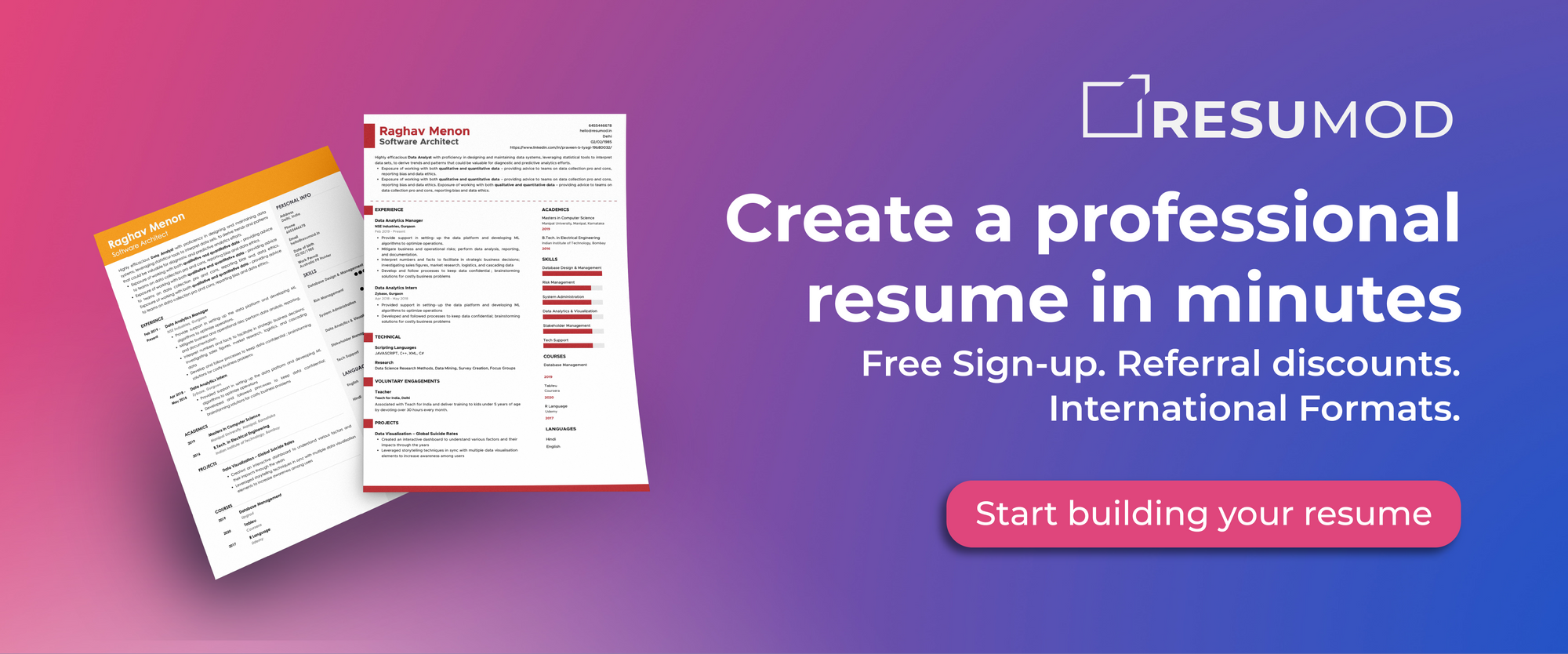 ---
Long Summary V/s Short Summary?
Long Summary
As the name suggests, the long summary is descriptive and lays out more than one part of your career. An ideal long summary contains
Details of awards and achievements
Few important  competencies explained expansively
Mention of certifications or any professional upskilling relevant to your role
Technical skills and technologies if your profession demands
When to use a long summary
When you have some or all of the above things to mention
You have more than 5 years of experience
You are a generalist and have a lot to mention
Long Summary Example - Sales and Marketing Professional
Competent at capturing insights on market trends, competitive landscape, and customer needs to develop marketing Plans.
An expert in administering budgets with P&L accountability, managing sales, and implementing growth strategies.
Track record of working with renowned media houses while serving as an active contributor to long-term profitability.
Excels in identifying significant business opportunities, working closely with marketing to analyze present & future market trends, and executing sales activities with regard to the designated products/segments.
Strong leadership presence and collaborative approach combined with strategic thinking, conducive to new business.
Accomplished in developing 360-degree support plans behind key brand activations; new brand partnerships, licensing and multi-channel opportunities, and multi-stakeholder initiatives, to meet strategic brand objectives.
expert tip
When to write a long summary?
If you have more than 4 KPIs that you want to showcase, use a long/bulleted summary. Else keep it short.
Short Summary
A short resume summary brings together your career achievements and competencies relevant to your target job role in 1-3 sentences.
When to use a short summary:
If you are part of the beginner workforce and don't have much to showcase
When you are a senior professional and want to keep your resume to a single page
You are making a career shift, and your entire career is not relevant for the new profile
Short Summary Example - Sales and Marketing Professional
Business development enthusiast and a strategic contributor to organizational development; competent at creating growth plans for both direct and indirect channels while executing marketing programs with key accounts. Skillful in increasing sales revenues, exceeding targeted sales goals and developing profitable business relationships, defining & implementing sales programs to improve product awareness in a competitive market
Continue reading to find out 45+ short resume summaries.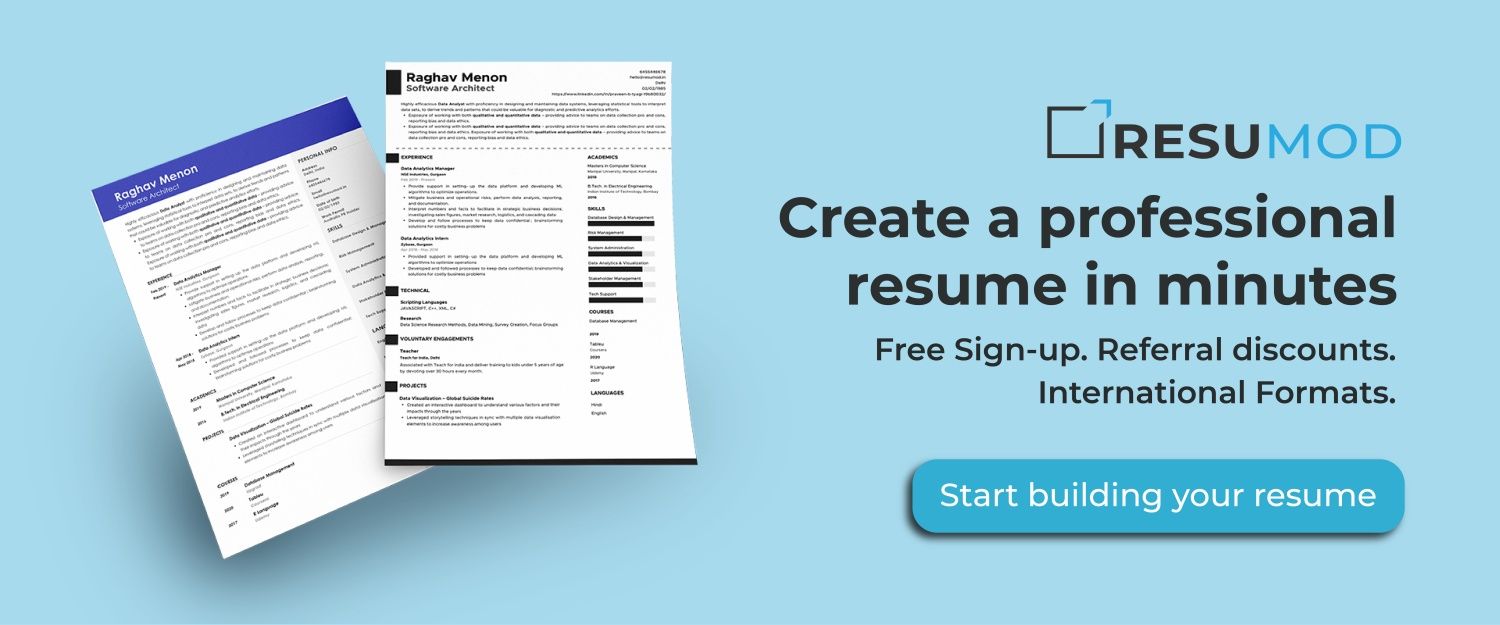 ---
How to Write an Impactful Summary Statement
A well-articulated summary acts as a hook for the recruiter to read the entire resume.
Resume Summary for senior professionals will be different from that of the beginner workforce. Continue reading to find out some tips to write a summary for professionals with less than 5 years of experience and those with more than 5 years.
Follow this three-step process to create a winning resume summary.
Step 1: Define Your Goal
Brainstorm and identify what you want to convey through the summary:
Is it any specific achievement?
A stack of skills?
A particular part of your career?
In the following image, Shashank's goal to convey his skills in the end-to-end development of stories is clear. His resume summary does not focus on any other proficiency. His ability to research and produce new stories is also one of the most important aspects of his role as a journalist
Step 2: Draw important points from your targeted job description
Once you know what are your differentiating factors in terms of your experience, achievements, education, and/or skills, check your targeted job description and see what the recruiter is looking for.
Pay attention to the job descriptions of the positions that interest you. Review categories such as "Requirements," "Experience," or "Education" to determine which abilities or experiences you should mention in your summary.
Hers is an example of a branch banking professional. You can check full resume here
Target Job description with highlights
Step 3: Combine the two to create a resume summary
Once you've taken some time to reflect on your relevant abilities and accomplishments and how they connect to the role, writing an excellent resume summary becomes much simpler.
Pick what among your abilities matches with the job description to create a summary. Talk about your soft skills as well.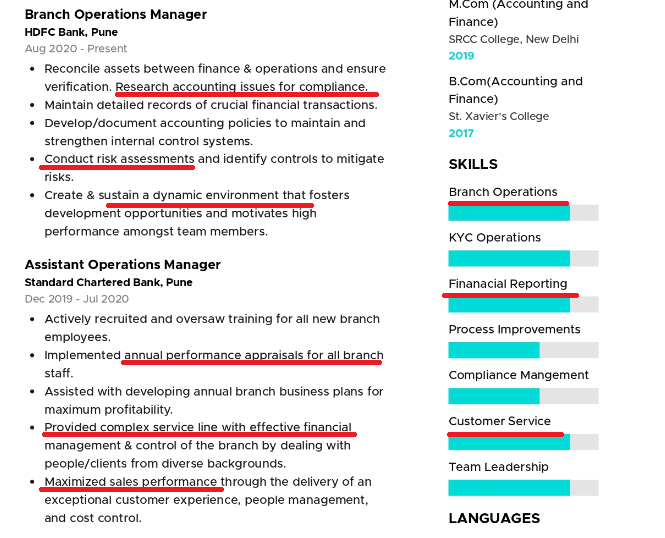 Here is how the Branch manager created a summary for the resume. Check the full resume here
---
Some tips on developing a winning resume summary
Include Relevant achievements and skills ONLY
A properly crafted resume summary saves the reader's time in going through the lengthy resume as it depicts your key achievements and skills in a short paragraph.
Proper use of keywords
A good summary is one that has relevant keywords in it.
Check the job description to find our relevant keywords.
Including keywords will make your resume summary rich.
It will also help the resume please the ATS bots.
Example: The role of a customer service agent requires strong communication skills accompanied by patience and professionalism. If you are a customer service agent, use words like communication, patience, and professionalism.
State your achievements
Achievements in a resume summary, make a strong case in your favor.
But, the achievements mentioned in the Resume summary should be relevant and recent.
Instead, they should be precise, even better if you quantify your achievements.
Example: If you're applying for the post of sales manager, and have attained difficult sales targets in the past,
Write,
'Led a sales team of 25 mates and was responsible for sell 5000+ products'.
Instead of, 'Led a huge sales team and carried great sales'
Do not write an achievement that was in school or 10 years ago.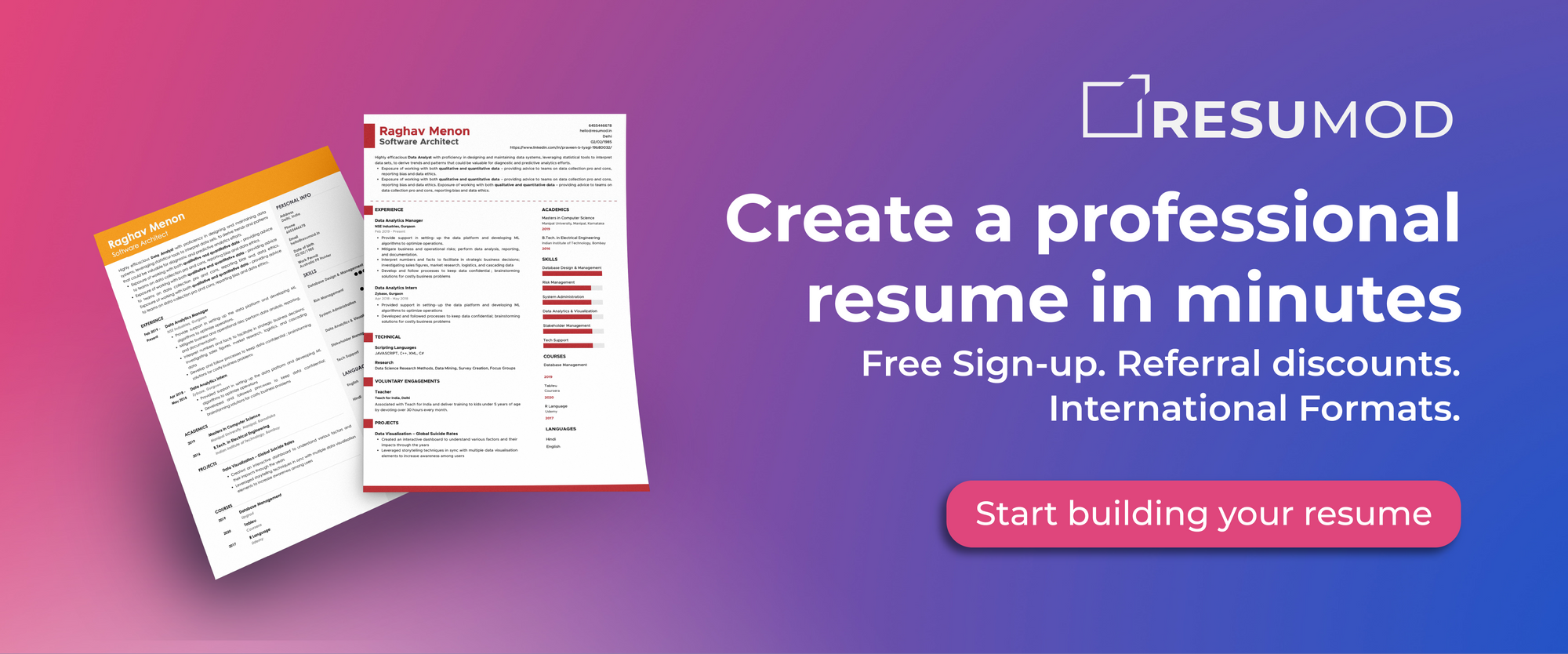 Introduce yourself with an adjective
Adjectives set a tone for the summary and also define your personality.
There are other ways to start your summary, but this helps with following the "less is more approach"
Example: Some adjectives to introduce yourself include - Performance-driven, Service-oriented, Amicable etc.
Customize your summary
This is one of the most underrated resume hacks.
Do not use the same summary for each role you are applying to.
Though the scope of work will be more or less the same, the hiring criterion will be different, the keyword requirements will be different, and their perspective will be different. You might just need to highlight a different skill from your pool of competencies.
Resume summary for professionals with less than 5 years
Keep it to 60-70 words
Write about your education if you are beginner work-force
Mention your abilities to work in a team and collaboratively
Demonstrate one specific skill, area of work you want your career to be about
Resume summary for professionals with more than 5 years of experience
Up to 5-6 bullet points
Consider mentioning the number of years of domain experience
Do not trace your entire career, focus on recent experience
Use quantification to make an impact
Write about your leadership capabilities
---
Resume Summary Best Practices
A summary can be developed using the above three steps.
These are some industry best practices that will make your summary stand out:
Have a strong opening line.
Use adjectives to define yourself
Talk about your strengths
Use small to medium sentences
Don't overdo the summary with industry jargon.
---
---
40+ Resume Summary Examples
Marketing Resume Summaries
Marketing Intern Resume Summary
Performance-oriented professional, proficient in conducting market research and coming up with latest trends and marketing techniques that fosters company revenue practical exposure in handling internal and external quality in an organisation.
Check Marketing Intern Resume
Media Planner Resume Summary
Dynamic media planner with experience in sales and marketing in the media/advertising industry. Creative and innovative team player with strong interpersonal skills. Skilled at purchasing and placing ads.
Check Media Planner Resume
Outreach Coordinator Resume Summary
An enthusiastic individual with skills in reaching out to the community through audience-centric communication and engagement via events and social media. An effective communicator with strong interpersonal and team coordination skills.
Check Outreach Coordinator Resume
Finance and Accounting Summaries
GST Accountant Resume Summary
A certified GST practitioner with a keen eye for reviewing, investigating, and correcting errors and inconsistencies in financial documents. Skilled in handling audit assignments.
Check GST Accountant Resume  
Medical Billing Specialist Resume Summary
Dedicated medical billing and coding specialist with almost 2 years of experience in assisting with health management operations, as well as analysing and validating patient information, diagnoses, and billing data. Expertise in ICD-9 and ICD-10, CPT, and HCPCS coding.
Check Medical Billing Specialist Resume
Junior Accountant & Bookkeeper Resume Summary
Organized and detail-focused Bookkeeper and Accountant with skills in accurately and efficiently supporting overall accounting activities comprehensive knowledge of accounting principles payroll, general ledger posting,deadline-driven and invoicing.
Check Junior Accountant & Bookkeeper Resume
CA Article Resume Summary
Goal-oriented professional, with strong analytical and organizational abilities. Skilled in contributing towards controlling processes and undertaking statutory audit closure and activities. Competent at ensuring adherence to accounting policies, principles and directives, and management reporting.
Check CA Article Resume
Economist Resume Summary
A committed Economics Graduate proficient in data analysis, seeking an opportunity to provide an insight to the organization into the behavior of the financial markets and the changing trends of economies worldwide while learning from the industry experts.
Check Economist Resume
Hospitality Summaries
Cabin Crew Resume Summary
Skilled in performing cabin crew activities, and ensuring guest satisfaction, through remarkable service and flight preparedness. An energetic, reliable, and safety-conscious professional with an outgoing personality and the ability to remain calm under pressure.
Check Cabin Crew Resume
Front Desk Executive Resume Summary
An amicable and courteous front desk clerk who consistently delivers exceptional customer service and fosters positive relationships with guests to promote consumer satisfaction and loyalty. Adept at balancing multiple tasks in a disciplined manner.
Check Front Desk Resume
Food Safety Inspector Resume Summary
A meticulous food safety supervisor with a certification in Good Manufacturing Practice (GMP). Proficient in ensuring adherence to quality standards throughout every phase of food distribution and processing.
Check Food Safety Inspector Resume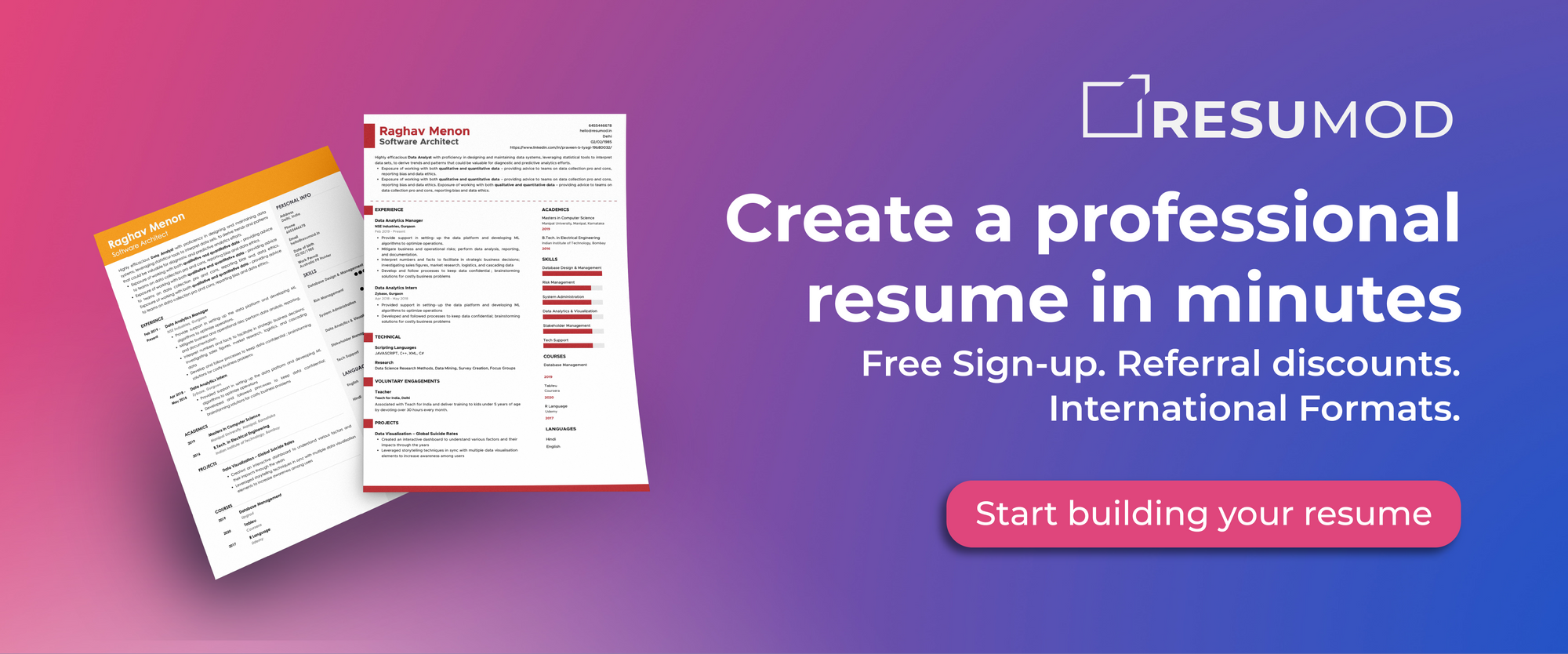 Healthcare and Medical Resumes
Dentist Resume Summary
A passionate dental surgeon with expertise in various endodontic and periodontal surgical methods and the ability to treat many patients in a short period of time, with great skills. Certified in laser dentistry and oral implantology.
Check Dentist Resume
Speech Therapist Resume Summary
Certified speech therapist with a year of experience in diagnosing and providing treatment for patients suffering from speech disorders. Adept in conducting therapy and counselling sessions. Compassionate and friendly team player with excellent interpersonal skills.
Check Speech Therapist Resume
Nutritionist Resume Summary
A determined nutritionist focused on conducting detailed nutrition consultations and creating personalized meal plans to meet the needs of each client. Currently working on developing advanced knowledge of human anatomy and physiology
Check Nutritionist Resume
Yoga Trainer Resume Summary
A devoted yoga trainer with the knowledge of all yoga asanas and transcendental meditation. Determined to motivate people for their wellness and commit to long-term health and fitness goals.
Check Yoga Trainer Resume
Physiotherapist Resume Summary
A highly motivated individual with a diploma in physiotherapy. Well-versed with required skills with excellent client-facing skills and the ability to work closely with other professionals to assess a patient's needs and devise a suitable plan.
Check Physiotherapist Resume
Customer Service and Sales Resumes
Sales Executive Resume Summary
Enthusiastic B.Com undergraduate with exposure in selling hardware machinery components. Ability to engage and convince customers by interacting with them and meeting all the necessary requirements efficiently.
Check Sales Executive Resume
Customer Service Executive Resume Summary
Organized and skilled customer support executive with skills in responding to customer queries and clearing their doubts on various issues related to the services offered. Seeking a position in a renowned organisation whereby I can leverage my skills in customer correspondence, problem-solving, and reporting and documentation while contributing to my growth.
Check Customer Service Executive Resume
Banking Summaries
Insurance Executive Resume Summary
A motivated professional, particularly interested in dealing with personal insurance schemes including auto, home, health, life. Specializes in utilizing the internet and other new technology to find prospects and maintain contact with the client base.
Check Insurance Executive Resume
Banking Associate Resume Summary
Highly analytical and deadline-driven banking associate with successful relationship management skills in the ultra-high net worth space, performing due diligence, maximizing revenue potential, and handling complex transactions.
Check Banking Associate Resume
Banking Relationship Manager Resume Summary
An amicable relationship manager, adept at assessing the financial needs of various clients and offering them banking and financial advisory with a focus on applying knowledge of common financial products and services.
Check Banking Relationship Manager Resume
Engineering Summaries
Embedded Systems Engineer Resume Summary
A passionate and results-oriented software engineer with more than two years of experience in working with embedded systems. Adept at designing and applications with usability and high performance.
Check Embedded Systems Engineer Resume
Bioinformatics Engineer Resume Summary
Detail-oriented and creative bioinformatics engineer who aspires to analyse large genomic datasets and develop new clinical technologies. Certified in Data Mining and Protein Sequence Analysis from IIT, Bombay. Having great analytical and communication skills.
Check Bioinformatics Engineer Resume
Nuclear Engineer Resume Summary
Well-versed in nuclear energy processes and various guidelines while handling radioactive substances. Seeking an opportunity to work as a nuclear engineer to utilise my skills and experience in a renowned organisation.
Check Nuclear Engineer Resume
Solar Engineer Resume Summary
Responsible solar power engineer specializing in energy generation evaluation and system design of large-scale multi MWPV systems. Passionate about programming and data analysis. Adept at explaining complicated engineering concepts clearly to a wide variety of audiences.
Check Solar Engineer Resume
Robotics Engineer Resume Summary
An innovative robotics professional specialized in ABB and Fanuc techniques. With an ability to write powerful code and develop a cutting-edge product. Experienced in working with leading robotics multinational corporations.
Check Robotics Engineer Resume
Agricultural Engineer Resume Summary
An enthusiastic and determined agricultural engineer, possessing remarkable knowledge of agricultural equipment and technology. Able to demonstrate agricultural and engineering expertise with proficiency in ICP instruments and CAD technologies. Recently completed a course in horticulture sector development.
Check Agricultural Engineer Resume
Electrical Engineer Resume Summary
Analytical Electrical Engineer, seeking to work in a challenging environment whereby I can leverage my skills, and knowledge in coordinating construction, installation, maintenance, documentation, and testing activities to ensure compliance with specifications, and customer requirements. Trained in working on PLC and SCADA
Check Electrical Engineer Resume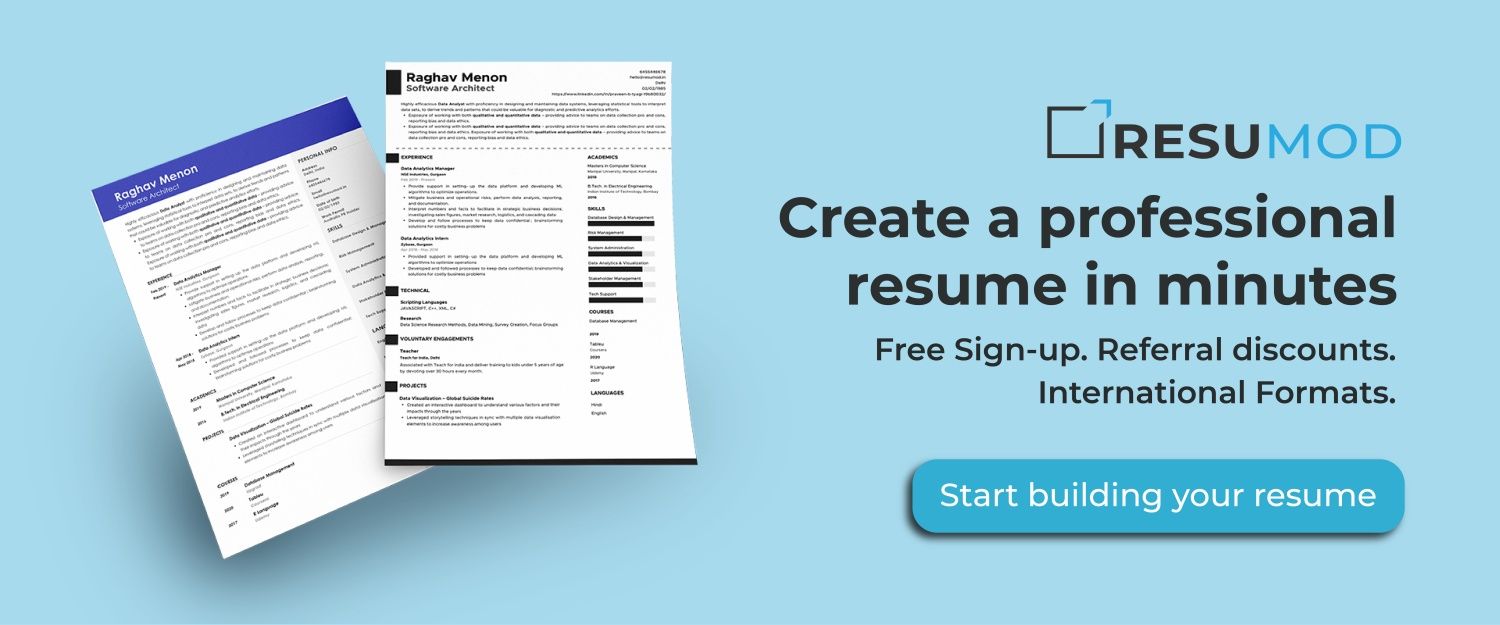 Academic Summaries
Chemistry Teacher Resume Summary
Budding teacher, seeking assignments with a leading education institute aimed at leveraging the knowledge of inorganic chemistry and laboratory skills for students' development. Ability to engage students and utilize effective instruction guidelines to meet students' learning needs.
Check Chemistry Teacher Resume
Primary School Teacher (TGT) Resume Summary
Aspiring teacher with skills in classroom management, lesson planning and organisation along with a compassionate and caring attitude focused towards inspiring, motivating and developing each student's imagination and innovative thinking. Ability to juggle multiple priorities and achieve results through alignment of cross-functional and multidivisional activities in a highly collaborative, multicultural, team-oriented, and fast-paced environment.
Check Primary School Teacher (TGT) Resume
Academic Researcher Resume Summary
A passionate and diligent researcher, willing to rigorously contribute to scientific discoveries by systematic investigation into a problem. Passionate about venturing into the unknown using remarkable knowledge of several astrophysics and astronomy topics.
Check Academic Researcher Resume
Librarian Resume Summary
A detail-oriented personality with a course in strategic library planning and public library marketing. Experienced in working with school and college libraries. Possessing great communication, organisation skills, and an ability to engage in a friendly interaction.
Check Librarian Resume
Administration Summaries
Front Desk Executive Resume Summary
An amicable and courteous front desk clerk who consistently delivers exceptional customer service and fosters positive relationships with guests to promote consumer satisfaction and loyalty. Adept at balancing multiple tasks in a disciplined manner.
Check Front Desk Executive Resume
Office Administrator Resume Summary
A dedicated office administration professional with experience of 2 years. Excellent communication skills and competence in organizing information, managing correspondence, and maintaining office supplies while working with little supervision.
Check Office Administrator Resume
Psychology Summaries
Forensic Psychologist Resume Summary
A passionate forensic psychologist with expertise in legal matters including mental health evaluations, jury selection, and dispute resolution.Open-mindedness and non-judgmental approach. Possesses strong skills in clinical assessment, interviewing, and case presentation.
Check Forensic Psychologist Resume
Substance Abuse Counsellor Resume Summary
A motivated and analytical drug and alcohol counselor, focused on connecting with clients and motivating them to develop healthy coping mechanisms.
Check Substance Abuse Counsellor Resume
Fashion & Interior Design Summaries
Fashion Design Graduate Resume Summary
Organised, motivated, and creative fashion enthusiast, skilled at hand drafting and designing fashion apparel. Endowed with excellent color sense and artistic presentation skills; looking for a highly professional fashion organisation to give my career a push start in the fashion industry and contribute to bringing in new trends of fashion.
Check Fashion Design Graduate Resume
Merchandiser Resume Summary
Hardworking and dedicated merchandiser with a sound understanding of textiles and vendor management techniques. Competent in recognizing areas of improvement while working closely with varied departments to ensure adherence to procedures as per aviation industry ethics & requirements.
Check Merchandiser Resume
Interior Designer Resume Summary
Creative Interior Designer with prior experience in project coordination, space planning, and computer-aided design. Seeking a respectable position in an interior design firm to enhance my skills and expertise to yield the most lucrative returns.
Check Interior Designer Resume
Footwear Designer Resume Summary
Highly creative and detail-oriented individual. Extraordinary achievements in designing and creating footwear collections and conducting detailed marketing research. Excellent time management skills and strong ability to perform well under pressure
Check Footwear Designer Resume
Media and Entertainment Summaries
Video Editor Resume Summary
A creative and talented video editor highly attentive to both video and audio editing details. High level of proficiency in video editing software particularly Adobe after-effects, premier, and Cyberlink Powerdirector. Wth a deep passion for visual things; seeks to share her talent as video-editor.
Check Video Editor Resume
Sound Technician Resume Summary
A multi-talented sound producer with recording, editing and mixing experience.Diverse background in on-location and product sound engineering. In-depth knowledge of sound development techniques and different music genres.
Check Sound Technician Resume
Photographer Resume Summary
A skilled photographer with the ability to capture beautiful and mesmerizing moments. Observant and interactive personality, with the knowledge of latest photography trends, equipment, and technology.
Check Photographer Resume
---
To conclude,
A resume summary should be kept clear and concise in a limit of 100- 150 words. It should be stimulating enough for the recruiter to pass it on for further rounds of selection.
---
This blog was first published on the Resumod Blog. If you like our content, do share it with your friends - https://bit.ly/3C10JYs