How To Use Bullet Points In Your Resume [30 Examples]
Bullet points divide huge blocks of information into easy to skin pieces, break the monotony of paragraphs, and add emphasis on your skills and abilities
Your resume should be easy to read, your resume should not be messy, and your resume just has six seconds to grab the recruiter's attention. We all have heard these at least once while preparing our resumes.
But how do you implement all these to grab the recruiter's attention?
The answer is simple - use bullet points to make your resume readable.
In this blog, you will learn:
Why Do You Need Bullet Points In Your Resume?
Simply put, you need bullet points to make your resume easy to glance at.
Here are multiple reasons for you use to start using bullet points in your resume:
Divide vast blocks of information into easy-to-skim pieces
Break the monotony of paragraphs
Add emphasis on your skills and abilities
Create space and arrange information in a neat format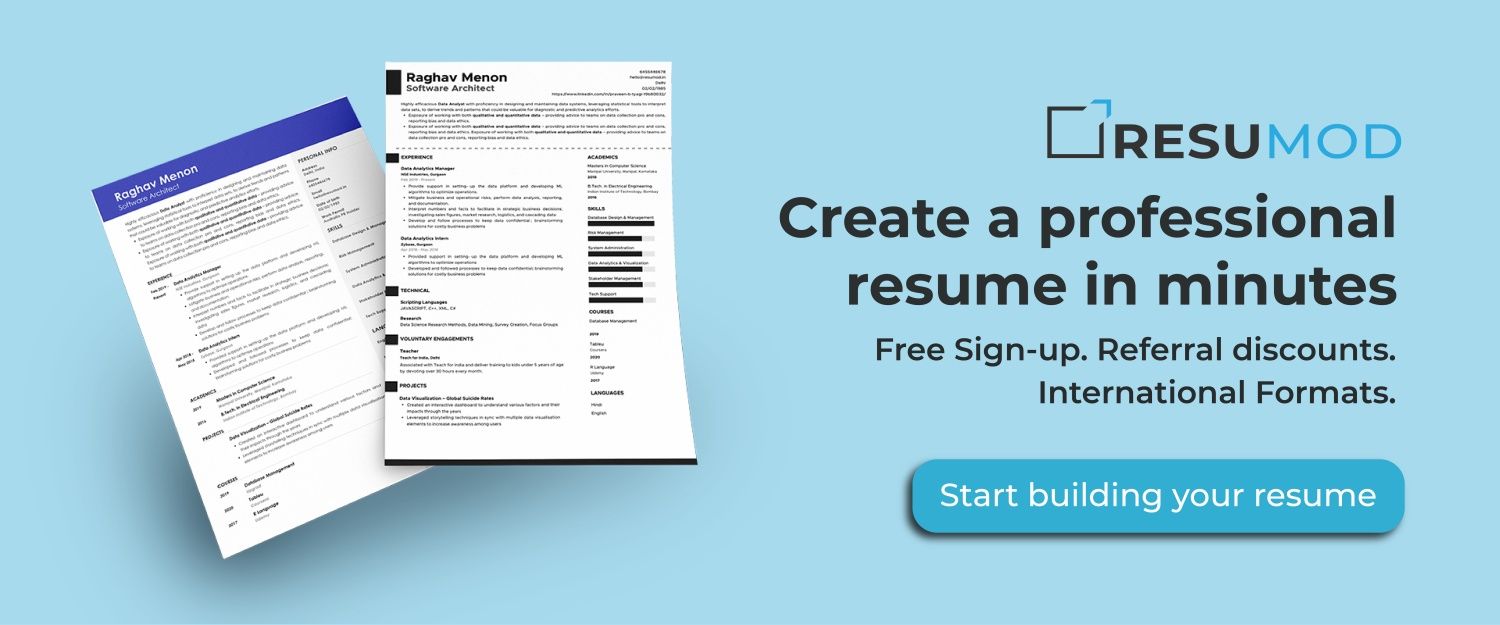 Where To Use Bullet Points In Your Resume?
You can use bullet points throughout your resume. Here's how we have used it in some sections.
Summary
There are multiple ways to write your summary including:
3-4 short bullet points
A combination of bullet points and paragraph
A short paragraph
There is no rule to using any of these. You can choose any one format depending upon your skills and experience.
If you have more than one skill to convey through your summary, you use bullet points. Talk about your qualifications, accomplishments, and skills that align with the job listing.

Below is an example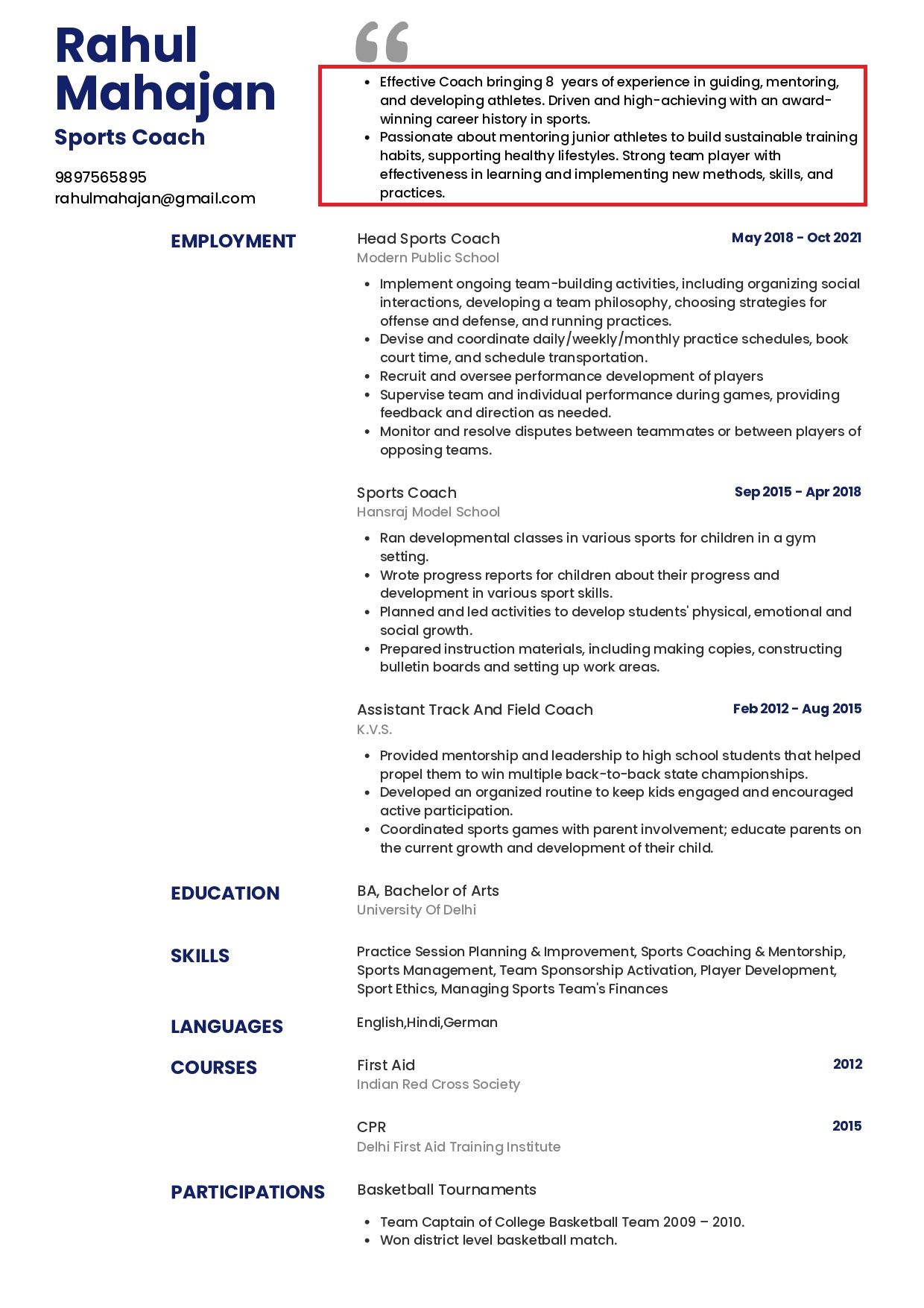 Check full resume of Sports Coach in text format here
Experience
This is the most common place where you use bullet points in your resume. Use bullet points to explain your work across your present and previous jobs.
To make your job descriptions effective using bullet points:
Go through the job posting that interests you to understand the employer's expectations
Use those points and your present responsibilities to write an impactful job description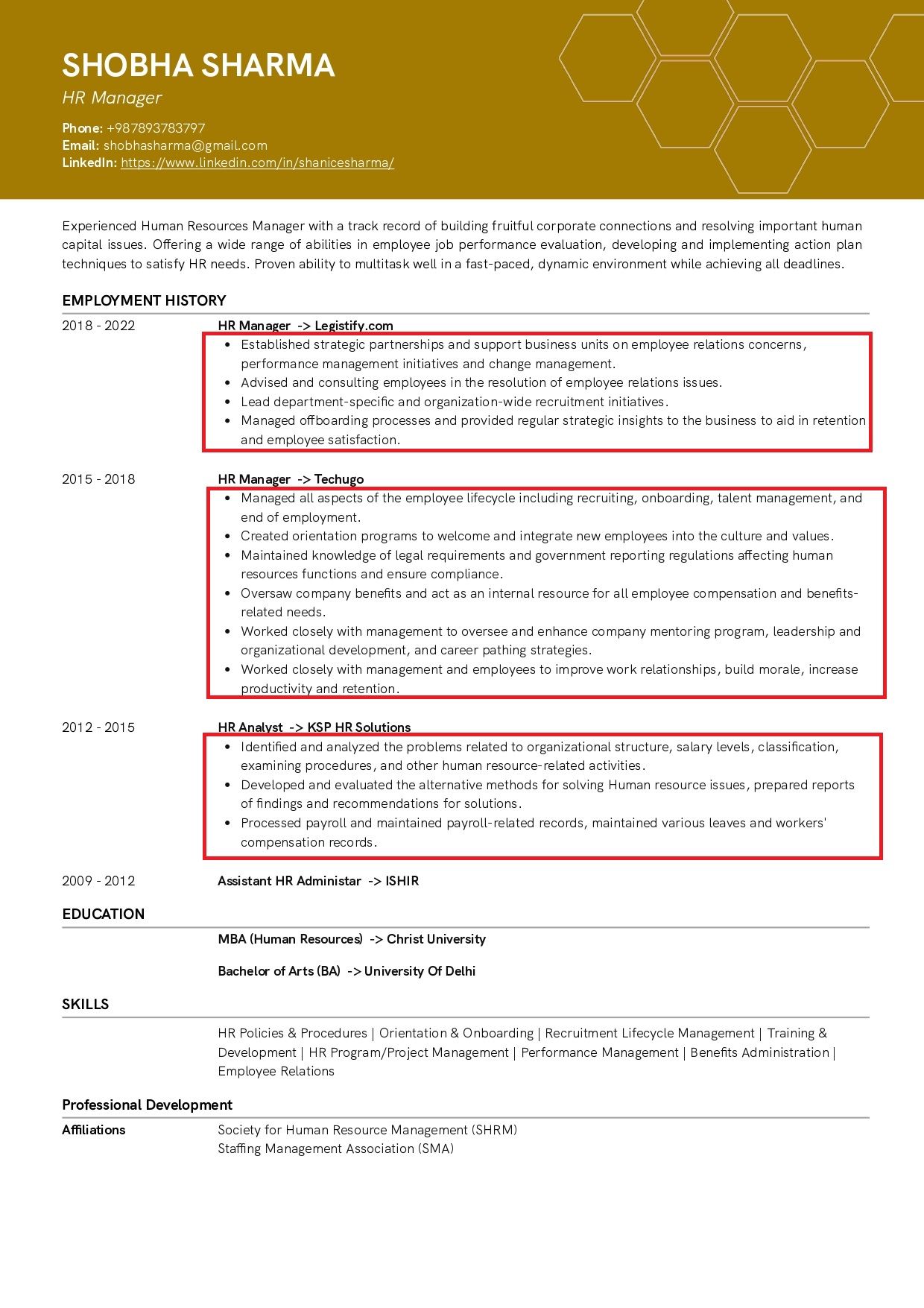 Check the full resume of HR Manager in text format here
Courses and Certifications
You might not need to give details about your courses and certifications. Simply use a bulleted list to present them for a bird's eye view.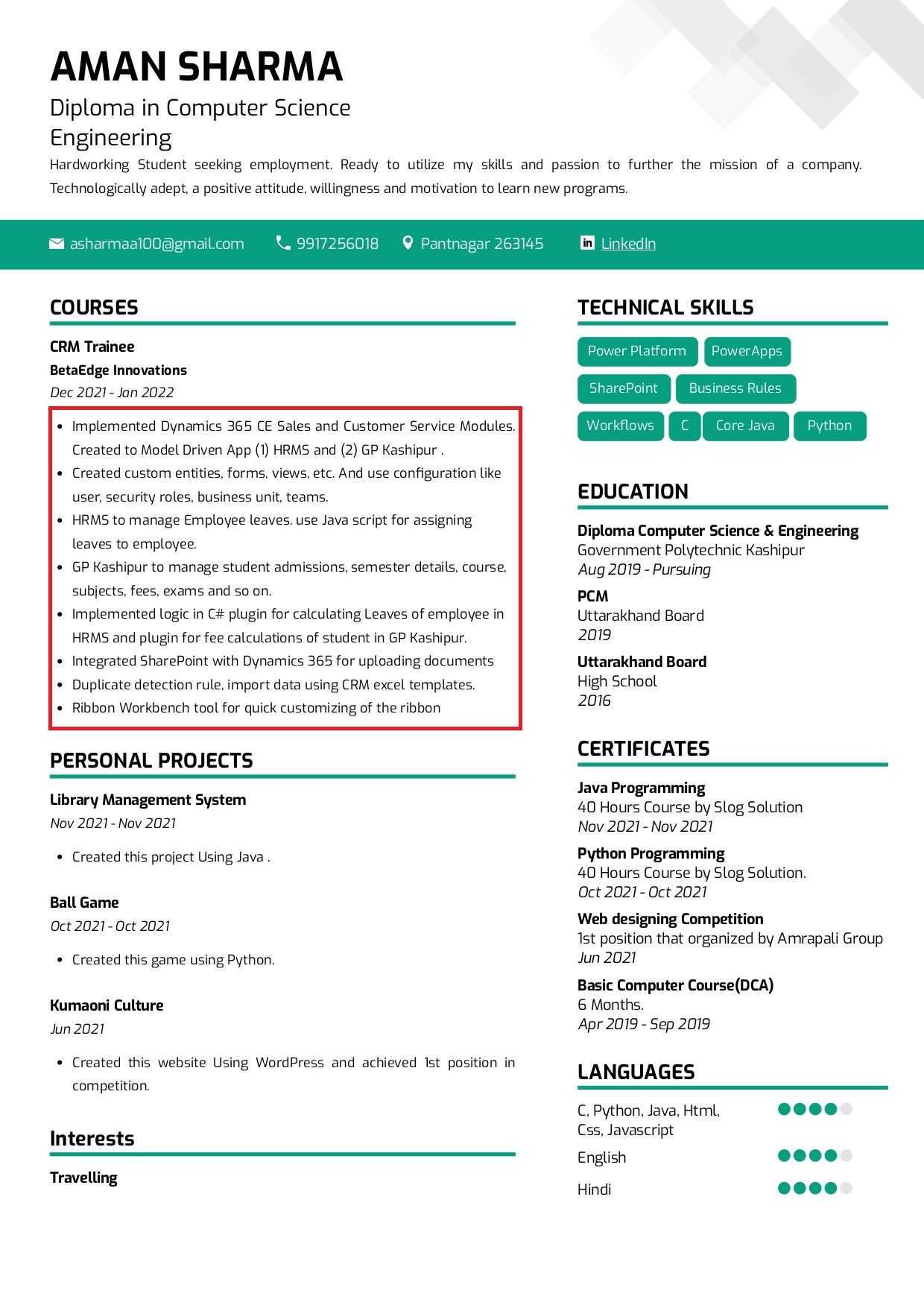 Check full resume of Computer Science Engineer in text format here
Education
Most resumes do not have bullet points in the education section, because most resumes don't need it.
Then who needs it?
Beginner workforce.
The education section is an alternative to employment for the beginner workforce. All new job seekers can use this section to:
Describe your accomplishments related to academics
List the details of your coursework
Highlight your co-curricular participation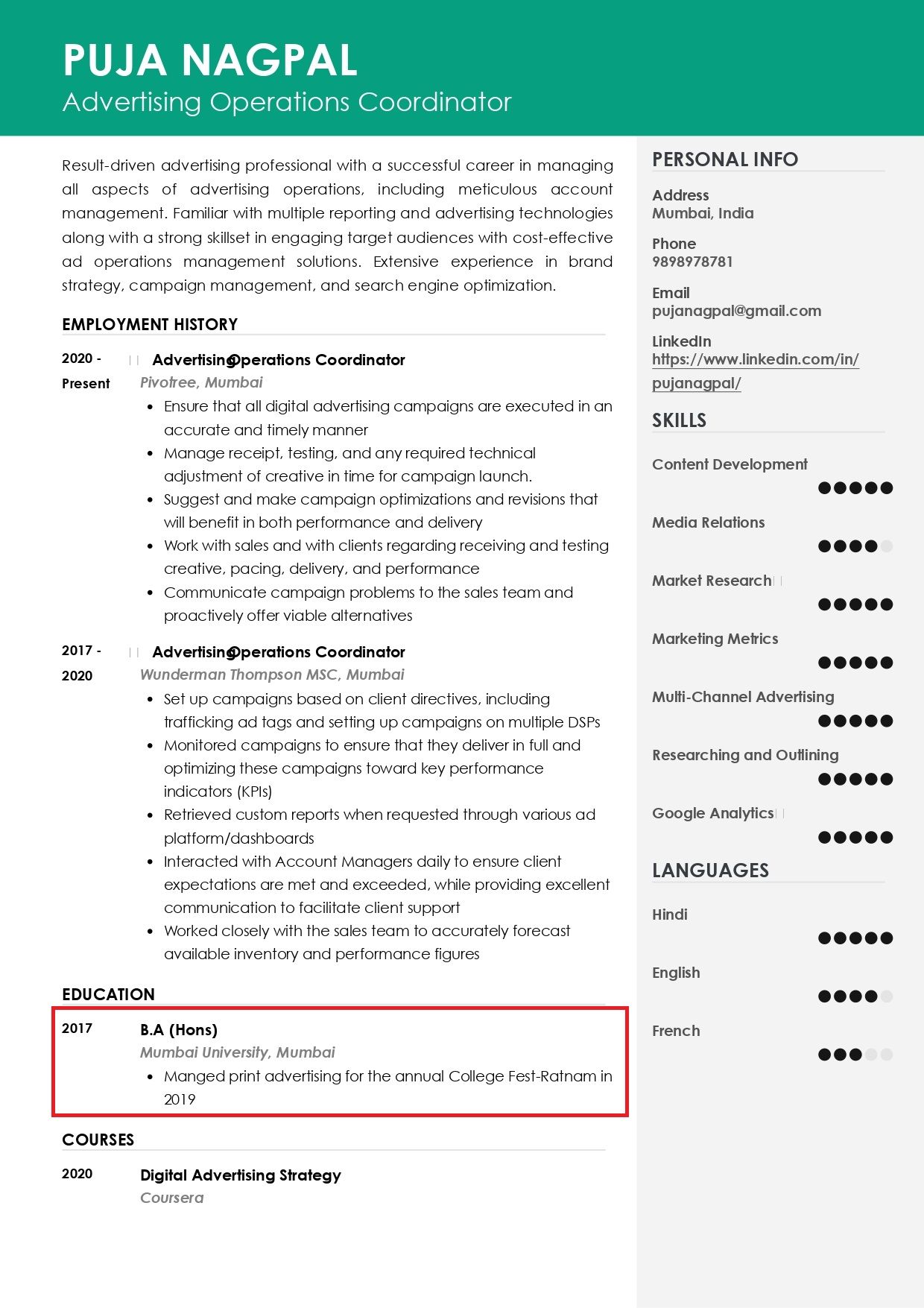 Check full resume of Advertising Operations Coordinator here
Volunteering
It is one of the shorter sections of your resume. Most job-seekers leave it incomplete, which is a wrong practice. Your volunteering section should describe the impact you were able to create for the community.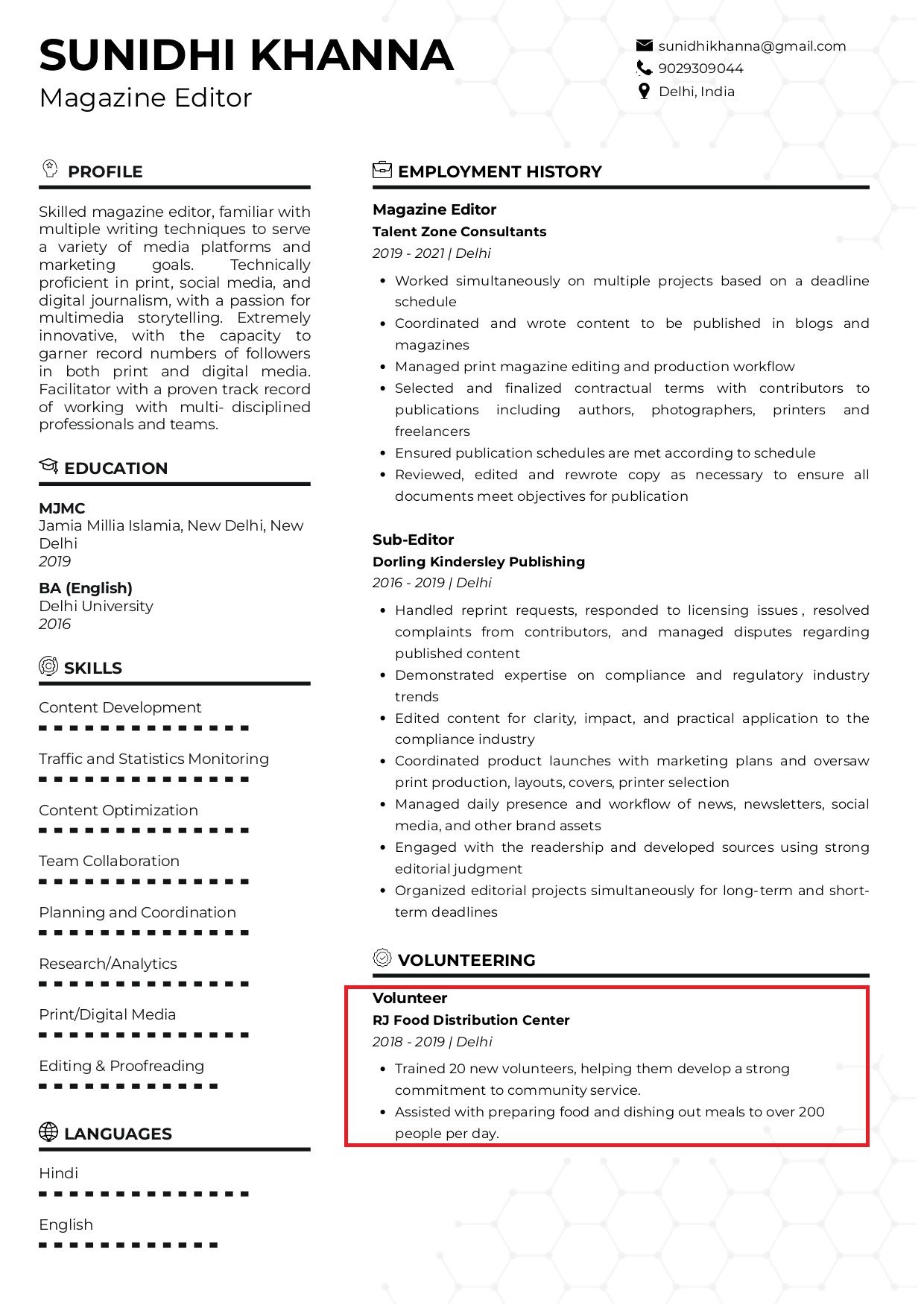 Check full resume of Magazine Editor in text format here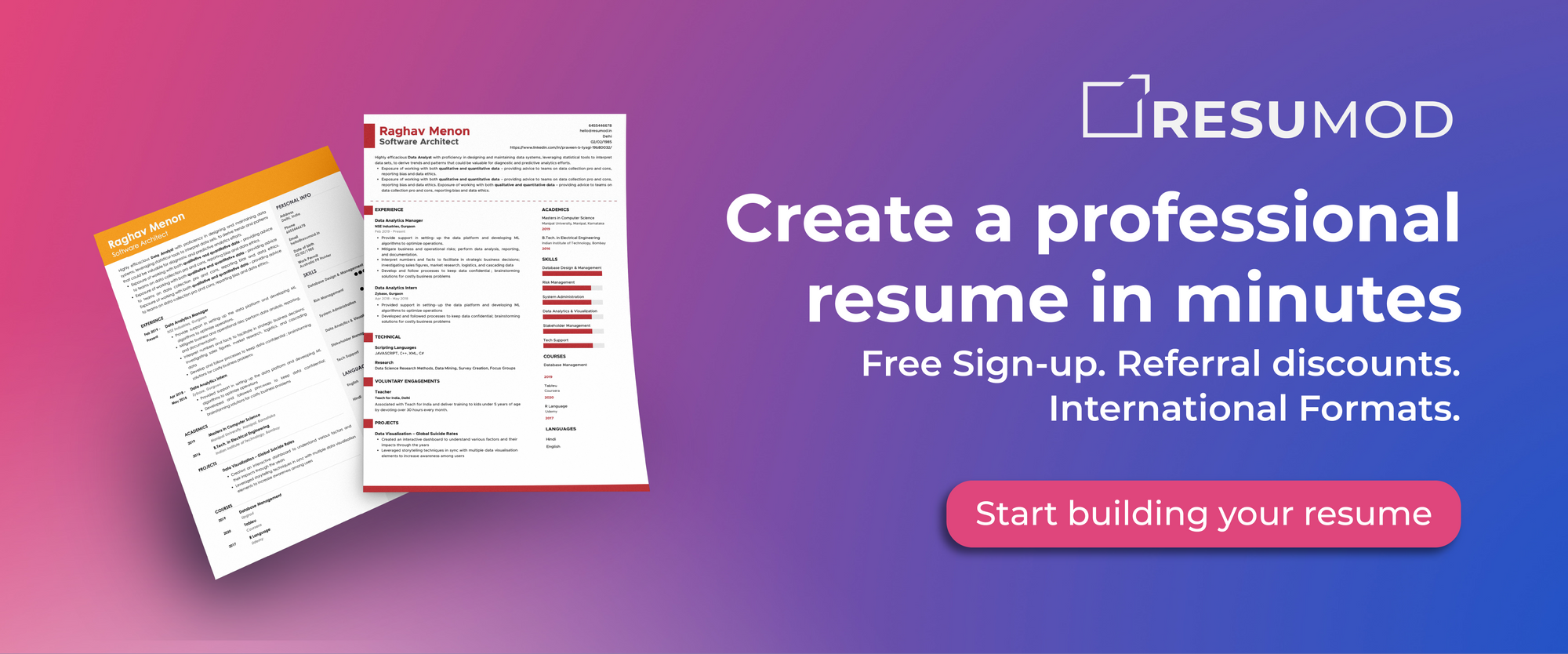 Tips to Write Your Resume Using Bullet Points
You use bullet points across your resume to make it compact and effective. Here are a few tips to write bullet points that differentiate you from the rest:
Show your skills
Don't let the bullet points in your resume be some piece of information. Let each bullet point speak about your skills, and make the recruiter think -"Let me interview him, he seems to be a perfect candidate"
Example: Analyze new business and renewal policies to determine eligibility and risks based on compliance with underwriting guidelines.
This bullet point for an insurance underwriter shows:
His ability to assess risks
His skills in analysing new business and renewal policies
His knowledge of compliance related to underwriting
List the not-so-obvious items to show your skills through the resume
Show Accomplishments and Impact
Bullet points are a great way to show the results you've generated. Instead of using long paragraphs, focus on short sentences talk about accomplishment and impact. This means showing the result of work done.
Example: Restructured operational jobs and assignments that improved cost control and accuracy, increasing sales of  $5k or more daily.
This bullet point from an operations manager's resume can be broken into three parts:
Work done
Result of work done
Areas impacted
His work towards restructuring jobs helped with increasing costs and accuracy. And as a consequence, daily sales increased by $5K
Start With An Action Verb
Sentences that start with action words create a larger impact than those without them.
Let's start with an example:
With Action Verb: Responsible for making sales calls, negotiating with clients, and singing contracts
With Action Verb: Conducted sales calls, negotiated with clients and signed contracts.
Which one do you think will make a higher impact?
The one which starts with an action verb, because:
It removes the fluff i.e. "responsible for making"
It shows you in action with the word "conducted"
Keep Bullets Short and Simple
Your work does not end with using bullet points. Bullets points should serve their purpose - be clear and improve readability.
Make sure your bullet points are:
Not redundant
Not as long as a paragraph
Convey a maximum of one or two ideas
Examples (From a Brand Manager's Resume)
Identify and turn consumer insights into a beneficial impact on the growth of the business
Assist in agency management & project coordination (media, creative, shopper, influencer & PR)
Manage cross-functional efforts to sustain the operational rhythm of the core portfolio
One Bullet Point Says One Thing
Your bullet point loses its meaning of focusing on a single thing as soon as it talks about many things. A paragraph focuses on many things, not a bullet point.
Example (from a Music Teacher's Resume)
Teach instrumental techniques, scales, sight-reading and music theory.
Help prepare students for auditions and live performances. Organise and facilitate musical performances for the school community.
The three different points here talk about three things:
Teaching students
Preparing students for events
Organising events at school
Do Not Overuse Bullet Points
We know you are inspired to put all your data into your resume to impress the recruiter, but it is not the right approach. Too many bullet points create overwhelm and demotivate the recruiter from reading your resume.
Keep up to 8 bullet points for each job description if you cannot contain your information in less than that. You can also club your bullets under sub-heading for a neat format.
List in Order of Importance
Include the most important information in your first bullet point. Continue to list things in order of importance and relevance so they stand out the most to employers.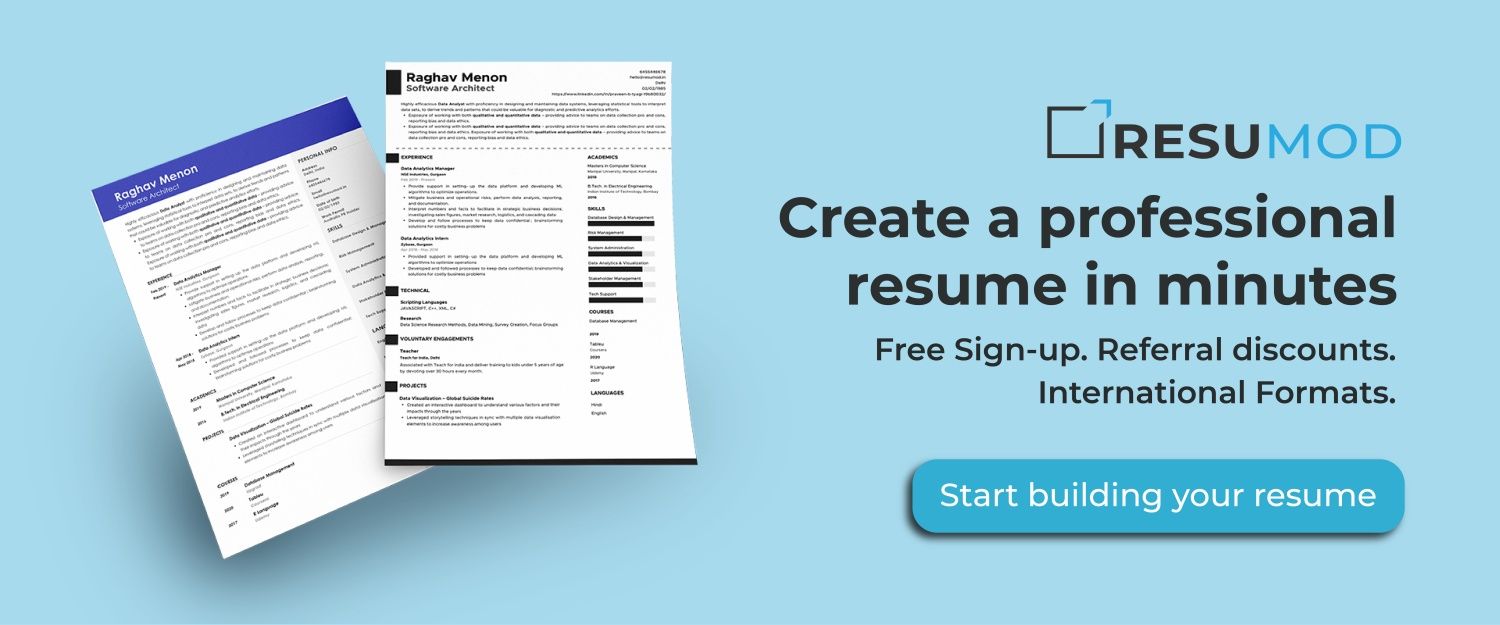 Resume Examples With Bullet Points On Resumod
Bullet Points for Engineering Resume
Resume of Network Engineer
Execute network hardware and software purchase, use, maintenance, security, and backup policies and procedures.
Established and maintained network users, user environment, directories, and security.
Respond to network users' requests and questions about their access to network resources and the operation of various software packages.
Optimise network speed and reliability by maintaining hardware and software, troubleshooting technical difficulties, and ensuring system users' availability
Check full resume of Network Engineer in text format here
Resume of Software Engineer
Code high-volume and scalable software.
Create web applications using React/Node and other technologies.
Create back-end services using Java, SQL, and ReST.
Build and develop new user-facing experiences
Partner with cross-functional teams in design, product, and other business units
Develop code fixes and enhancements for inclusion in future code releases and patches.
Perform code review, and ensure consistency to code standards.
Check full resume of Software Engineer in text format here
Resume of Construction Engineer
Identify project budget and schedule, conduct site visits, and monitor the project throughout its lifecycle
Obtain necessary permits, approvals, and other regulatory prerequisites.
Document and report the project timeline.
Ensure proper workplace safety and adherence to quality protocols.
Supervise 15 employees including contractors and subcontractors.
Attend meetings and discuss projects with clients,  contractors, stakeholders, and asset owners.
Inspect inventories and prepare orders for civil projects. Trained two new employees for supervisor posts to take over similar projects.
Check full resume of Construction Engineer in text format here
Resume of Service Engineer
Analyse issues and deliver solutions to meet customer/partner needs.
Resolve technical service issues according to standard processes and procedures.
Escalate critical cases to senior staff members for a quick resolution.
Log all service data required for tracking
Ensure all customers receive prompt and courteous support
Work with customers to manage technical support problems, questions, and other technical issues.
Check full resume of Service Engineer in text format here
Resume of Aerospace Engineer
Research and analyse information to develop designs and solve problems.
Test aircraft, rockets, and spacecraft to correct potential problems. Ensure compliance with quality, safety, and functionality requirements.
Design and assemble control panels, propulsion systems, guiding systems, and computer systems.
Review, develop, and improve production methods, facilities, and safety regulations.
Coordinate activities with production, research, testing, and others to optimise safety and efficiency
Develop safety and quality standards, budgets, and timelines and ensure projects comply with these.
Write design proposals, reports, manuals, and other technical documents.
Provide oversight to contractors selected to manufacture aircraft parts, paint and maintain aircraft.
Check full resume of Aerospace Engineer in text format here
Bullet points for Marketing Resumes
Resume of Email Marketer
Manage marketing automation and email scheduling. Ensure an engaging client experience.
Create, deploy and manage day-to-day email campaigns using a marketing automation platform.
Deploy and manage Automation tools, CRM data, and data reporting tools. Make simple updates to the website.
Partner with sales, marketing, and channels to help develop & implement email campaign plans.
Check full resume of Email Marketer in text format here
Resume of Chief Marketing Officer (CMO)
Prioritise customer experience to build an authentic brand and create marketing tailored to the customer.
Define and monitor commercial KPIs
Develop marketing communications campaigns to target specific customer segments and improve lead generation.
Own corporate communications, public relations, and analyst relationships
Build Account-Based Marketing and demand generation programs including tailored outbound plans and email marketing.
Drive and execute an innovative digital and social media marketing strategy
Check full resume of Chief Marketing Officer in text format here
Resume of Performance Marketer
Work with the Analytics and Consumer Data teams on ad audience segmentation, strategy, and testing. Develop in-house solutions to future-proof our ads business.
Activate upon first-party audience data support divisions through ad audience creation and distribution. Adhere to consumer data privacy regulations and in-house data security measures.
Compile performance reports to drive efficiency and marketing effectiveness for divisional marketing campaigns.
Establish divisional campaign benchmarks/KPIs and ensure they are met.
Formulate best practices, case studies, and advertising recommendations to divisional advertisers and marketers.
Contribute to the development of in-house marketing tools to improve marketing effectiveness.
Check full resume of Performance Marketer in text format here
Resume of Social Media Manager
Create and execute social media strategy, track success metrics, write social copy, and develop social content calendars.
Optimise campaigns for the growth of social platforms to achieve social community KPIs.
Collaborate with content & influencer team members to achieve key brand objectives.
Develop social media campaigns and content franchises for audience growth, fan engagement, and brand awareness.
Create community building and UGC strategies that drive brand awareness.
Check full resume of Social Media Manager in text format here
Resume of Marketing & Communications Manager
Collaborate with company executives to craft corporate messaging, branding strategies, benefits-based marketing materials, and sales-driving collateral.
Create SEO- enhanced website content, and monitor associated web analytics to ensure effectiveness.
Develop public relations and manage two public relations agencies to increase market visibility.
Conduct quantitative market research surveys to measure customer opinions and gauge market trends.
Check full resume of Marketing & Communications Manager in text format here
Bullet points for Sales Resumes
Resume of Channel Sales Manager
Develop, maintain, and strengthen business relationships with assigned partners.
Identify and target new in-region partners; recruit, train, and onboard new partners.
Communicate solutions and services, and work with Sales Executives, Marketing, and  Product Training teams to ensure partners are aware of the company's capabilities.
Articulate key drivers and value points for partner decision-makers to drive partner adoption.
Attend sales calls with partners, as requested, to explain the company's value proposition.
Execute on partner objectives set by partner and regional management including quota retirement.
Assist in the development of sales kits and marketing programs.
Check full resume of Channel Sales Manager in text format here
Resume of Regional Sales Director
Lead the sales department while focusing on the company's strategic goals.
Analyse sales statistics to determine business growth potential.
Establish performance goals for all sales department employees, and monitor performance.
Participate with the Senior Staff in the development of the Strategic Marketing Plan.
Develop a geographic territory, cultivate new relationships, and educate prospects.
Conduct webinars, presentations, and calls to develop a strong relationship with the prospects.
Lead territory development initiatives including updating the business plan and building sales strategy.
Check full resume of Regional Sales Director in text format here
Resume of Store Manager
Process an average of 300-500 transactions each day on time.
Answer customers' questions and address problems and complaints in person and via phone.
Open and close the store including counting cash drawers and making bank deposits.
Help customers select products that best fit their personal needs.
Maintain appealing and effective displays for the entire store.
Offer exceptional customer service to differentiate and promote the company brand.
Collaborate with the customer service team to give an exceptional shopping experience.
Check full resume of Store Manager in text format here
Resume of Retail Manager
Collaborate, strategise, and implement the rollout of new market-wide sales initiatives.
Develop, train, and mentor two sales managers responsible for sales teams of 5 associates.
Plan and implement monthly field marketing events to promote local retail stores.
Assist in the implementation plan of a market-wide point-of-sale billing system.
Support out-of-market locations in the companywide rollout of the new point of sale system.
Check full resume of Retail Manager in text format here
Bullet points for Legal Resumes
Resume of Employment Lawyer
Act as a key business partner. Work with HR, supply chain, marketing, IT, and e-commerce departments.
Provide day-to-day counselling and support to the HR team on the full labour, employment and compliance life  cycle
Collaborate with leaders on global policy management, employment-related policies, and practices.
Manage the Company's global ethics and compliance program.
Guide Supply Chain, Trade Compliance and ESG teams on supply chain compliance matters
Support the Company's global immigration and mobility programs
Review and negotiate commercial contracts, marketing agreements, consulting agreements, and independent  contractor agreements
Check full resume of Employment Lawyer in text format here
Resume of Human Rights Lawyer
Represent the corporation in matters involving human rights breaches (political detainees, child abuse, unfair labour practices against women employees, and government service access).
Advise clients in handling agreements and settlements by  educating them about their privileges
Publish and reproduce newsletters, brochures and pamphlets advocating human rights and exposing human rights violations
Collect evidence through investigations and review details for legal matters and provisions
Ensure both parties' agreements, payments, and settlements are carried out properly.
Handle community relations activities with community groups. Participated in meetings as a resource person making speeches to large assemblies.
Check full resume of Human Rights Lawyer in text format here
Resume of Child Law Specialist
Start investigations and safety interventions in response to allegations of abuse and neglect of at-risk children.
Maintain and document case records.
Perform administrative functions. Partner with multidisciplinary teams.
Investigate allegations of child abuse and neglect.
Train new employees to testify in court on cases.
Provide training presentations and education on Child Protective Services policies and programs.
Check full resume of Child Law Specialist in text format here
Resume of Chief Legal Officer
Develop and lead a global legal strategy to promote and protect the company's matters
Anticipate and define measures to address changes in regulatory requirements and public policy
Advise the CEO and other senior corporate officers on a variety of issues.
Guard corporate integrity and embody trust as a member of the Executive team
Lead a legal and compliance team. Review the current structure and make recommendations  for future organisation
Check full resume of Chief Legal Officer in text format here
Resume of Legal Writer
Collaborate with the editorial team and social media manager to deliver engaging blog posts and newsletters.
Research and create informational content to help the users find answers to their most pressing legal questions.
Optimise content using best practices in tagging, keyword usage, headline creation, and SEO.
Assist editors and senior writers in content production and editing tasks including topic sourcing, copyediting and content maintenance.
Compare documents word for word against originals to ensure an accurate conversion
Conduct separate checks for format, text accuracy and statistical data
Ensure accuracy, clarity and completeness of the content.
Check full resume of Legal Writer in text format here
Bullet points for Teaching Resumes
Resume of Maths Teacher
Establish and integrate clear objectives for all lessons, units and projects. Create and implement innovative lesson plans as per state and school curriculum standards.
Encourage students to persevere with challenging tasks while. Also, teach students to utilise problem-solving methods during tests to increase achievement.
Adapt teaching methods and materials to meet students' varying needs and enhance learning.
Attend staff meetings while also serving on the Math Curriculum Writing Committee.
Communicate with peers, colleagues, administrators, and parents to meet and exceed teaching goals.
Create and sustain an interactive classroom atmosphere to maintain student interest.
Identify areas of weakness with individual students, and tailor lessons to further increase student learning.
Check full resume of Math Teacher in text format here
Resume of Preschool Teacher
Follow all licensing guidelines and standards to ensure the daily care of every child.
Observe, assess, and plan for children, and communicate with families.
Complete extensive training that provided insight on child care and development topics.
Implement a proprietary curriculum while creating fun, interactive learning experiences.
Foster a warm, nurturing and fun atmosphere conducive to learning.
Recognized for instructional best practices in annual reviews.
Check full resume of the Preschool Teacher in text format here
Resume of Online English Teacher
Develop all online materials for and collected a list of resource links for students.
Assess students learning through discussions, projects, and formal assessments.
Grade lessons, tests, and other assignments, and relayed information to parents when necessary.
Provide consistent feedback to students related to each lesson taught.
Combine various English teaching methods and techniques to help students improve their results.
Check full resume of Online English Teacher in text format here
Resume of History Professor
Deliver lectures to undergraduate and graduate students on ancient history, postwar civilizations, and the history of third-world countries.
Assess individual strengths, weaknesses and opportunities of each student, addressing issues as needed.
Maintain knowledge of standardized tests and prepare students to take and pass each. Instil confidence in their capability to demonstrate knowledge gained during the school year.
Facilitate classroom discussions and encourage student participation, incorporating relevant reading and current events.
Check full resume of History Teacher in text format here
Resume of Music Teacher
Teach instrumental techniques, scales, sight-reading and music theory.
Help prepare students for auditions and live performances.
Organise and facilitate musical performances for our school community.
Accompany students at music competitions as they represent the school.
Remain organized to ensure every student has an excellent learning experience. Perform other duties as needed or as assigned.
Use educational strategies and media, as per physical constraints and abilities of student groups.
Check full resume of Music Teacher in text format here
Bullet Points for Supply Chain Resumes
Resume of Operations Manager
Respond to customer phone inquiries and ensure that customer comments, problems, complaints, and requests are resolved or forwarded to an appropriate individual.
Work with the charter operations manager to define and implement detailed sales strategies and plans for each account.
Recommend changes in services and policy by evaluating results and competitive developments.
Monitor competition by gathering current marketplace information on pricing, services, new services, service schedules, marketing techniques, etc.
Develop and implement incentive content and sales programs.
Build a sales funnel for the assigned accounts and manage disruptions to the customer's itinerary.
Check full resume of Operations Manager in text format here
Resume of Materials Manager
Develop operational and supply chain metrics to evaluate efficiency.
Monitor adherence to budget by monitoring productivity, overtime and group spending.
Develop and forecast budgets for the department yearly and forecast monthly (key indicators).
Create schedules for production areas,  material flow throughout the facility, and facility layout.
Ensure efficiency and metrics (safety, service, cost) for all materials operations.
Interact with stakeholders to ensure materials are meeting customer expectations.
Integrate and develop new suppliers for insourcing and outsourcing of materials.
Check full resume of Materials Manager in text format here
Resume of Logistics Manager
Build trust as a transportation SME at all levels of the customer organization.
Run daily stand-ups, weekly operations, monthly project reports, carrier reviews and quarterly business reviews.
Measure performance against customer's KPIs including performance vs budget, on-time performance, tender acceptance, etc.
Recommend and execute strategies to improve KPIs.
Provide reporting such as rate impact analysis, root cause analysis, and performance reporting.
Communicate with carriers on performance and future partnership opportunities.
Formalize continuous improvement through the creation and rollout of SOPs.
Check full resume of Logistics Manager in text format here
Resume of Import Specialist
Obtain and process Customs and other government agency releases as appropriate.
Receive, review, and process inbound documentation for import shipments.
Manage pre- alerts and follow up with carriers daily to track freight arrival.
Provide excellent and timely customer service by informing clients about the status of shipments.
Maintain records of communications, billing activities, and account management.
Create invoices and check requests for any due fees.
Check full resume of Import Specialist in text format here
Resume of Shipping and Receiving Supervisor
Oversee the inspection of the product before packing to ensure its correctness.
Supervise the packing and wrapping operations to verify conformance to specifications.
Ensure product is shipped on time to meet customer on-site delivery dates.
Ensure all shipments are pulled, labelled and staged, counted and reconciled pulled product to pick ticket.
Advise puller of any count/product discrepancies, and have them corrected immediately.
Monitor easy check-in of shipments on the receiving end and provide skid packaging training.
Maintain warehouse area, its contents, work area and equipment
Identify problem areas such as understaffing, and absenteeism, and implemented corrective actions.
Check full resume of Shipping and Receiving Supervisor in text format here
Bullet Points for Finance Resumes
Resume of Finance Manager
Manage monthly reporting, budgeting, strategic planning financials, forecast, and cash flow. Make recommendations to improve company bottom-line financial performance.
Provide vision and direction on occupancy goals and incentives. Increased revenue by $3M and resulted in stabilization of community.
Manage audits, cash and credit management, negotiation of lease agreements, and annual financial reporting.
Lead the Customer Service Committee to improve communication and collaboration among Staff and Residents.
Check full resume of Finance Manager in text format here
Resume of Financial Analyst
Provide reporting and analysis t drive business results, better business decisions, and effective planning.
Support the senior management in developing and maintaining financial analysis and reports.
Update management report with value-added comparative information and drove p&l analysis.
Coordinate the automation of the pricing tool to provide improved visibility to drive growth.
Check full resume of Financial Analyst in text format here
Resume of Credit Analyst
Manage $7M Parts and Service Portfolio of approximately 1800 customers.
Perform credit investigations and risk assessments to determine appropriate credit limits
Manage monthly AR close and run customer statements including preparing AR reports.
Check full resume of Financial Analyst in text format here
Resume of Chief Financial Officer (CFO)
Forecast long-term operational budgets and work with board members, committees, and management on processes and projects.
Produce financial information to members (board, committees, etc.), COO, and financial institutions.
Manage a corporate staff of 6, and assist human resources with benefits, compensation, and other decisions.
Advice on business growth and financial strategies including M&A, IPO, fundraising, and operational efficiency.
Act as a business partner to the CEO and board, providing financial insight, and advice on long-term business & financial strategy. Drive processes and operations of financial reporting, forecasting, analysis, planning, and budgeting.
Design the employee stock option program, and oversee the global finance team.
Check full resume of Chief Financial Officer (CFO) in text format here
Resume of Financial Markets Broker
Establish and service new customer accounts, Assist clients with order placing, margin balances, and options strategies.
Place complex orders; handle and resolve trade execution disputes.
Provided training on new initiatives, products, and processes
Cultivate relationships with existing clients to increase account base, improve profitability, and build retention.
Ease trading of stocks, bonds, mutual funds, and options.
Educate clients on trading strategies and active trading platforms
Check full resume of Financial Markets Broker in text format here
Unlimited Bullet Points for your Resume on Resumod
Writing content for your resume is the most tedious task. You can't completely copy the data and struggle to find something original in your busy schedule.
We have it sorted for you with Resumod's content suggestions features. We have unlimited bullet points for each profile.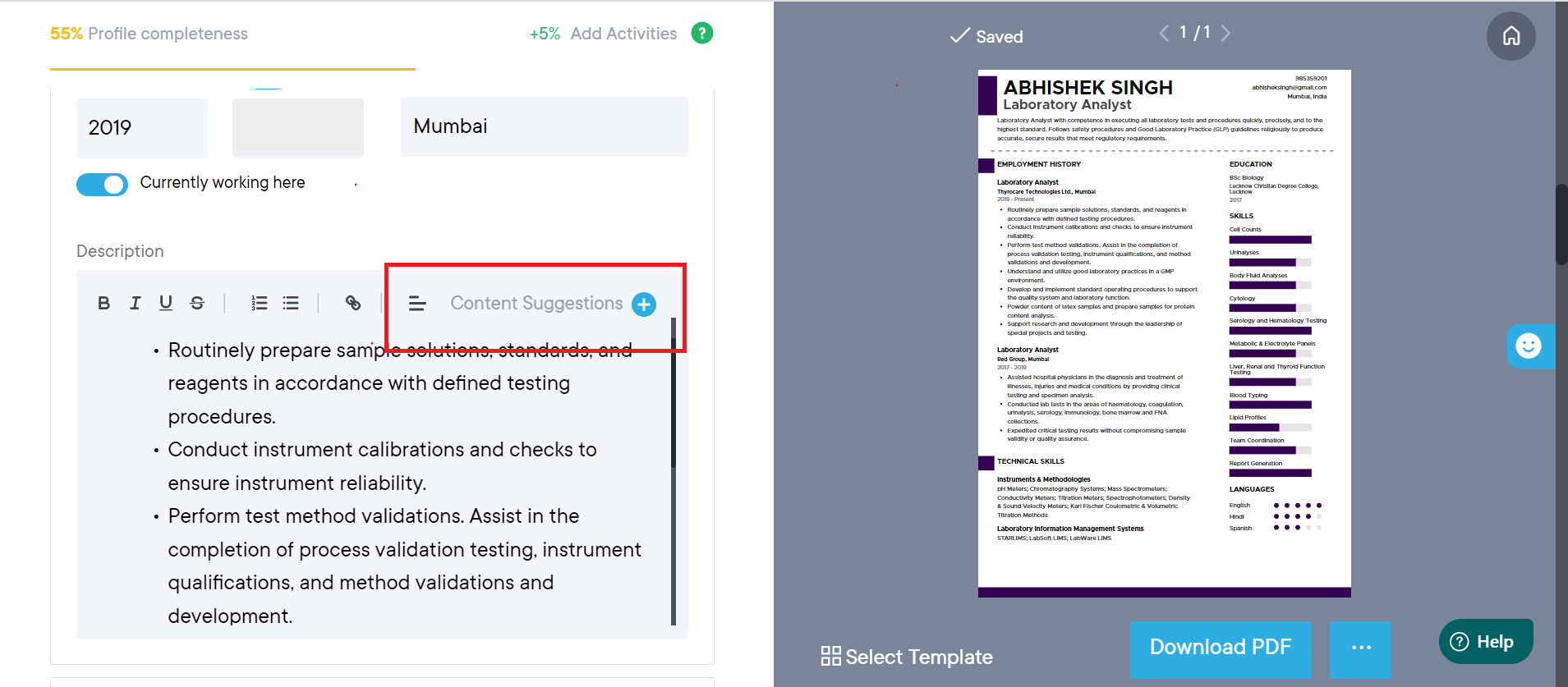 Just click on the plus(+) sign, enter your profile, and you will have access to unlimited content for your resume.