How to Write a Web Development Resume [5 Examples]
Having a resume that compliments your skills and pictures a job-relevant tendency is one of the best ways to grab an excellent web-development job.
Getting a technical job like Web Development is not hard but securing a good position at an esteemed company is extremely challenging. The basic reason behind this challenge is the ever-increasing number of Web developers due to the massive growth of the IT sector and the Internet of Things (IoT).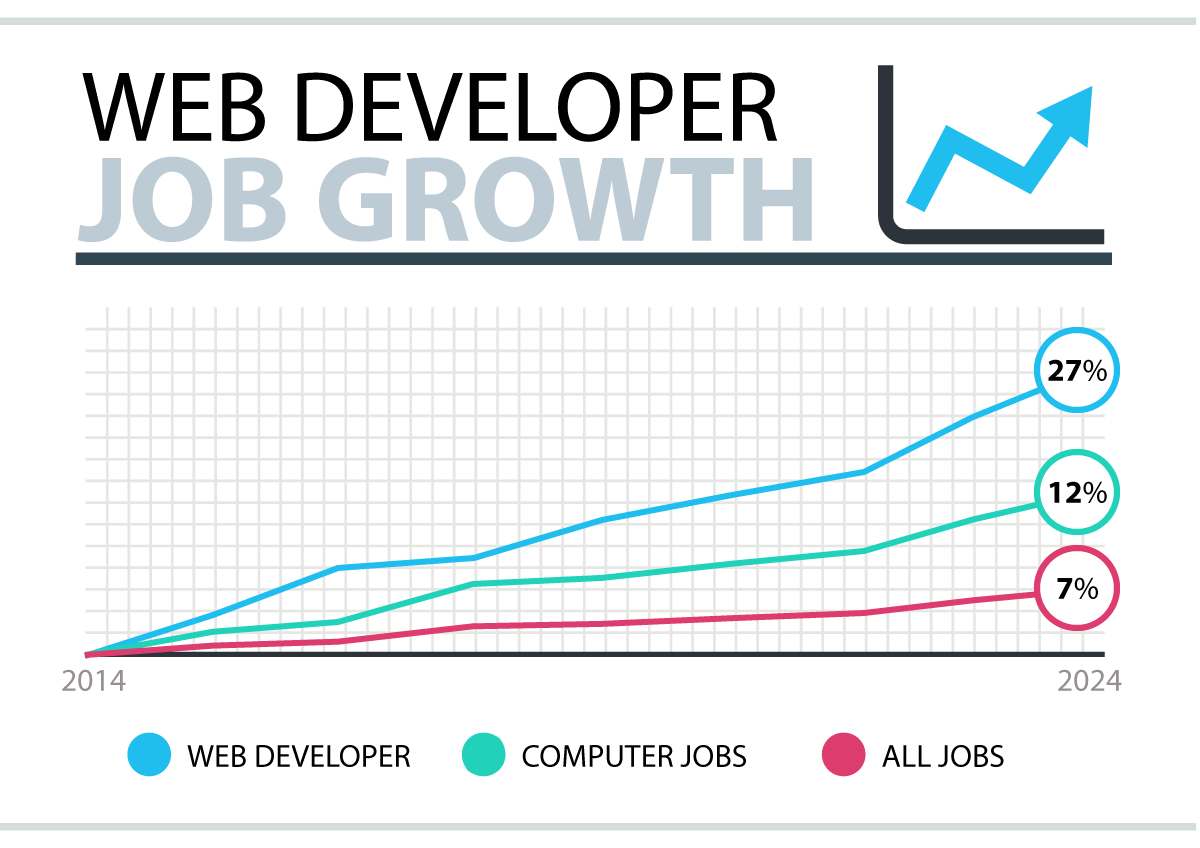 Source: https://www.creative-tim.com/blog/web-development/become-a-web-developer/
Under such circumstances, having a resume that compliments your skills and pictures a job-relevant tendency is one of the best ways to grab an excellent web-development job.
Let's get into various aspects helpful for writing a technical resume for a win. In this blog:
Technical Profile V.S. Non-Technical Profile
The technical profile requires individuals who are experts in a particular field and deals with specialized instruments or software to do the job. In simple words, they are the people who are certified or have acquired technical skills and knowledge over the years. For example, Mechanical engineers, Software developers, Product chain managers, etc.
Whereas non-technical profiles require logical understanding, analytical skills, and other soft skills for landing a job. They are general and thus don't require any special certification or degree to perform the job tasks. For example, jobs in fields like marketing, management, business sales, etc.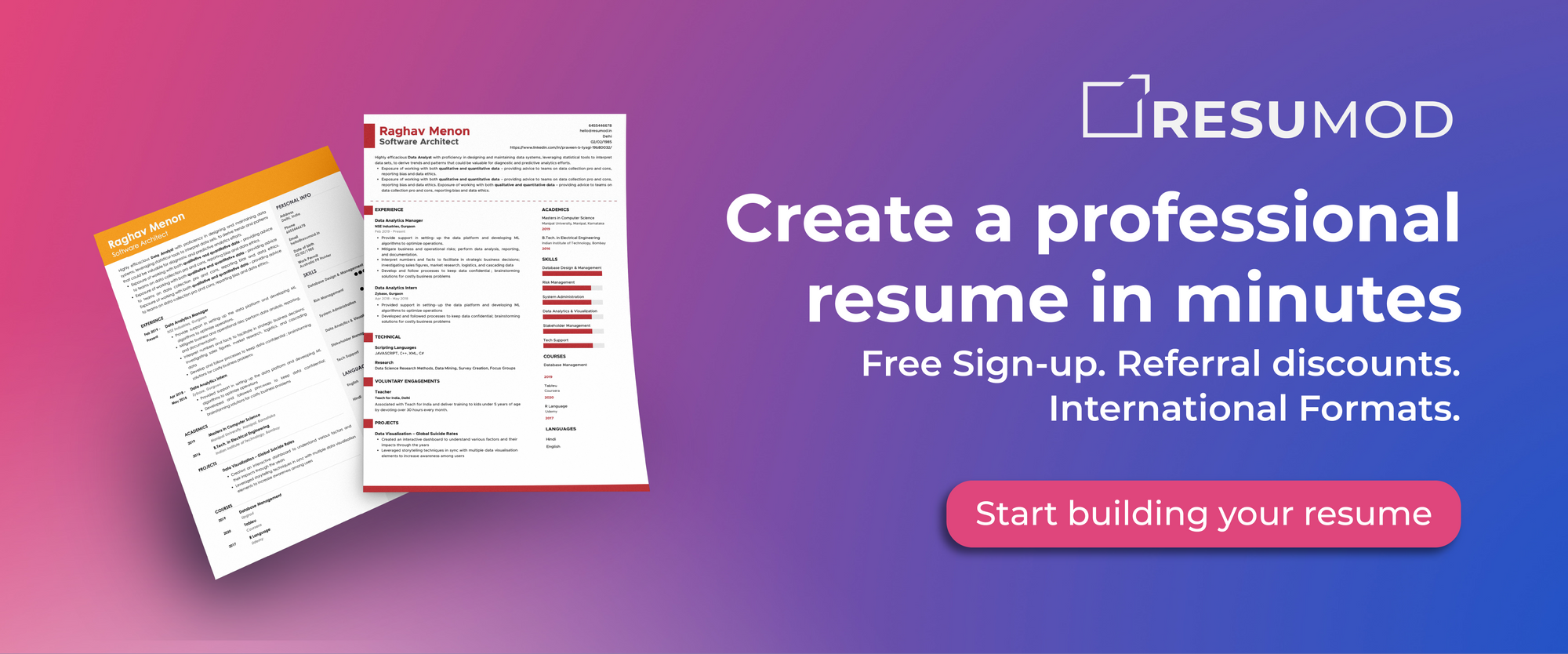 Various Sections of a Web Development Resume
For your resume to be shortlisted, it must align with the job description and needs of the recruiter.
Hence, an excellent technical resume should include all of the following sections:
Contact info
Resume Summary
Technical section
Professional experience
Projects section
Education
Extra-curricular activities
To prepare the best resume in one go, make sure you are including all the below-mentioned details.
Contact Info
Contact information is an mportant aspect of a resume irrespective of your profile. It is the only gateway through which recruiters can contact you.
It consists of your first and last name, contact number, current address, and professional email-id.
Additionally, you can mention the link to your LinkedIn profile (only if you are proactively using it and have maintained a web development-relevant profile).

Resume Summary
A Resume Summary is a short statement describing your professional objectives and experiences. It describes what you can offer to the company if hired.
expert tip
When to write a powerful summary?
Never copy-paste a random resume summary. Try to mention important skills and keywords to stand out.
However, you can use the internet to find "resume summaries for web development" and alter one as per your needs and requirements. Some of the examples are:
●      Experienced web developer with a strong background in developing award-winning applications for a diverse clientele. 5+ years of industry experience including programming, debugging, and wireframes. Received 80%+ experience scores on every web application built.
●      Motivated junior web developer looking for a role as a full-stack web developer at. Passionate about building first-class web applications. Developed an e-commerce website for a local fashion retailer while studying at the University. Relevant skills include DNS Management, Database, Debugging, and more.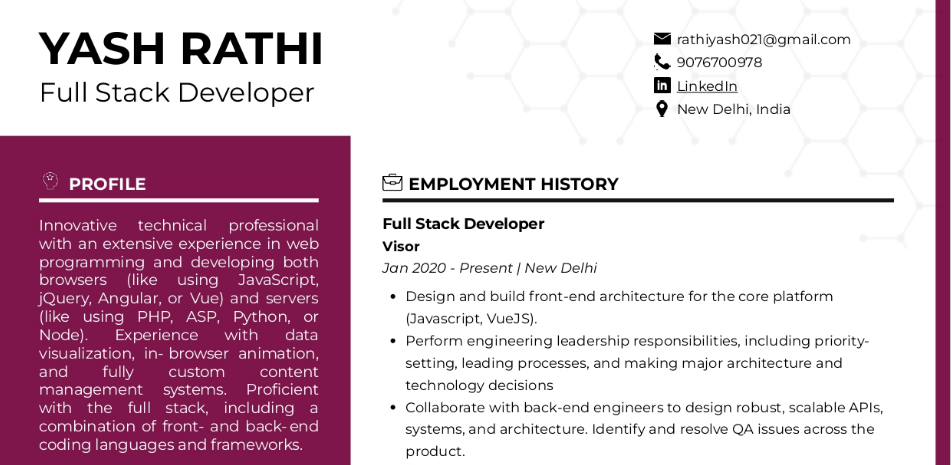 Read more about writing summaries here: https://resumod.co/blog/how-to-write-a-winning-resume-summary-40-examples/
Professional experience
This is where you explain what you've actually done
Always mention professional experience in reverse chronological order along with your name and a brief description of the company, you have worked with on your profile.
expert tip
How many years of experience shall I mention in my resume?
All of your jobs ideally come in your resume. You can explain your work only for the last 10 years.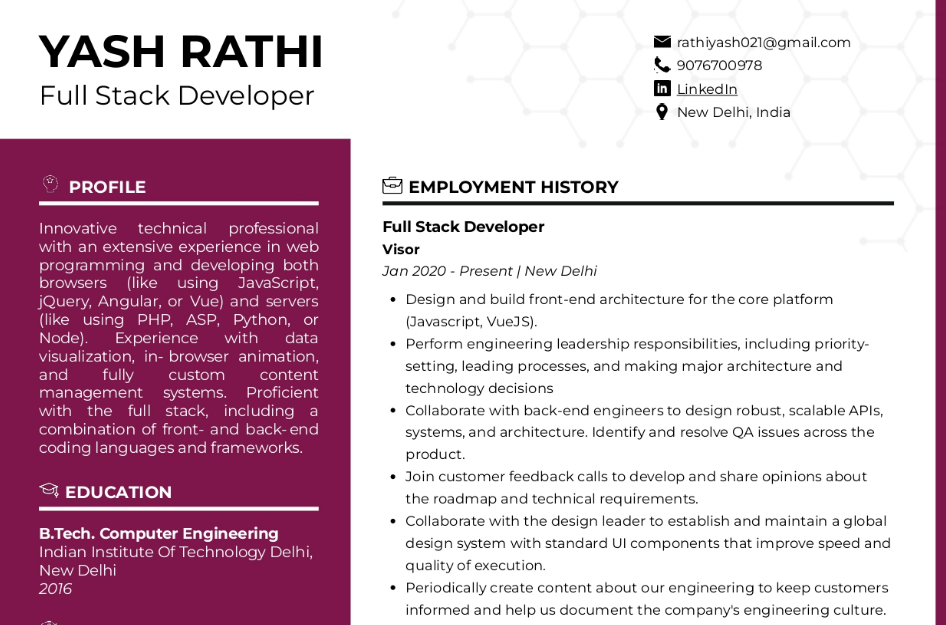 Project section
The project section is the elevator pitch section of your resume. It includes your live and past projects in web development.
So, write the most related projects following others.
The project section shows your initiatives from scratch and your ability to finish the work. If some personal projects are developed, mention them positively as they show your genuine passion for work. For example- websites relating to your college, or contributing some help in your city.
Use reverse chronological order of your project (if needed prioritize the project according to requirement). Also, For each project specify all the tools and technologies deployed thoroughly.
Note: Don't forget to align the project description with the name and profile description of the applied company.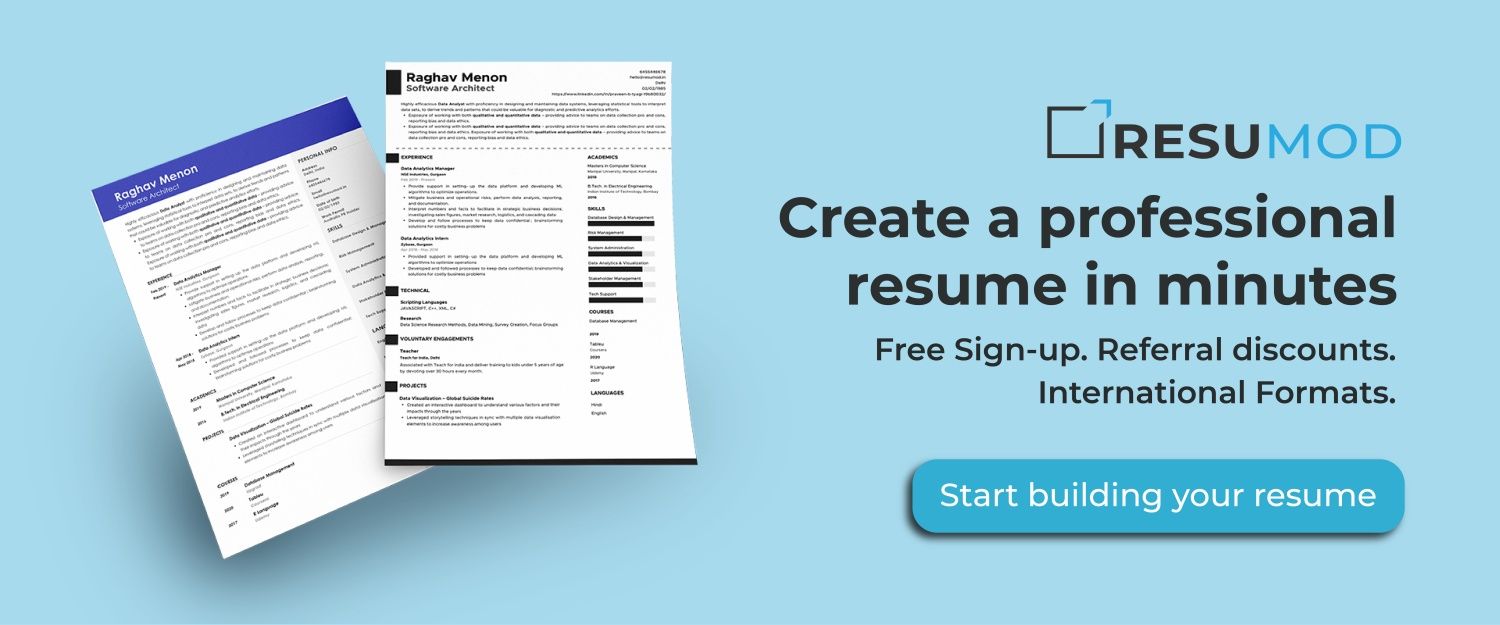 Education
Mention all your qualifications with the year of completion, name of institutions, and grade in reverse chronological order.
Also, you can buckle up your resume with some extracurricular activities including your hobbies, etc. but note this is optional.
Additional Tips to Write Your Web Development Resume
Pay attention to the ATS
...but don't become a slave to it.  
ATS stands for Application Tracking System. It checks for relevant keywords according to the job application. If the resume had those keywords, it passes the ATS test and the application is passed to the recruiter.
According to the US Survey, 75 percent of resumes are never seen by recruiters as ATS scan rejects them.
Learn more about writing ATS friendly resumes here: https://resumod.co/blog/what-is-ats-how-to-write-an-ats-optimised-resume/
Use Word clouds
A word cloud is a tool that reveals hidden logic and patterns. It examines the given text and offers its widely accepted suggestions.
This is where you strike a balance between creativity and professionalism.
Note: Don't become a machine to pass the machine algorithm. ATS is only the first step, after ATS proof, your resume will be in the hand of the recruiter. Writing a robotic resume will reflect an inhuman personality and can hamper your selection.
Keep the format simple
The format is judged at every round because the reader sees the visuals of the resume before actually reading it.  Confusing layouts and other graphics can lead to failure in the ATS test and a bad first impression.
Read how to use resume formats here: https://resumod.co/blog/15-resume-format-ideas-for-your-first-job-interview/
Display your managerial skills
Recruiters want a problem solver, team player, and analytical thinker who can integrate with the team easily. Hence, it is important to show yourself managerial skills along with technical ones.
However, don't make a list of all soft skills you feel like writing but limit it according to requirements.
Use the technique of show don't tell.
It means mentioning experiences with the skills.
For example, Don't simply say that you are a team-oriented person but show that you worked in a team, and mention some experience where you used leadership quality.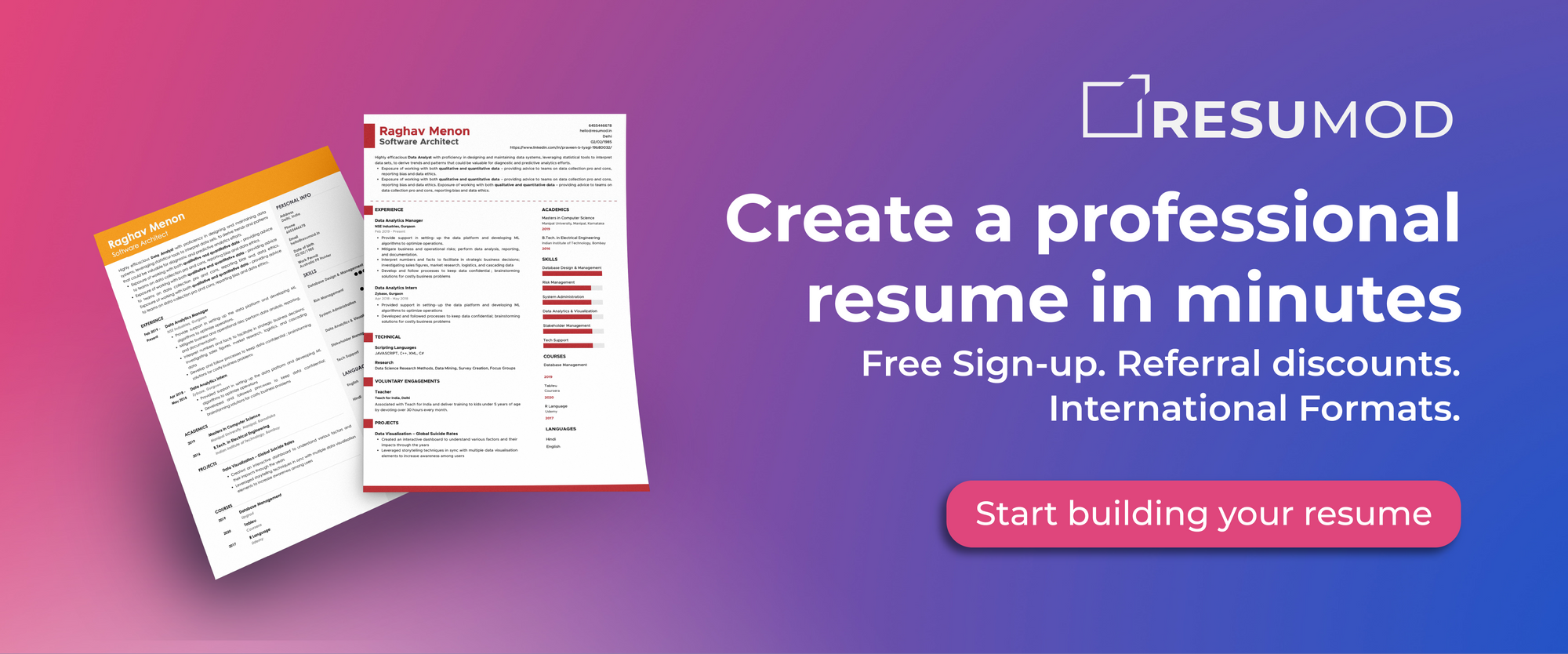 Writing the Skills Section for a Web Development Resume
This section is the core of the resume when it comes to the tech profile. As the name suggests it includes your technical skills and expertise. When properly organized, it catches the recruiter's eye. So, be careful while customizing as your skills need to complement the recruiter's requirements.
Most of the ATS keywords are covered in this section.
Classify all your skills under some suitable subheadings. This activity will help the recruiter to differentiate between the core skills and the additional ones.
List the subheadings in descending order of the job's priority. In simple words, write those skills on top that your recruiter needs.
Some examples of subheadings are:
Framework, Databases
Applications
Deployment tools
List of key skills for web development resumes
HTML
Back-End Web Development
AngularJS
Git / AJAX / Laravel
HTML5
Cascading Style Sheets (CSS)
JavaScript Node.js
jQuery
Front-end Development
UX & UI Design
Usability Protocols
Website Analytics
Prototyping
Persona Creation
Affinity Diagramming
Animation/Motion  Graphics
Photoshop/Illustrator
Requirements Definition
Agile
Information Architecture
Application Development
Collaboration
Communication and Presentation
PHP
Java and Javascript
HTML
CSS
Python
Project Management
Business Finance
Wordpress
Debugging
Communication
SQL queries
MYSQL
Object-Oriented Web Applications
Python
PostgreSQL
Spring Framework
Git Docker
Cascading Style Sheets (CSS)
User Interface Design
Web Development
Responsive Web Design
Node.js
Object-Oriented Web Applications
User Interface Design
Web Development
JavaScript
CSS
HTML
Git
SQL
PHP
Python / Java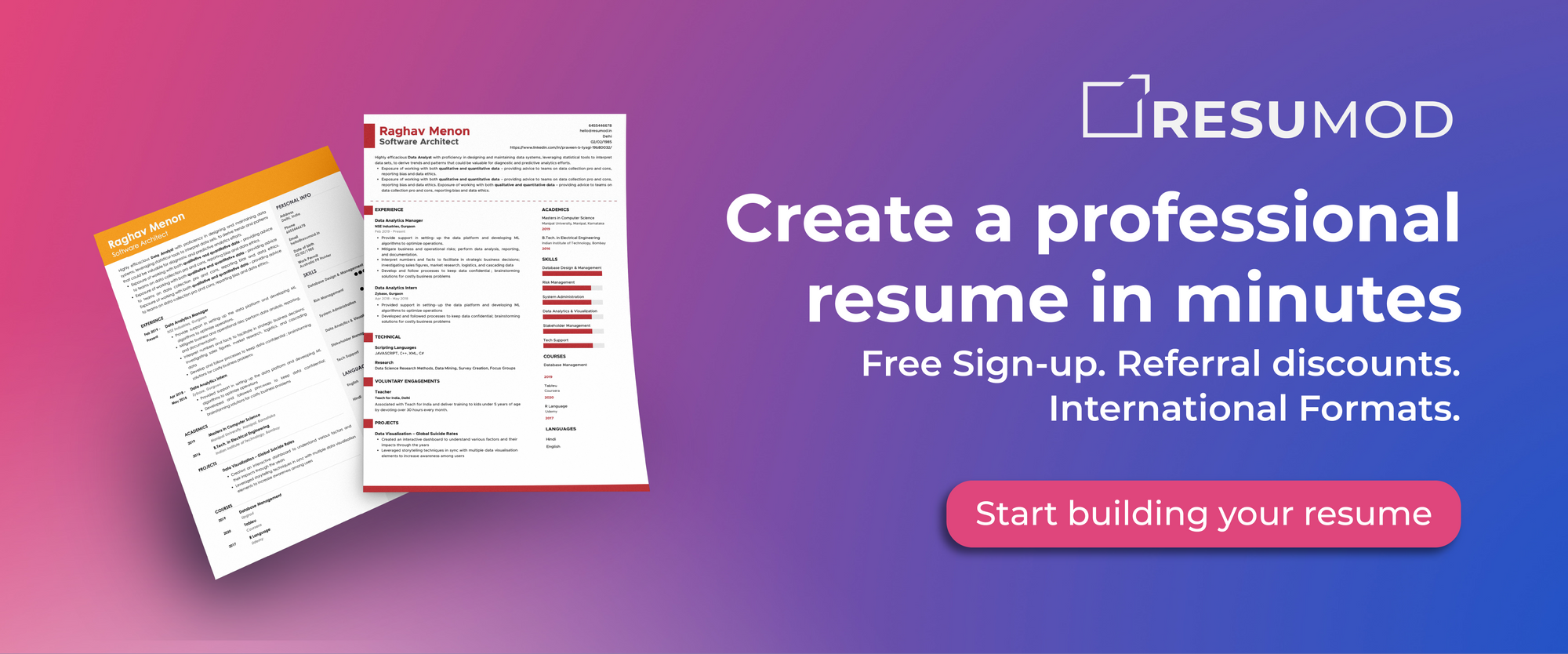 Top Rated Web Development Resumes on Resumod
Resume of Full-Stack Developer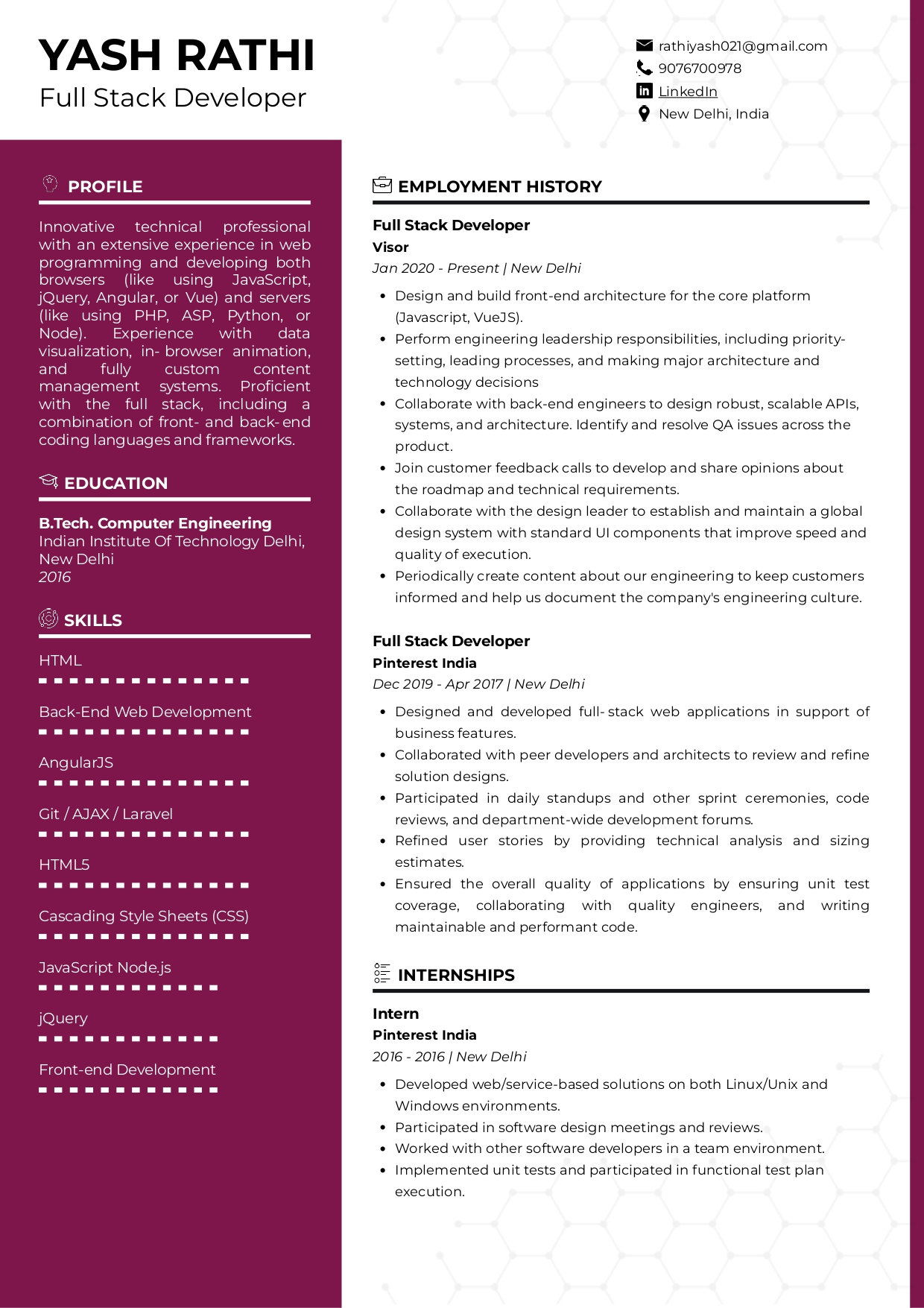 Check the full resume of the full-stack developer in text format here  
Resume of Front-End Developer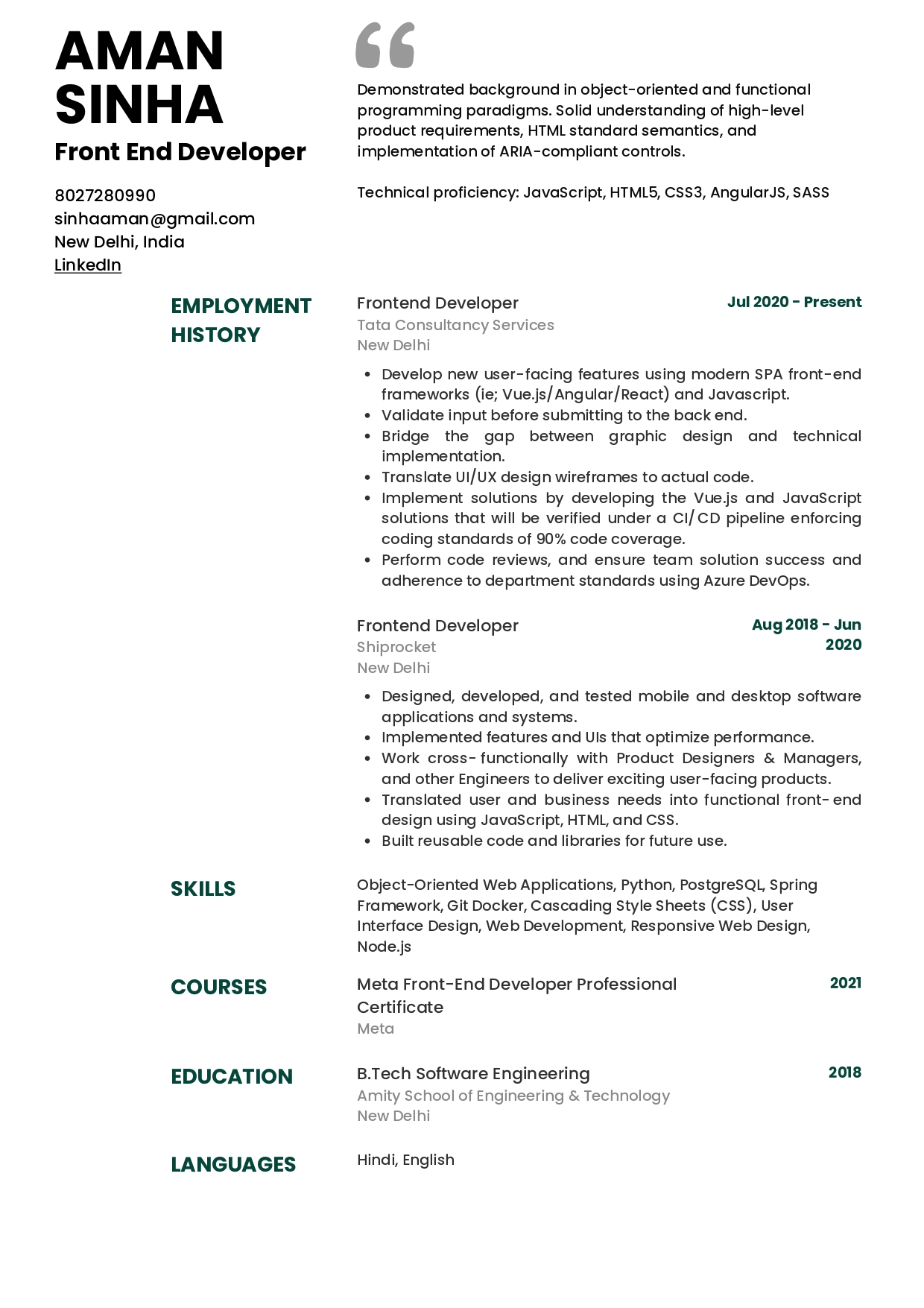 Check the full resume of front-end developer in text format here
Resume of UX/UI Developer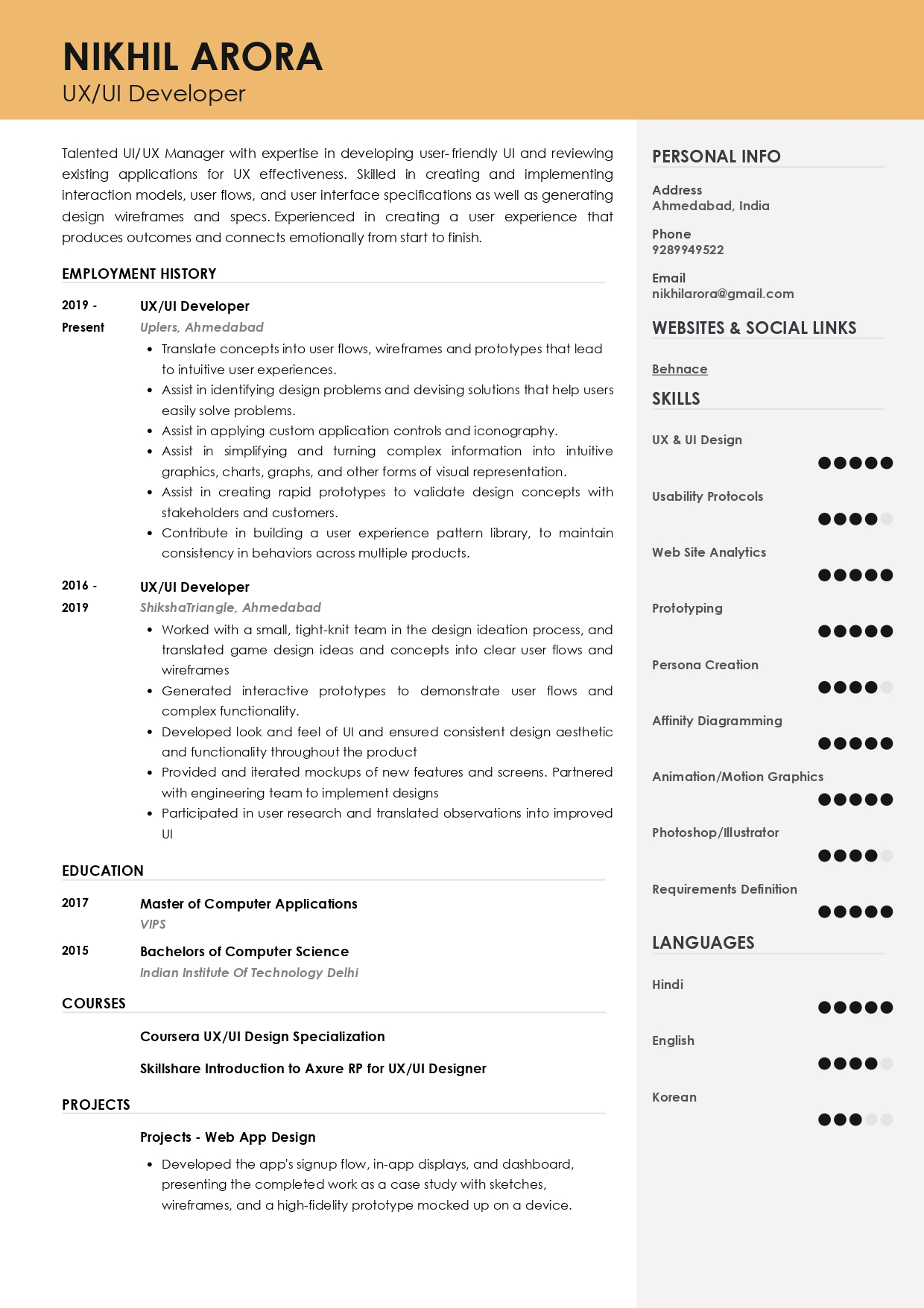 Check the full resume of UX/UI developer in text format here
Resume of Front-End Developer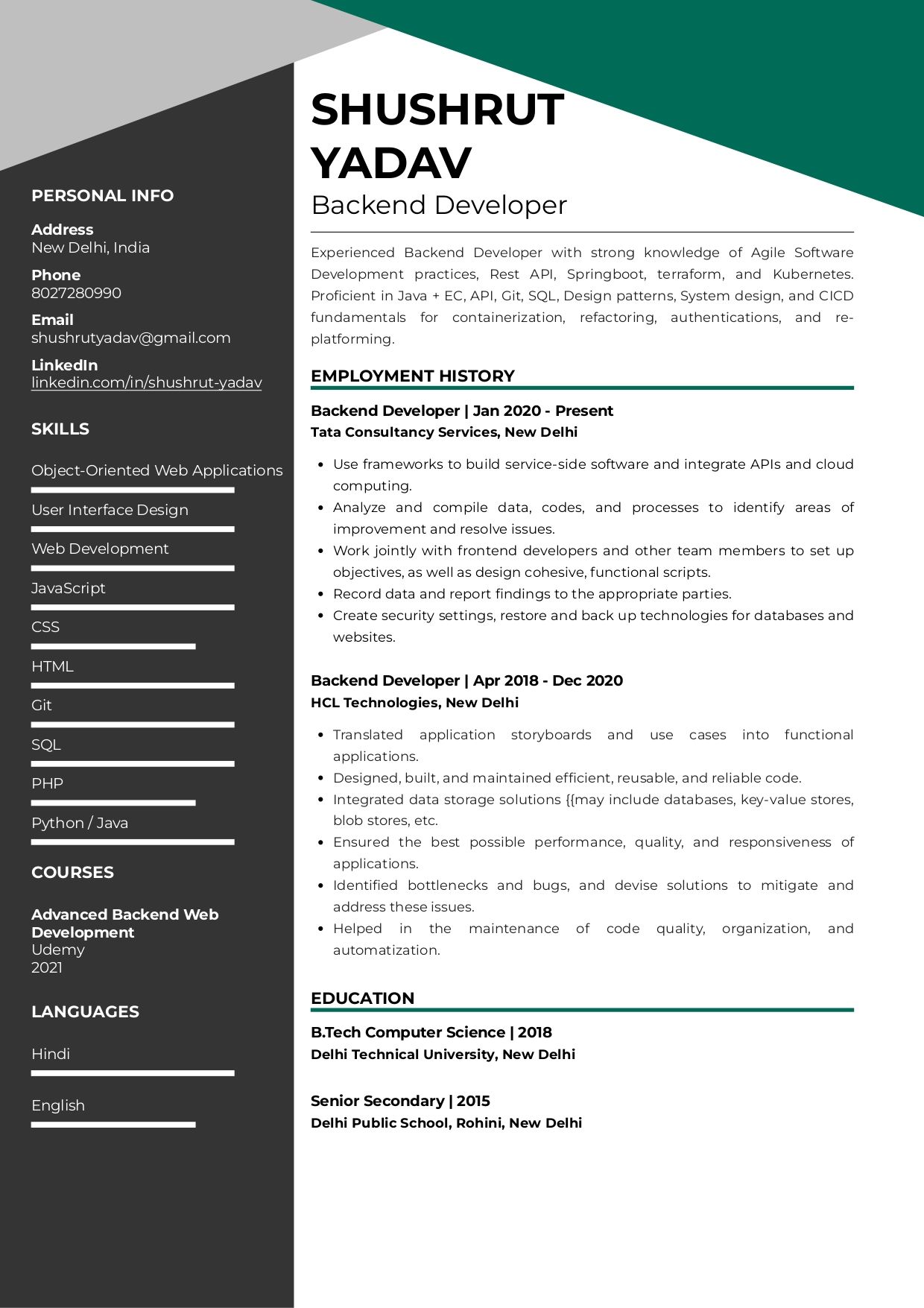 Check the full resume of front-end developer in text format here
Resume of PHP Developer
Check the full resume of PHP developer in text format here