How to Write a Supply Chain & Logistics Resume [15 Examples]
If you are a supply chain professional, or an aspiring one, you need a resume to start your job search.

Supply chain management has been on the planet for more than 100 years now. It began in 1902 when weaponry was mass-produced for the first time. The supply chain industry has been expanding since then. The industry grew exponentially in the 1980s with optimization models, spreadsheets, and algorithms.
Cut to present.
The supply chain industry is set to grow again after the pandemic disrupted it. In fact, according to recent research, the global supply chain industry will be worth $37.4 billion by 2027. The supply chain is expanding for multiple reasons
Increasing demand for digital supply of services,
Innovation & automation,
A boost in cold storage supply

If you are a supply chain professional, or an aspiring one, you need a resume to start your job search. In this post, you will learn

Organising and Formatting your Supply Chain and Logistics Resume
Supply chain professionals are recognized for precision, removing bottlenecks, processes, sustainability, and efficiency. Your resume is a chance to show the same. "Don't tell, show" is the motto you remember while writing your resume.
Here is how your resume layout will show your key skills as a supply chain professional:

Removing bottlenecks: Bottlenecks delay the process. As a job seeker, you don't want HR to delay your hiring decision. Remove bottlenecks from your resume including:
Cutting out the information that is not adding value to your potential employer
Removing the empty spaces that cost you some important data
Deleting fancy elements that don't add to your skillset

Creating a process (structure for your resume): Create a structure and stick to it. Your resume writing should not be a complex one.
Research to get the data and compile it
List out your core skills, focus on them
Start with the resume headline. Drop those skills in your resume experience, summary and skill set sections

If you are a busy supply chain professional, we've cut short the process for you. You can use the content suggestions feature on Resumod to get content for your resume.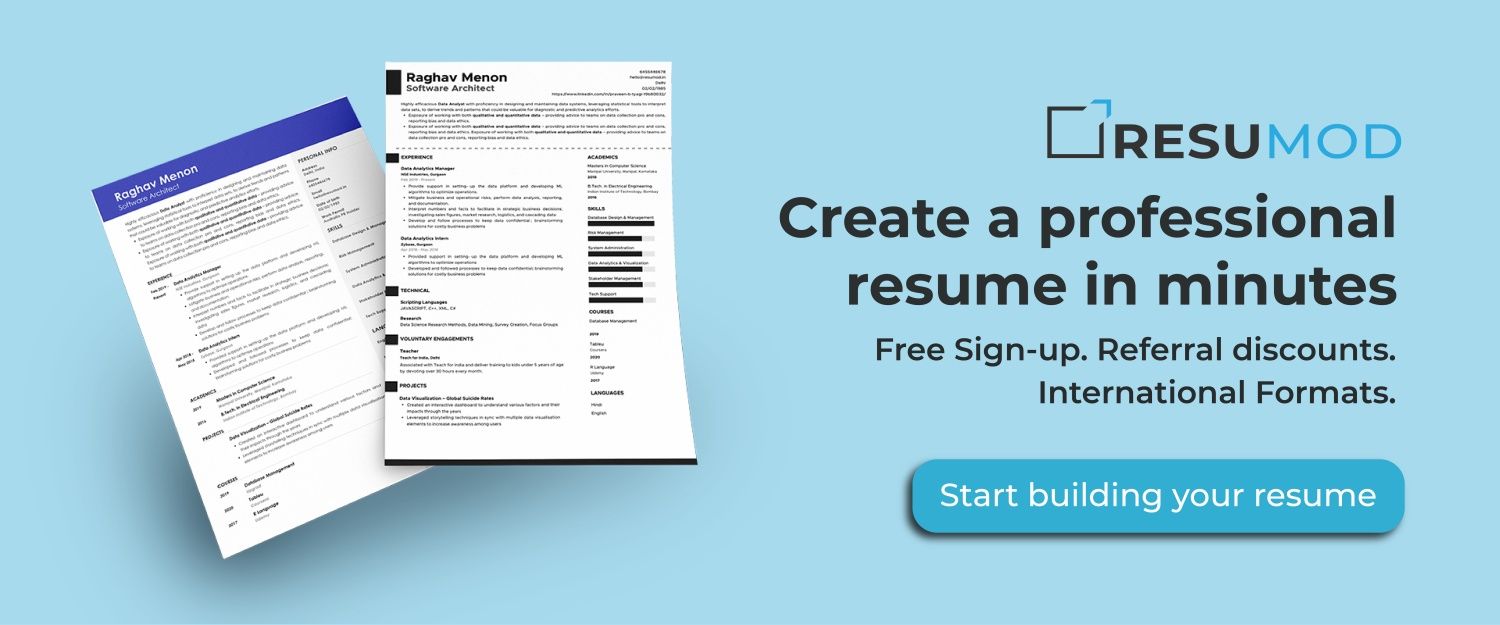 Creating a Header for a Supply Chain & Logistics Resume
First things first, a recruiter won't recognise you without your name, and credentials. Post that, they will look for your introduction, i.e. a resume summary. To create a winning impression on the recruiter, include:
Your Name
Your contact details - phone no. and email
Link to professional sites like LinkedIn
A resume title
A resume summary
Learn how to create summary here
Writing Work Experience Section for a Supply Chain & Logistics Resume
Your precision comes to work here. Play with numbers that you've had a hard time getting.  Dive deep into the results you've generated followed by how you have generated them
Example:
Reduced vendor costs by 10% upon refining the negotiation process.
If you don't have numbers to show yet, don't worry. It's time to be flexible and adapt, and make the best use of what you've in your arsenal.
Be succinct with your approach
Start sentences with an action verb and keep them short
Use simple language + combination of keywords

Materials Manager
SoftArk Resources, Hyderabad 2016 - 2018
Supervised purchasing functions including product and service research, vendor selection, price, contract negotiation and purchase order completion.
Created scheduling parameters which reduced the total amount of changeovers.
Redesigned plant operations systems and Improved supplier lead times.
Delivered cost savings initiatives and a strong focus on inventory reduction.
Issued requests for quotations for assigned commodities; negotiated final price and terms.
Liaised between the project team and supplier for all purchasing activities.
Check this guide for a detailed guide on writing job descriptions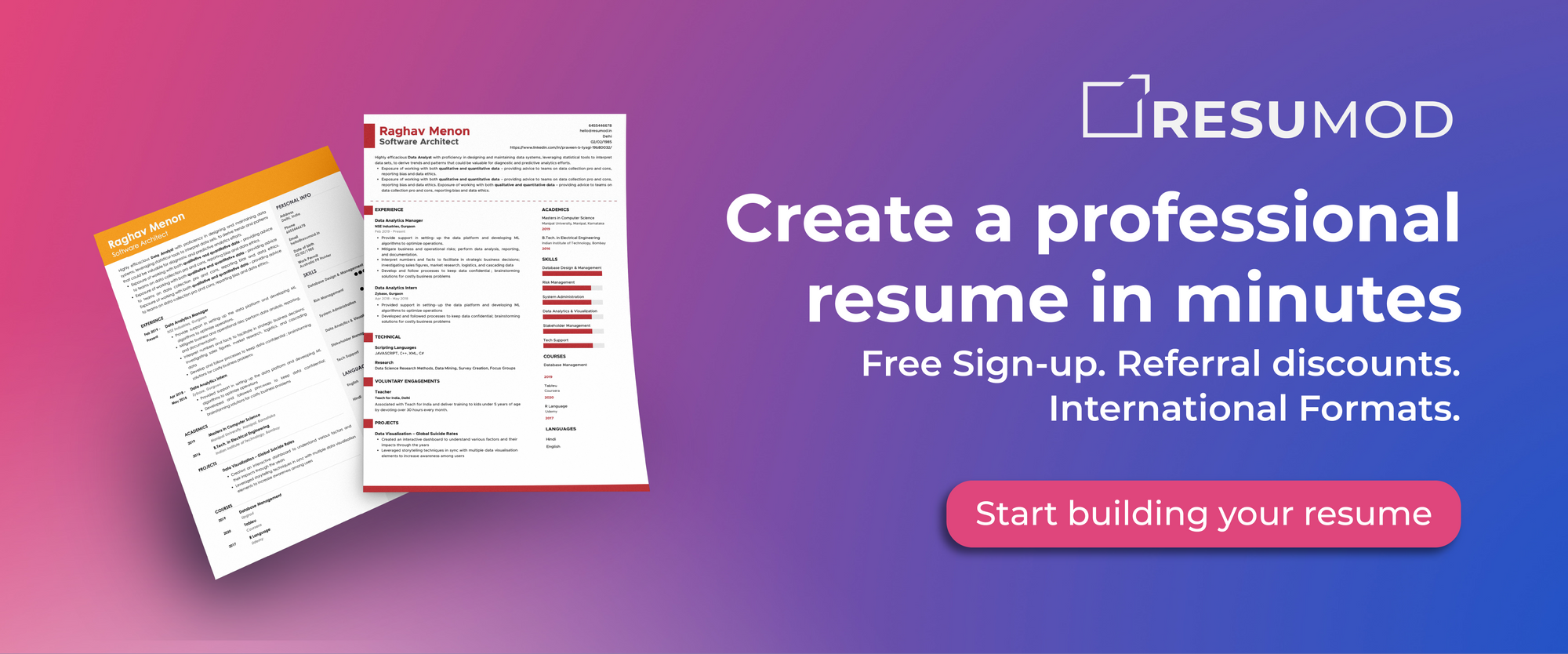 Writing the Skills Section for a Supply Chain & Logistics Resume
There are three parts to a skill set section in a resume of a professional in the Supply Chain & Logistics space:
Hard skills: These skills bring you tangible results. Examples include workflow planning, process development, inventory management
Soft skills: These skills work in a combination of your hard skills and help you thrive in the workplace. Example: Good communication coupled with negotiation skills will help you finalise a vendor at lower costs
Get free access to a list 70+ soft skills
Technical skills: With increasing automation, employers look for candidates who are familiar with the latest tools and technologies.  Example: SAP MM, Oracle Supply Chain etc We've compiled a list of skills below for your reference.
How to create a skill set section
An ideal skills section in a Supply Chain & Logistics Resume will be a sweet balance of all three.
For instance, you chose to write 10 skills, use 6-8 hard skills and rest soft skills. For the hard skills, chose those that have helped you generate maximum results
Soft skills will vary with your seniority. A beginner will need teamwork while a director will require leadership skills
You can choose to create a different section for technical skills.
Read our detailed blog on creating a skill set section here.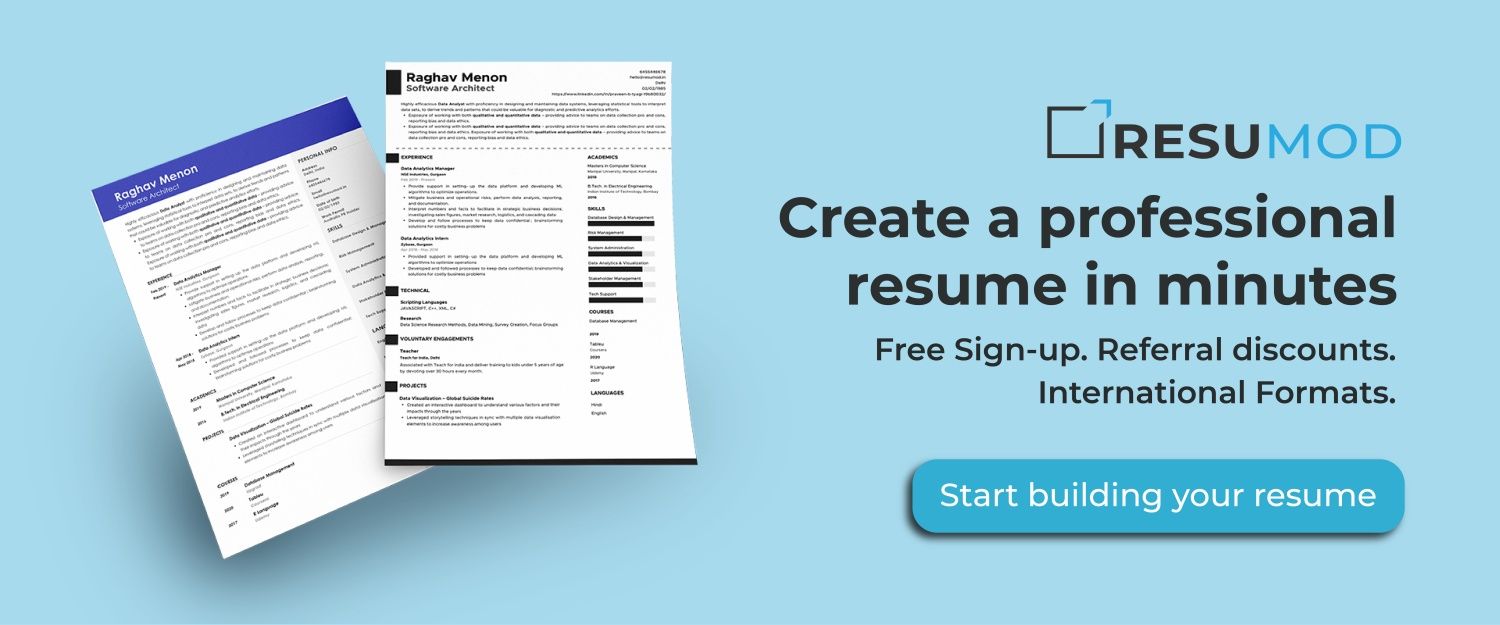 Skills Required for Supply Chain & Logistics jobs
Raw Materials Sourcing
Material Planning
Supplier Performance Tracking
Production Planning
Customer Requirements Assessment
Supply Chain Support
Inventory Control
Materials Management
Logistics Support
Customer Service
Warehouse  Operations
Strategic Sourcing
Cost Reduction Measures
Production Control
Distribution Management
Continuous Process Improvement
Vendor and Staff Relations
Transportation / Materials  Handling
Inventory Control Processes
Standards / Procedures Compliance
Lean Systems Implementation
Strategic Sourcing
Quality Assurance
Vendor and Staff Relation
Training and  Leadership
Budgeting and Cost Analysis
Logistics Management
Strategic Planning
Risk Management
Import/Export
Vendor Invoicing
Business Planning
International  Shipments
Quality Assurance
Throughput Maximisation
Customs Compliance
Customs Broking
Inventory Coordination
SKU Management
Market Research
Product Development Support
Vendor  Management
Retail Management
Transportation Arrangements
Inventory Levels Monitoring
Workflow Management
Sales Goals Attainment
Enterprise Resource Planning
Warehouse Management Software
TMS Software
MS Office Suite
Goods Stocking
Reporting and Documentation
Six Sigma & Lean Methodologies
Team Supervision & Training
Forecasting, Scorecards & KPIs
Scrap & Rework Reduction
Capacity Planning
Assembly Line Management
Turnaround &  Change Management
Supply Chain Management
Safety & Regulatory Compliance
Labour Relations & Union Negotiations
P&L  Management
Troubleshooting and Repairs
Inventory Coordination
Purchasing & Sourcing
Vendor Relationships
Market Research
Cost Cutting
Contracting & Negotiations
Category Management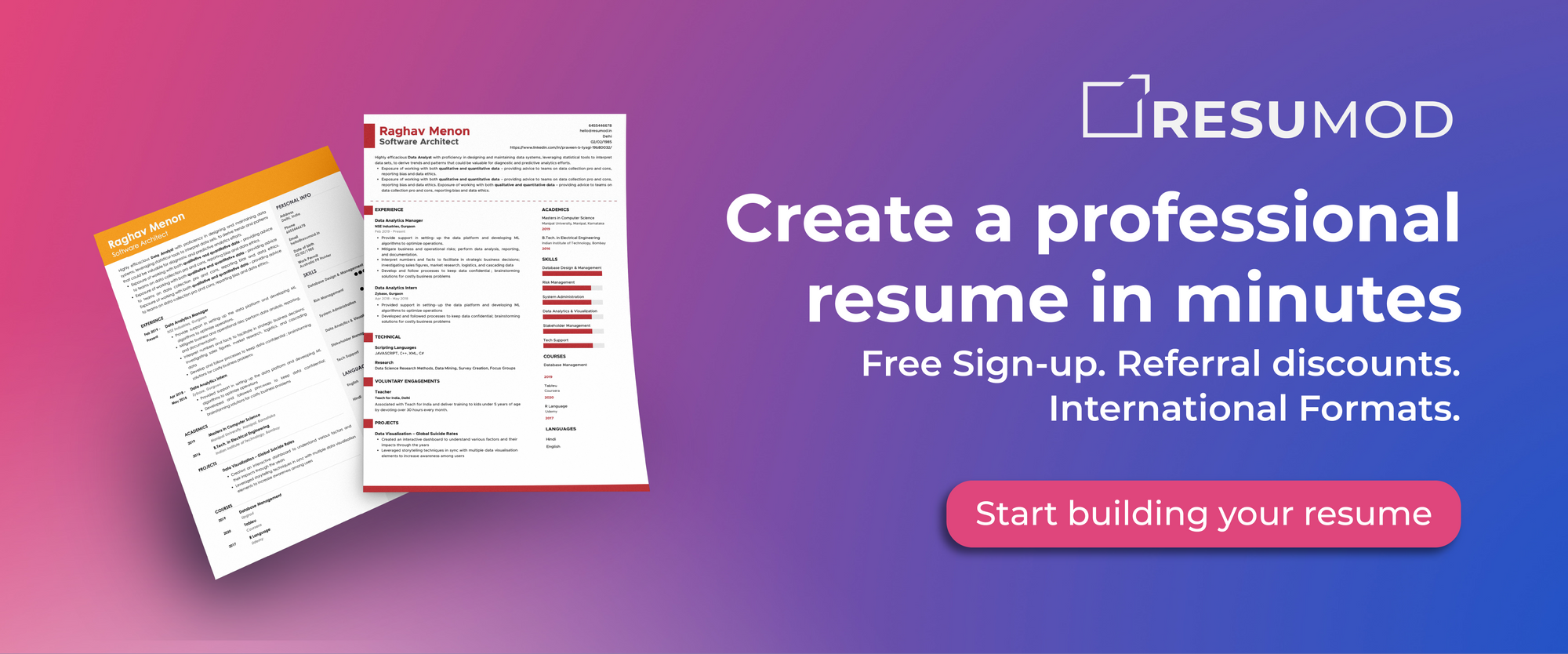 Listing Education in Supply Chain & Logistics Resume
Don't discount the power of the education section. Despite having an achievement-driven resume, the education section is a must-have.
For a beginner, it is equal to an experience section
For an experienced professional, it's a place to put in your certifications and courses
For each of your academics include:
Name of the institution
Name of the course
Year of completion

For certifications, courses and licences:
The credential
Name of the issuing body
Here is a detailed guide on creating an education section in your resume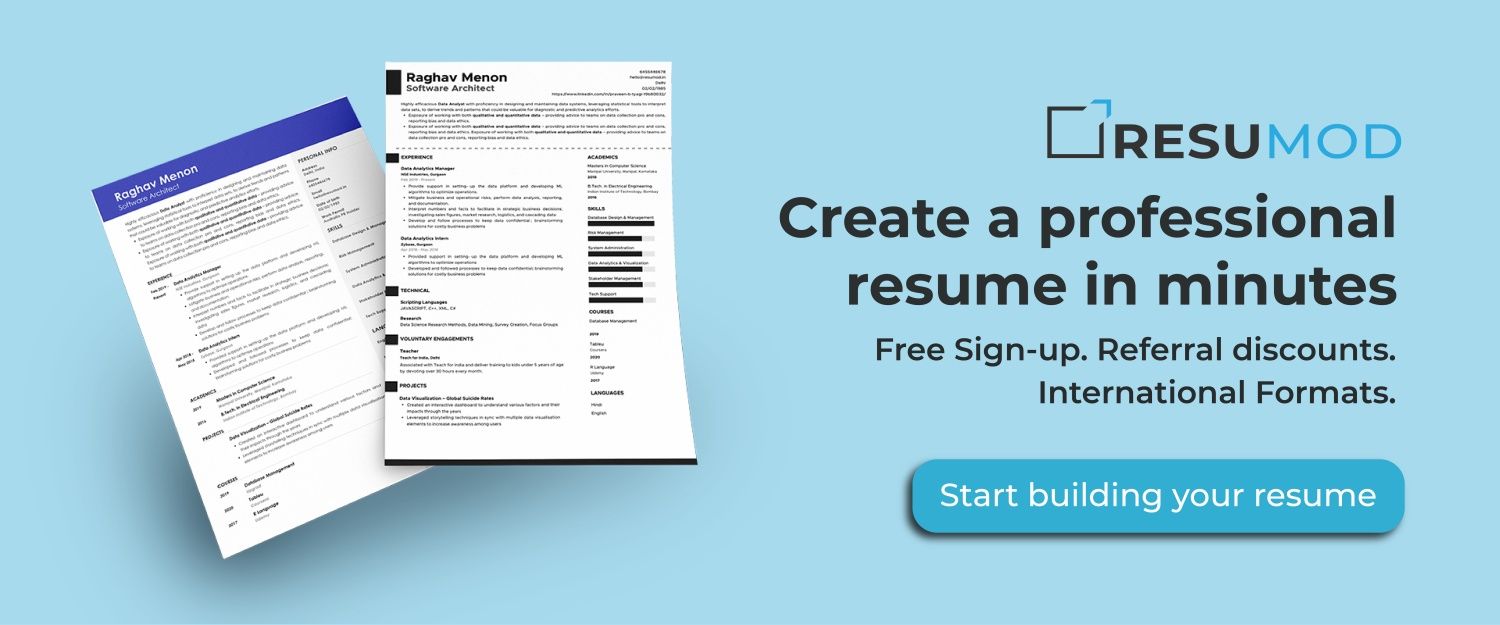 Top-rated Supply Chain & Logistics on Resumod
Resume of Materials Manager
Material managers manage inventories and stock supplies. They ensure the availability of materials required for manufacturing or other operations. They negotiate contracts with suppliers and third-party vendors to meet the company's budget and quality goals. They also oversee the distribution of resources among the organisation's departments.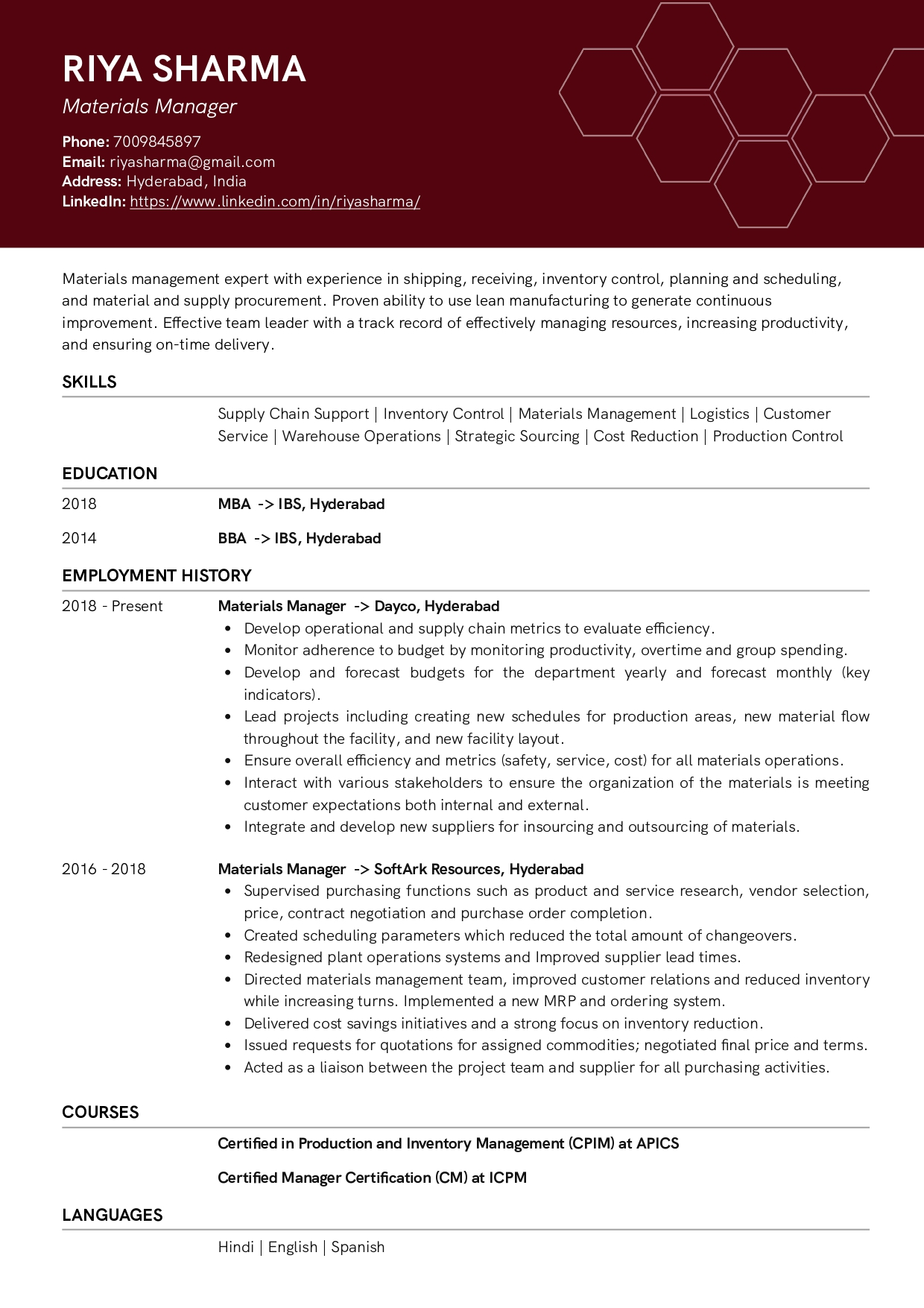 Check the full resume of Materials Manager in text format here
Resume of Logistics Coordinator
Logistics Coordinators synchronize and expedite route movement for shipping and receiving of freight, arrange pickup and delivery appointments, and create and inspect bills of lading (BOLS) to determine proper invoicing. They are responsible for accepting customer loads upon approval building loads, booking loads, organizing loads and tracking loads. They work with customers, carriers, or distribution facilities to resolve problems, and drive performance, innovation and identify new service propositions.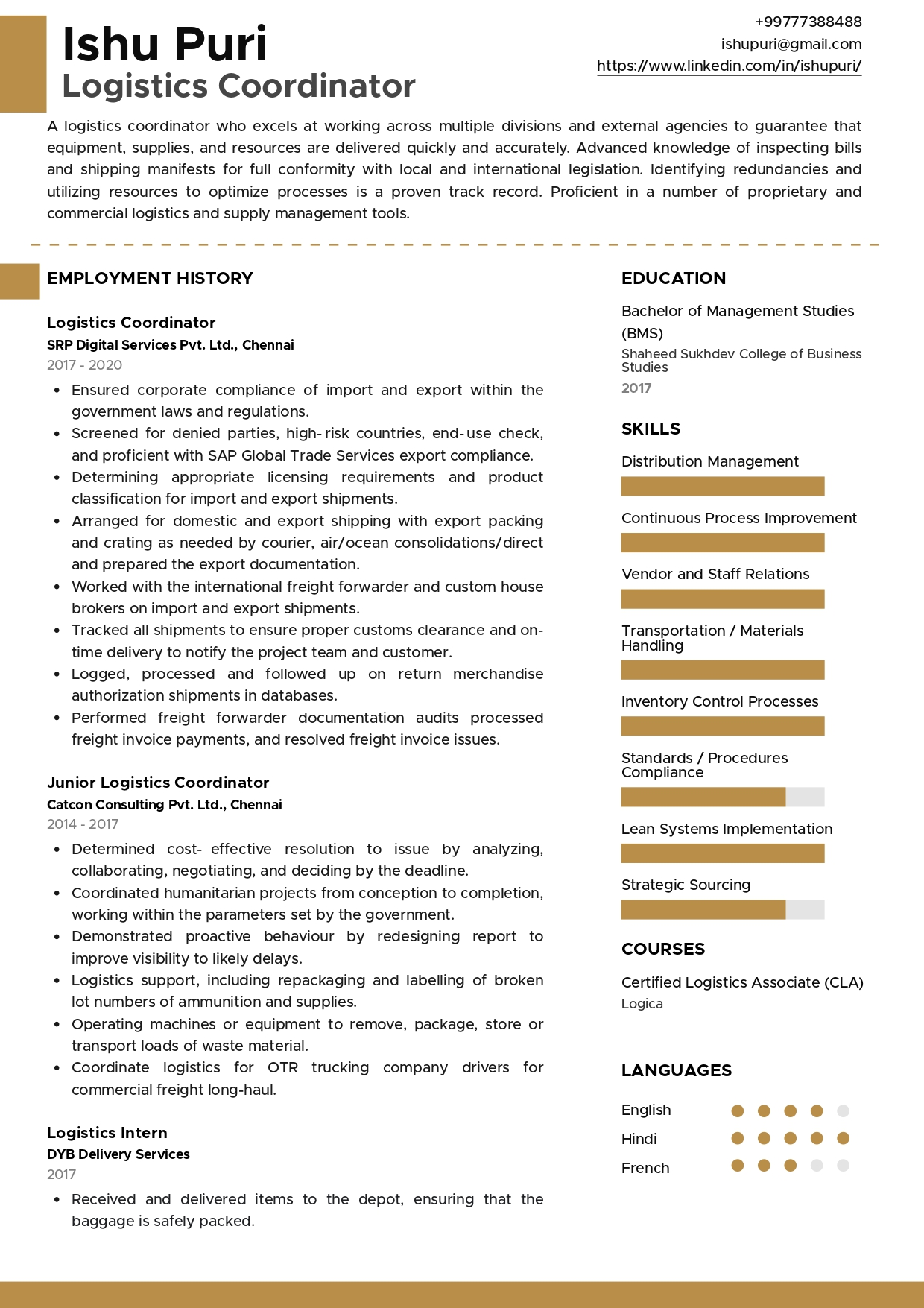 Check the full resume of Logistics Coordinator in text format here
Resume of Logistics Manager
Logistics Managers oversee activities related to the supply chain and logistics strategy and operations to maximize process efficiency and productivity. They optimise the business processes that a product undergoes until it arrives at the end customer. They are accountable for the flow of all raw materials and finished product, including inbound shipments receipts, internal flows within the warehouse and to/from the production line, interplant shipments, and outbound finished goods shipments.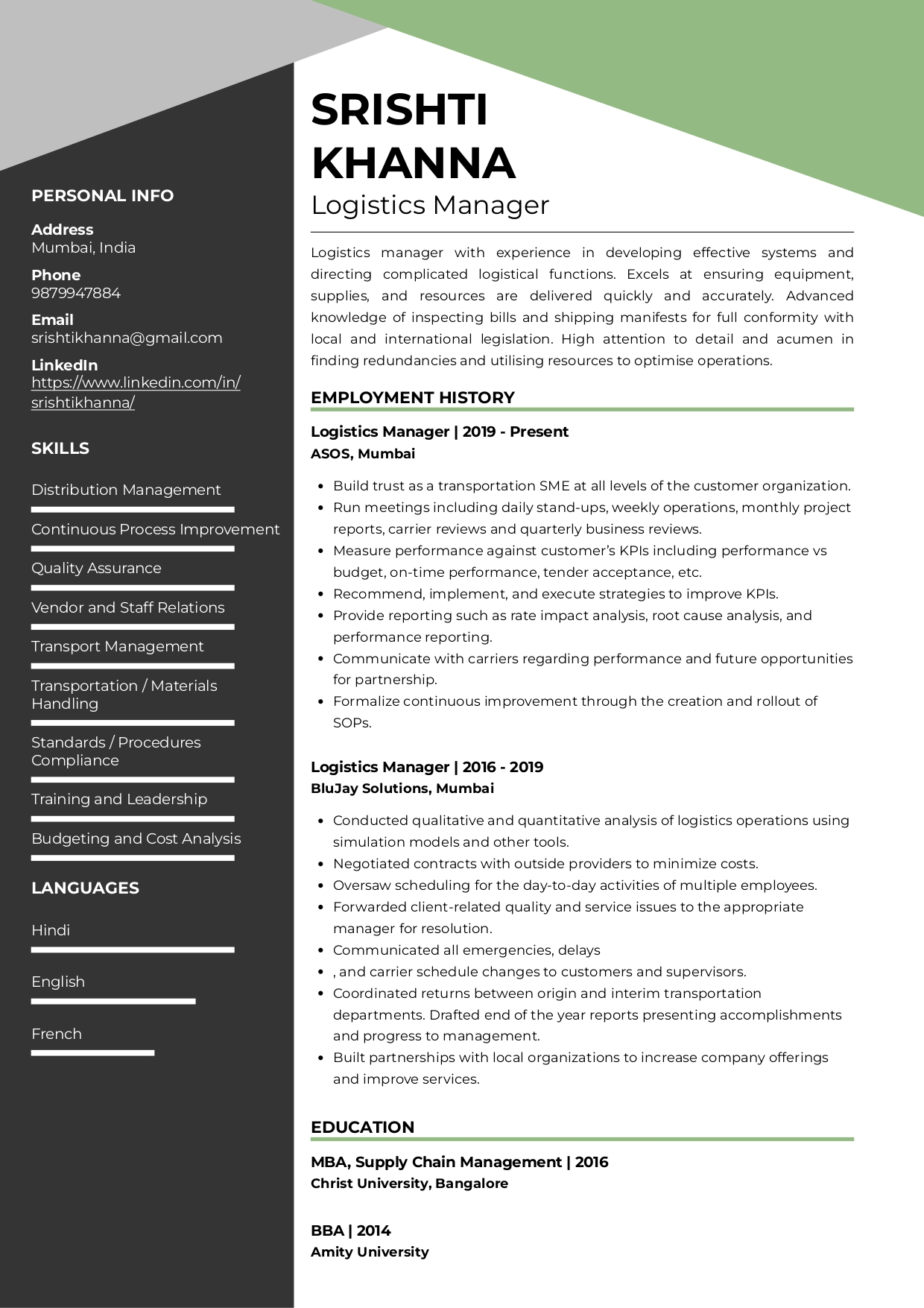 Check the full resume of the Logistics Manager in text format here
Resume of Import Specialist
Import specialists plan and monitor domestic and international product shipments. They draft and process all documentation and permits,  track transactions, evaluate the quality of products for import and export, and track shipments.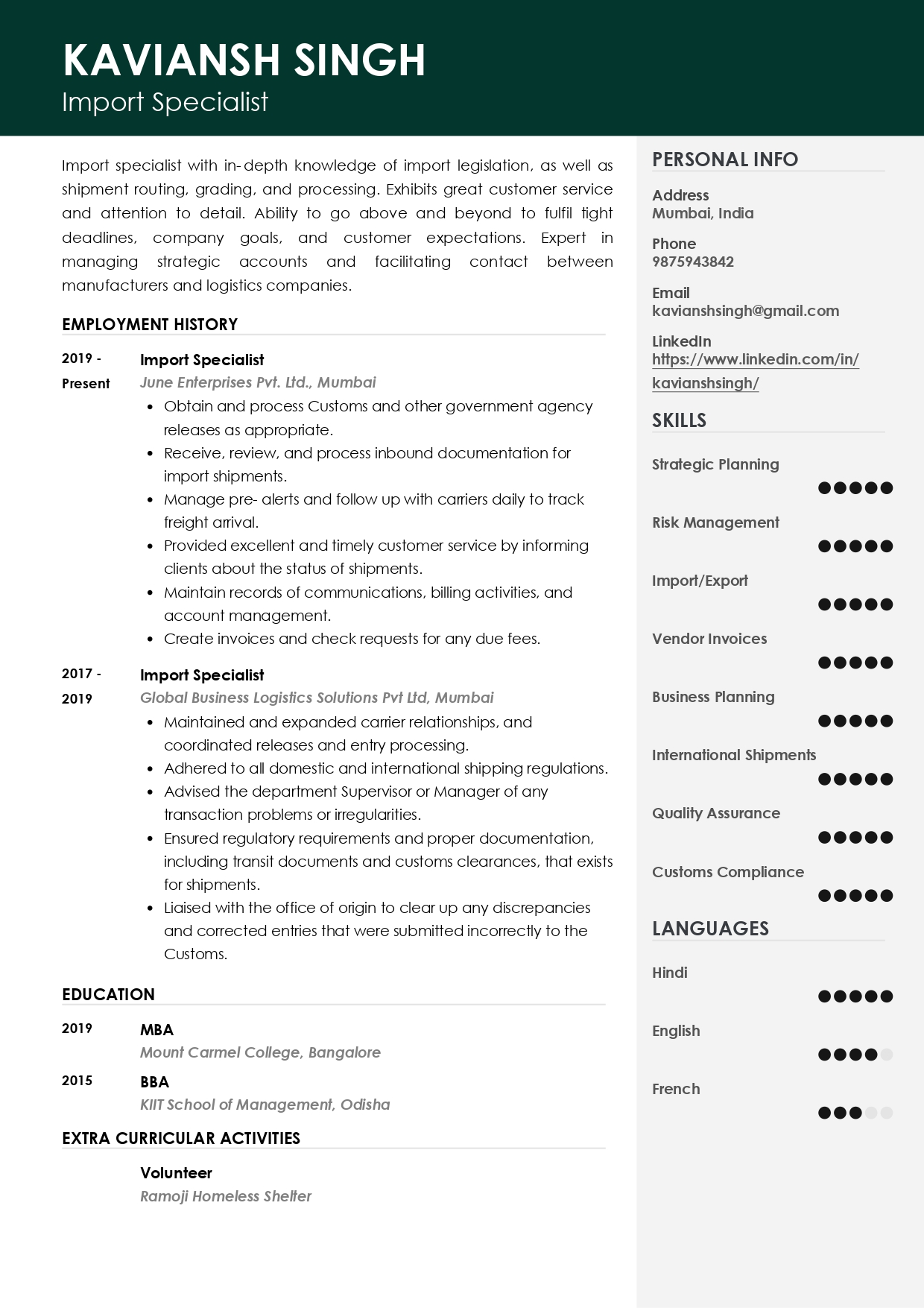 Check the full resume of Import Specialist in text format here
Resume Of Shipping and Receiving Supervisor
Shipping and receiving supervisors help a company become more productive by streamlining the transportation process. Through product receipt, storage, and delivery, the supervisors manage and maintain the supplies and inventory. They manage staff who check and document cargo receipts, prepare things for shipping, and load and unload purchases.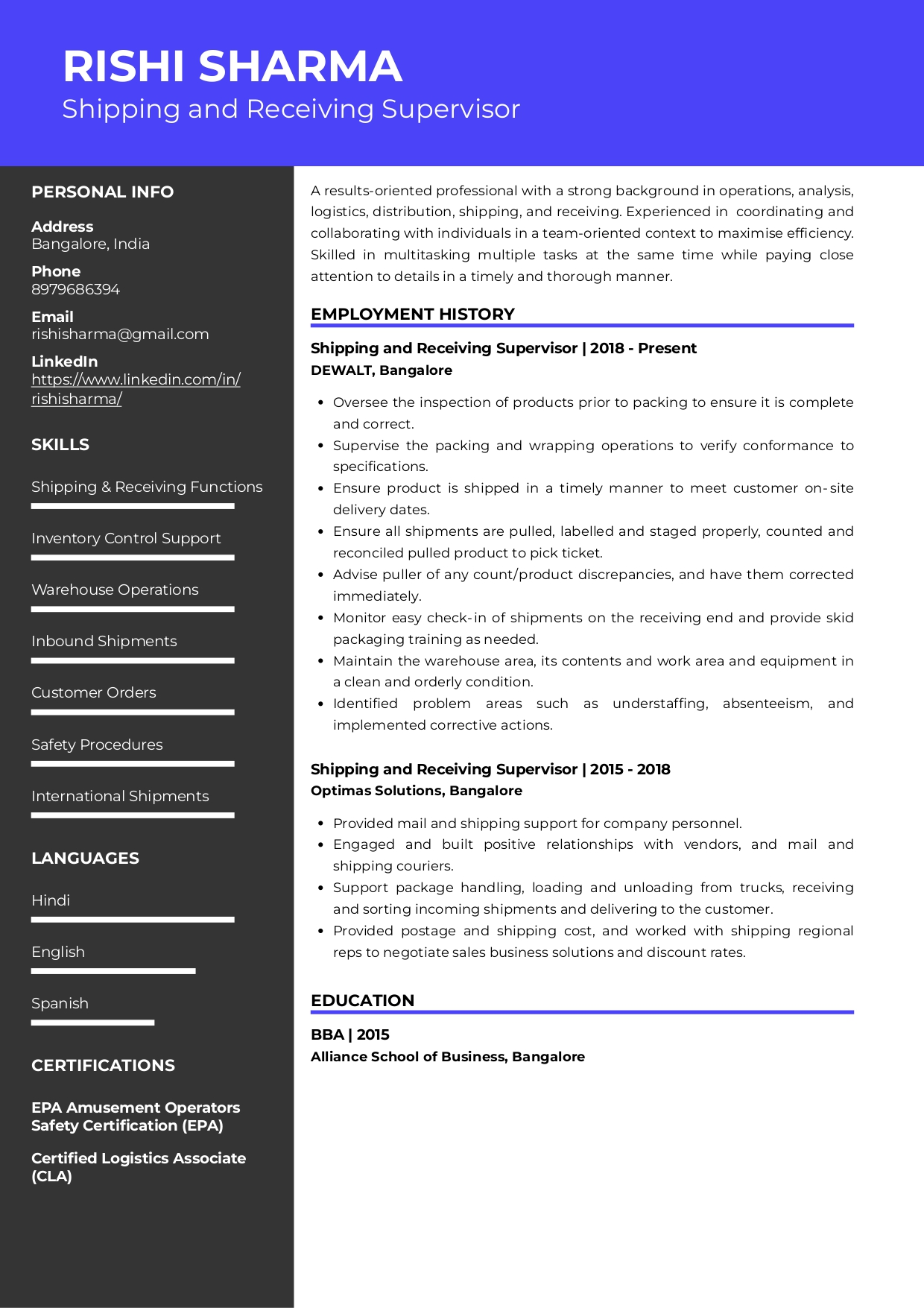 Check the full resume of Shipping and Receiving Supervisor in text format here

Resume of Retail Buyer
Retail buyers keep accurate stock records. They stick to a budget and deal with any complications that emerge with the supplier or the item. Retail buyers adjust purchase orders based on demand, availability and season, and define contract terms and conditions. Further, by browsing catalogues, retail buyers select the ideal merchandise to purchase. They also look for, select, and purchase products for resale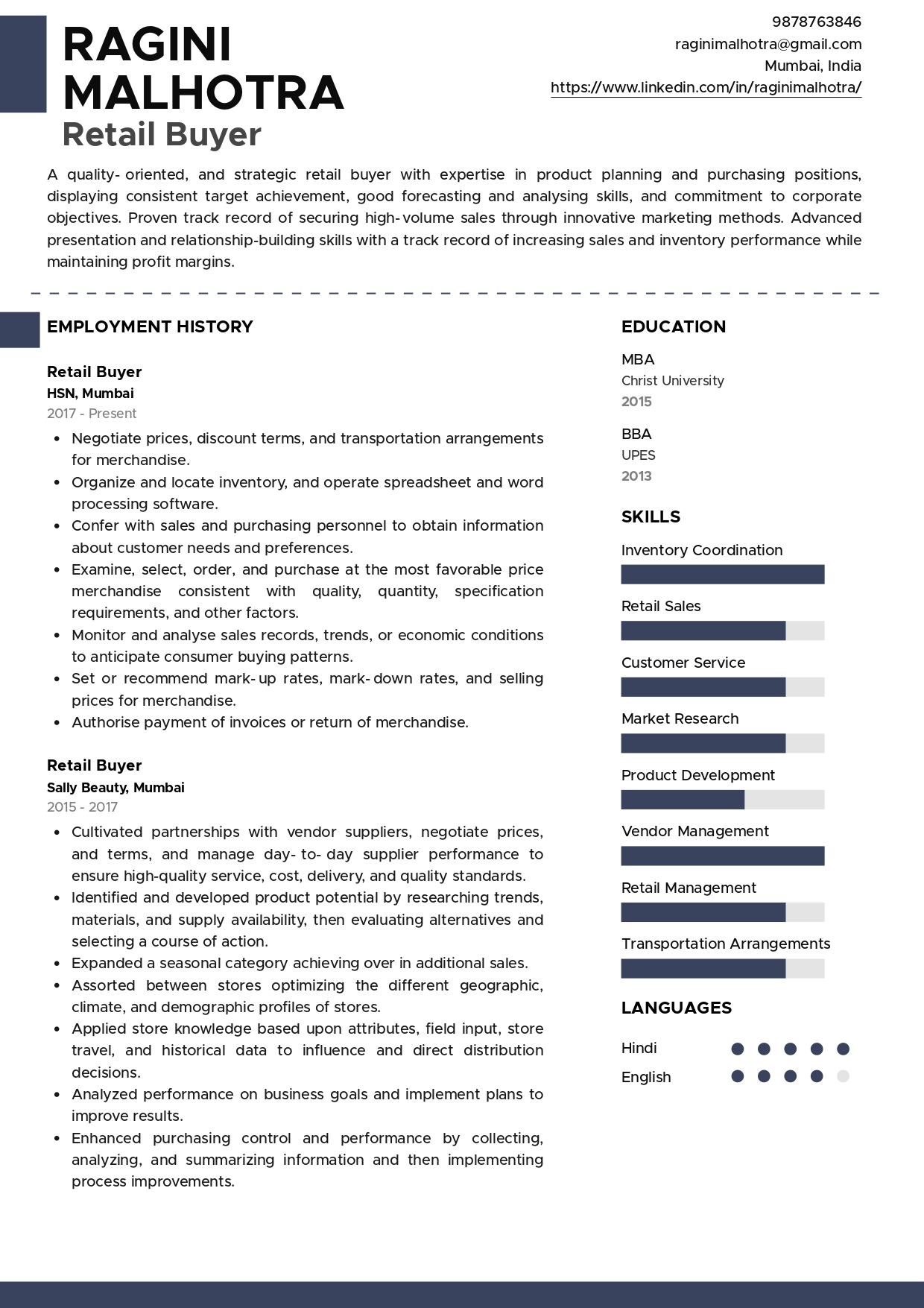 Check the full resume of Retail Buyer in text format here

Resume of Operations Manager
Operations Managers support and refine a complex operational system that includes supply chain, logistics, sales, product, and partner/vendor relationship management. They Identify operational bottlenecks and build scalable solutions that grow businesses and market share. They are also responsible for new operational initiatives with stakeholders across the business.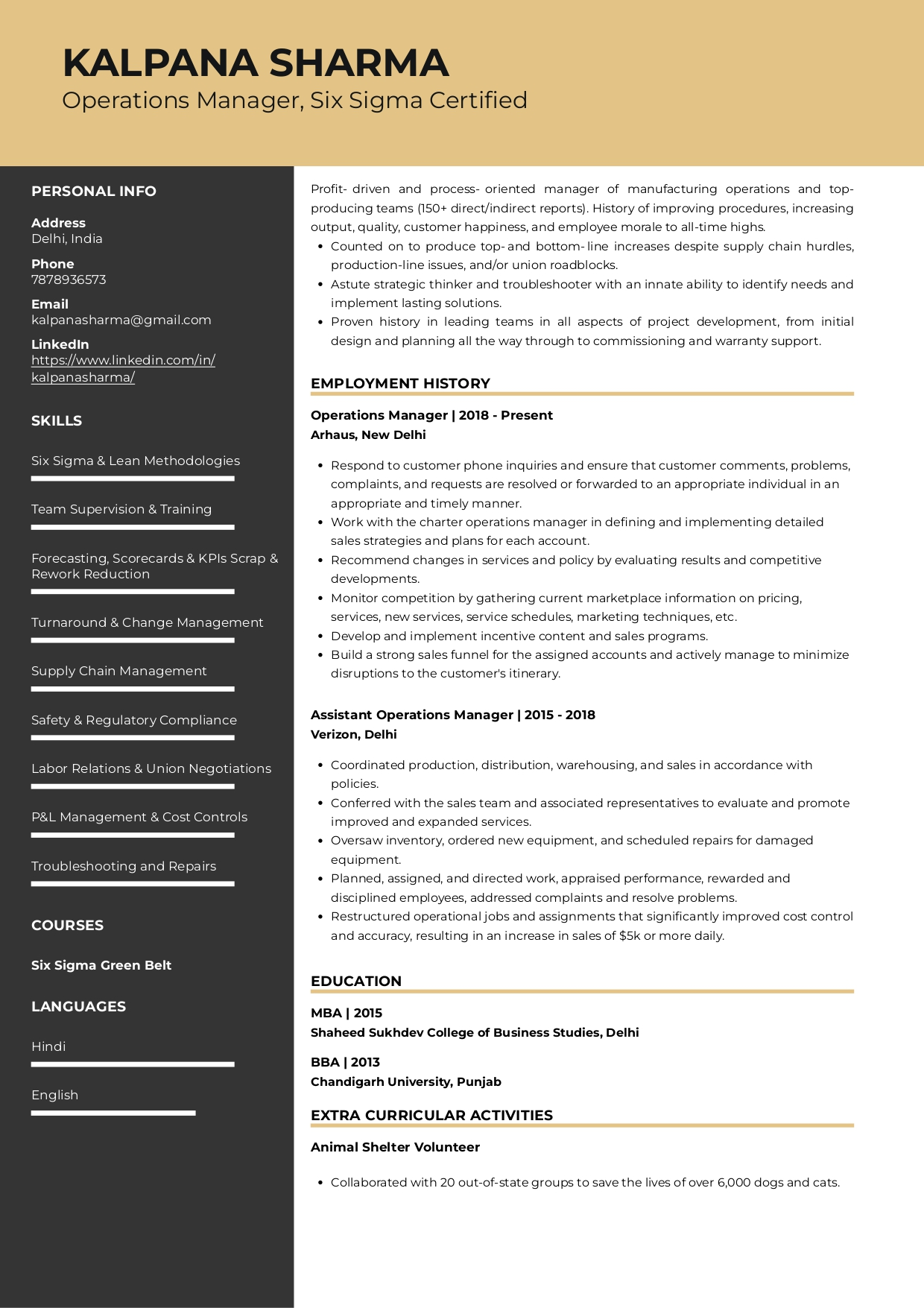 Check the full resume of Operations Manager in text format here

Resume of Senior Retail Buyer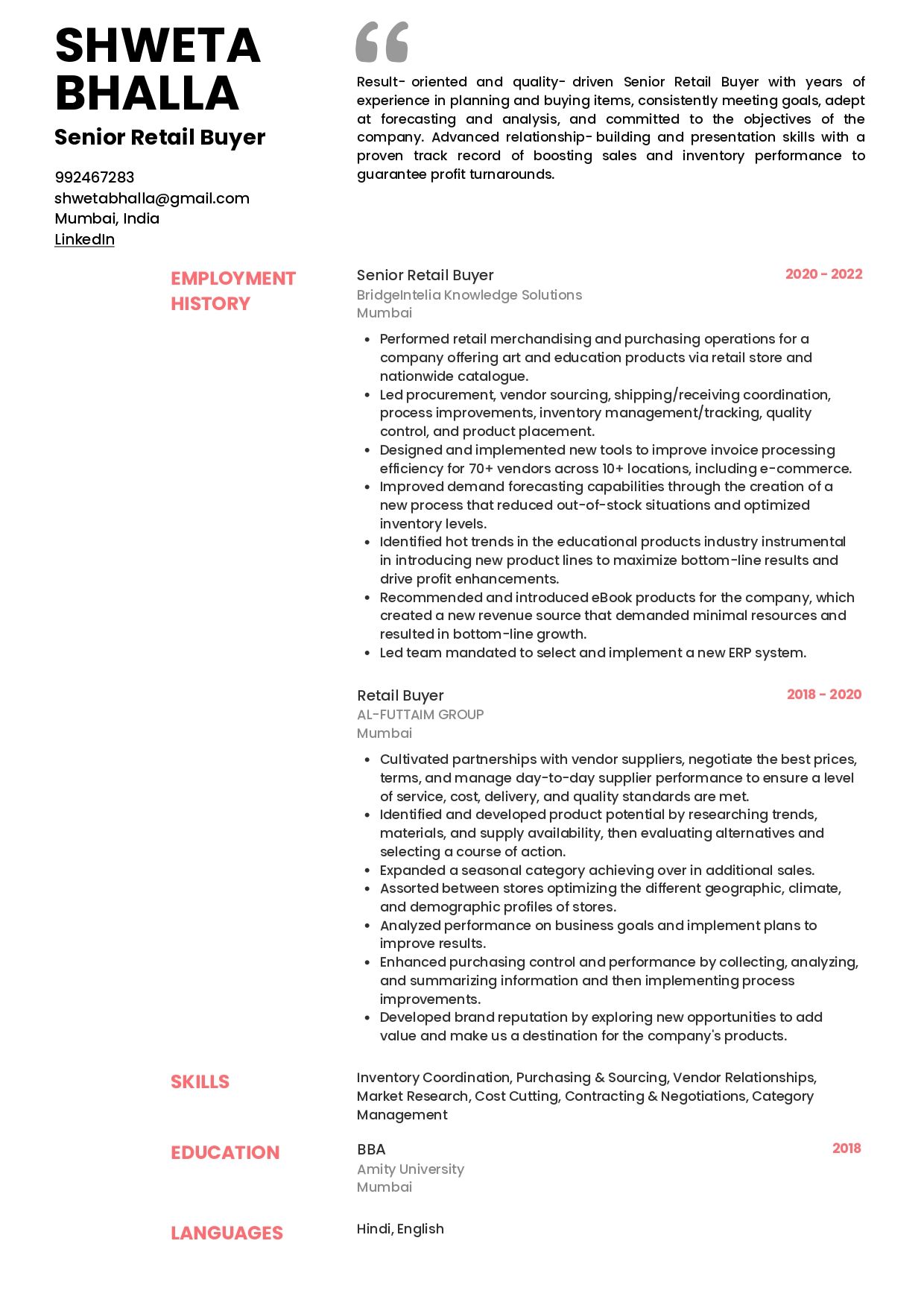 Resume of Inventory Coordinator
Inventory coordinators manage the flow of materials in a warehouse or other comparable situations. They ensure that the amount and quality of materials meet company standards, evaluate staff performance, collaborate with various personnel to assure the accuracy of services, and preserve transaction records. They design strategies for best performance while adhering to the company's standards and laws.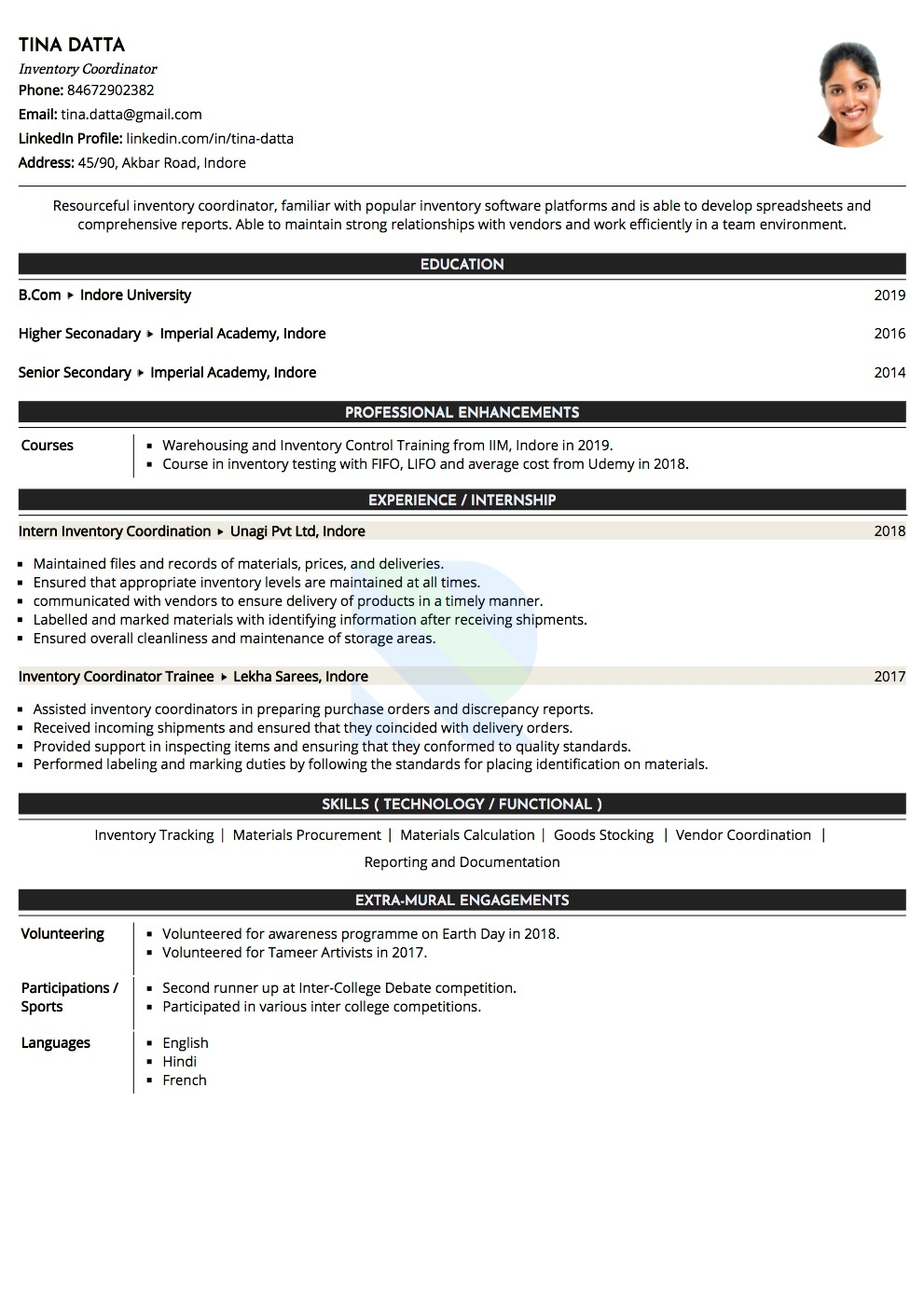 Check the full resume of Inventory Coordinator in text format here
Resume of Supply Chain Management Associate
Supply Chain Management Associates have an impact on their companies from the start of the new product development process until the time the finished product is transported. They devise strategies to improve safety, efficiency, and productivity. They analyse the data and procedures, find innovative solutions,  and write reports. As a part of their role, they engage with external suppliers and buyers, decipher legal papers, and build relationships.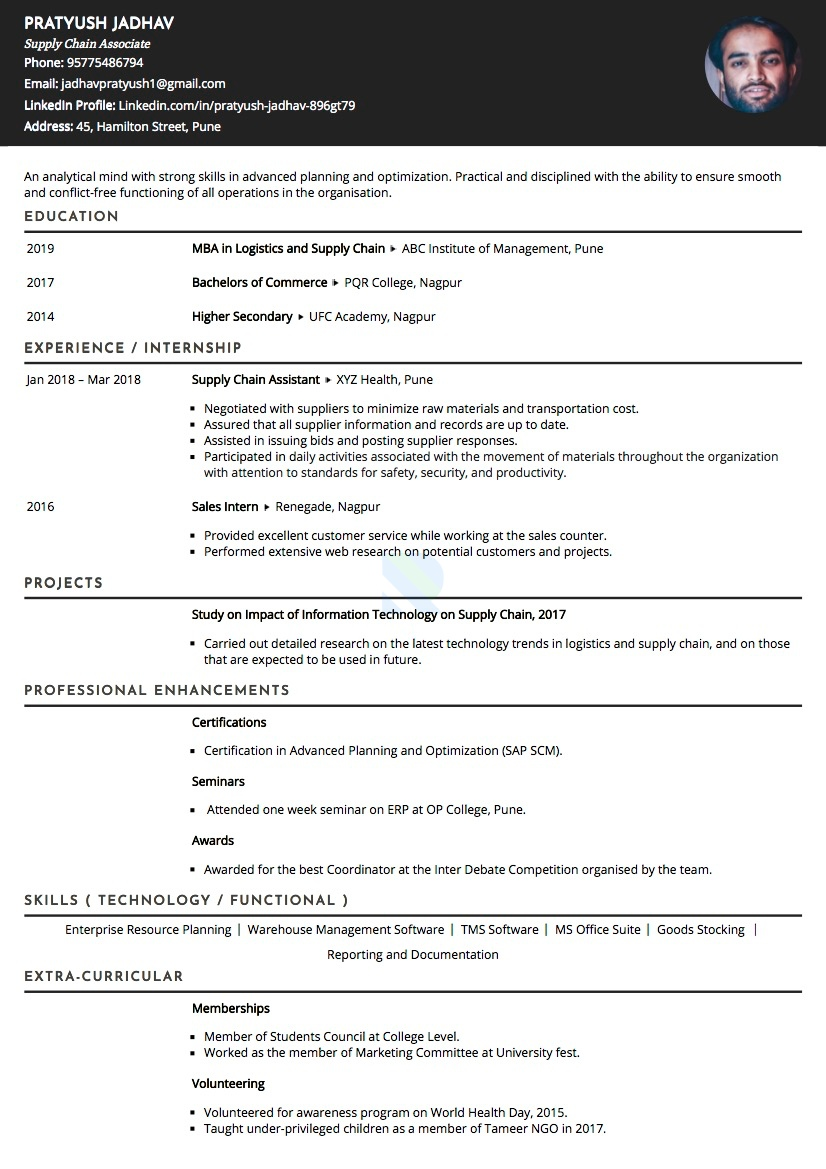 Check the full resume of Supply Chain Management Associate in text format here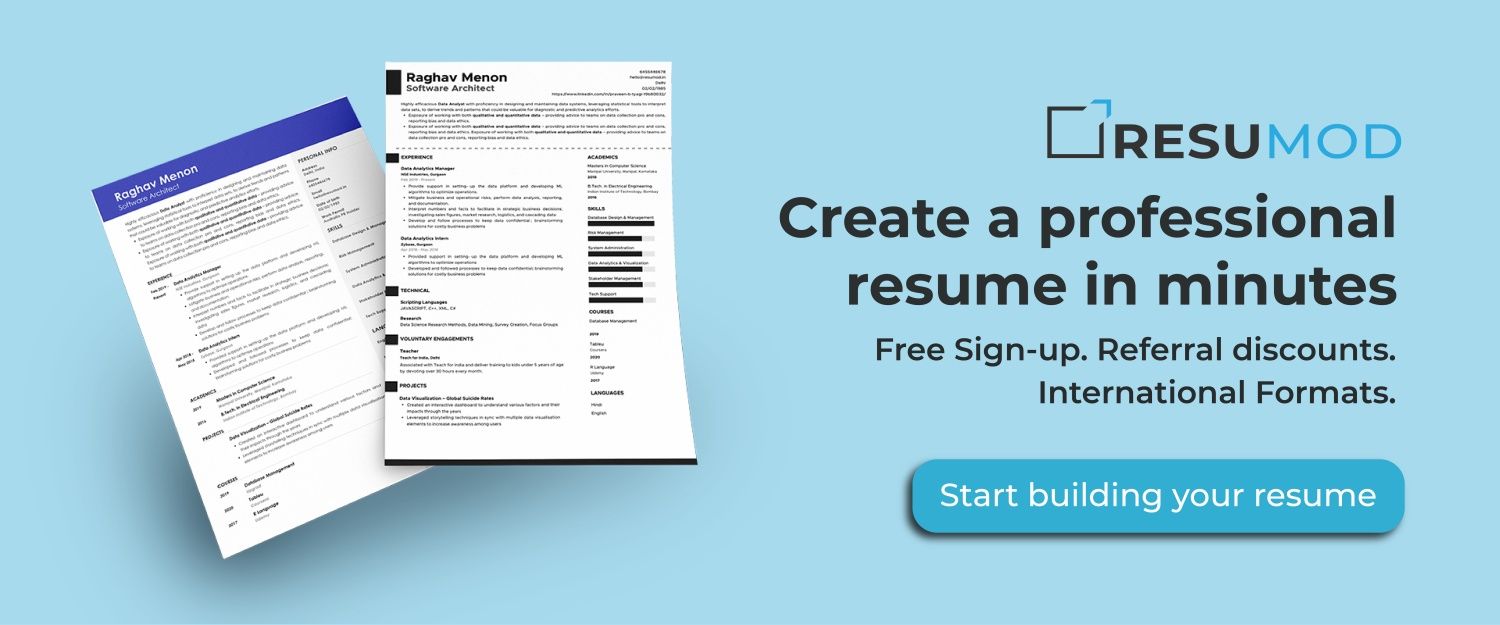 Other Related Resumes on Resumod