script type="application/ld+json"> { "@context": "http://schema.org/", "@type": "Article", "name": "Resume of Front Desk Executive | Resumod", "aggregateRating":{ "@type": "AggregateRating", "ratingValue": 4.434, "reviewCount": 26 }, "author": "Prachi Sachdeva", "datePublished": "2019-09-18T13:12:07+01:00", "dateModified": "2019-09-1813:34:51+01:00", "articleBody": "Tanya Singh is a diploma holder in Front Office Management with outstanding skills in communication, and managing front desk tasks. Alongside her academics, she worked at a hospital and a tourism company as a Front Desk Assistant where she facilitated a comfortable and delightful experience for guests. She is now looking for career advancement opportunities in the same field.", "mainEntityOfPage": "https://resumod.in/sample-resumes/resume/resume-of-front-desk-executive", "headline": "Resume of Front Desk Executive | Resumod", "image": "https://resumod.in/uploads/2c54d24b2050ecff4340250988465ffe1561632179257.jpeg", "publisher" : { "@type": "Organization", "name": "Resumod", "logo": { "@type": "ImageObject", "url": "https://resumod.in/assets/images/resumod-logo.png" } } }
Resume of Front Desk Executive

4.6

1608
Description
Tanya Singh is a diploma holder in Front Office Management with outstanding skills in communication, and managing front desk tasks. Alongside her academics, she worked at a hospital and a tourism company as a Front Desk Assistant where she facilitated a comfortable and delightful experience for guests. She is now looking for career advancement opportunities in the same field.
Related Categories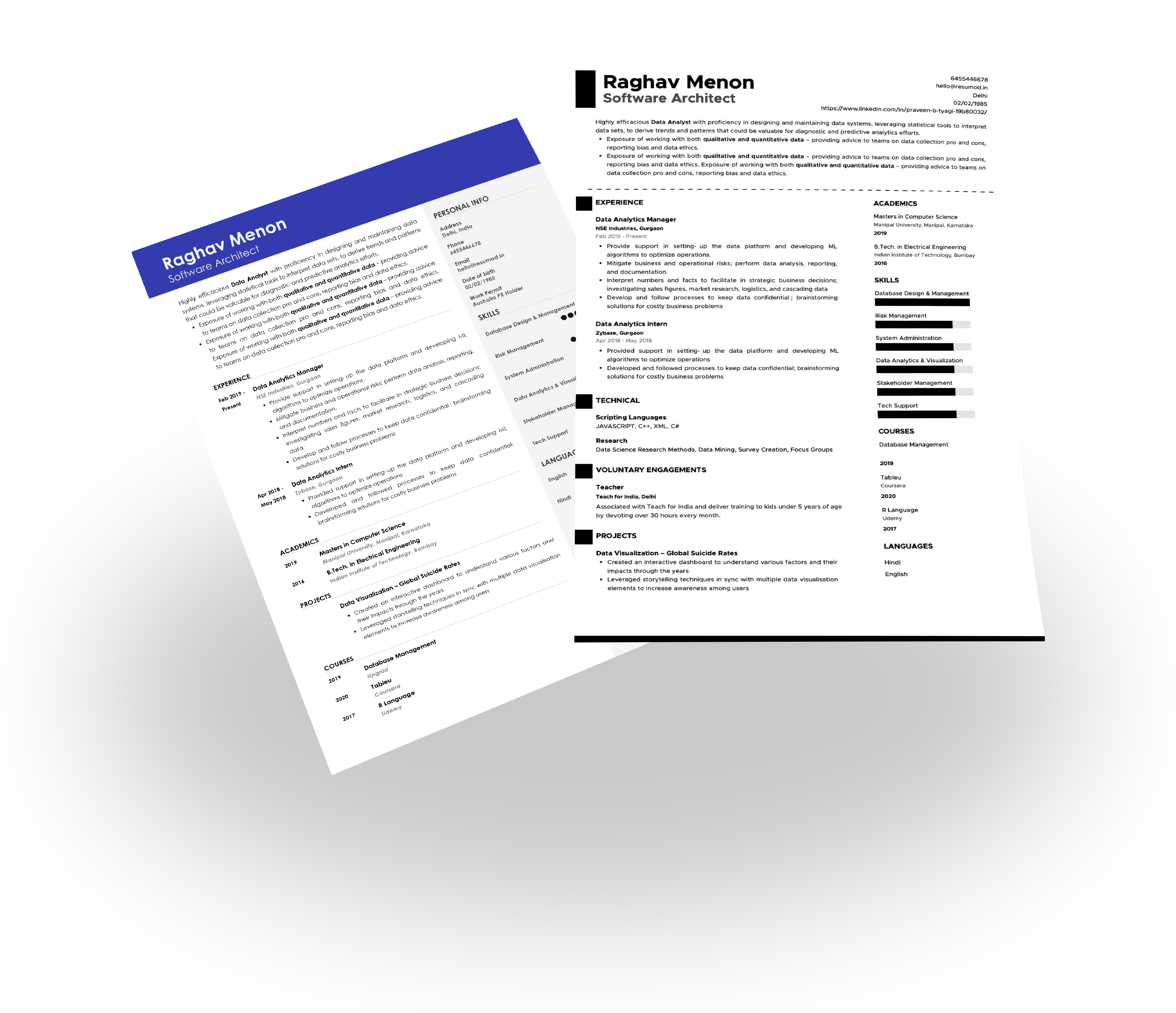 Try Resumod's professional Resume builder now!
Create an internationally accepted resume in minutes, with our world-class resume builder. Get content and skill suggestions based on your title and designation.
Start building your resume